We are at the end of October and that means it's the school holidays season! Many of you might have already made plans to travel, but for those who are yet to travel anywhere this week, there are many activities for you to make the best of the holiday season!
Exhibitions / Tours / Events
Mariah Carey Concert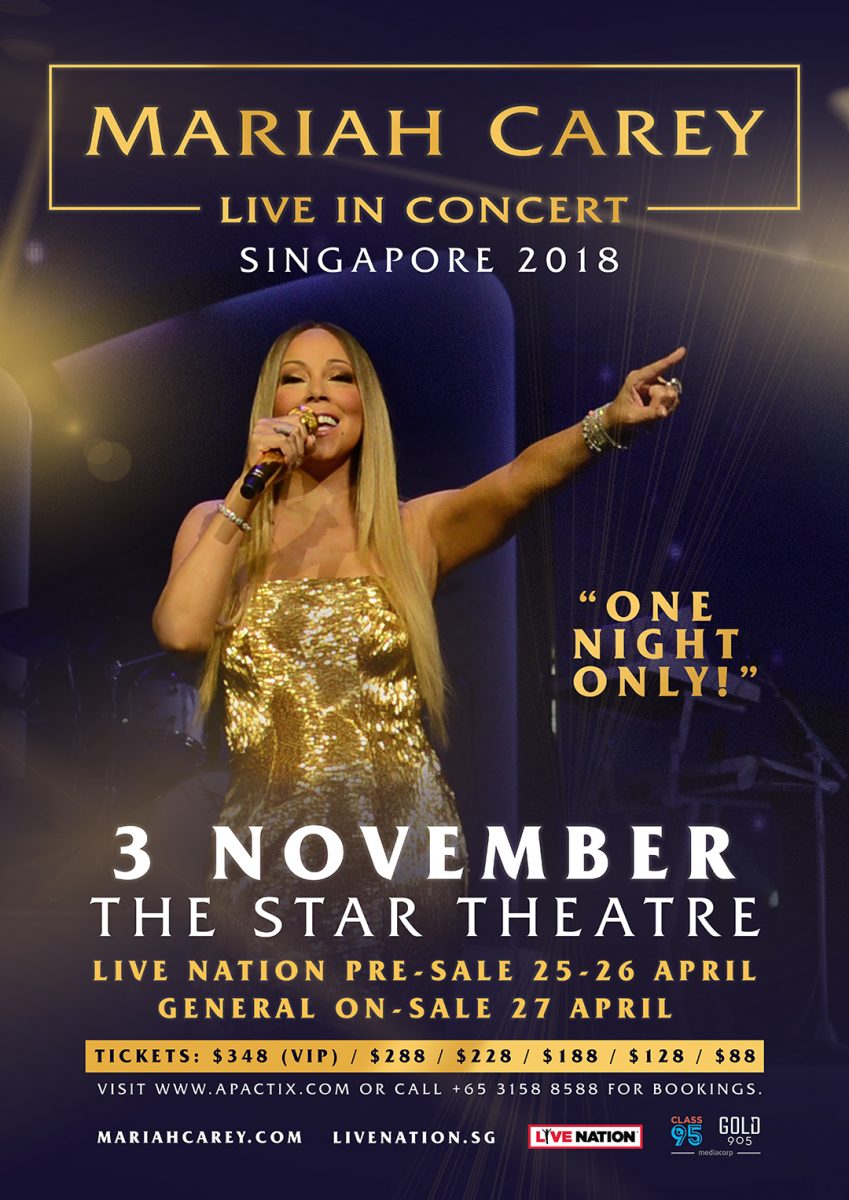 Mariah Carey is the best-selling female artist of all time with more than 200 million albums sold to date and 18 Billboard Hot 100 #1 singles (17 self-penned), more than any solo artist in history. One of the living legends of pop, she's making her way to Singapore to perform at a one night only concert on the 3rd November! Tickets have been on sale since April, and they are selling fast! Get your tickets now while they last!
Location:
The Star Theatre
1 Vista Exchange Green #04-01
Singapore 138617
Date:
3 November 2018
Time:
8pm
Admission:
CAT 1 (VIP BOX): $348 (SOLD OUT)
CAT 2: $288
CAT 3: $228
CAT 4: $188
CAT 5: $128
CAT 6 (Restricted View): $88
Website:
https://www.apactix.com/events/detail/mariah-carey-2018
Mamma Mia!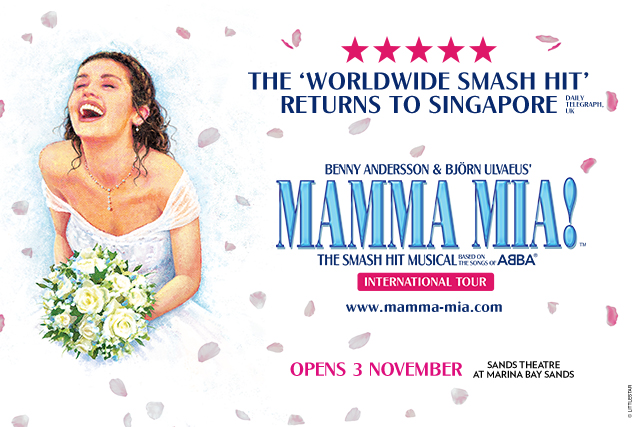 Mamma Mia, an internationally-renowned musical is back to Singapore's shores once again! Based on ABBA's songs, the musical got so popular that it was adapted to a movie! Catch it in its original form at the Sands Theatre this week!
Location:
Sands Theatre at Marina Bay Sands
10 Bayfront Ave
Singapore 018956
Date:
3 – 18 November 2018
Time:
Tue – Fri: 8pm
Sat: 2pm & 8pm
Sun: 1pm & 6pm
Admission:
VIP Reserve : S$188
A Reserve : S$158
B Reserve : S$128
C Reserve : S$98
D Reserve : S$68
E Reserve : S$58
VIP Box (For 4 seats): S$752
Box Seat (For 4 seats): S$392
Website:
https://www.sistic.com.sg/events/mamma1118
Activities / Food / Shopping
The Conscious Festival by Green is the New Black

The Conscious Festival, organised by Green is the New Black, focuses on 4 aspects of life. Namely, Live, Work, Consume, and Travel. There will be paid talks hosted by various founders and directors of their respective wellness companies and organisations that will focus on these 4 aspects of life. Listening to the gamechangers in their respective fields may prove to inspire you to change your life too. Also, there is a Marketplace with over 70 brands, artists and quickie talks from change-makers who are making meaningful change in their industries and doing good in the world. It will be a 360-degree immersive experience into living more consciously.
Location:
PARKROYAL on Pickering
3 Upper Pickering St
Singapore 058289
Date:
3 – 4 November 2018
Time:
11am – 7pm
Admission:
Talks: $34.79 – $93.22
Website:
https://greenisthenewblack.com/festival/
It's The Ship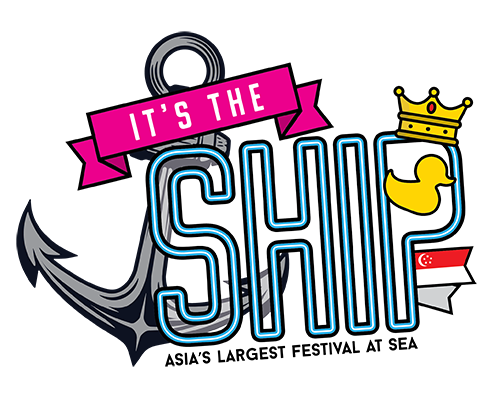 Asia's Largest Festival at Sea, IT'S THE SHIP, turns 5 this year! Come aboard for a non-stop party experience for 4 day 3 nights from 4 – 7 November. Sail the high seas from Singapore to Phuket and back on board a luxurious cruise ship with non-stop music, thrilling side activities and crazy pop up parties alongside the best community at sea – our shipmates! You can also look forward to many names from the Top 100 DJs of the world, such as Paul Van Dyk, Showtek, Cosmic Gate, Sander van Doorn and many others. Big Shaq will also be there to go through some quick math with you!
Location:
Genting Dream Cruise
Depart from Marina Bay Cruise Centre
61 Marina Coastal Drive
Singapore 018947
Date:
4 – 7 November 2018
Time:
Last check-in: 3pm
Departure time: 5pm
Arrival time: 2pm (7 Nov)
Admission:
Varies: https://www.itstheship.com/cabin-pricing-info/
Website:
MAAD: Market of Artists And Designers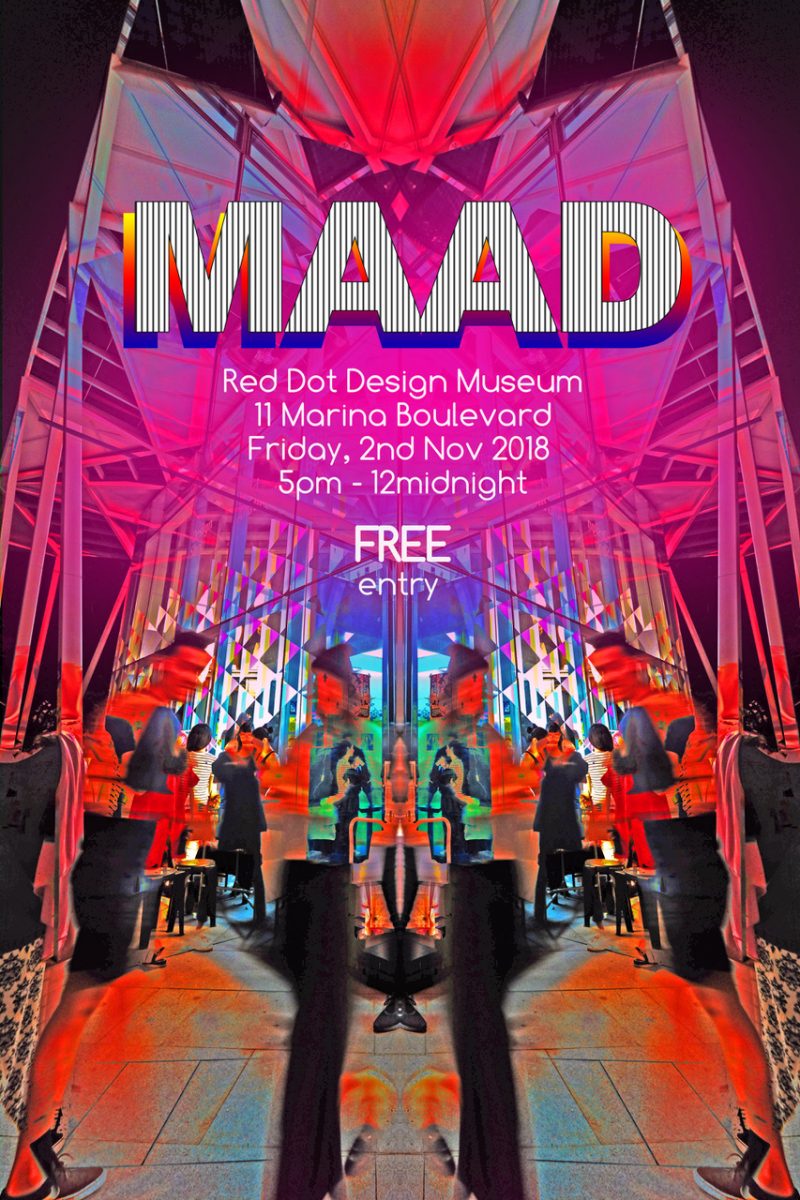 Interested to shop for some original handicrafts by local designers and artists? This is the event that you should go to! You will encounter some of the most dexterous crafters, artists and designers working with unique, quirky, handmade or original creations ranging from ceramics, literature, art and accessories. Remember to bring cash!
Location:
Red Dot Design Museum
11 Marina Blvd
Singapore 018940
Date:
2 November 2018
Time:
5pm – 12mn
Admission:
Free
Website:
https://www.facebook.com/events/1973799782665582/
Whisky Live Singapore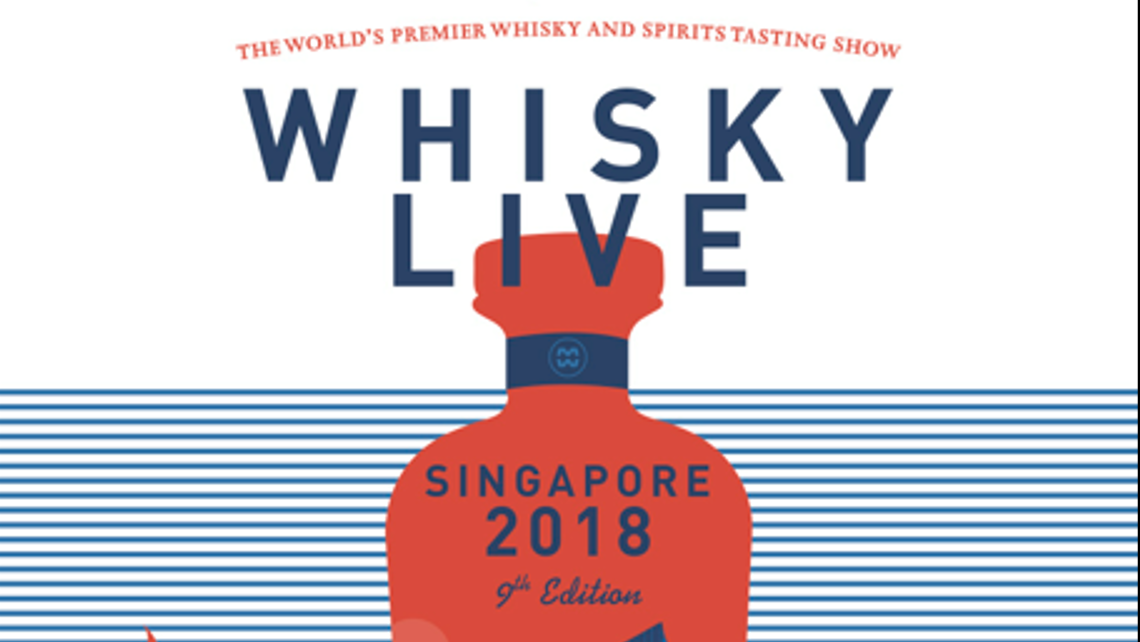 We've had so many craft beers event lately, but there's finally something for the whisky connoisseurs! The 9th edition of Whisky Live will host more than 72 brands of whisky from Bowmore, Auchentoshan to Laphroaig, Monkey 47 to even products from Japan distilleries such as Nikka and Chita. You will be able to taste up to a huge variety of whiskies and may be even able to purchase some for yourself!
Location:
Andaz Hotel Singapore
5 Fraser Street
Singapore 189354
Date:
3 – 4 November 2018
Time:
Saturday: 5.30pm – 12.00am
Sunday: 1.00pm – 8.00pm
Admission:
$119 – $188+
Website:
1855 The Bottle Shop Wine & Whisky Week; Christmas Edition

Here's another one for the whisky lovers! The 1855 Bottle Shop is celebrating Christmas early by bringing to you a huge collection of whisky and wine for 12 days! You will also get to taste and purchase more than 500 labels at value-for-money prices, with over 100 samples available for daily tastings. Also, stand to purchase 1 of the only 383 bottles of a Singapore exclusive edition of 30-year old Auchentoshan Sherry Cask Whisky encased in an embellished whisky box with handwritten "Singapore 2018" calligraphy!
Location:
Suntec City East Atrium, Level 1
3 Temasek Blvd
Singapore 038983
Date:
31st Oct – 11 Nov 2018
Time:
11am – 10pm
Admission:
Free
Website:
https://www.facebook.com/WWWby1855/
Golden Village's Kids Film Fiesta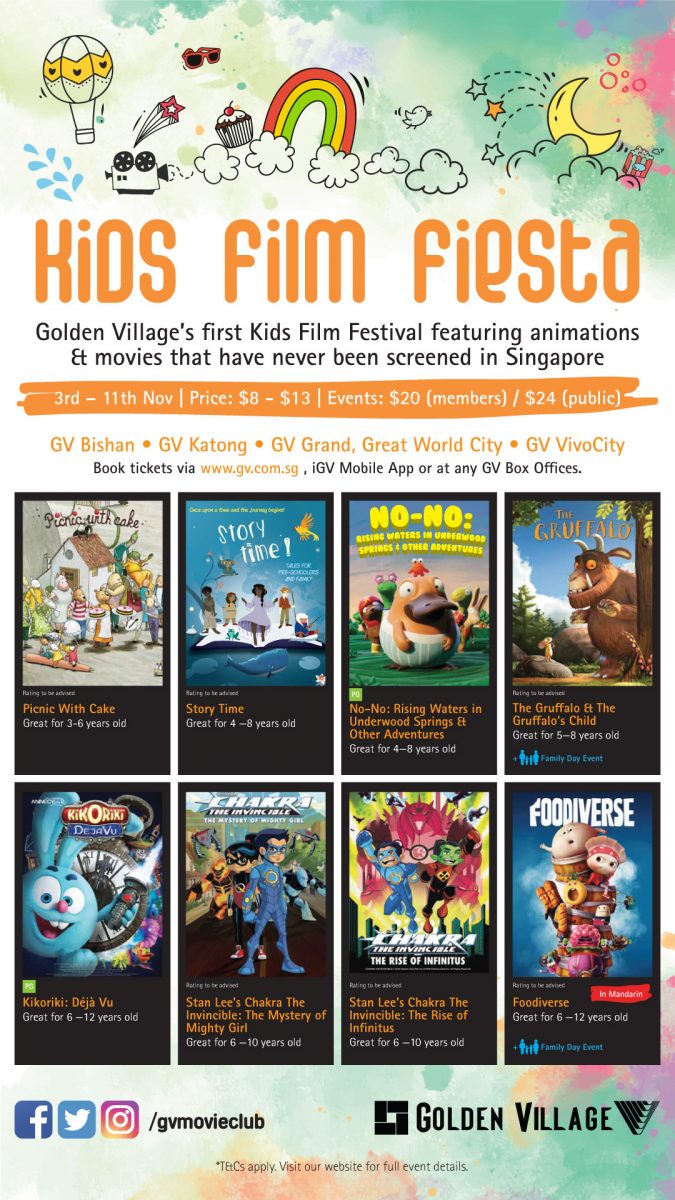 It's the end of year school holidays, and of course we will need some activities for the kids! Golden Village is having its first ever Kids Film Fiesta, screening 8 animated films with 7 of them never screened before in Singapore! Kids Film Fiesta will commence on 3rd November 2018 with the Foodiverse Family Day where kids can take part in the Penny clay making workshop, bring back a goodie bag and win attractive prizes, after which there will be the screening of the Mandarin animation Foodiverse. Kids Film Fiesta also features the Oscar-nominated two-part series The Gruffalo & The Gruffalo's Child (English) on 11th November, where little fans will get to meet the mascot, win movie merchandises and have photo opportunities with The Gruffalo at The Gruffalo & The Gruffalo's Child Family Day! Other featured films include Stan Lee's Chakra The Invincible: The Rise of Infinitus (English), Stan Lee's Chakra The Invincible: Mystery of Mighty Girl (English), Kikoriki: Déjà Vu (English), Picnic with Cake (English), No-No: Rising Waters in Underwood Springs & Other Adventures (English) and Story Time (English).
Location:
GV Bishan, GV Katong, GV Grand, GV Vivocity
Date:
3 – 11 November 2018
Time:
Various
Admission:
$8 – $13
Website:
https://www.gv.com.sg/GVGroupSynopsis#/group/5ce51c0a-6053-4c9a-a2f1-1546d1c0c8b8
Wild Honey's A Taste of Jerusalem with Chef Yossi Elad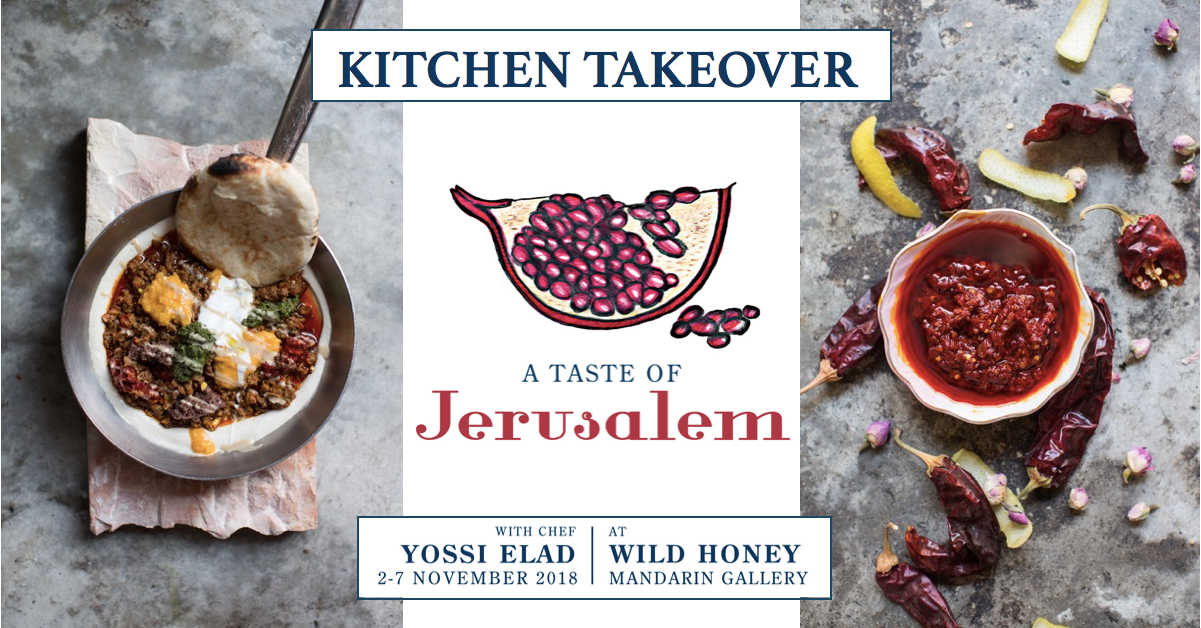 Jerusalem-style market food is one of the hottest food trends to sweep the world in recent years and Chef Yossi Elad is widely acknowledged as one of the fathers of the modern food movement in Israel. Founder and chef of the brilliant Machneyuda in Jerusalem and The Palomar in London – both of which are considered to be leading lights in their cities – Yossi will weave his magic in Singapore for six days only (2nd to 7th November 2018) providing an exclusive dining experience at Wild Honey Mandarin Gallery.
With influences from Southern Spain to Northern Africa and The Levant and featuring many of his most loved ingredients of harissa, cured lemons, tahini, labne and sumac; Yossi has created a menu that blends the influences together for a unique and dynamic food experience. With standouts like his Shakshukit  – deconstructed kebab  – with tahini, harrisa and schug, along with a knockout Sabich with eggs and crispy eggplant as the hero and the must-try flaky Burek with chicken giblets and baked cauliflower, this is food not to be missed.
Location:
Wild Honey, Mandarin Gallery
333A Orchard Rd, #03-01/02
Singapore 238897
Date:
2 – 7 November 2018
Time:
9am – 9pm
Admission:
Free (food price ranges from $20 – $35)
Website:
https://wildhoney.com.sg/a-taste-of-jerusalem-event/
With that, here's hoping everyone will have a fruitful week ahead and enjoy the end of year holidays!
As always, stay tuned to our website updates by liking and following our Facebook page: https://www.facebook.com/Nightowlcinematics/
For any fan art / recommendations / queries for advice that you would like to submit: https://noc.com.sg/submit-content/
And for any business enquiries, send it here: https://noc.com.sg/contact-us/ and we will respond to you as soon as possible!
*image credits to the respective events' websites