Here's an advanced Children's Day to everyone! Some of us are sadly no longer a child, but there's still no excuse for us not to have fun! Now that there are only 3 months left to the year 2018, it's time to make sure that we end the year of 2018 on a good note! So as always, on every Monday, let's take a look at the activities that you should be doing this week!
Exhibitions / Tours / Events
Sam Smith – The Thrill of It All World Tour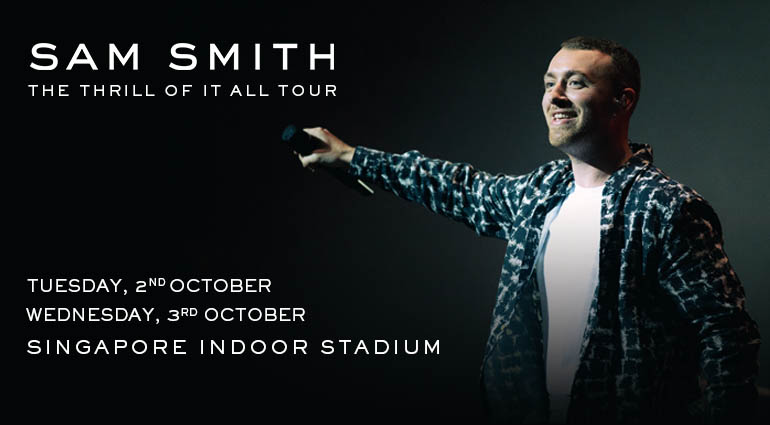 One of the biggest trending name in ballad music right now, Sam Smith will be holding his first-ever Singapore concert in support of his latest album, The Thrill of It All. The concert is slated to be held this week for only 2 days, so do not miss your chance to listen to the Grammy Award winning crooner live!
Location:
Singapore Indoor Stadium
2 Stadium Walk
Singapore 397691
Date:
2 & 3 Oct 2018 (Tue & Wed)
Time:
8PM – 10PM~
Admission:
$128 – $348
Website:
https://www.sportshub.com.sg/samsmith2018
Pink Ribbon Walk
We have all sorts of ribbons representing different things, and the Pink Ribbon is no different. It is an international symbol representing awareness and hope for breast cancer patients. In October, which is the Breast Cancer Awareness Month, the Breast Cancer Foundation will organise a series of activities and campaigns to promote awareness for breast cancer. Diagnosed in 1,930 women each year, breast cancer is one of the most common form of cancer found in women of Singapore. As such, do show your support and solidarity by joining the Pink Ribbon Walk that takes place annually in October!
Location:
Singapore Sports Hub
2 Stadium Walk
Singapore 397691
Date:
6 October 2018
Time:
4PM – 8PM
Admission:
$40 – $50
Website:
https://www.pinkribbonwalk.sg/
Golden Village: Love & Pride Film Festival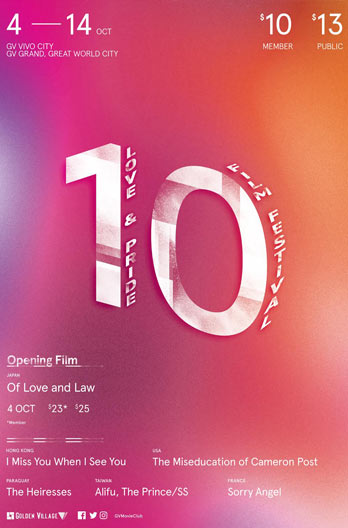 The Love & Pride Film Festival is back for its 10th rendition. The festival will feature a lineup of international acclaimed foreign titles across 9 days. Curated by the Singapore Film Society (SFS), this year's pick of independent film titles centre around the theme of 'acceptance', not simply focused on the LGBT community but also of one's self, and promises to deliver stories that captivate and resonate with audiences. There are 6 titles to look forward to, namely: "Of Love and Law", "Sorry Angel", "The Miseducation of Cameron Post", "Alifu, the Prince/ss", "The Heiresses", "I Miss You When I See You". These movies come from 6 different countries such as Japan, France, USA, Taiwan, Spain and even Hong Kong. Do visit their website to make sure that you do not miss any of the 6 titles!
Location:
GV Vivocity & GV Grand, Great World City
Date:
4 – 12 October 2018
Time:
Timeslot varies, refer to website
Admission:
Opening night (4 October): $23 (GV Movie Club member) & $25 (public), including light refreshments
Other nights: $10 ( GV Movie Club and Singapore Film Society members) & $13 (public)
Website:
Activities/Food/Shopping
OnTheList Flash Sale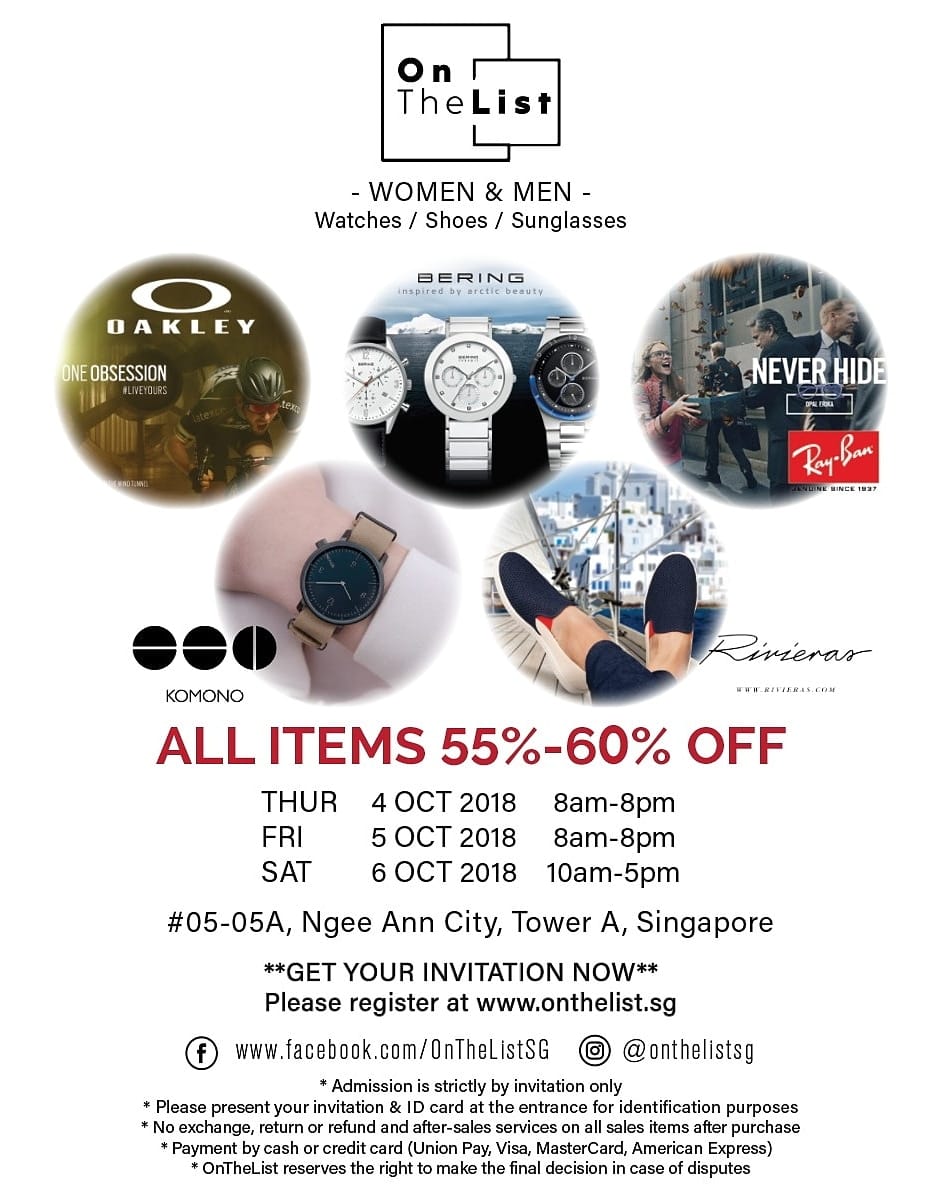 After a successful first run, OnTheList is back with another flash sale! Interested individuals are required to sign up at their website to receive an e-invitation in order to get notified and gain access to their sales! In this second run, shoppers may look forward to items from brands such as: Oakley, Ray-Ban, Komono, BERING, Rivieras, Kusmi Tea, Løv Organic, Fjällräven and Dr. Denim. You may also expect to see these items at a 55% to 60% off! Now that it's approaching the end of the year, perhaps it's time for you to get new shades or sunglasses for that beach vacation that you've been planning to go? Or a trustworthy timepiece to keep track of the time along with comfy footwear as you visit one spot to another in accordance to your itinerary? Make sure not to miss it!
Location:
Ngee Ann City, Tower A, #05-05A
391 Orchard Rd
Singapore 238873
Date:
4 – 6 October 2018
Time:
4 – 5 Oct: 8am – 8pm
6 Oct: 10am – 5pm
Admission:
Strictly by invitation only
Website:
Register at https://www.onthelist.sg/ for an invitation
More information can be found at https://www.facebook.com/OnTheListSG/
Urban Ventures Street Party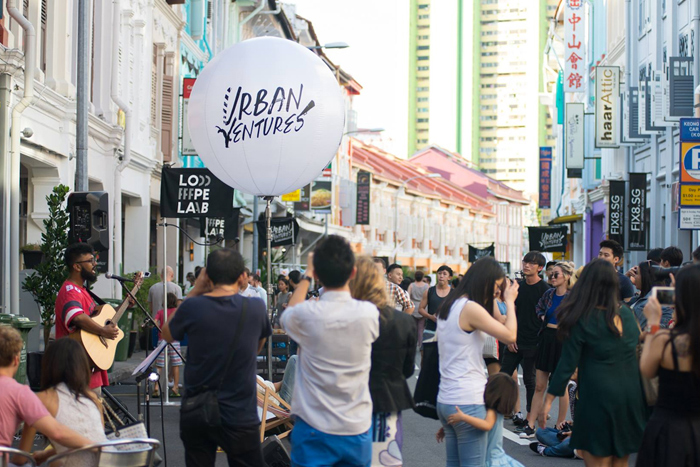 A ground-up placemaking initiative that transforms public spaces into a platform for Arts, Music, and People, Urban Ventures aims to provide a more human, playful and friendly face to the public spaces in Singapore. This project comprises of a series of space activations held on the weekends. Artists and designers are invited to re-interpret public space elements and fill the space with interactive installations that invite visitors to experience public space design. Performing and visual artists will also come together during the event to showcase their works through performances and workshops. You can look forward to DJ gigs, live performances as well as an Artisans' Market featuring goods from our local artists.
Location:
Temple Street
Singapore 080106
Date:
6 October 2018
Time:
4PM – 10.30PM
Admission:
$5 – $50 (proceeds will go to the official charity of the event: TWC2 (https://www.facebook.com/twc2sg/)
Website:
https://www.facebook.com/events/322289141840830
As always, stay tuned to our website updates by liking and following our Facebook page: https://www.facebook.com/Nightowlcinematics/
For any fan art / recommendations / queries for advice that you would like to submit: https://noc.com.sg/submit-content/
And for any business enquiries, send it here: https://noc.com.sg/contact-us/ and we will respond to you as soon as possible!
*image credits to the respective events' websites