Golly! Is this the time again? Yesss it's Food King day everyone! And in this week's episode, we are gonna pamper our taste buds with with some interesting and innovative street food that we've never tried before. So let's cut the chase and head on down to our first destination shall we!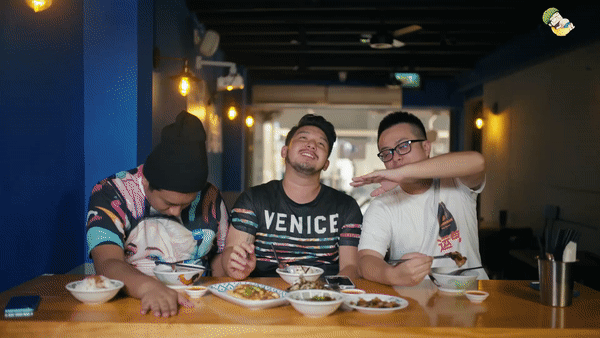 Right now we are here at StarHub Green where we will be trying some Thai-inspired fusion bowls from The Leggy Business.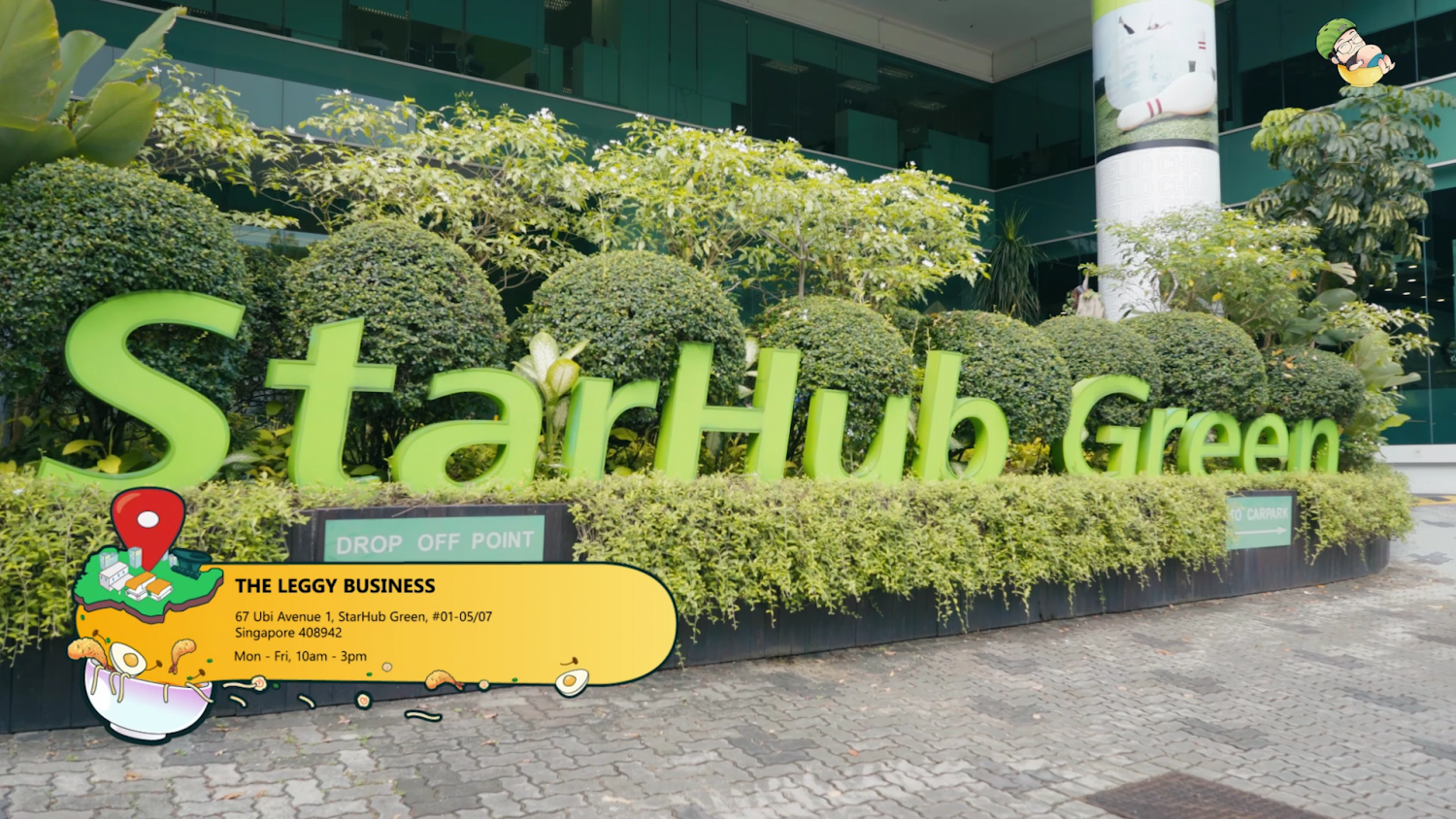 The Leggy Business is an interesting eatery in Macpherson which serves unique Asian fusion food at hawker prices.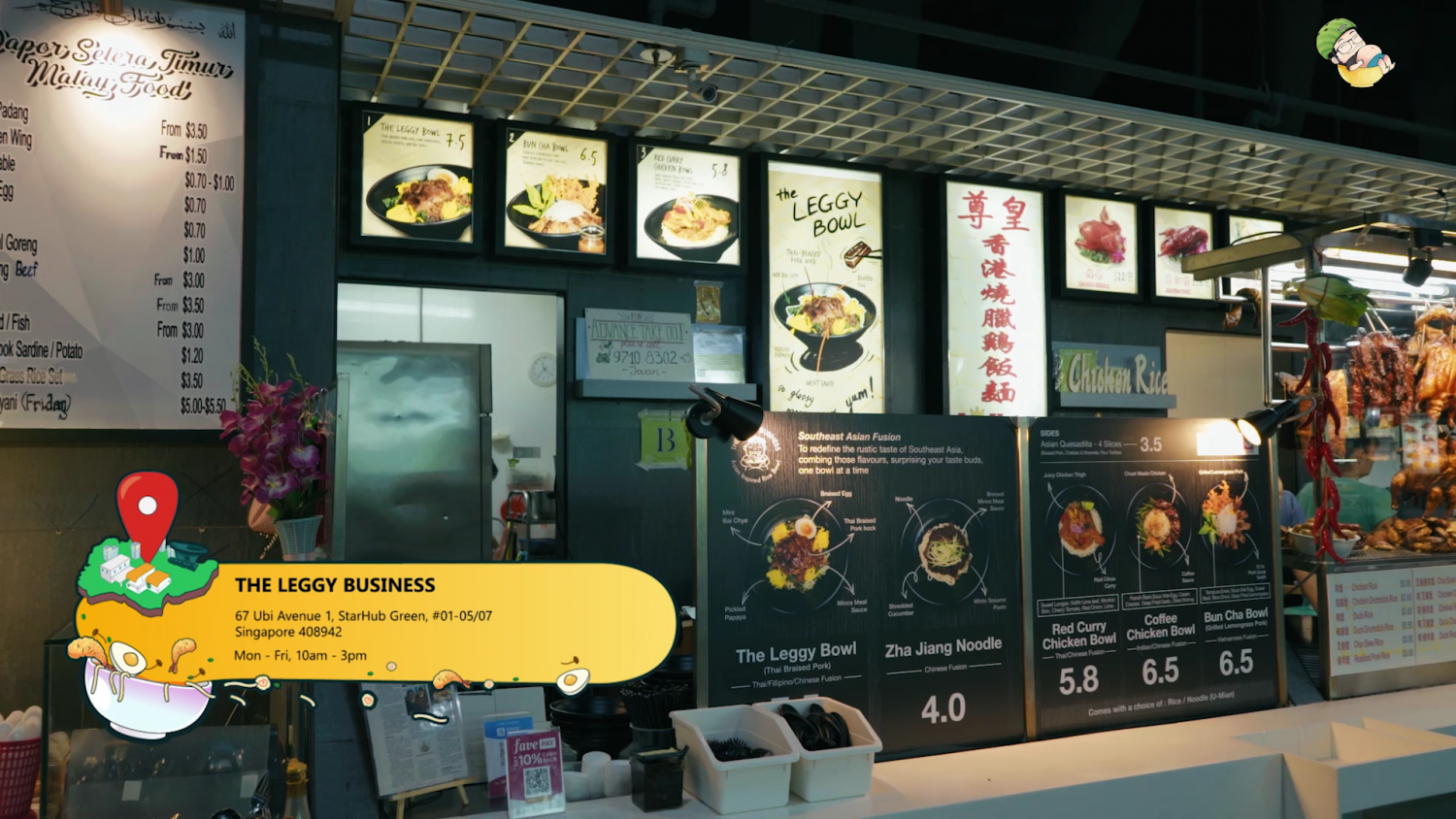 Unfortunately for us, we got chased out by the person in charge of the StarHub Green despite trying to promote their food. So here we are sitting in some shady back alley with these bowls. But we ain't deterred. The show must go on!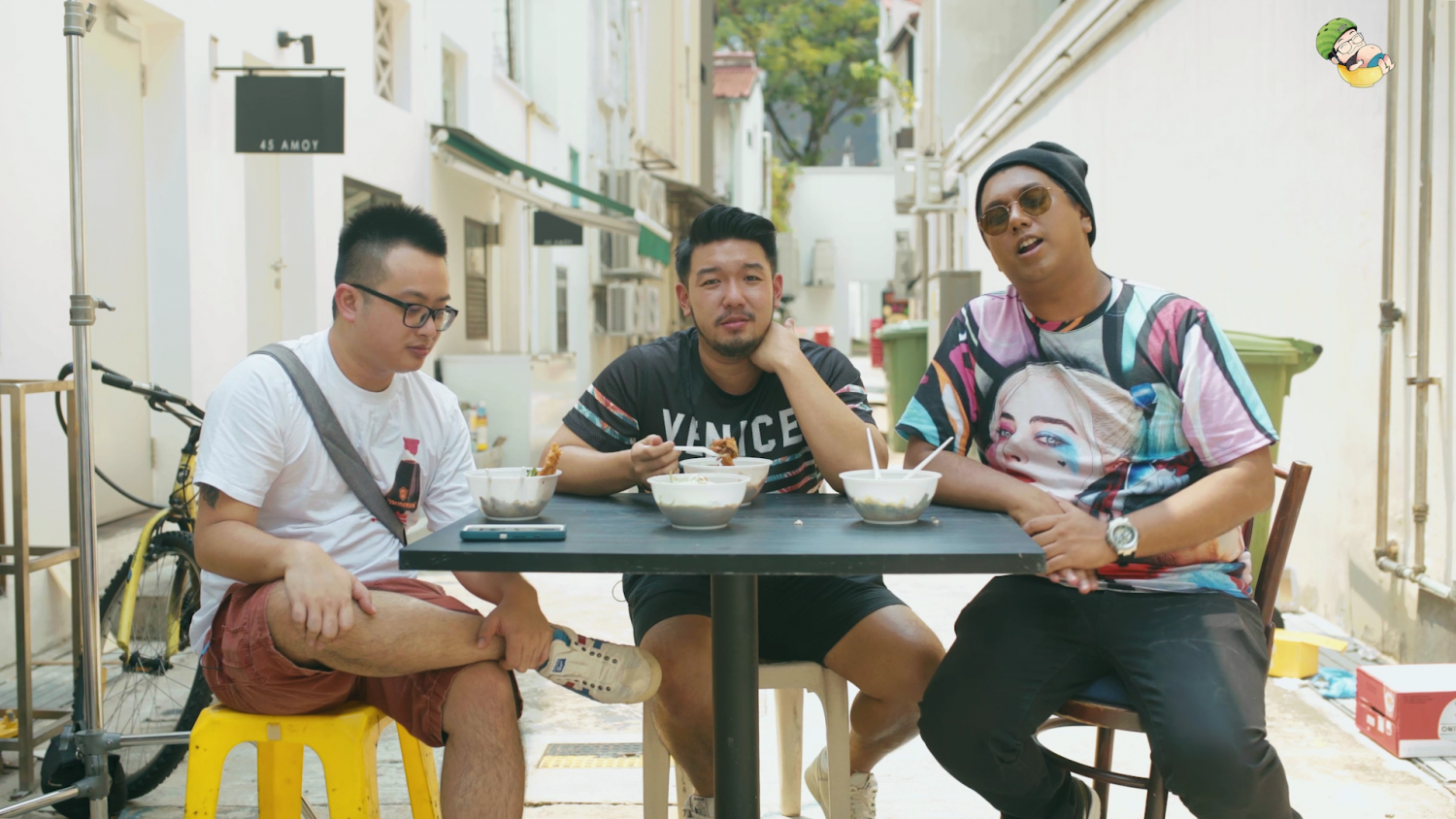 Here we have their signature braised pork bowl called The Leggy Bowl.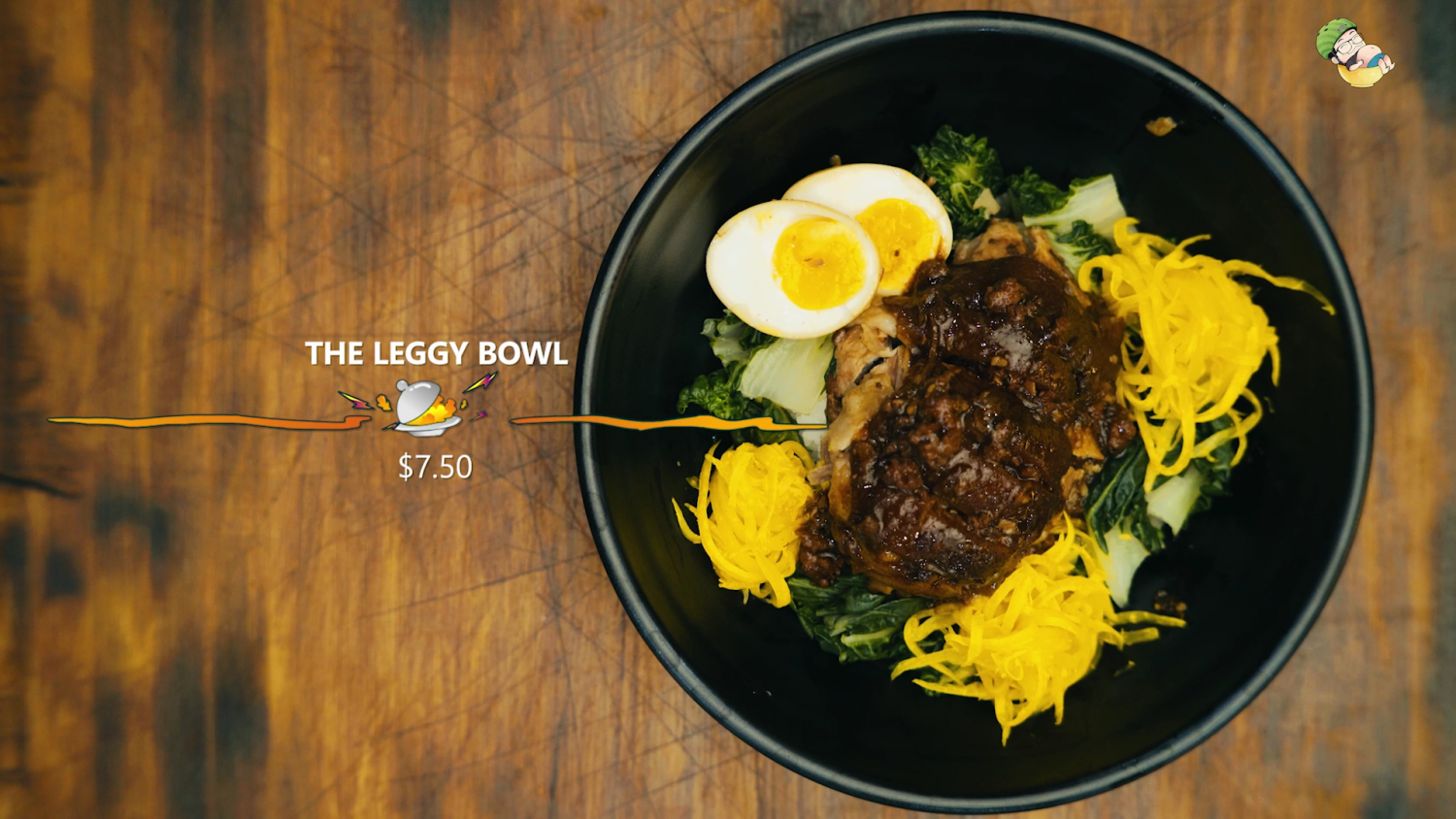 The bowl is filled with a colorful array of ingredients like the Thai braised pork, minced meat sauce, pickled papaya, vegetables and even an onsen egg.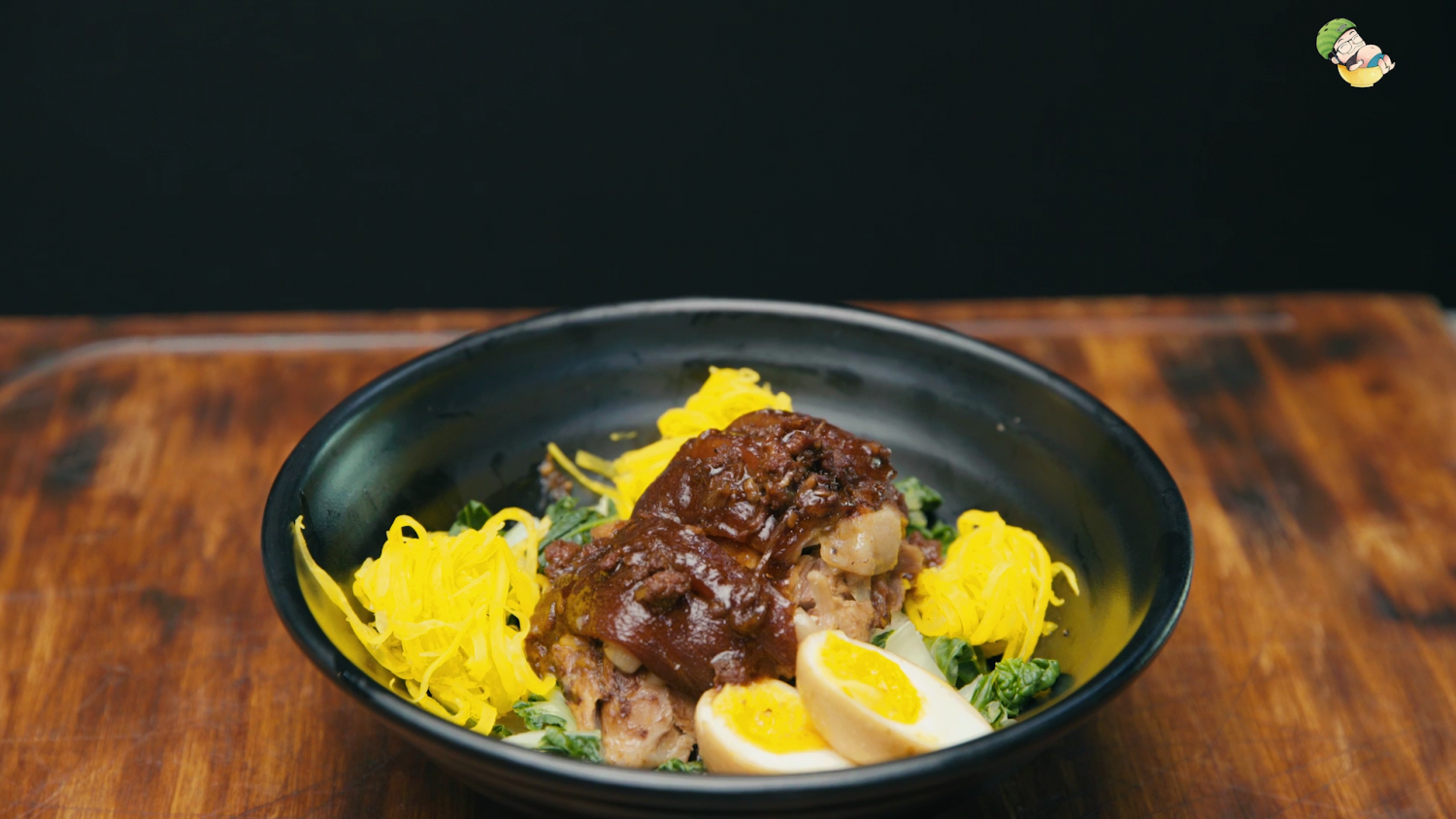 The Thai-style braised pork is sous vide and is pretty soft but we wish the taste is stronger. There seem to be a lack of the herbaceous porky umami that you normally get in most braised pork bowls such as Mr. Lor Bak's. Overall, we feel this bowl could have been better.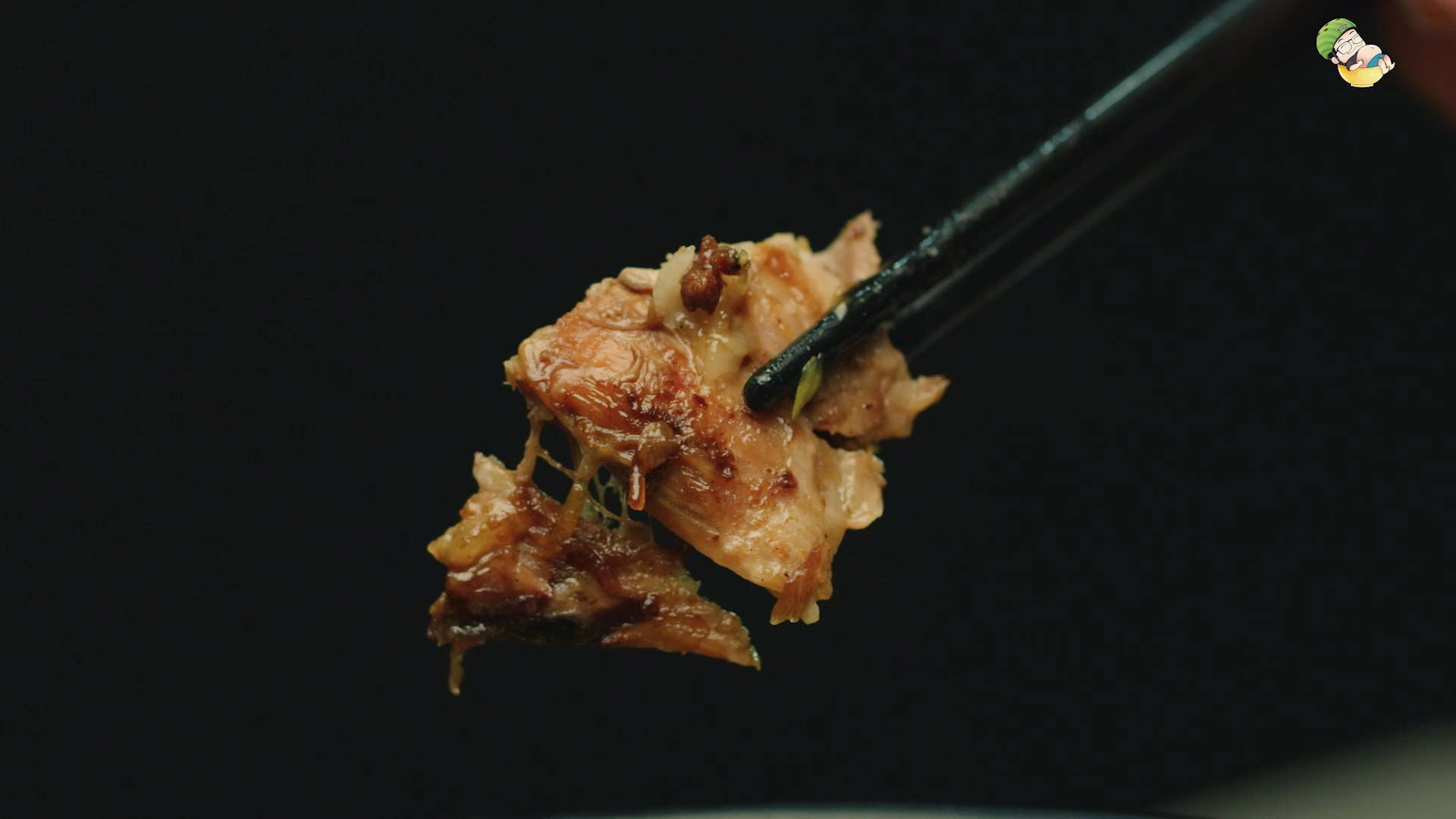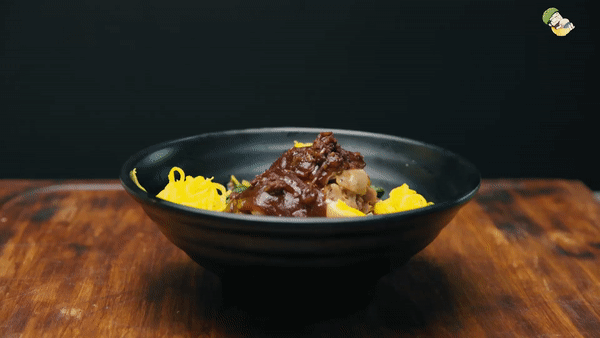 Next up, we are having The Red Curry Chicken Bowl. The ingredients in this bowl are totally different from The Leggy Bowl.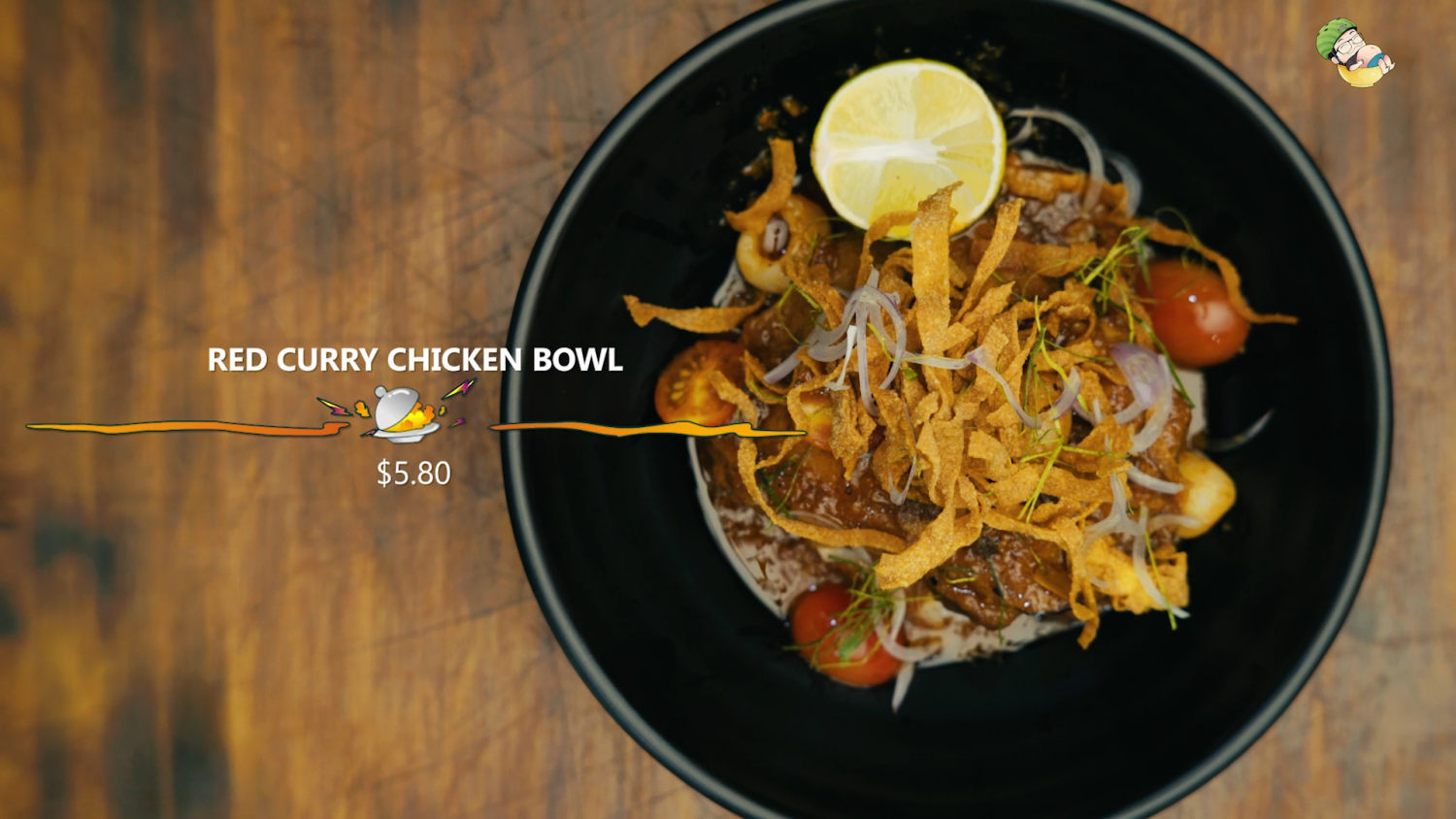 The red citrus curry is prepared from a house-made rempah (spice paste), which is stir-fried with kaffir lime leaves and onions. Very Thai-inspired.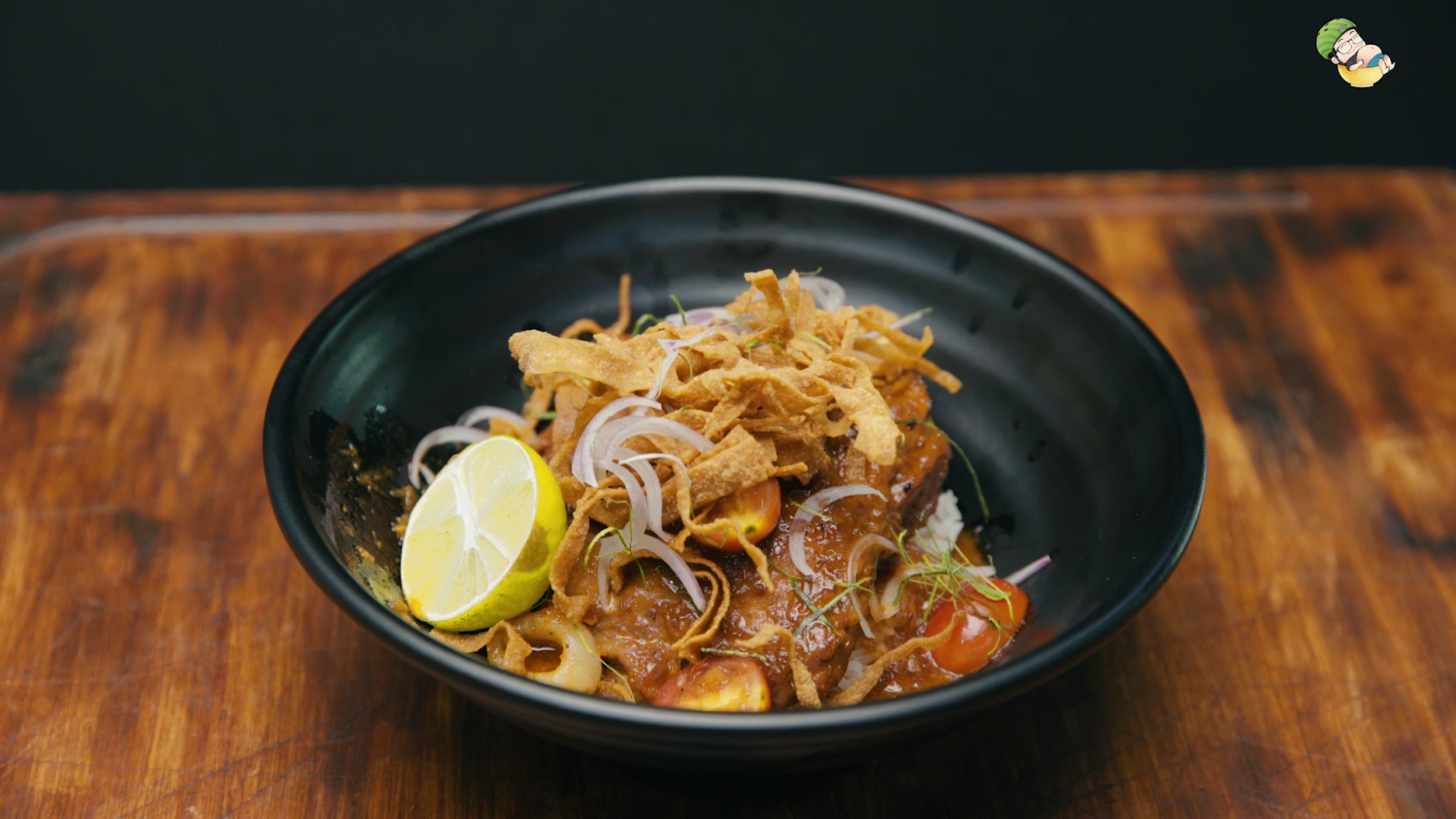 Interestingly, the chicken taste more like chicken stew rather then the standard curry chicken fare. It's actually not bad. Definitely not what we expected.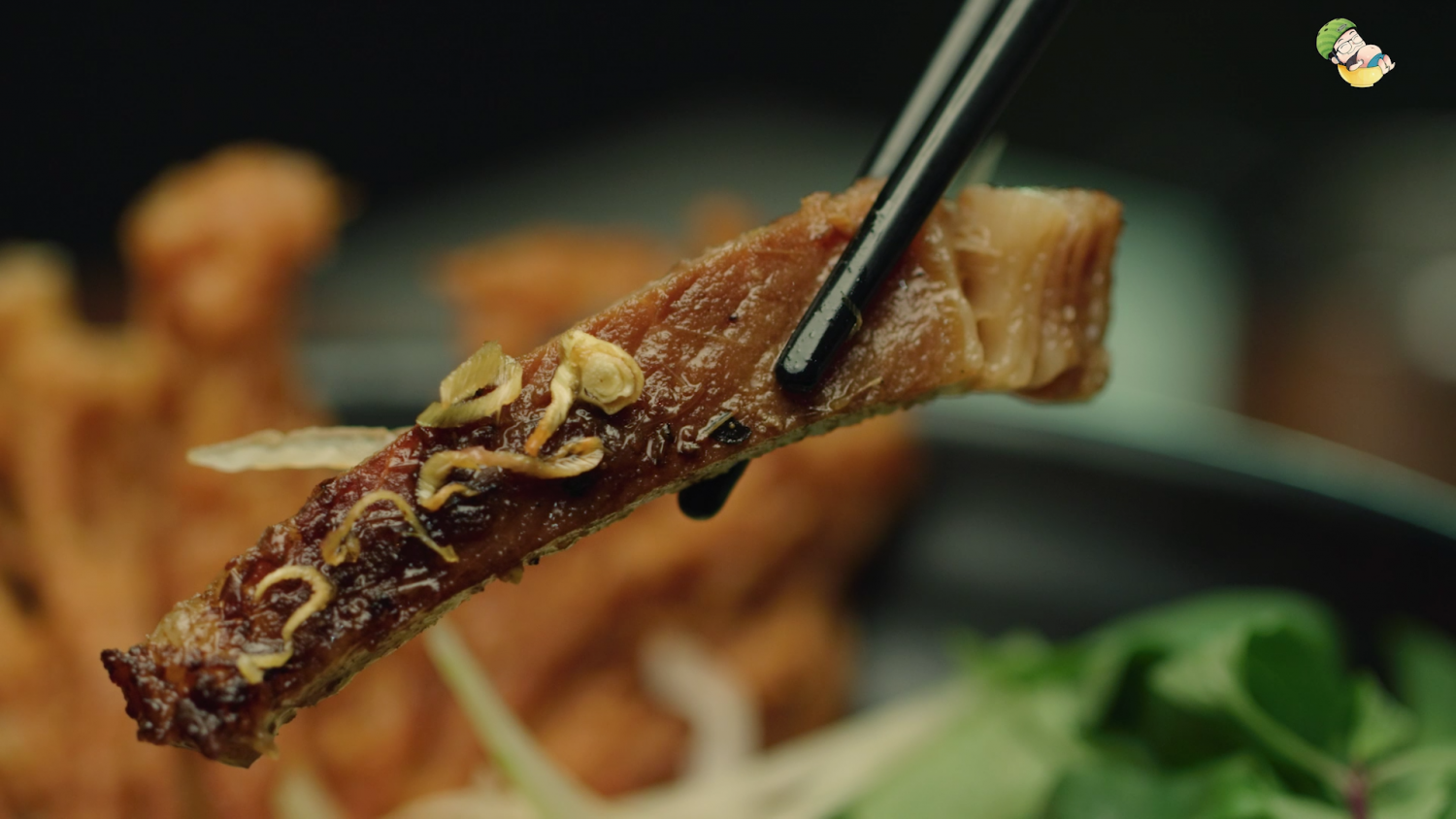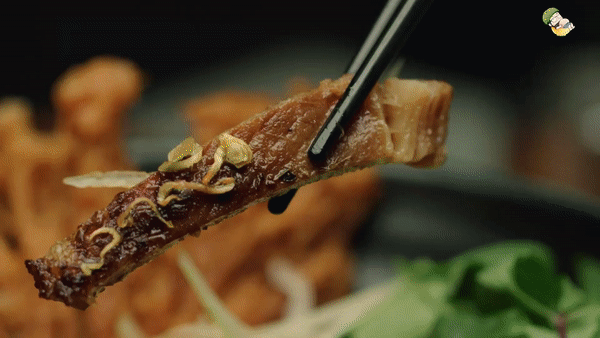 Last but not least, we're going to try this interesting-sounding dish called the Bun Cha Bowl. Hmmm… Where have we heard this name before…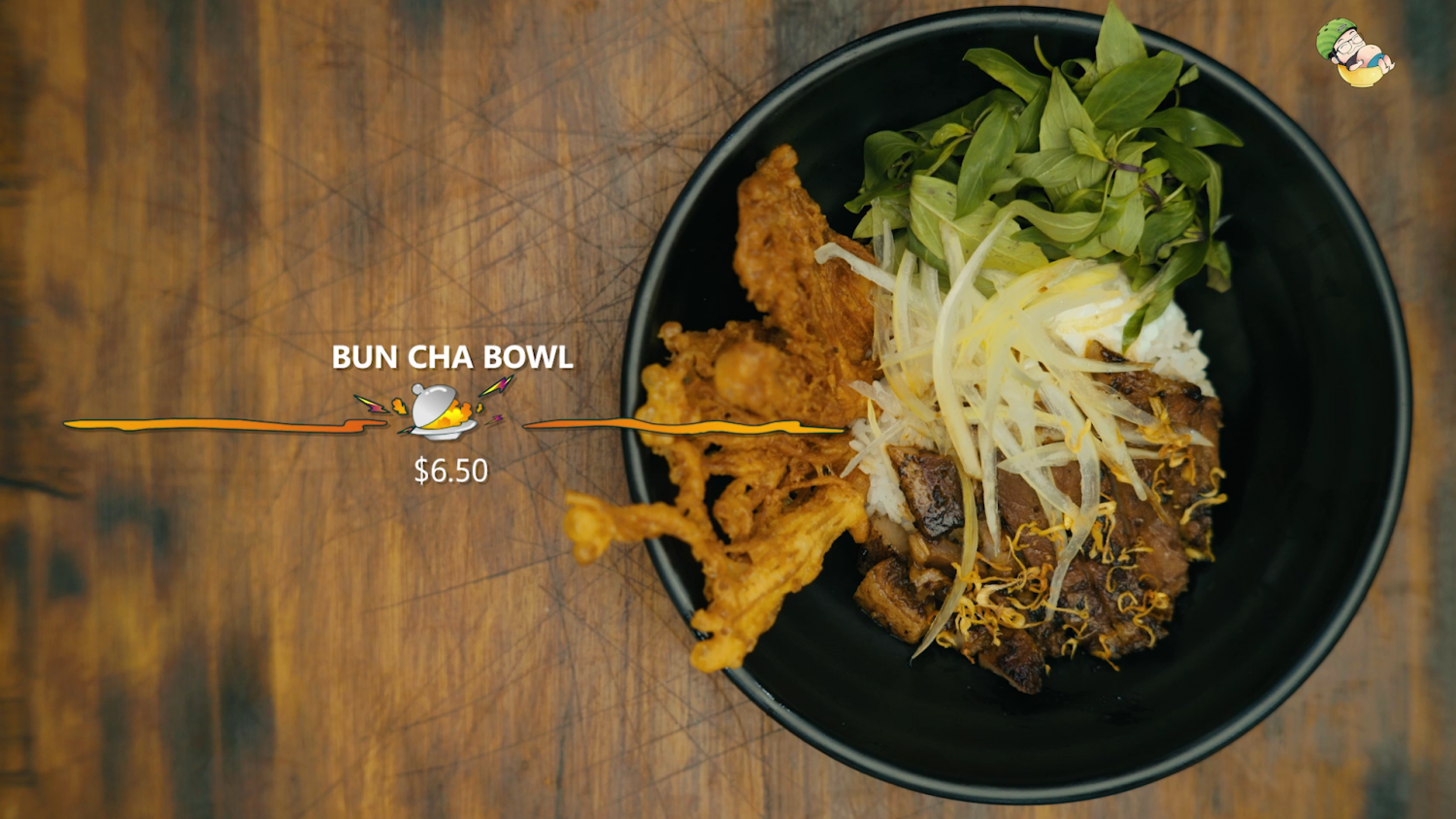 Did someone put Jianhao's dog inside here?! Oh god…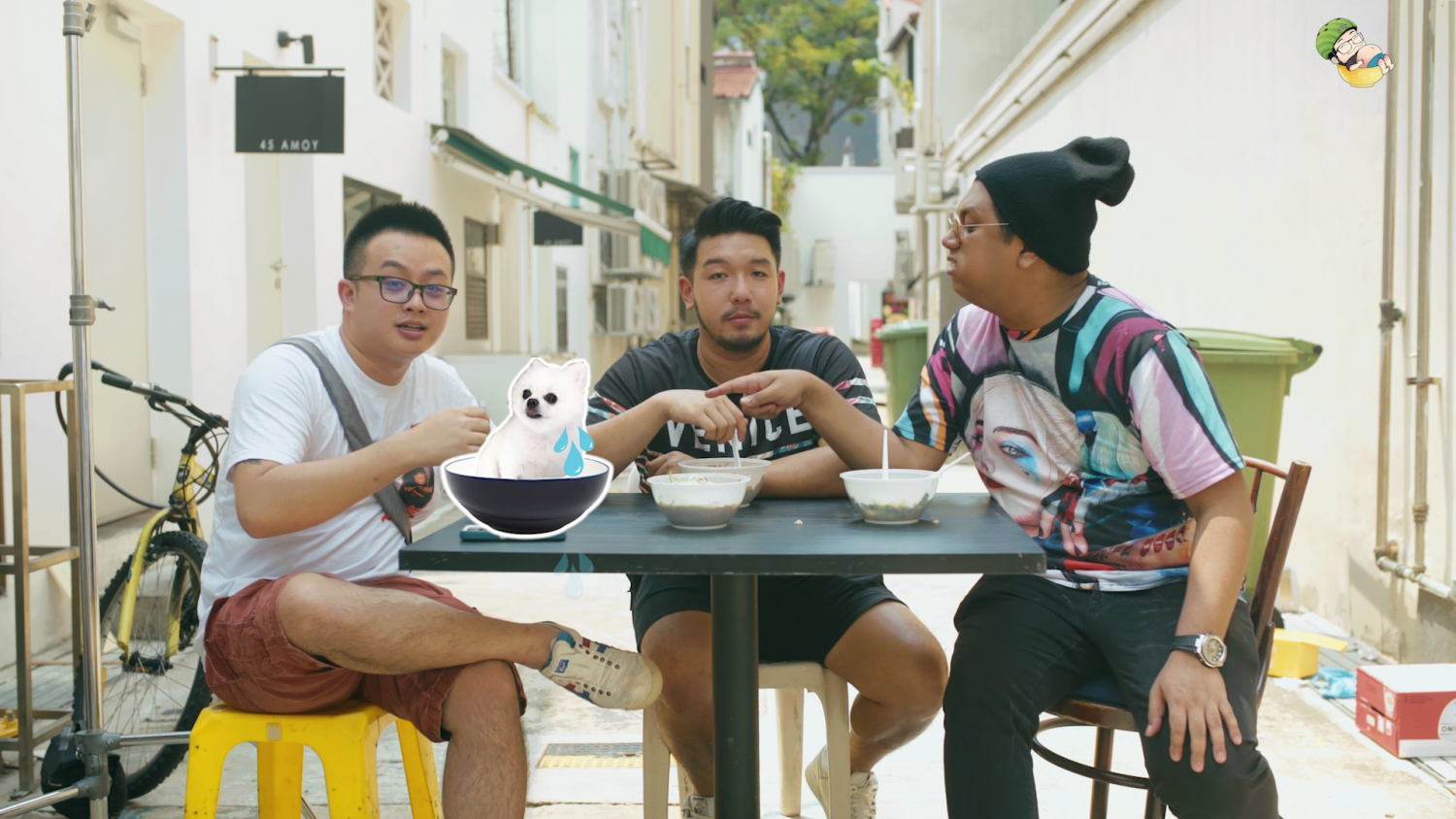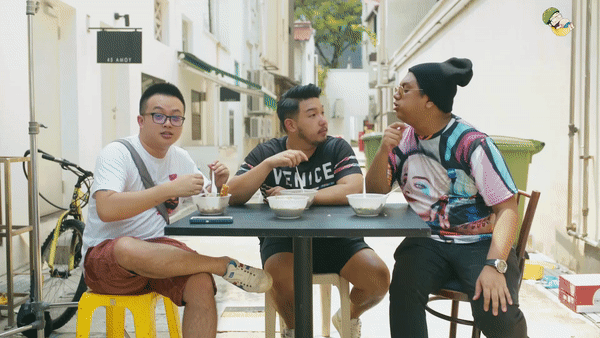 We like the braised meat and the golden mushroom in this bowl. The pork is grilled very nicely with a slight charred flavor. This is no doubt the star of this dish.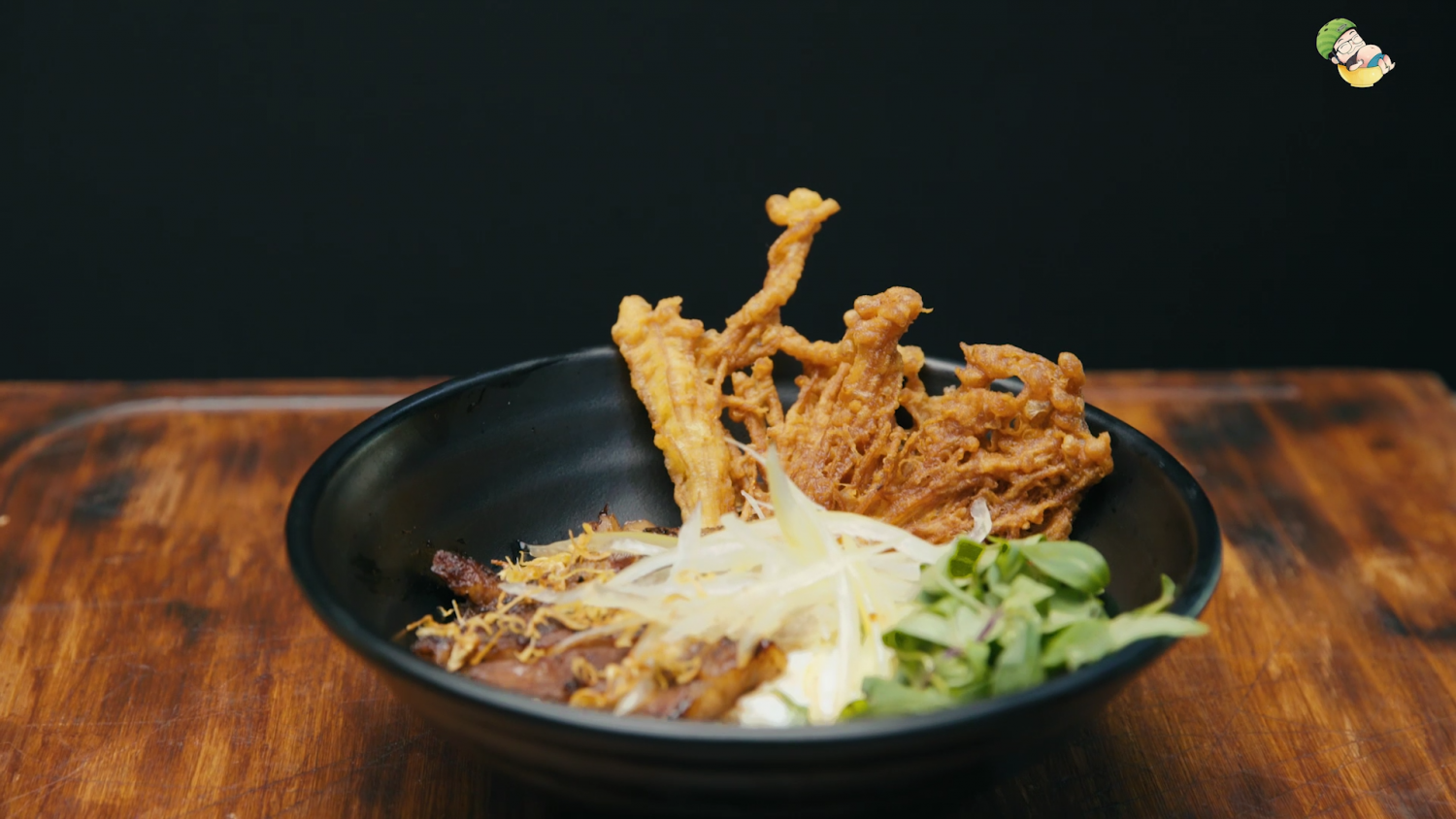 The golden fried mushroom is seasoned really well, giving it an added depth and flavor to it. Ryan loves it alright.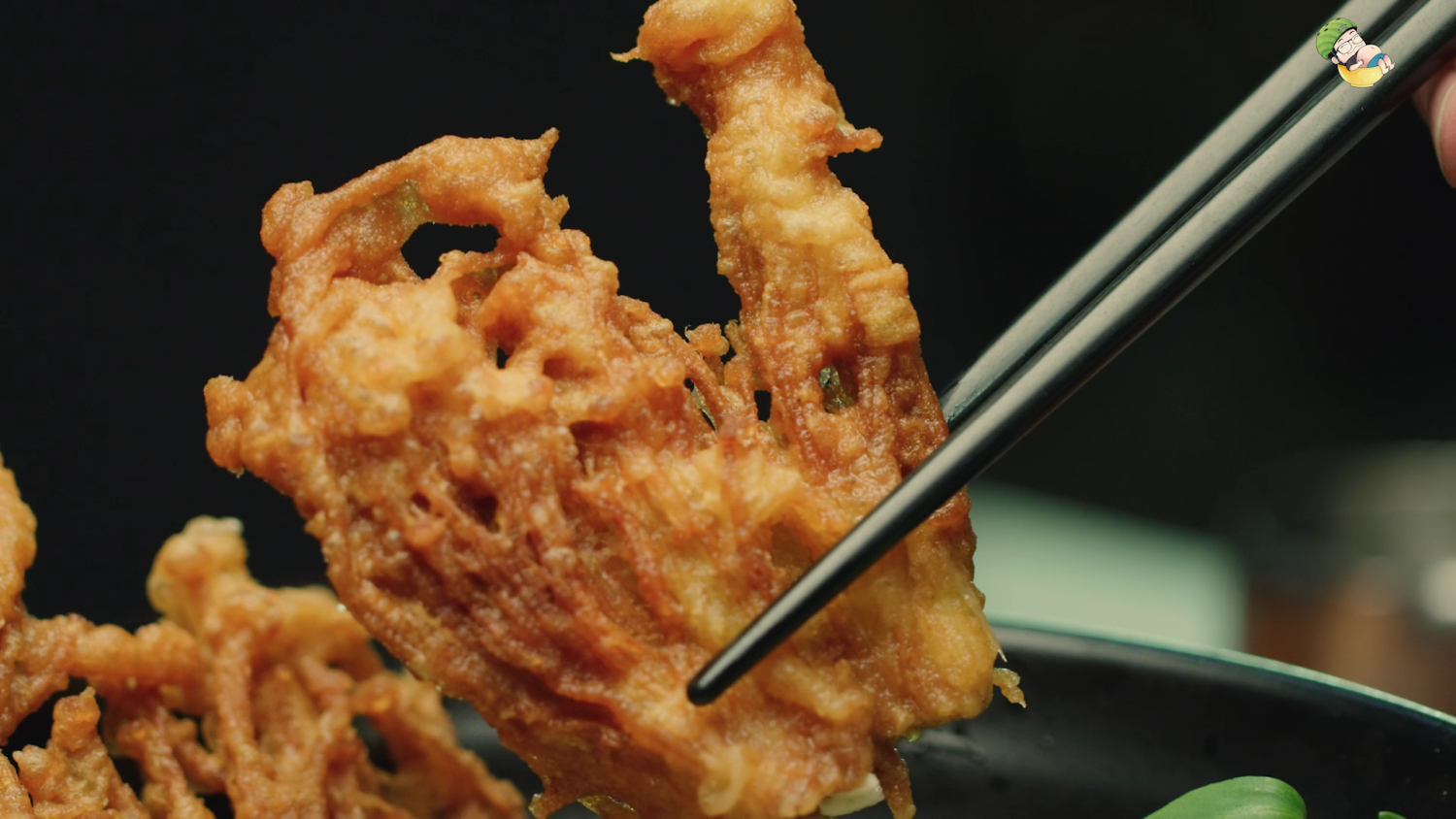 We've got to say this bowl is the best among the 3 we've tried. It's not out of this world mind-blowingly good but still pretty much worth trying.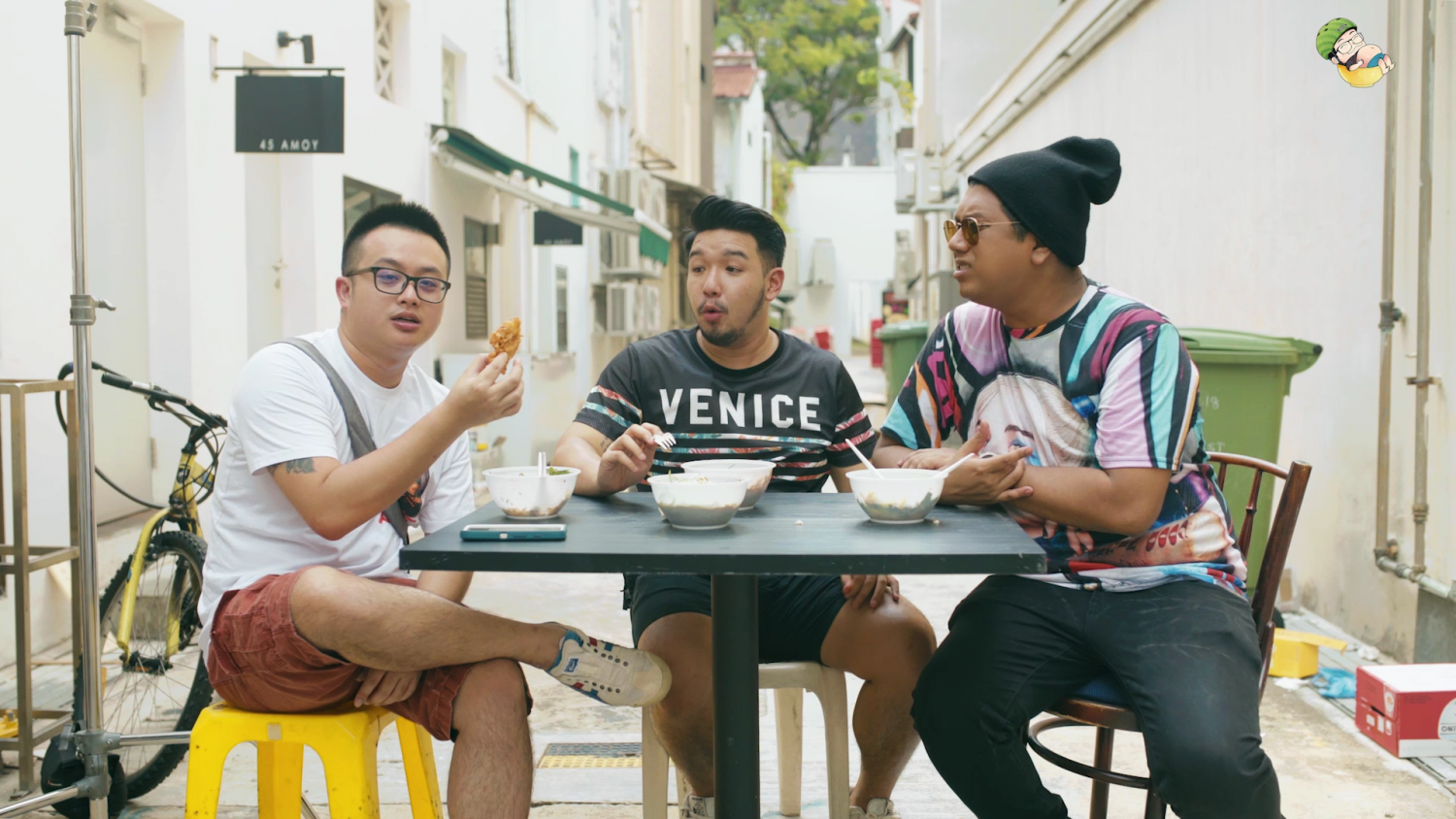 We are giving a total of 1 star because we feel that this is a valiant effort for these young hawkers. The concept is good but the execution is somewhat lacking. The potential is there and with time and experience, they will only get better. All the best Leggy Business!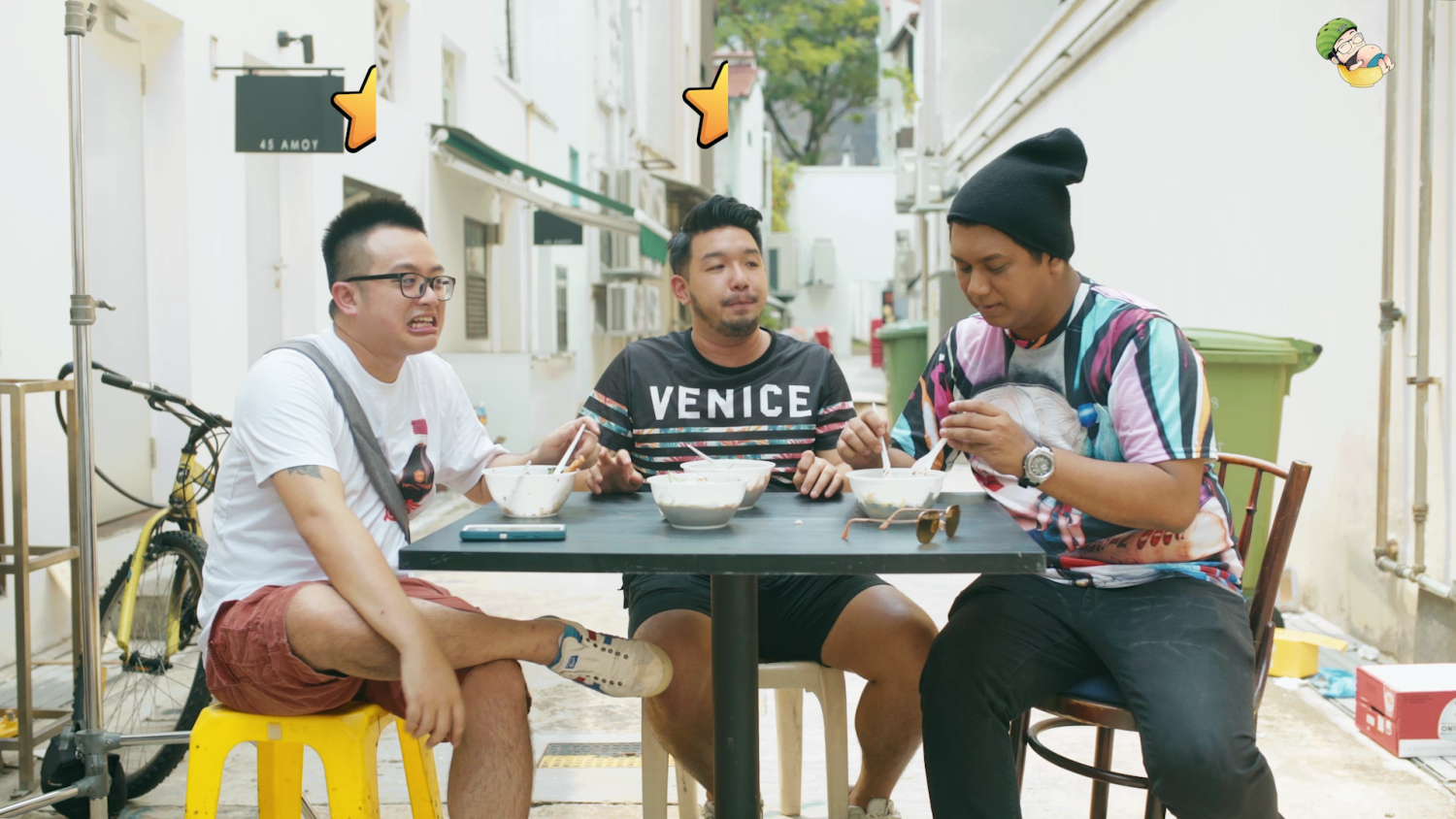 Ratings: 1 Star
THE LEGGY BUSINESS

67 Ubi Avenue 1, Starhub Green #01-05/07, Singapore 408942
Mon – Fri, 10AM to 3PM
We are back here at Amoy Street Food Centre where we will be trying the Balinese Donburi and Ayam Penyet from Rayyan's Waroeng Upnormal.
This is another fusion-inspired stall, only this time their Donburi is a combination of Indonesian and Japanese elements.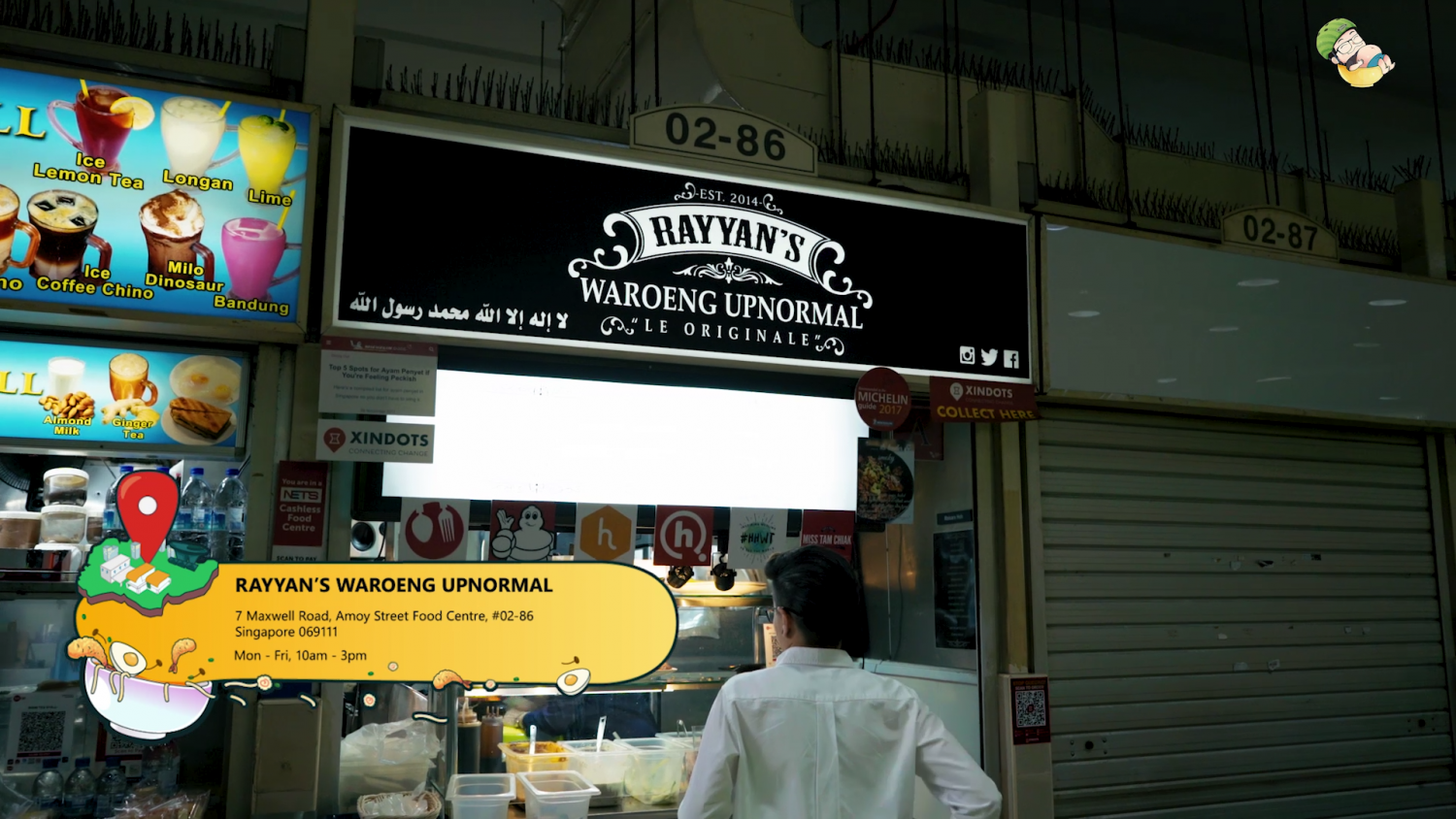 "At first it was normal, and then it became Abnormal!" – Aiken #PunsFail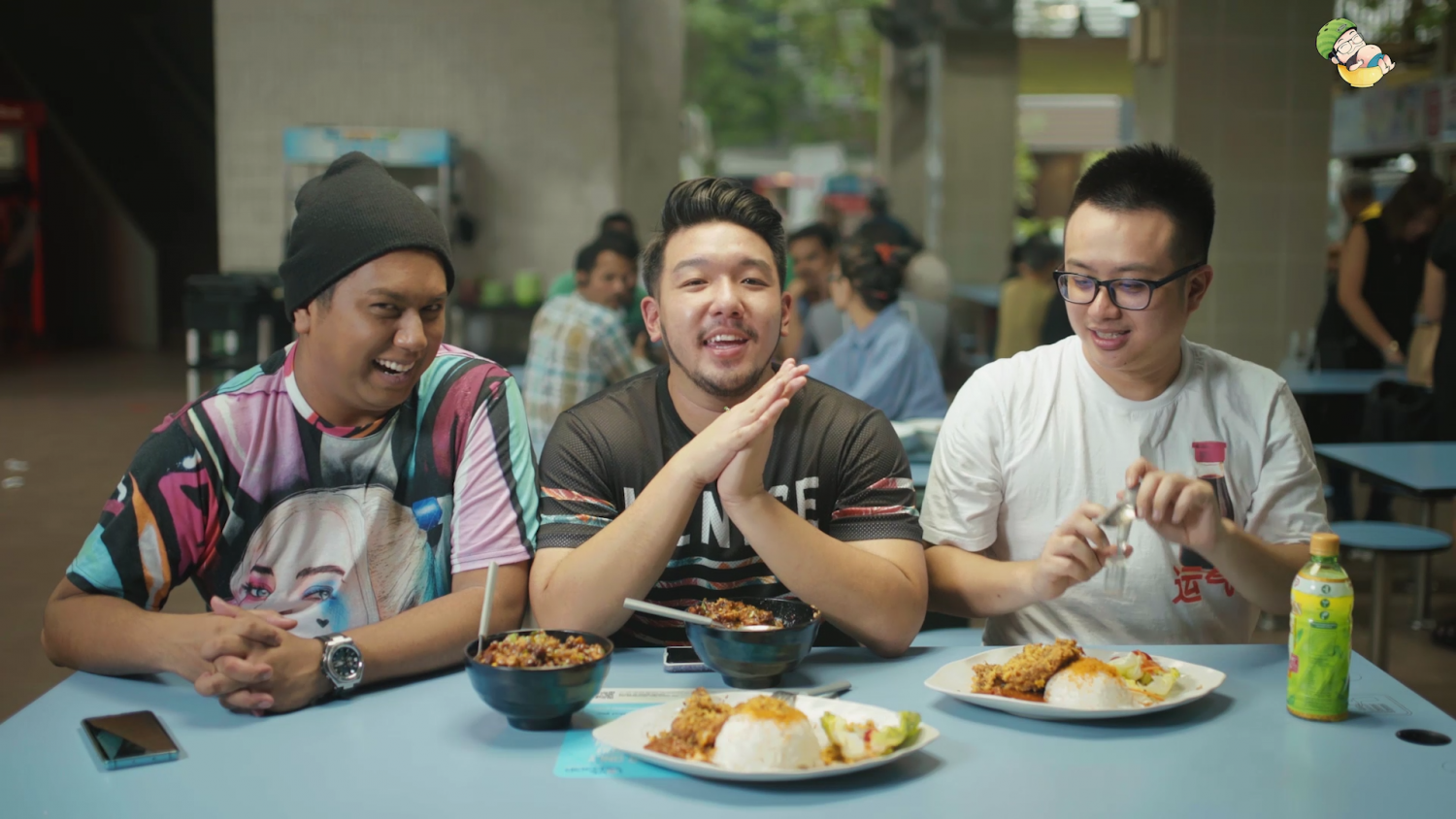 We will be trying their signature Kuta Oyakodon first. There's chicken chunks, spring onions, omelette and a load of kecap manis drizzled all over this dish.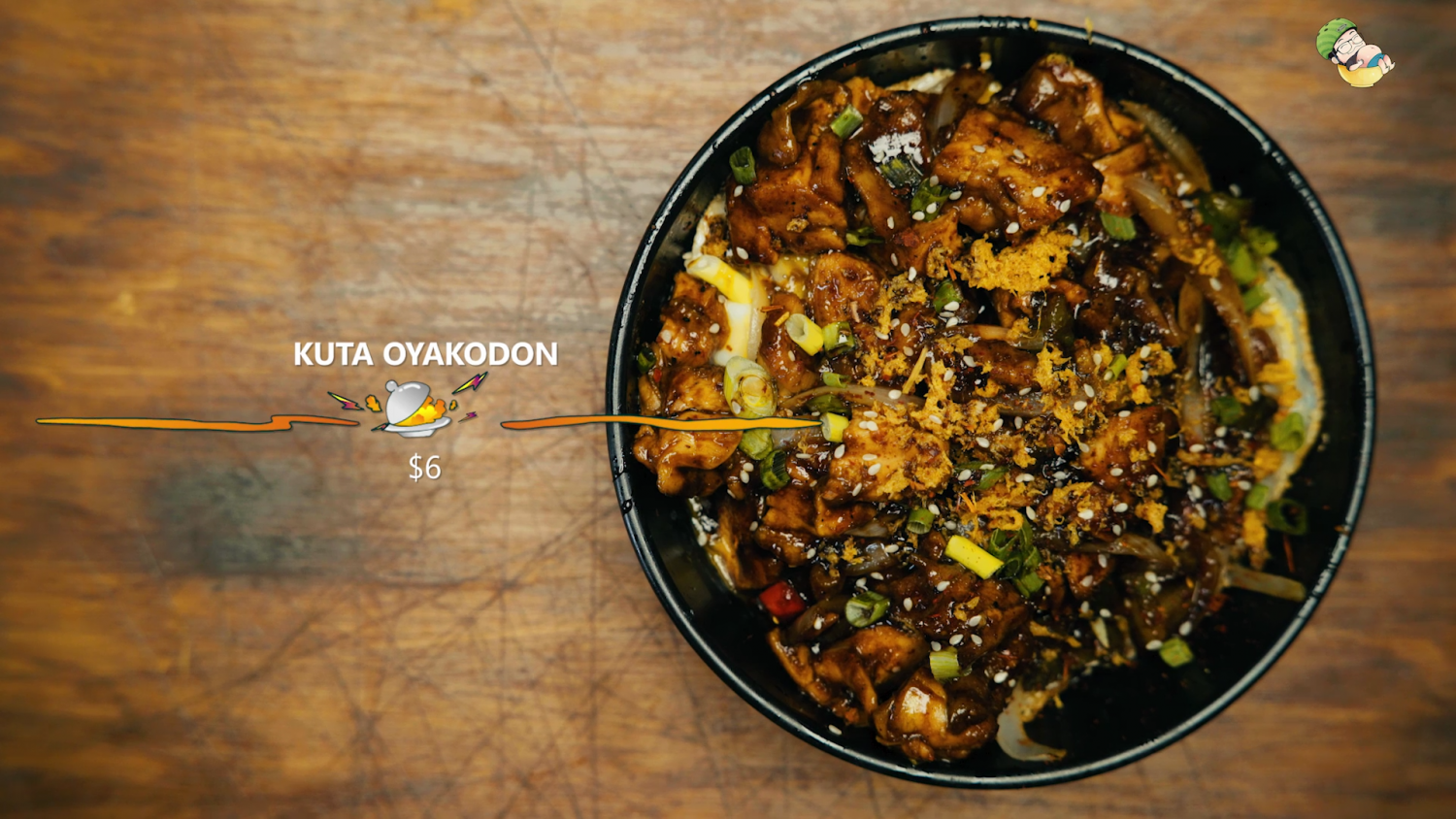 In case you are wondering, kecap manis is a really sweet aromatic soy sauce originating from Indonesia.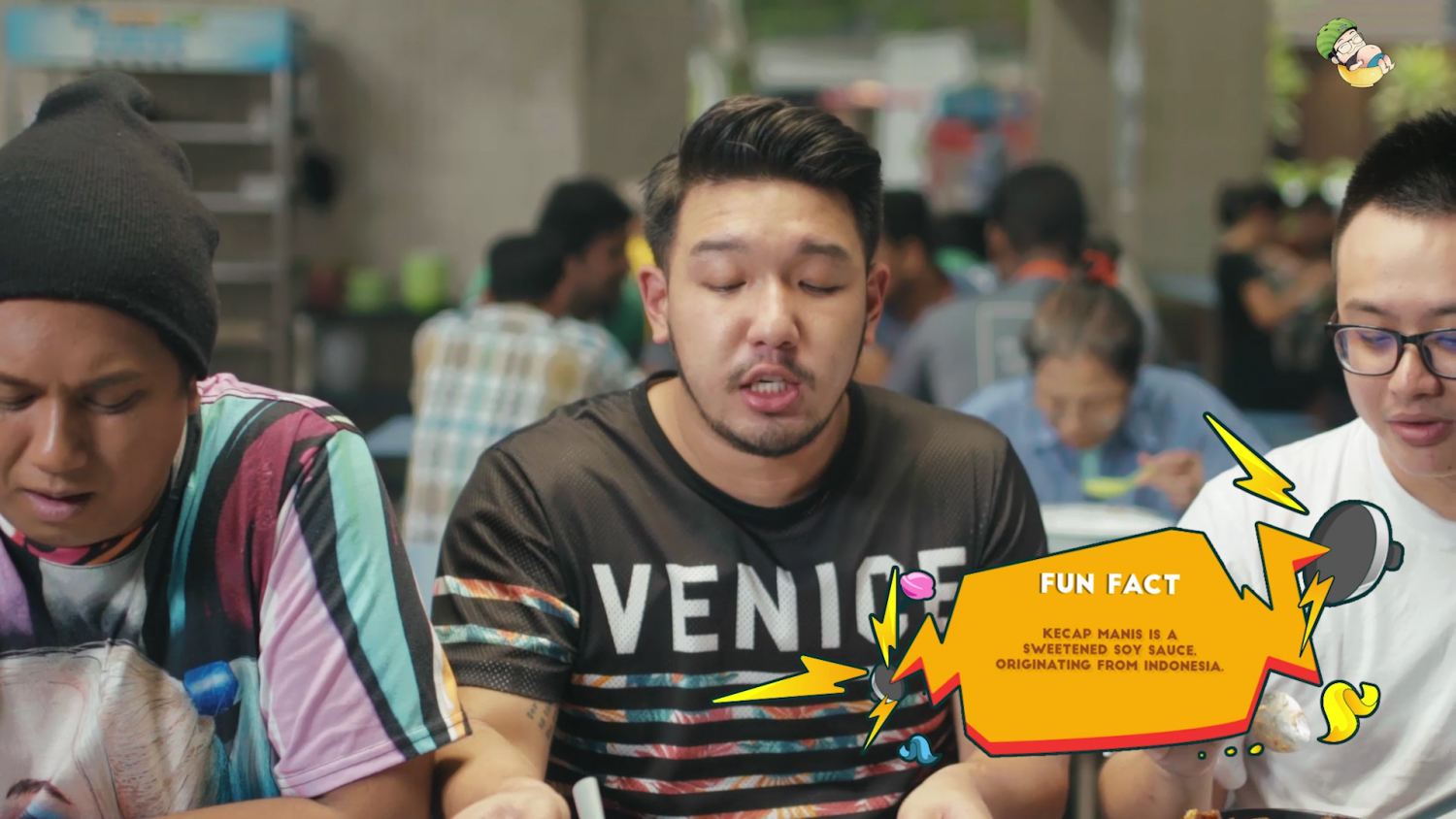 Our immediate reaction to this bonburi is that it tastes exactly like a pizza! You know, the pepperoni kind of taste. The kecap manis is very sweet, which gives this dish an incredibly sweet flavor. We feel like we are eating a bowl of dessert than an actual savory dish.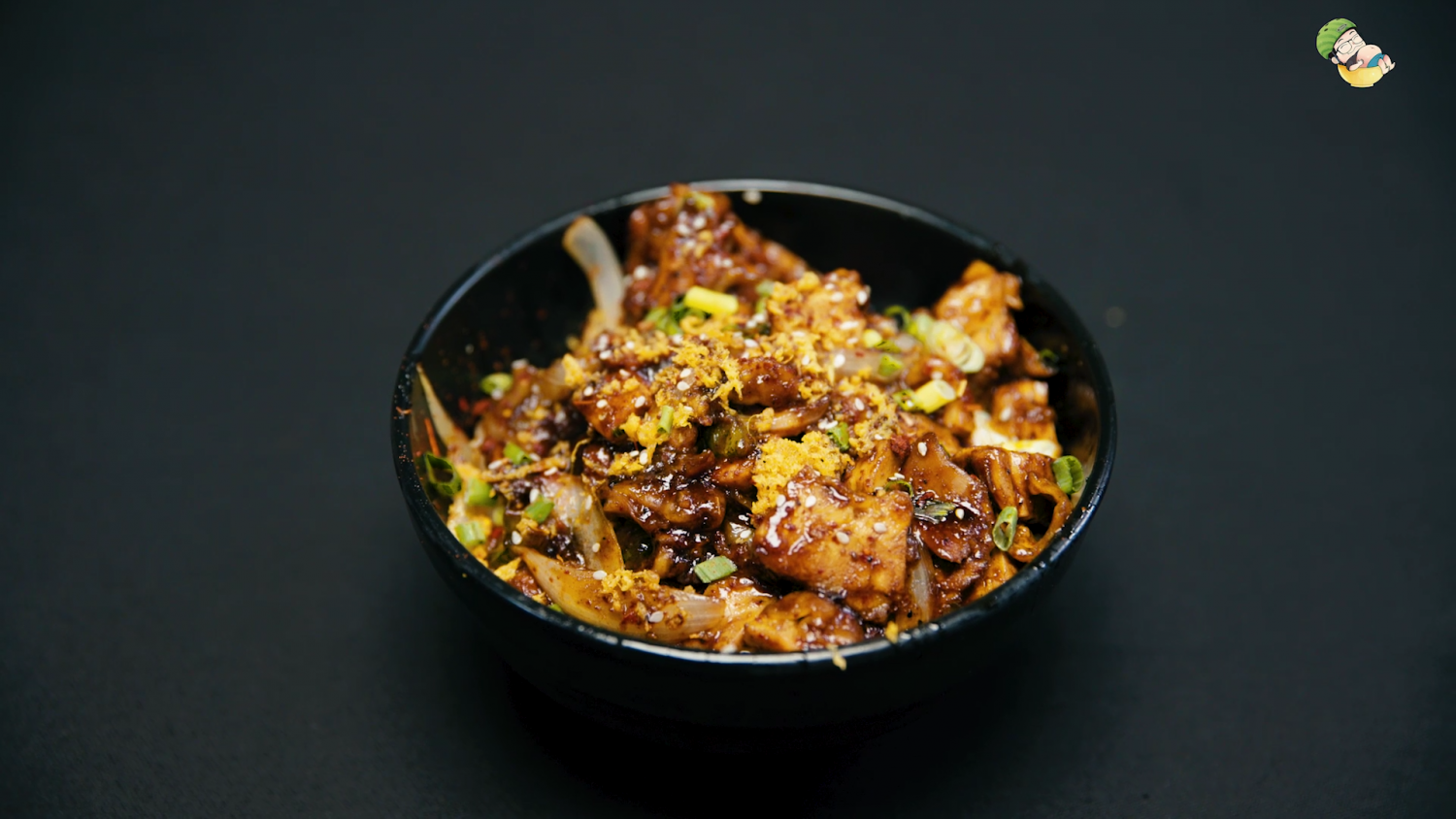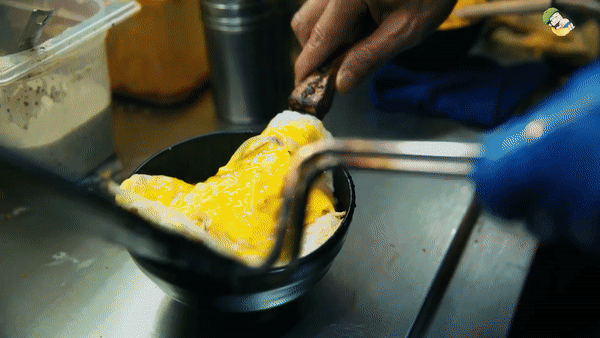 Their 1/4 Cut Fried Chix Penyet is very different from our standard Ayam Penyet we so very much love. This version have orange serunding bits, abstract drizzles of kecap manis, and a garden salad adding splashes of colour to the golden fried chicken and crimson sambal.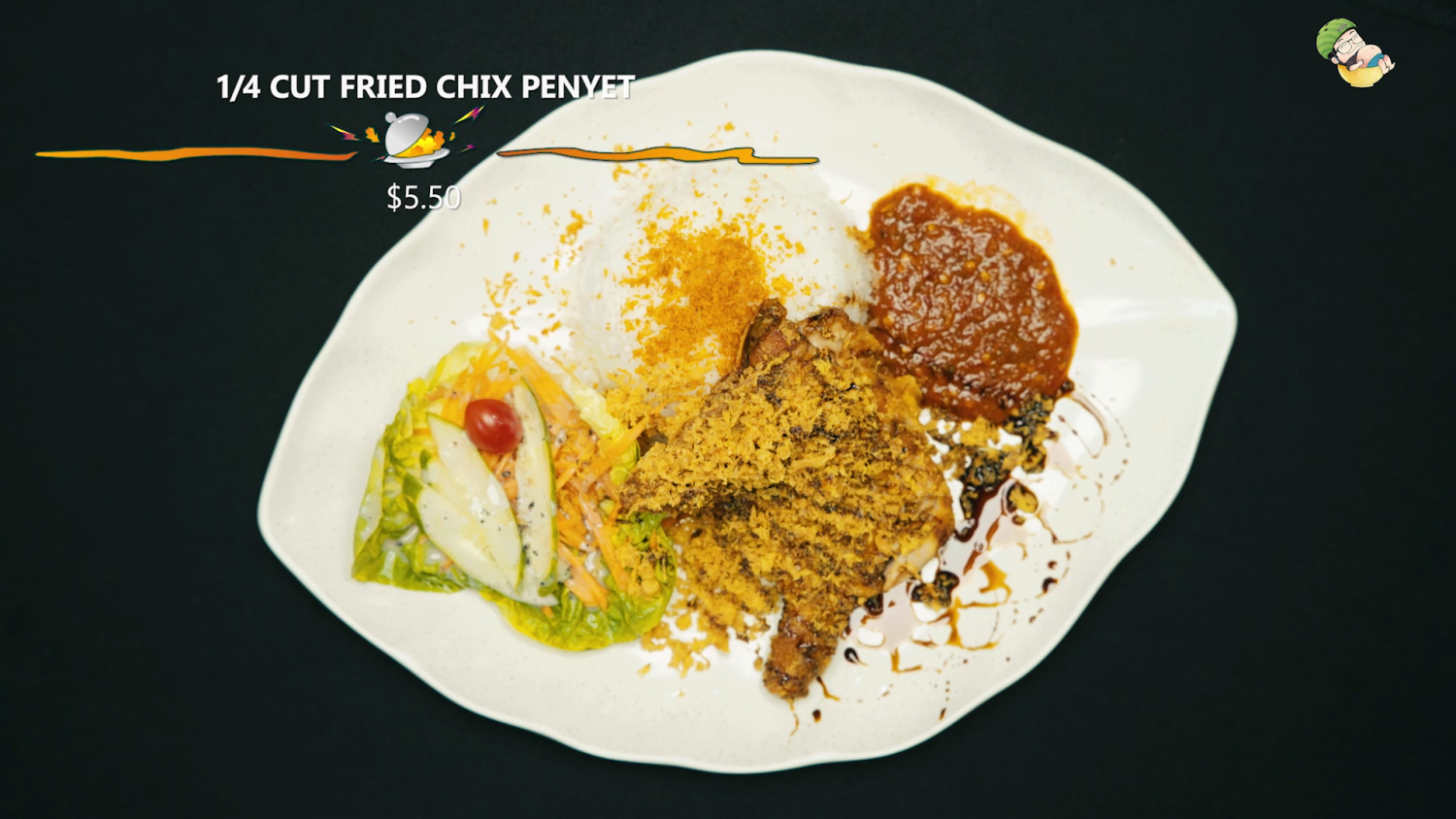 Our biggest gripe is that the sweetness of the coconut flakes on the rice. The taste somehow just come and overwhelm you. It's a really surprising and weird combination for such an iconic dish.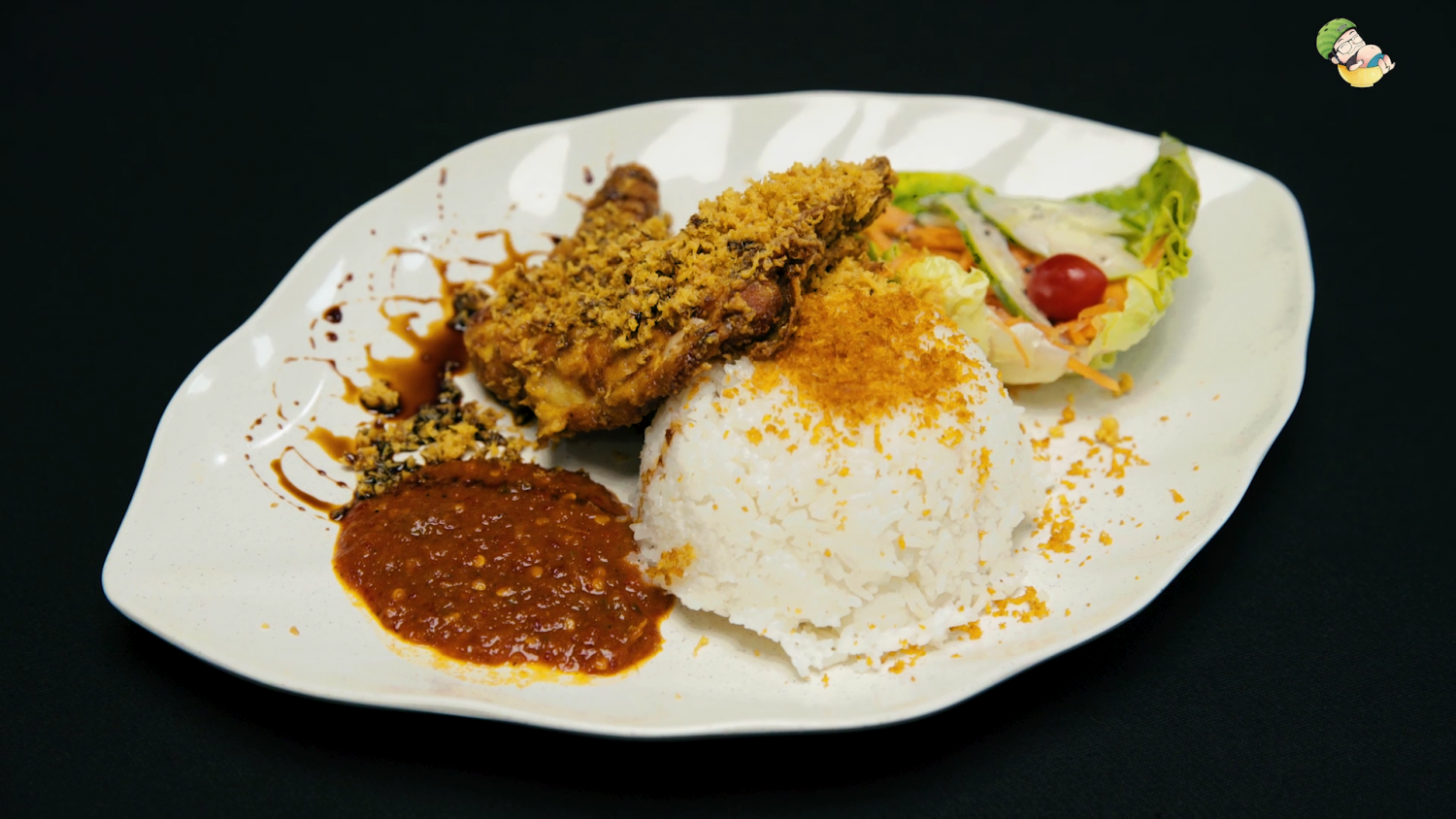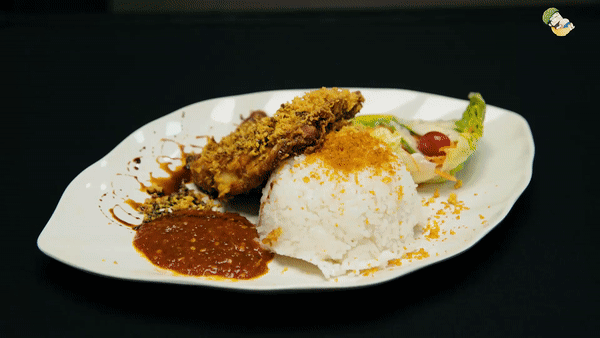 The fried chicken is pretty average too., nothing out of this world. The only thing that stands out for us is the sambal. It's really good. But that's just about it for this dish.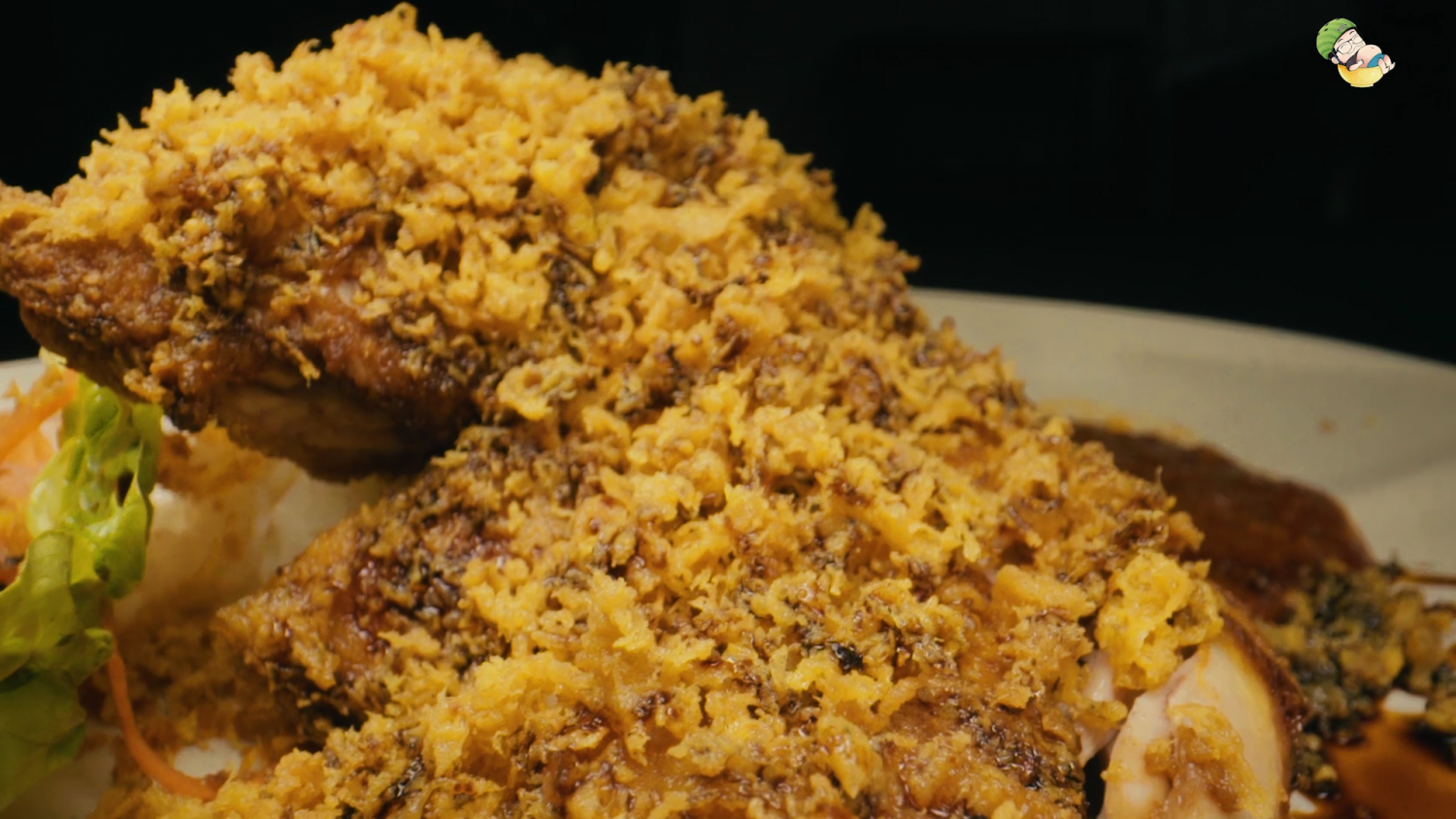 And with that, Rayyan's Waroeng Upnormal has a total of half a star.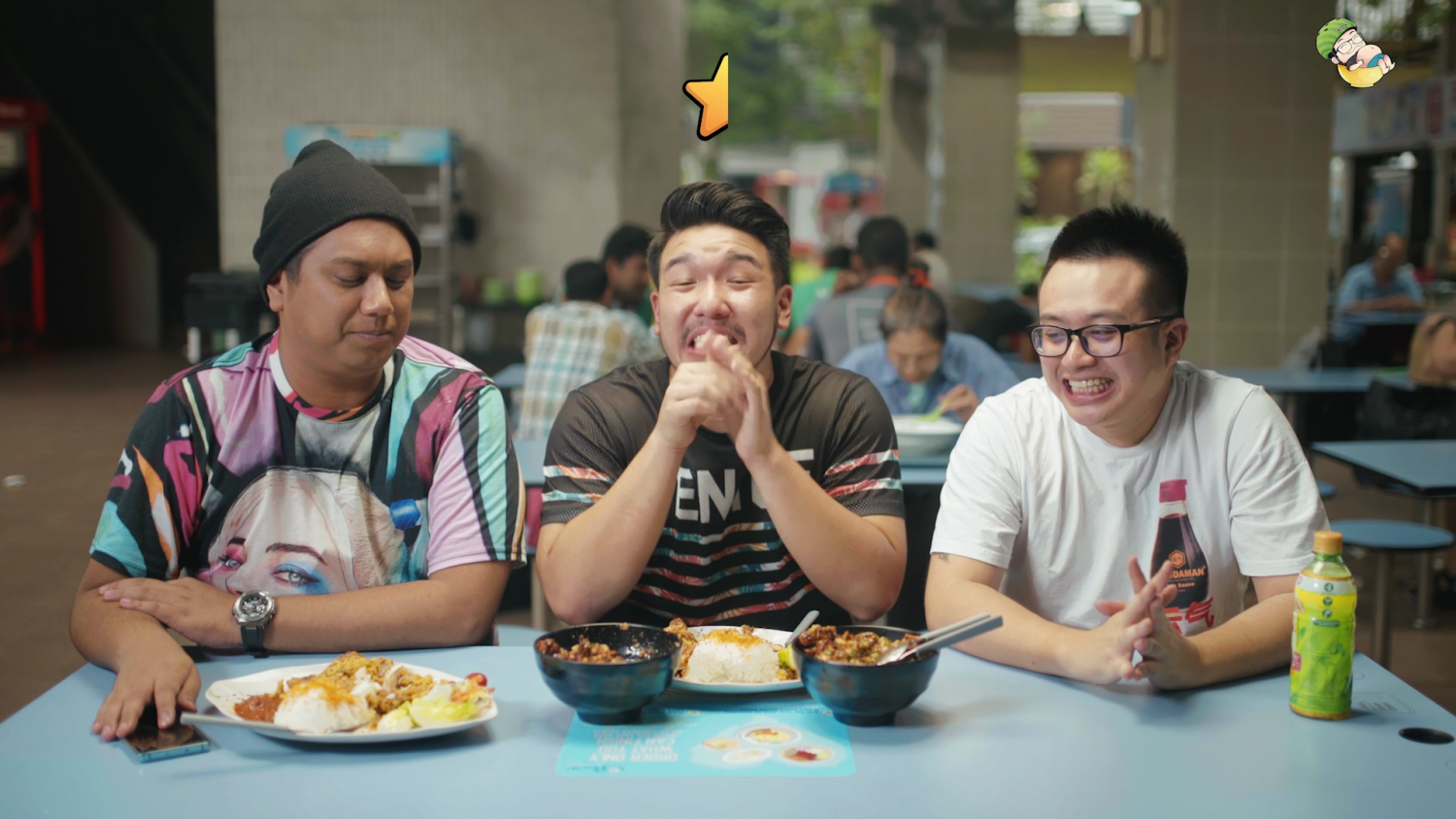 Ratings: Half Star
RAYAN'S WAROENG UPNORMAL

7 Maxwell Road, Amoy Street Food Centre #02-86, Singapore 069111
Mon to Fri, 10AM to 3PM
We are now here at The Salted Plum where we will be a selection of dishes at affordable prices. This Taiwanese inspired eatery is located amidst the buzzing nightlife at Circular Road.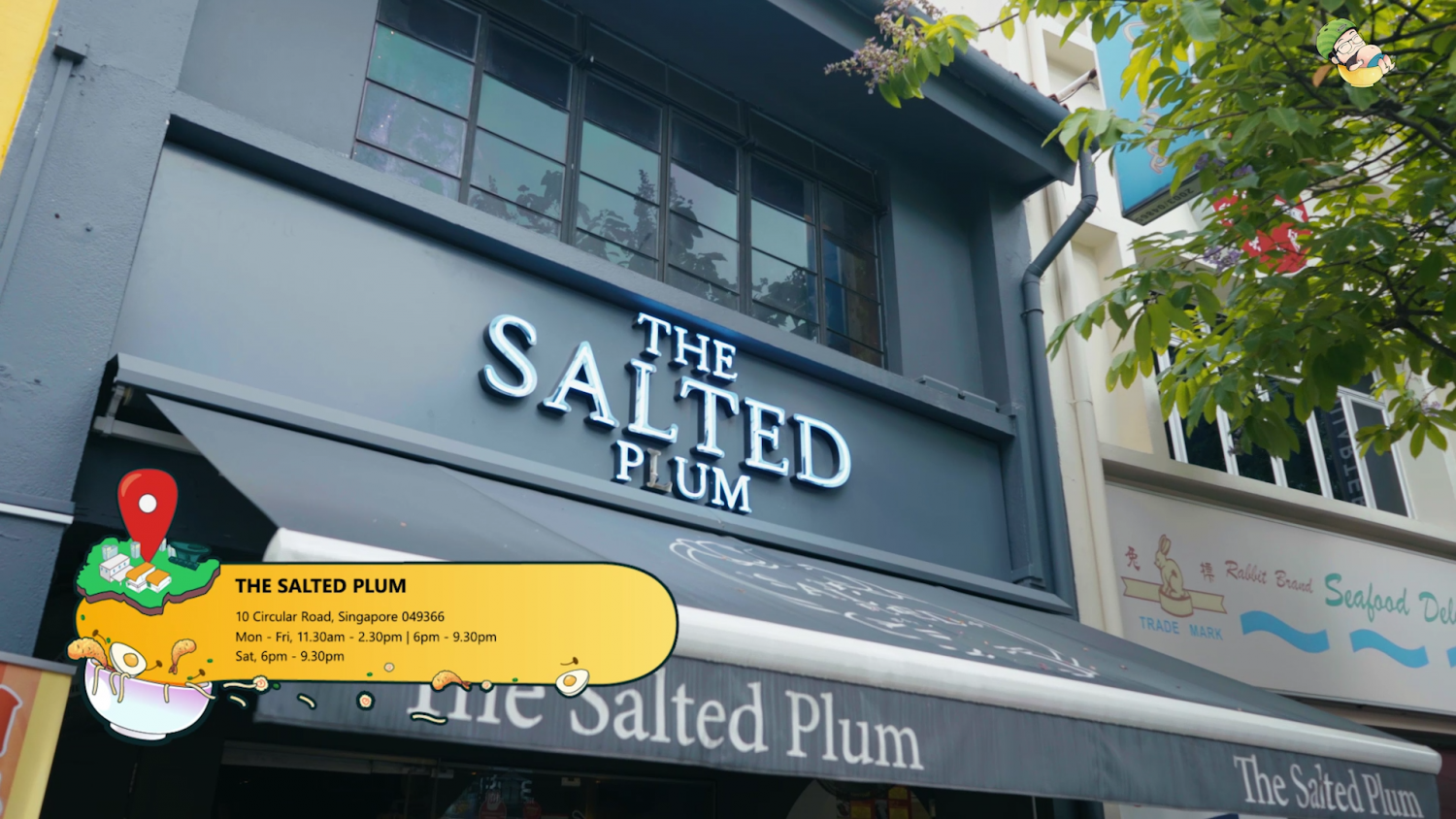 Helmed by Head Chef Shawn Koh who was previously of Salted and Hung, the dishes are mostly inspired by Taiwanese kuai chao stir-fry restaurants. The owner invited us to try their new menu and we can't wait to get started.
The first dish we are going to try is their Sweet Potato Congee. This very much reminds us of Taiwanese porridge.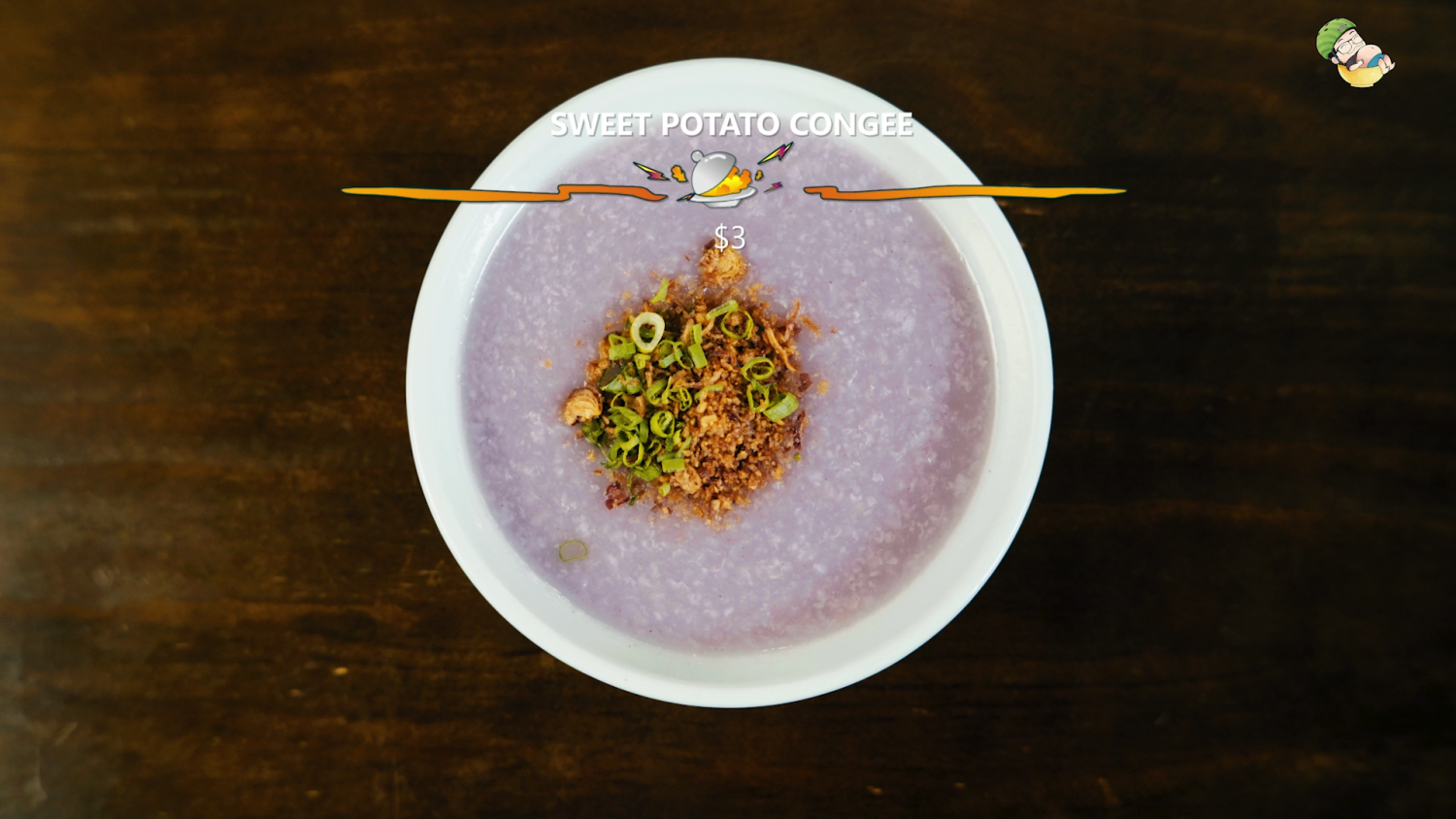 The congee comes in this light purple shade garnished with scallions, sweet potato and garlic. It looks plain but the taste is surprisingly flavorful for such a simple dish.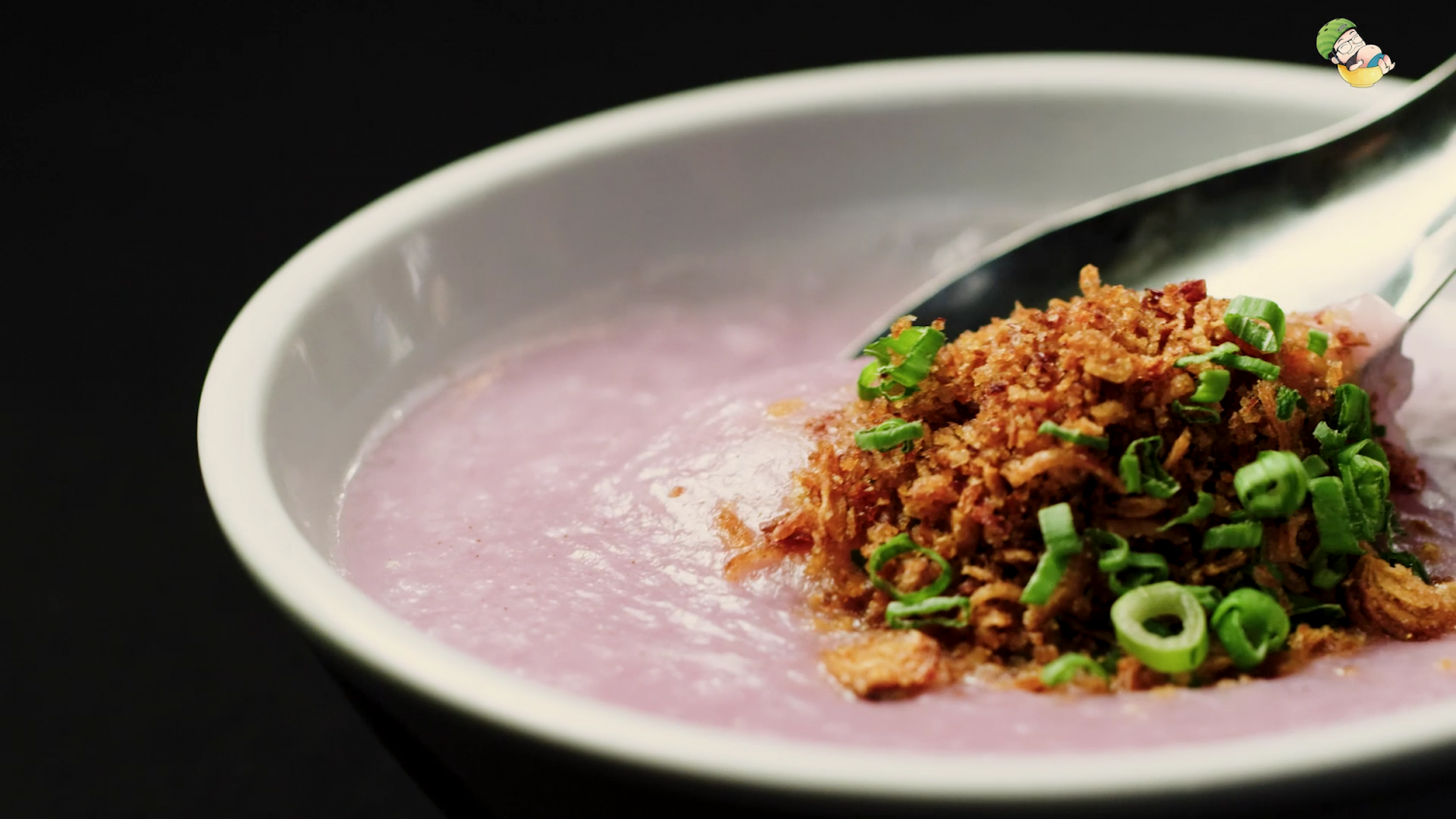 We really like the creamy and smooth texture of the congee. Feels so nostalgic and comforting to eat anytime of the day. Love it.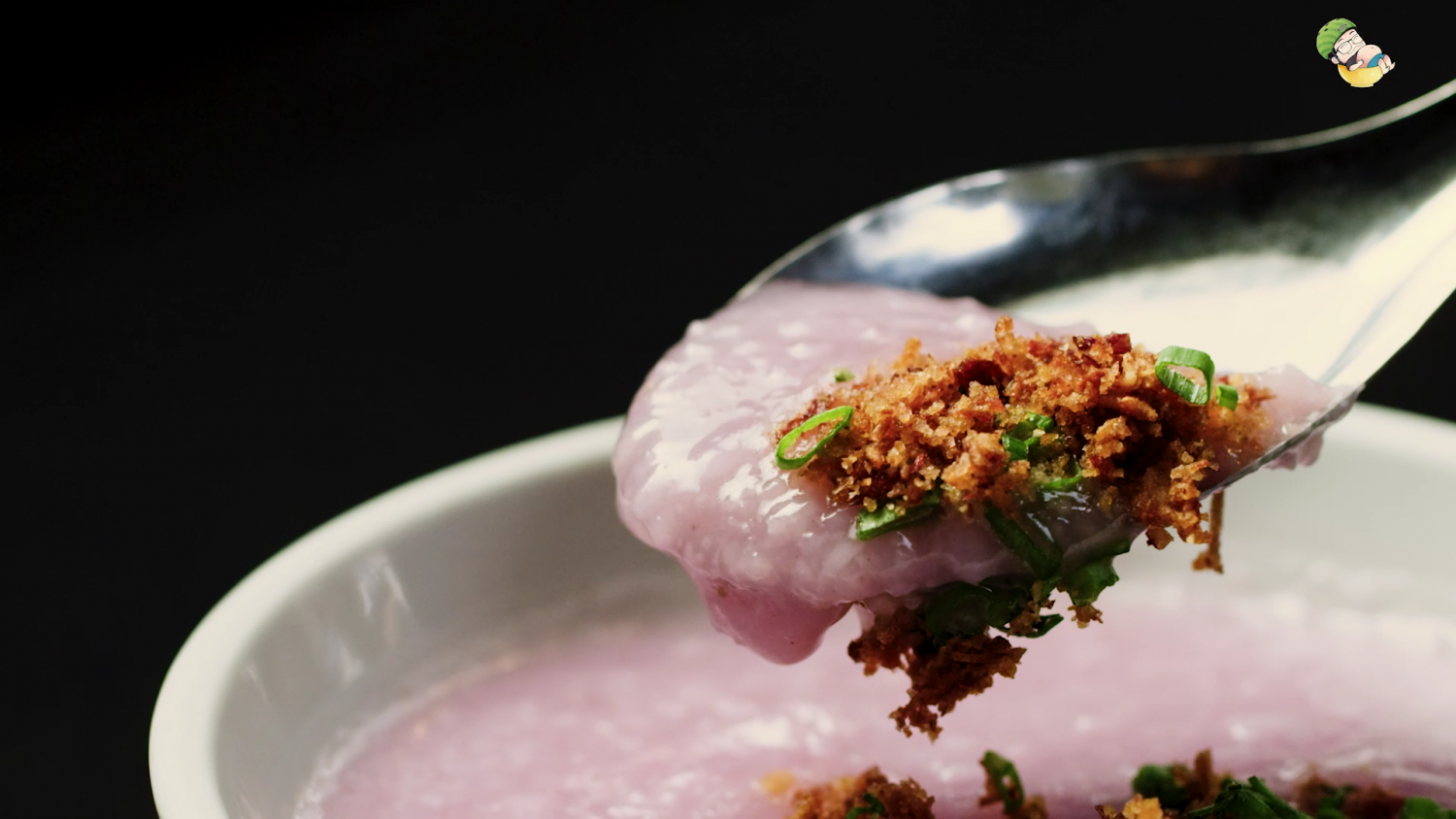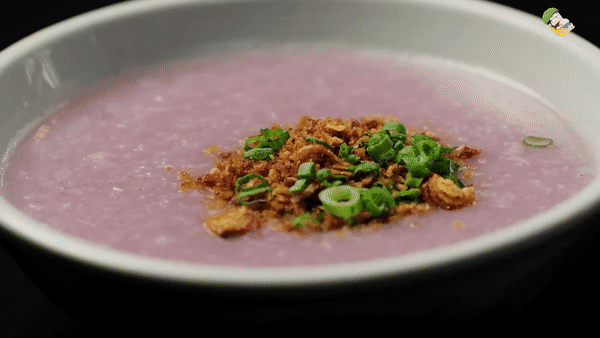 Let's move on to the Grilled Pork or Kao Rou. This is basically barbecued pork topped with lots of garlic. Looks yummy and smells great. But will it taste just as good?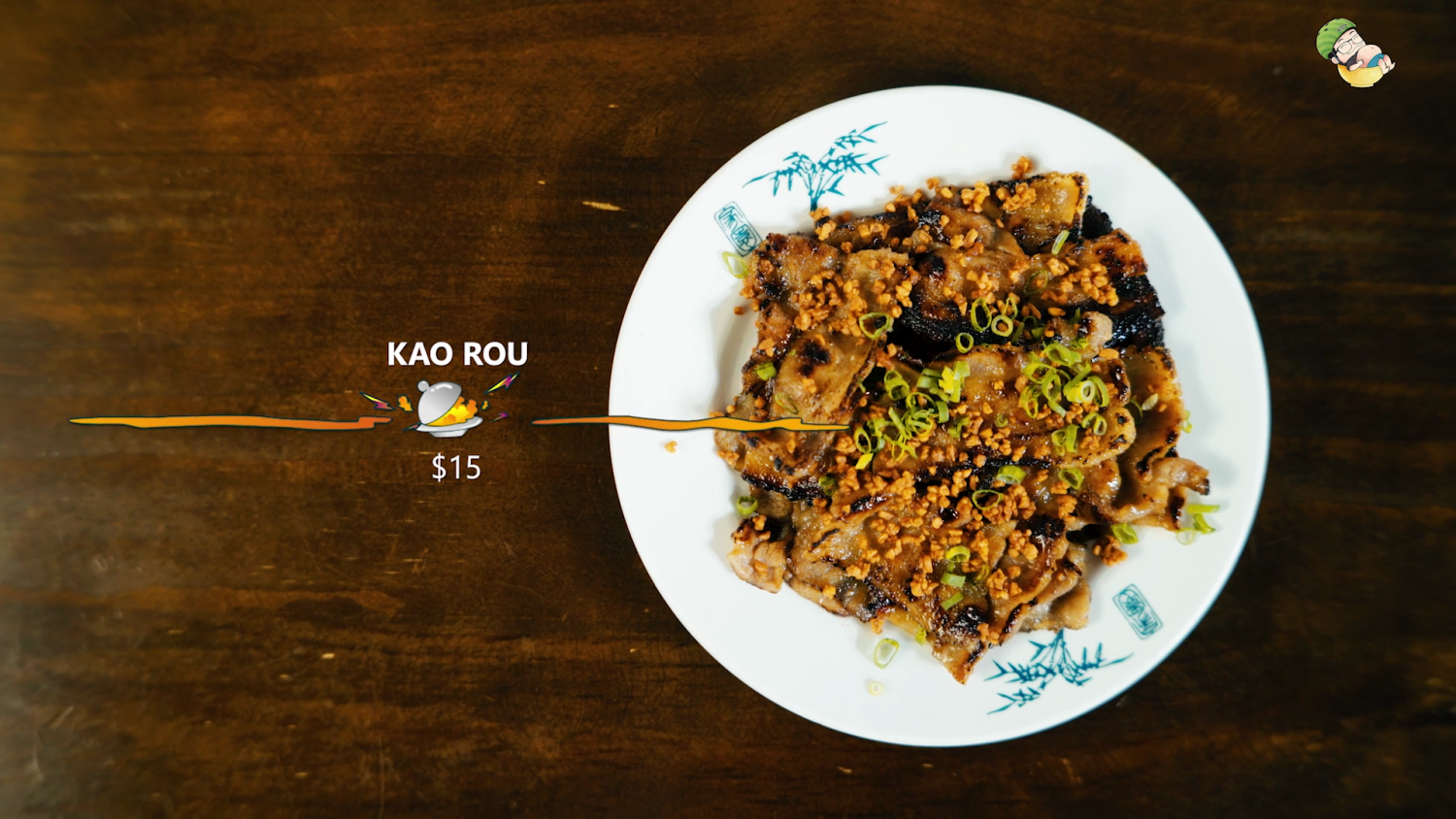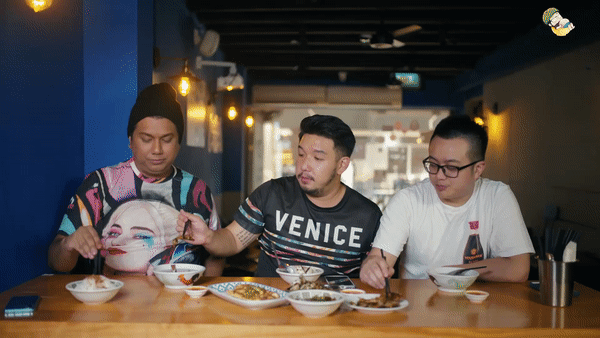 Oh wow! This dish… is an A-Pork-Alypse! The fried garlic complements so well with the meat, giving every bite an explosive satisfying crunch. So darn good!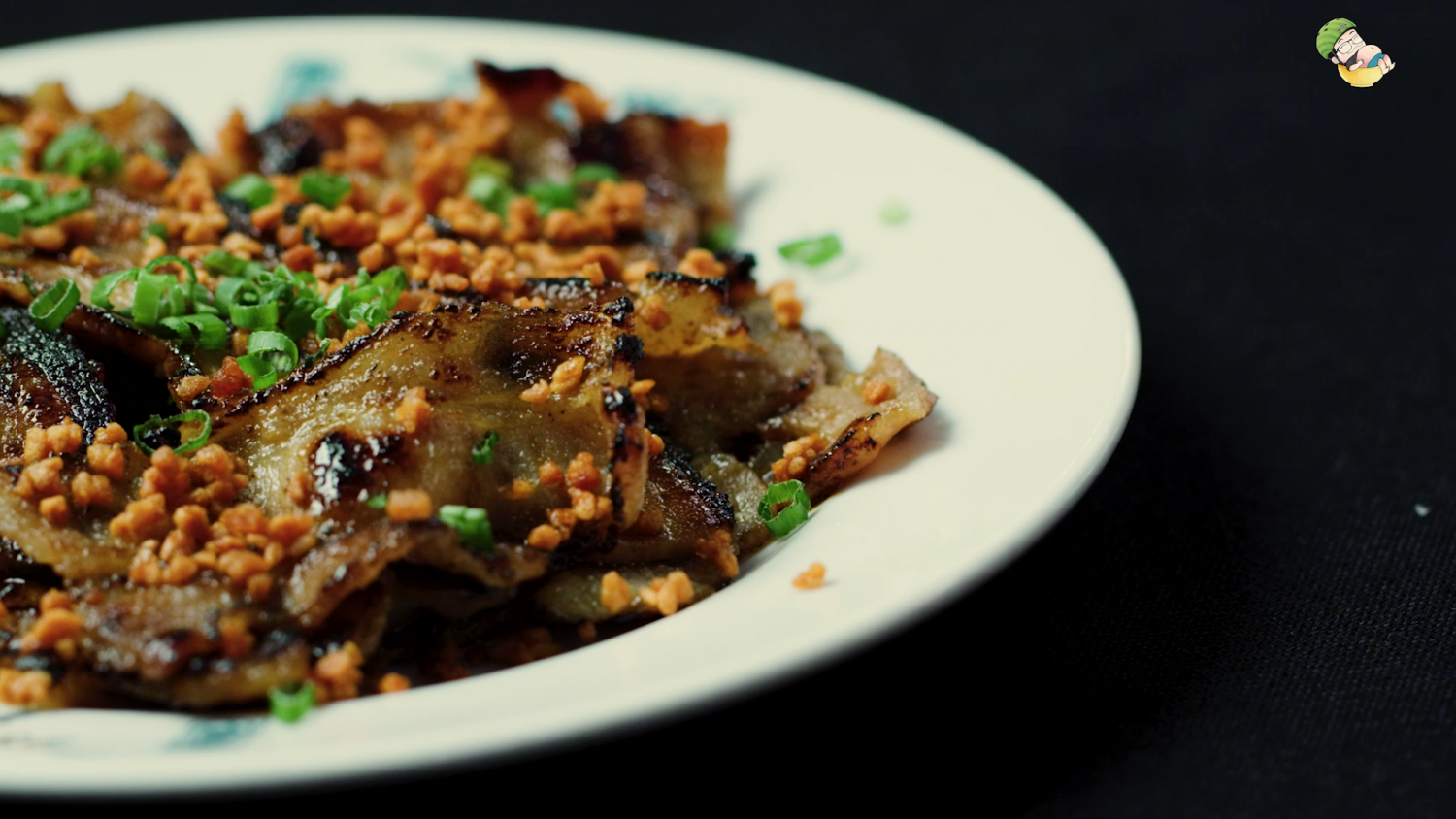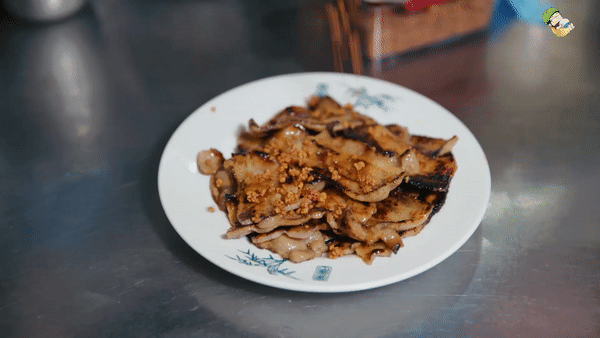 And then there's the char… It is so well done. We can literally taste the sweetness from the caramelisation of the pork. Amazing!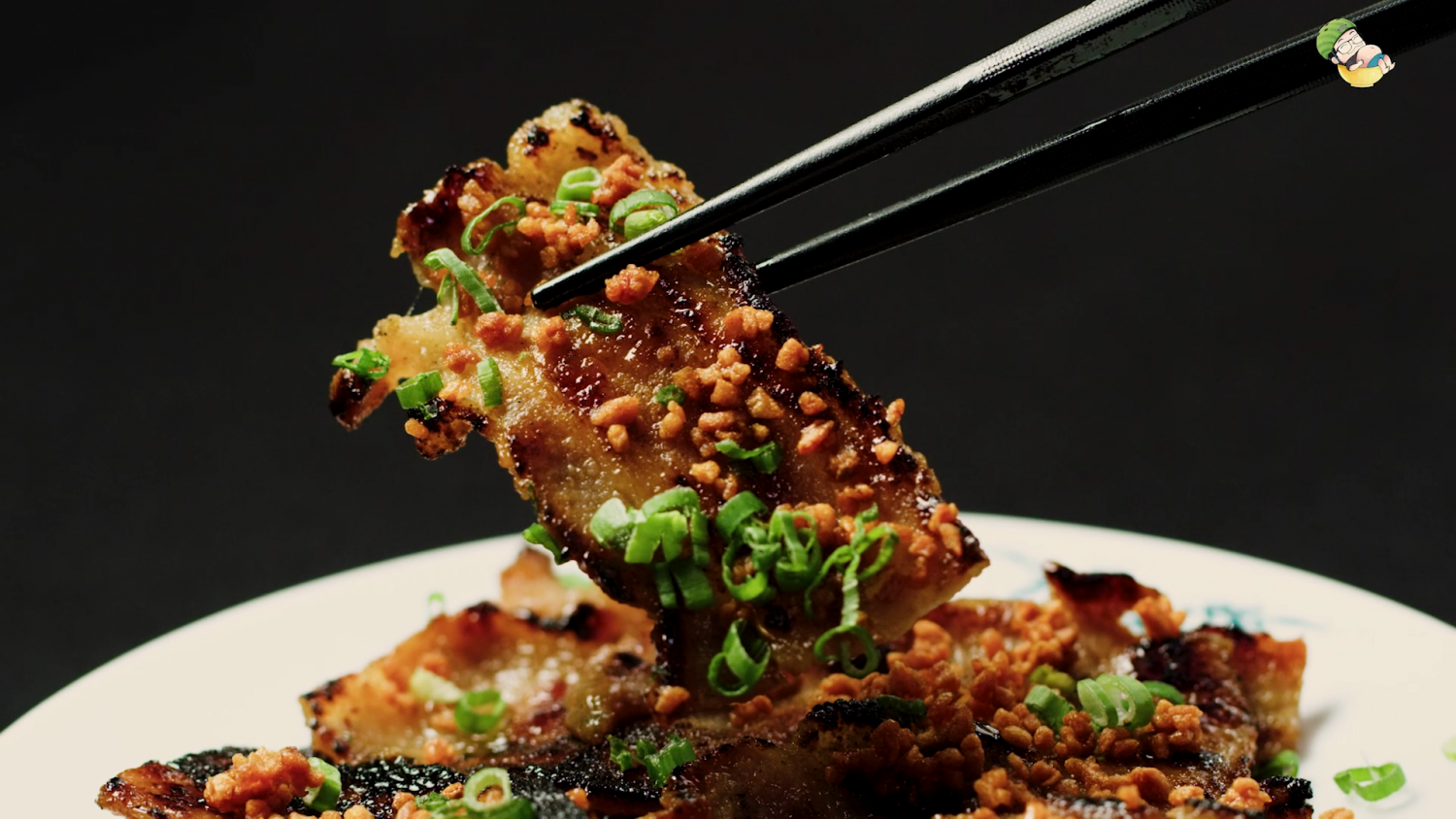 The last time we were here, we were blown away by their signature braised pork belly in special haus sauce. This time round, we will be to trying Lu Rou 2.0, which is cooked with Danggui or Angelica Herb.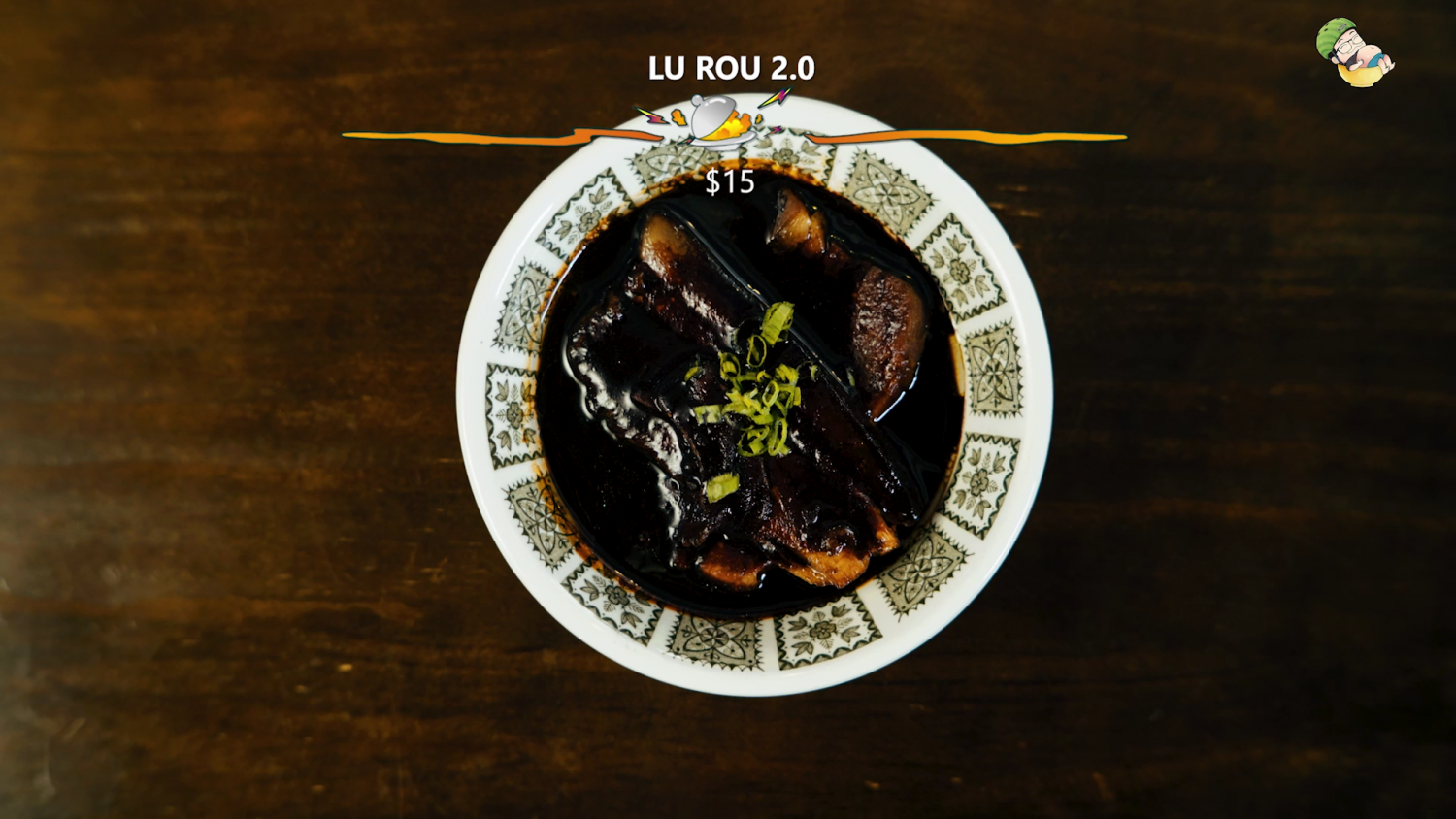 The braised pork belly is so well-marinated and tender that it simply melts in your mouth. But the star of the show is definitely the flavor of the Danggui. We didn't think it would make such a difference to the dish. We love it!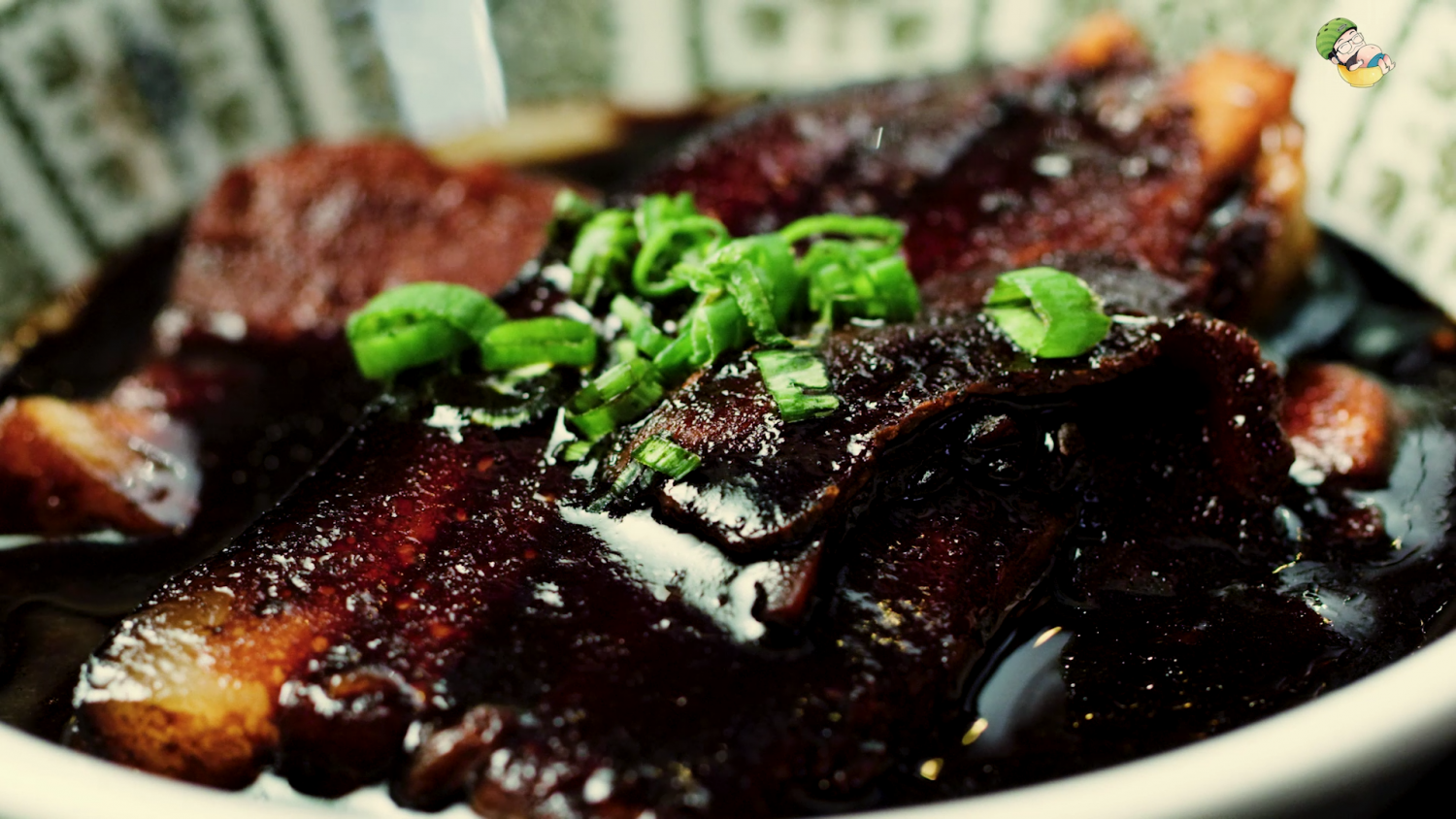 Next up is a clams dish called Joey's La La. Yup u guessed it. Joey made this and boy is it delicious!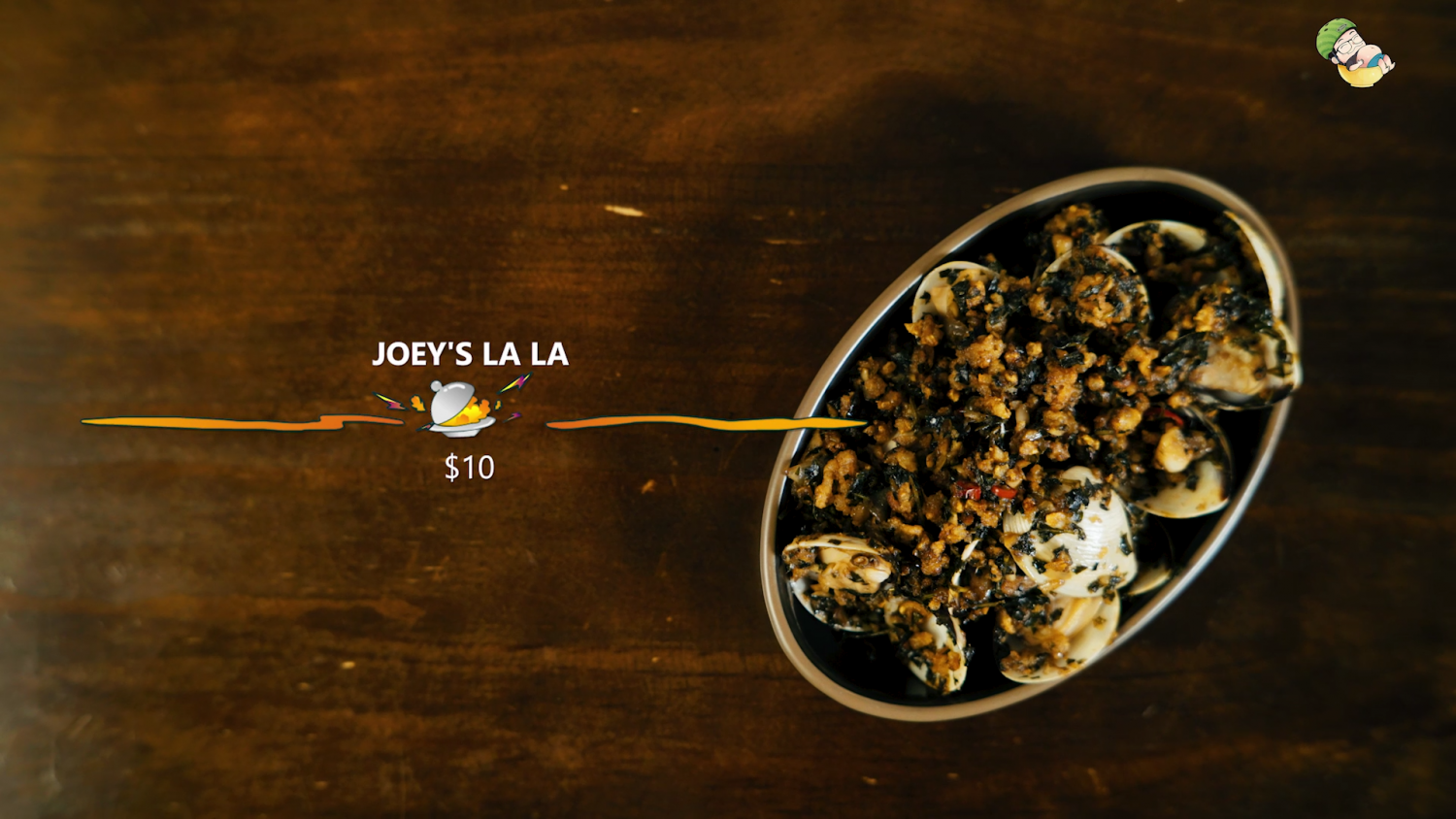 Every clam is peppered with small basil leaves, garlic and pork croutons.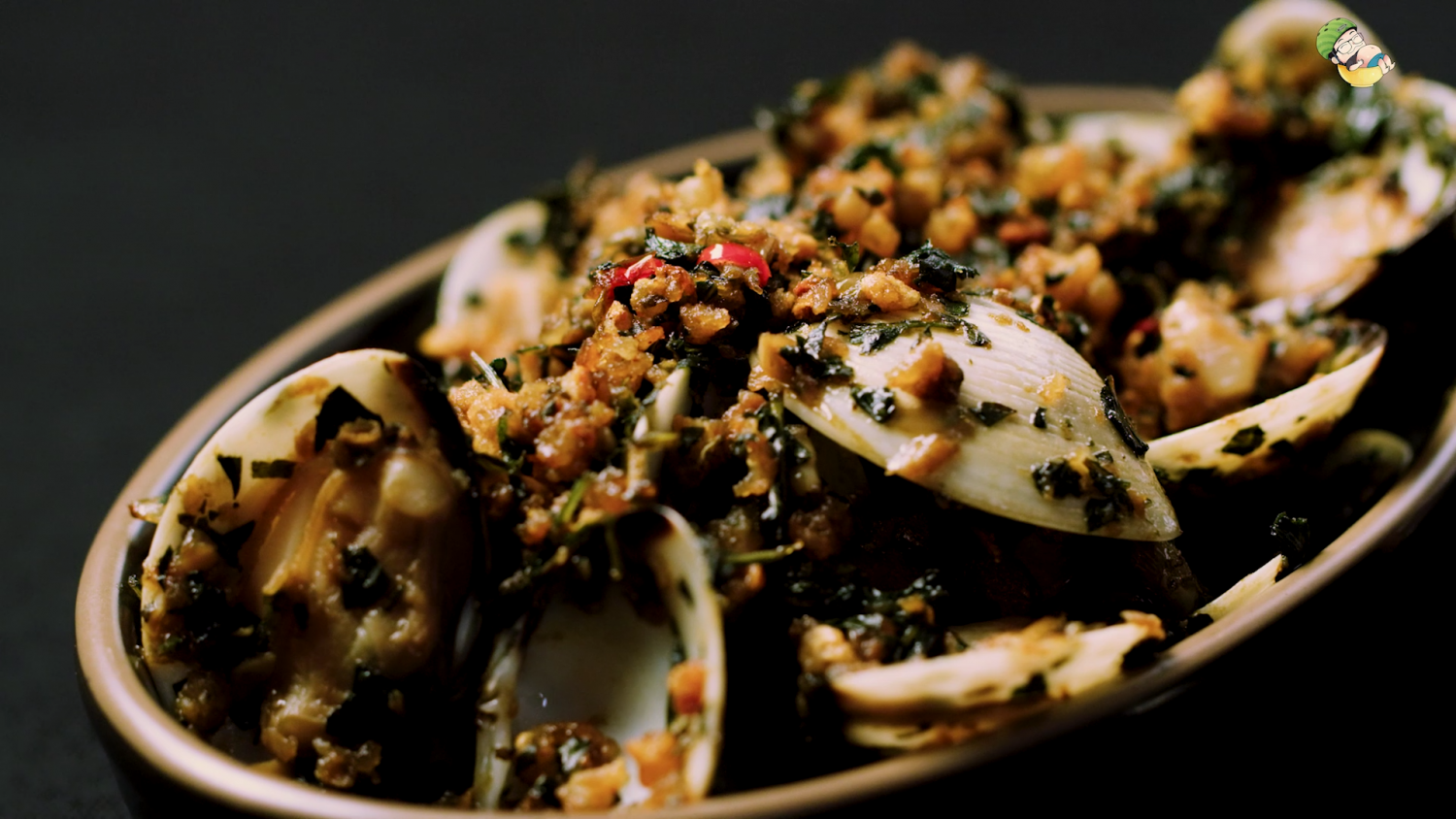 We got to say the ingredients complements the clams really well. Well done to Joey!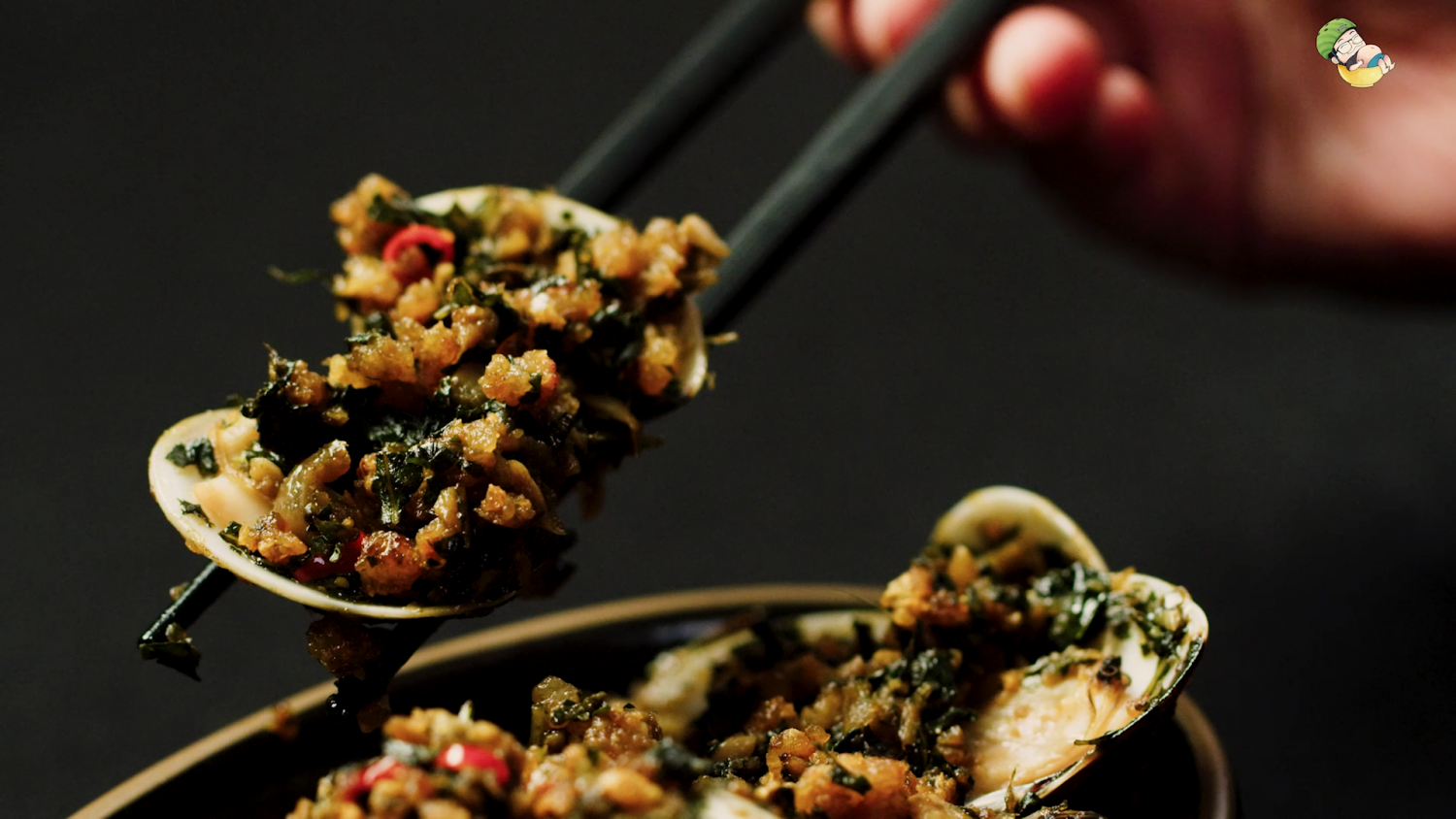 Our last dish of the day will be this Oyster Omelette.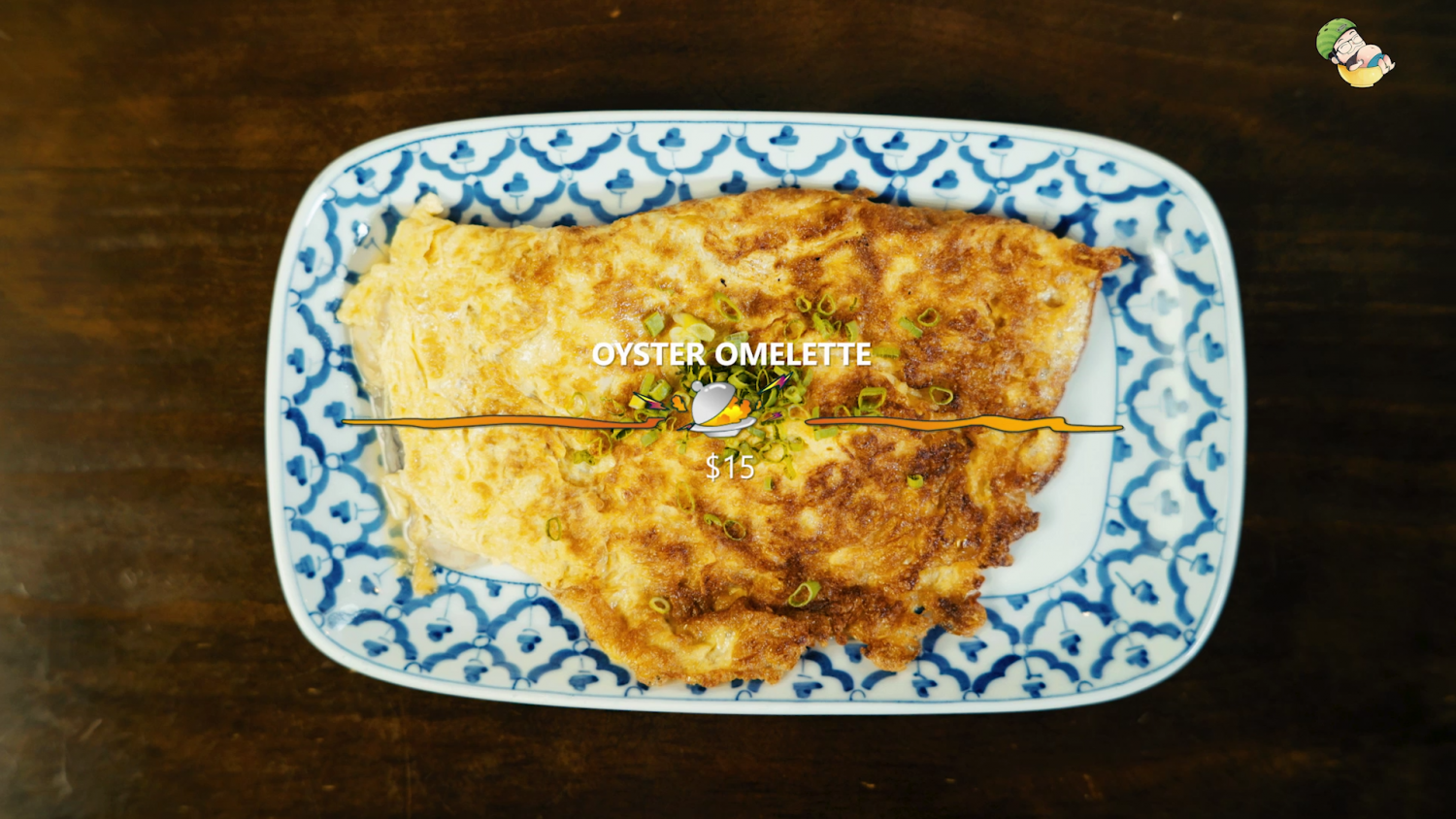 This is definitely an upgrade from the normal oyster omelettes we normally have. Despite being a simple dish, the texture and taste of the egg is so fluffy and flavorful.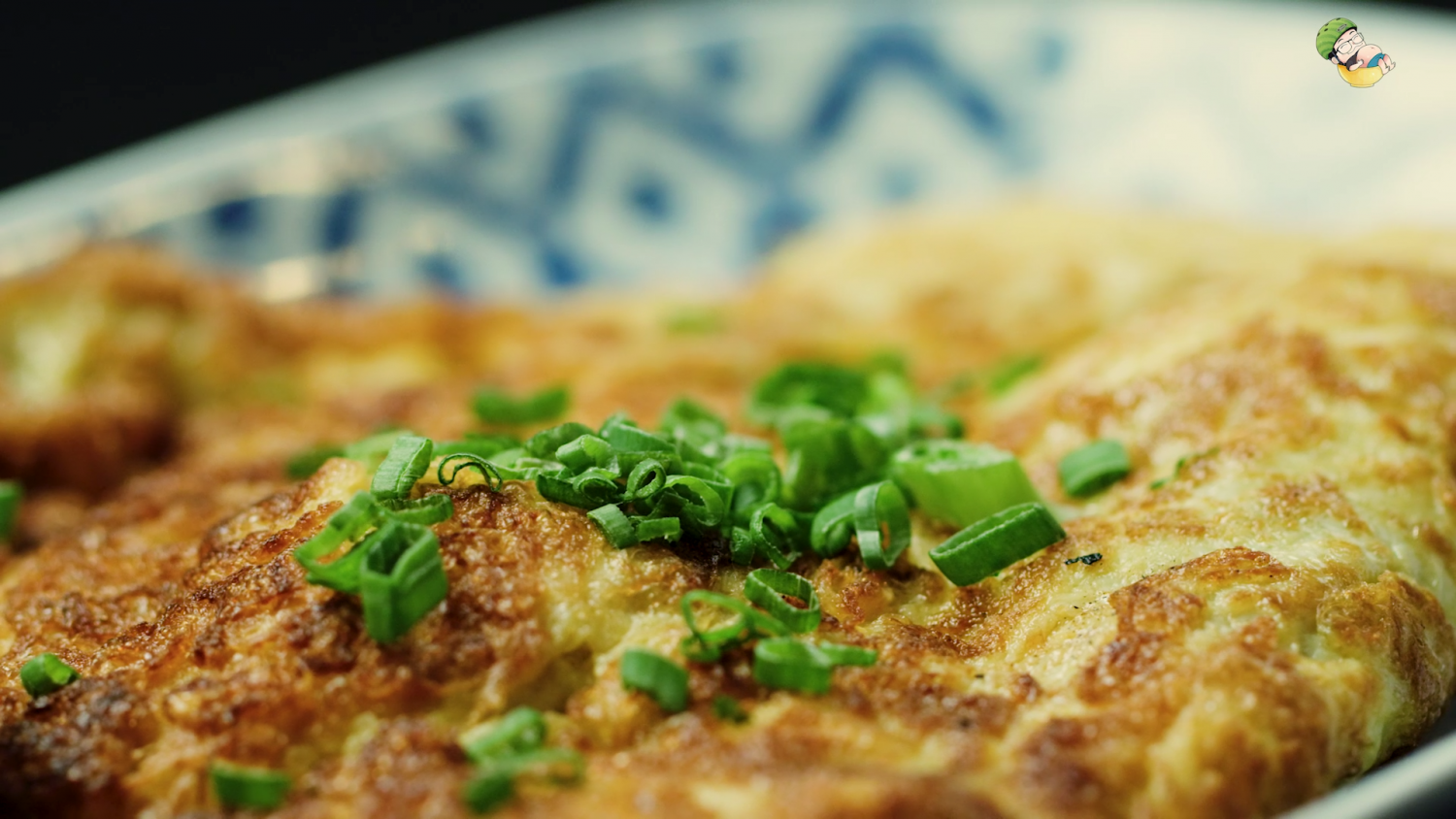 We noticed the oysters used here are premium quality ones. And they are not small either. Just look at the size of this thing. So big, fat and juicy! Omg!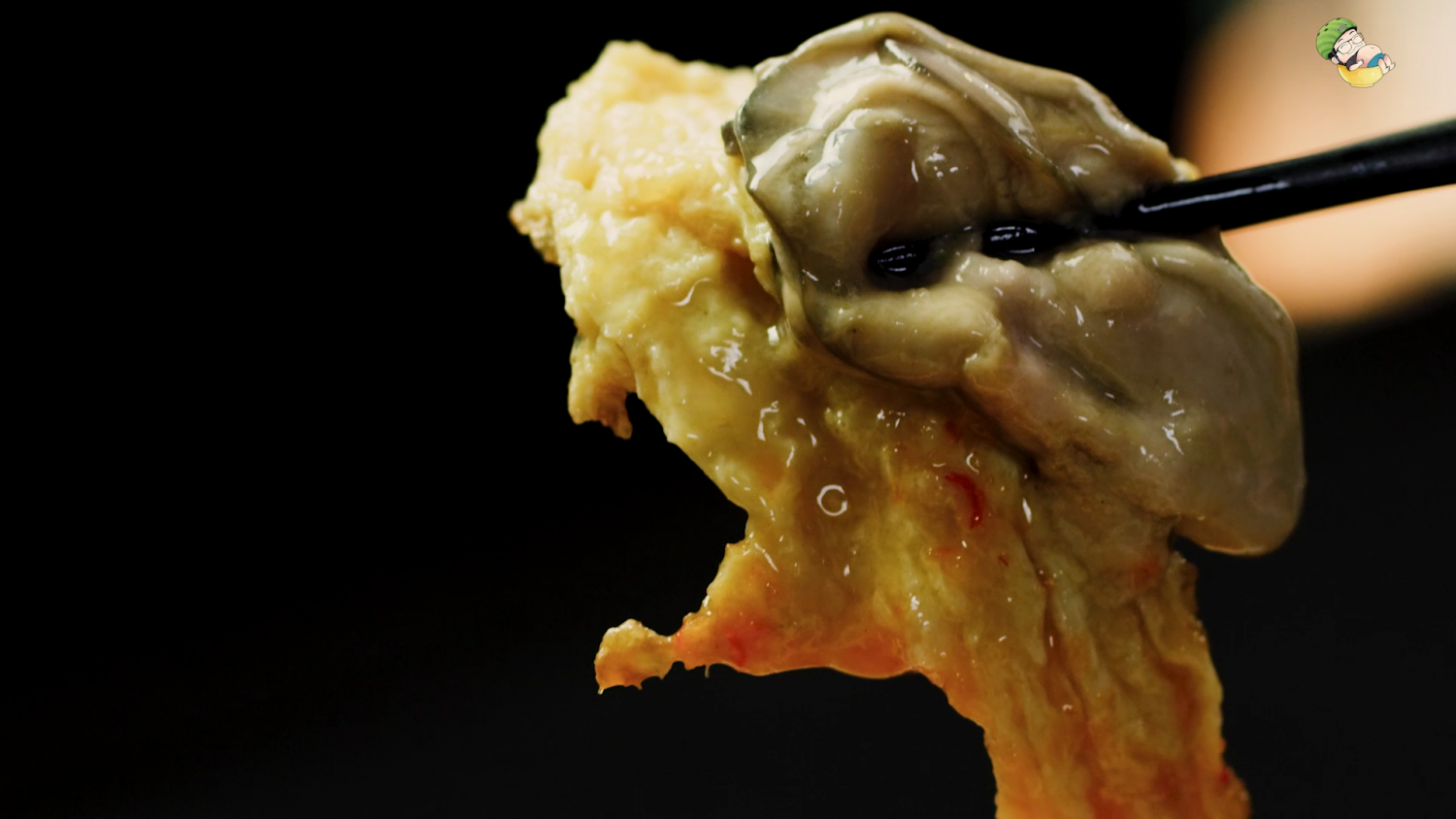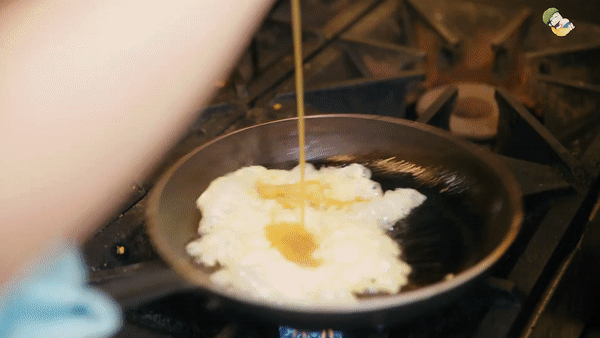 Wow this place exceeded all our expectations. What we really like about this estaurant is that they take familiar elements of Taiwanese cuisine and present them in fun, innovative and unexpected ways. This is without a doubt Food King Good!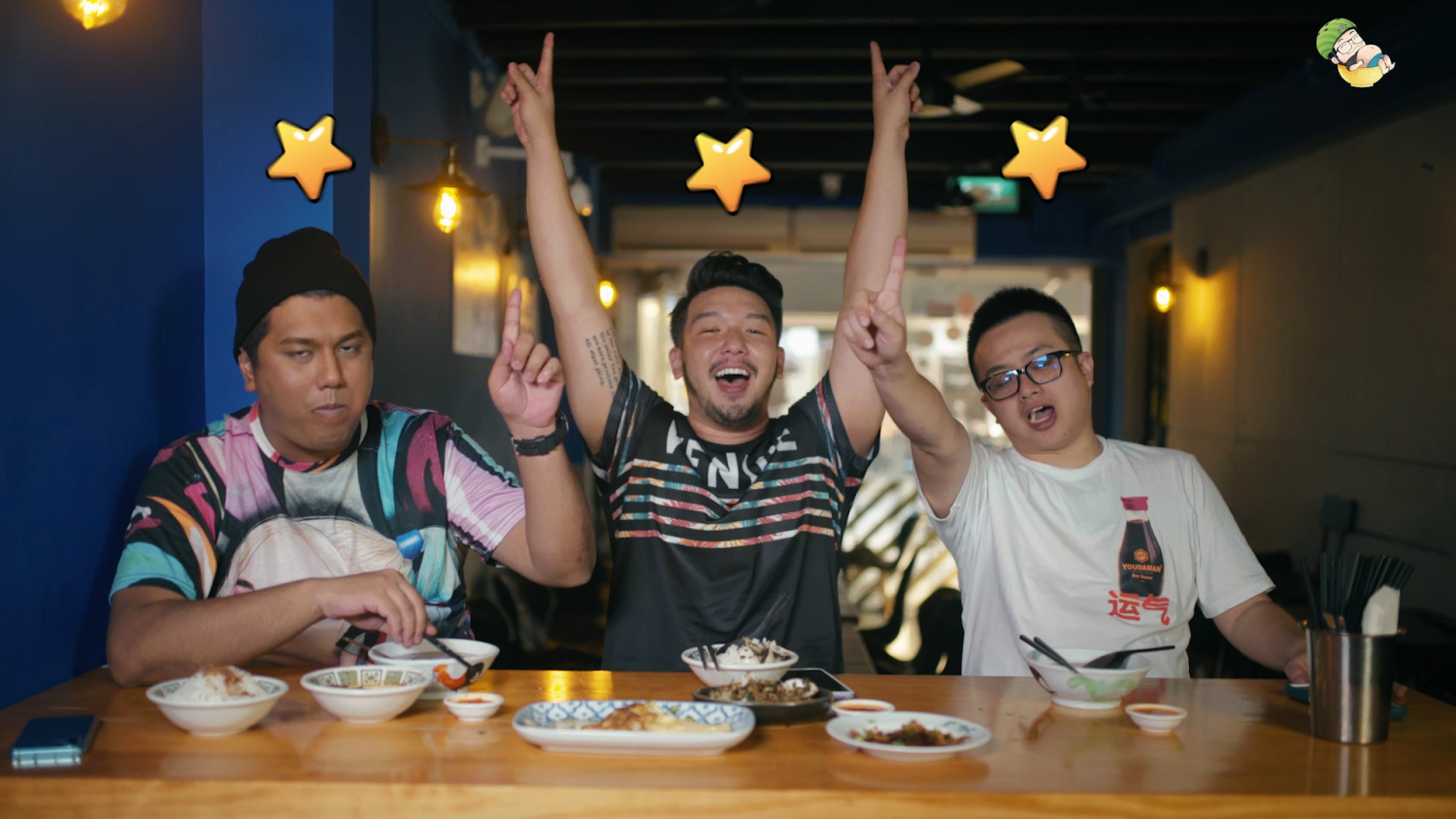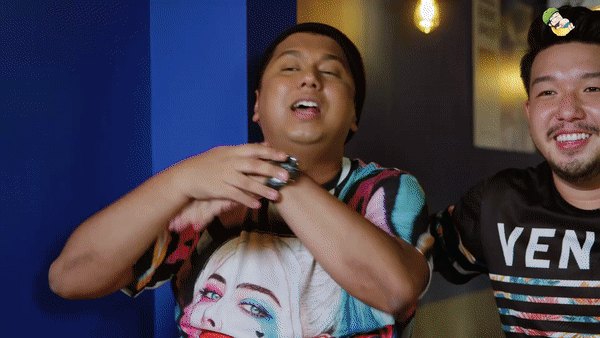 Ratings: 3 Stars, Food King Good!!!
THE SALTED PLUM

10 Circular Road, Singapore 049366
Mon – Fri, 11.30AM to 2.30PM| 6PM to 9.30PM
Sat, 6PM to 9.30PM
Alright everyone, it's a wrap finally! Thank you for joining us and stay tuned to our next episode of Food King! Before we go, Dee will give us the a pun so good, it will be the end of you and me…