It's Fridayyyyy and welcome to our latest episode of Food King! And today we are going to have another hawker episode. But this time, we are doing an episode called, "Look What They Did To Our Hawker Food!" Where basically young hawker-preneurs add their own magical touch to traditional hawker dishes. Oh no! Ryan's not happy since Ryan is a traditional elitist. The question is, will these new-age hawkers make Singapore great again? Or rather, how much will Aiken sweat?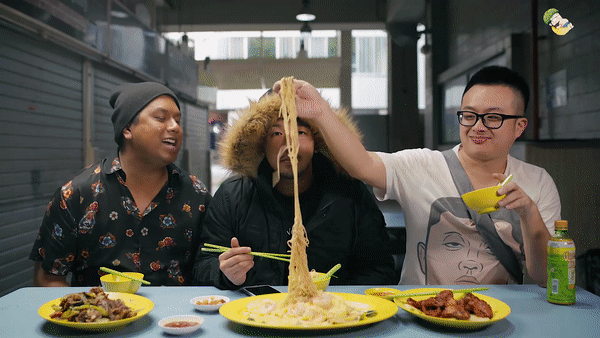 Speaking of which, today we are in high spirits. Because Aiken is feeling the heat in this winter clothing while the rest of us are cool & dry. Well, he got into this sorry state by putting himself up for a bet in last week's episode. Poor Aiken. But look how happy we are!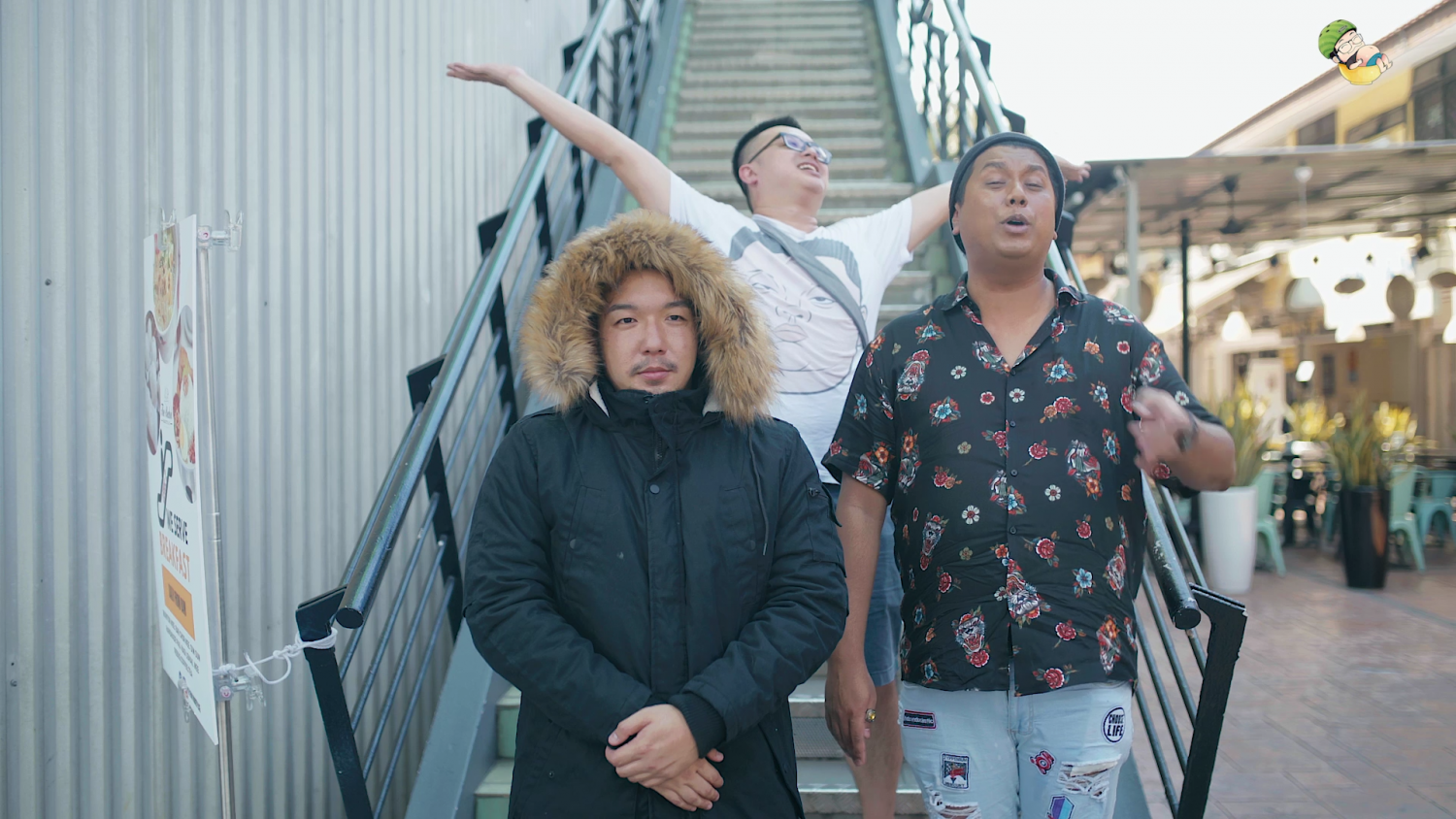 Oh, you haven't that episode yet? Shame on you. Alright, here's the link and recap of Aiken's epic moment. Enjoy!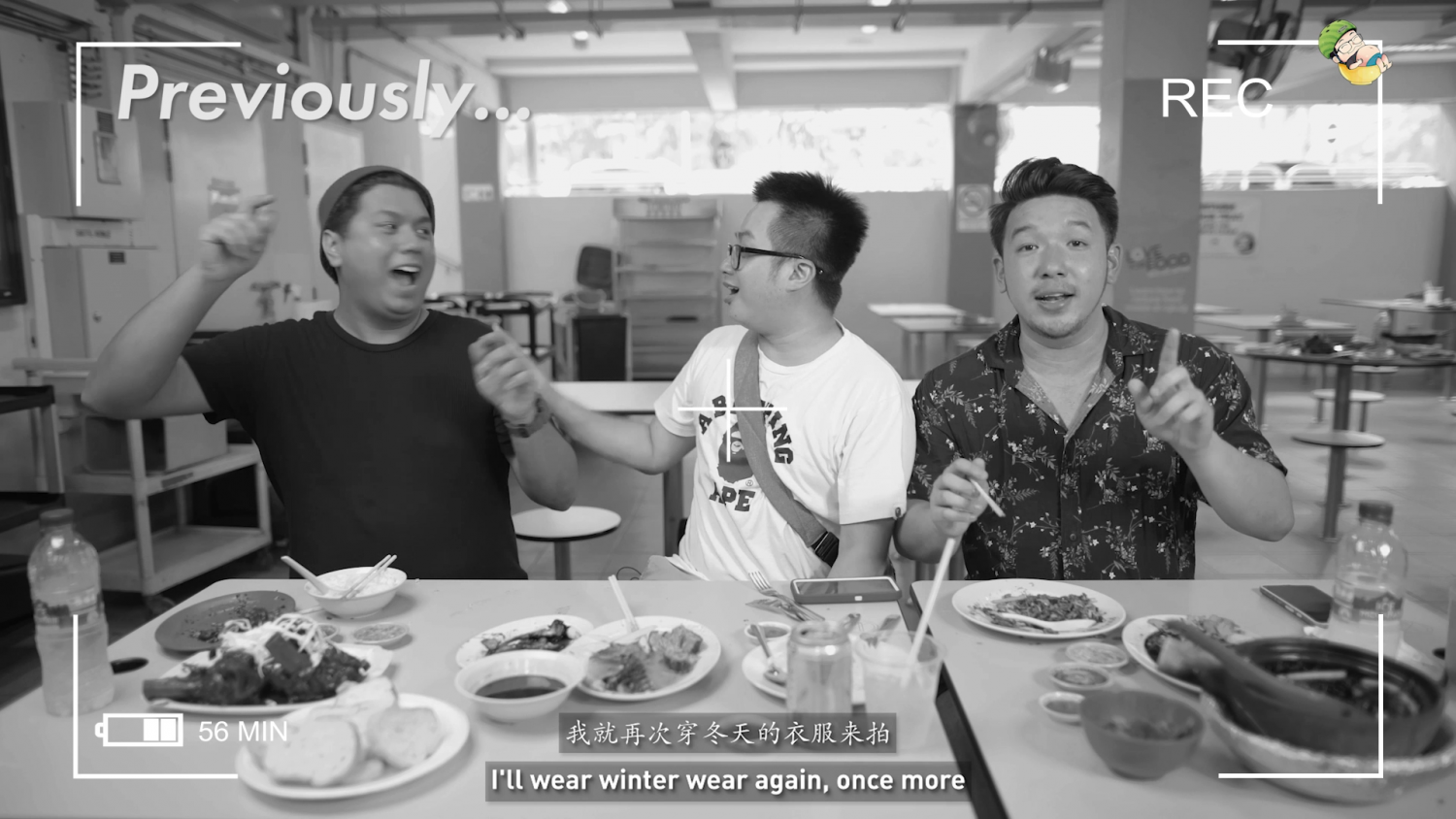 It was at this moment he knew he **** up…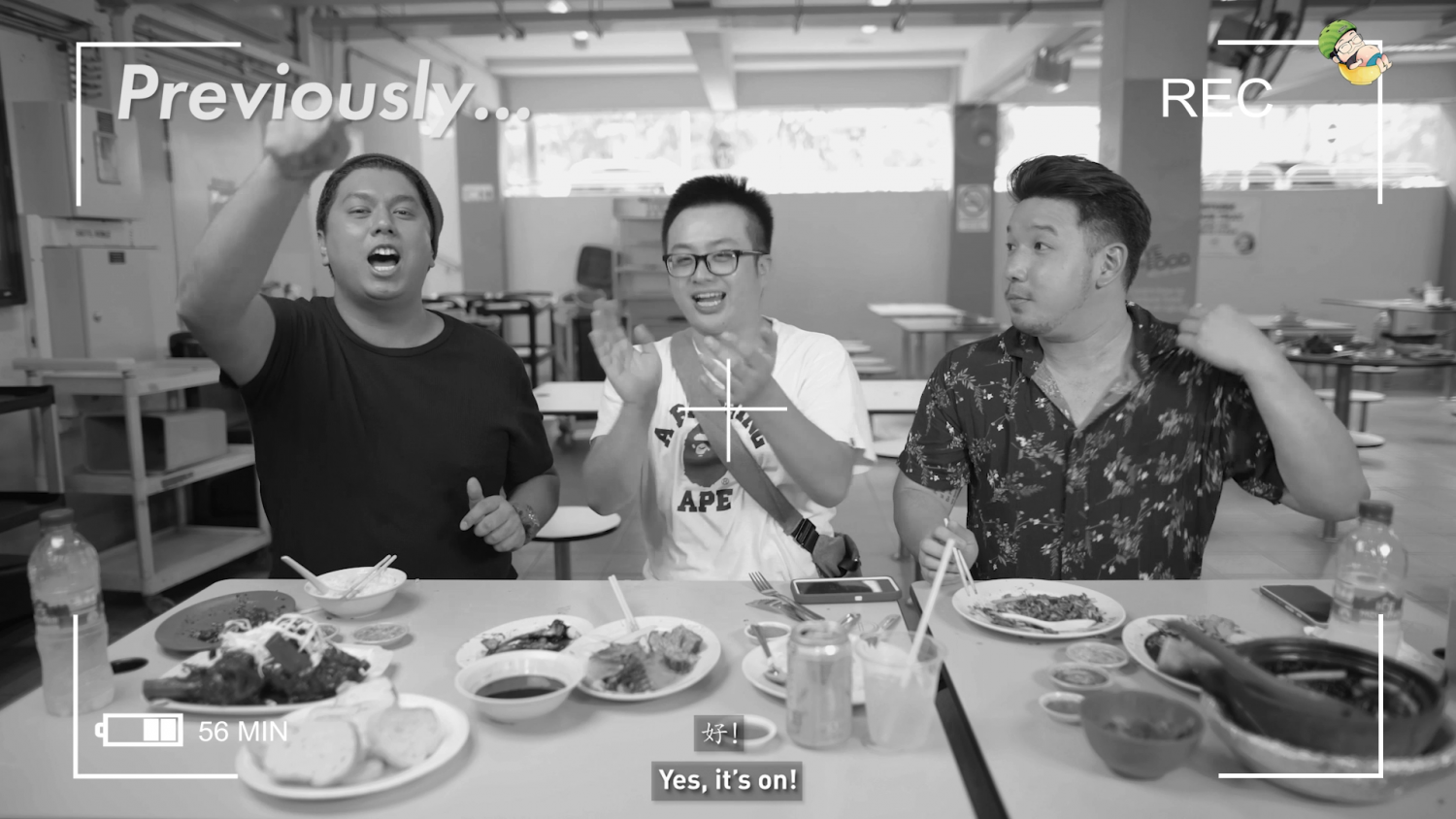 Wow, look at all the snow. It's definitely getting cold here. Let's get some food to warm the soul. Feeling cold too Aiken?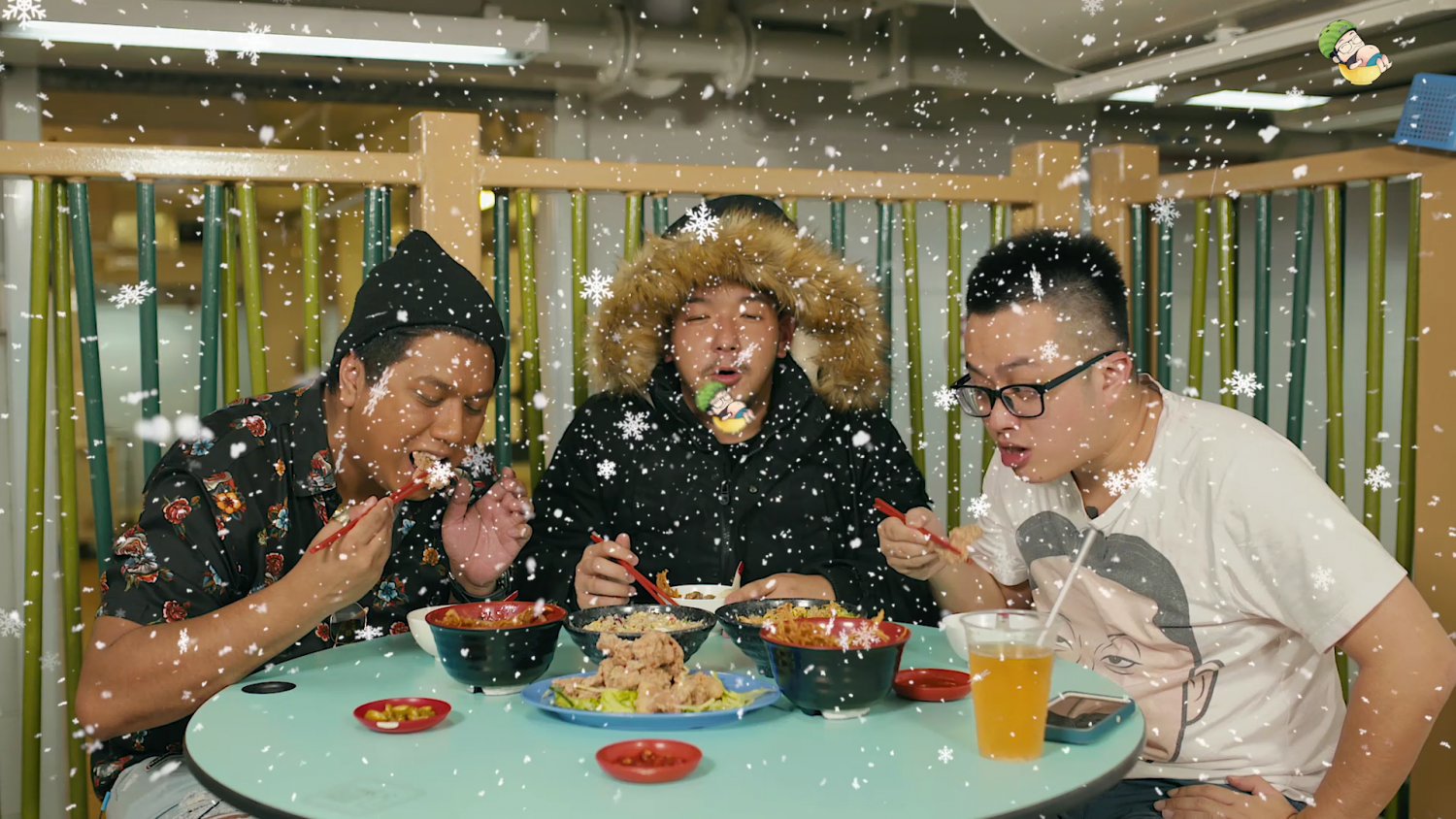 Right now we are here in Hong Lim Food Centre. This wonderful place boasts a delectable selection of culinary treasures fit for all generations.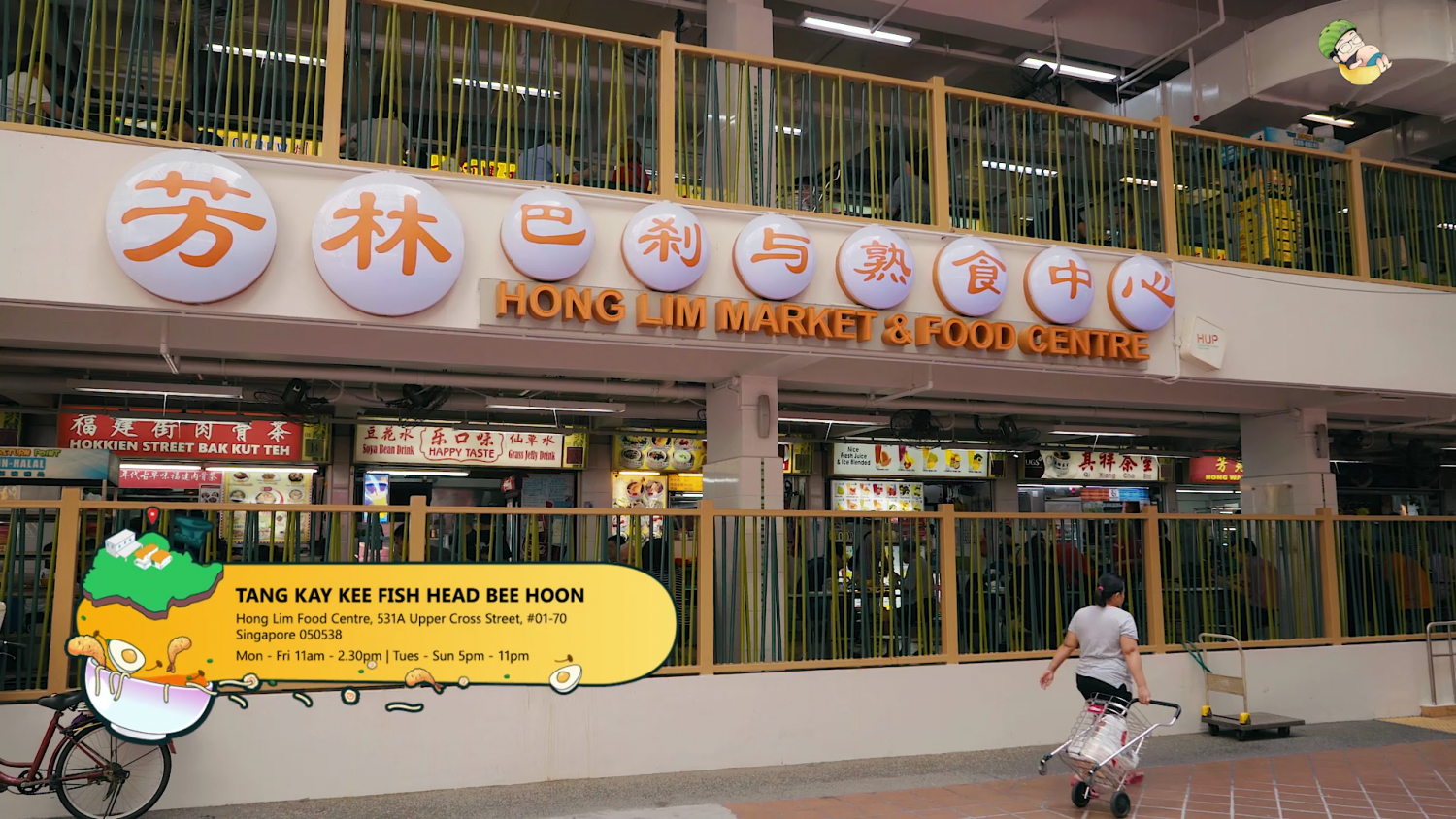 One of the unique hawker stalls that stands out from the rest is none other than Tang Kay Kee Fish Head Bee Hoon. But we are not here for their Fish Head Bee Hoon. Rather, we are here for their lunch menu which is actually modernized zi char.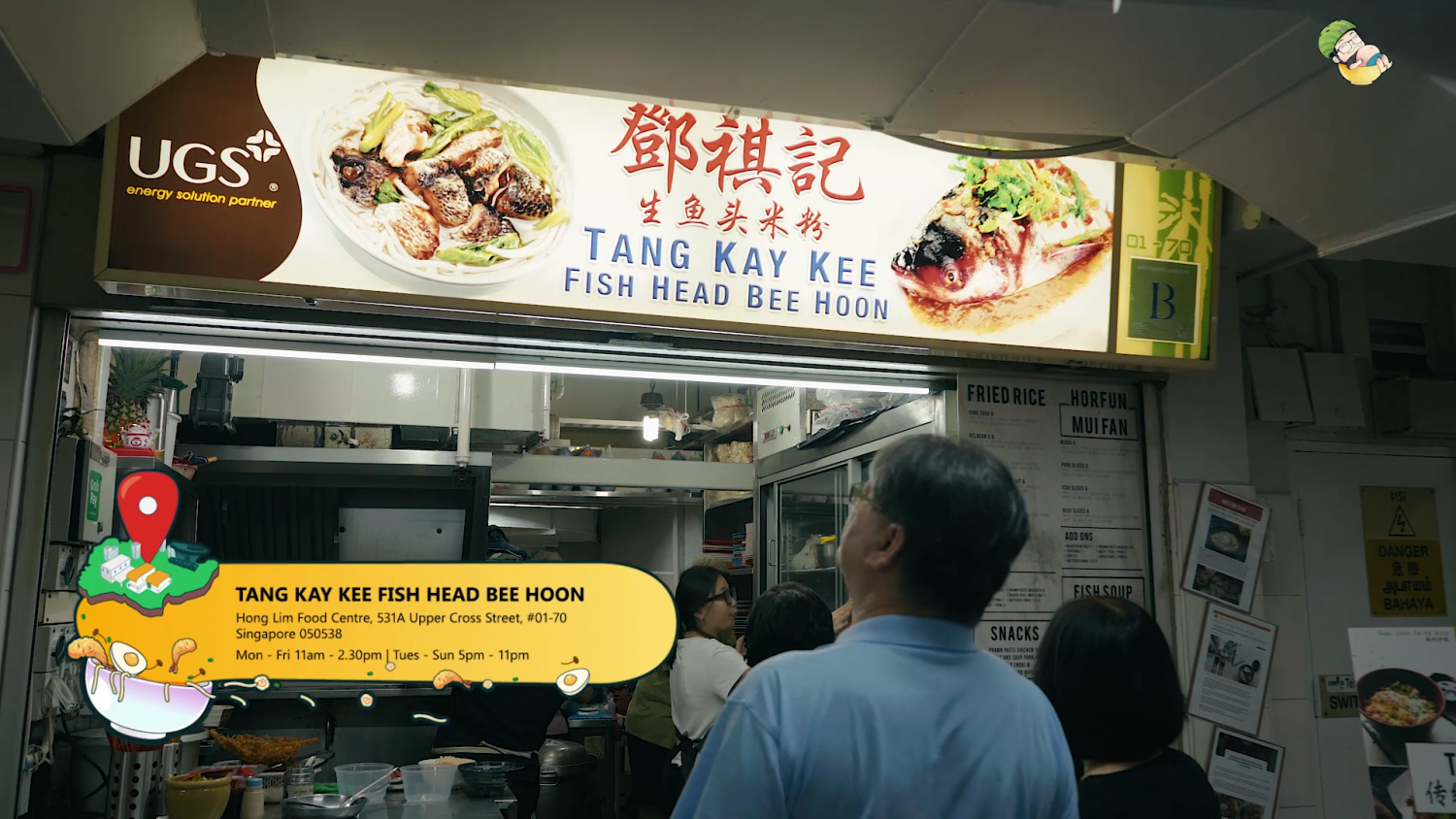 Combining the best of both traditional zi char and modern zi char lunch bowls into one stall!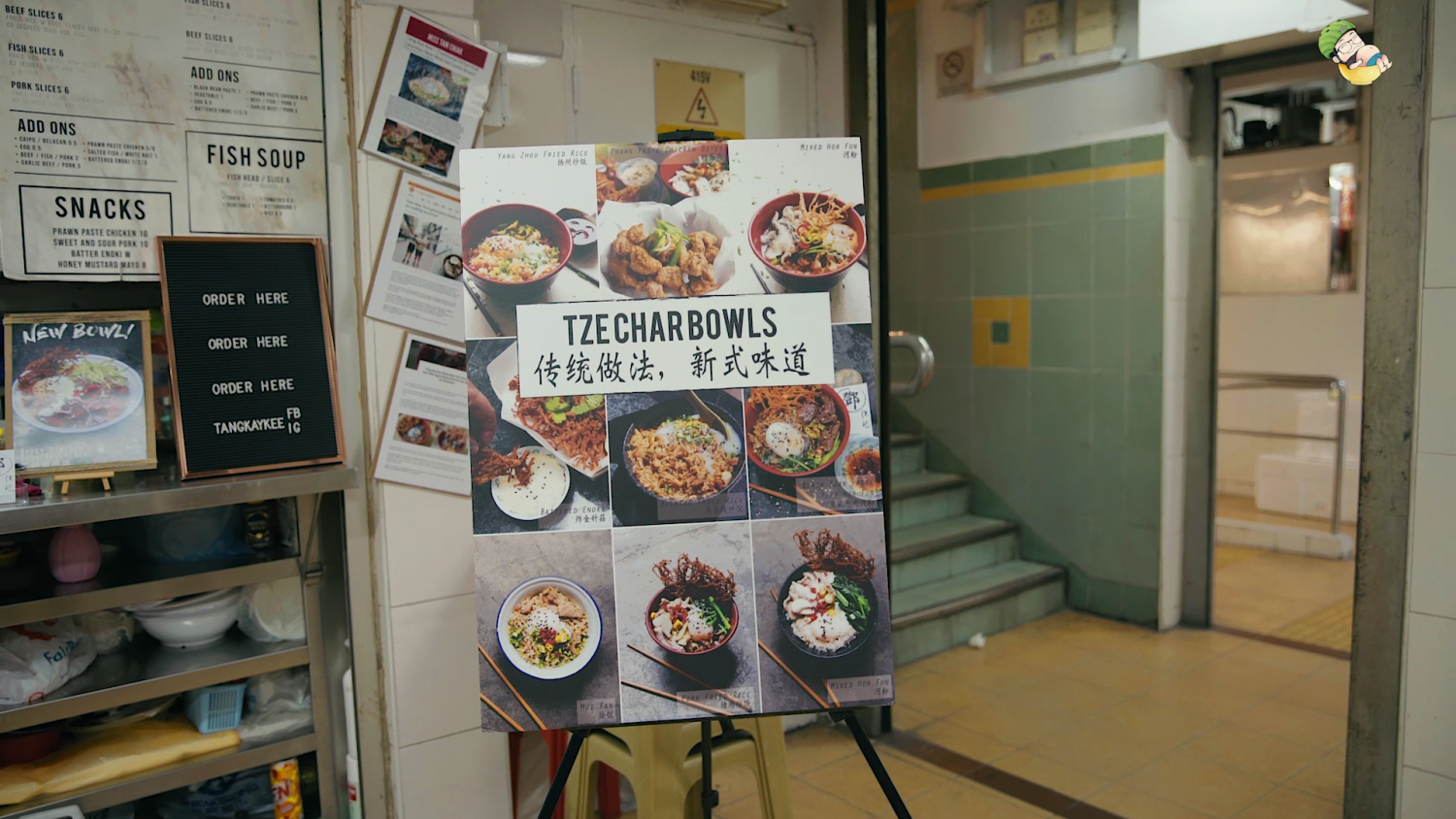 Here's a fresh spin is on the classic hor fun for you hor fun lovers out there. This Black Bean Paste Beef Hor Fun looks so different from the traditional one.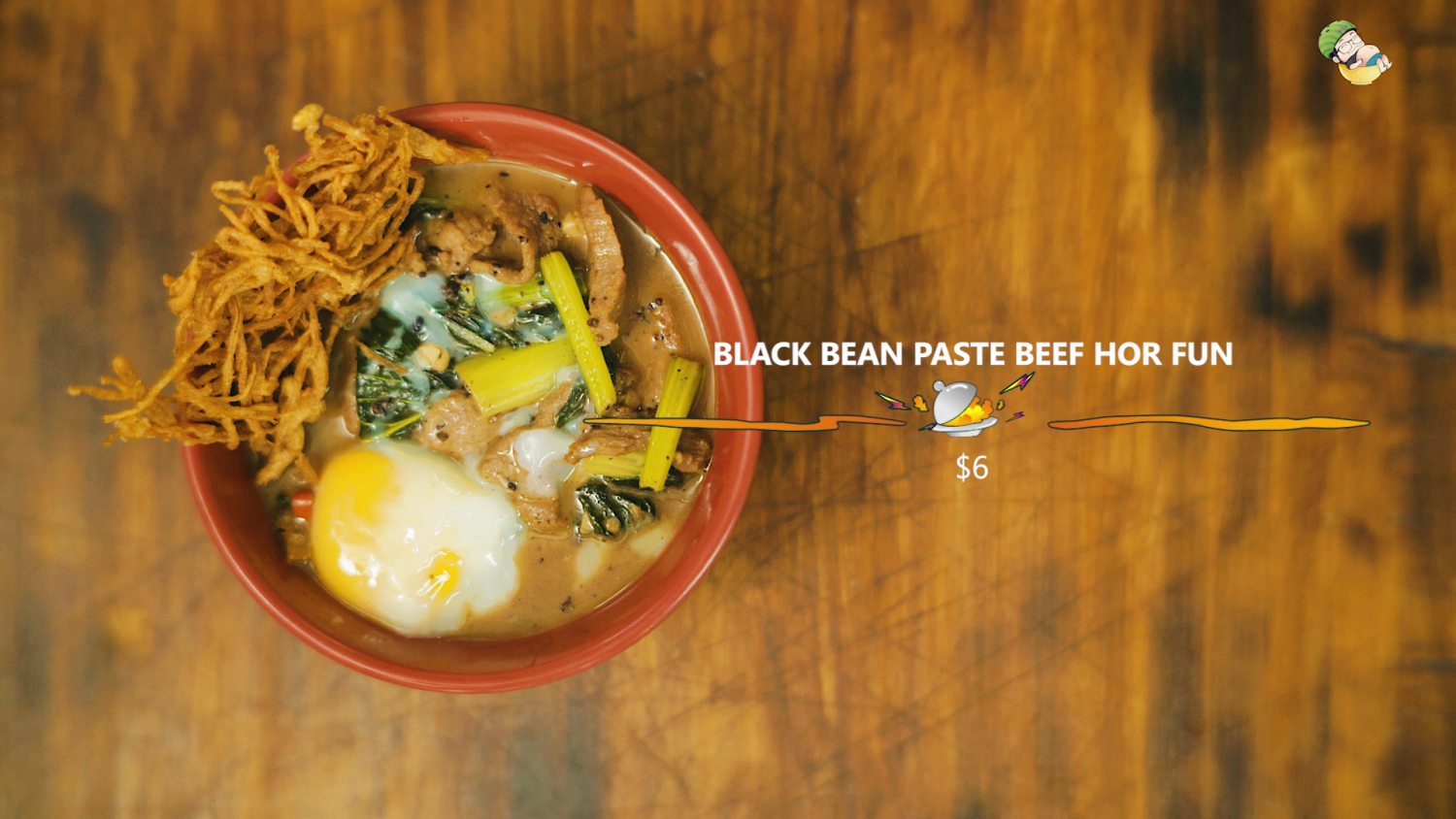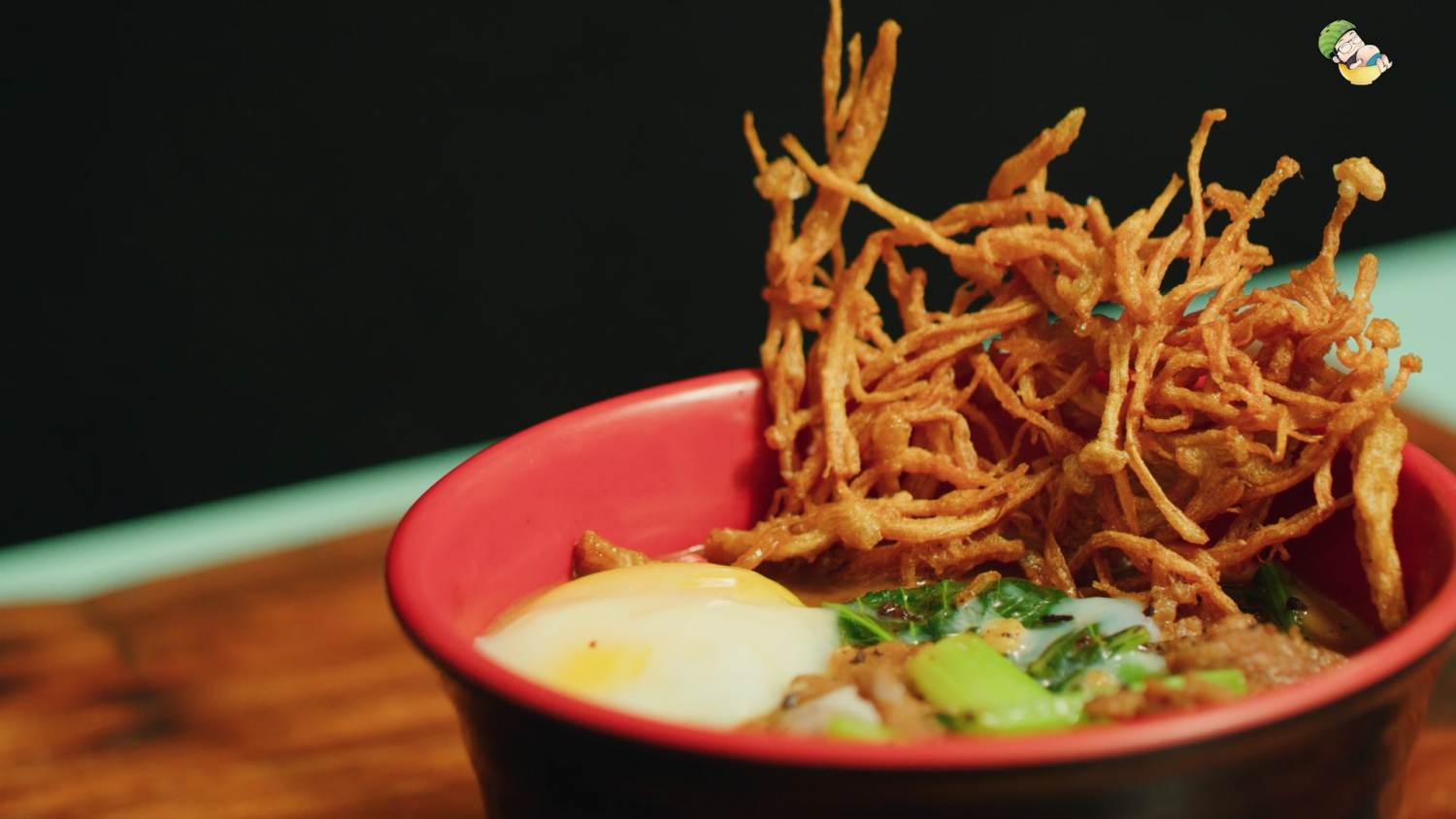 We are impressed by the strong wok hei in the hor fun. The taste is no joke man. It's really well done.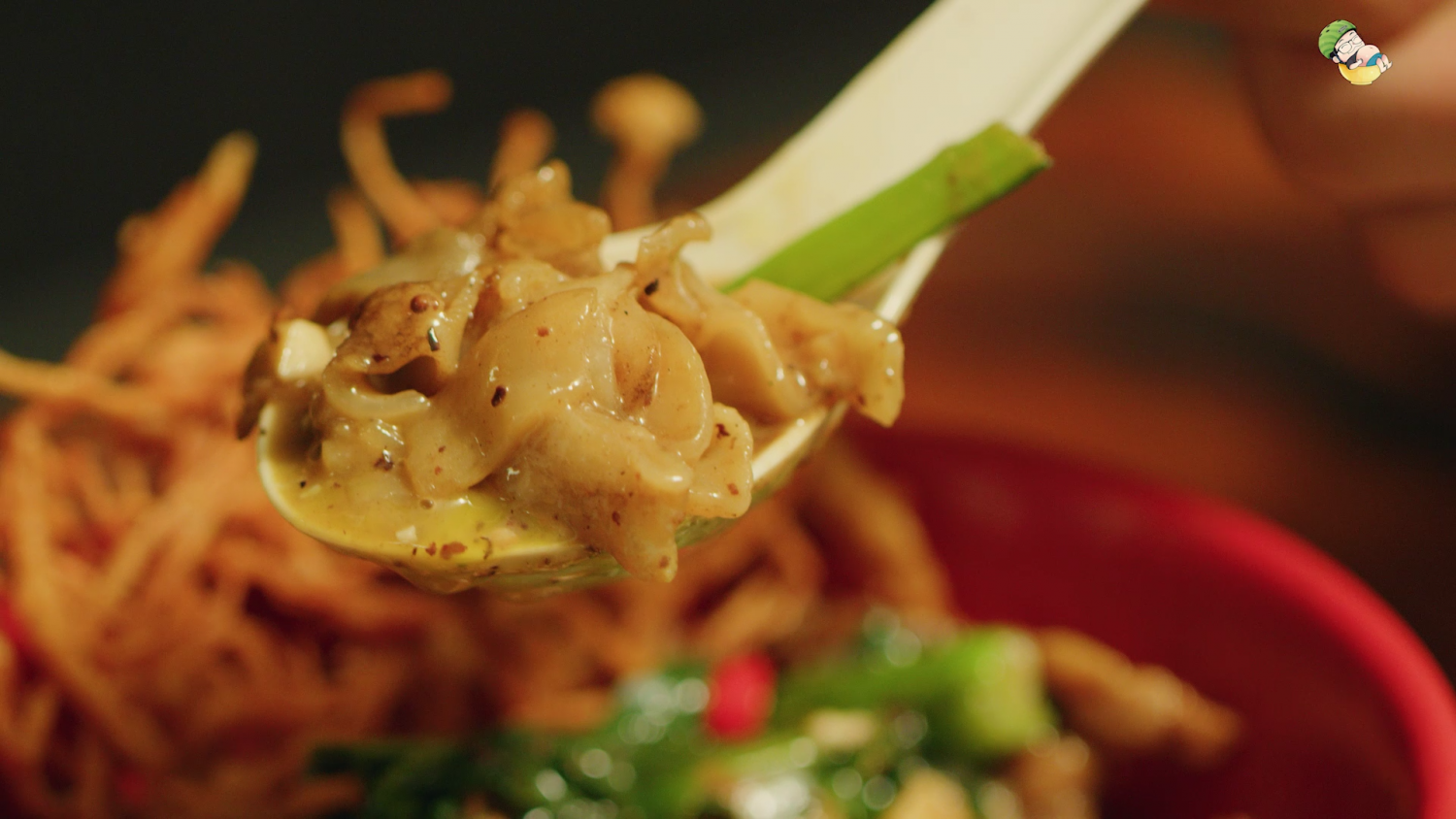 We also like the battered enoki mushrooms a lot. They are very well-seasoned thanks to the 4 different flours and salt the owners used to fried the mushrooms. We can simply taste the saltiness and crispiness in every bite. Super additive!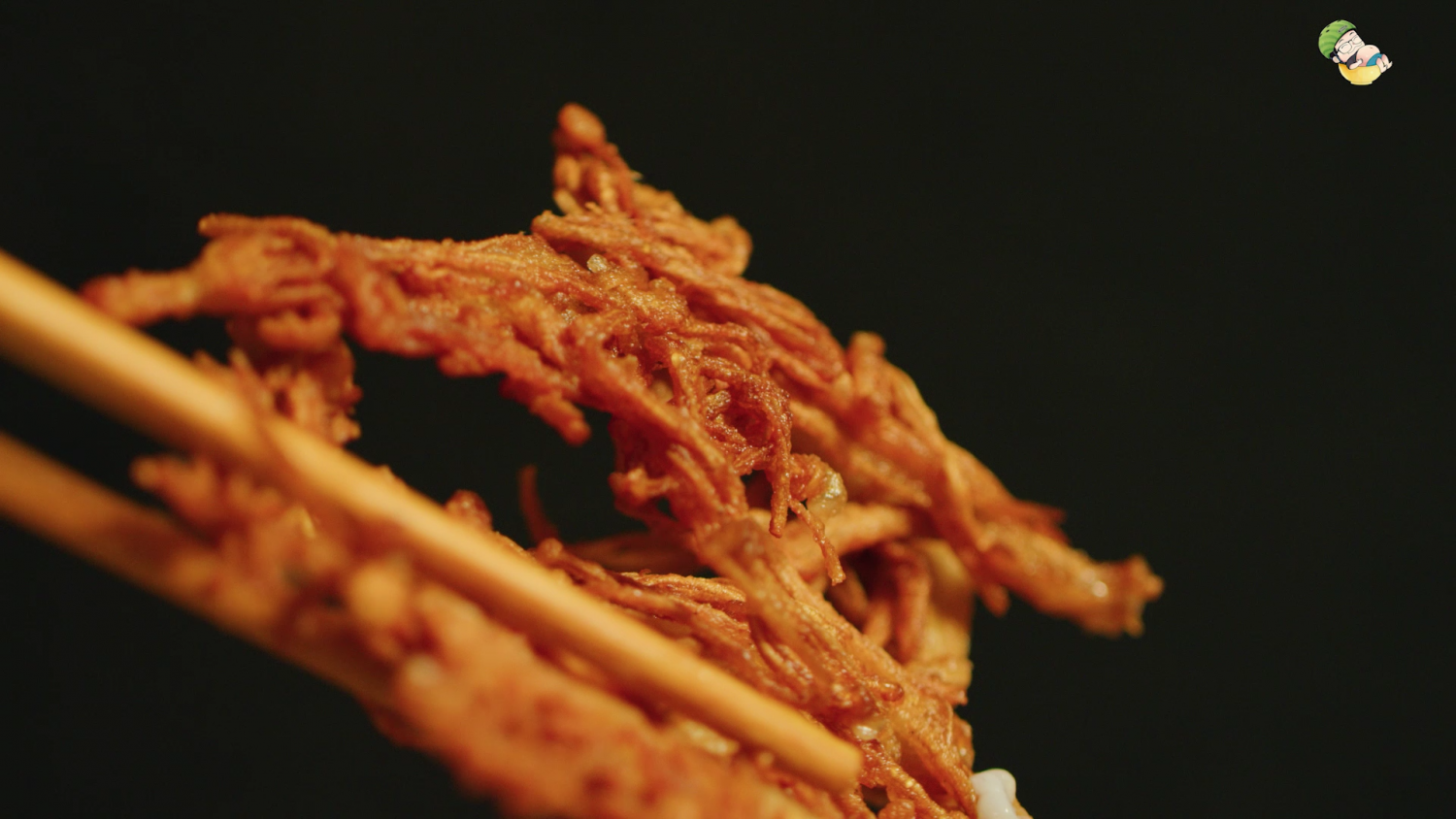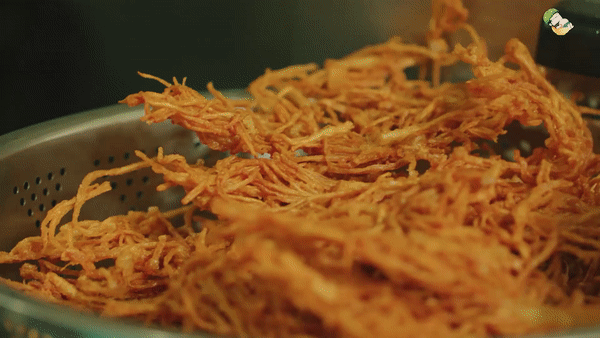 Look at how perfectly done this egg is! The owner actually sous-vide the egg at 63 degrees. It's soft texture combined perfectly with the texture of the hor fun. What a unique and fun way to eating hor fun!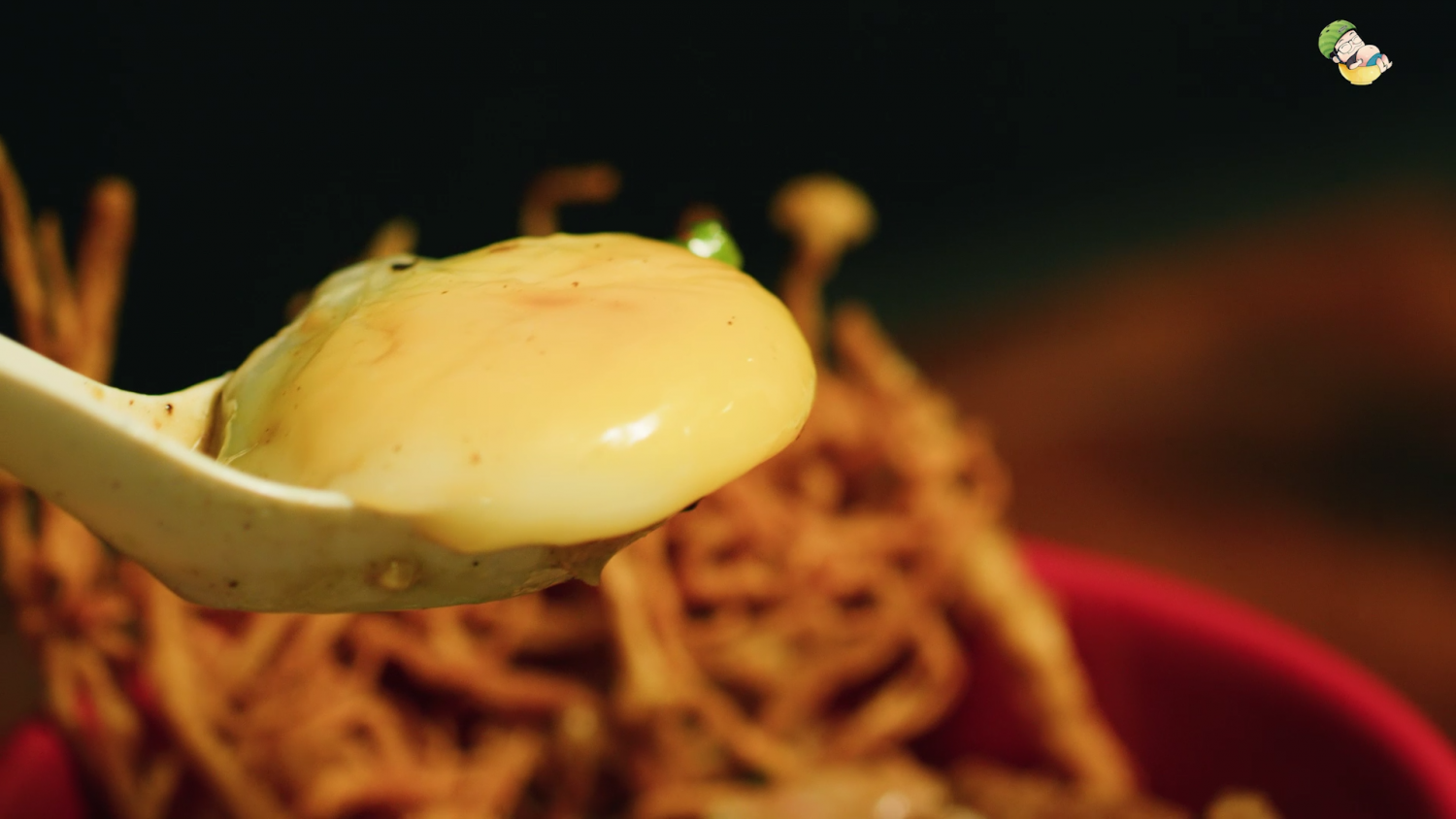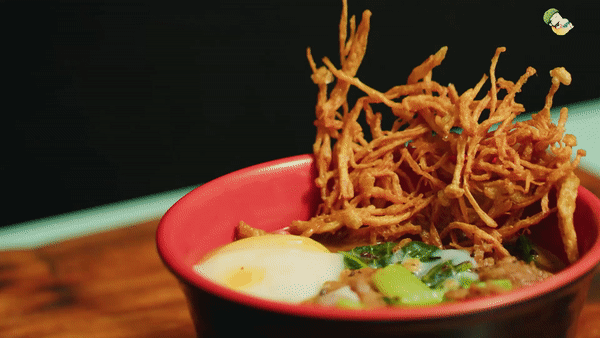 Fried rice of all types have been a stable dish in any zi char stall. So to conjure up something unique and delectable is no easy feat. This Cai Po Fried Rice is no exception. As simple and ordinary as it looks, this modern take on the traditional comfort food is surprisingly good.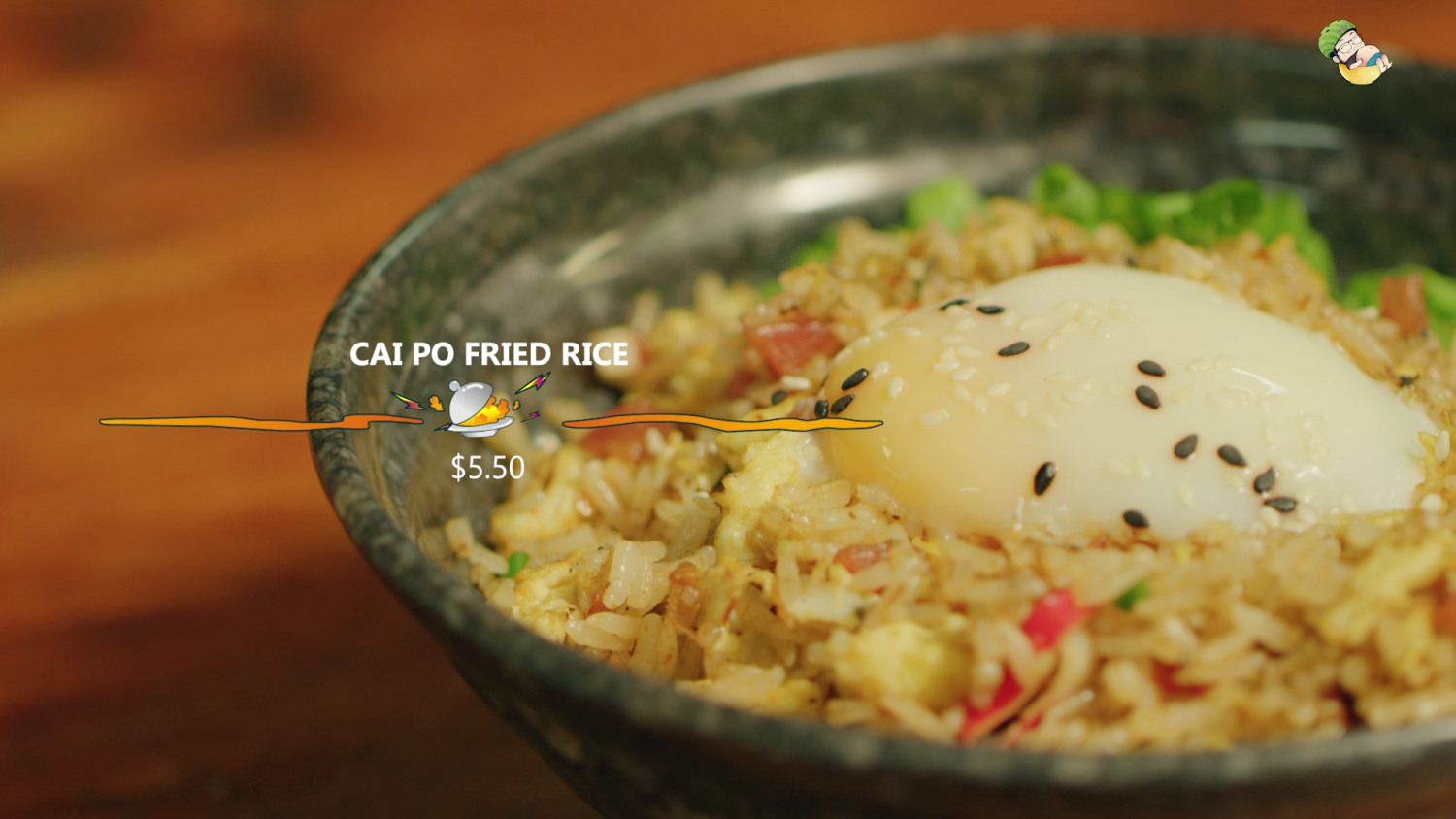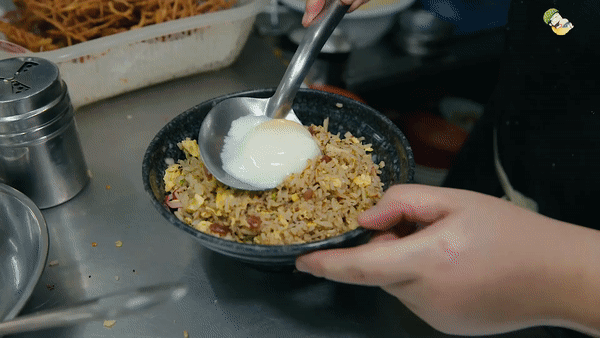 Kay Kee's fried rice comprises of fried rice with eggs, Chinese sausages, crab meat, spring onion, preserved radish and even a sous vide egg. Unlike the Mixed hor fun, the wok hei in this one is much stronger and intense. The sous vide egg is a great and well-thought addition too. It brings this fried rice to another level thanks to its nice creamy texture.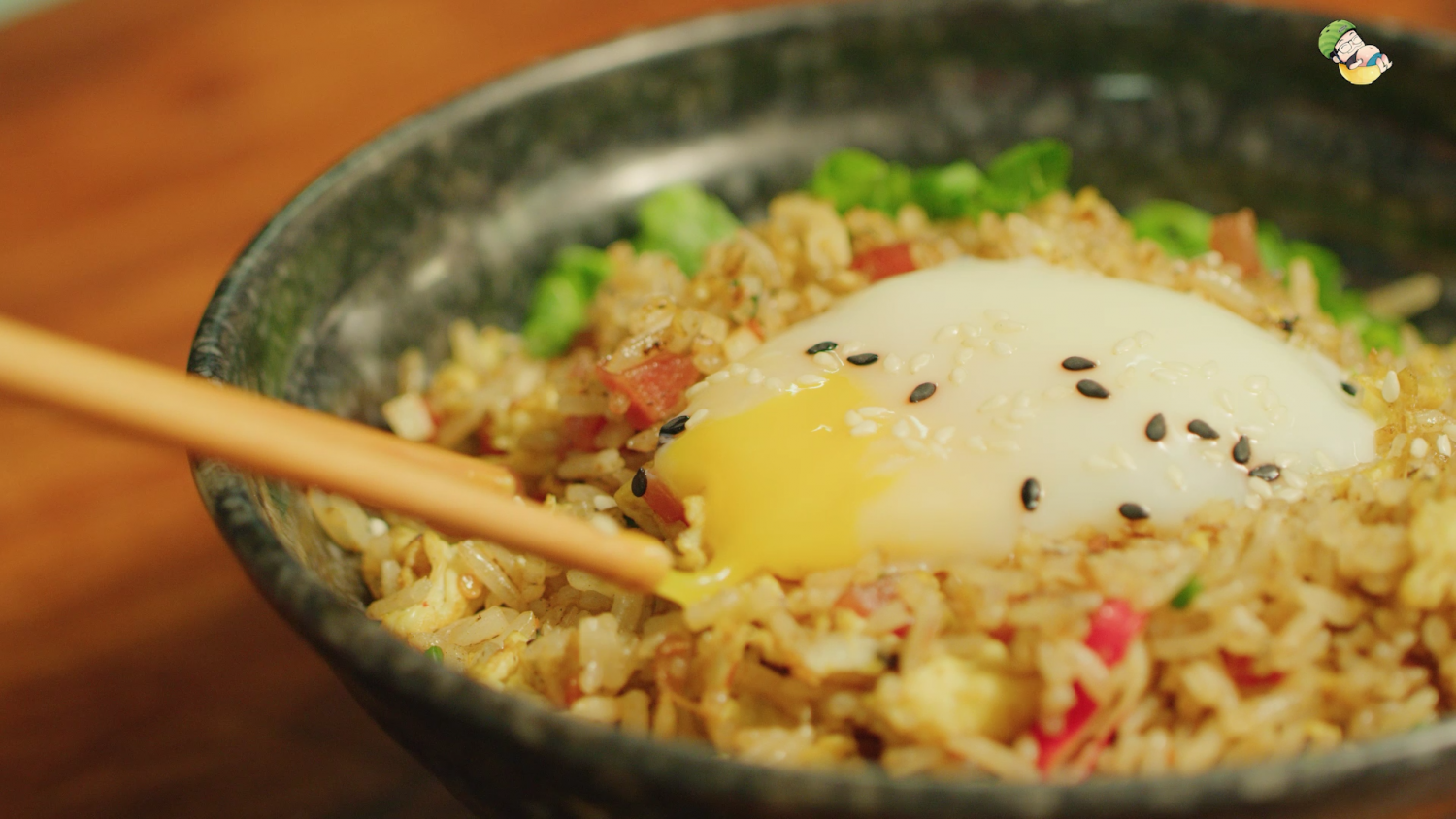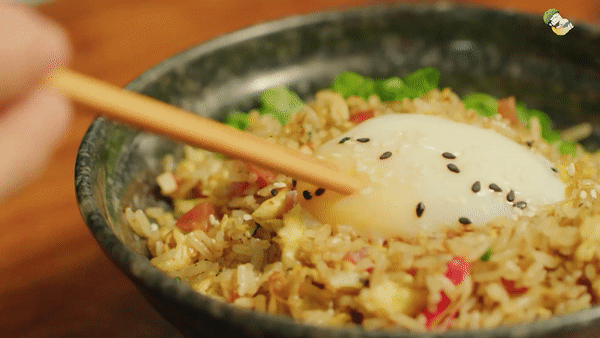 Although the rice is on the dryer side, we like how the grains are nicely oiled and separated. The taste of wok hei and the creaminess of the egg complements well with the sweet and salty cai po. We are sold!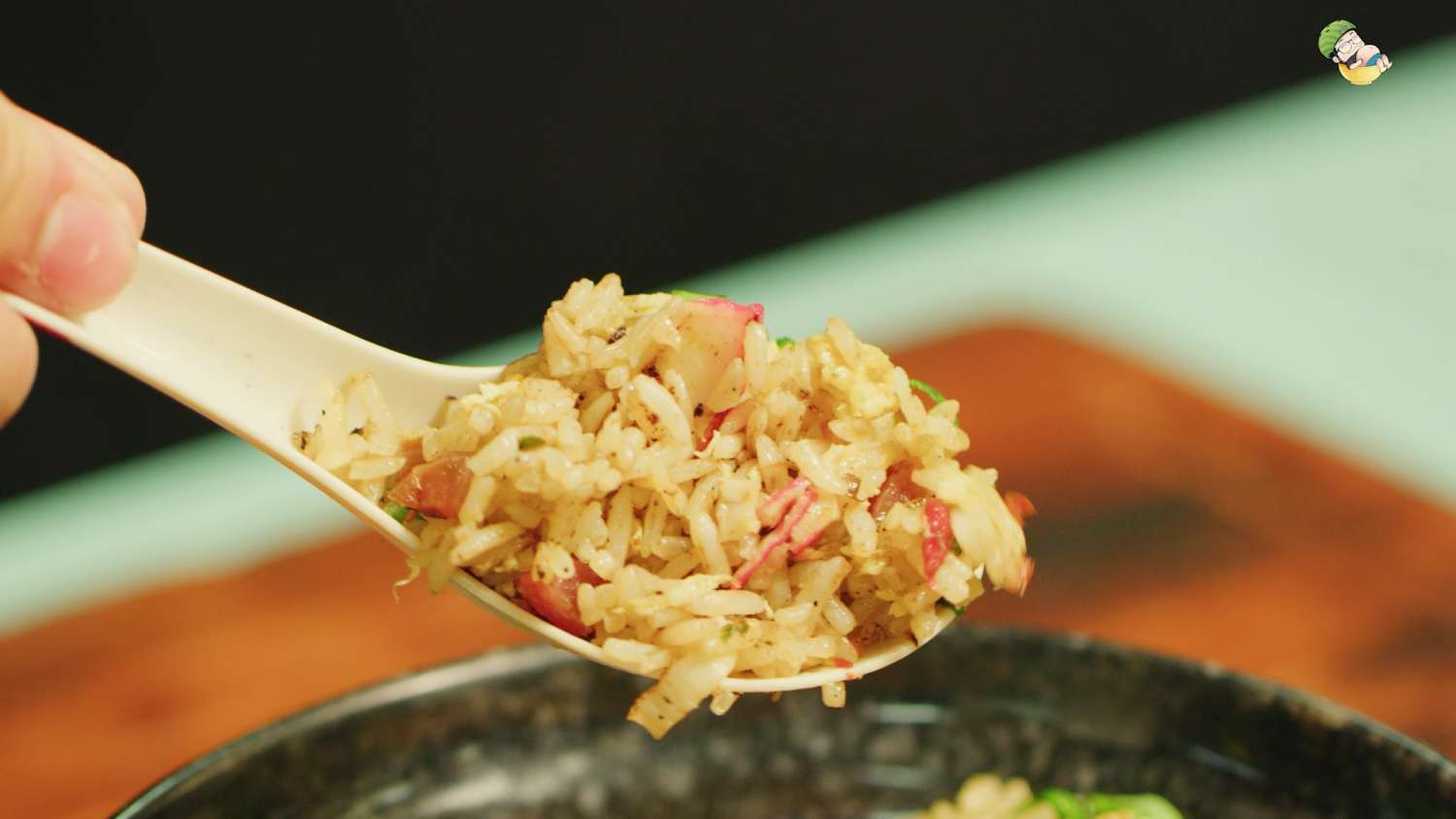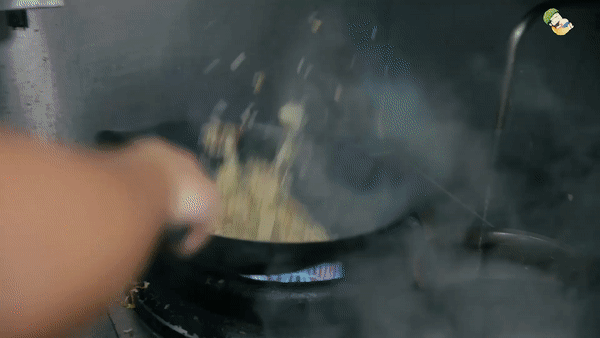 Our final dish here is this traditional take on the Har Cheong Ga or Prawn Paste Chicken. This version of Har Cheong Gai comes in boneless, bite-sized portions that is perfect for lazy people like us.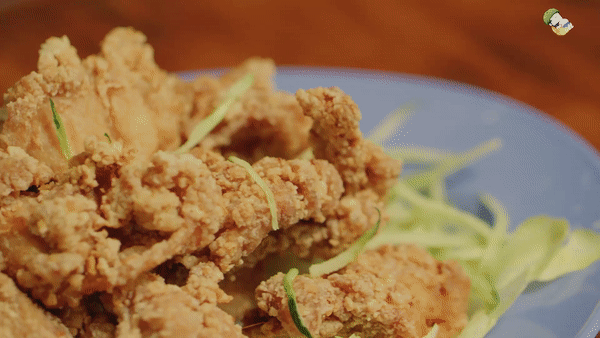 Omg! The chicken is so crispy and juicy! It also has this very traditional fermented taste which we really did not expect. Most of the prawn paste chicken we had were usually the traditional salty kind. This one is a pleasant surprise. Well done!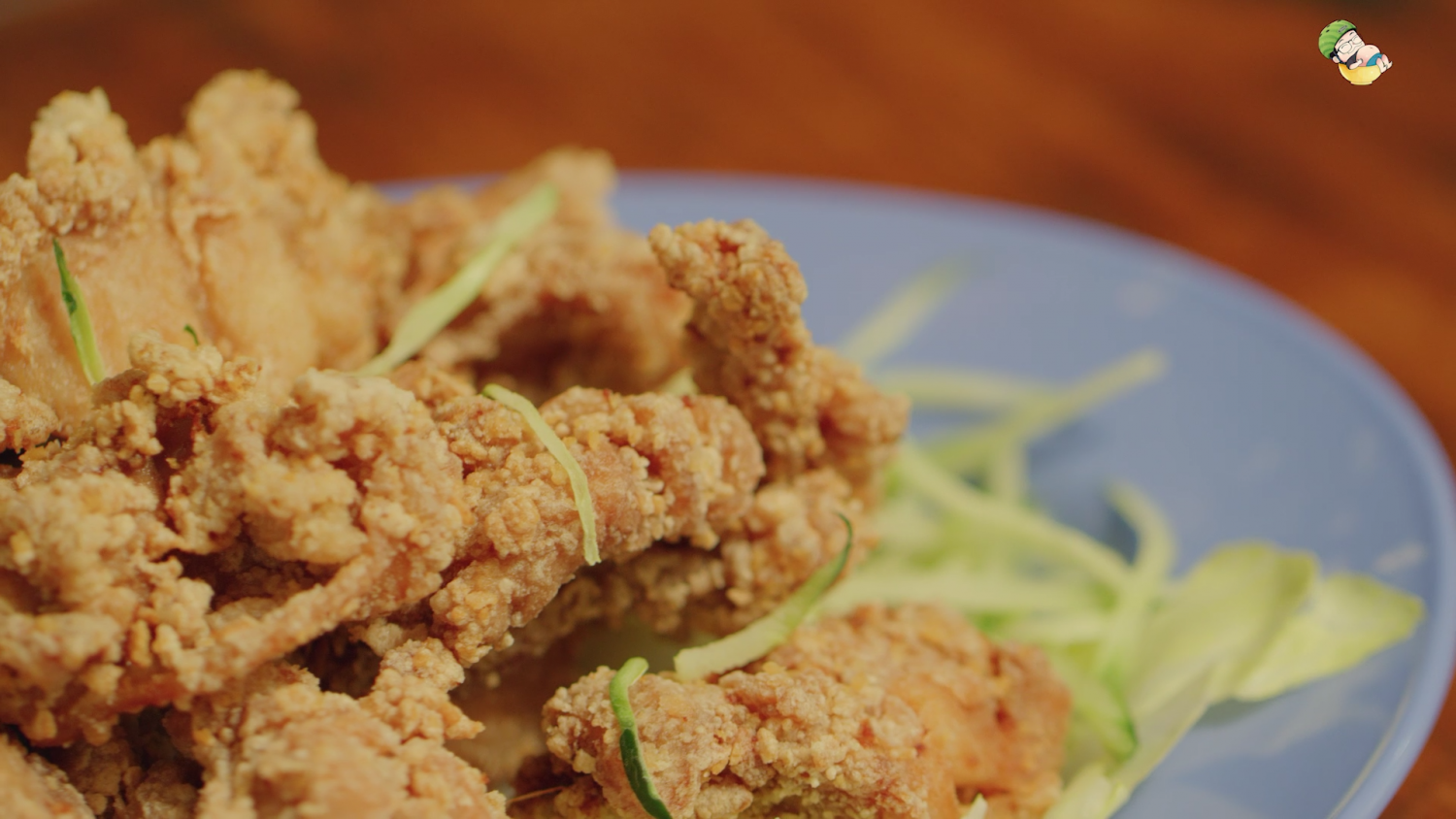 Hot damn! This Har Cheong Gai is really damn good! We are really shocked at how good this version of prawn paste chicken is. This has got to be one of the best we've ever eaten! You've got to try it to believe.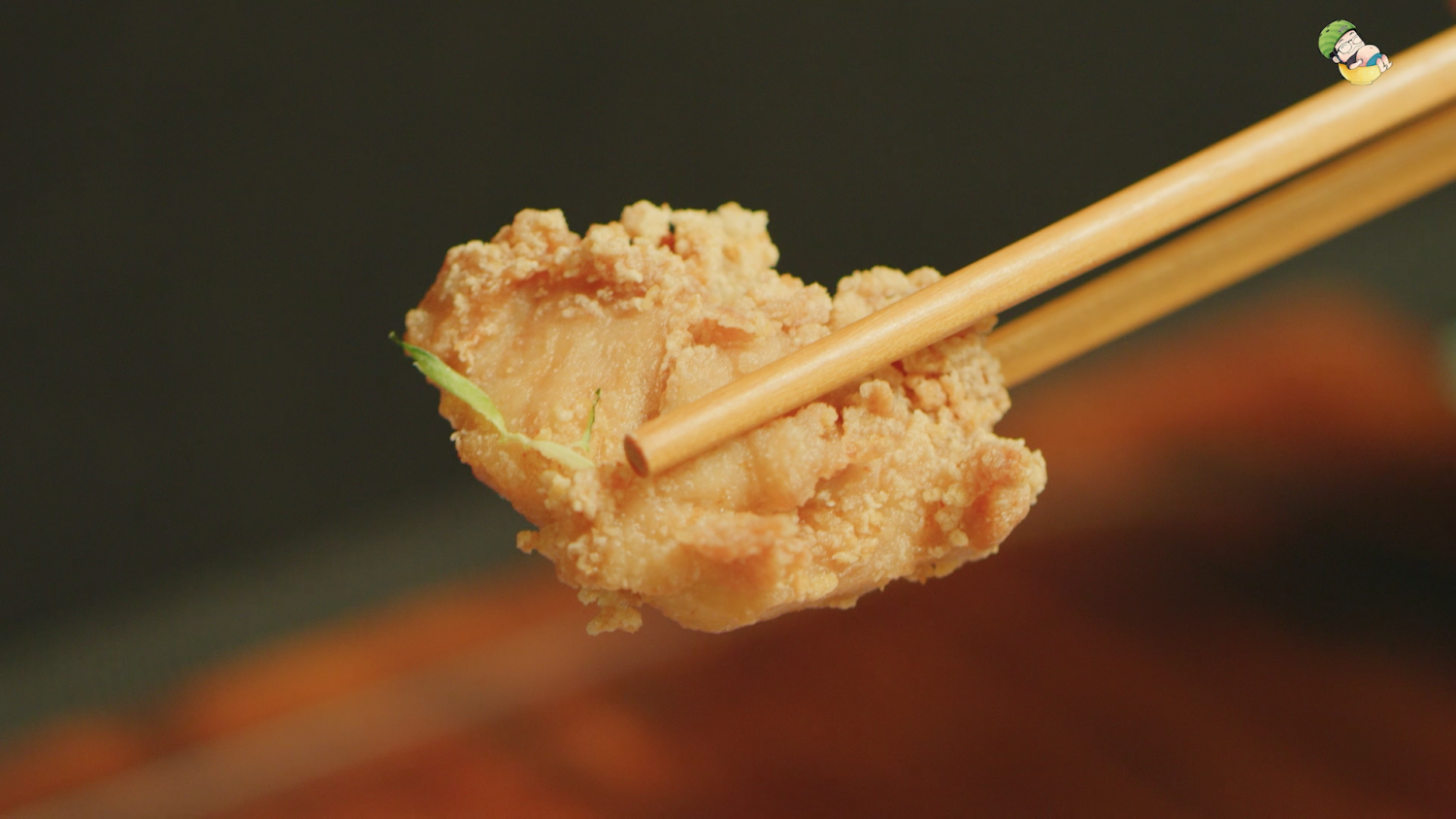 Wow wow wow. This stall deserves a second visit! And where else in the hawker scene would you find such unusual yet classic take on zi char? It's no surprise that Tang Kay Kee has has a total of 3 stars and it's Food King Good! So come on down support these young 4th generation hawkers!
Ratings: 3 Stars, Food-King Good!
TANG KAY KEE FISH HEAD BEE HOON

Hong Lim Food Centre, 531A Upper Cross Street #01-70, Singapore 050538
Mon to Fri, 11AM to 2.30PM | Tues to Sun, 5PM to 11PM
We are now here at the House of Happiness in Bedok. Serving up variations of the traditional claypot rice, House of Happiness is opened by the young-generation owners behind Mr. Lor Bak in Ubi, and looks just like any other hawker-style eatery on the outset.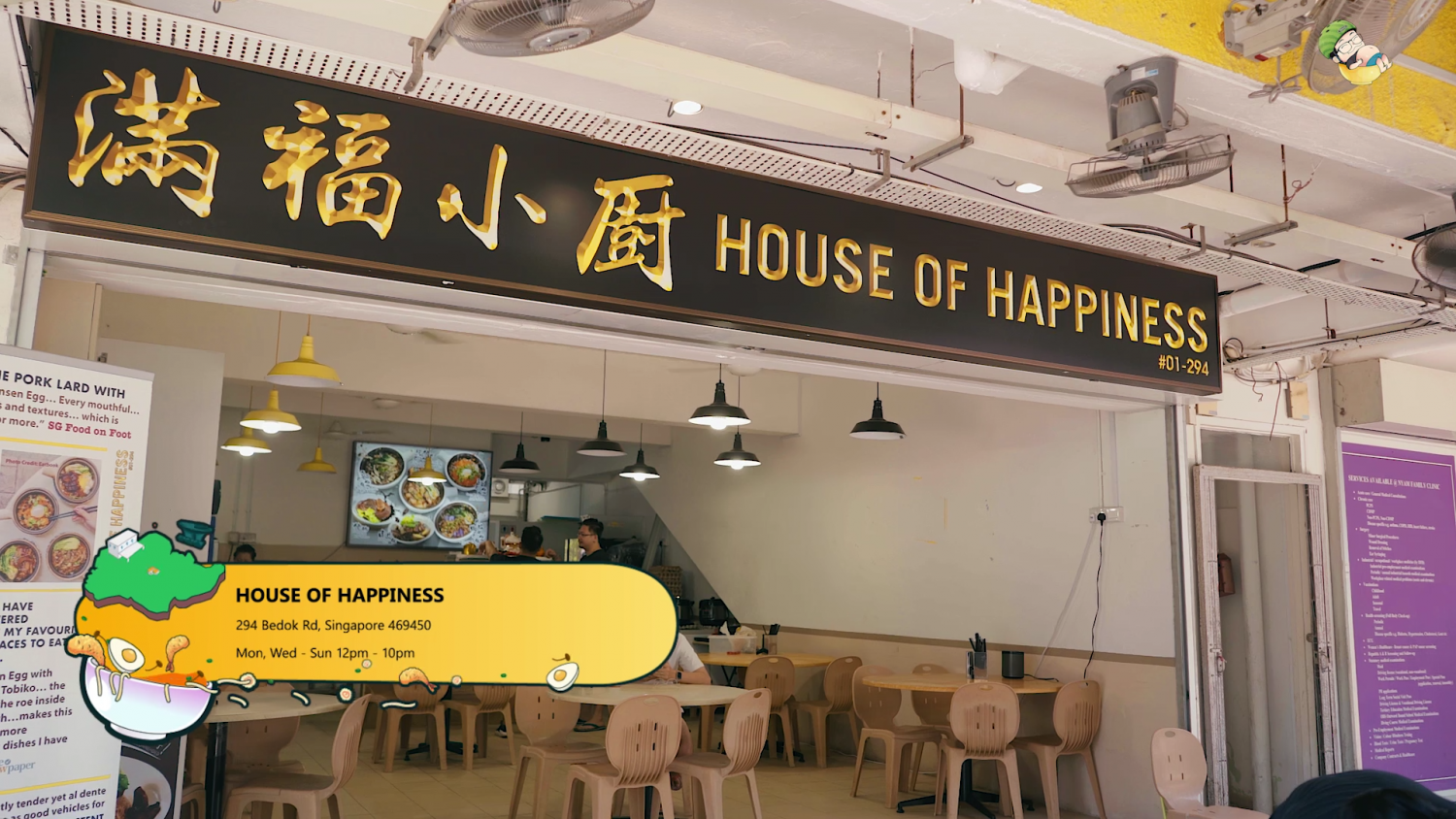 This is actually the brainchild of Mr Lor Bak. Yeah, it's that them again. Mr Lor Bak Lor Bak… If you remember, Mr Lor Bak was featured in one of our earlier episodes. Guess how many stars they received the last time?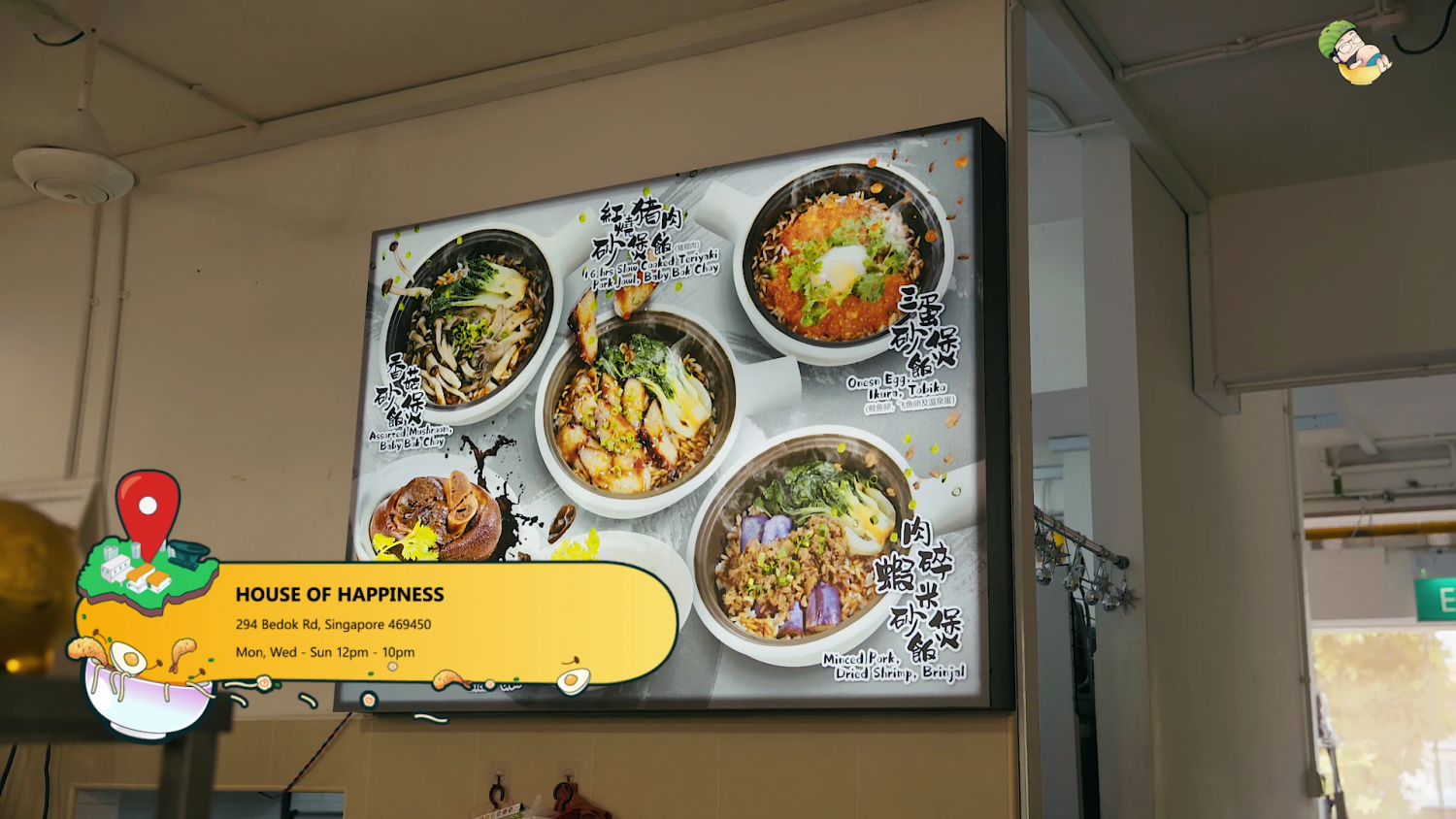 So Mr. Lor Bak is now into claypot. But the question is, will he… Make Singapore great again?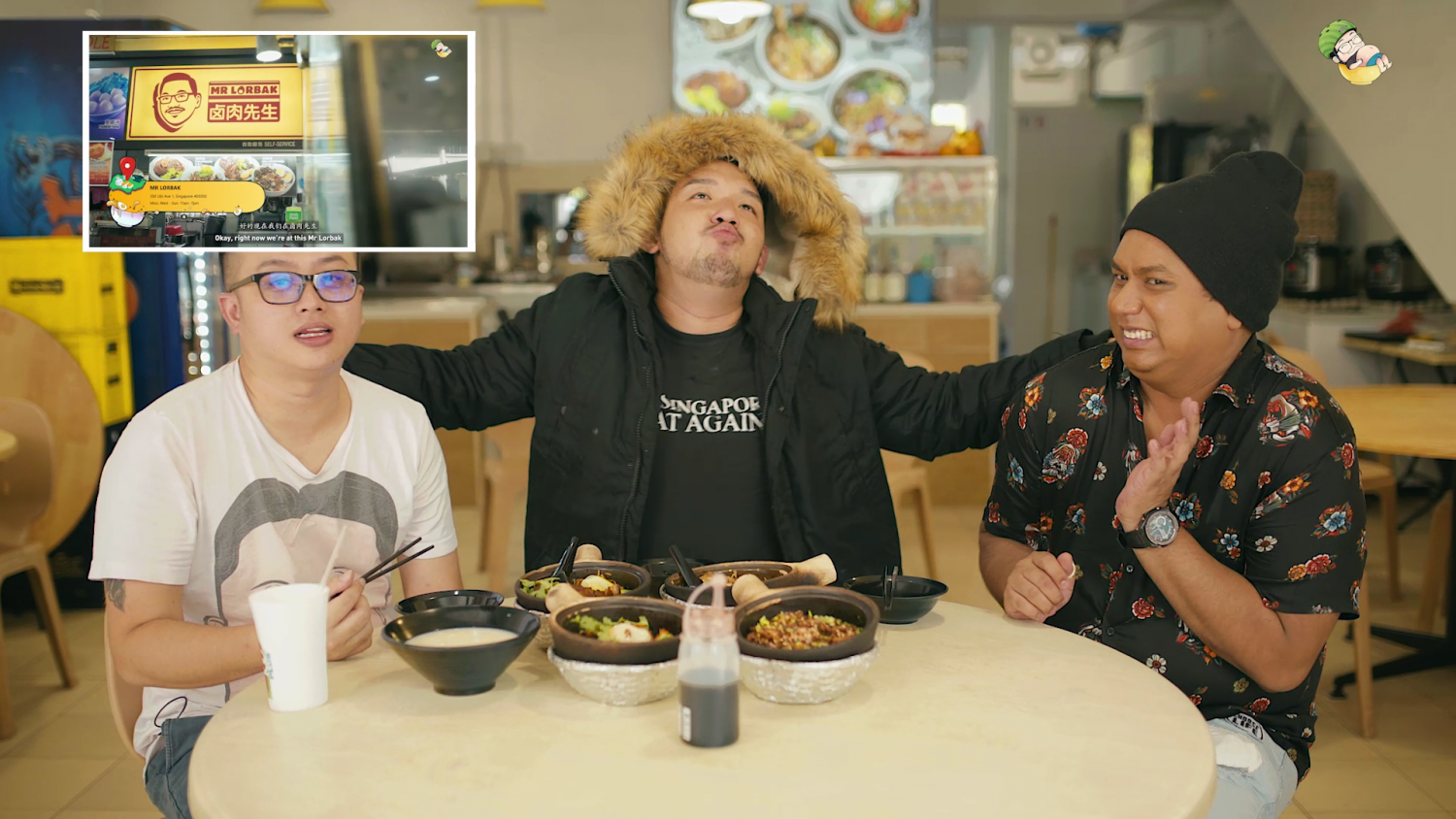 We've always tried the very traditional claypot rice. But this one is something completely different. Most traditional claypot rice are cooked over charcoal stoves, however House of Happiness prepares theirs over stone gas stoves.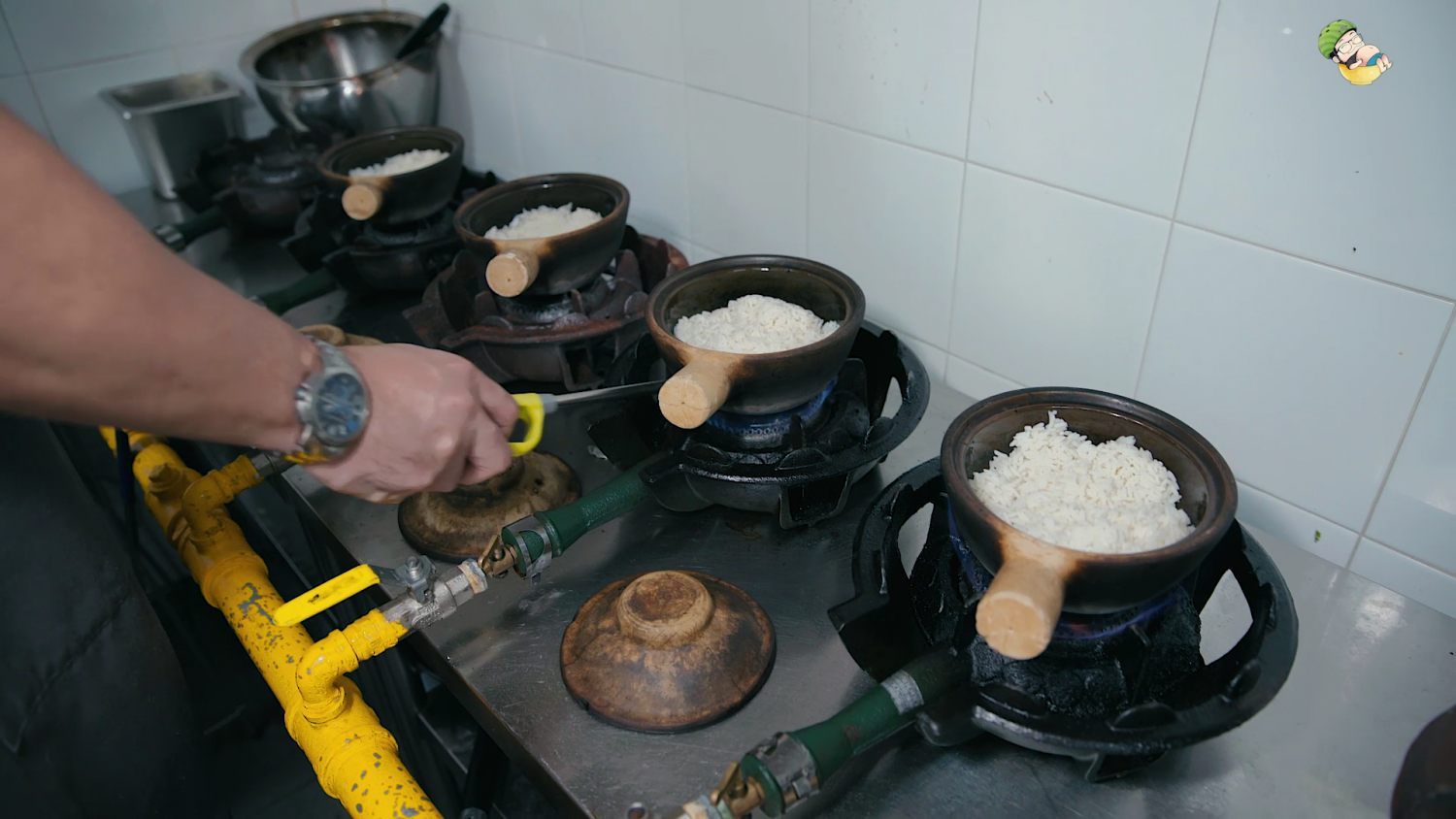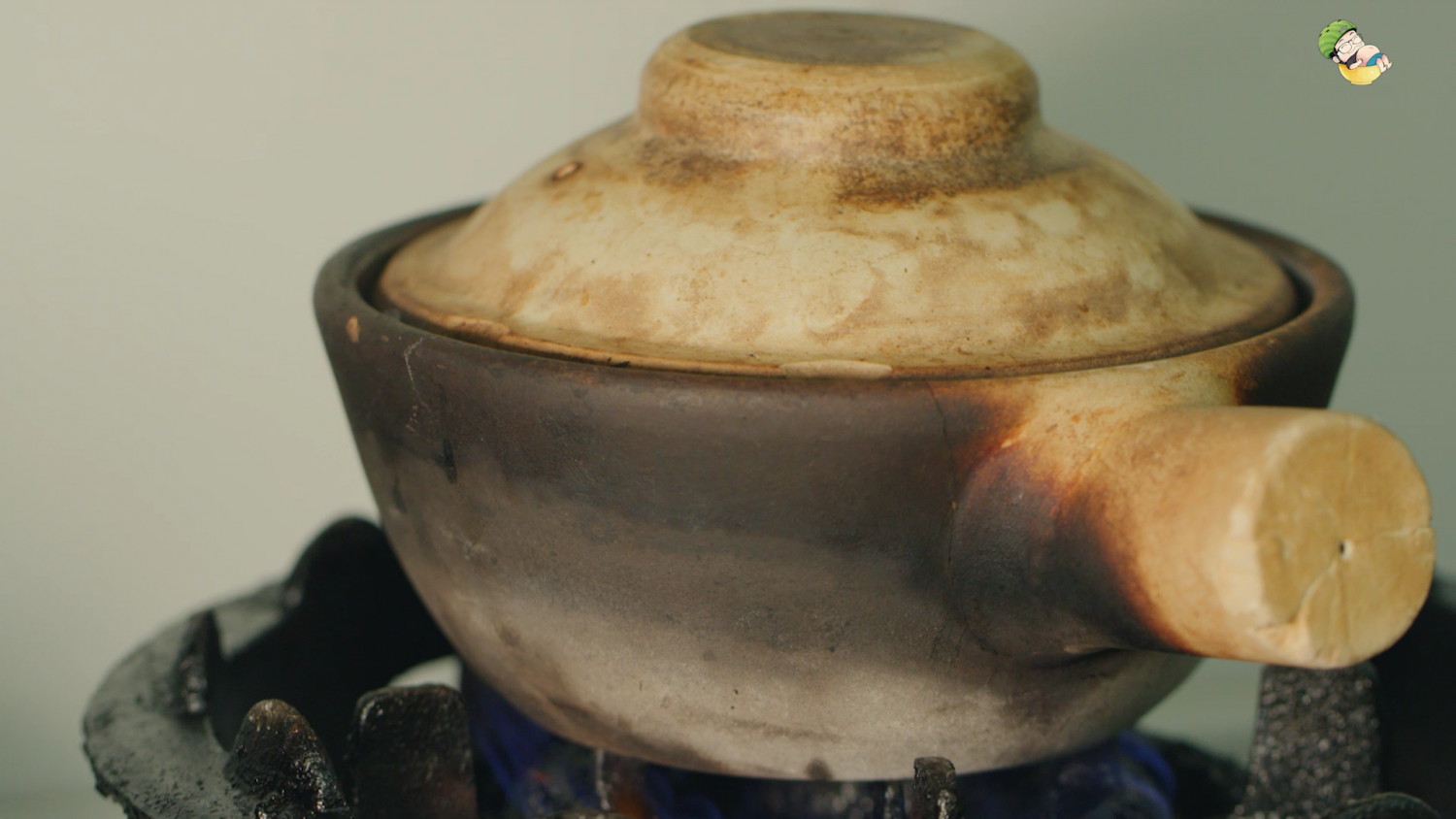 If you love anything with pork lard, bacon and more pork, this claypot rice must definitely be at the top of your food craving list. The plethora of ingredients in this Chinese-Western-Japanese fusion claypot rice is nothing short of divine.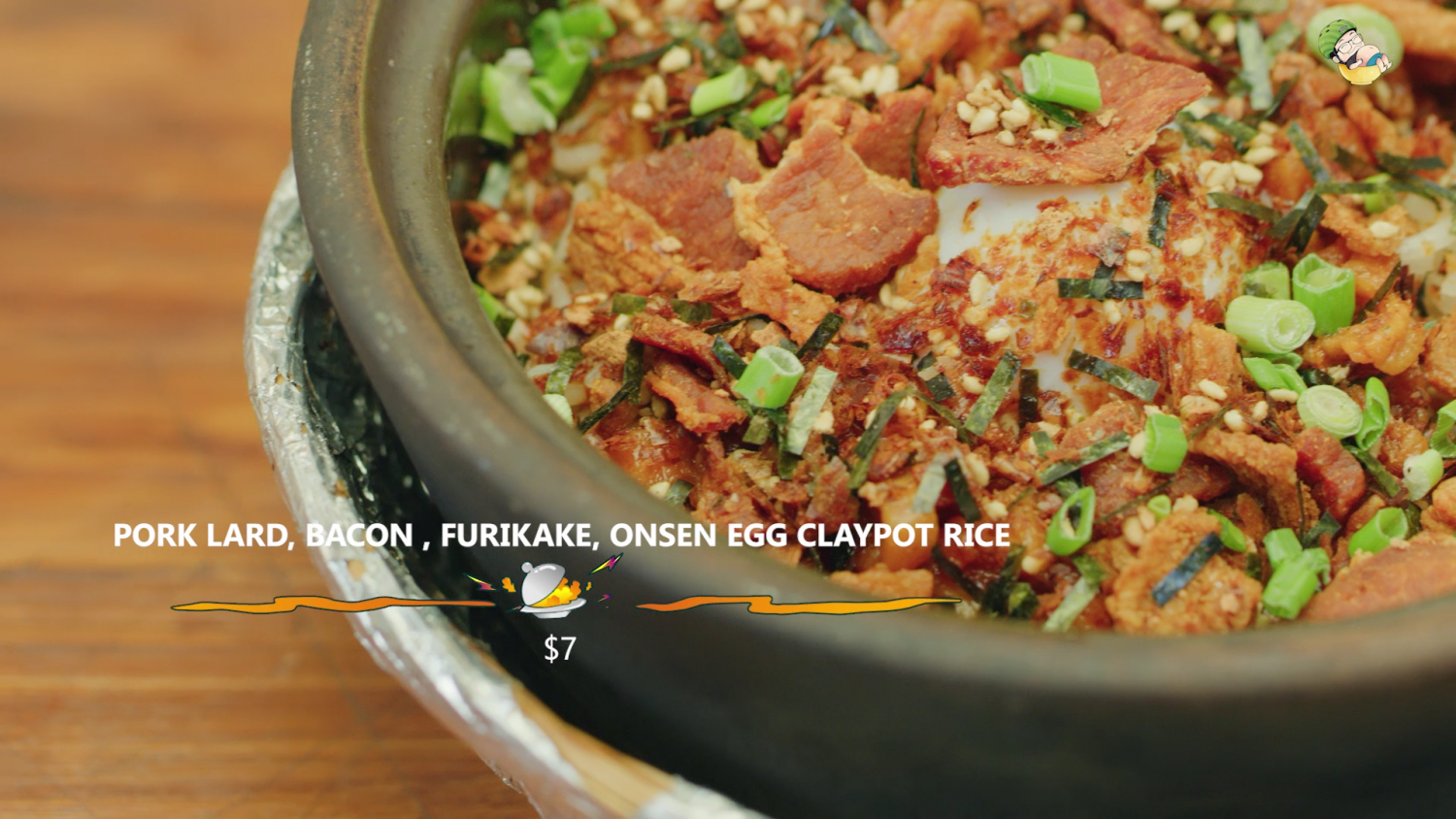 We love the generous servings of pork lard and bacon, which is fried to perfection. This is a really nice variation from the traditional claypot. Who knew bacon in claypot rice can be this good!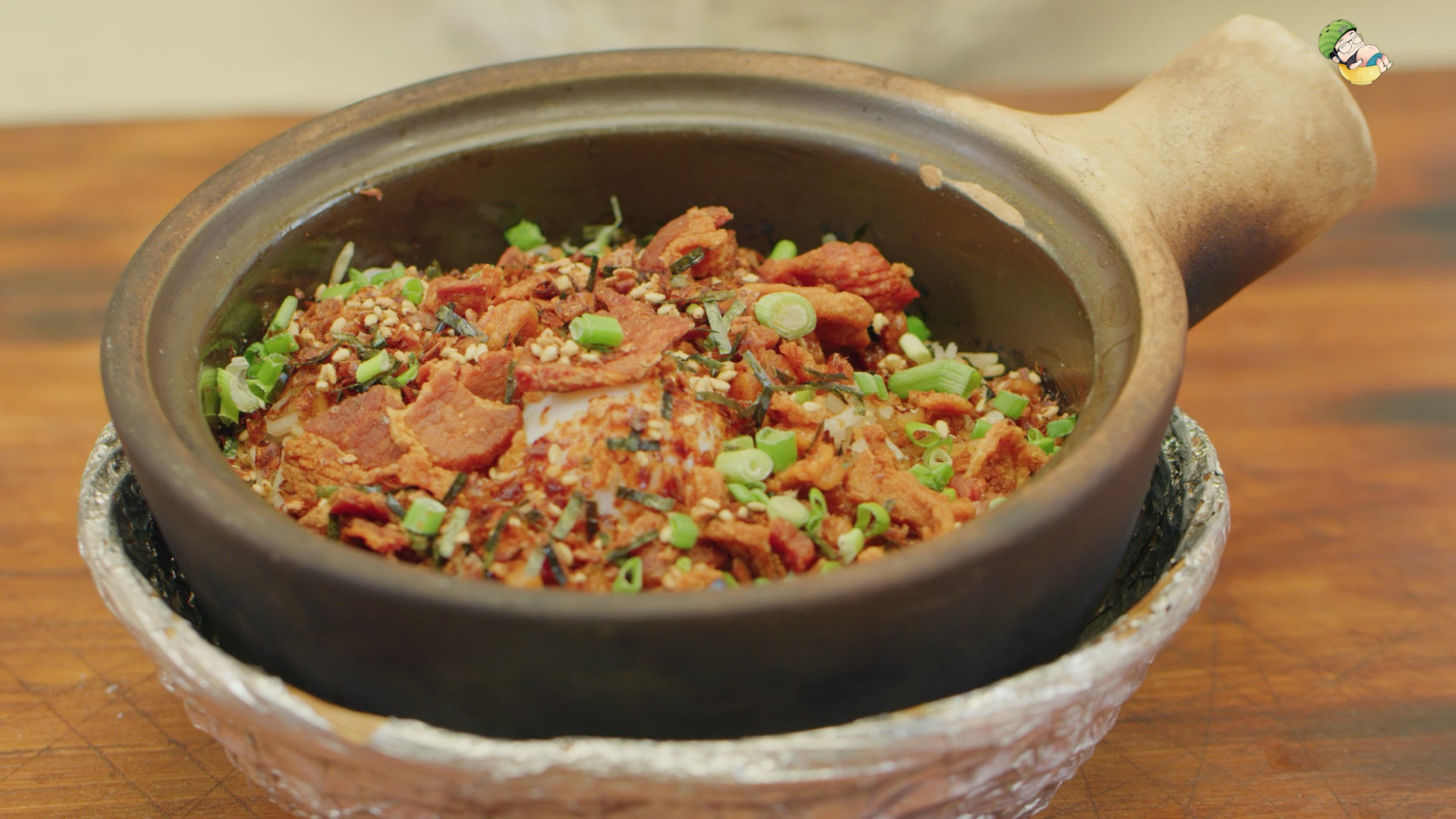 It seems like onsen egg is making an appearance again. Interestingly, this adds a touch creaminess to that umami from the bacon, which did make this claypot dish taste more like pork lard rice. It is still delicious nonetheless. The rice is pretty good too.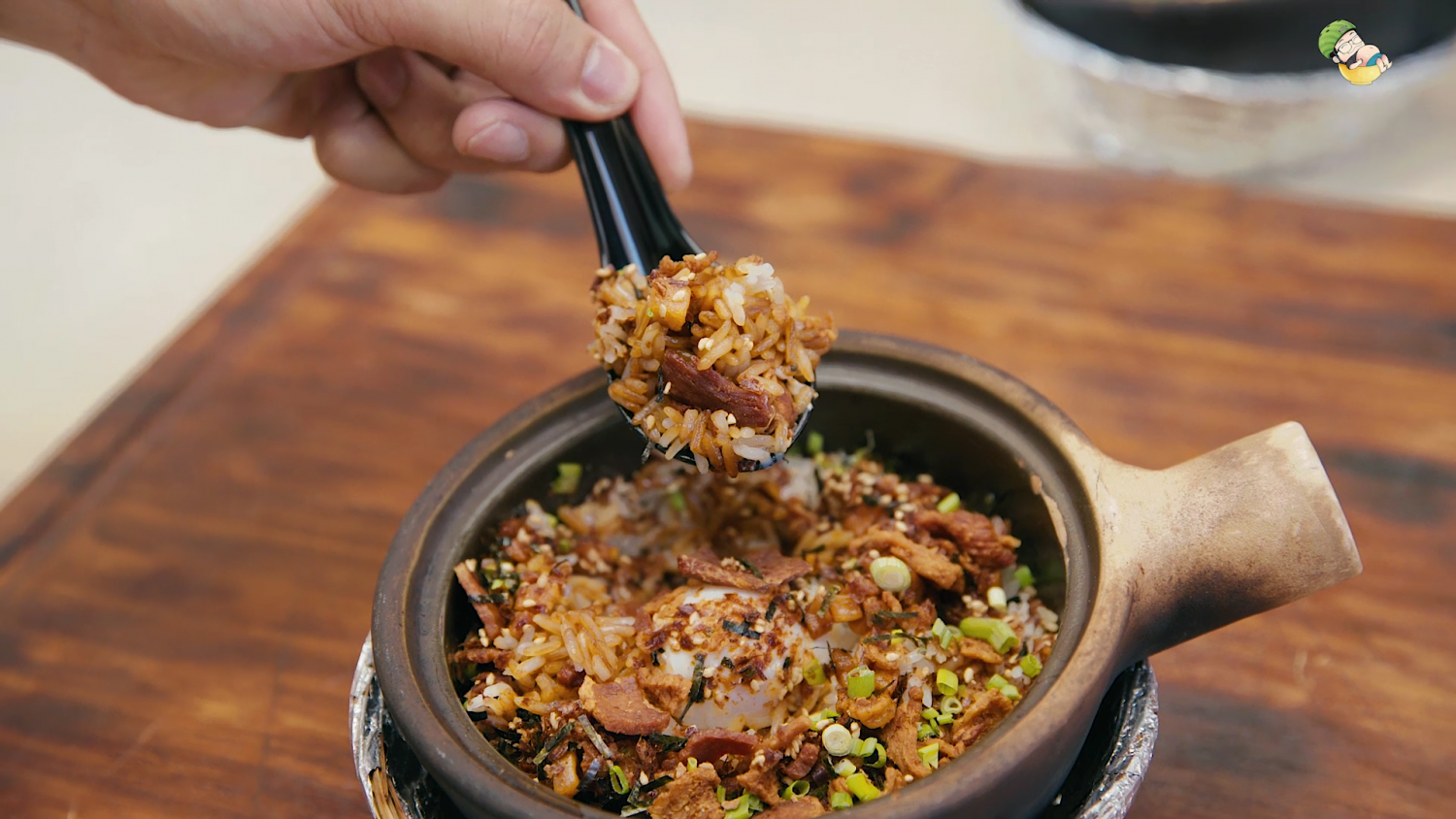 Who doesn't love pork lard?! Yummy!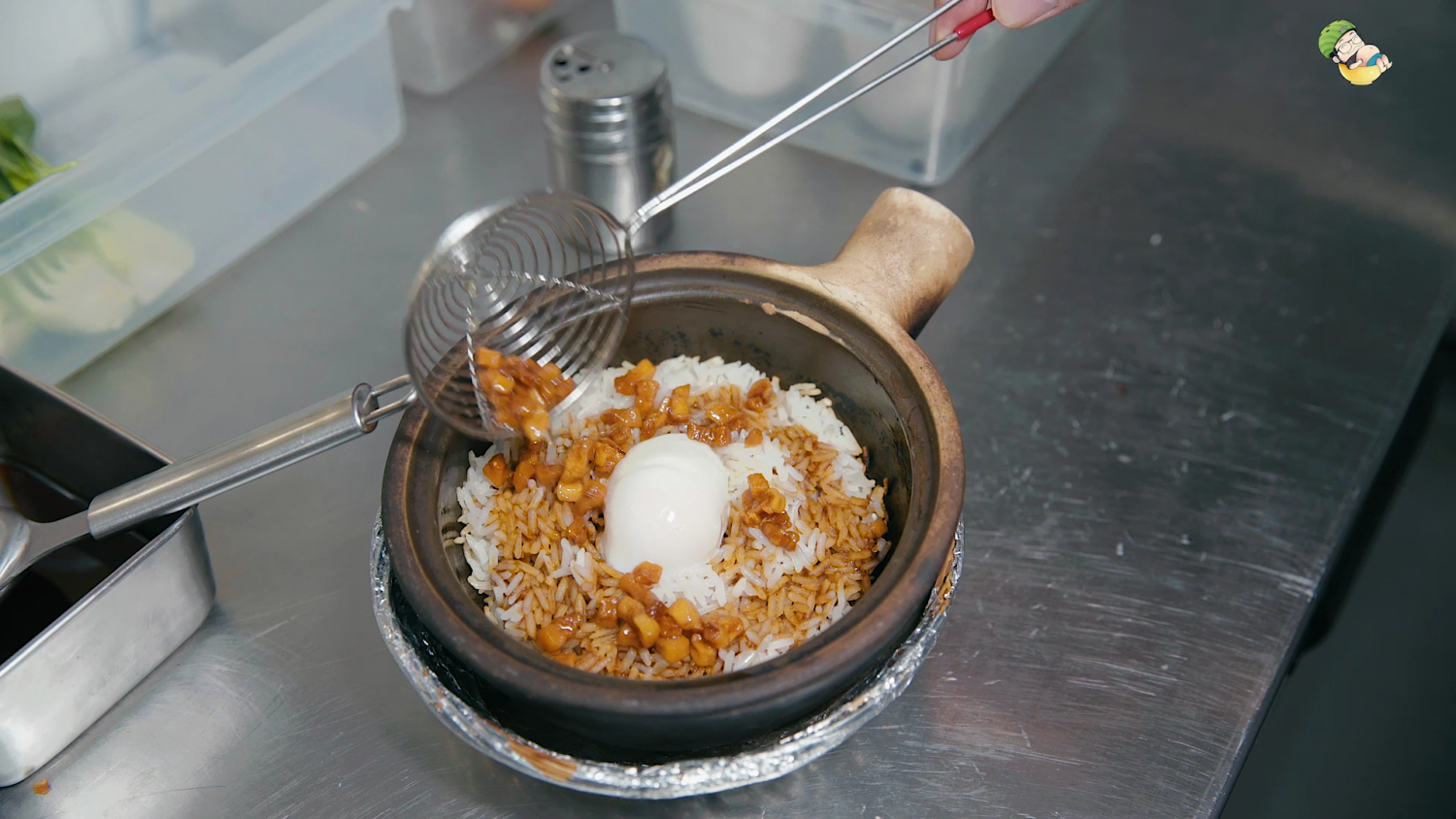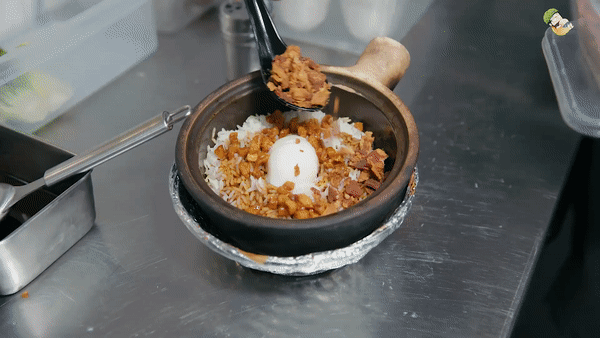 This teriyaki pork jowl claypot variant is something to die for… The smoky char of rice combined with rich aroma of tender pork jowl slices and sweet-savory teriyaki sauce had us hooked from the first mouth.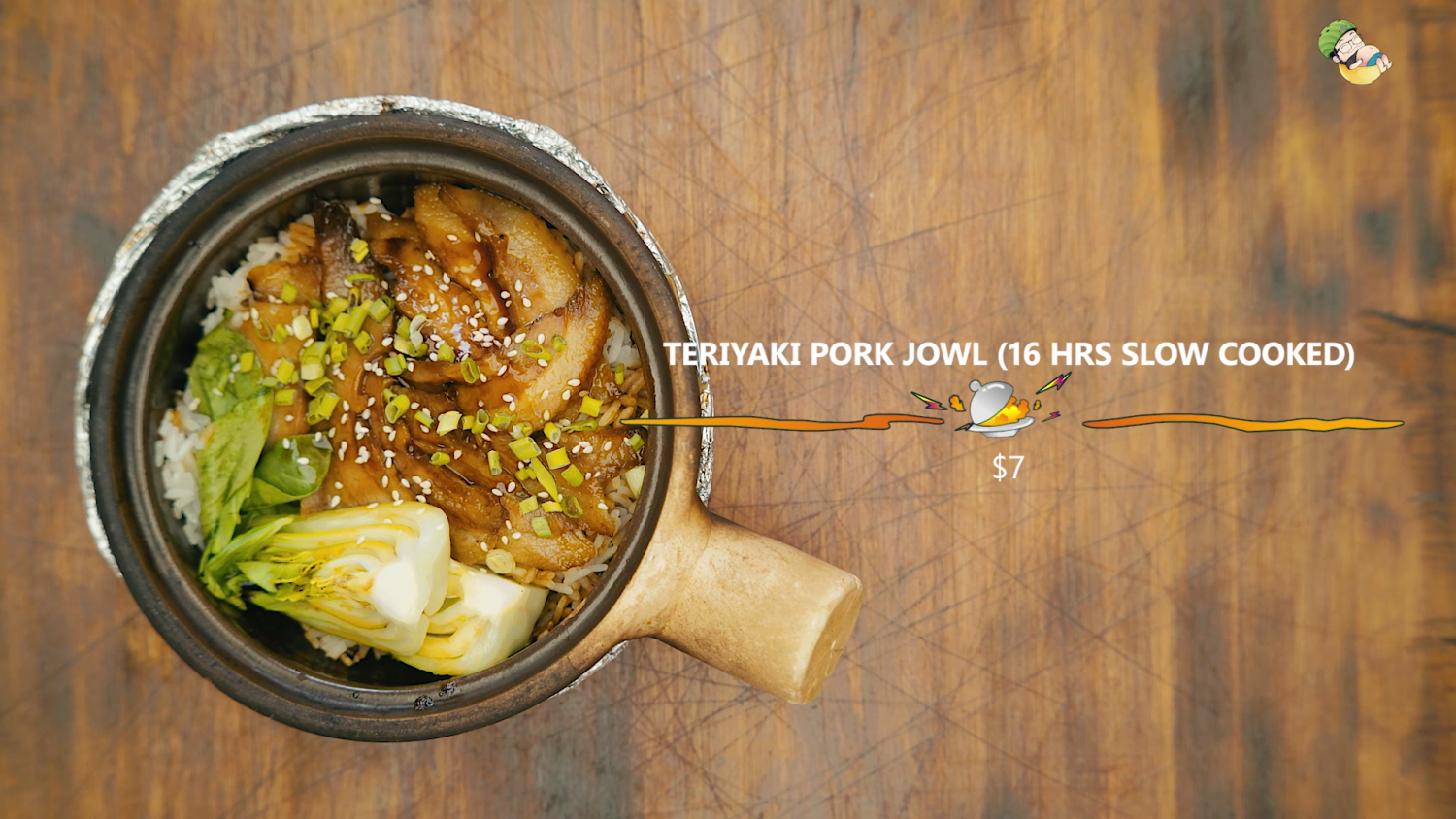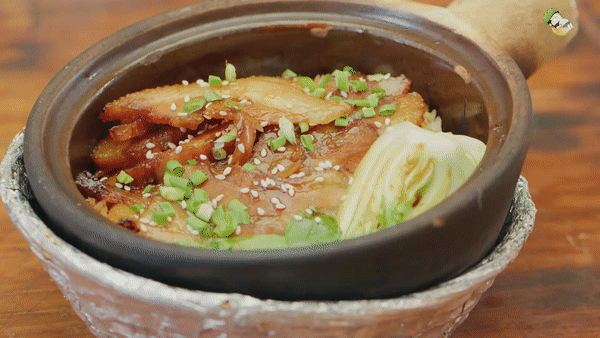 The thin slices of pork jowl are sous vide for 16 hours, which are then set to rest in a teriyaki marinade before being pan seared.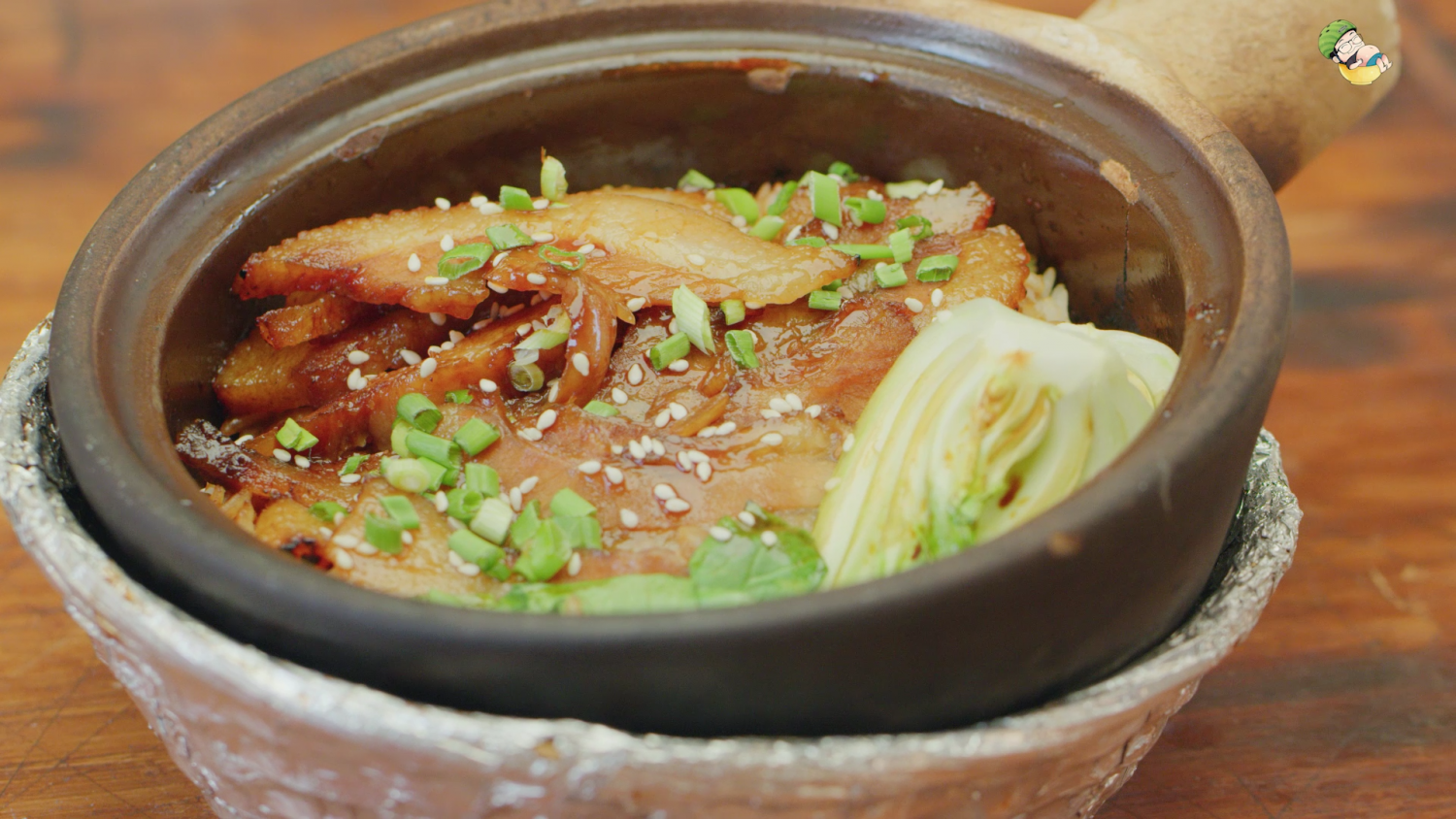 The meat is well-cooked and extremely tasty with a burst of sweetness from the marination. The depth of flavours is really impressive.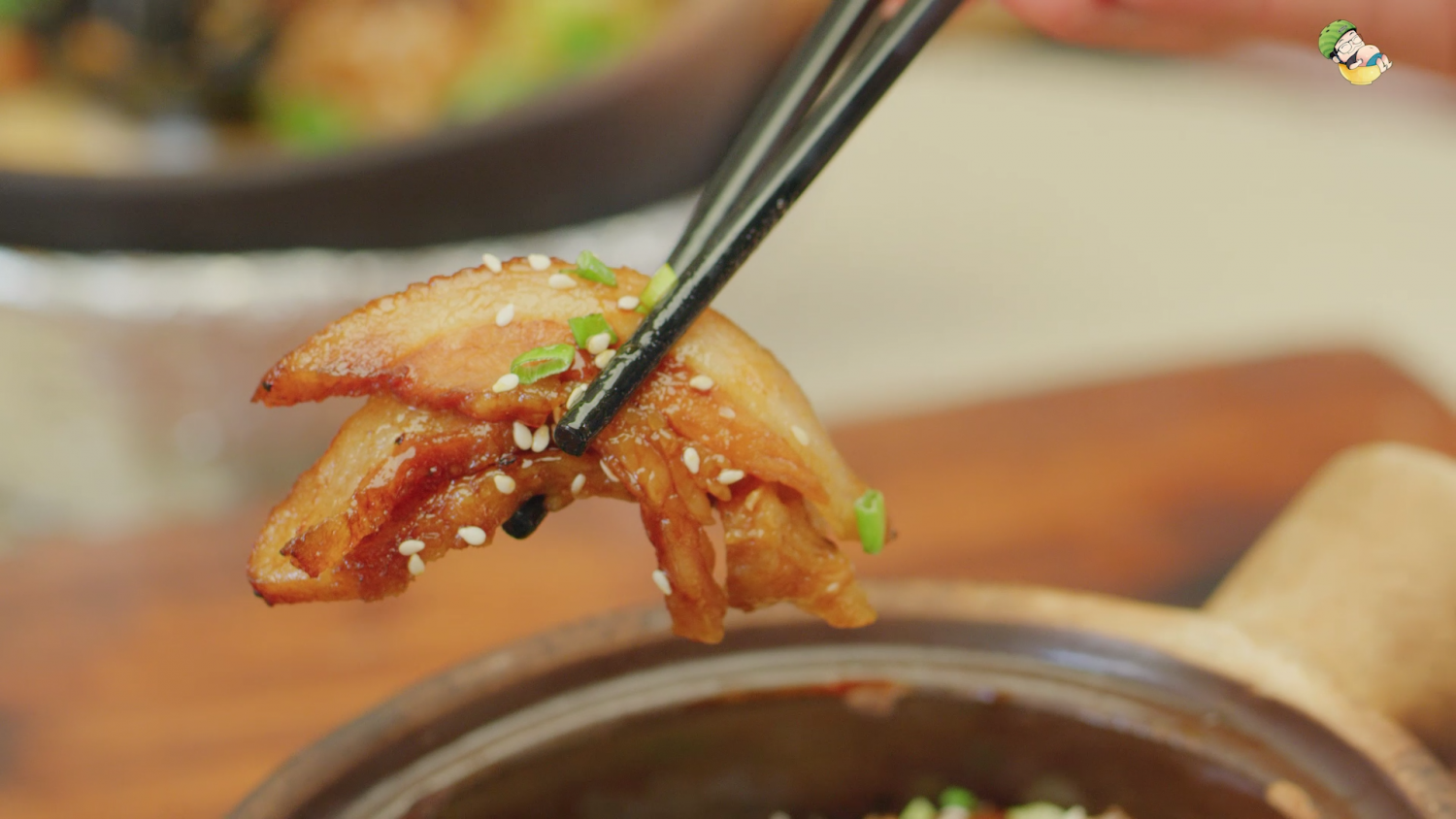 The black sauce provided to us is rather interesting too. It is made from red beans instead of soya beans. No wonder there's a bit of a umami and the bitterness to this special sauce.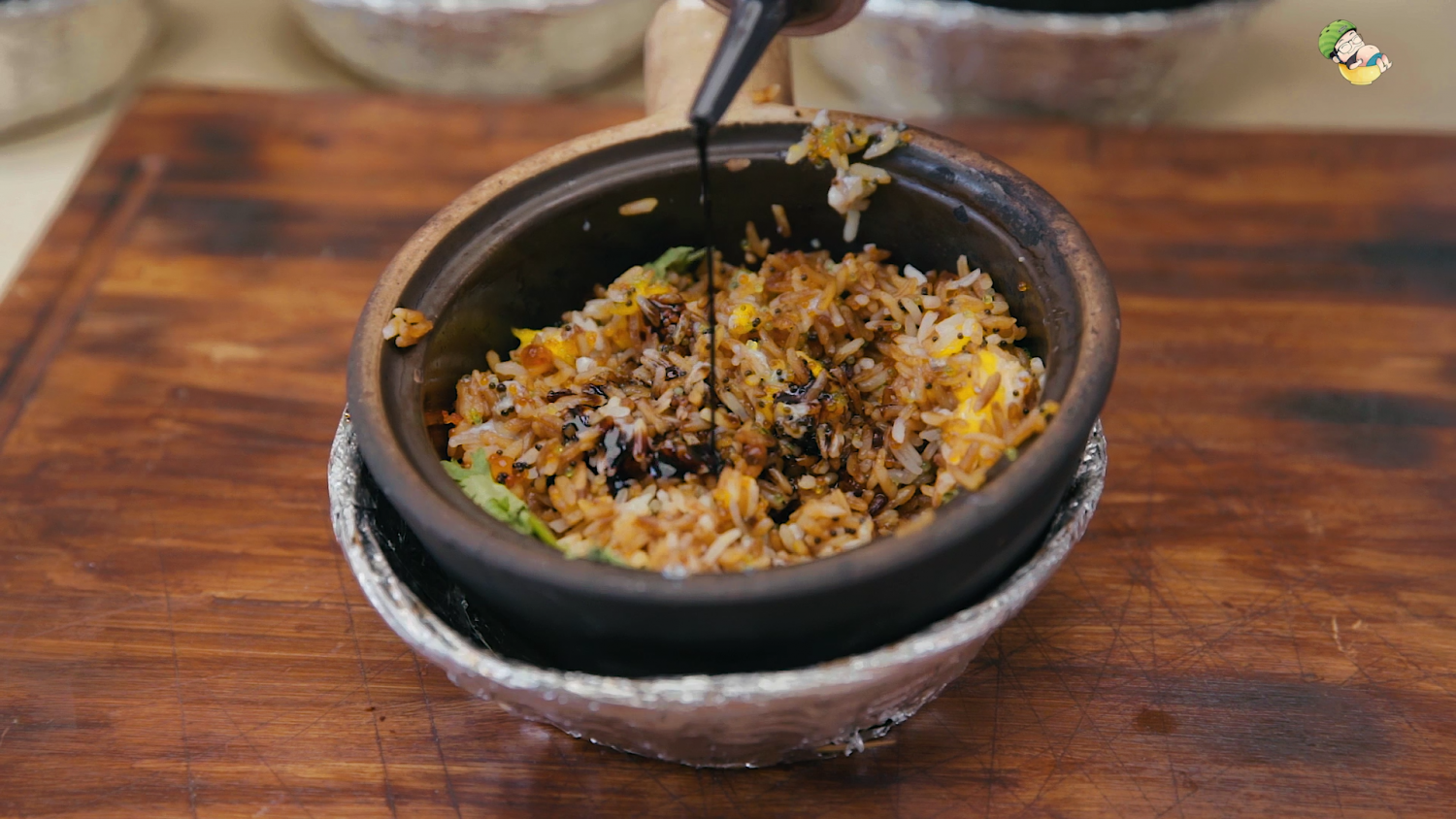 Like the other entries, the Lor Bak claypot rice is another game changing dish. All thanks to the sambal that comes with it. The chilli really changes the dish totally.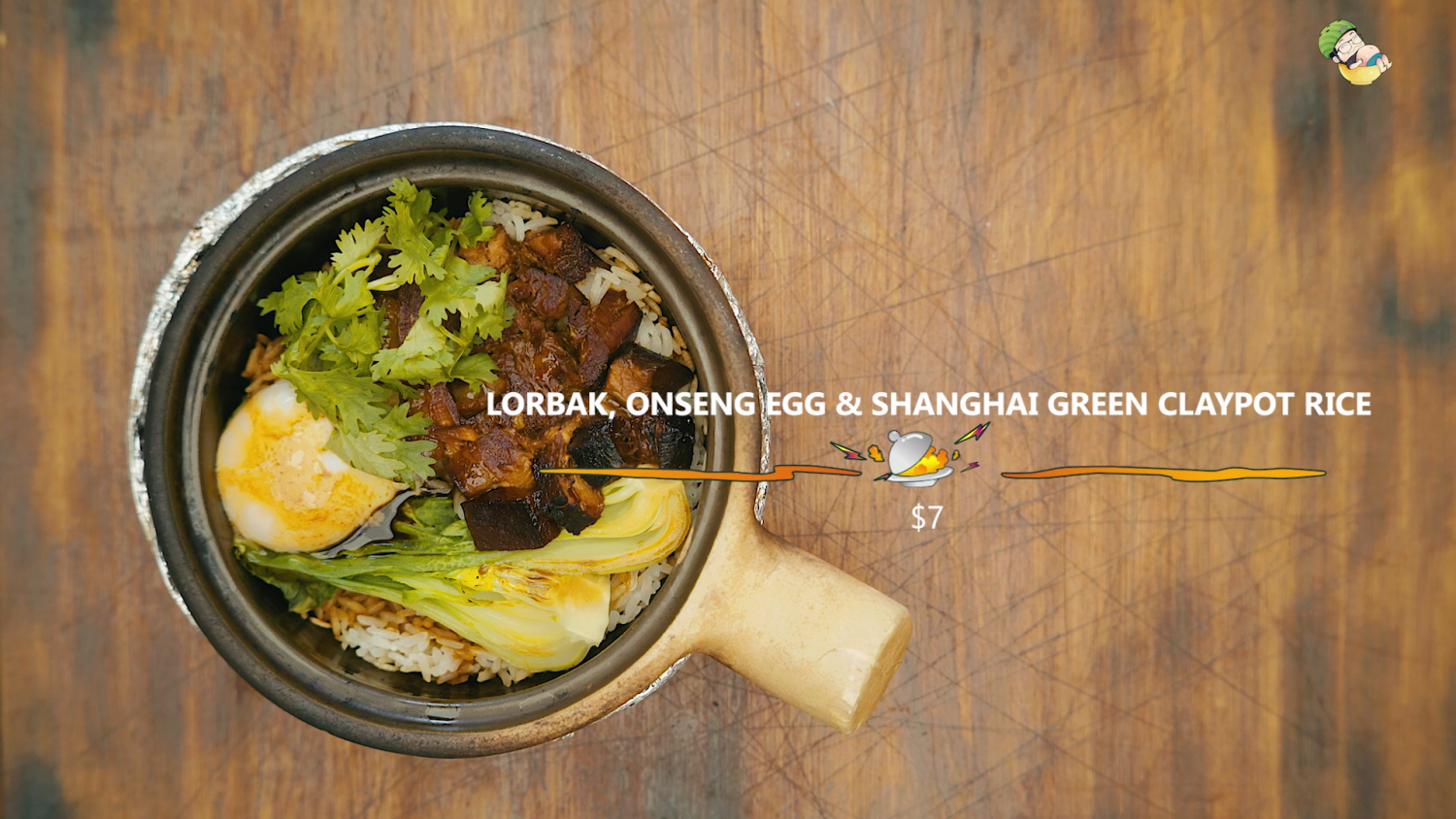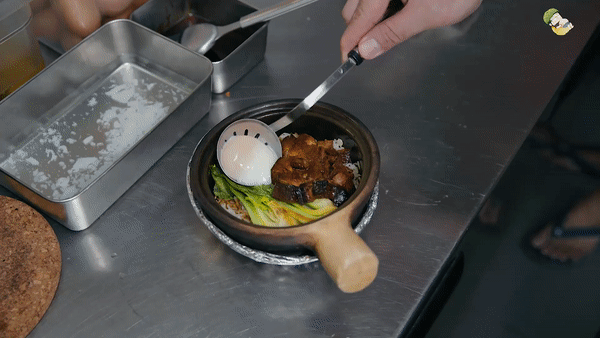 The toppings and ingredients are all really well done. There's nothing not to like about the way they prepare their pork.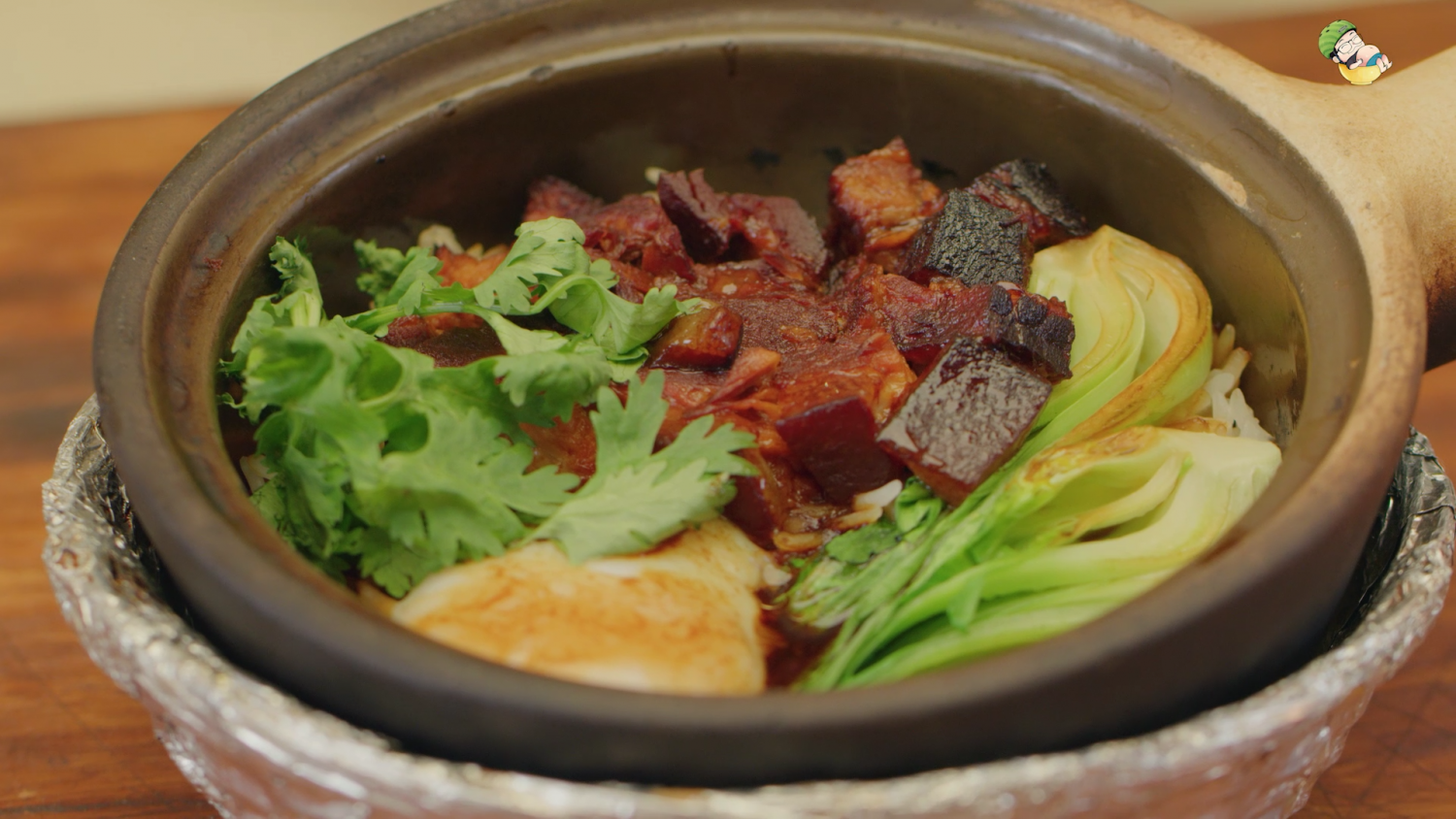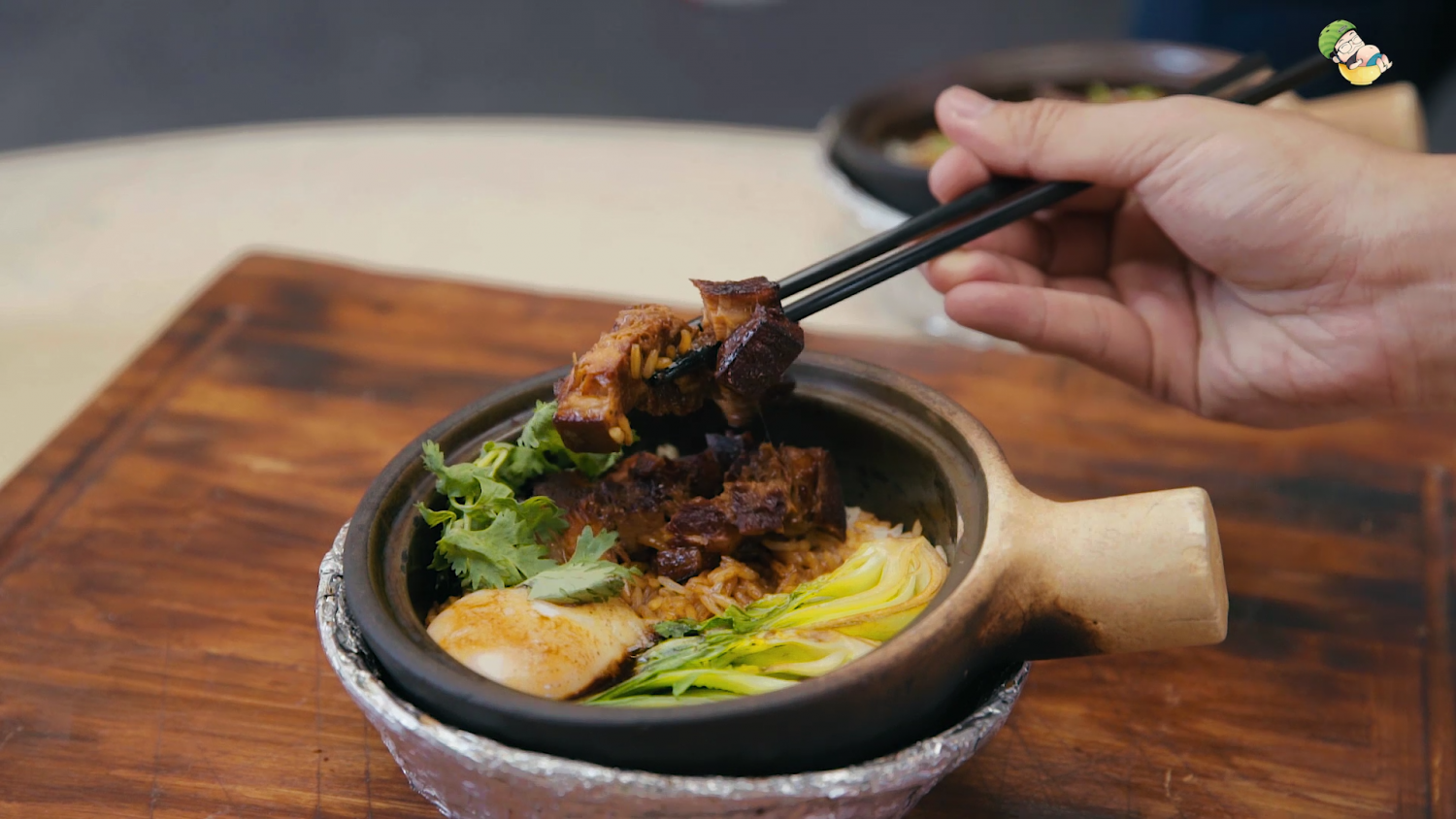 We wish there is more burnt rice at the bottom. Like those that are cooked traditionally. This is still a claypot rice in essence and we hope it will taste more like it. Overall a very solid bowl of claypot rice.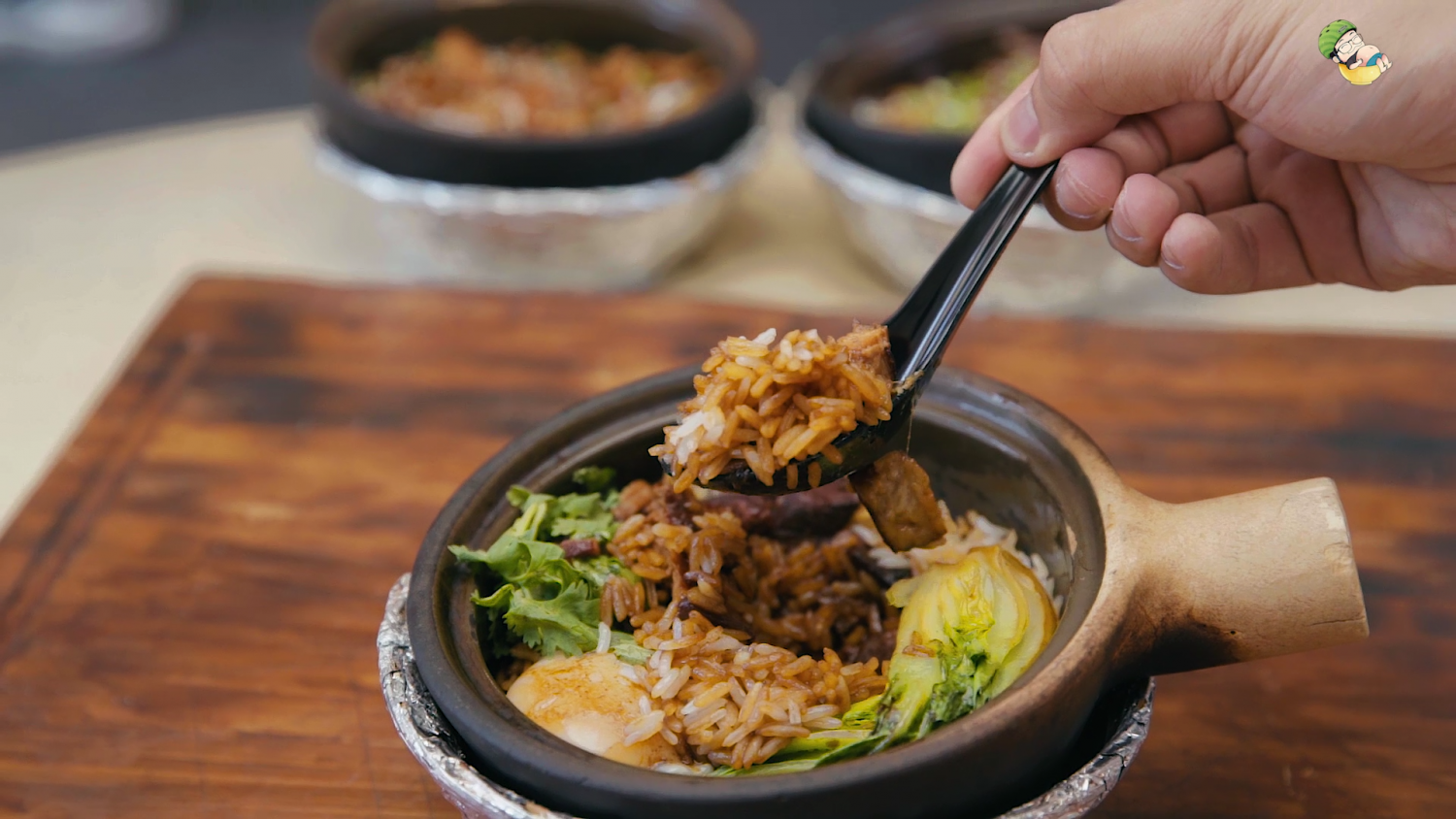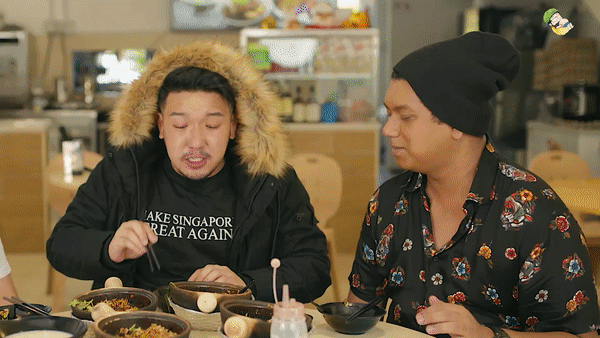 Ratings: 3 Stars, Food-King Good!
HOUSE OF HAPPINESS

294, Bedok Road, Singapore 469450
Mon, Wed to Sun, 12PM to 10PM
Here we are at the famous Amoy Street Food Centre where we will be trying Quan Ji's zi char dishes. Let's go!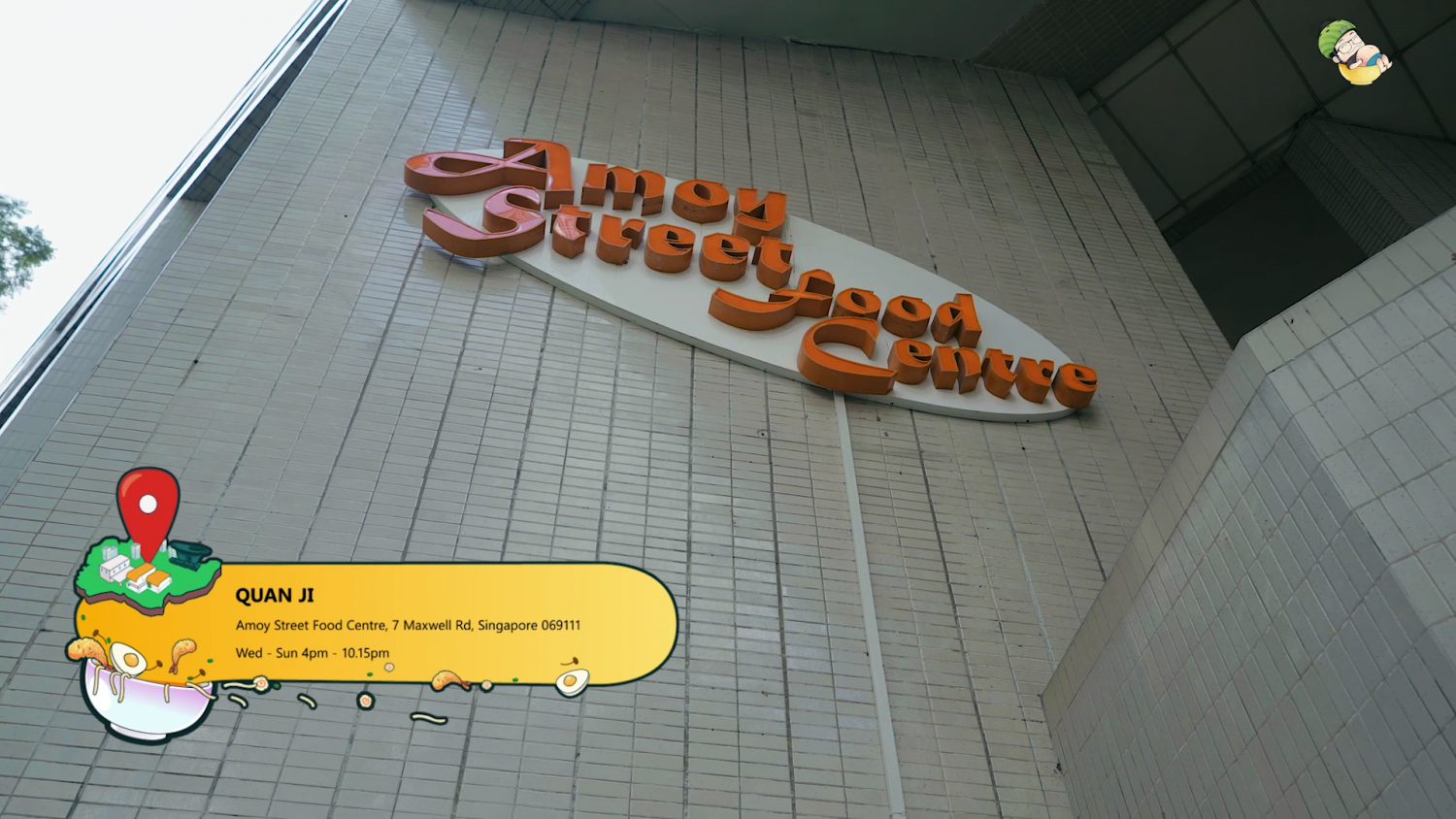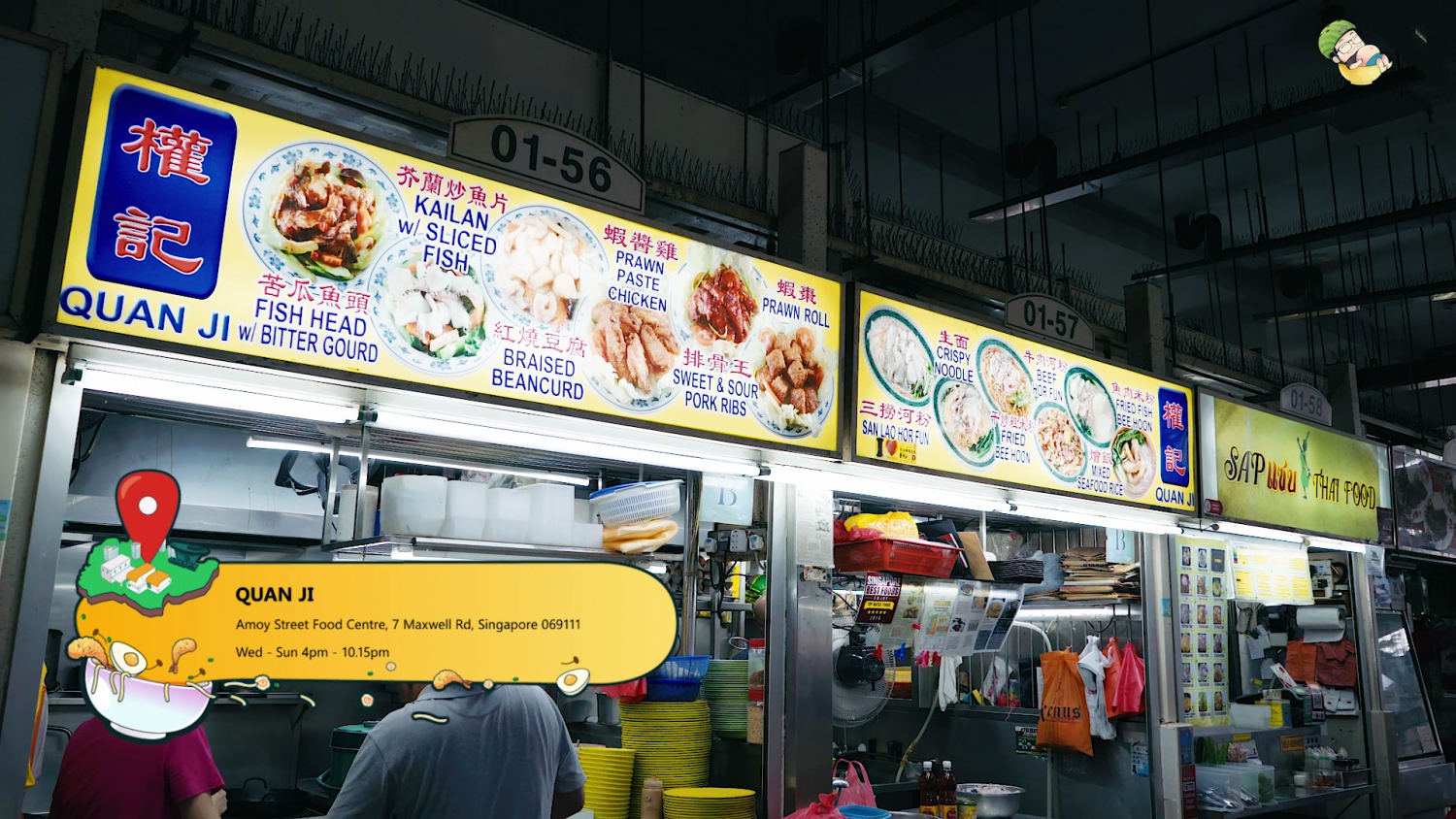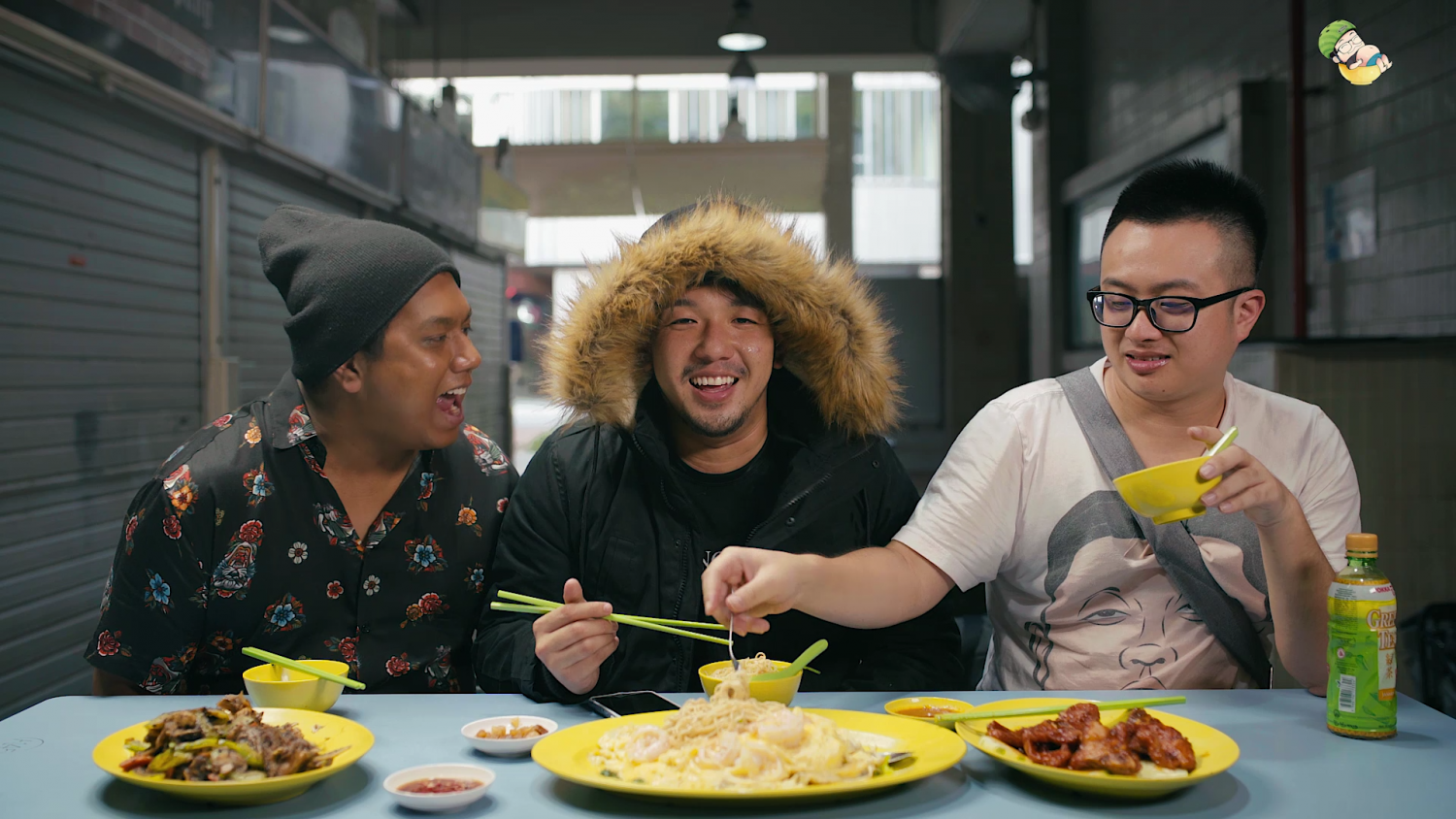 Wong Po Lou Meen, which literally translates to yellow cloth, blanched noodles is one those old school dishes that's best described as comfort food. It's made from simple ingredients like eggs, prawns, noodles and chye sim. But the hands of an expert chef, these run-of-the-mill ingredients can be transformed into something super-shiok and satisfying.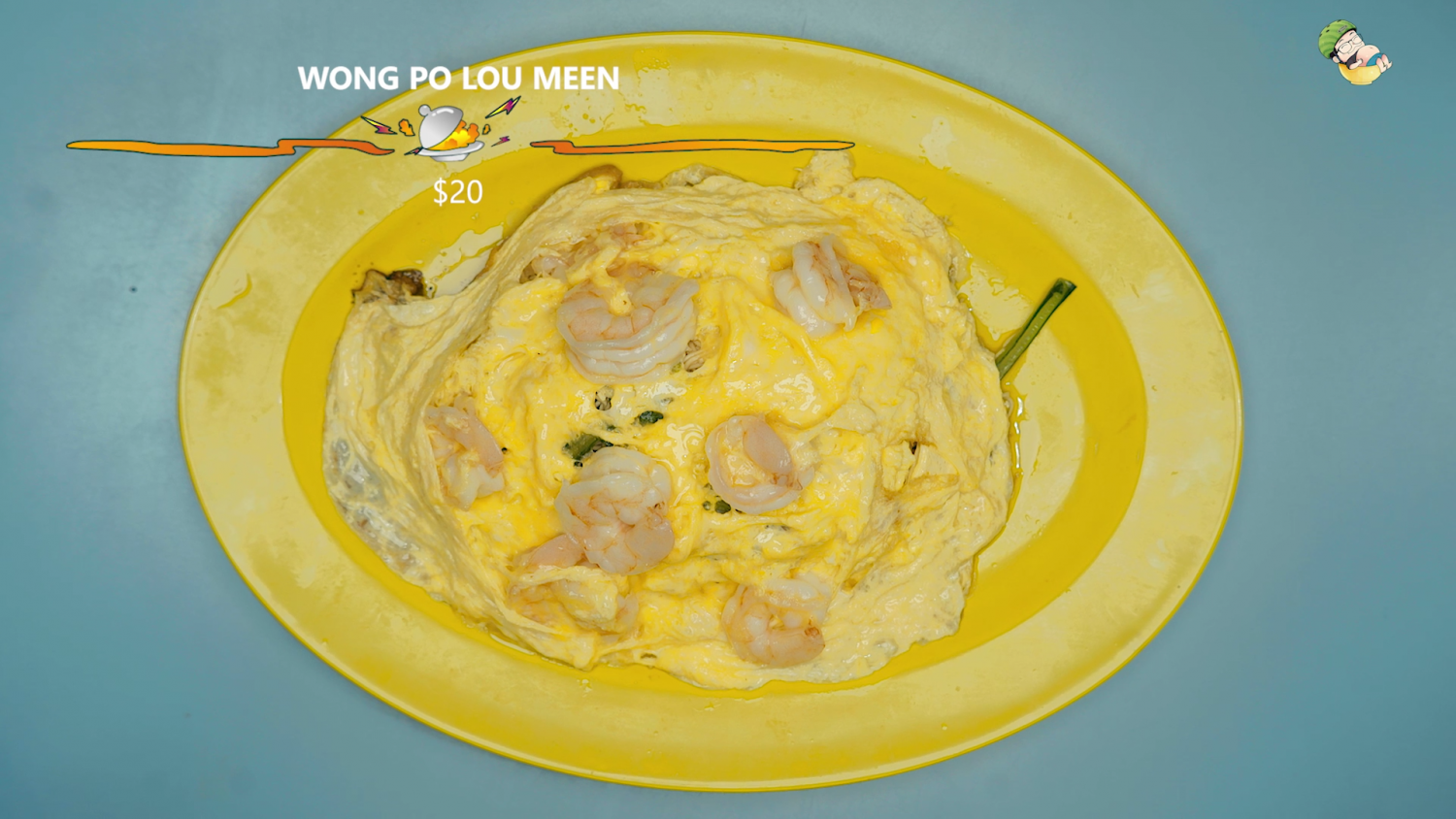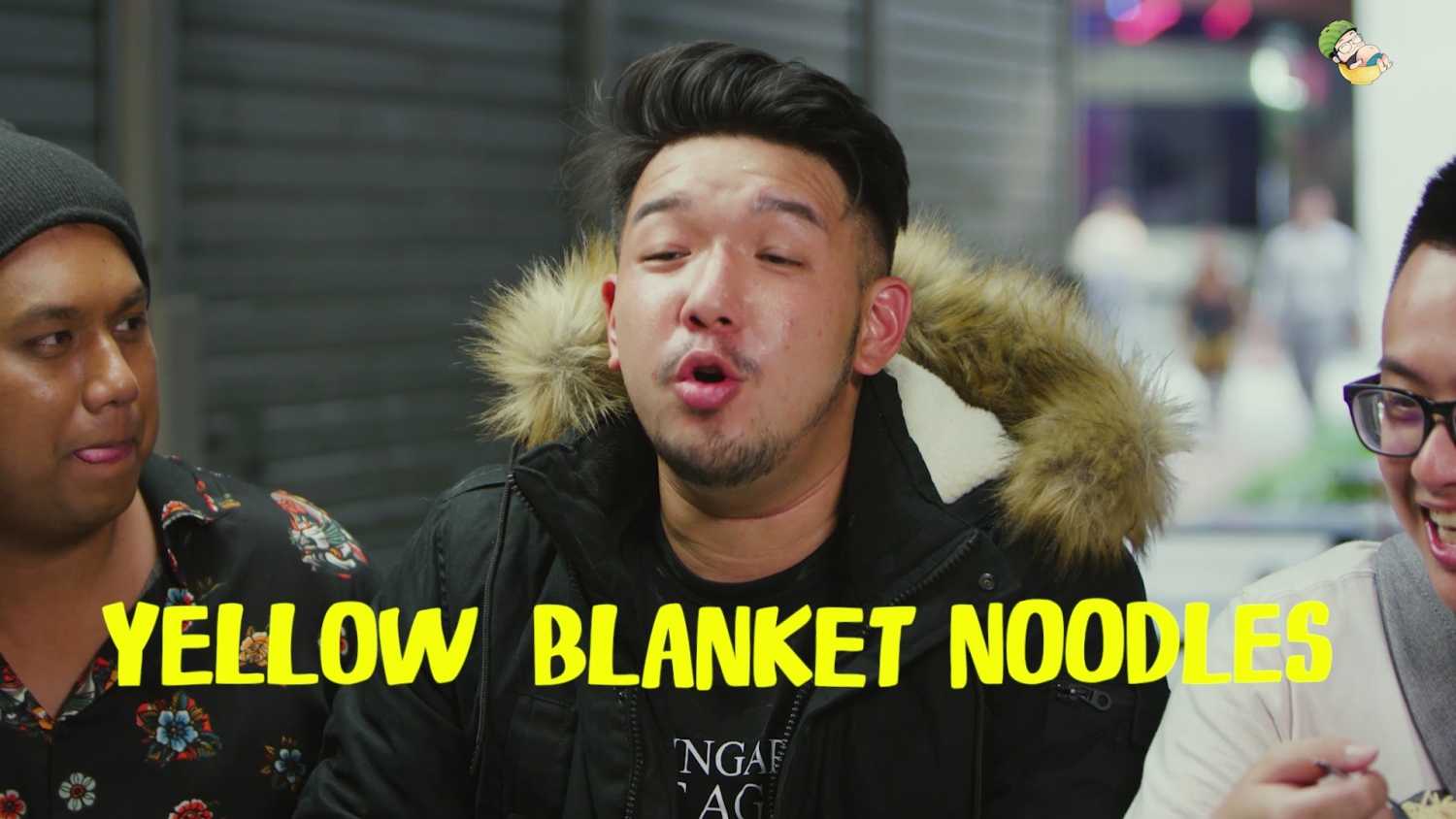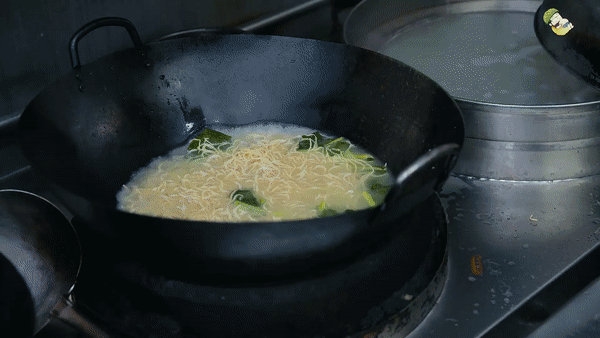 What makes the dish special is the fluffy, unctuous blanket of egg with slightly browned crispy edges that is cooked with liberal lashings of lard. This dish is something of a hidden secret that is not listed on the menu, so you would have to ask for this dish directly from the stall assistant.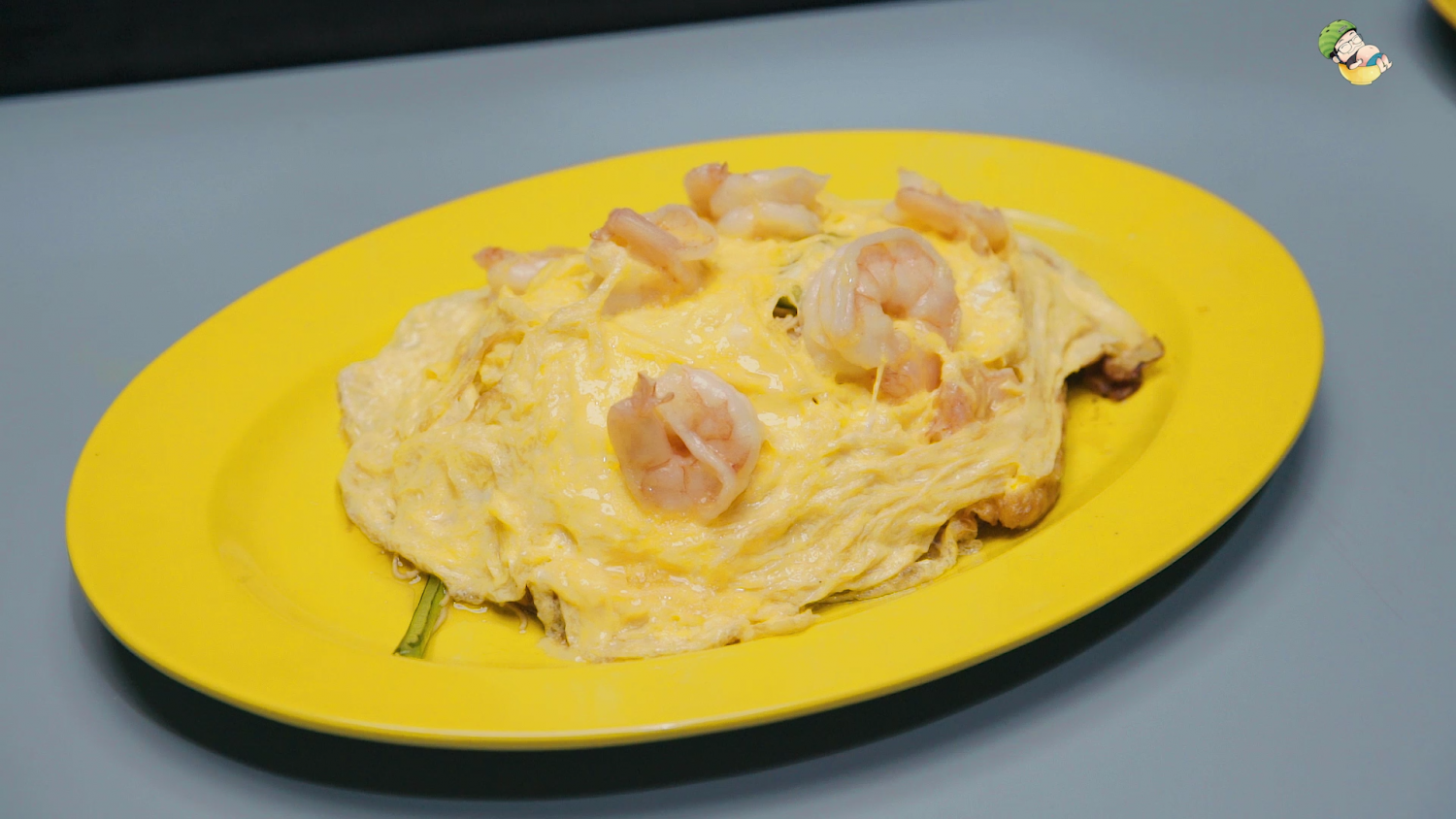 Tear open the layer of fried egg and an irresistible wok hei aroma wafts out from the dome of springy noodles with more prawns, chye sim and umami-laden oyster sauce.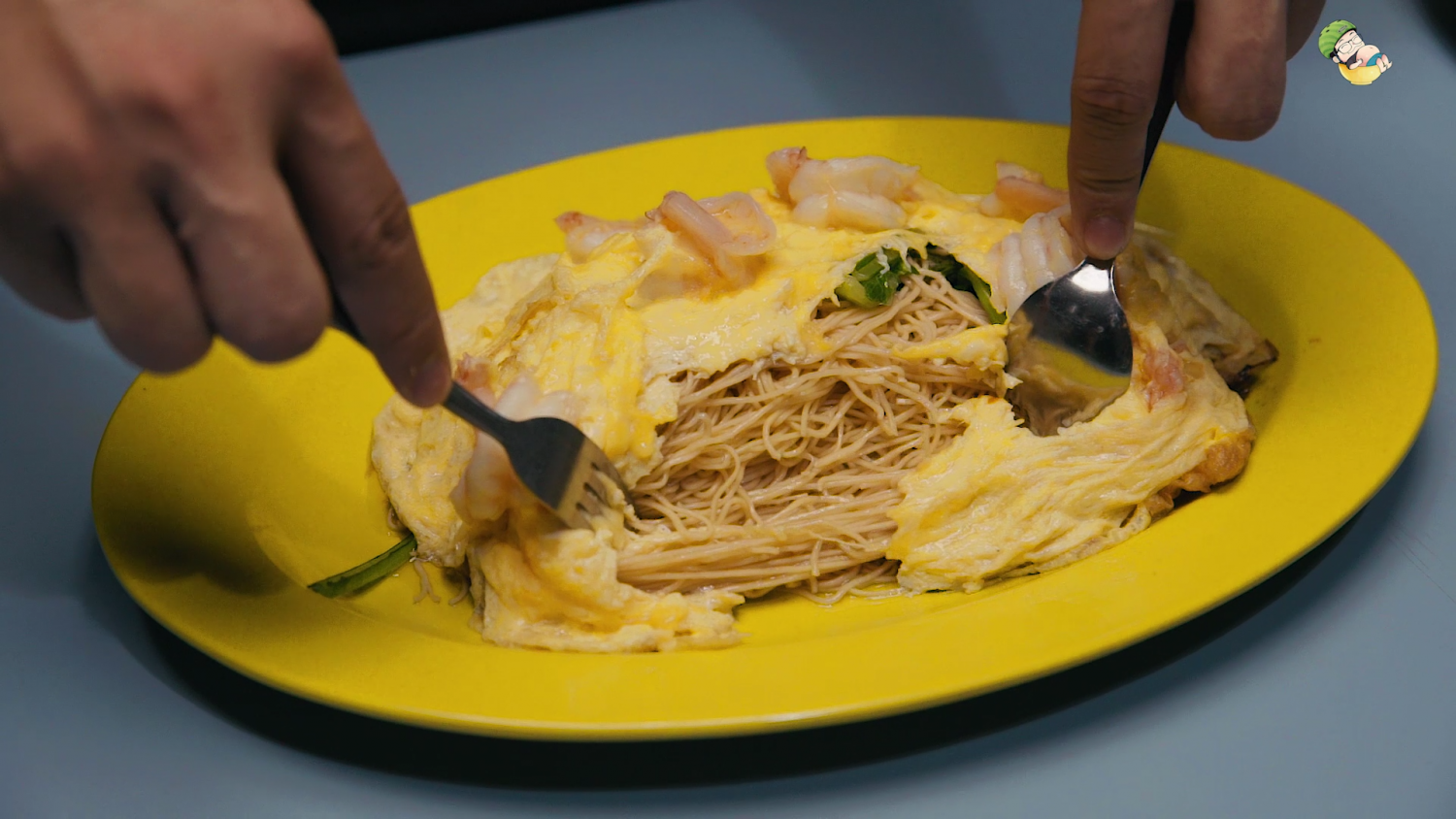 The noodles are blanched and tossed in a mixture of lard and oyster sauce. Don't be deceived by these plain-looking noodles – they may appear plain and boring but trust us, the texture and depth of these yellow treasures are incredibly flavorful and delicious.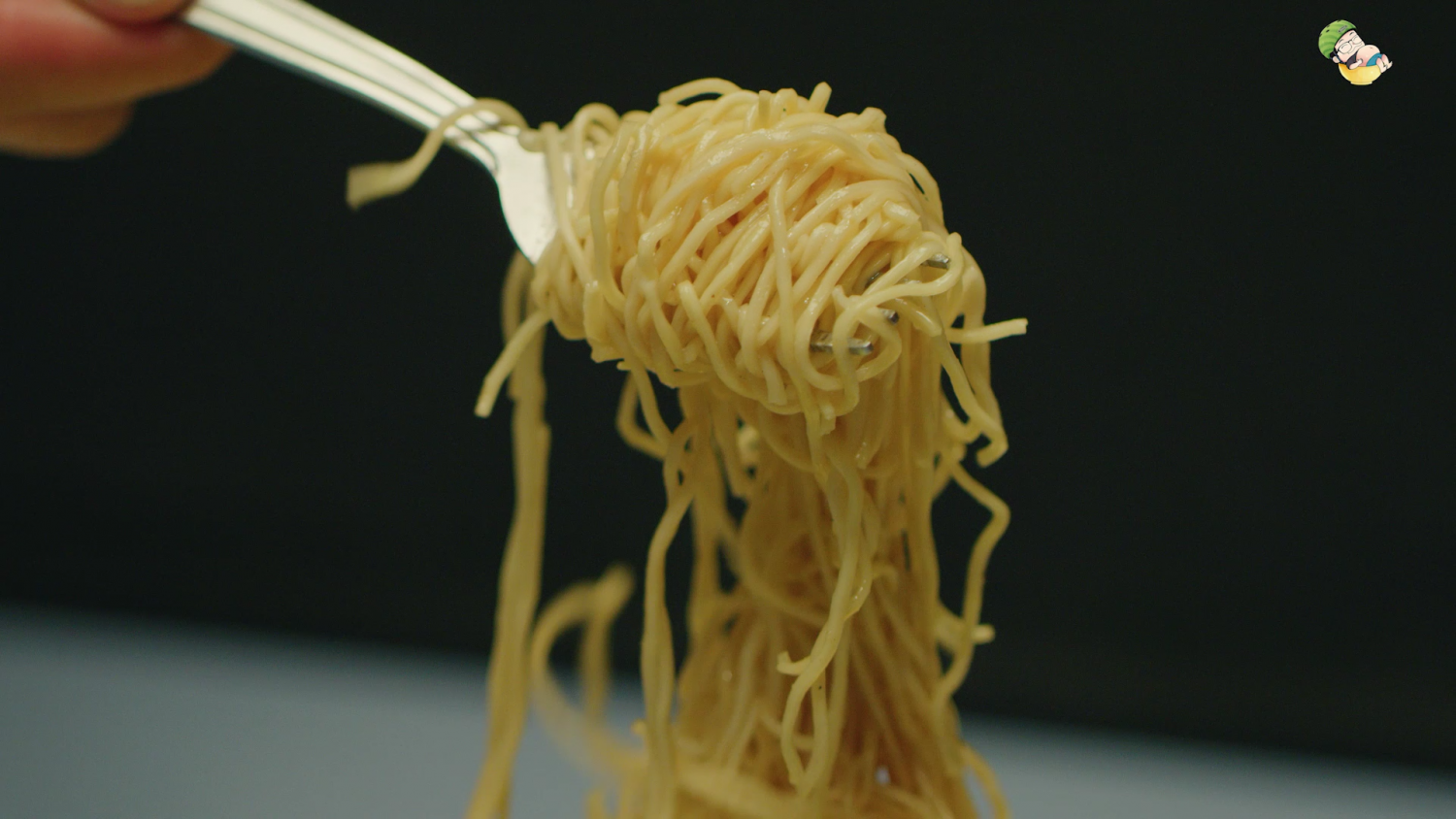 The resulting dish is deliciously eggy and will remind you of how underrated eggs really are. Yums!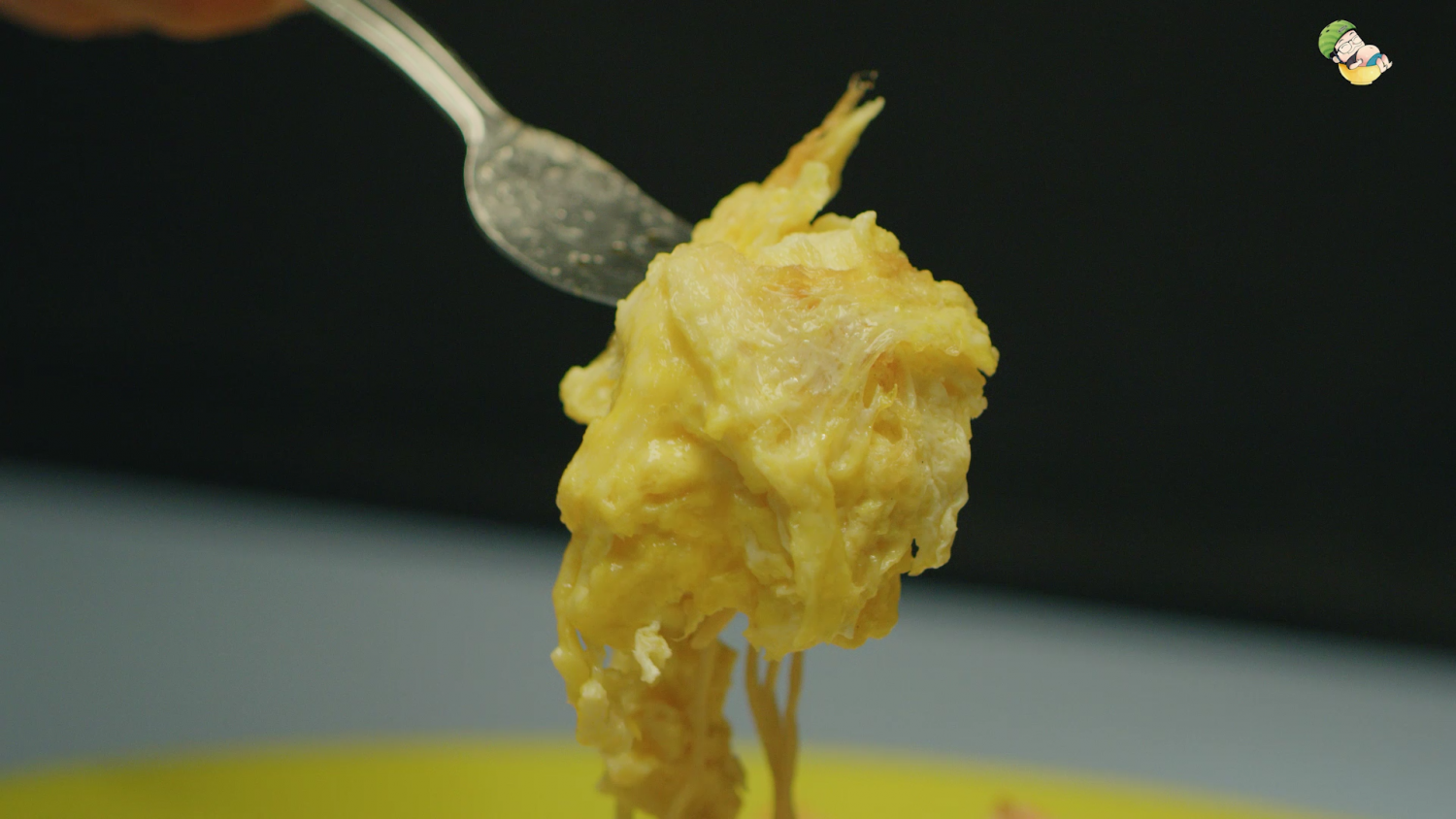 Wow. The prawn is super Q too! How did they even do it?
And yes, they have pork lard hidden in the noodles. This dish is a must-try!
The other dish we are going to try is the Fish Head with Bittergourd. There's nothing impressive about this dish other than the bittergourd, which only Dee loves. As for Ryan and Aiken, they are undergoing a series of facial spasms after biting into one. No wonder they look so bitter. Opps!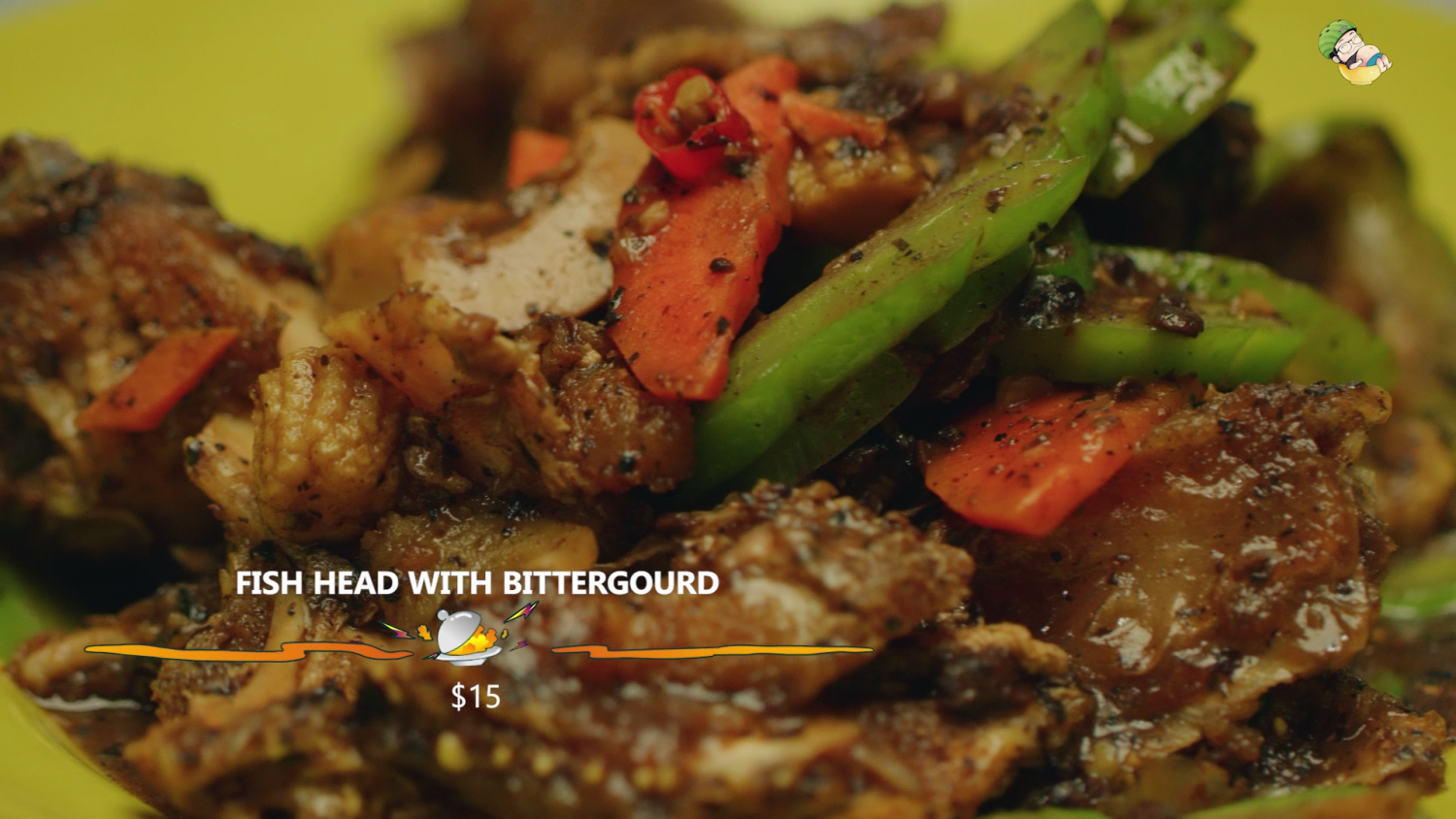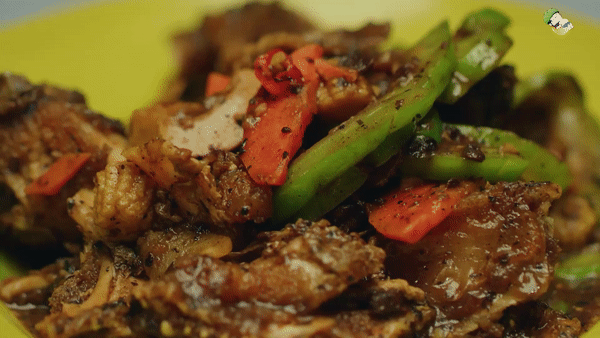 The fish is a bit tough. And the black pepper is just black pepper sauce. Nothing amazing.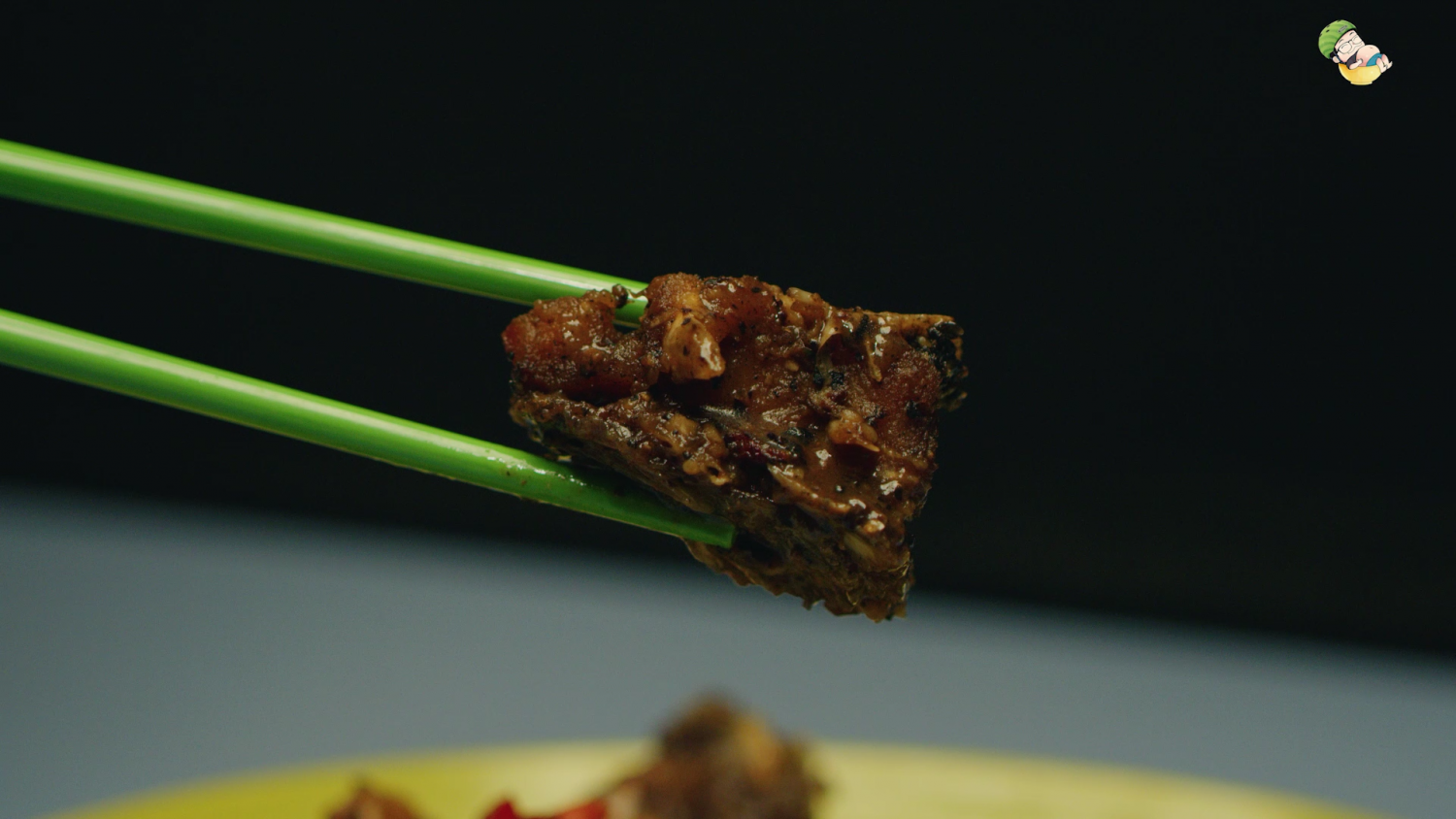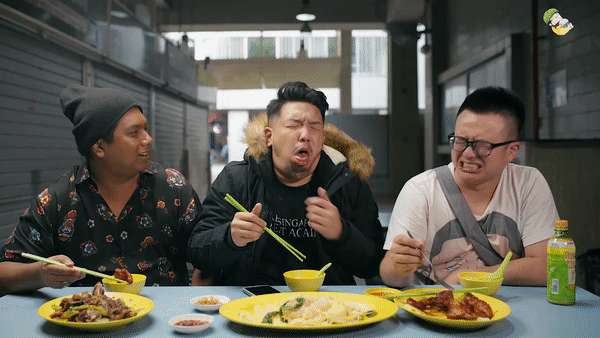 Our last dish of the day is the Pork Ribs. This too is pretty average. Nothing to shout about.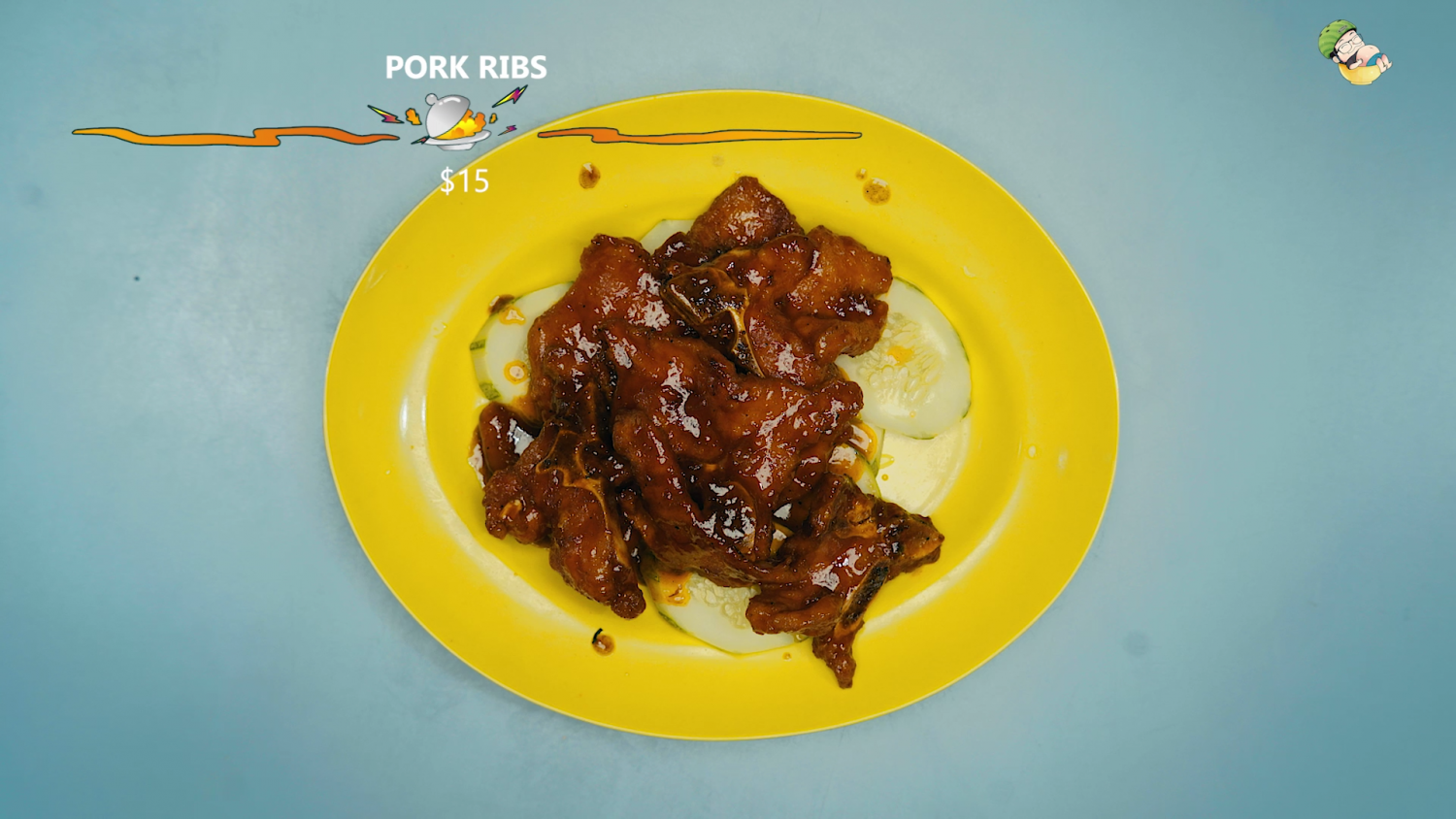 Order this only if you have to. Otherwise, just go for the noodles instead.
Ratings: 1.5 Stars
QUAN JI

Amoy Street Food Centre, 7 Maxwell Road, Singapore 069111
Wed to Sun, 4PM to 10.15PM
It's a wrap and we are surprised Aiken is still alive! He can finally strip and live to tell his sweaty tale. Eager to see how he survived in the sweltering heat? Click our video below to find out now! And don't forget to leave a comment below and tell us which is your favorite dish of the day. Adios!