Hello, it's Friday and that means another episode of… Food King! Today, we have something very special in store for you. Here with us once again is our talented Chef Shen! Oh boy, you know it's going to get a bit crazy when Chef is on the show. Feeling excited already? You should be! Because we are giving away freebies to 2 lucky viewers. Stay tuned to the end to find out how.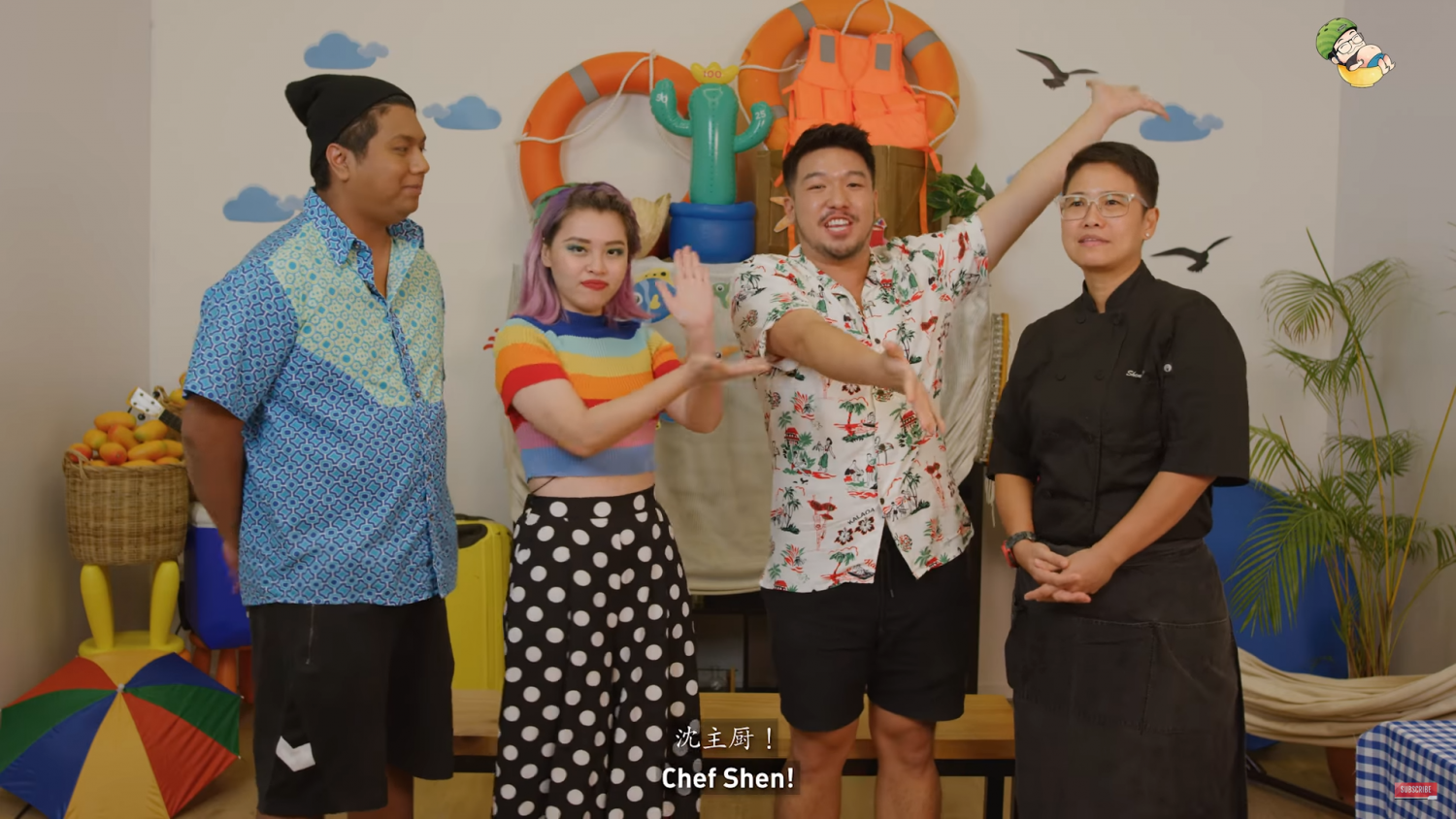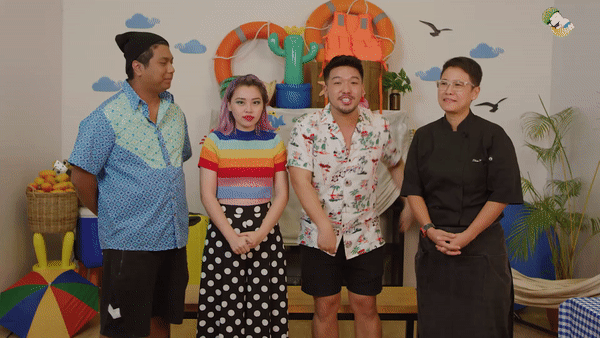 So what are we eating today? Well, we will be having amazing ice creams to quell the recent crazy hot weather. And what better way to satisfy our cravings by trying these sweet delights from Weis! In case you are wondering, Weis is an Australian brand of ice cream that offers a wide variety of flavors to choose from. To spice things up a notch, we've got Chef Shen with us to show you what you can do with these ice creams at the comfort of your own home. Without further ado, let's get eating!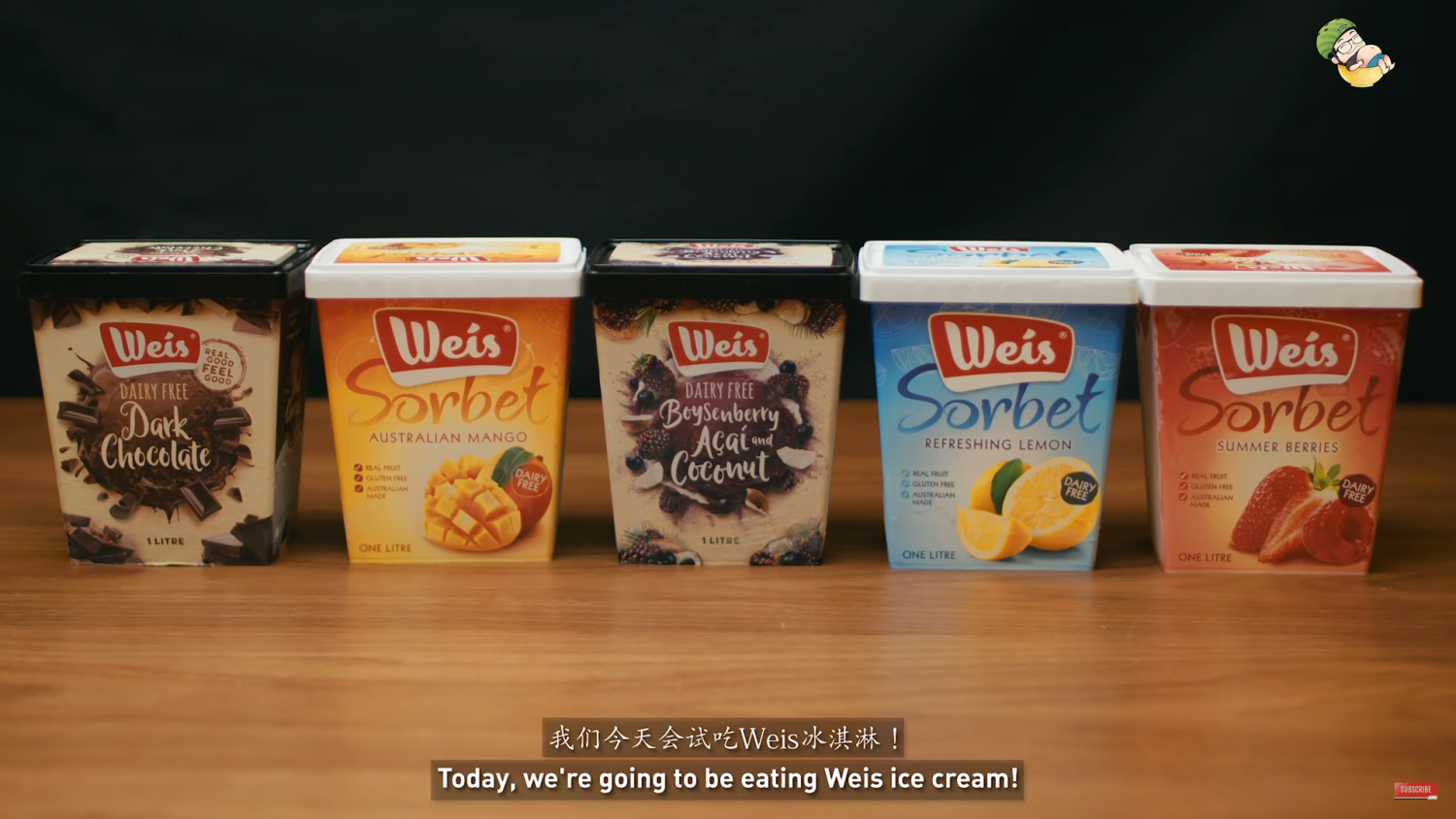 The first flavour we are trying is something really special – Boysenberry, Acai & Coconut. Acai (pronounced ah-sigh-EE) is best known for appearing in most picture-perfect smoothie bowls and Instagram feeds. These healthy grape-like berries have been all the craze lately and all the health nuts are trying to eat it. How wonderful to have this flavour in a frozen dessert too!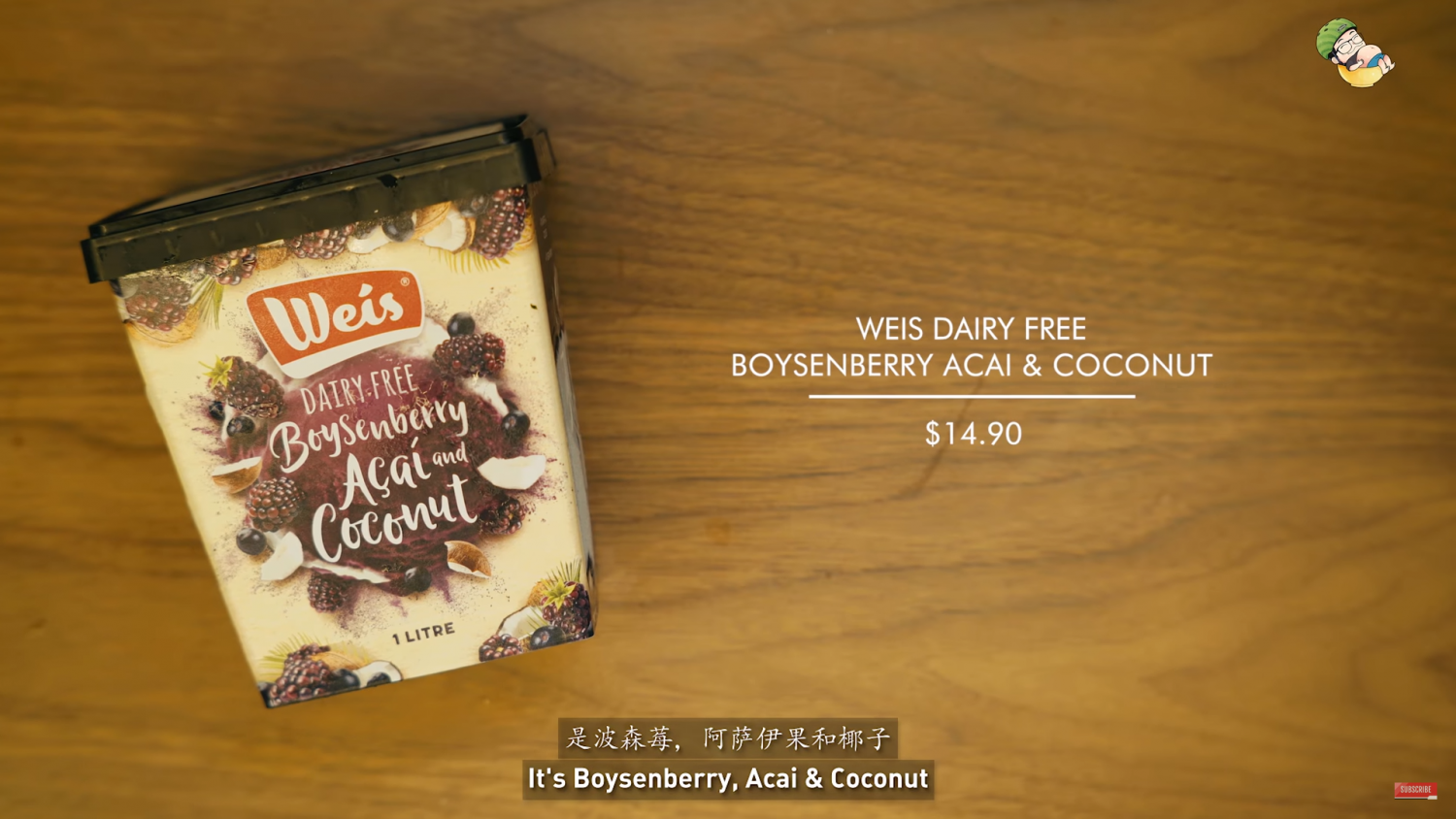 We are really surprised that this version of ice cream is actually on the healthier side of life – it is vegan-friendly, gluten-free and dairy-free! We also love how it brings out different flavours and dimensions to it – you can literally taste the tanginess of the berry, followed by the creaminess of fragrant coconut and then the bitterness of the acai. Yummy!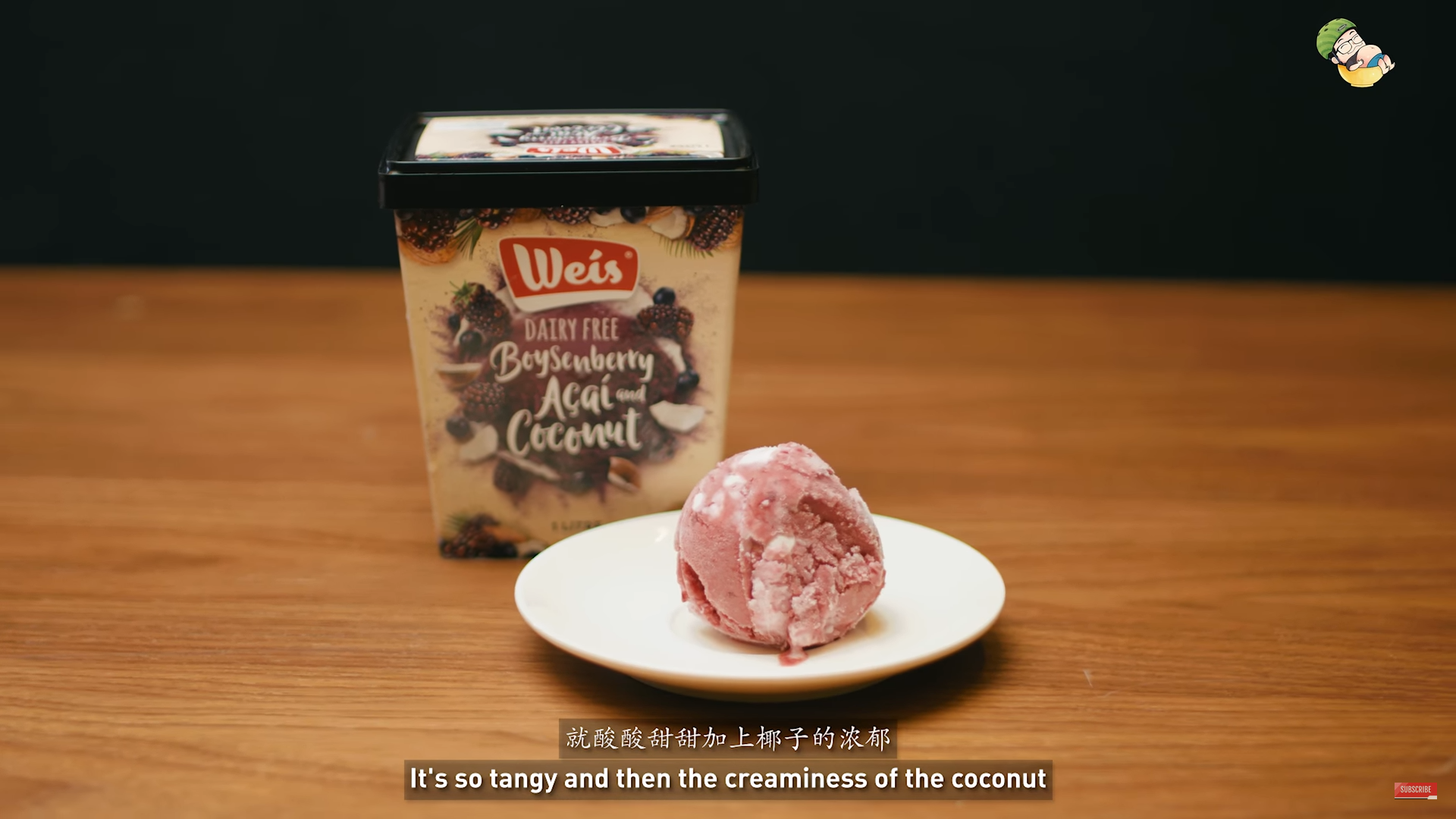 Pair this with a plain pandan waffle and you've got yourself a ticket to foodilicious heaven! It's amazing-balls yo! Now that we've tried our simple pairing with waffles, let's see what Chef can do with this ice cream.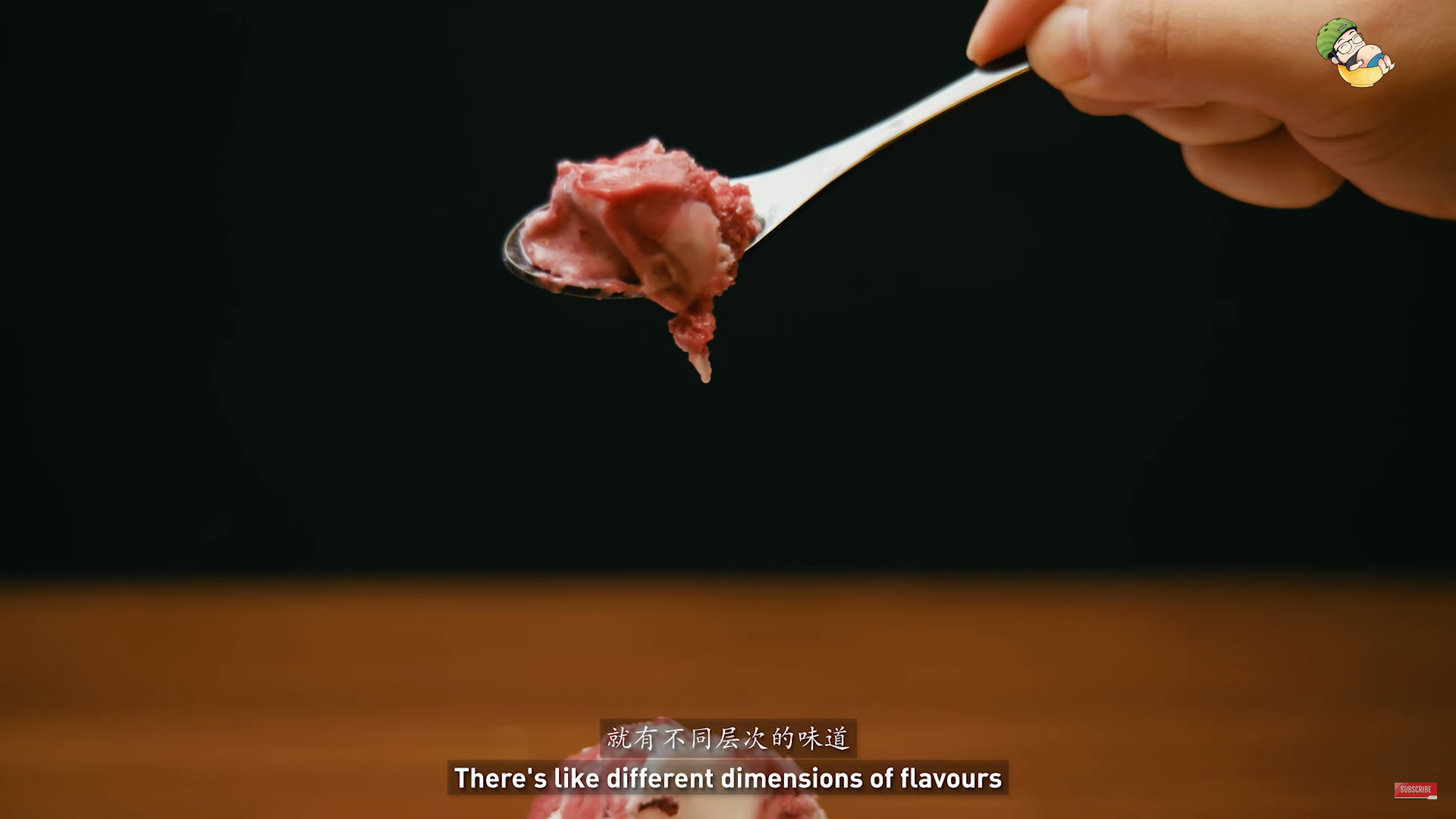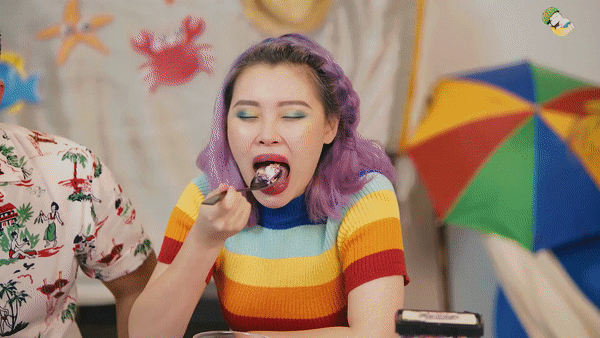 Chef Shen came up with this simple recipe in which she serves the ice cream with oats and granola. This is actually based on the idea of incorporating ingredients that we usually have for breakfast. How interesting!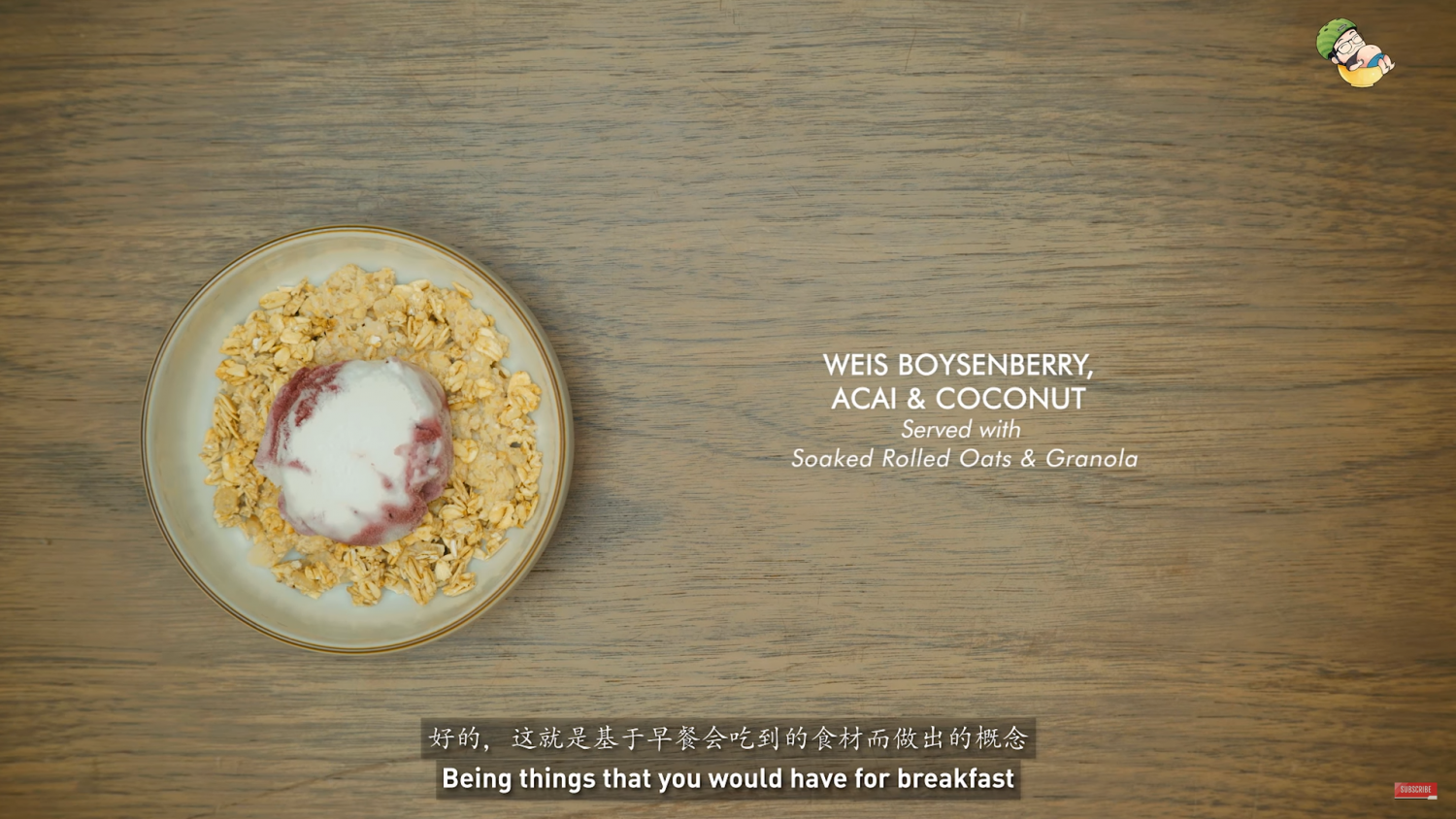 Wow, the combination of crunchiness from the granola, earthiness from the rolled oats and fruitiness of the berries is such a delightful experience to savor. We love it!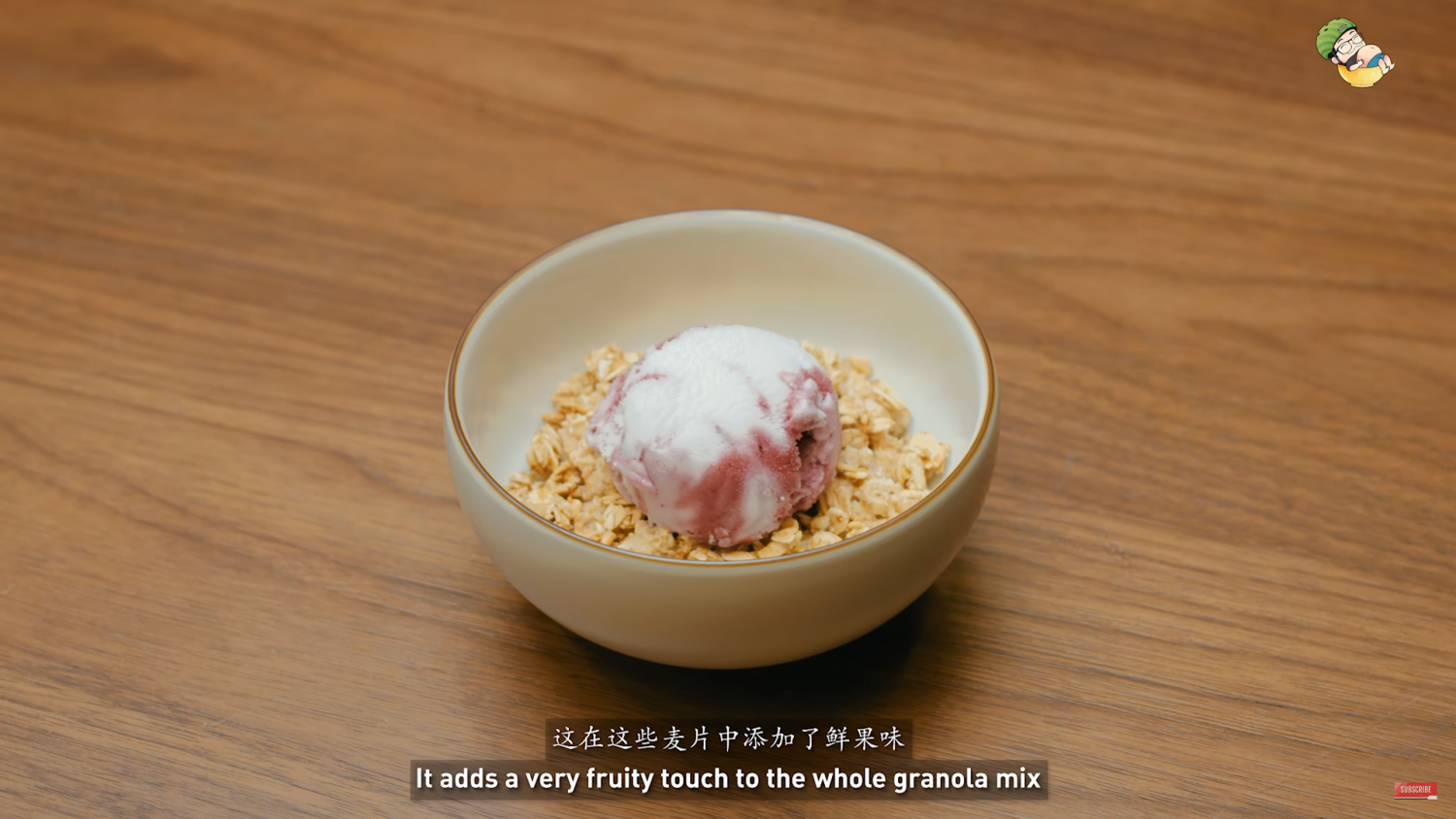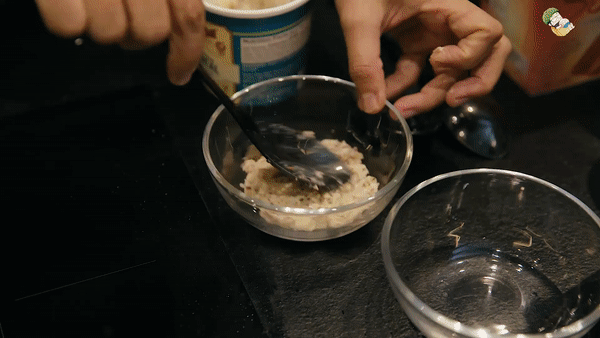 This is so good we can have this for breakfast everyday. Bring it on!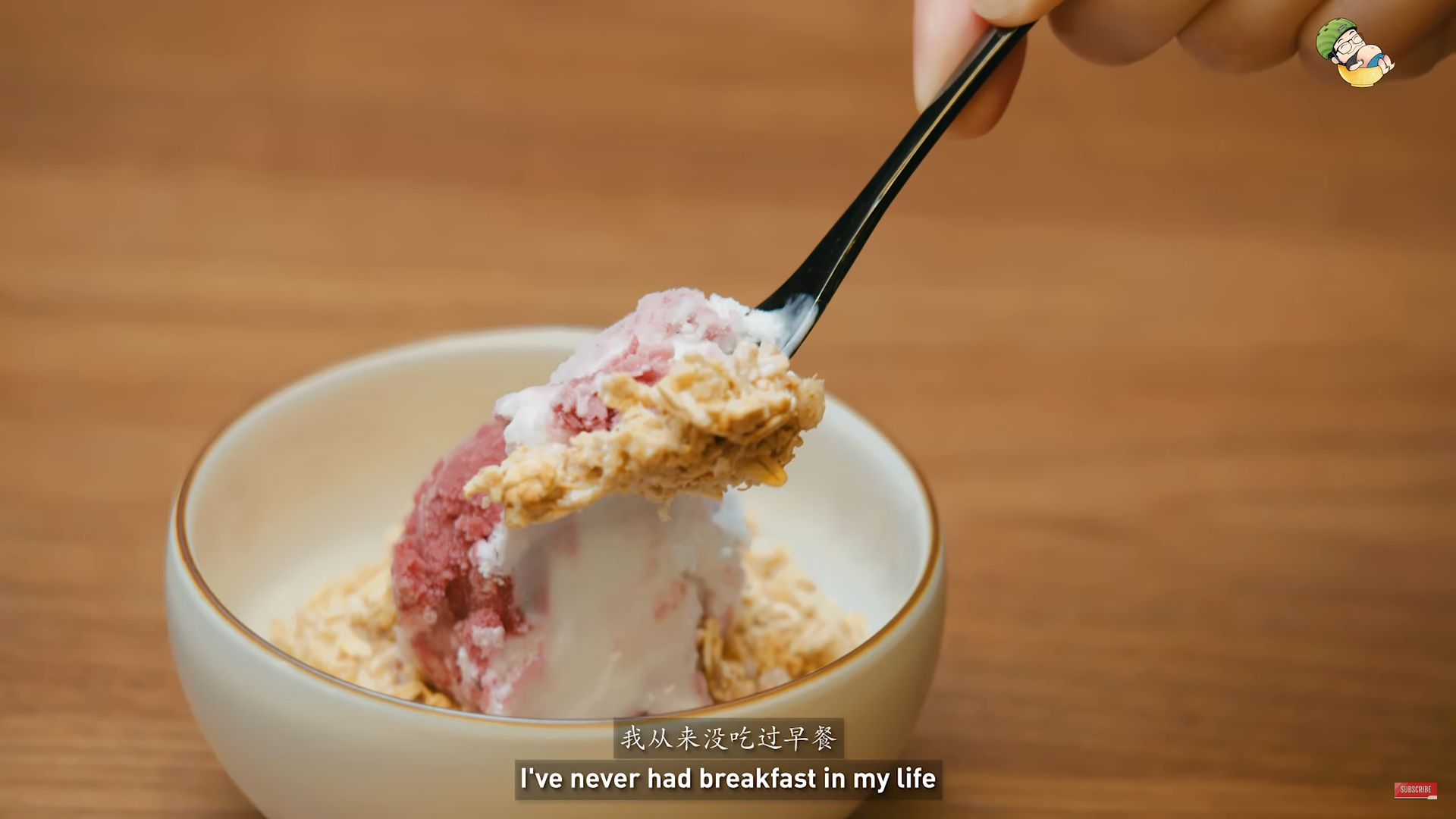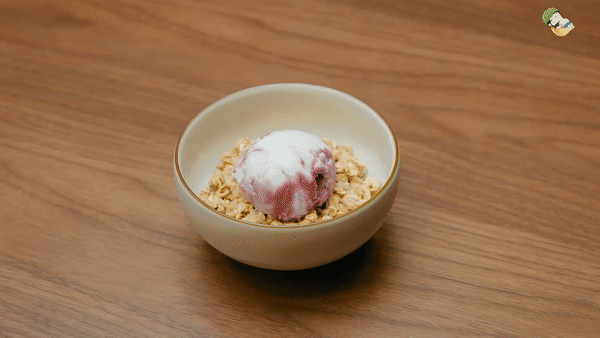 Next up, we shall be trying one of Weis's signature sorbet, The Australian Mango. This is basically a sorbet, which means it doesn't have any dairy in it. So if you are lactose-intolerant, you can actually eat this.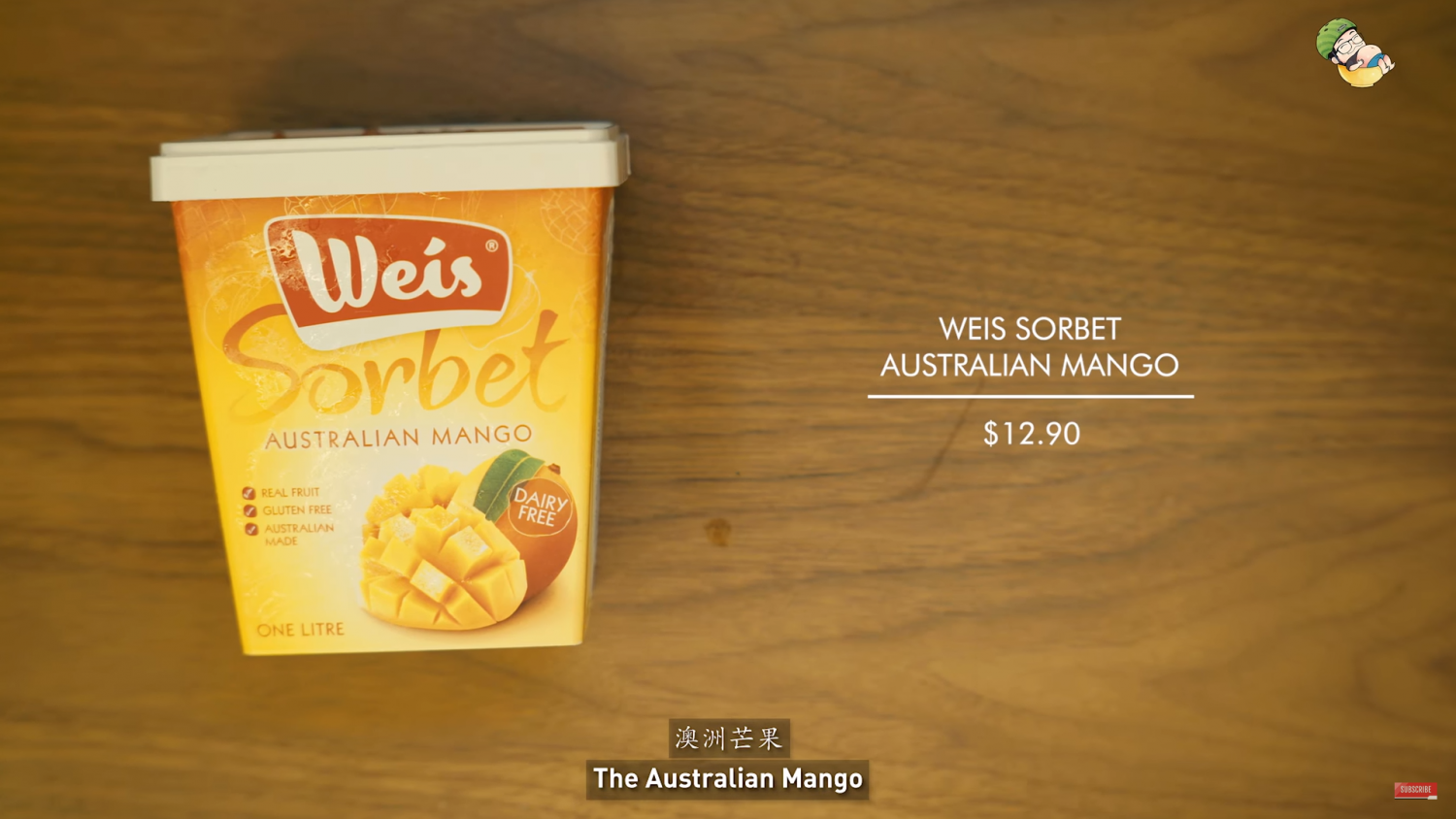 We really love how real and authentic the Mango taste turned out to be. This is some legit good mango alright. Kudos to them for getting this right.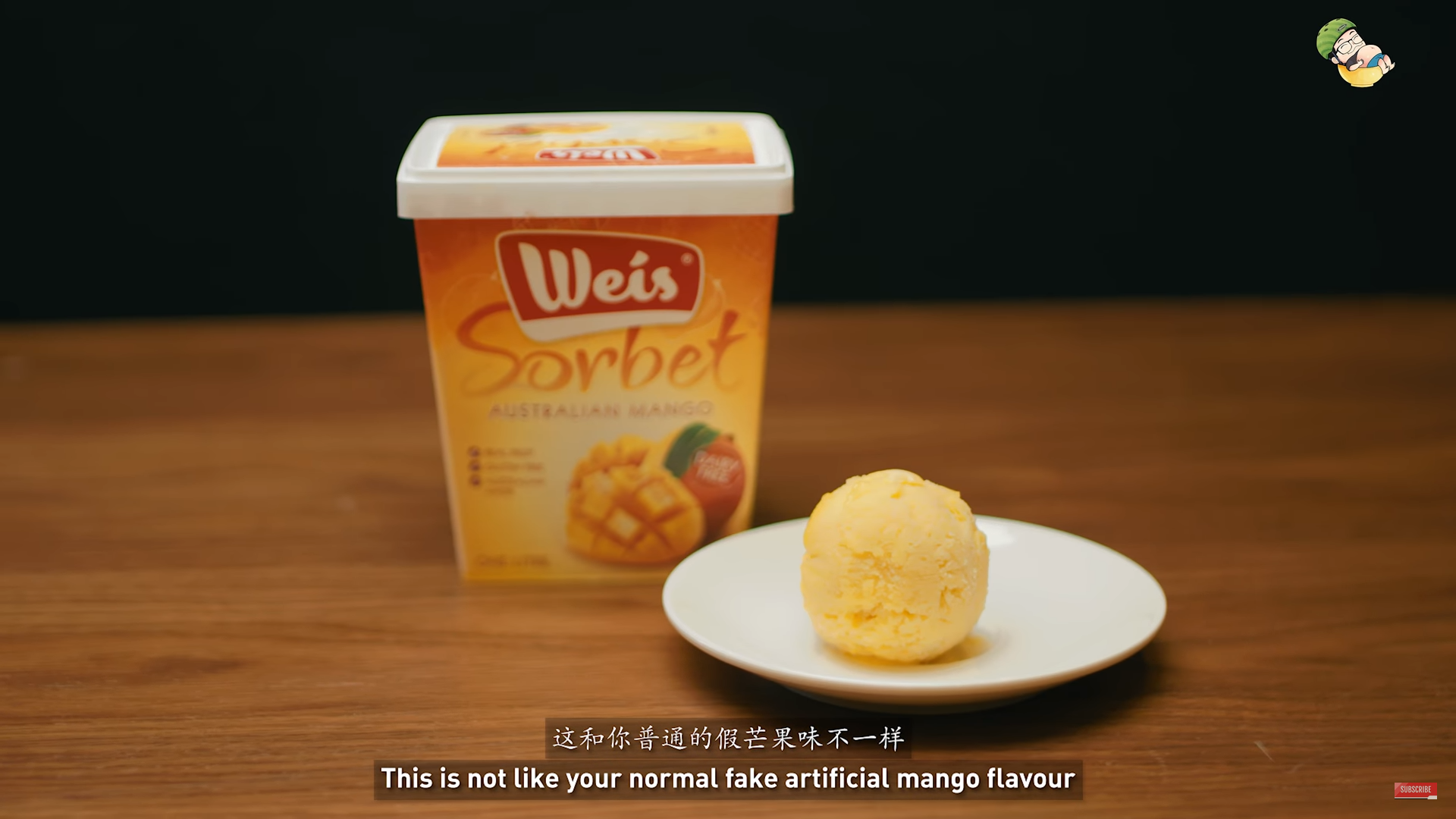 You can pair this either with sticky rice or simply eat it alone. It's already that good even on it's own. Incredible stuff!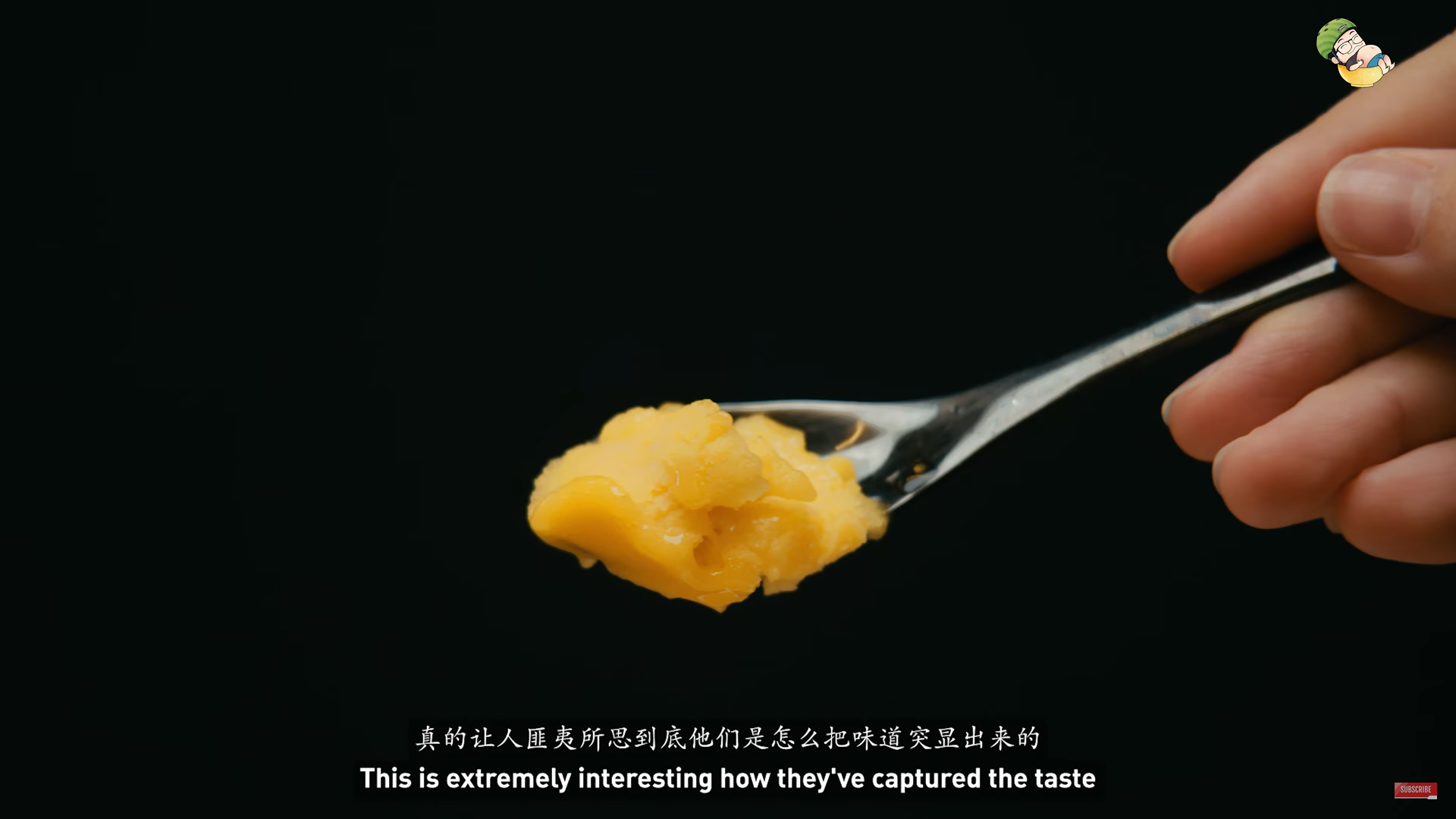 Our creative Chef is at it again and this time she stunned us by making this beautiful Mango Sorbet with Crab Spring Rolls and Salted-egg yolk Aioli.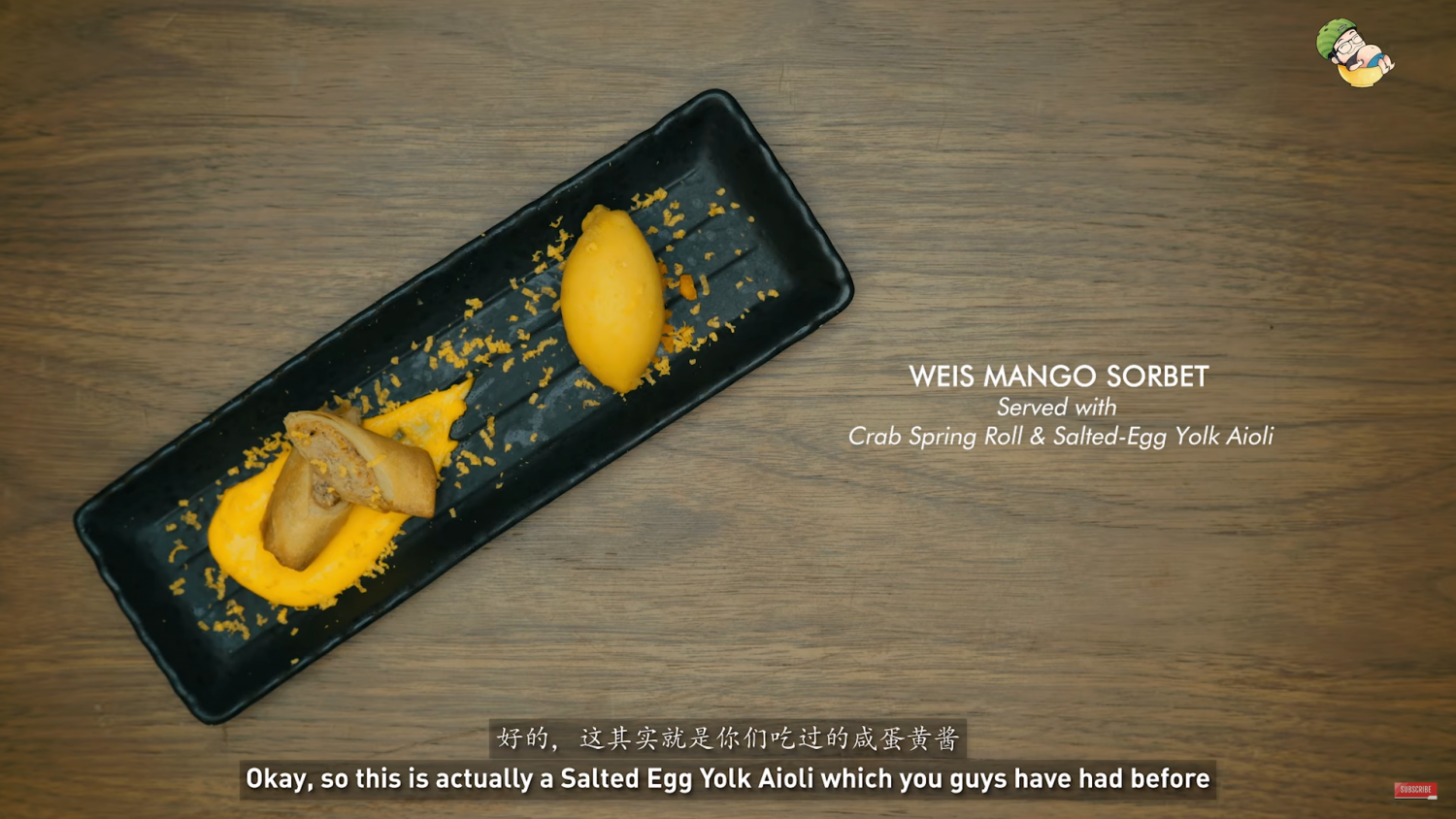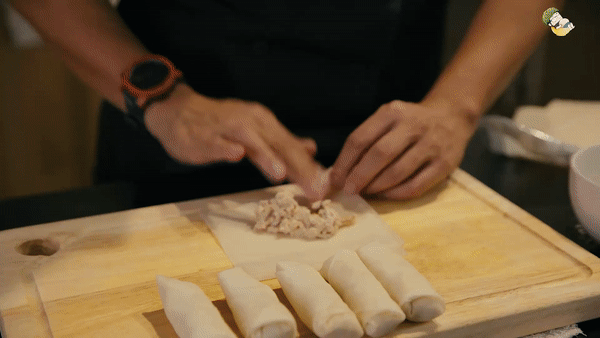 Oh my god, this is so good! What the heck is happening? The mixture of flavors in this one is absolutely out-of-this-world. We can't quite wrap our heads around this.
The sweetness of the mango really complements the saltiness of the spring roll. We are getting emotional just by eating this.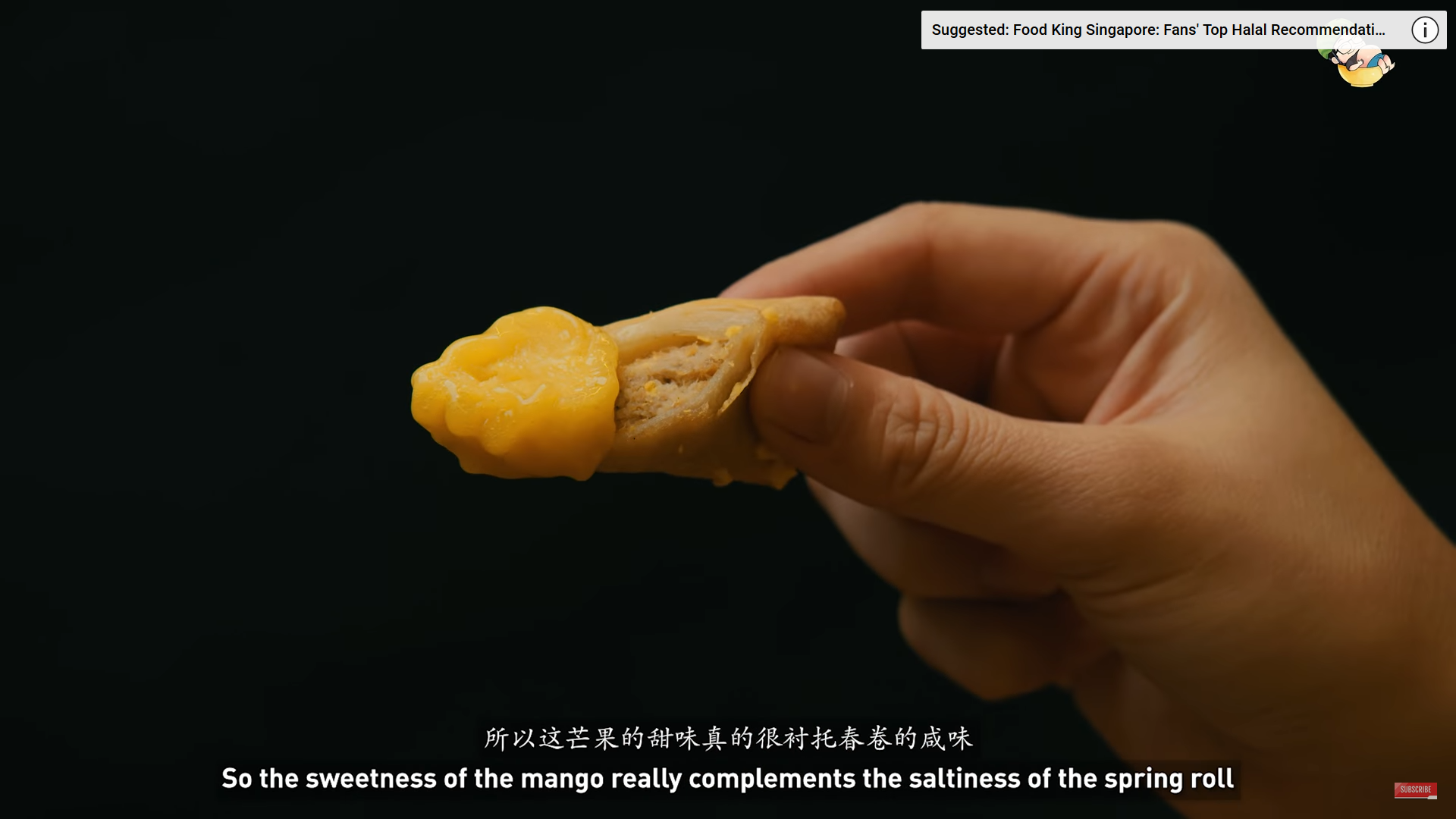 Here's our last words before we reluctantly move on to the next ice cream: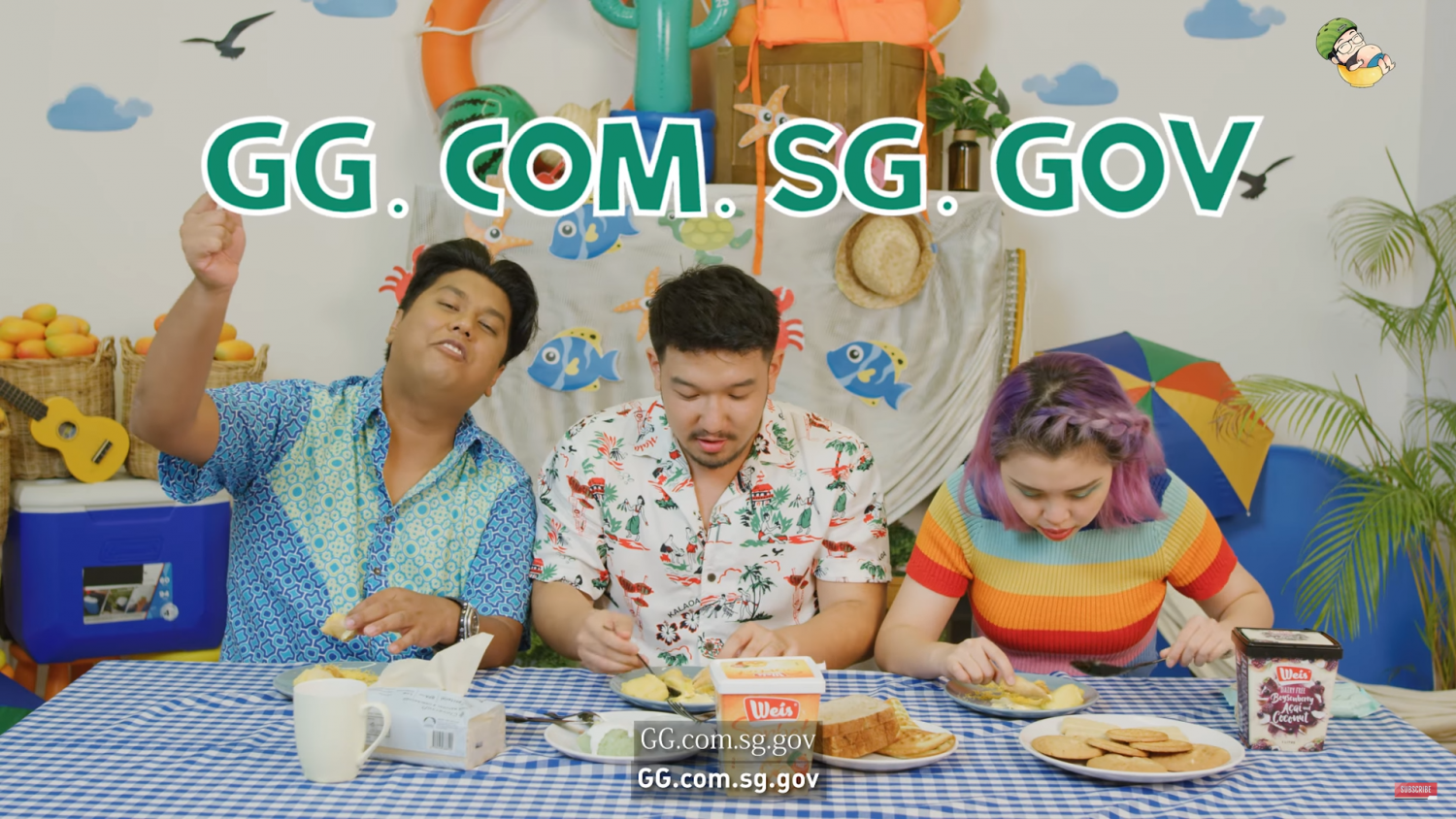 Moving on, we will be abandoning our sweet tooth behind for something sour – Weis's Refreshing Lemon Sorbet. Just like the earlier entries, this one contains no dairy and is 99% fat-free.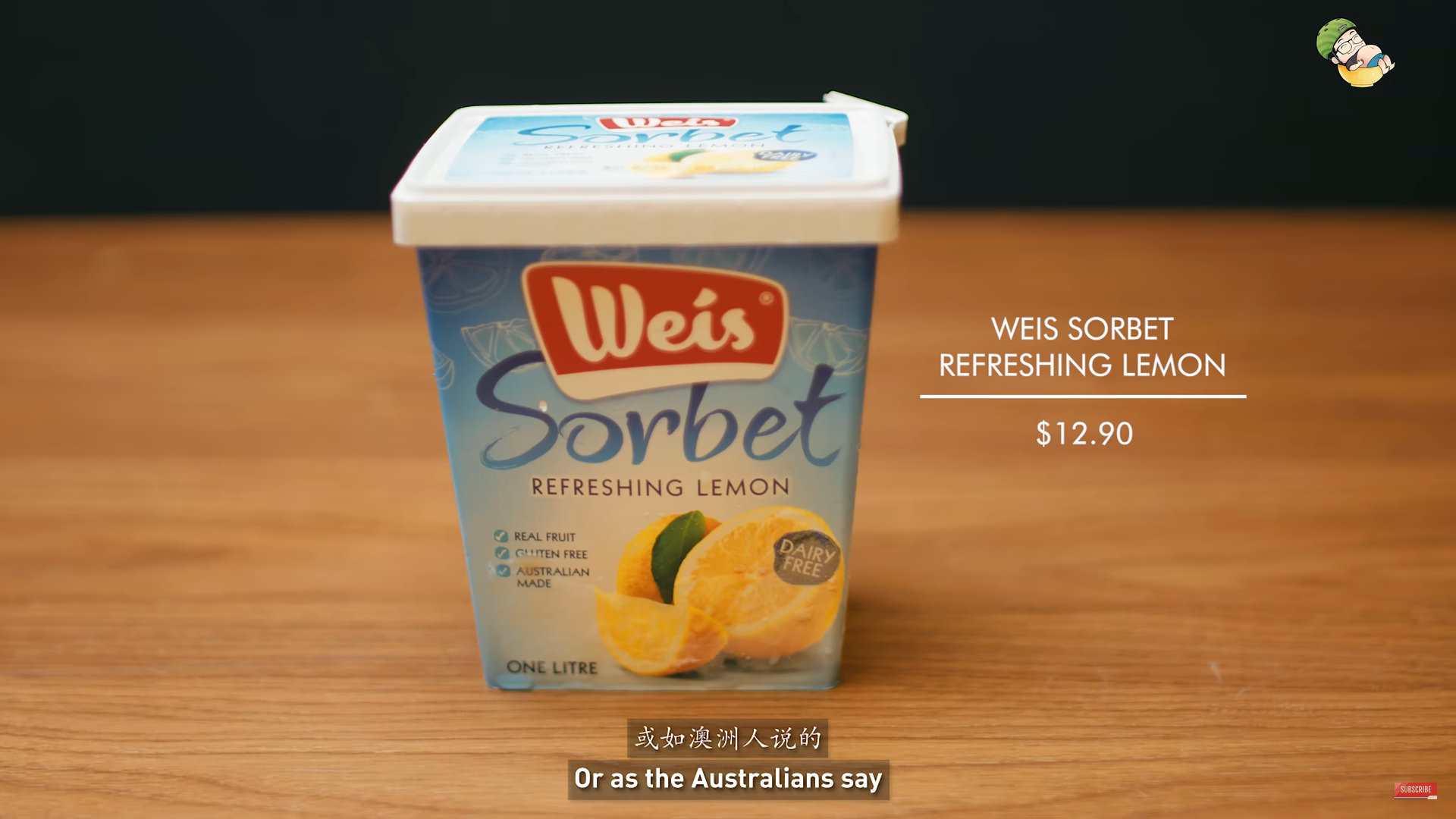 We feel the lemon sorbet has just about the right mix of sweetness and sourness. We are going to pair this up with royalty, something the Queen of Britain eats for afternoon tea  – shortbread!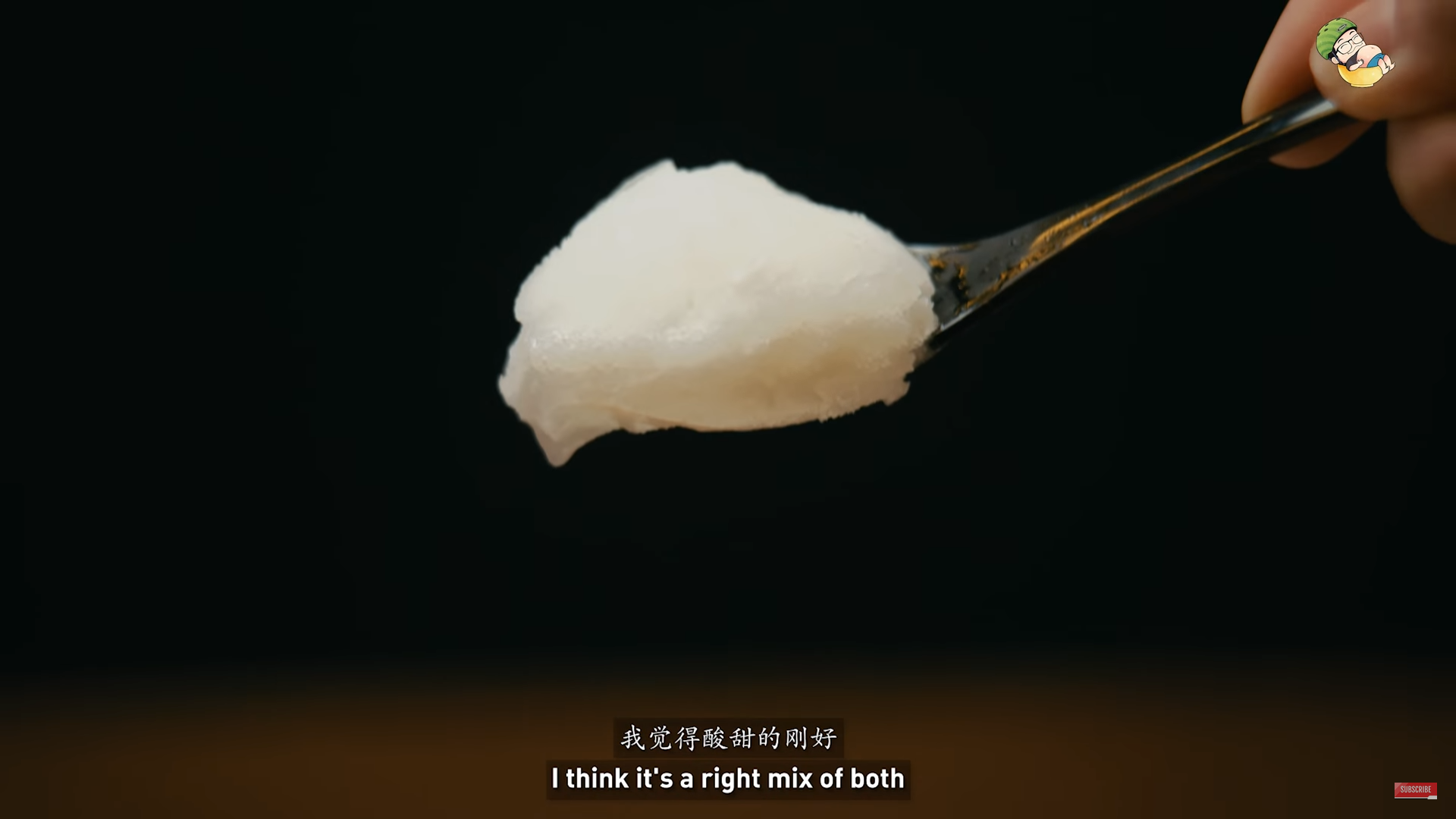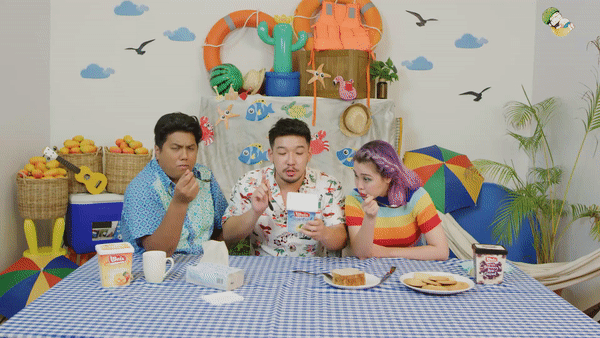 Oh my god, this pairing is da bombs! And it's pretty original too. You get a nice, creamy buttery touch from the shortbread coupled with the tanginess of the Lemon Sorbet. Utterly delicious! Princess Sylvia approves! Can Chef Shen beat this pairing of shortbread with lemon sorbet? Let's find out.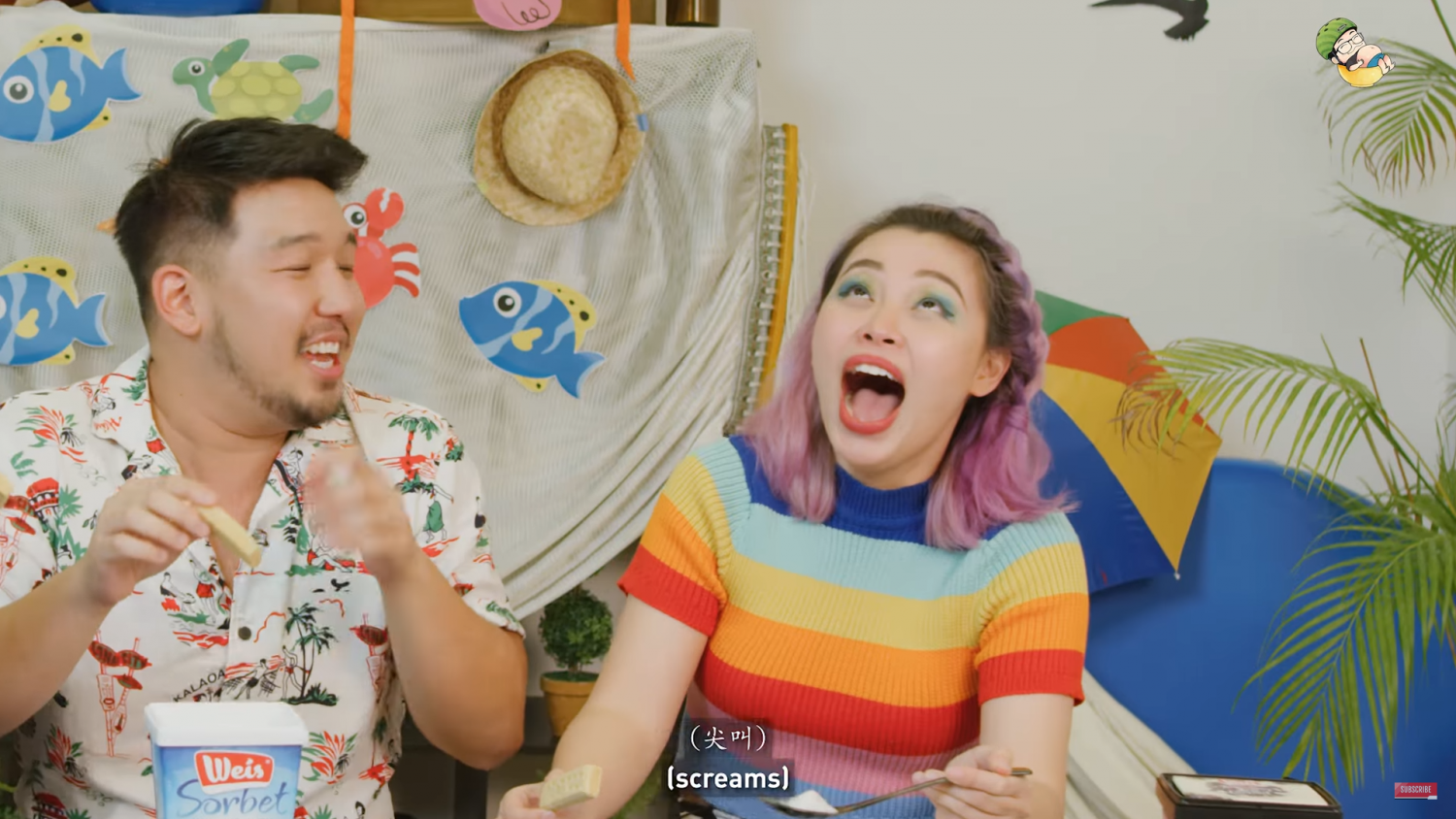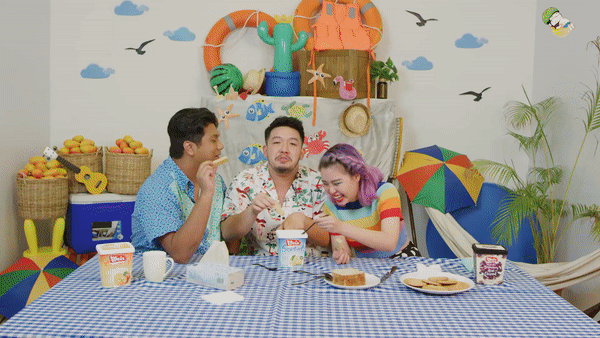 Looks like Chef Shen did it again… She blew our minds with this outrageous Lemon Sorbet with Grilled Lettuce drenched in Laksa dressing. What….?!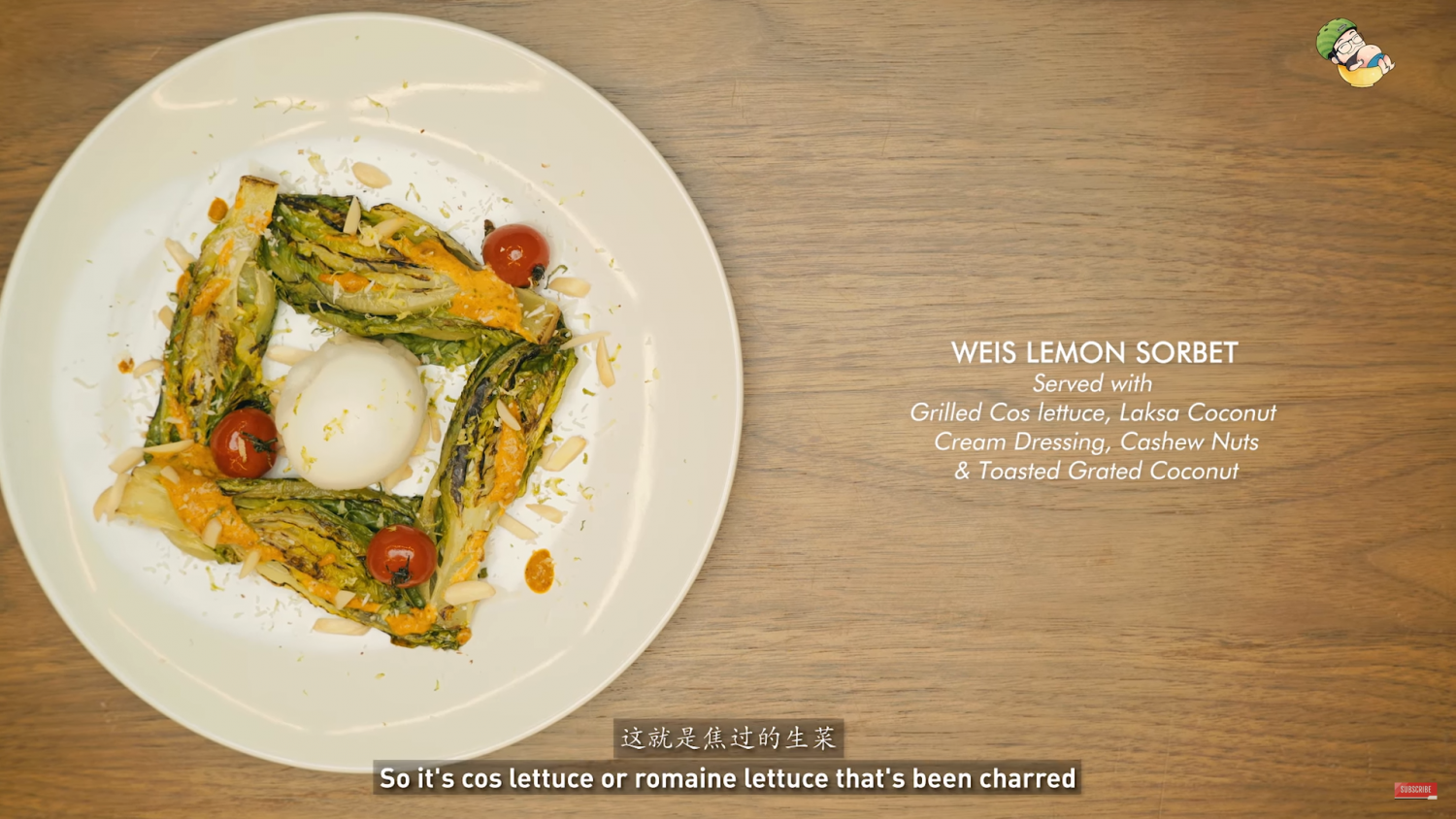 The main ingredient here is the cos lettuce or romaine lettuce that's been charred – the charred bits actually caramelize the sugar in the lettuce. And then there's the Laksa rempah mixed with cashew nuts, cherry tomatoes, grated coconut and finally the Lemon Sorbet on top. What a masterpiece!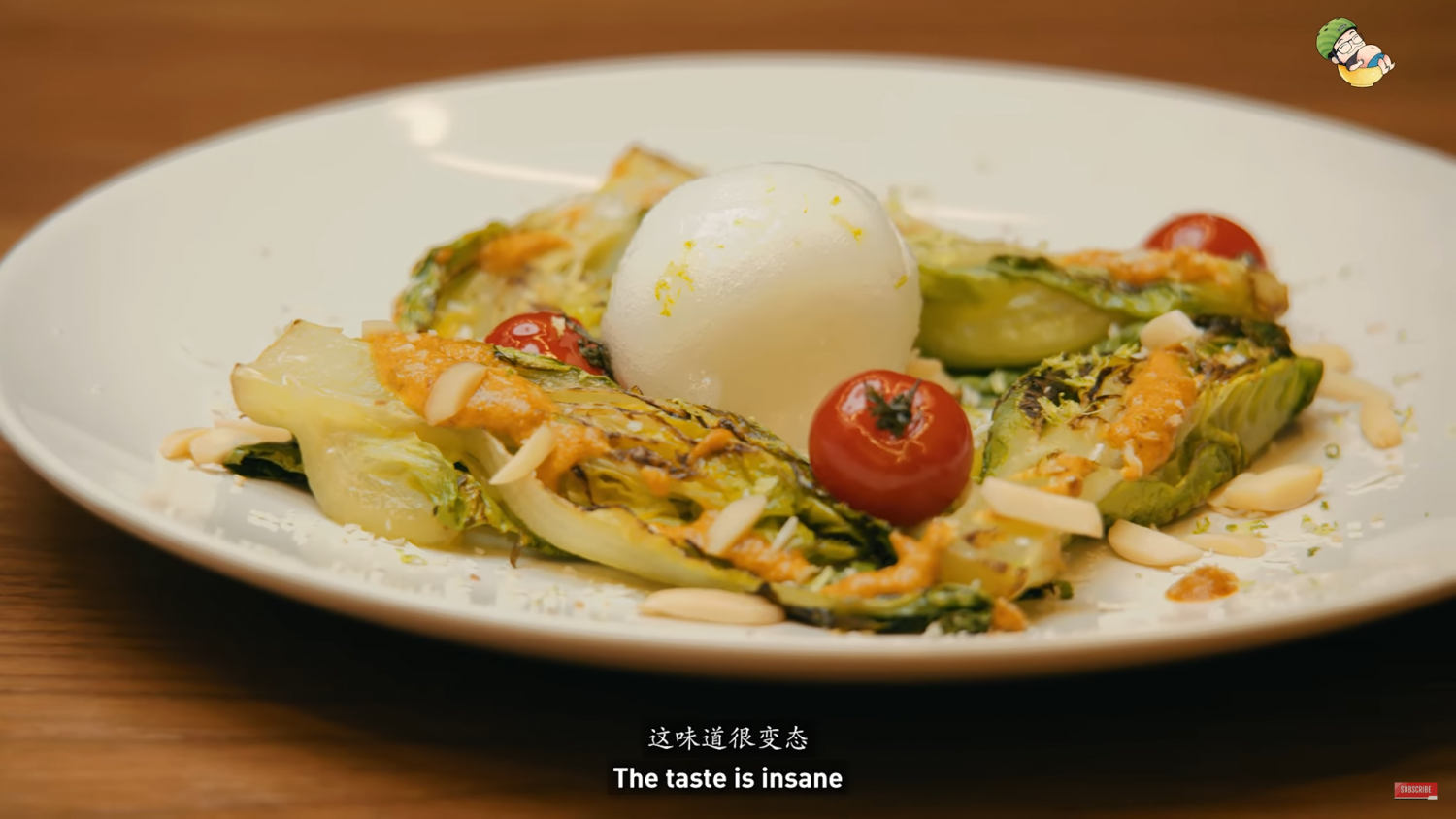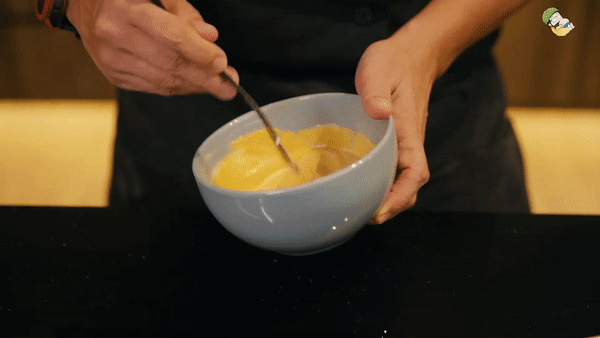 Oh my word… This is so insanely delicious we are literally tearing. We can't believe the flavors we are tasting in our mouths right now. We can taste all the flavors in the Laksa gravy and it they blend perfectly well with the zingy sorbet. This is seriously Michelin star level, no doubt about that!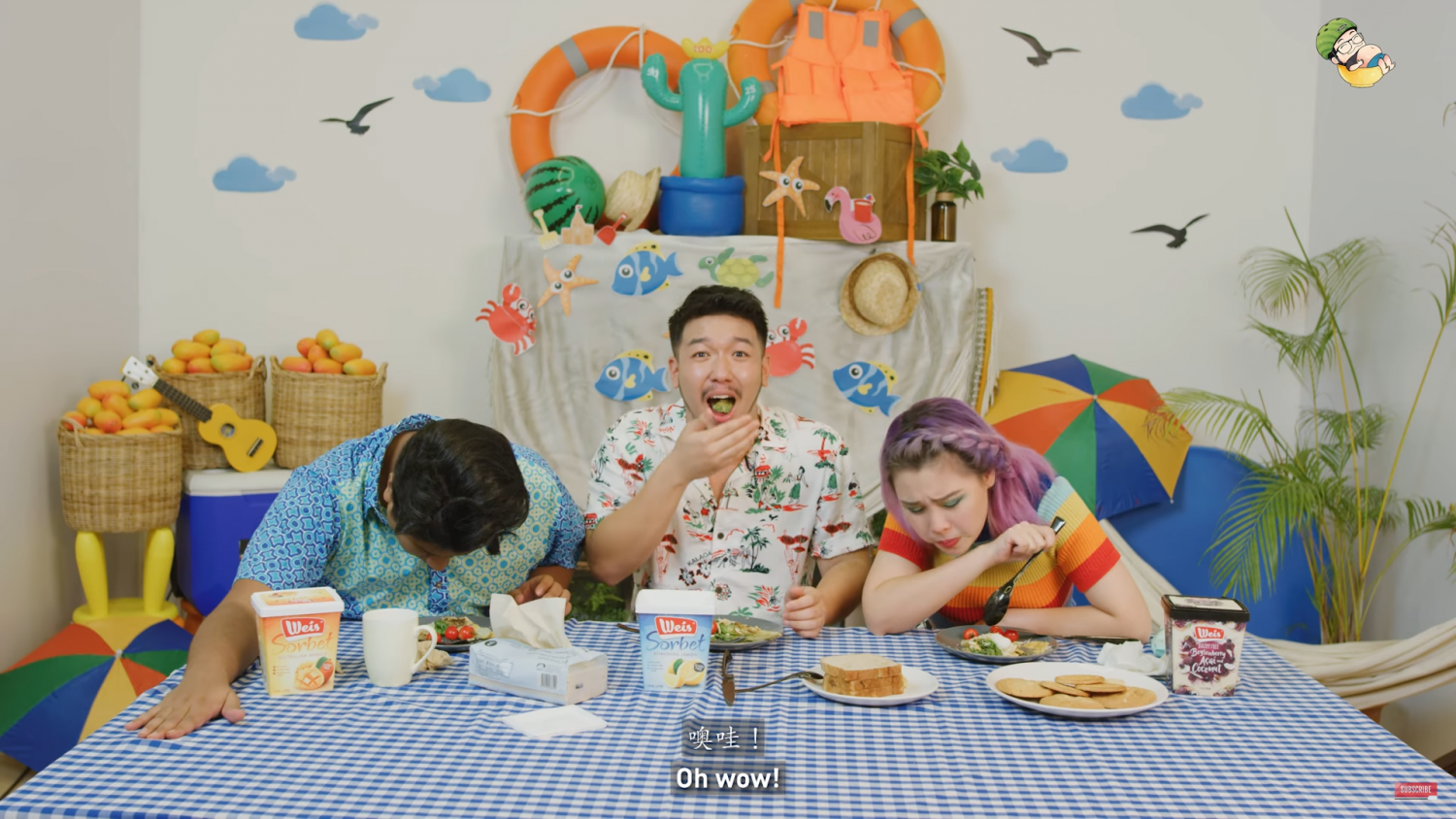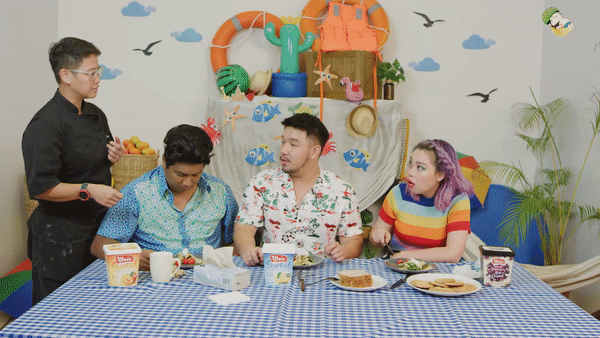 Up next will be Ryan's favorite Dark Chocolate frozen dessert. It is dairy-free too!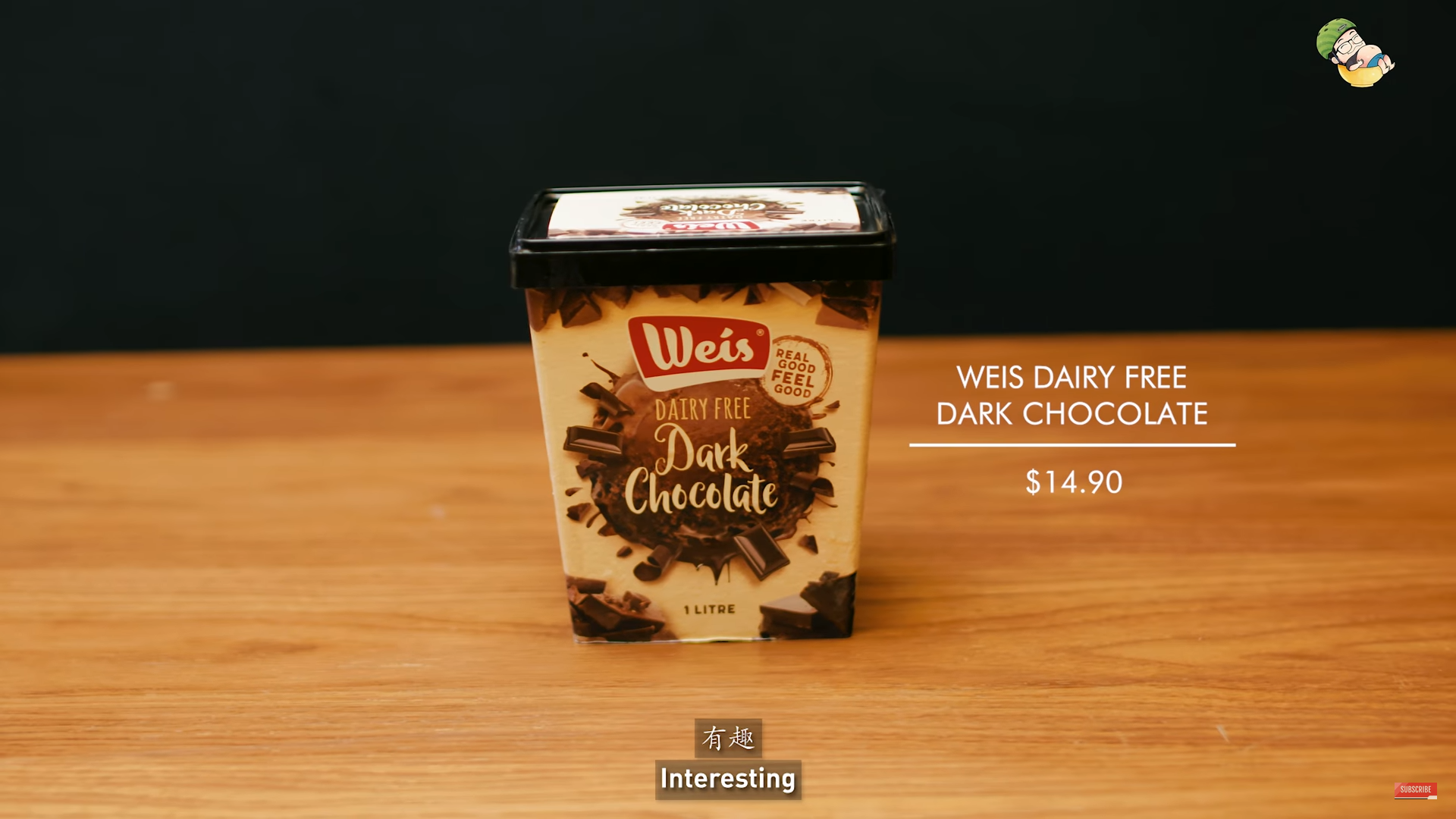 The texture of the chocolate feels like coconut paste – it is pleasantly sweet, rich and creamy. We really like it.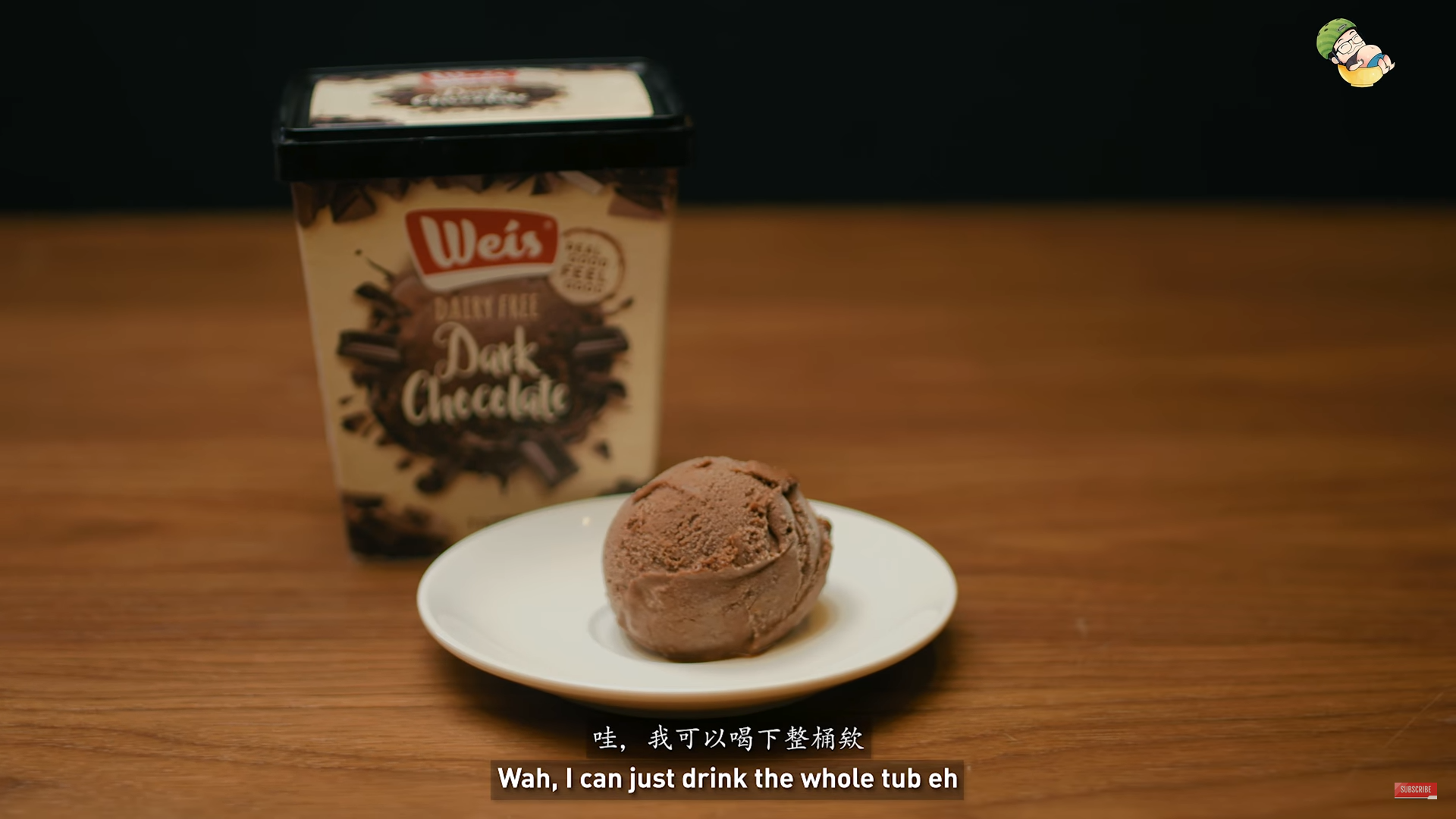 Eating this with banana bread is like tasting nostalgia. Having both together is a fail-proof combination – it feels like having the Dutch Lady banana milk with the Dutch Lady chocolate milk. Yums! Let's check out what Chef is going to make for us this time.
Woah, dark chocolate with roast duck? Only Chef has the audacity to come up with such a dish. Roasted duck, aged Balsamico di Modena, cracked red peppercorns and dark chocolate by the side. We have high hopes!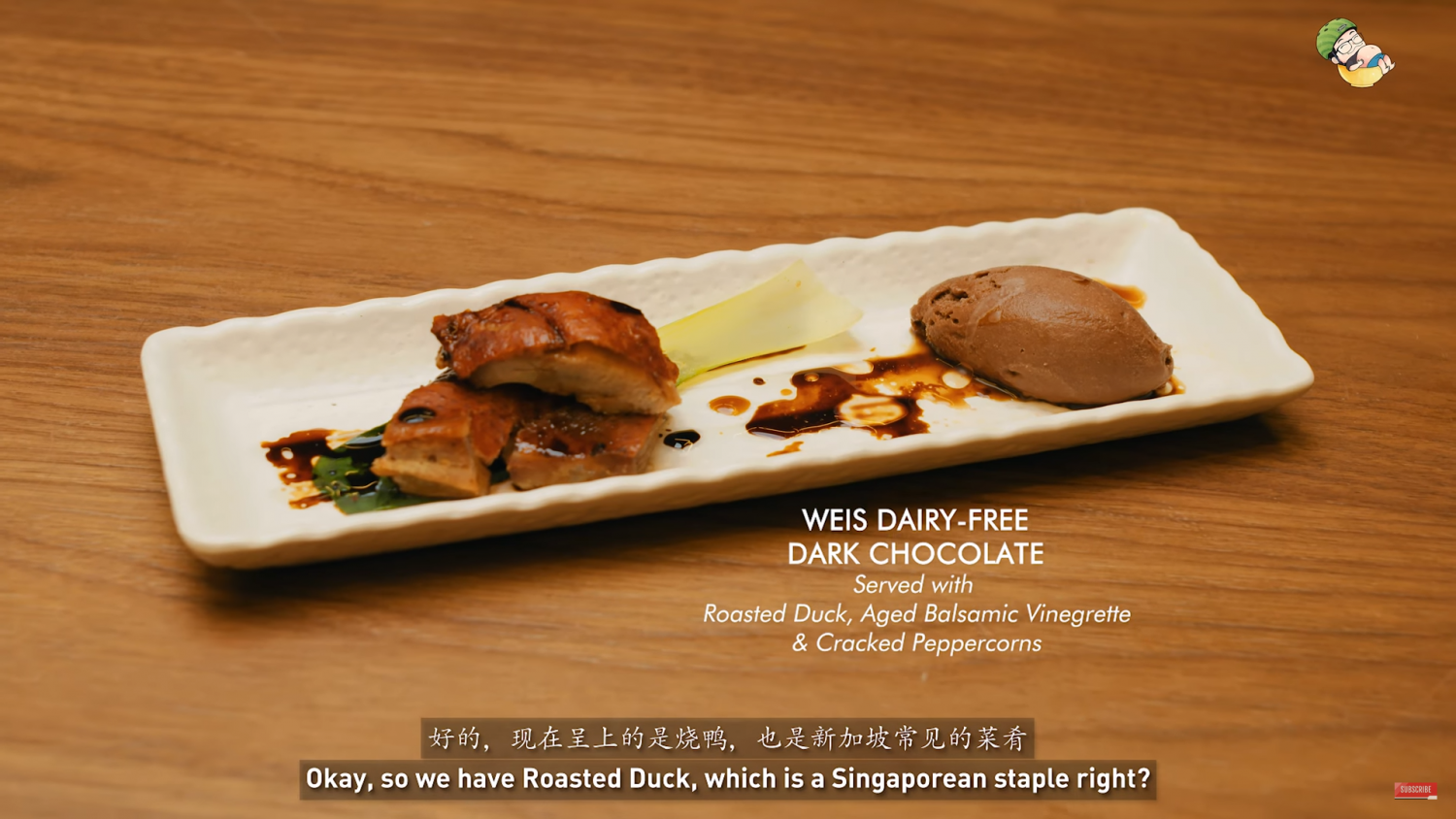 This combination in which the juiciness of the duck, the smouldering flavour of the chocolate and the floralness of the red peppercorns come together is beyond anything we've ever tasted. It's like a psychedelic experience where you feel you are spinning round and round gradually till you reach nirvana. It's insanely good!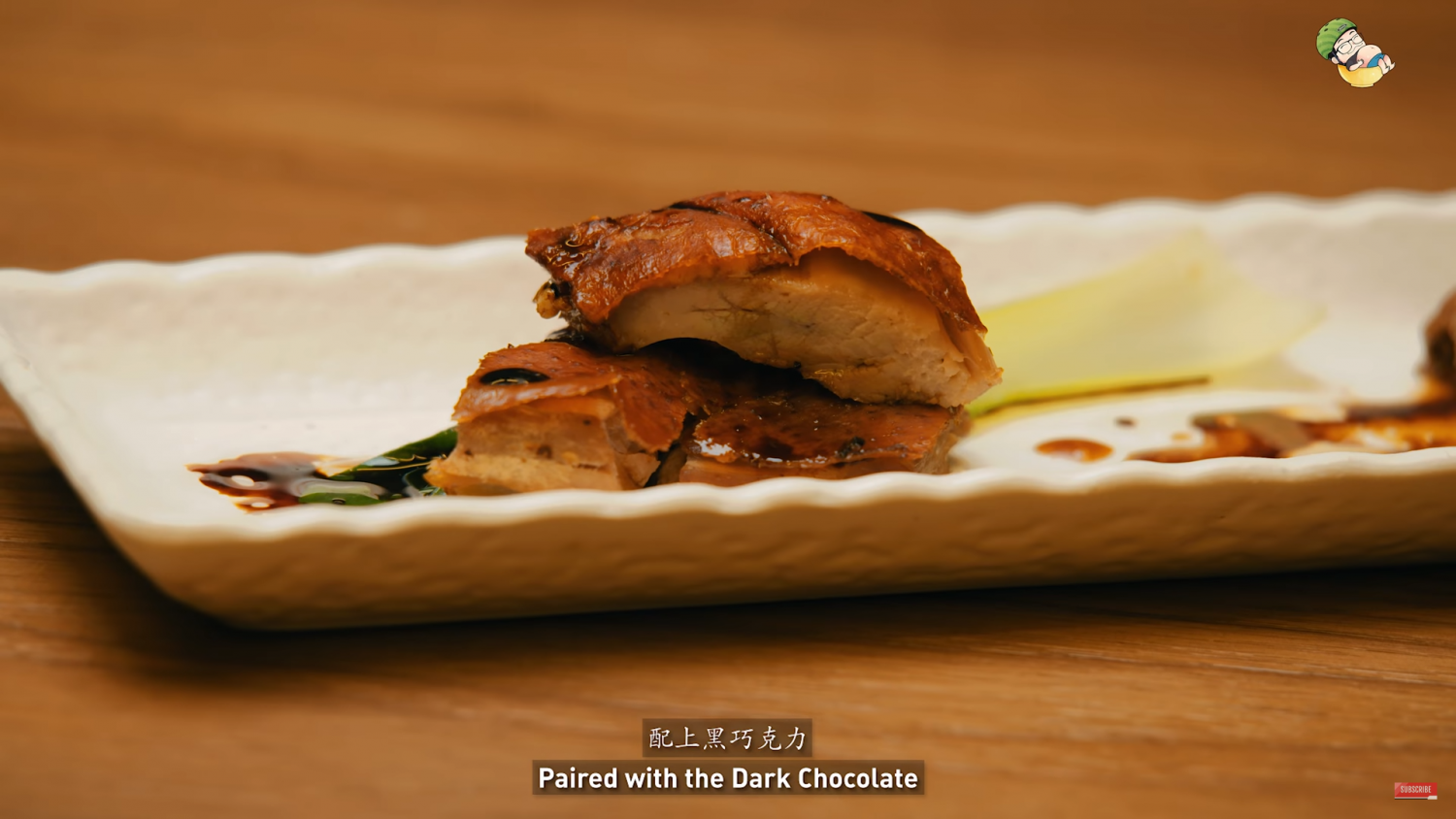 The texture and flavors are so well-layered – you get that heavy dark flavour from the chocolate as well as that twang and sweetness from the balsamic vinegar. It's the perfect marriage, and also a work of art. Wow!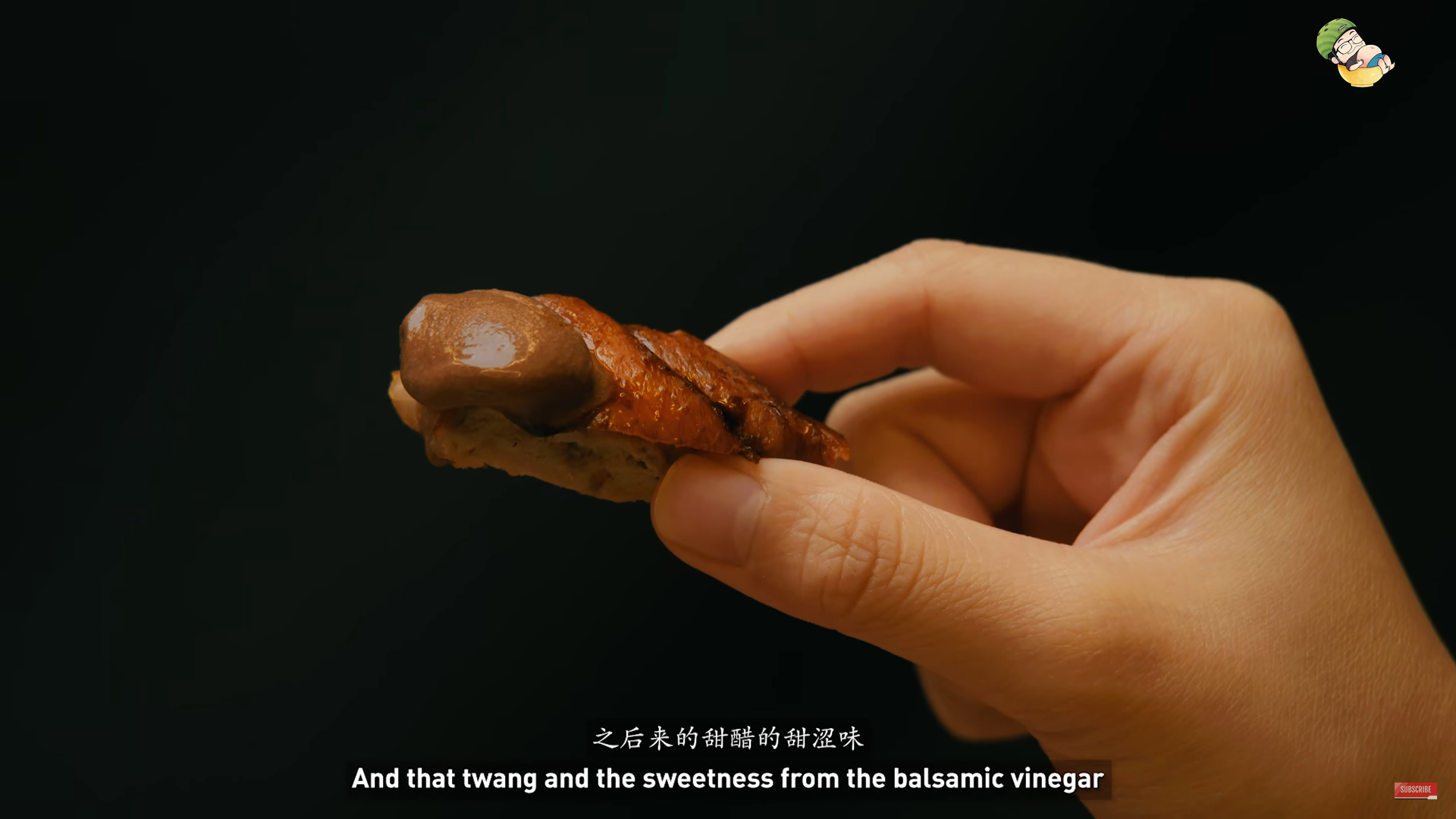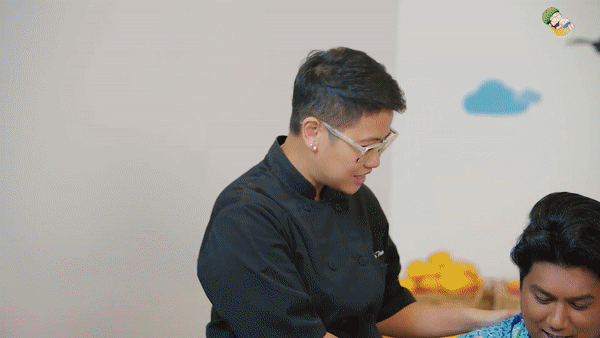 Last but not least, we are going to try the Summer Berries. This one here has strawberries and raspberries in it.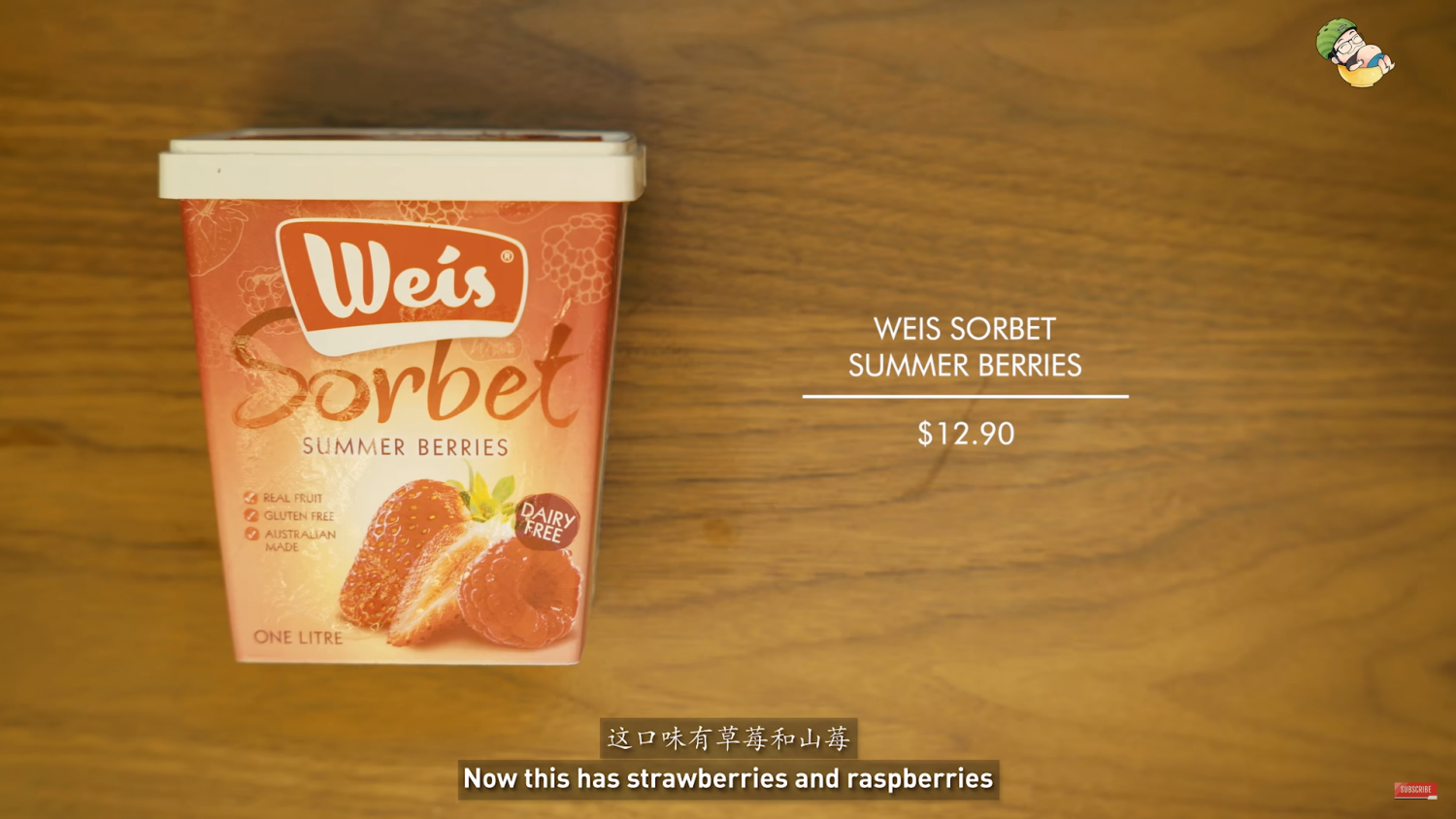 The sweetness and sourness of this ice cream is very well-balanced.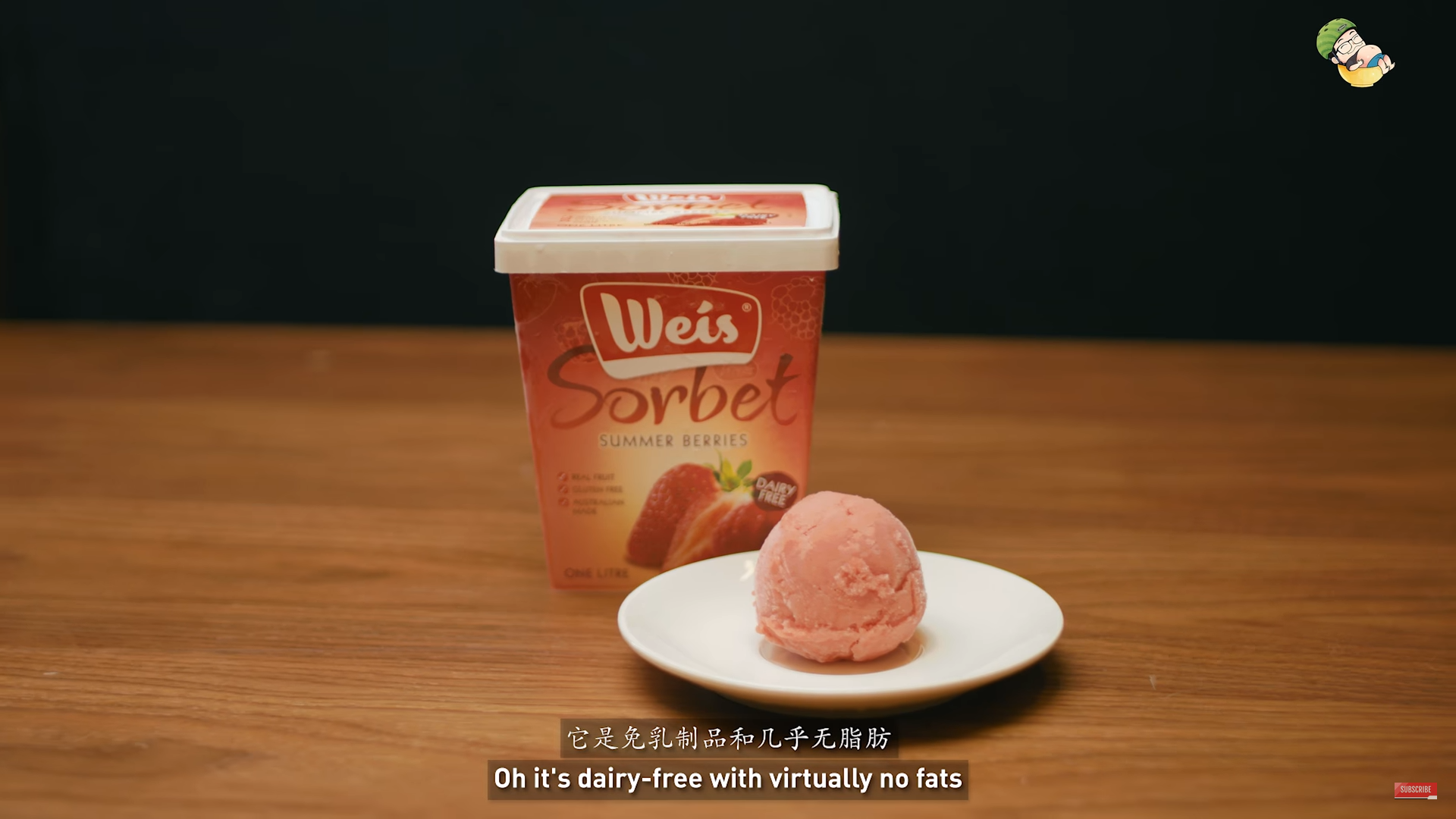 You can even see little strawberry seeds. If you are a strawberry lover, you will really appreciate this one. Pair this with a simple white chocolate chip cookie and voila, you've got yourself a bad combination. Thanks Aiken, you've failed for once. We shall leave this to Chef Shen instead.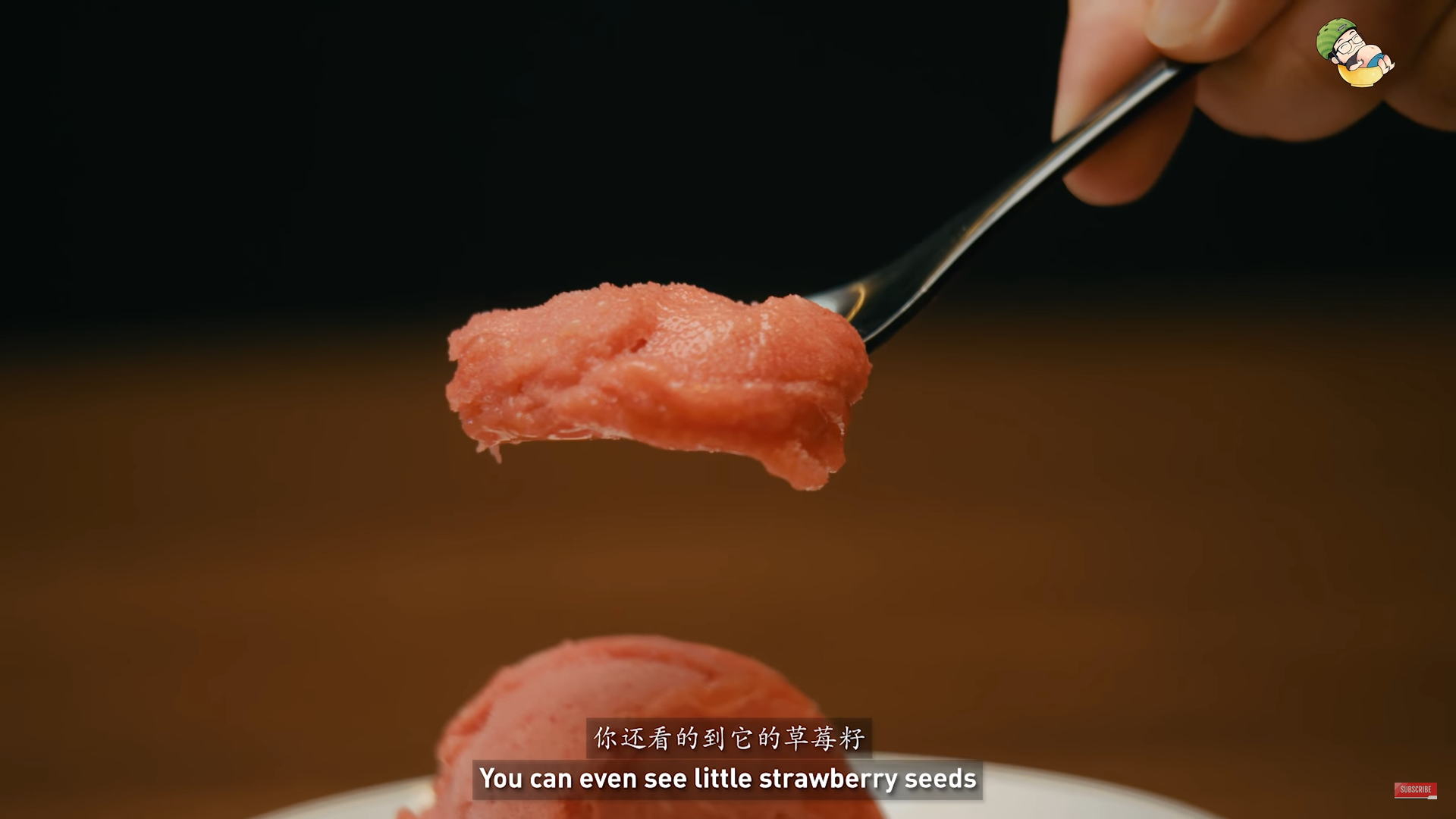 So Chef has prepared the Summer Berries Sorbet with healthy Greek yoghurt and cracked peppercorns for us to try.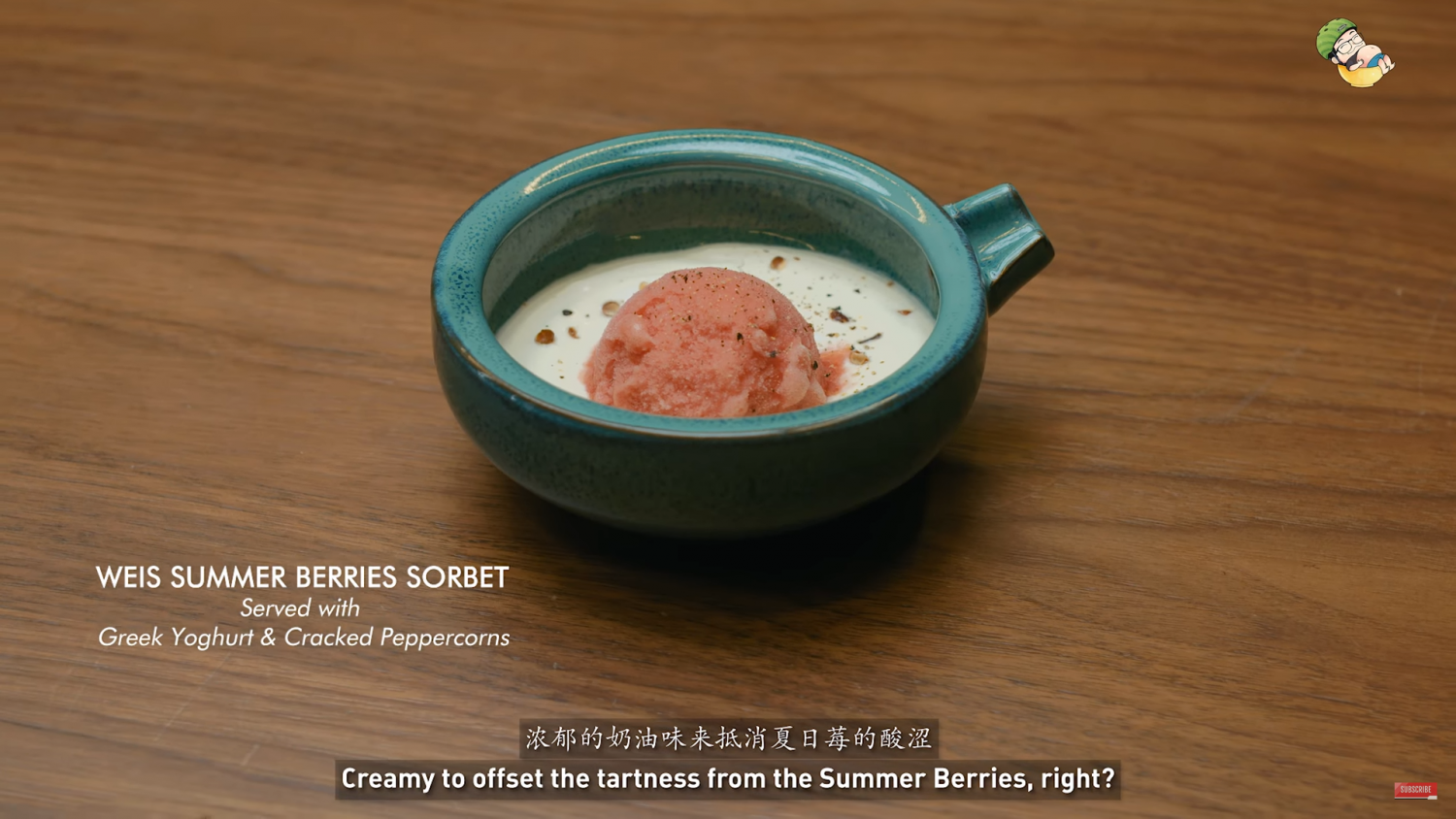 We like how the creaminess of the yoghurt helps to offset the tartness of the Summer Berries.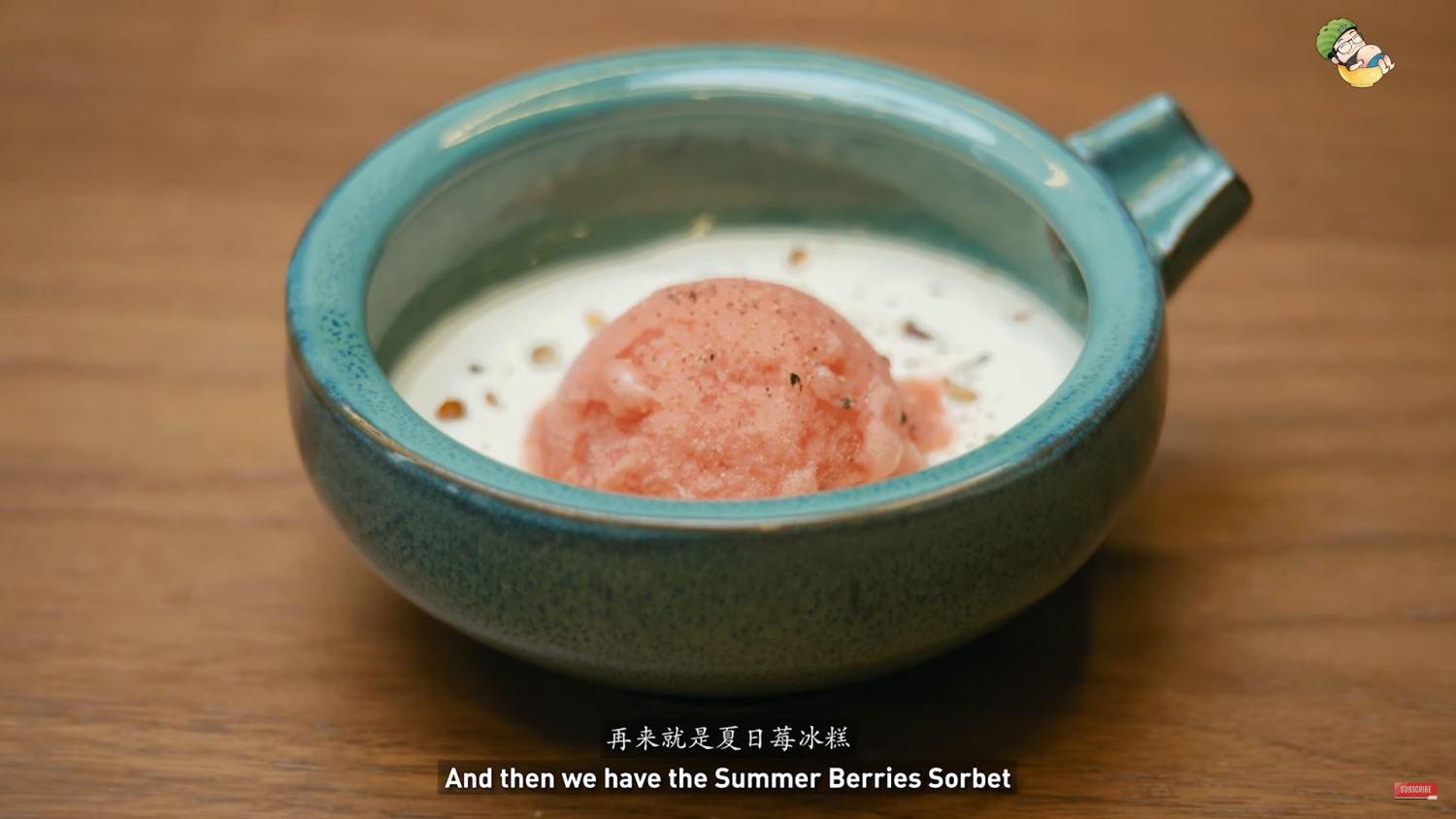 Oh wow! The Greek yoghurt actually balances out the sweetness of the Summer Berries, while the earthiness of the peppercorn provides another dimension to an already sophisticated flavour profile. This is divine!
And here's our Top Picks of the Day!
Sylvia's pick – Australian Mango Sorbet
Ryan's pick – Dark Chocolate
Aiken's pick – Boysenberry, Acai and Coconut
Dee's pick – Summer Berries Sorbet
Alright, now's the time you've all been waiting for… our secret giveaway! Okay, we are going to be give away 6 months' supply of Weis Ice Cream to 2 lucky winners. All you need to do is take a video of yourself and tell us what is your favorite food and why… in your best Aussie accent. Yes, it's that easy mate!
Don't forget to tag us on Instagram with the hashtag: #FoodKingWeis
So what are you waiting for? Hurry up and start practicing your Aussie accent now!