Ohaiyou gozaimasu! Welcome to another episode of… Food King! Today, we are doing a Japanese episode featuring Northern Japanese delights right here in our tiny shores. There's so much to eat and savor in this episode and we can't wait! Are you ready for some Food-King-do? Let's go!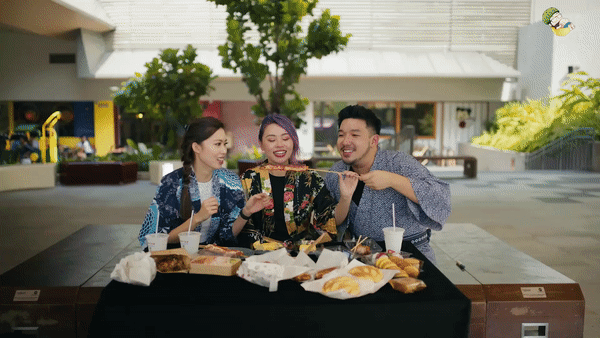 So we are finally here in Tampines Mall to try out a plethora of delicious foodie delights coming out from the Northern Japan Food Fair. And boy are we excited! We even got dressed to blend in with the occasion. Aren't we gorgeous?
Tampines Mall play host to this wonderful food fair that's a big hit to all Japanese foodies out there.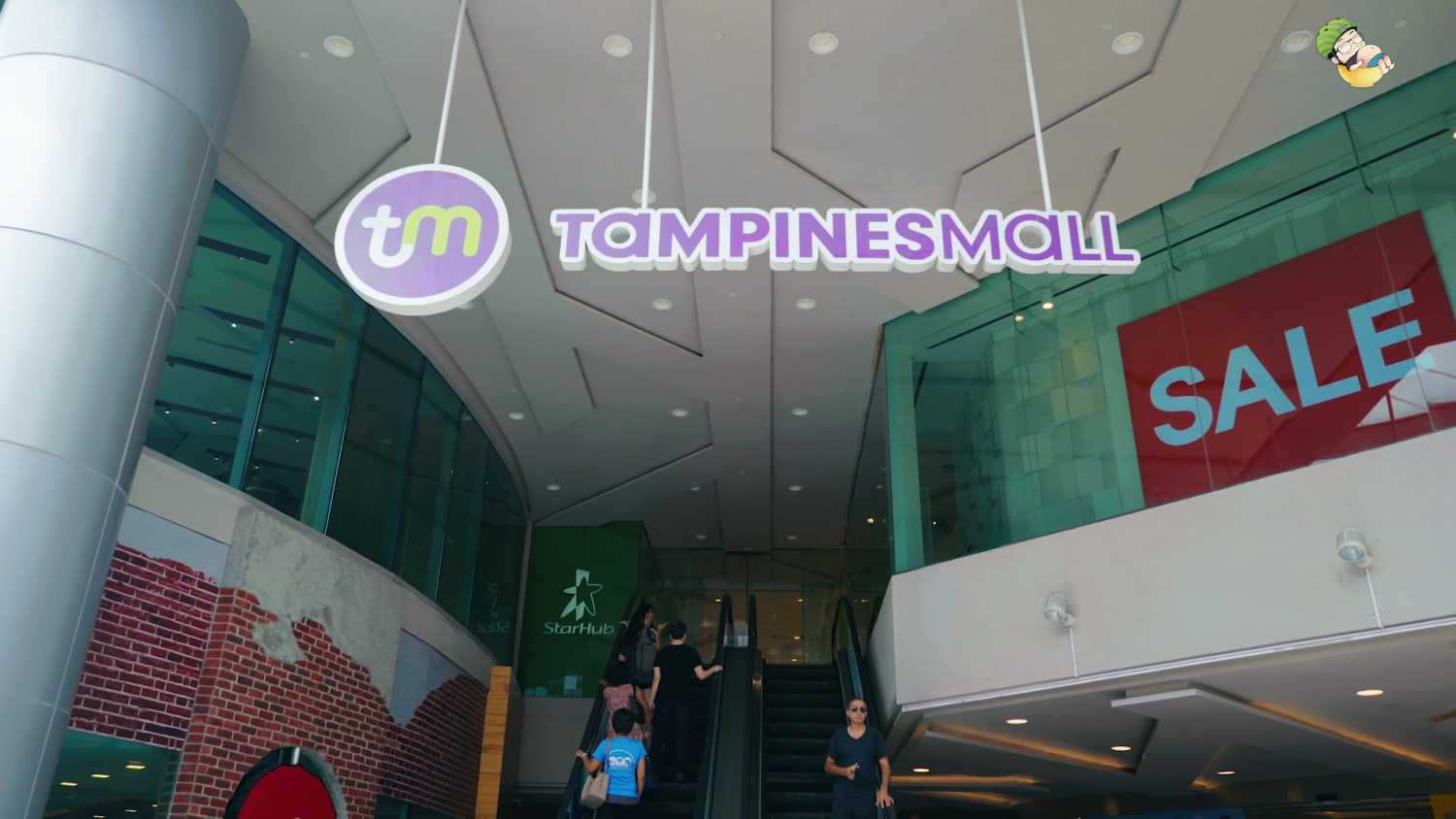 This food fair showcases a wide variety of Japanese delicacies from Northern Japan. This region of Japan is known for their fresh fish and seafood as it is situated along the coastal areas. It is also popular for its rice, grains, yams, and apples from the region's traditional farming and forestry sectors.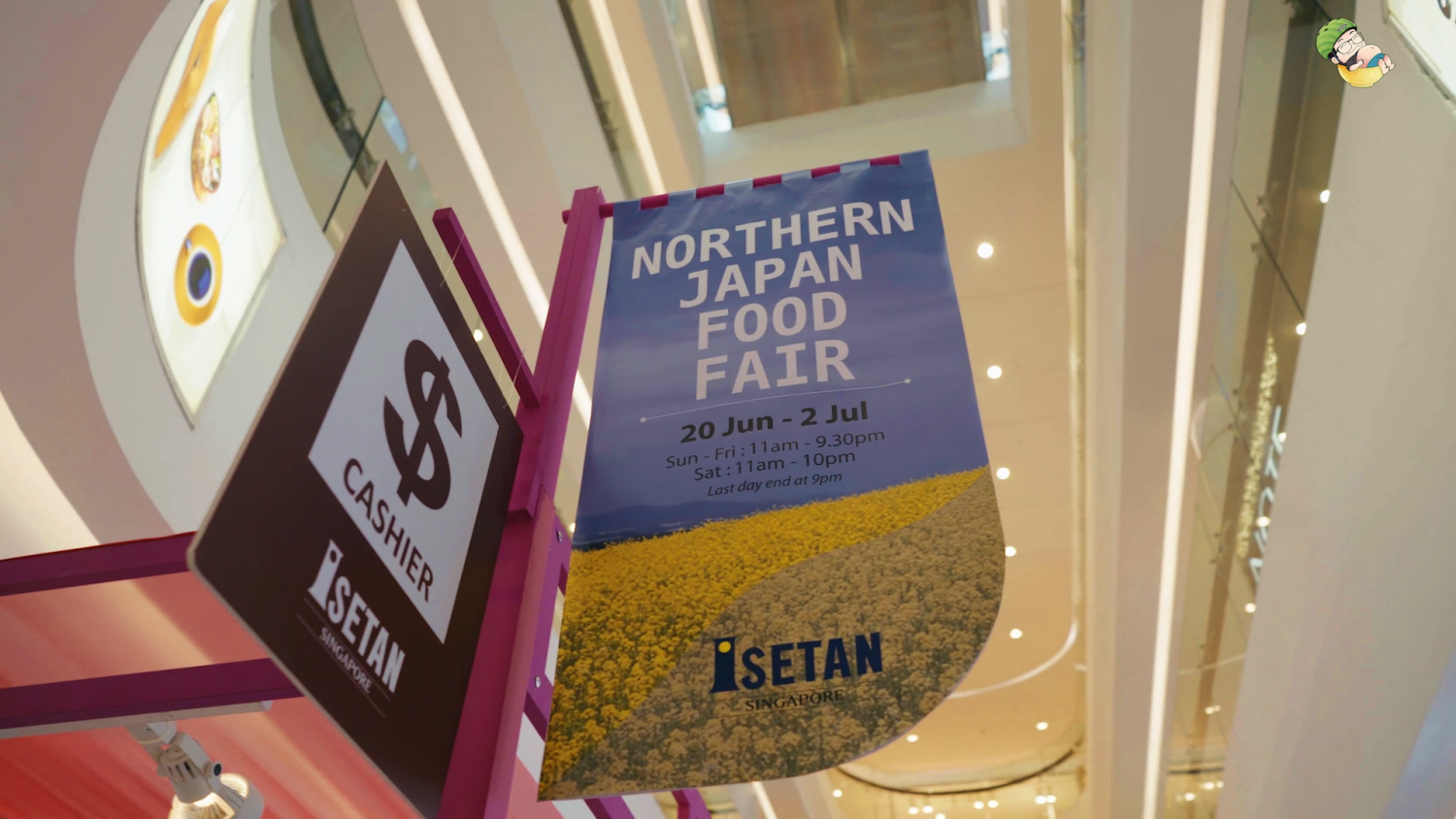 NORTHERN JAPAN FOOD FAIR

4 Tampines Central 5, Singapore 529510
Sun – Fri, 11AM to 9.30PM
Sat, 11AM to 10PM
20th June – 2nd July 2019
Our first stop of the day will be eggs! Yes, we will be trying the Tamagoyaki Fried Egg from Mugi Tamago, which is famous for its Japanese Tamagoyaki.
Here we will be trying two popular variations of Tamagos, mainly the Original and the Eel versions. There's even the Mentaiko ones for all Mentai-fans out there.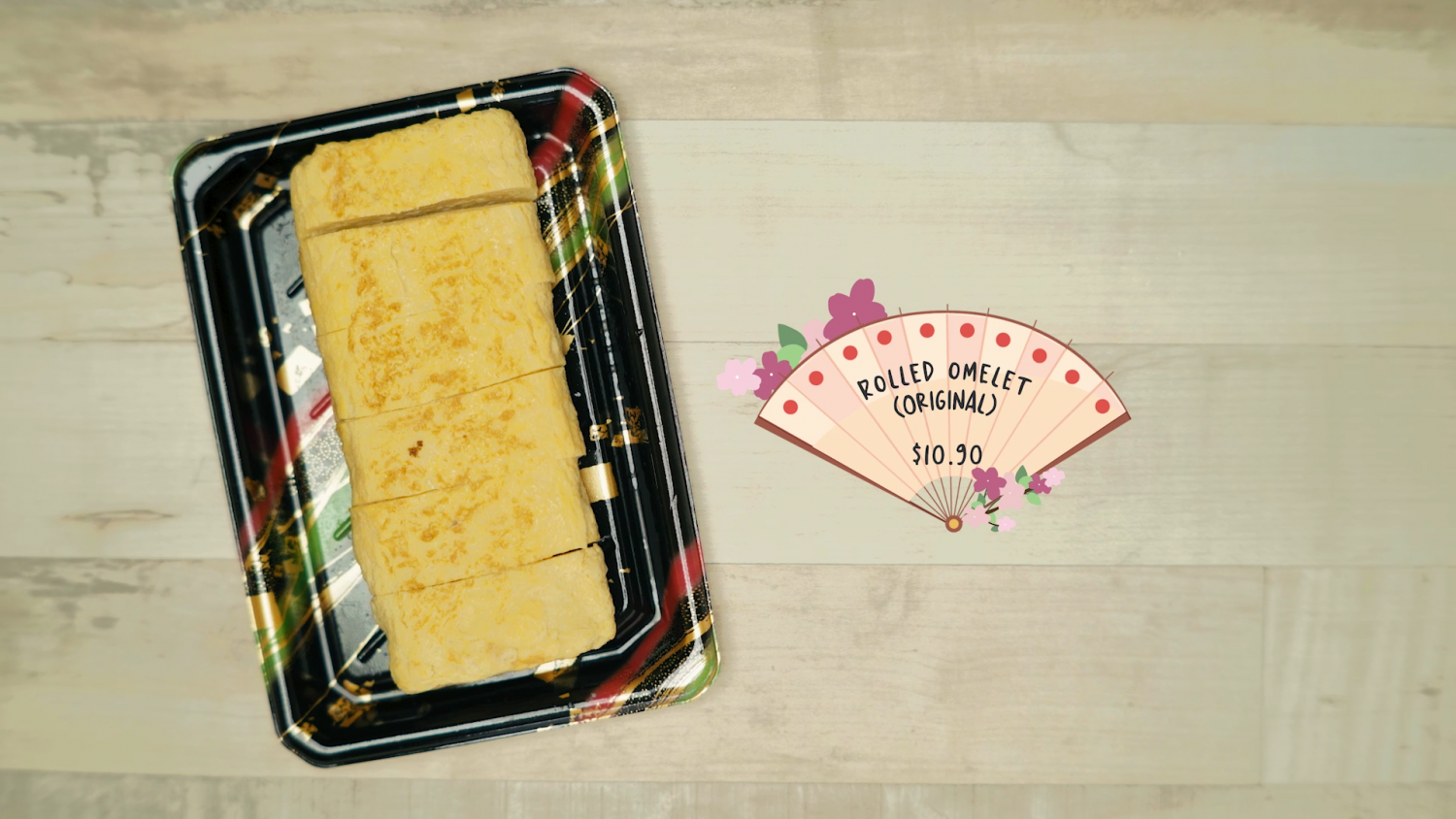 For all you non-foodies wondering what the heck is this egg thingy, be ashamed! Really ashamed! Oh well, the word "Tamago" actually means "egg" in Japanese, or "Tamagoyaki," a Japanese omelet dish. It is a basic staple in Japan and can be eaten with almost anything your mind can think of.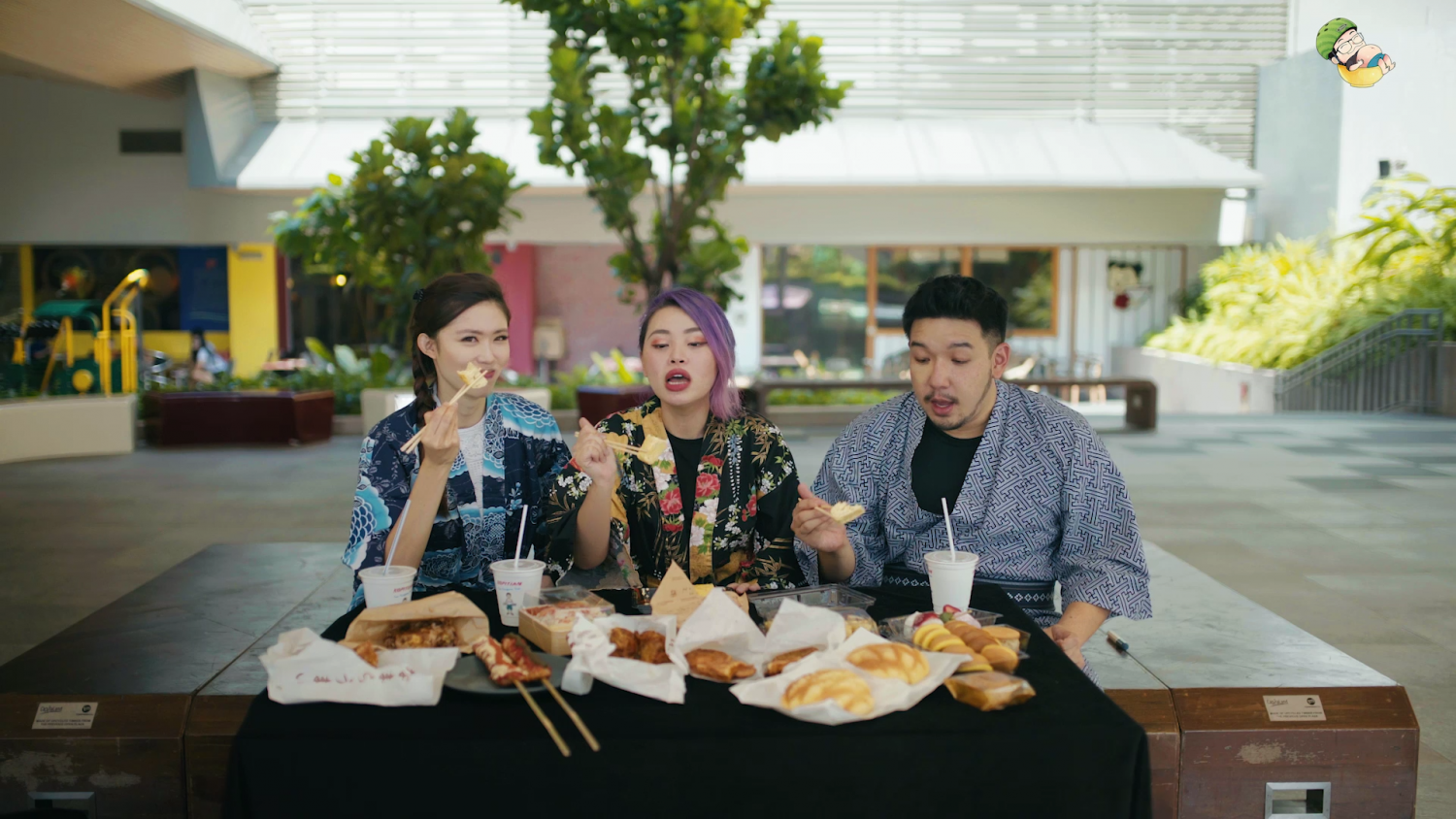 Oh my god! This is so good! Some of the tamago we tasted before are usually the sweet kind. However this one here is creamy and savory at the same time. We can literally taste the A-grade Japanese soy in the omelette which gives you the pop of flavours right out of the blue. Delicious!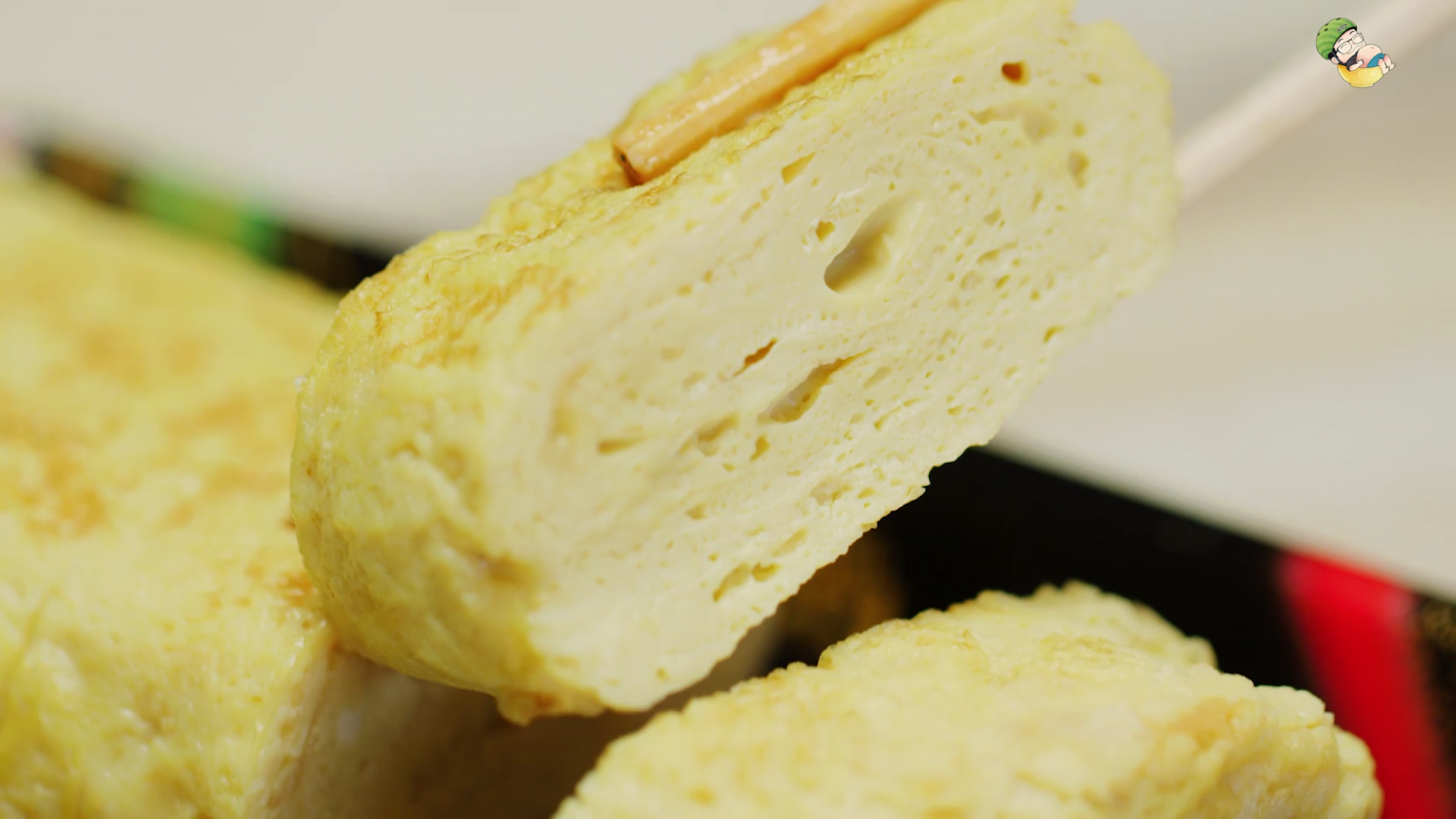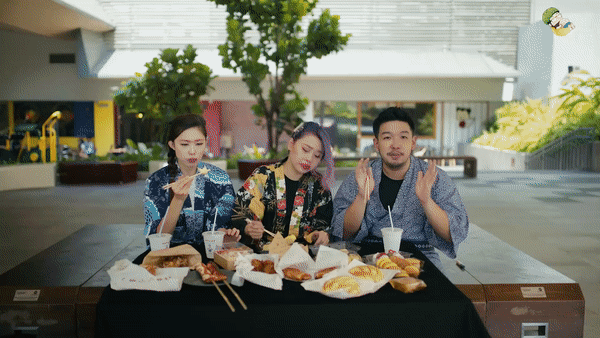 If you love Unagi, this one's for you. Yup, there is Unagi wrapped inside the omelet.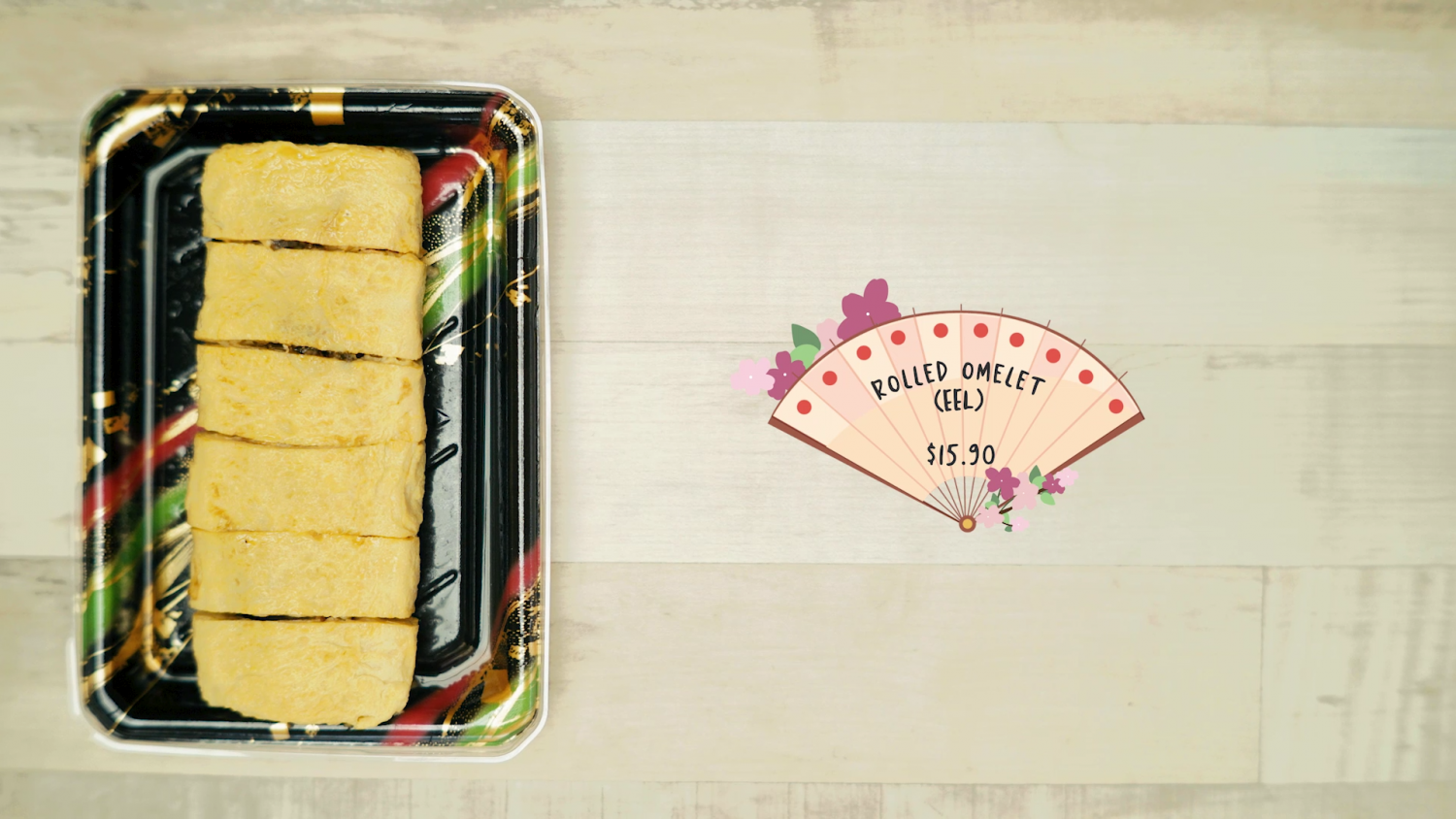 And just like the original version, the Unagi Tamagoyaki so soft and tasty. The eggs used here are definitely not the standard eggs you find in your homes or supermarkets. They are no doubt quality and fresh eggs flown over from Japan. This is what heaven taste like! So good!
And with that, Tamagoyaki Fried Egg from Mugi Tamago has a total of 3 stars and it is Food-King Good!!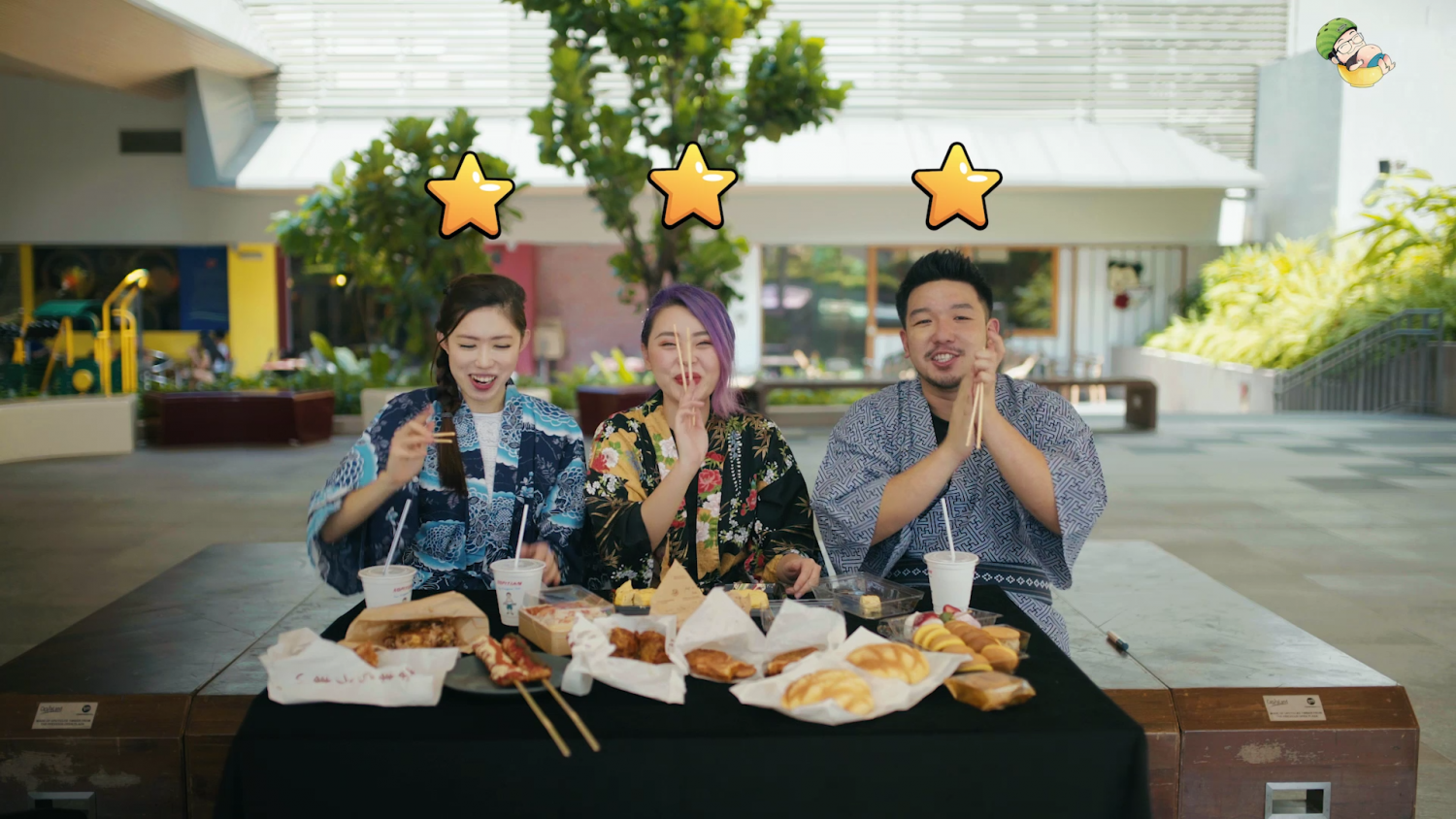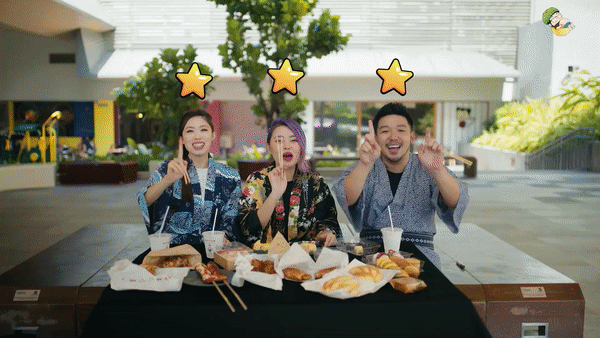 Ratings: 3 Stars, Food-King Good!!
TAMAGOYAKI FRIED EGG (Mugi Tamago)
Next, we are going to try the Northern version of Okonomiyaki – Satohoro Dosanko Yaki Pancake.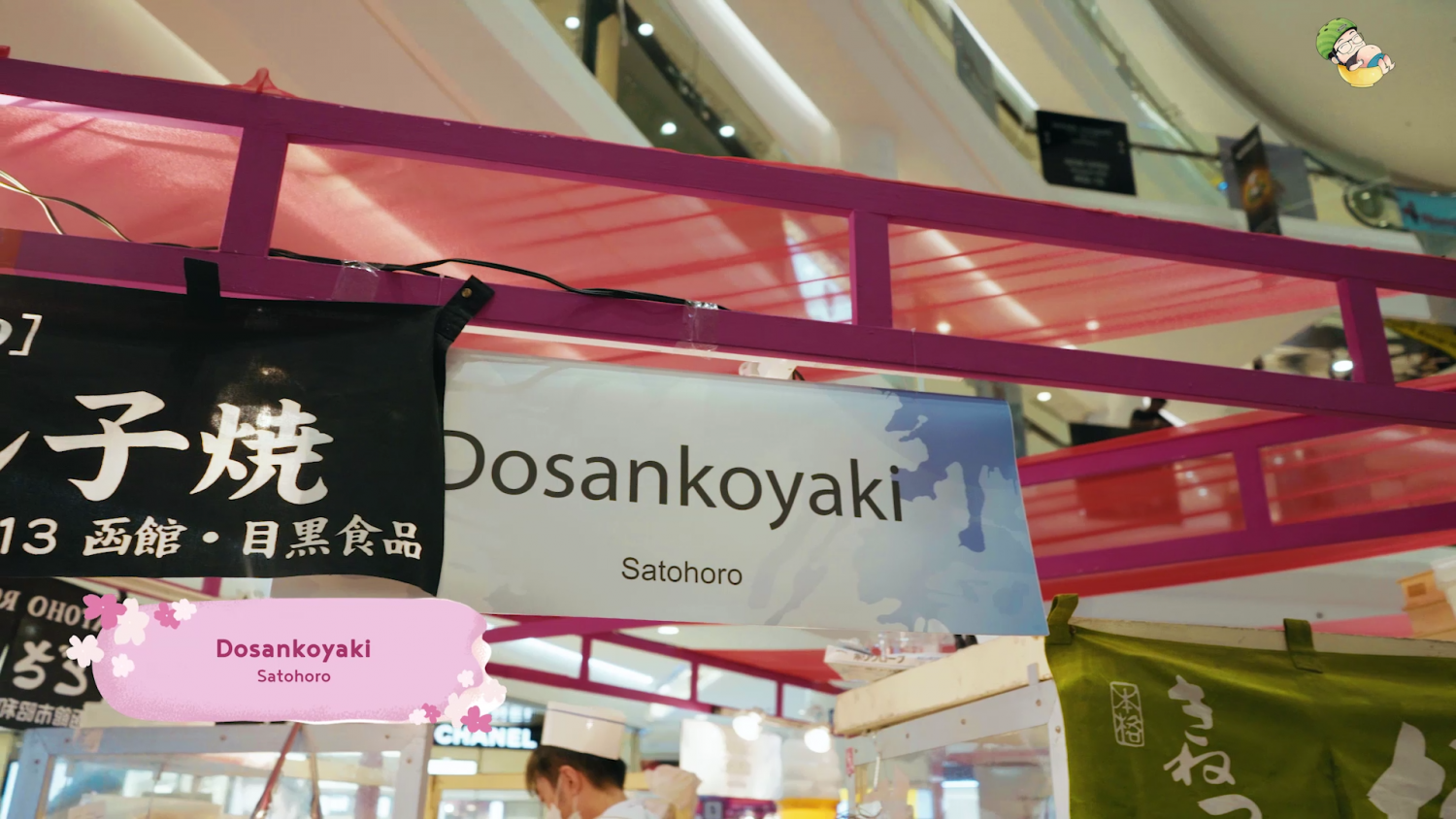 It is basically okonomiyaki in the shape of a burger. Interesting!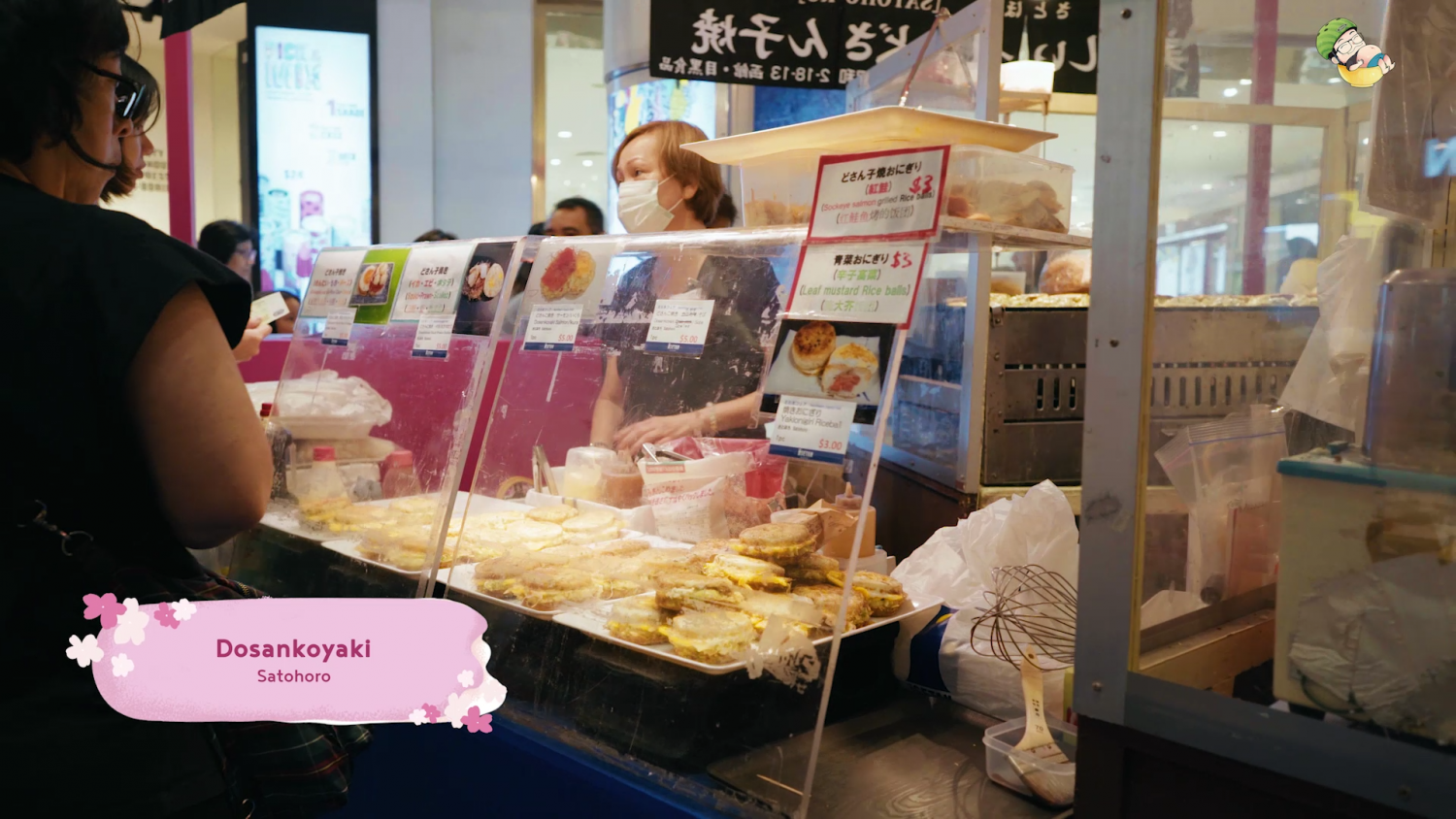 So here we are having the Scallop Dosankoyaki. This really looks like a hamburger, combined with the okonomiyaki.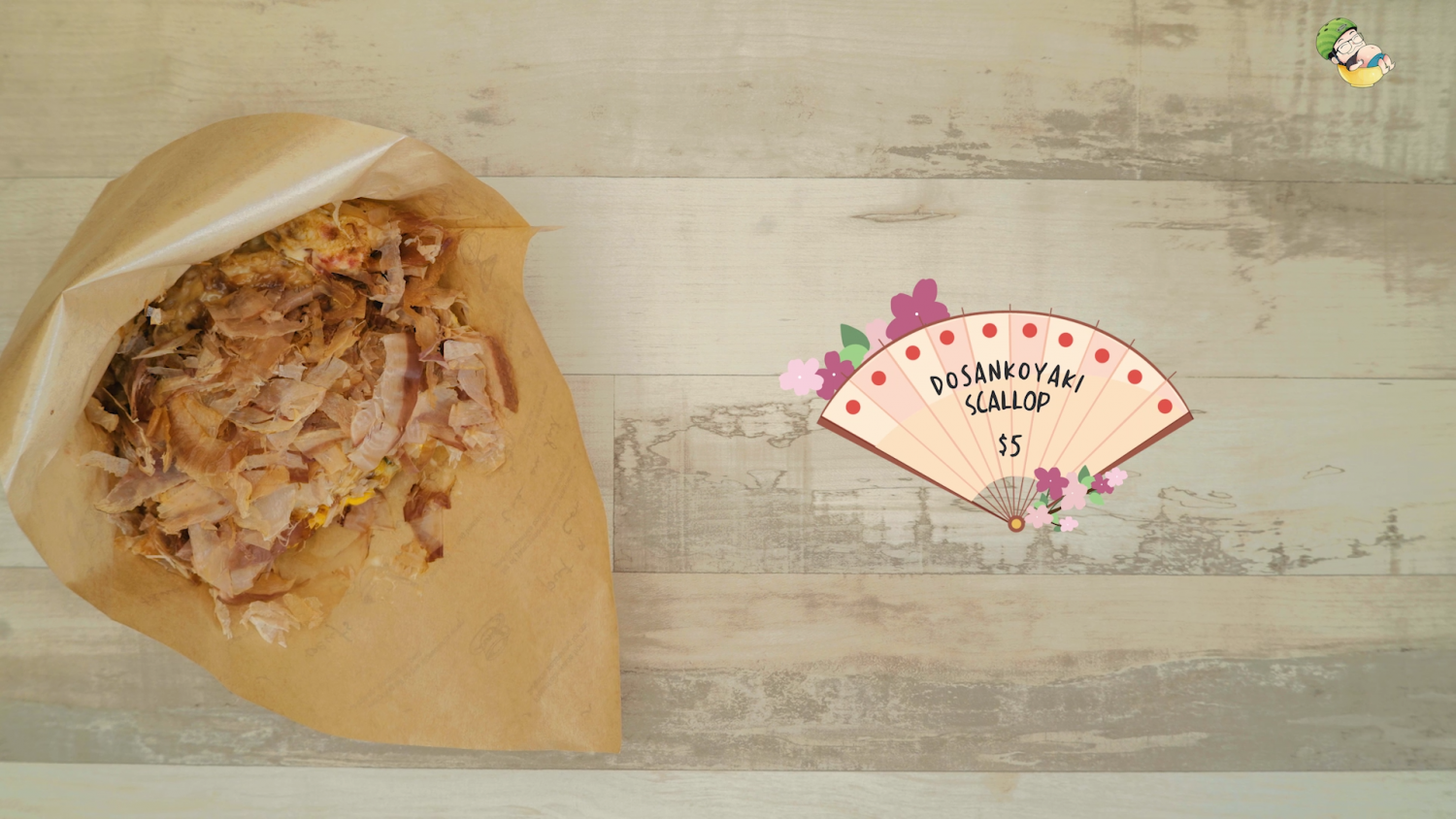 It is filled with juicy scallops, mentaiko, Japanese cabbage, eggs as well as a layer of bonito flakes. We wonder how this will taste like.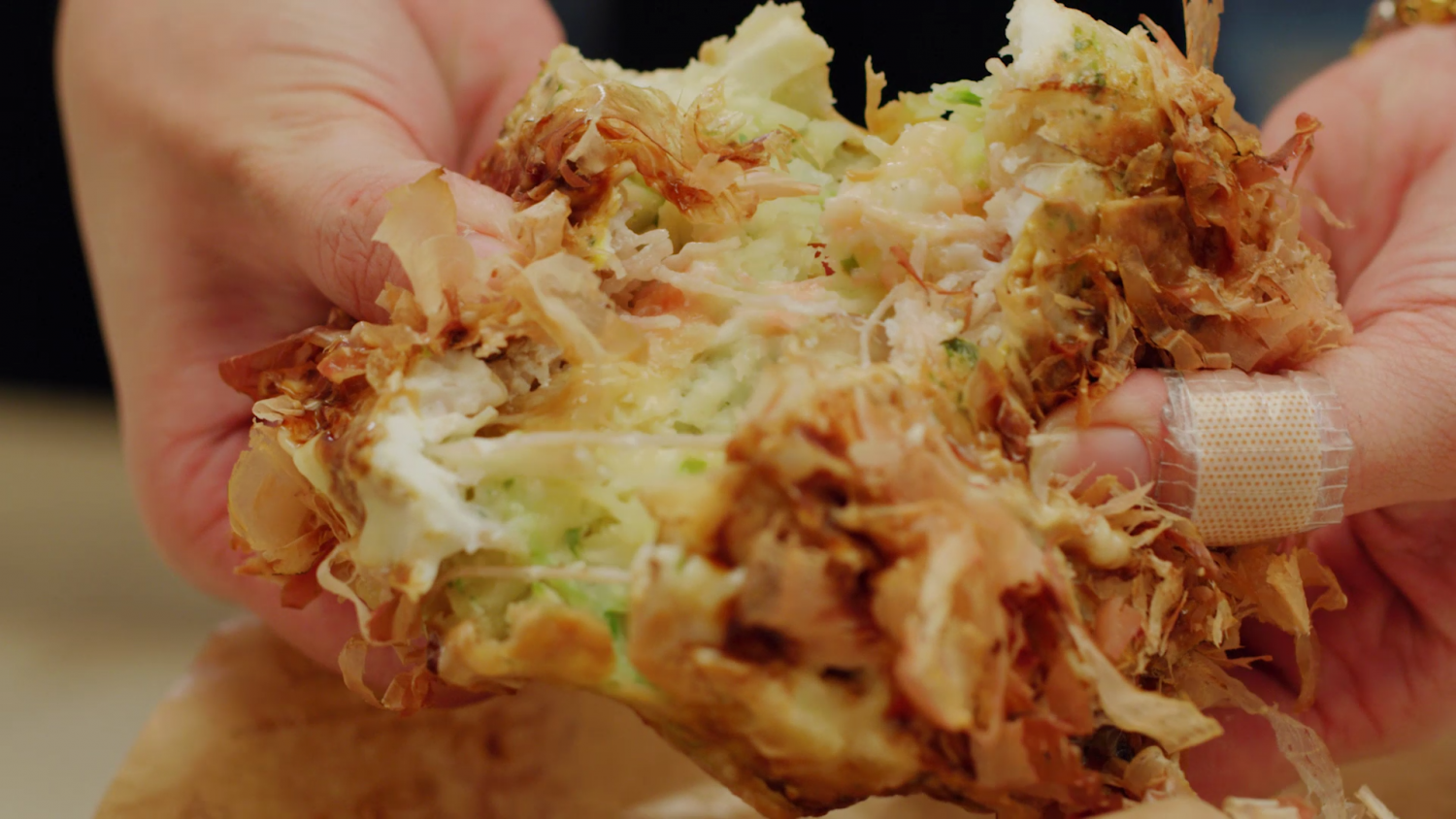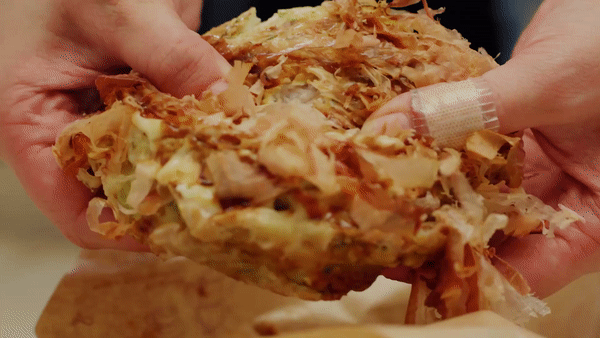 We realized this version of okonomiyaki is more filling. We ate one piece and we feel a little full already. However we prefer the flatter okonomiyakis as this one is just too thick for our liking.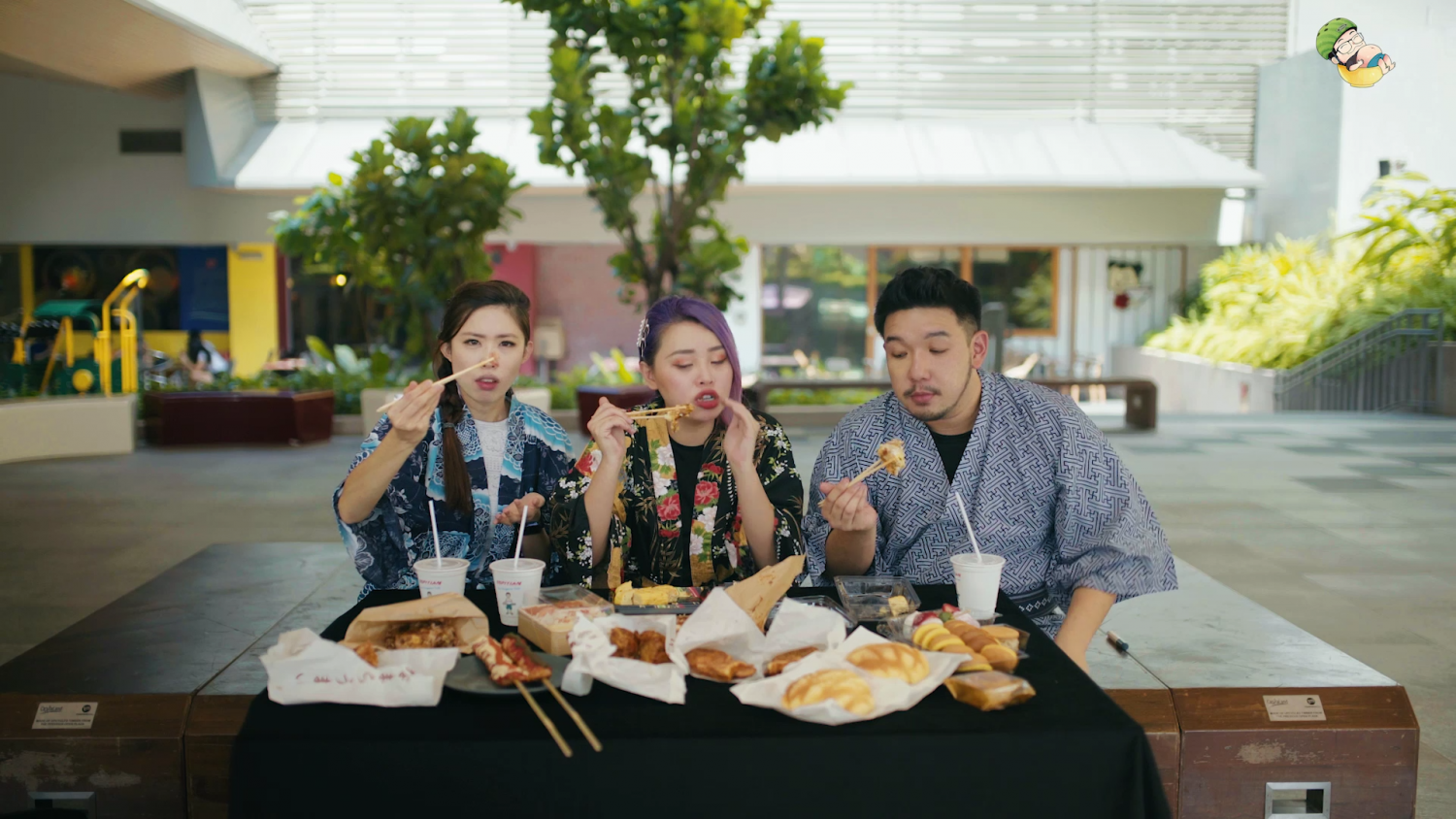 It's still good if you're looking for a full meal. Just that if you really enjoy the fluffy texture of normal okonomiyakis, this won't be your top choice.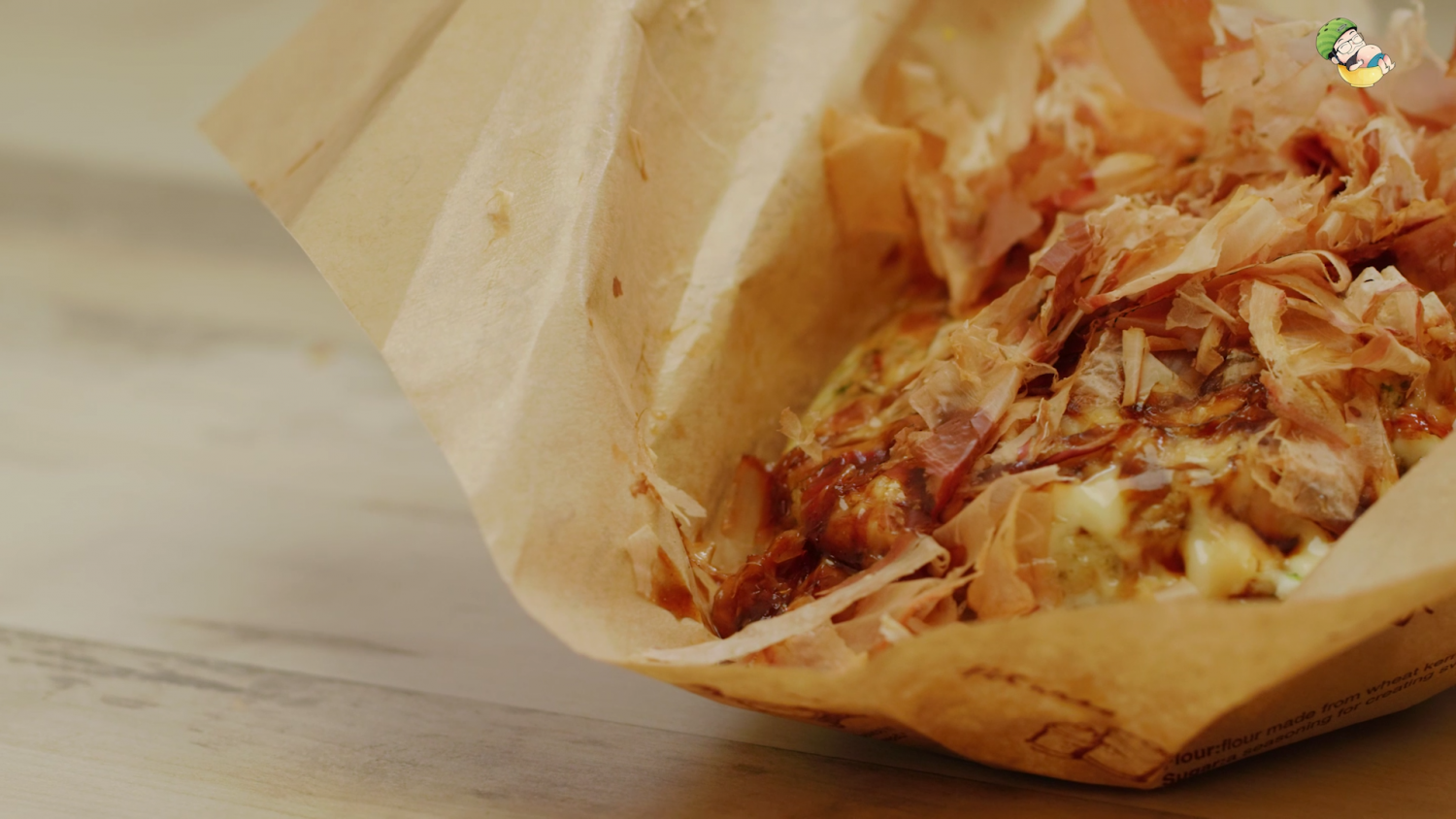 Ratings: 2 Stars, Food-King Good!!
DOSANKOYAKI (Satohoro)
And moving on, we are will be trying the Tori Karaage from Narutoya. In case you are living under a rock, Tori Karaage is Japan's answer to KFC. And we call it the Japanese fried chicken or JFC in short. Finger lickin' good!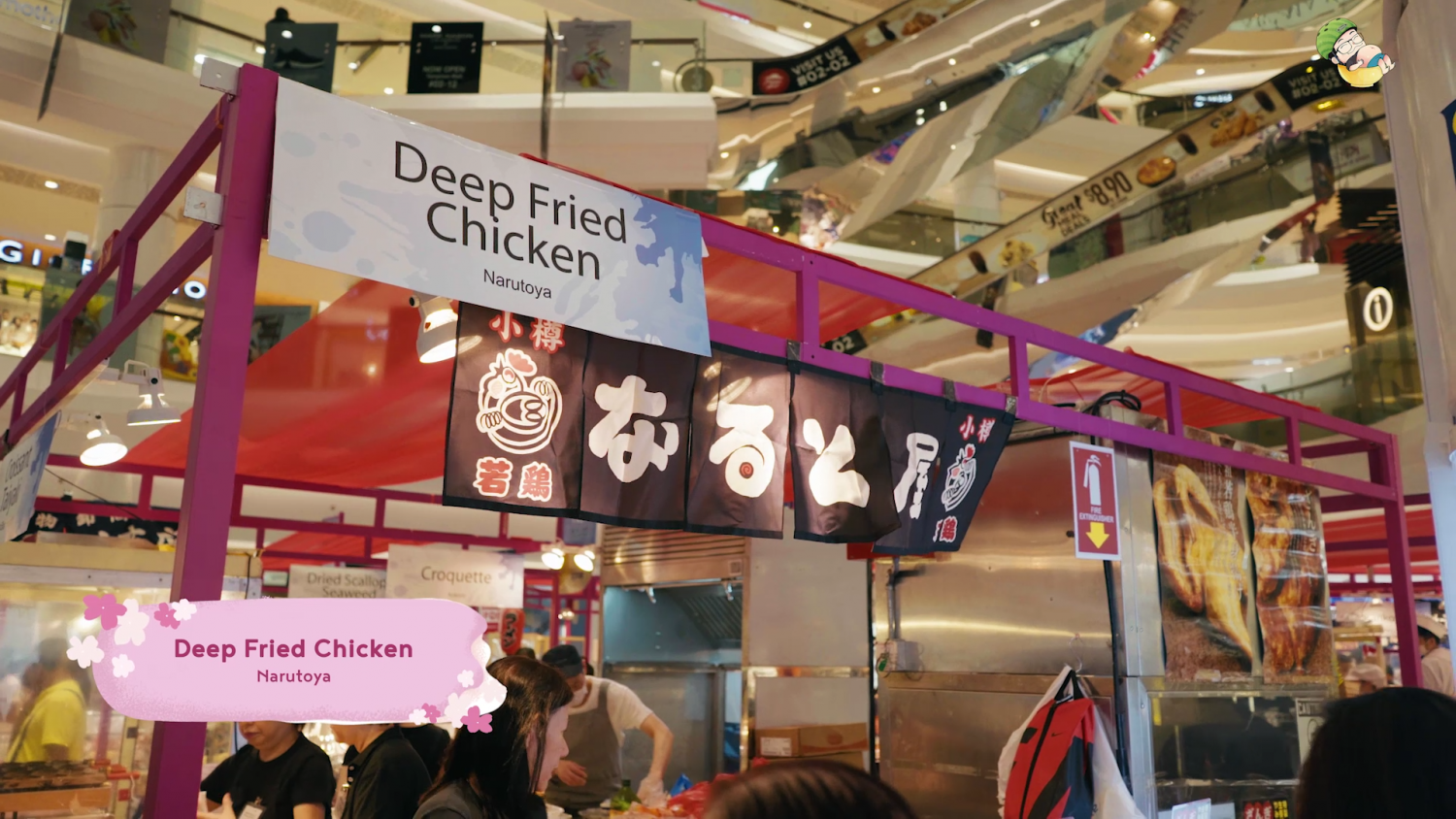 What we really like about this stall is that can buy a fried chicken on its own rather than the usual stick of threes. That way, we buy a piece each and still have space to try everything else in this fair. Wonderful isn't it!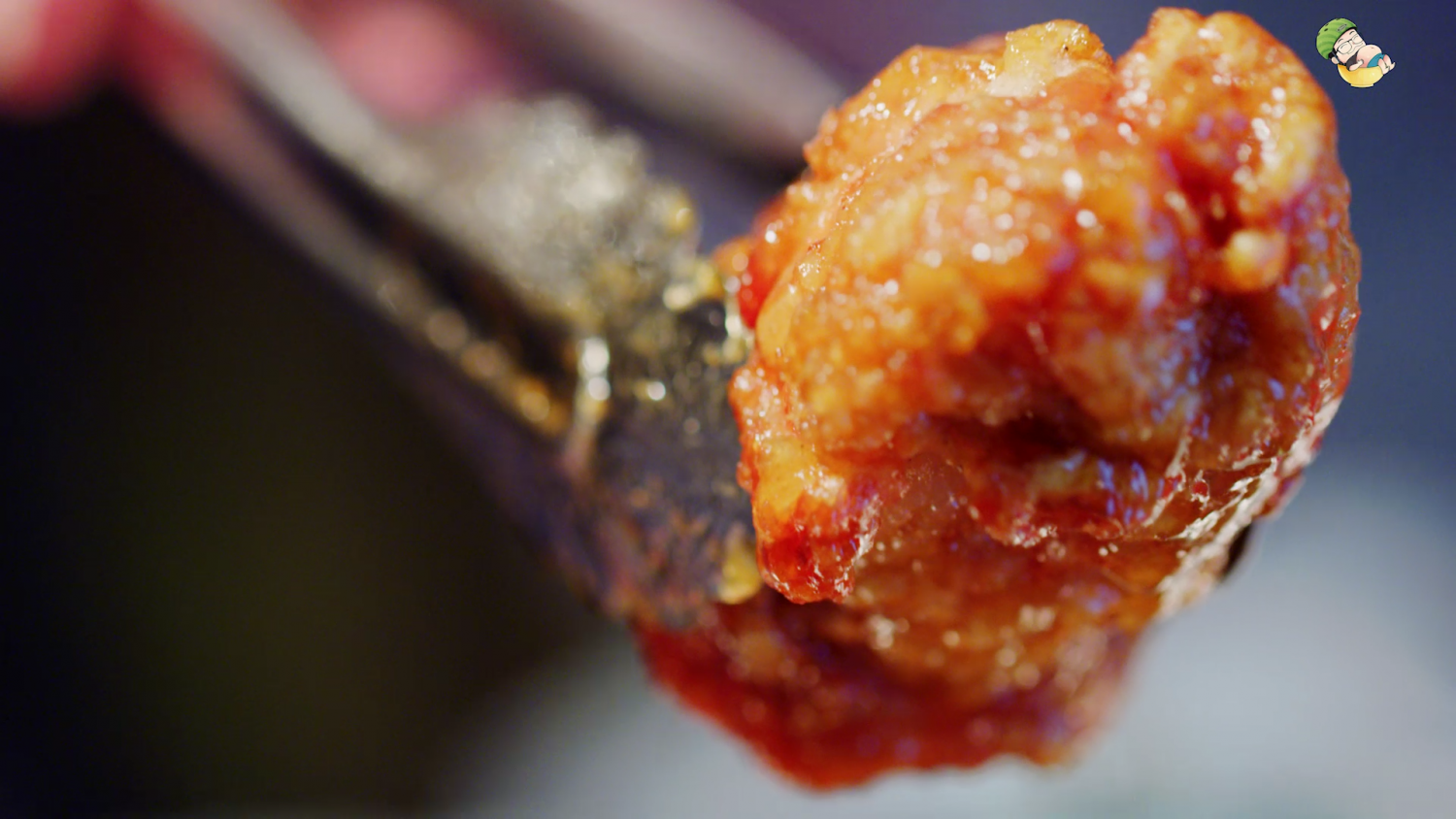 And the karaage here is surprisingly big and filling! You can eat just one like a snack and still be satisfied. We also love the fact it is boneless and bite-sized. So if you are lazy like us and you don't want to use your hands, this is perfect.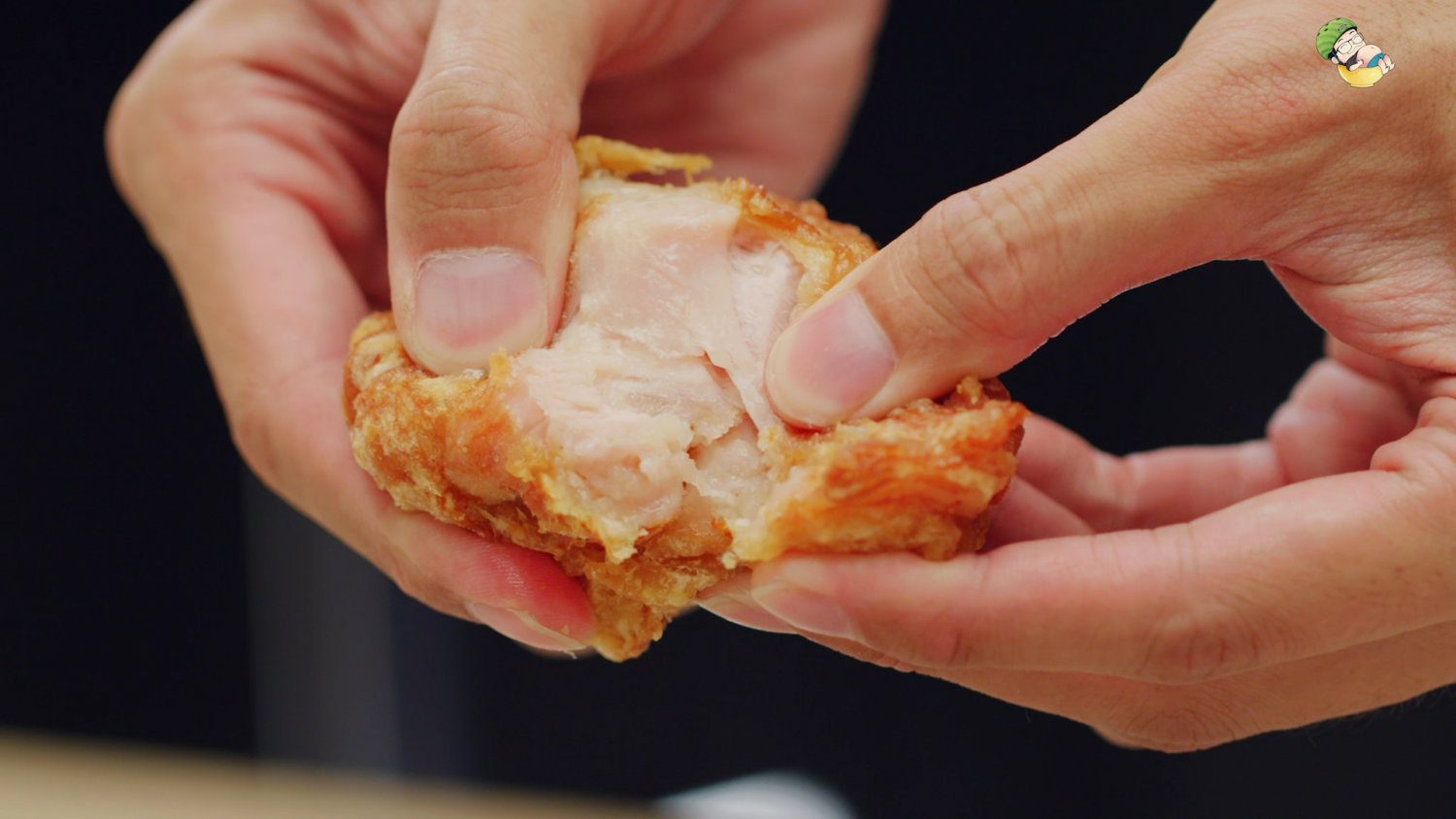 Unfortunately, it taste very much like any other fried chicken. Nothing crazy or special here. Hence, we only give this one star.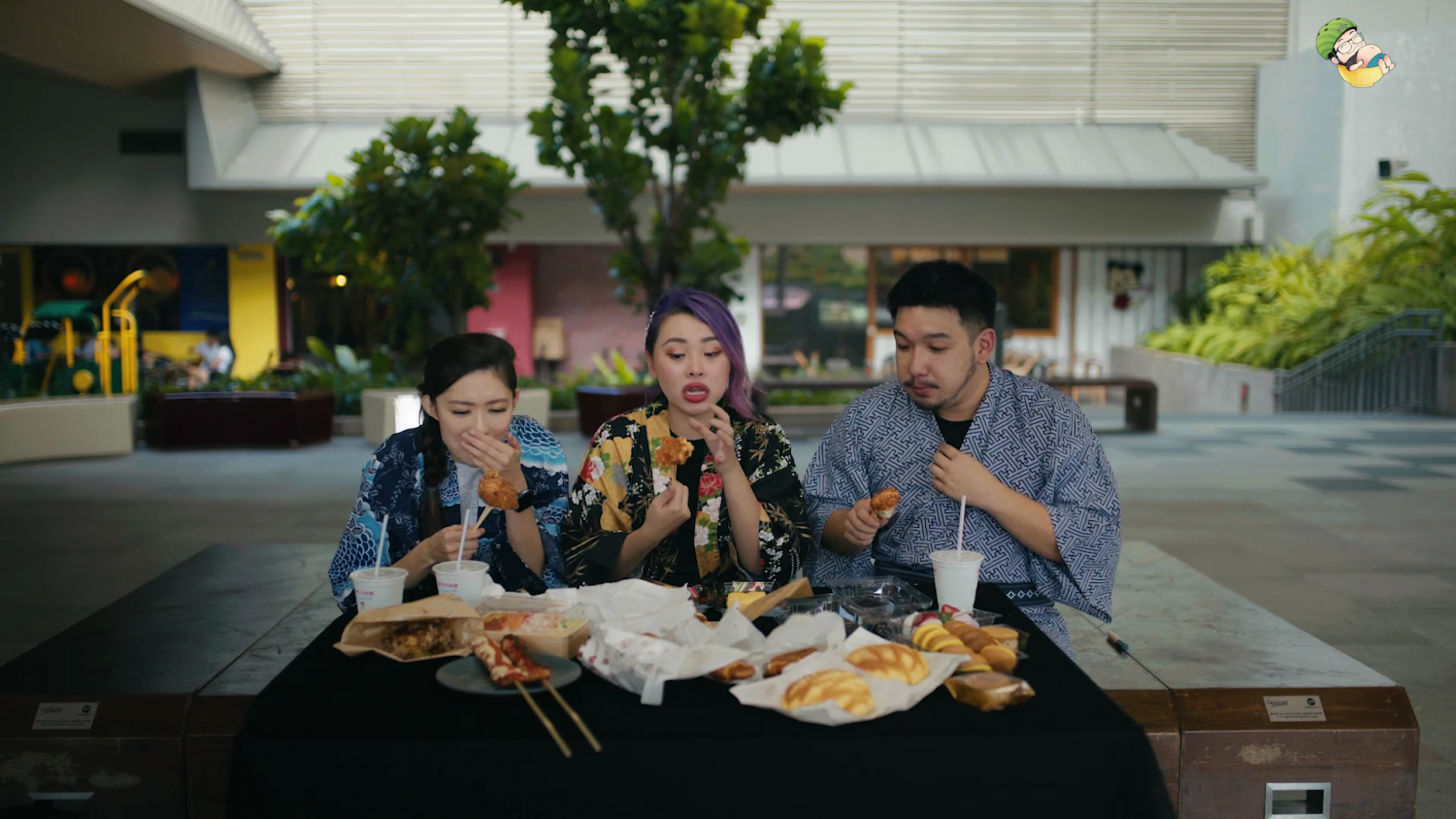 Ratings: 1 Star
DEEP FRIED CHICKEN (Narutoya)
Now, we've got the most dramatic-looking food in this fair and that is the Snow Crab Leg. Sounds interesting? Wait till you see how it looks!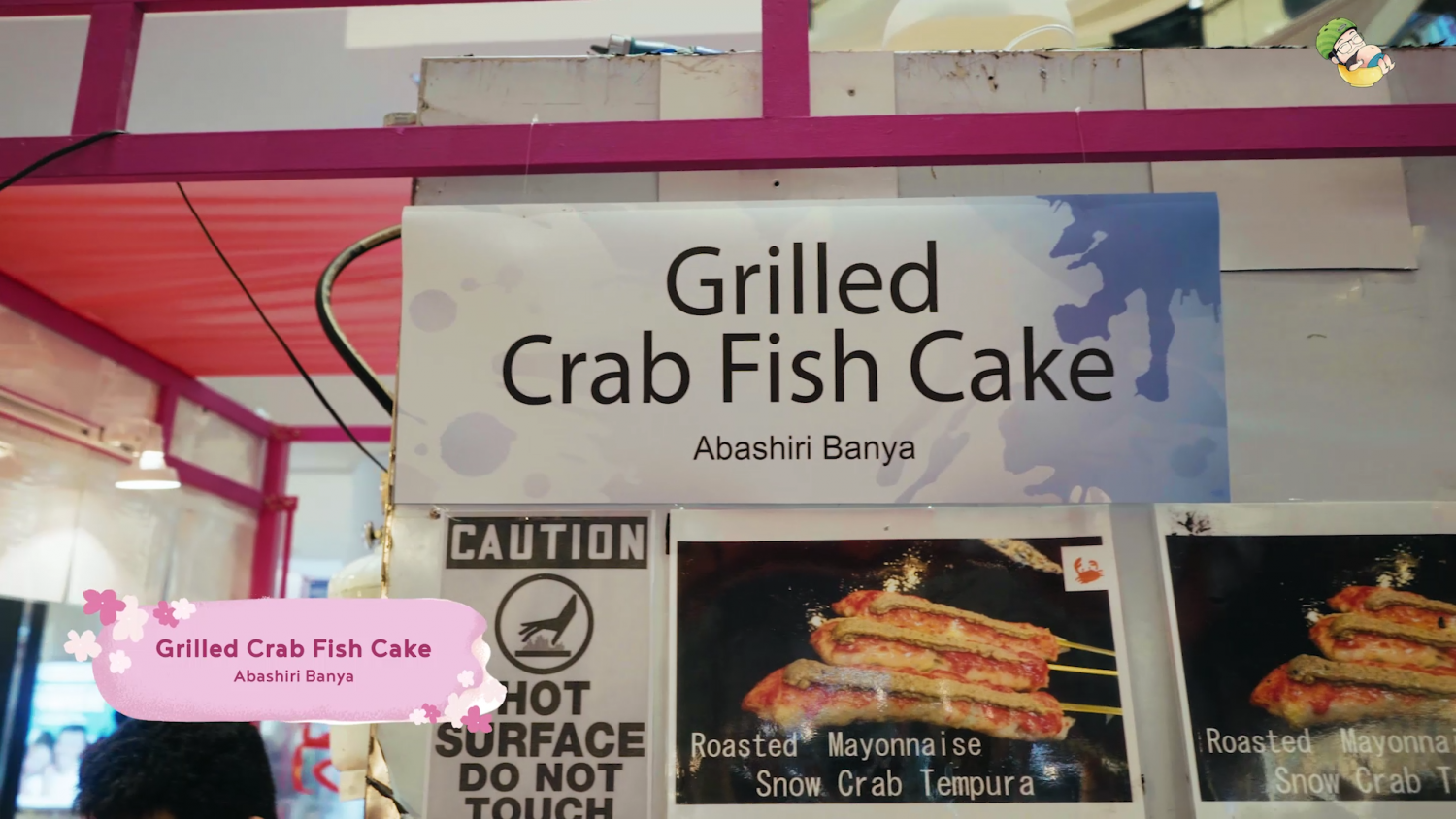 So we are actually eating a sort of grilled crabby fish cake from Abashiri Banya. This is something really unique to us and we haven't seen anything like it before.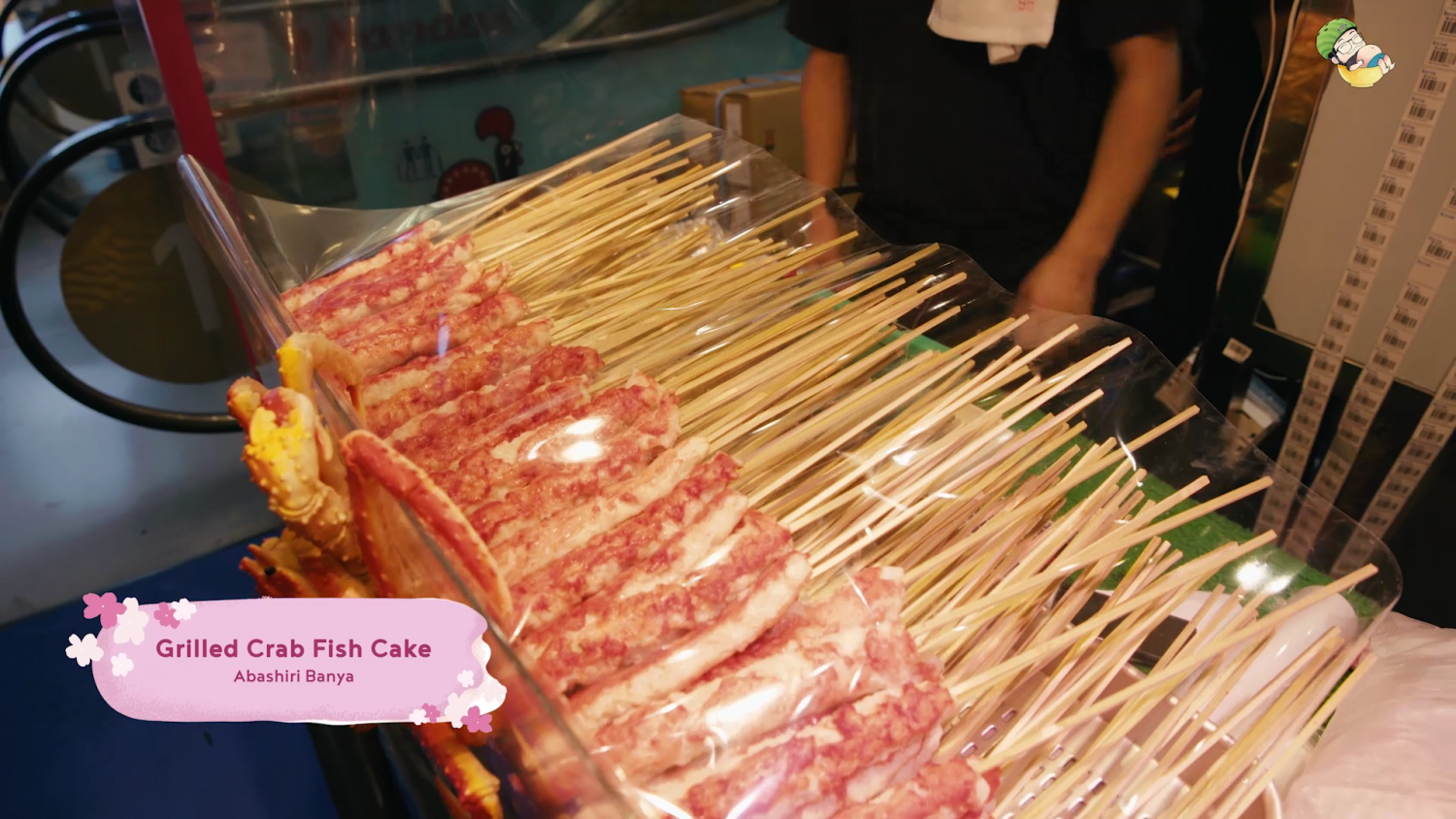 We will be trying two versions of these fish cakes. The first one now is the Roasted Mayonnaise and the other is the Mentaiko. Hmmm… How are we gonna share this? Well, we shall take a bite together then. Are you ready?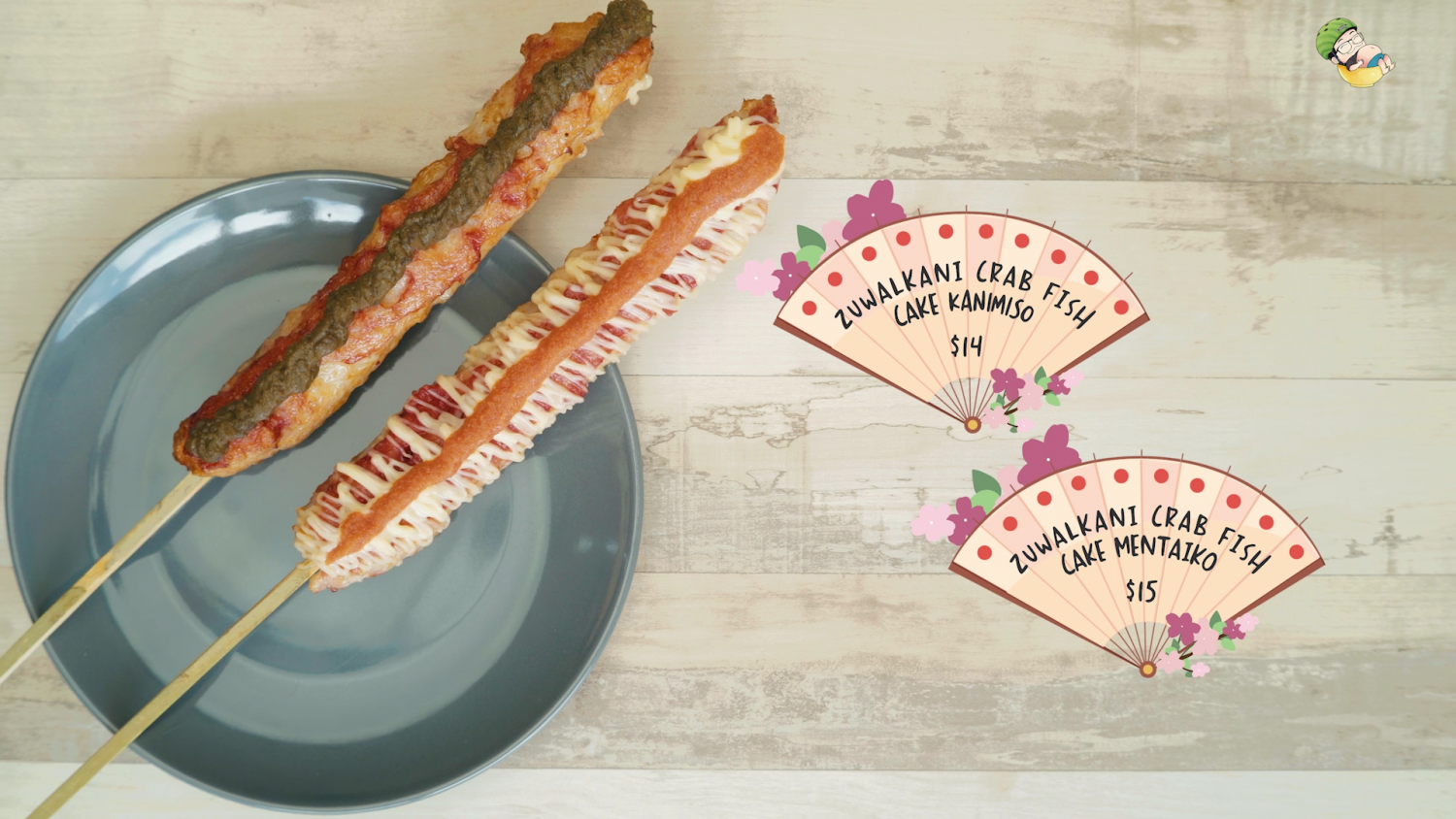 My-oh-my! This is the most exciting thing we've ever done on Food King! Kawaii huh.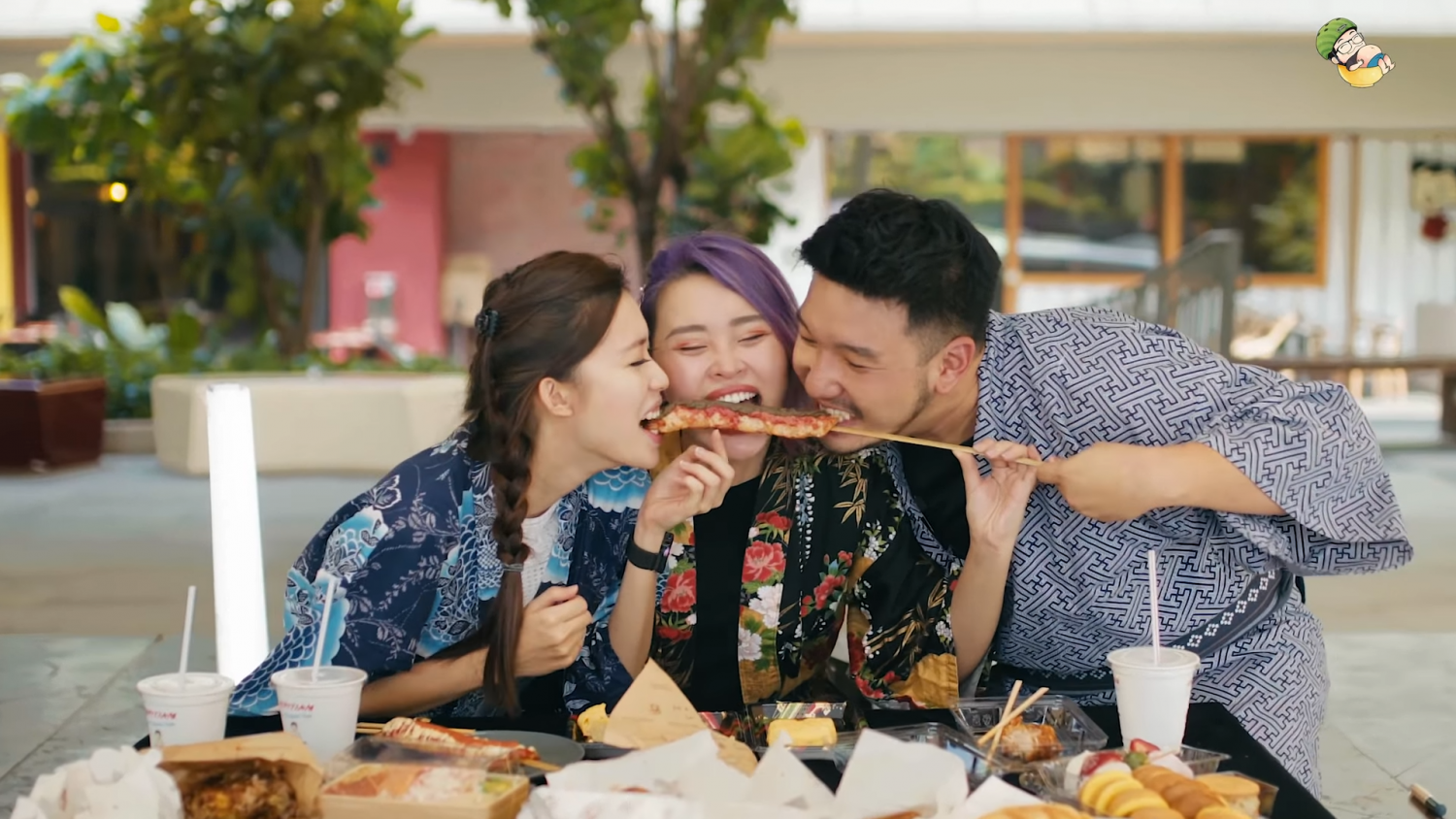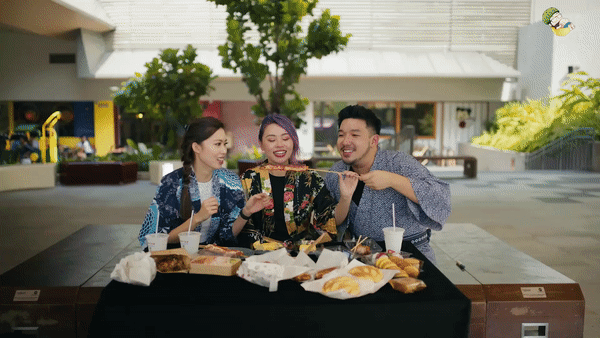 Mission accomplished! Look how happy Aiken is. Ungaii!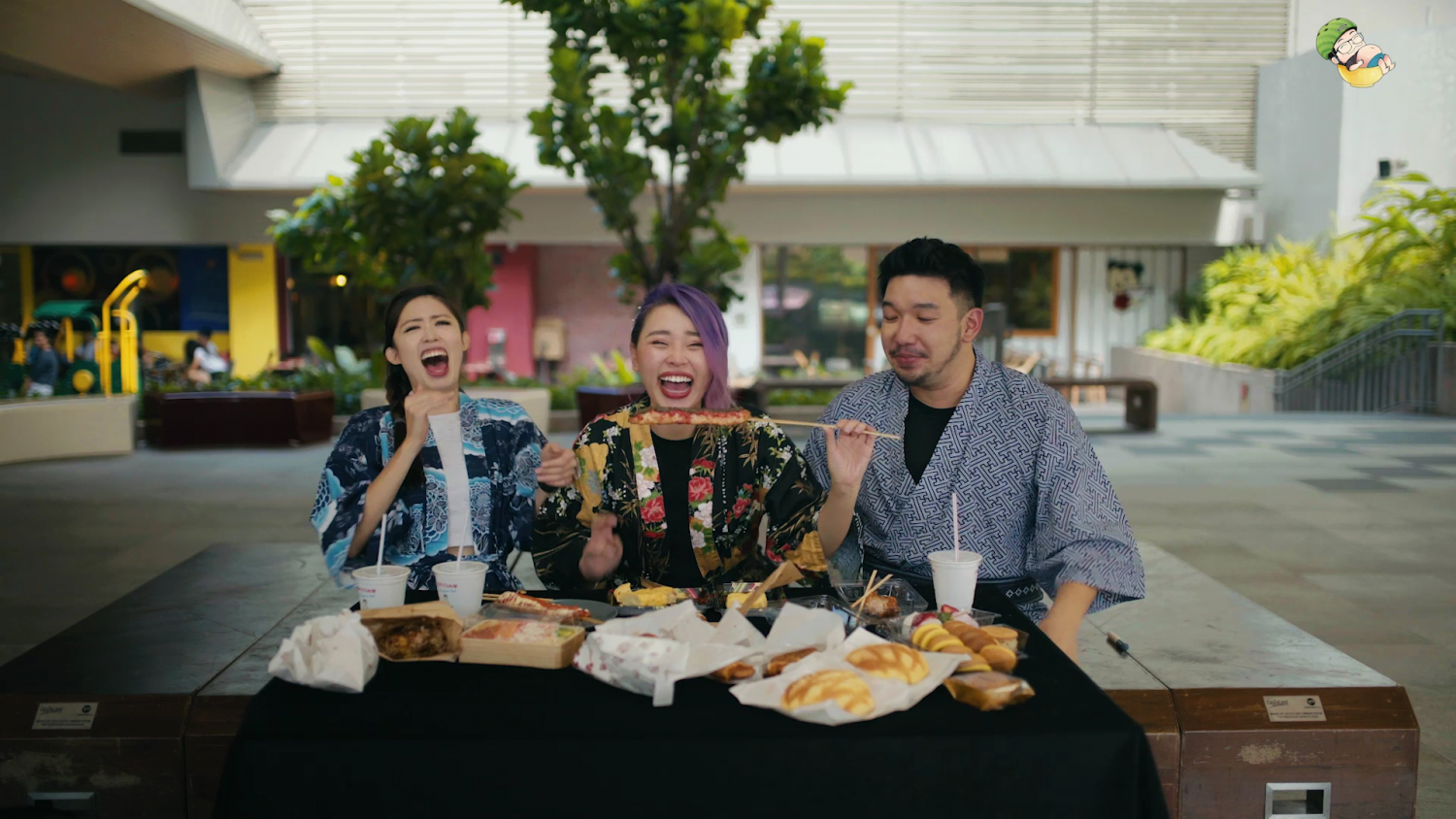 As unique as it looks, these are not the normal kind of fish cakes. We are pretty sure they use high grade fish cakes to make them. The texture of the fish cakes doesn't feel like crab meat at all. In fact, it feels more like sweet cake to us. But for such a steep price point, we'd rather have real crab meat instead.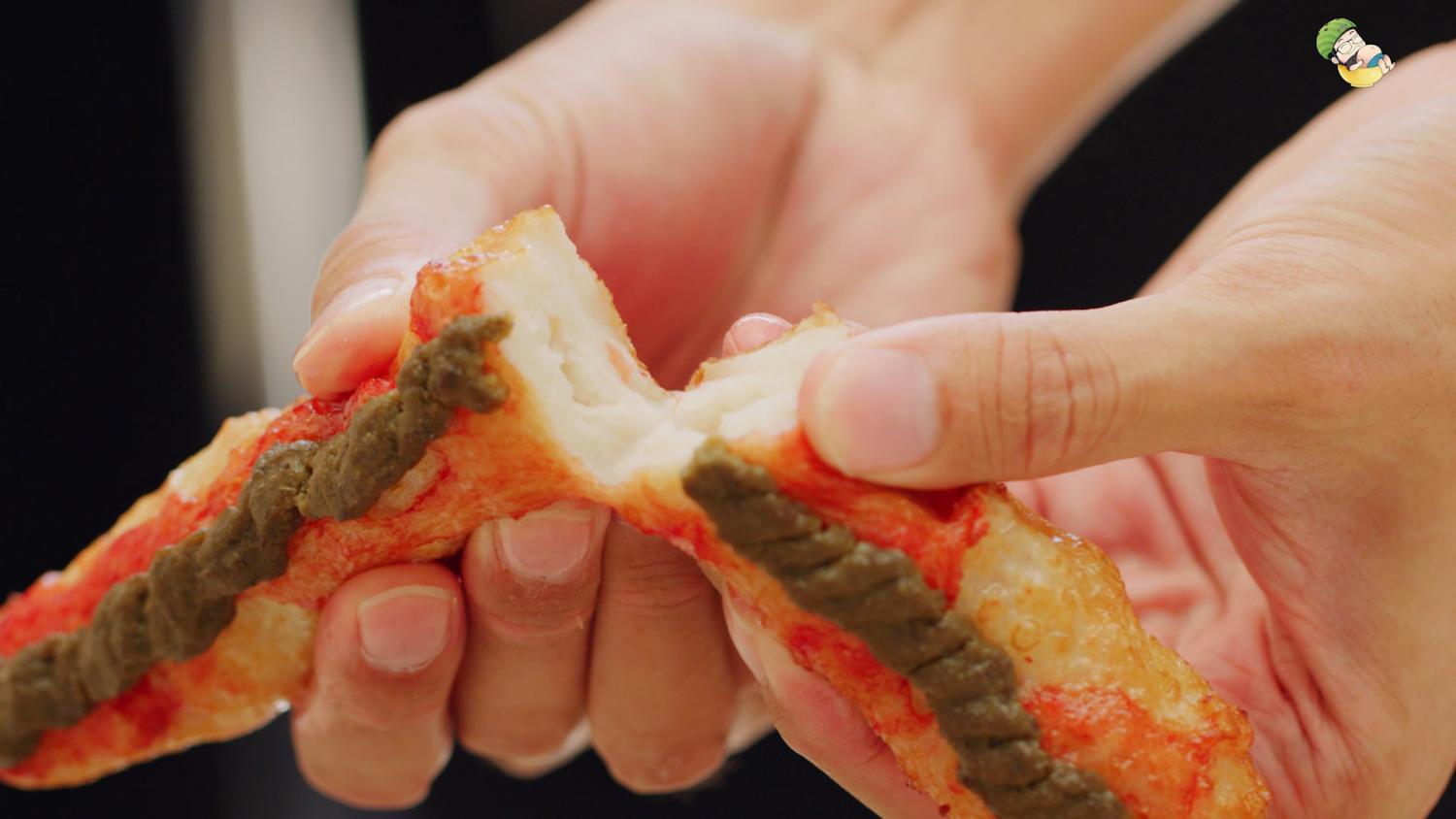 Now on to the taste. The roasted mayonnaise version taste a bit too fishy-esque and earthy-esque for our liking. We actually enjoyed the Mentaiko one more as the sauce really enhances the flavor of the fish cake. It doesn't make the whole thing taste too seafoody which is always a good thing.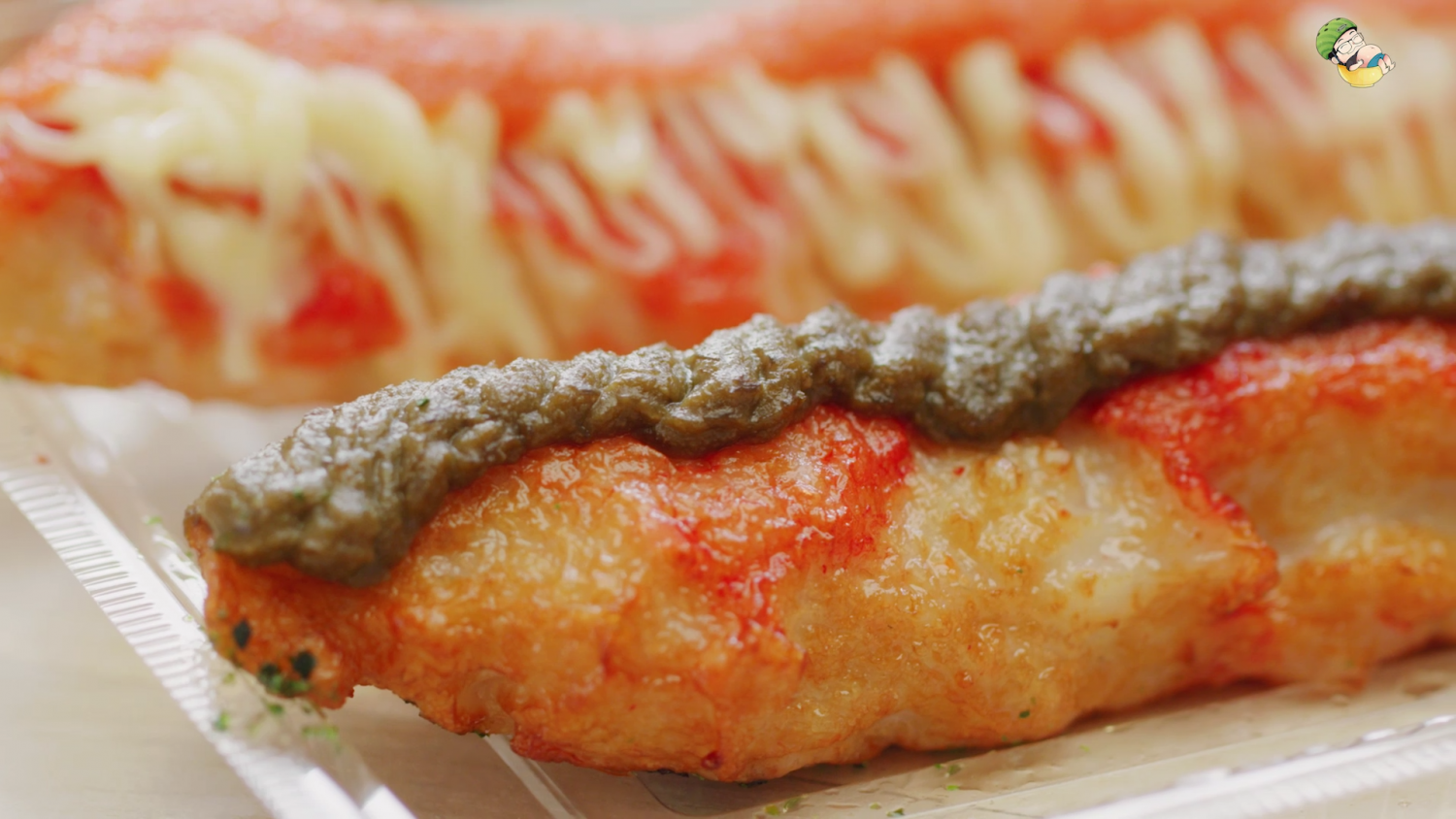 Ratings: 1.5 Stars
GRILLED CRAB FISH CAKE (Abashiri Banya)
Next up we will be going to have everybody's favorite Japanese take-out comfort food, the bento box. And boy did we go for the best of the bunch – the most expensive bento box we can find here. Why? Because we love to bento!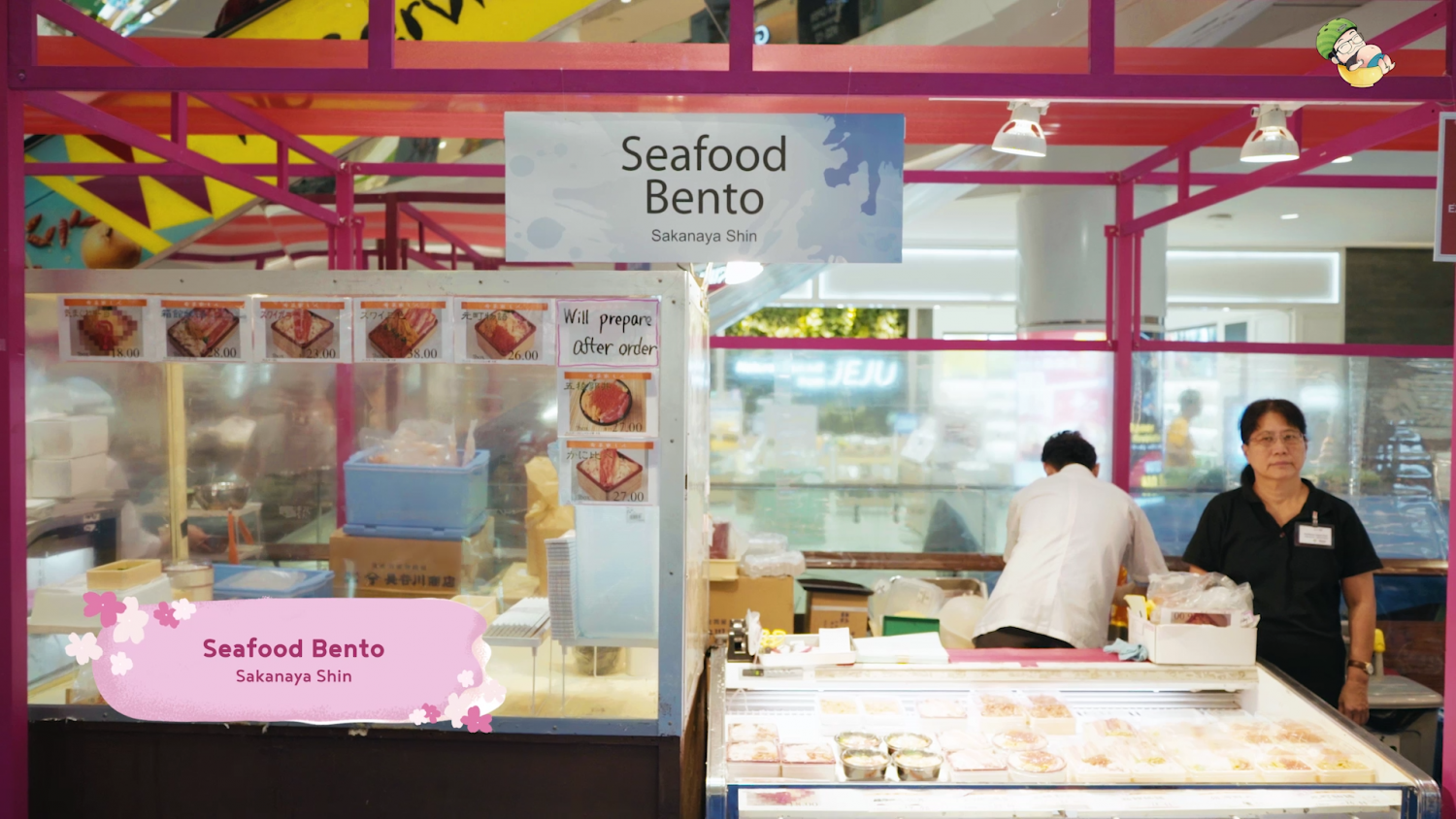 So here we have this colorful seafood bento, the Motomachi Monogatari.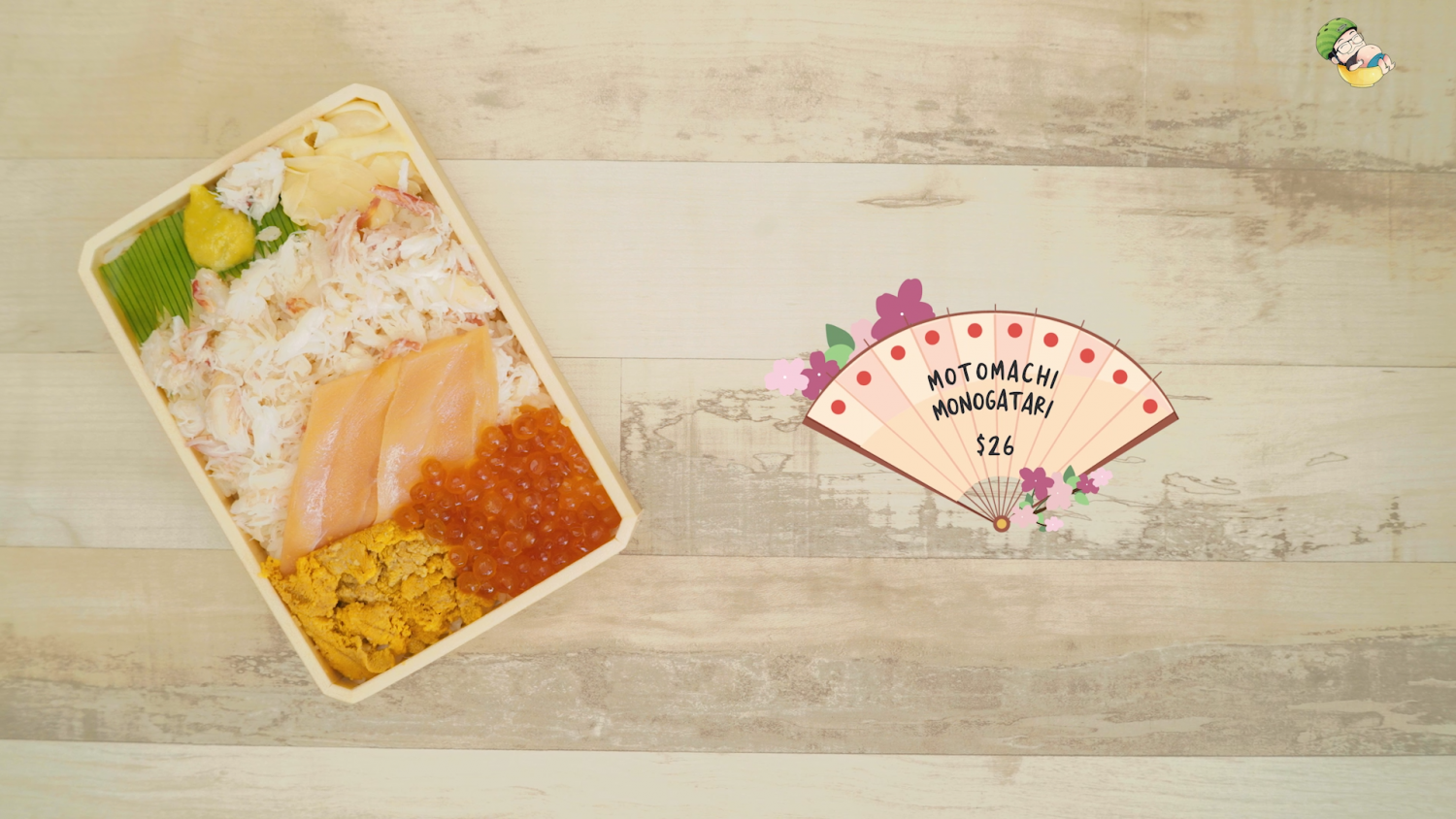 There's a lot going on in this sumptuous bento – generous servings of fish roe, fresh Uni or sea urchin, slices of salmon, crab meat and of course the white Japanese rice.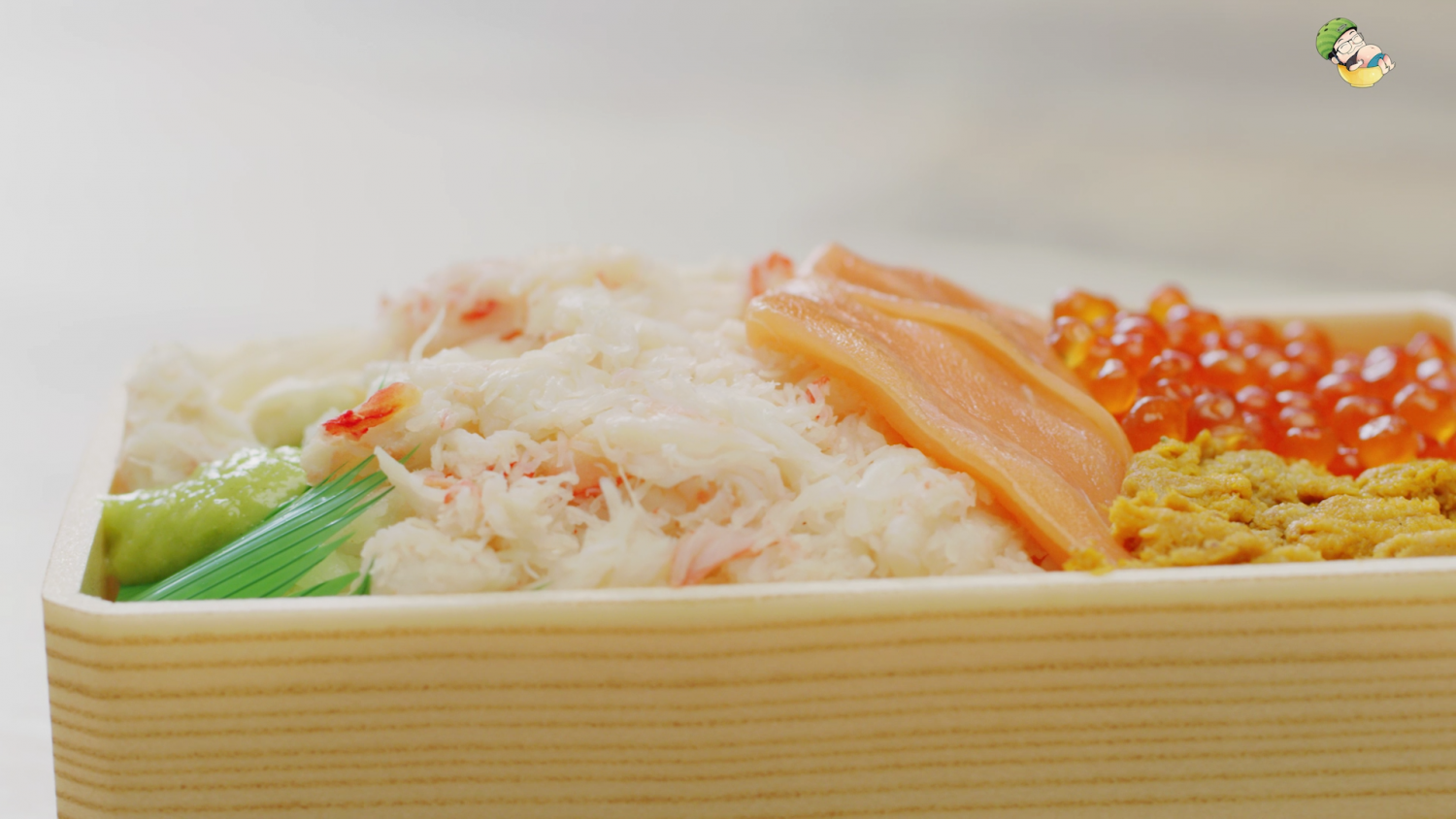 We like how the ratio of ingredients is of equal proportion to the rice. That's a good 50-50.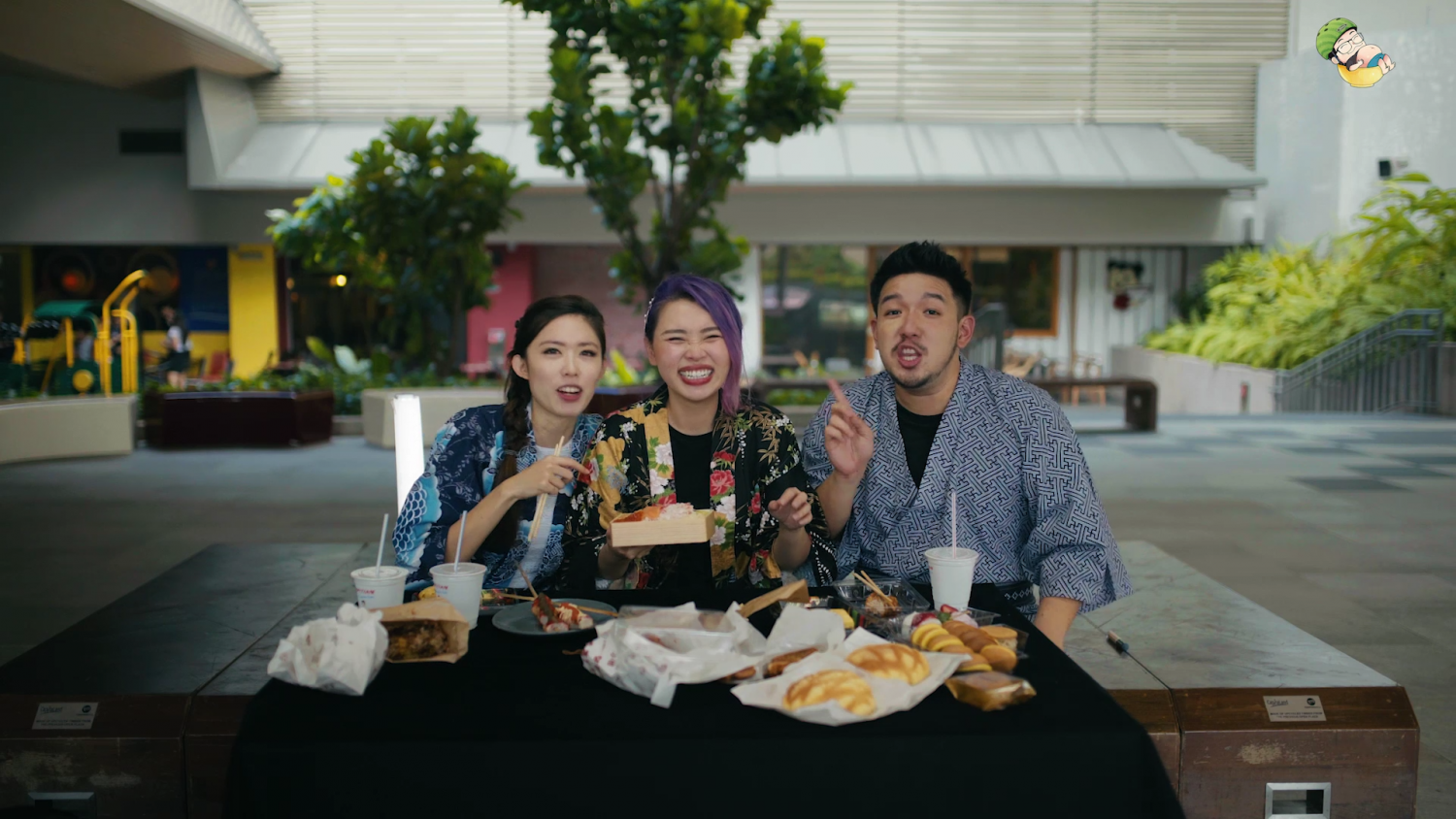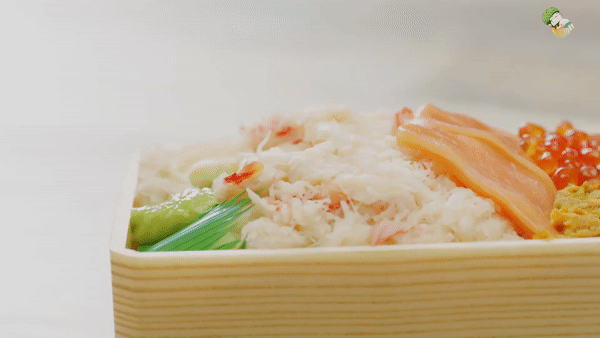 If you like Japanese food, you'll know that rice is very important. Unfortunately, this rice is not as nice as we expected. It taste too subtle and there's not enough mirin (rice wine) in it. We reckon they were trying to cut cost, or perhaps hoping to suit the Singaporean taste buds. Either way, they can make it better.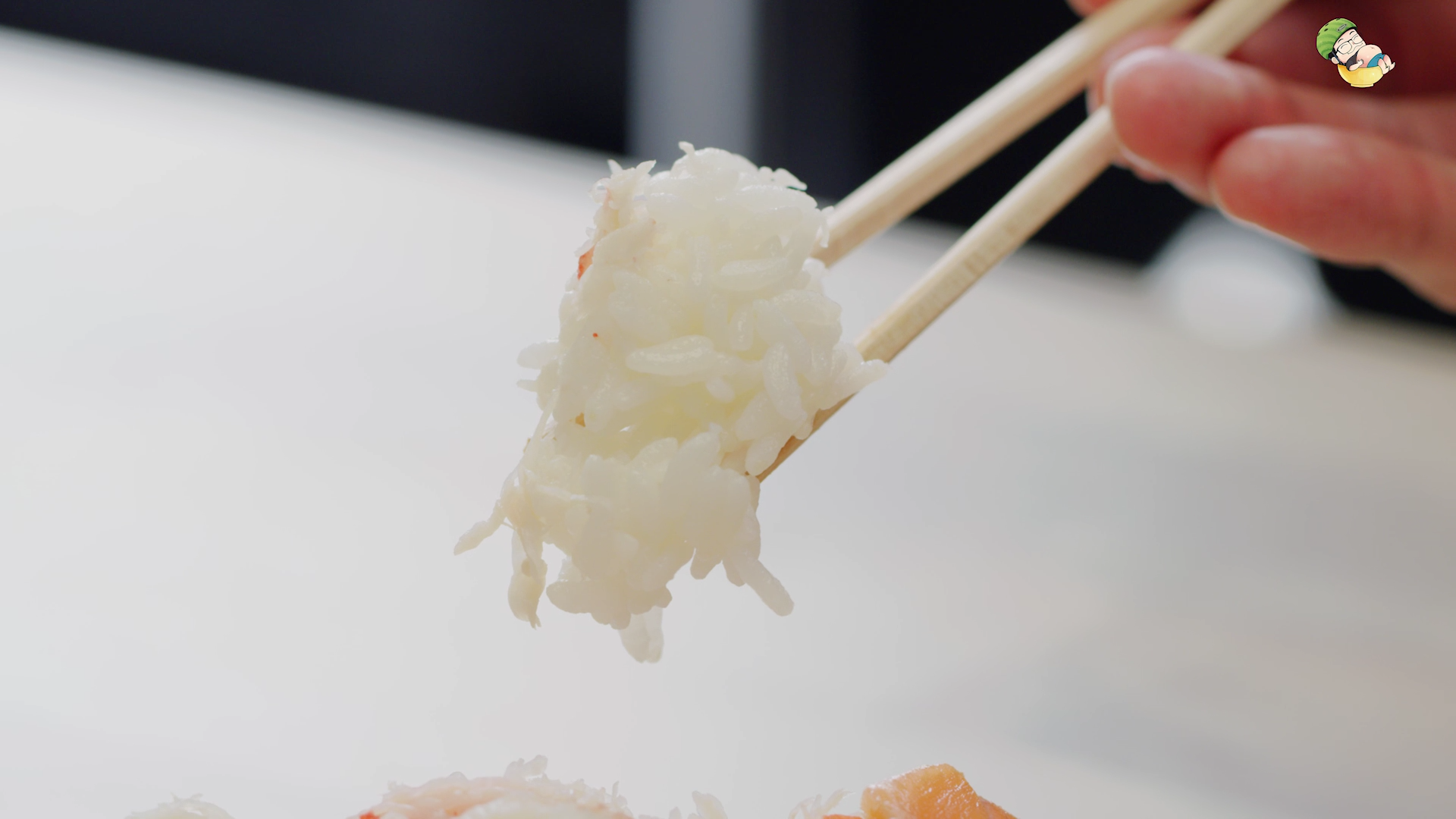 The uni here is a bit different though. We feel this one taste slightly less creamy than what we usually have. It's kinda like the dryer version of crab roe. But the crab meat is actually pretty good. It's the kind of texture we are looking for in a crab meat. So soft, sweet and fresh.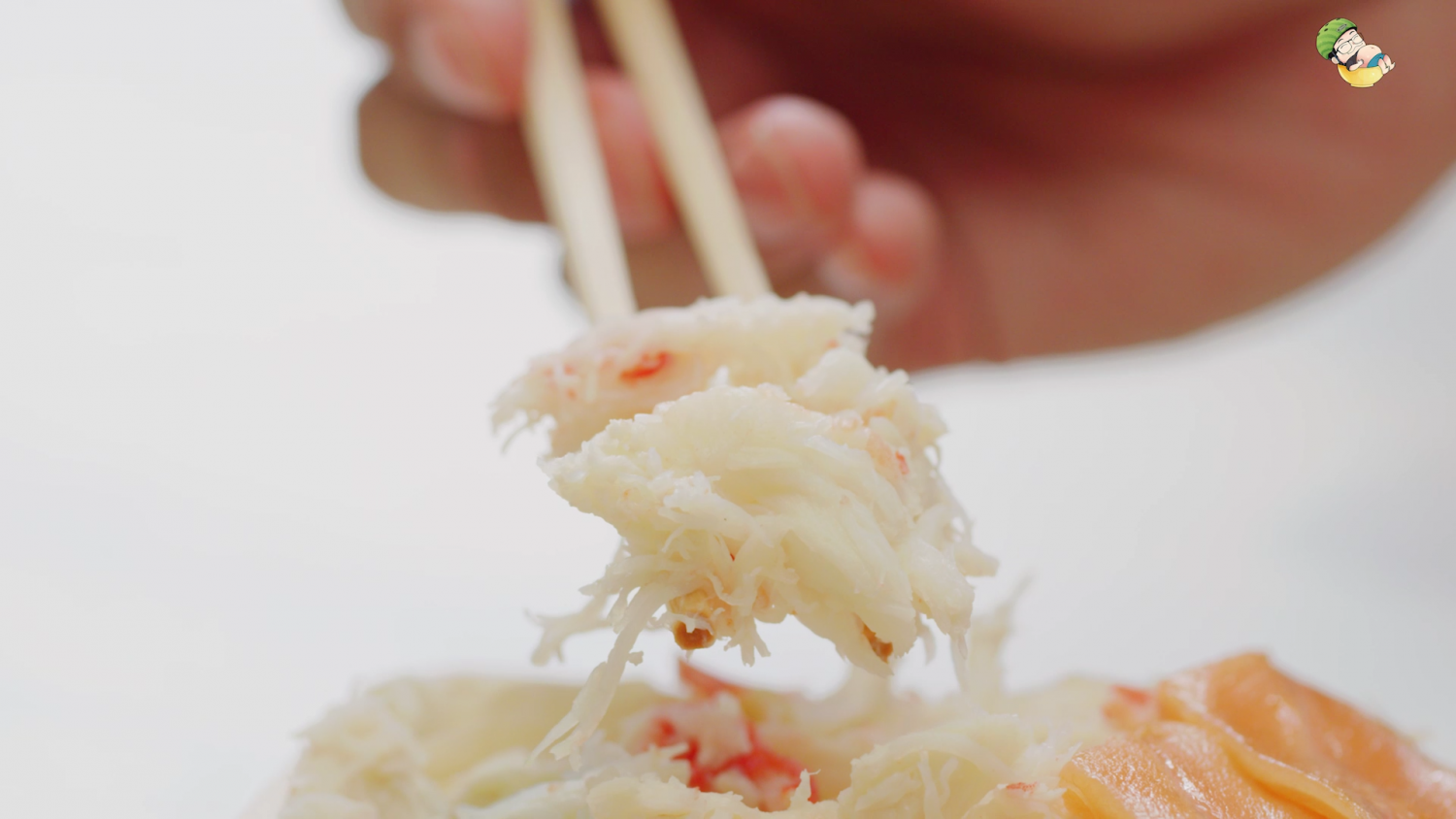 Our other gribe is the salmon – We feel the texture is firmer than usual. It's a bit similar to the salmon you find in the Lohei during CNY. The ingredients in this bento is definitely not the highest grade you can get. But if you're just craving for something simple and easy to eat, this will be a good option.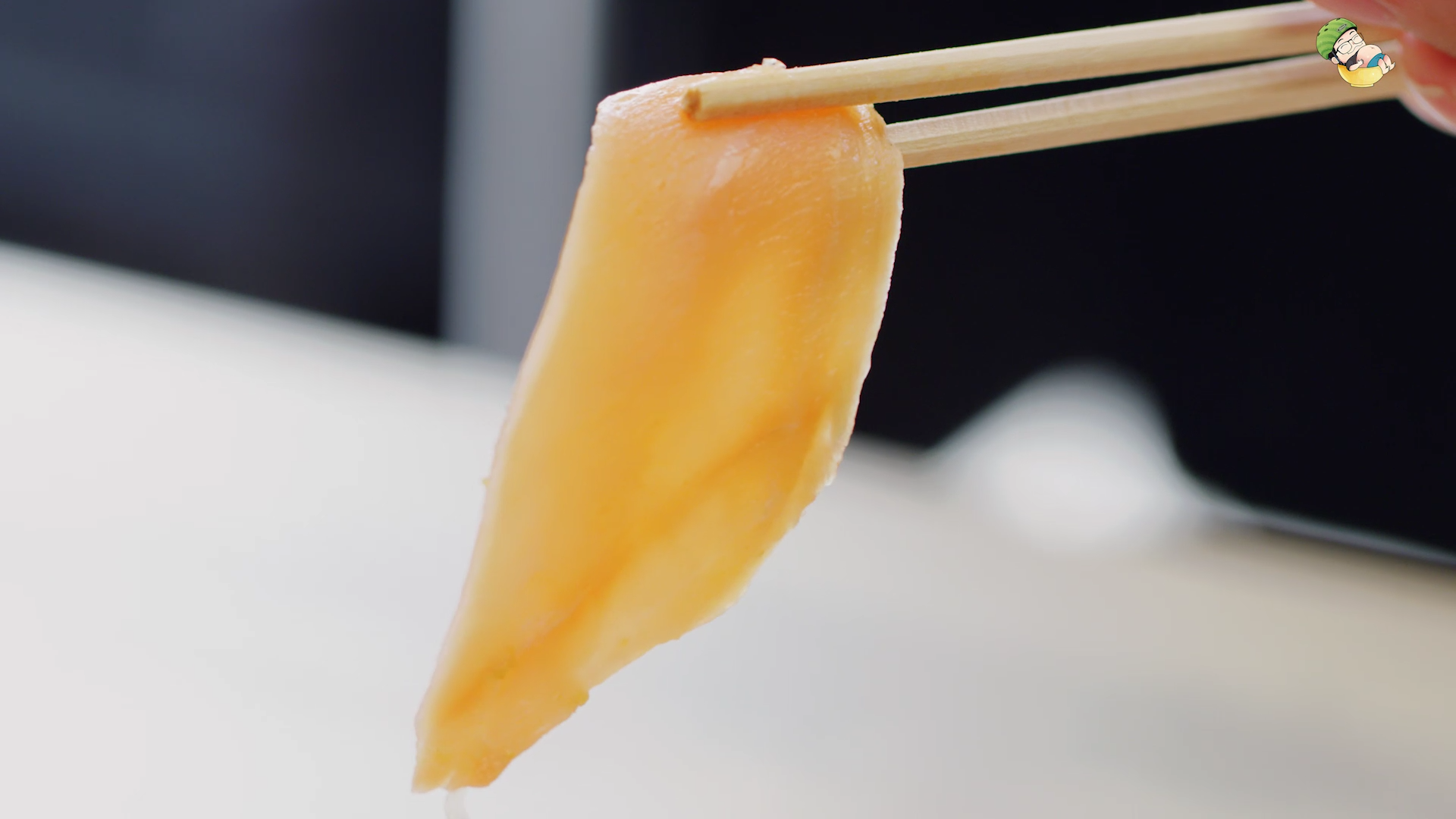 Ratings: 1.5 Stars
SEAFOOD BENTO (Sakanaya Shin)
Alright, we are done with the savory side of life. And now we will be going to move on to the sweet segment of this episode. We are going to start off with the thing that Sylvia hates, and that is the Dango. It is basically a traditional Japanese dumpling and sweet made from mochiko (rice flour).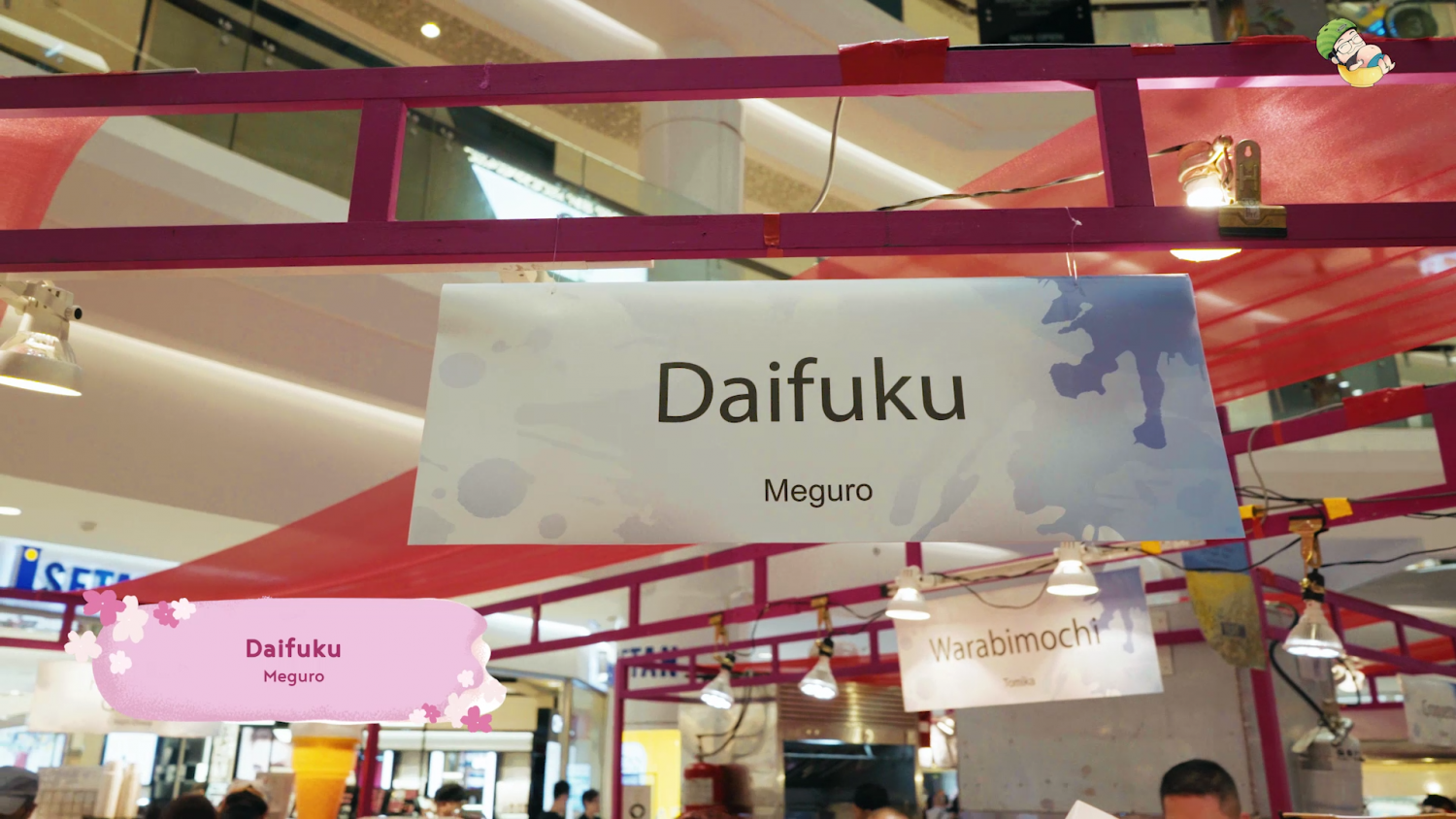 So we will be trying the Ohanami Dango and Strawberry Daifuku from Meguro.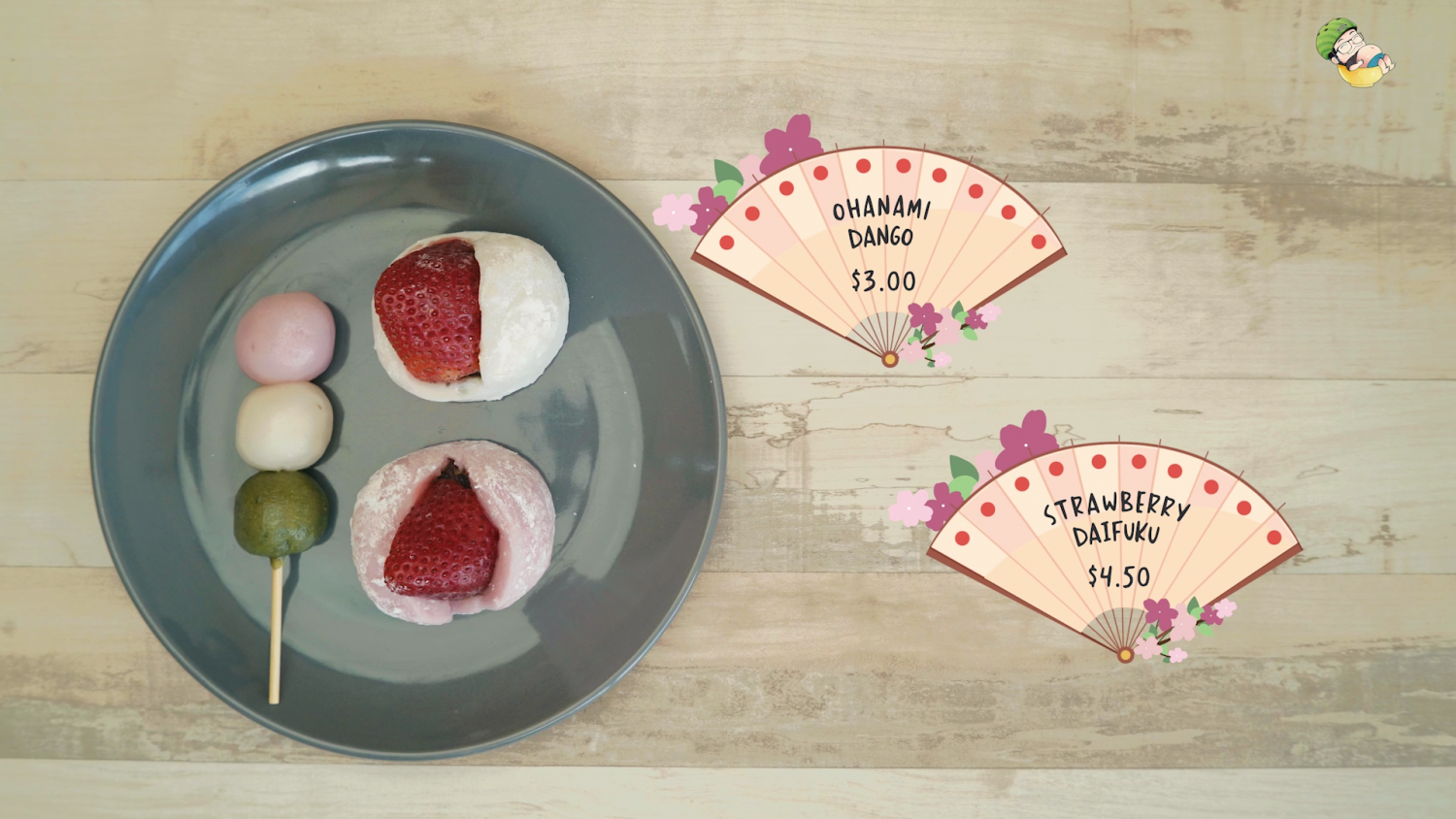 The Ohanami Dango consist of three Dango dumplings served on a skewer. Although it looks good, it doesn't taste flavourful at all.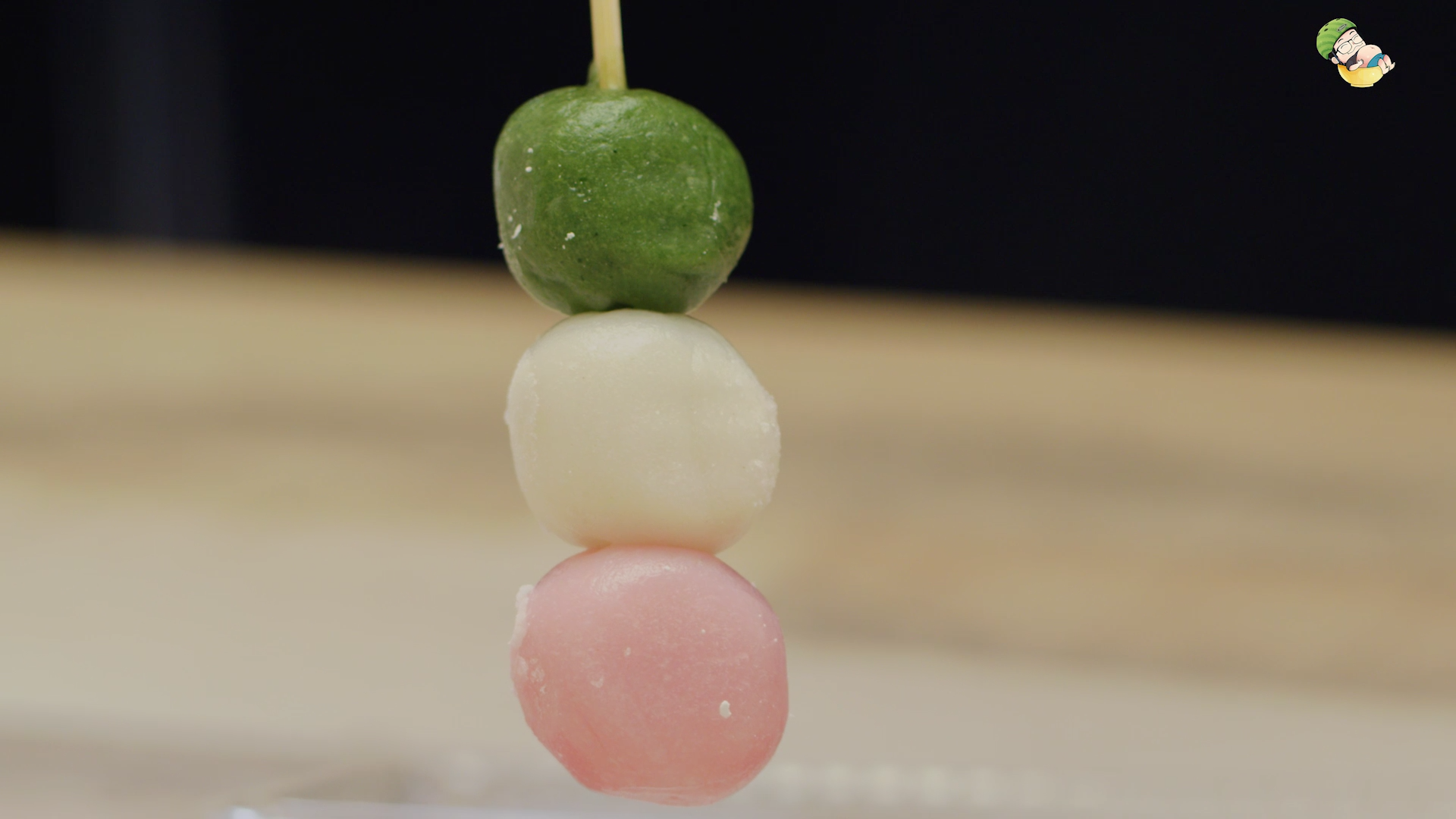 We don't really like them because they all taste the same despite their deceptively colorful appearance. They taste like flour and is hard to chew also. Not really our kind of dessert.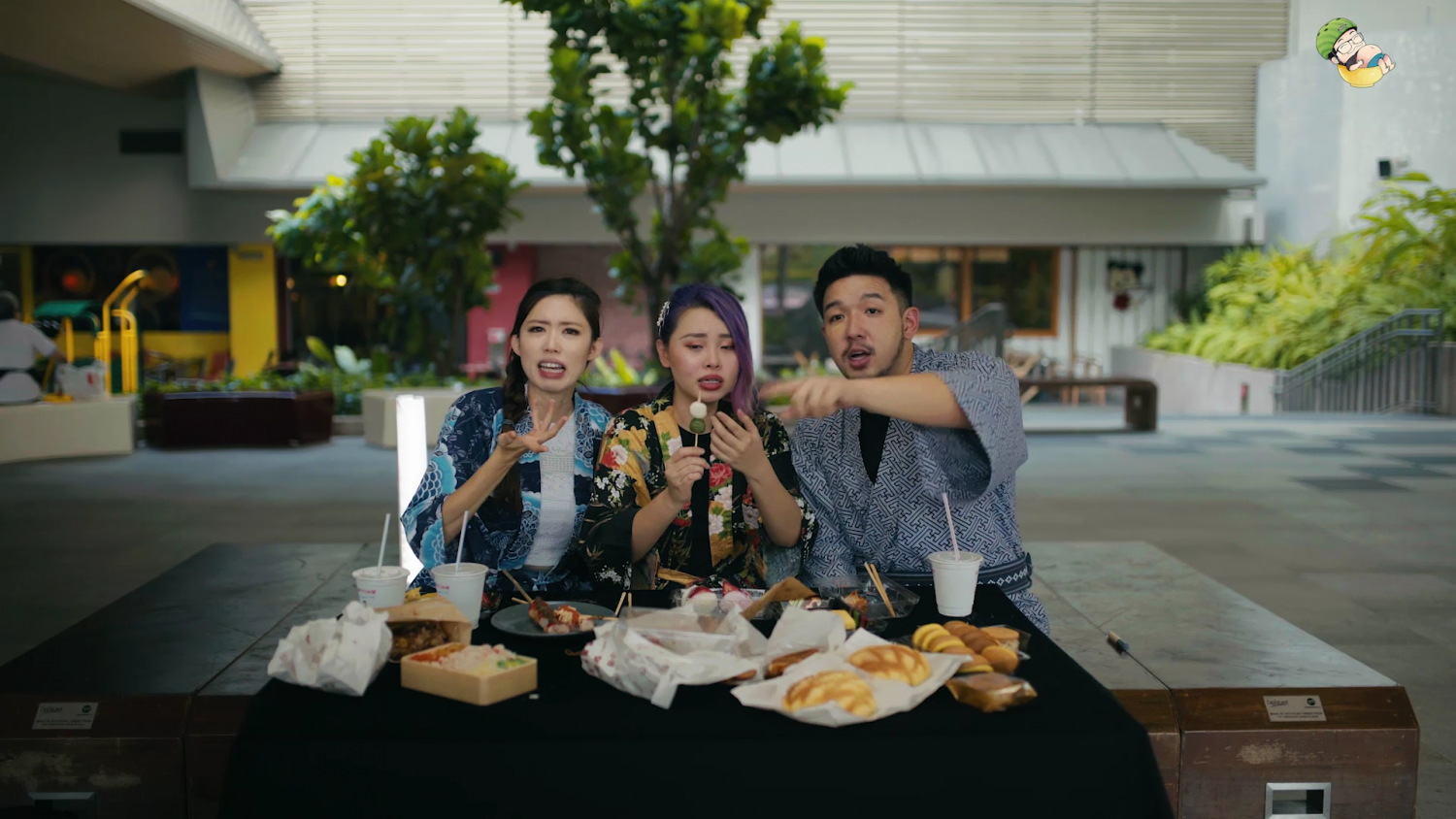 The Strawberry Daifuku is the mochi equivalent of the dango. We really like this because it is not as chewy or overly sweet as the dango.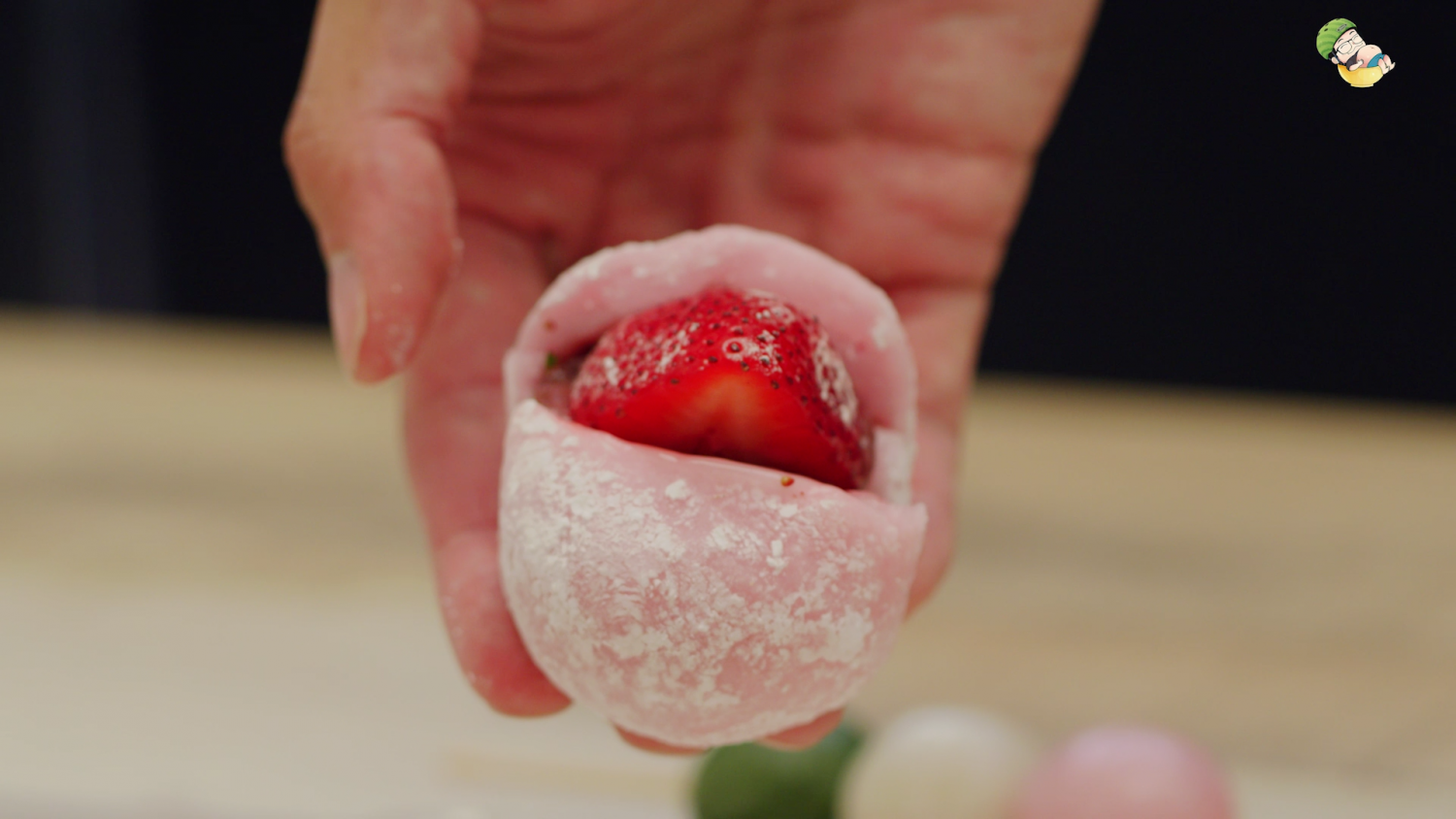 You also get the flavouring from the red bean paste inside, coupled with a thick succulent Japanese strawberry that's slightly on the tangy side. Omg so good! Go try it!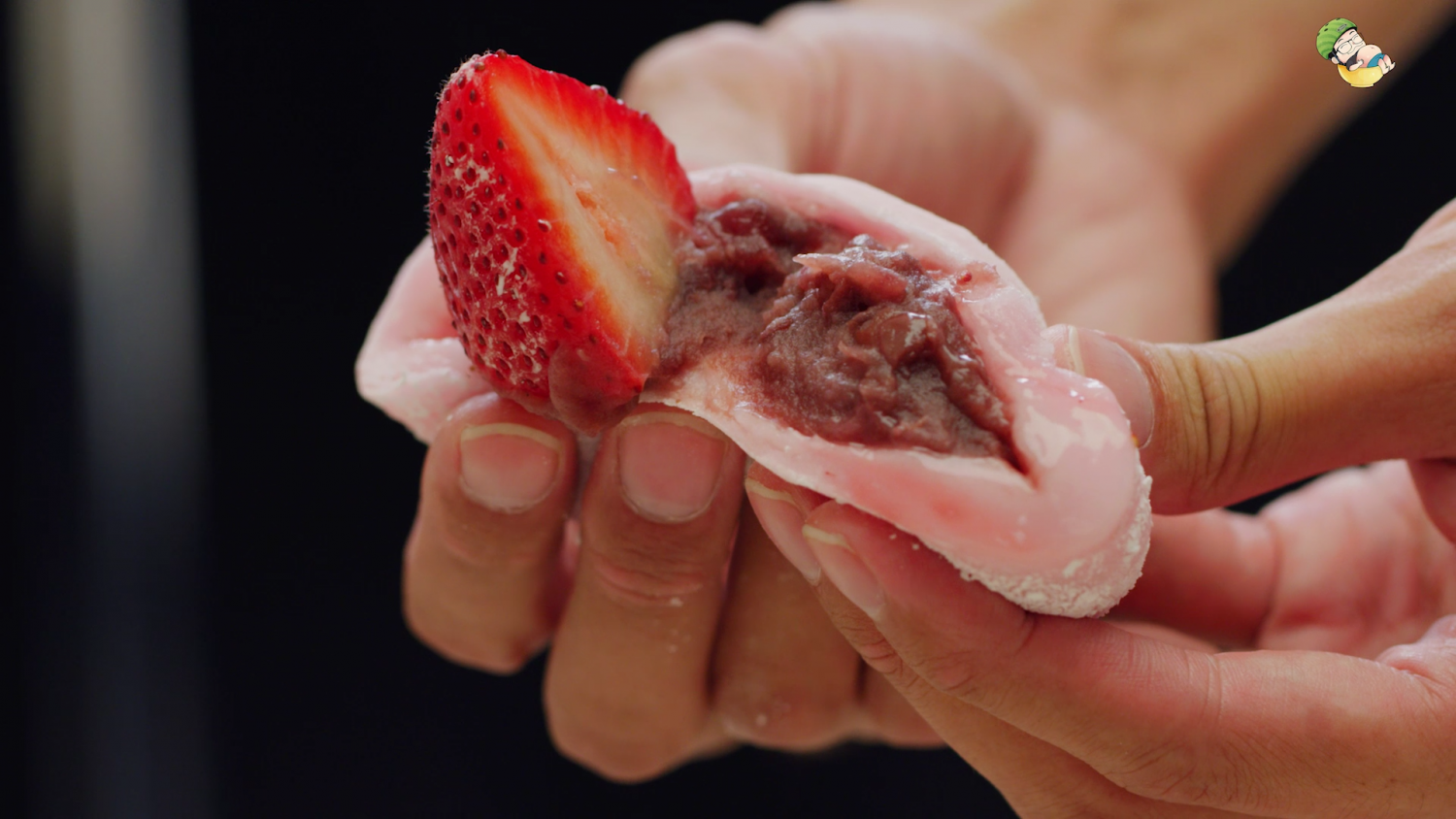 Ratings: 1.5 Stars
DAIFUKU (Meguro)
Moving swiftly on, we are trying our hands on Himawariya's Melon Bun, or Meron Pan as the Japanese calls it.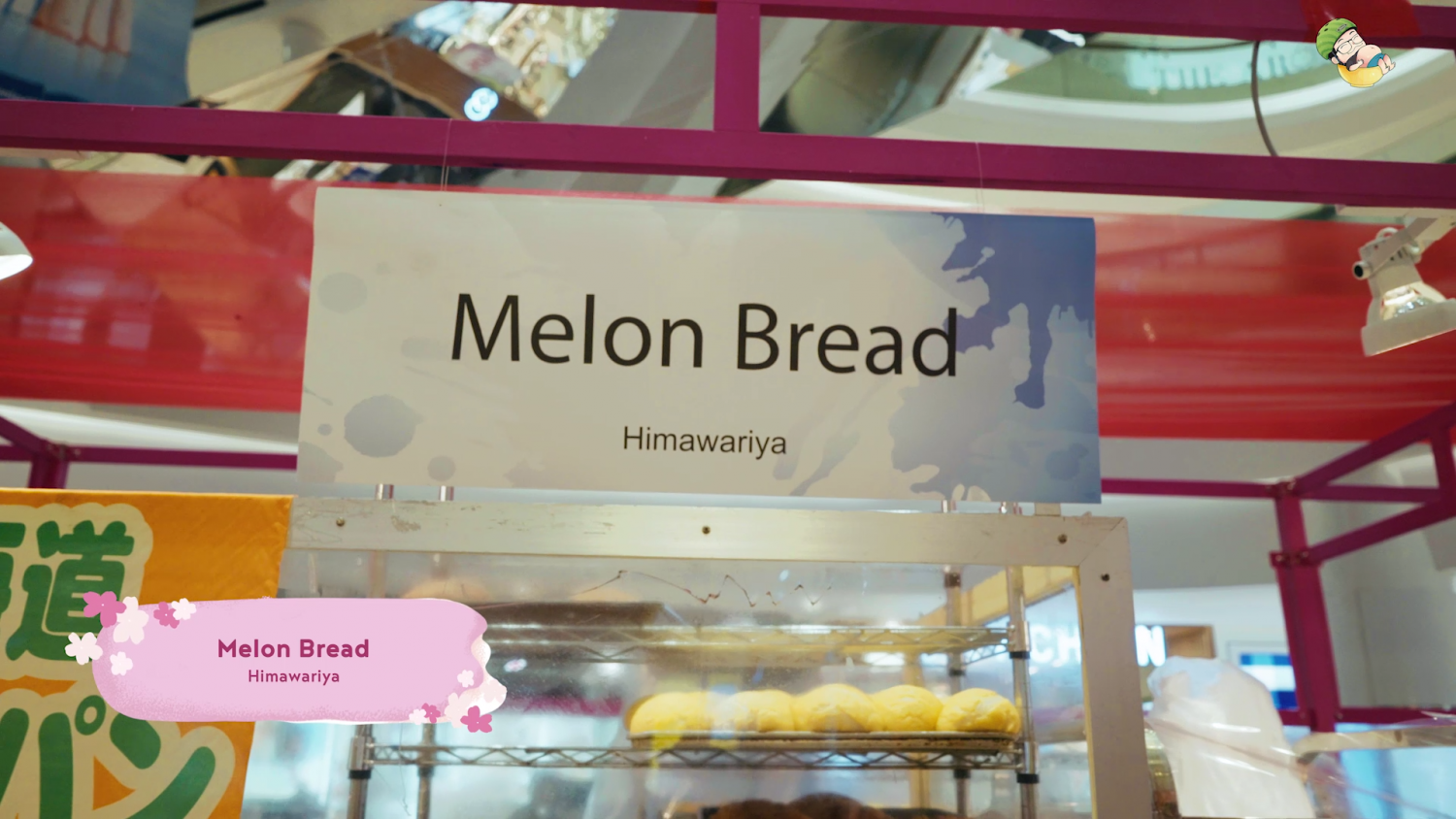 Melon pan is a type of sweet Japanese bread from Japan, that is also popular in Taiwan, China and Latin America. They are wrapped with crunchy cookie dough and takes the appearance of a melon or cantaloupe.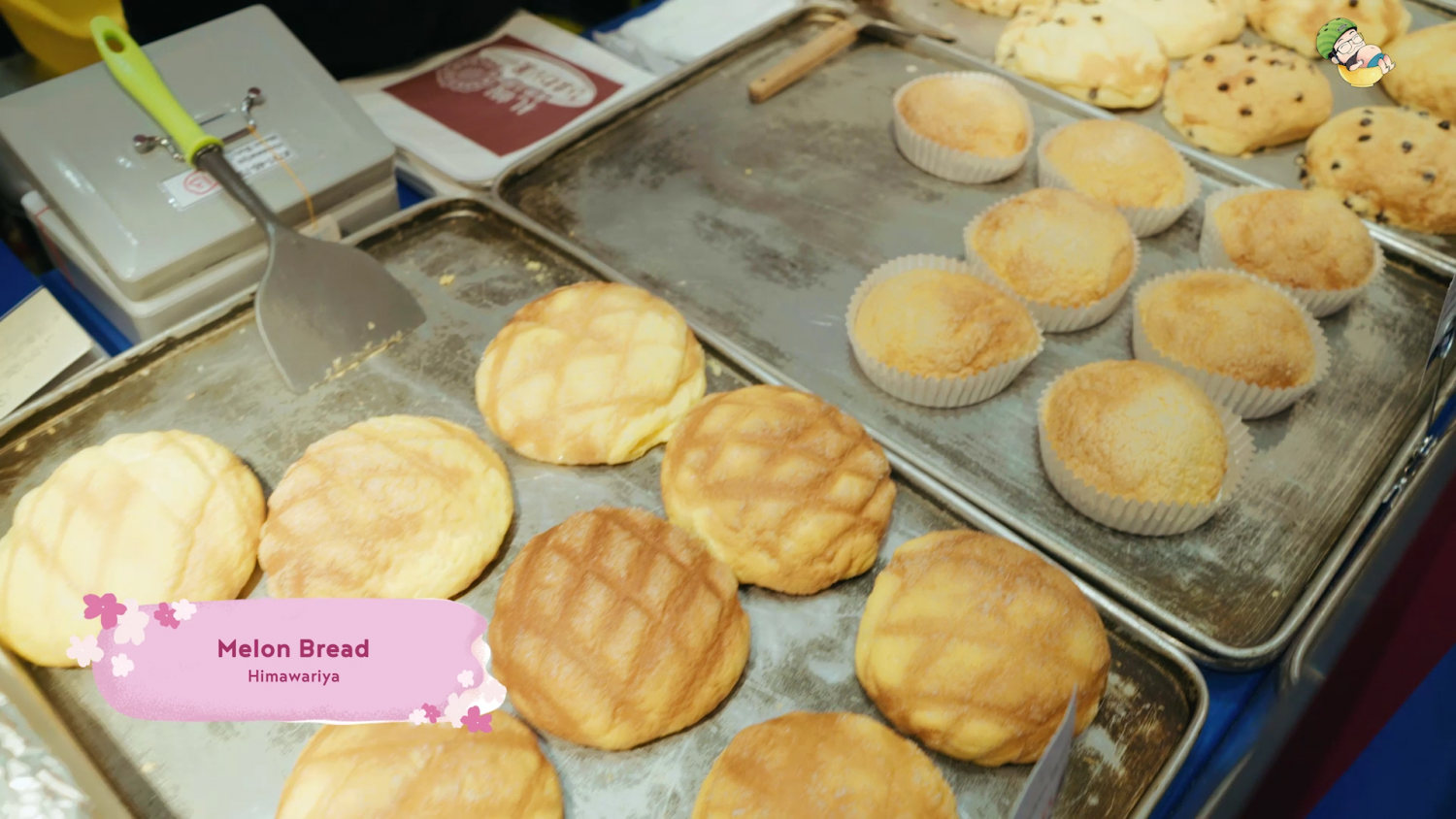 We are really excited to try this version of the Hokkaido Melon Bun. Let's see how it fare.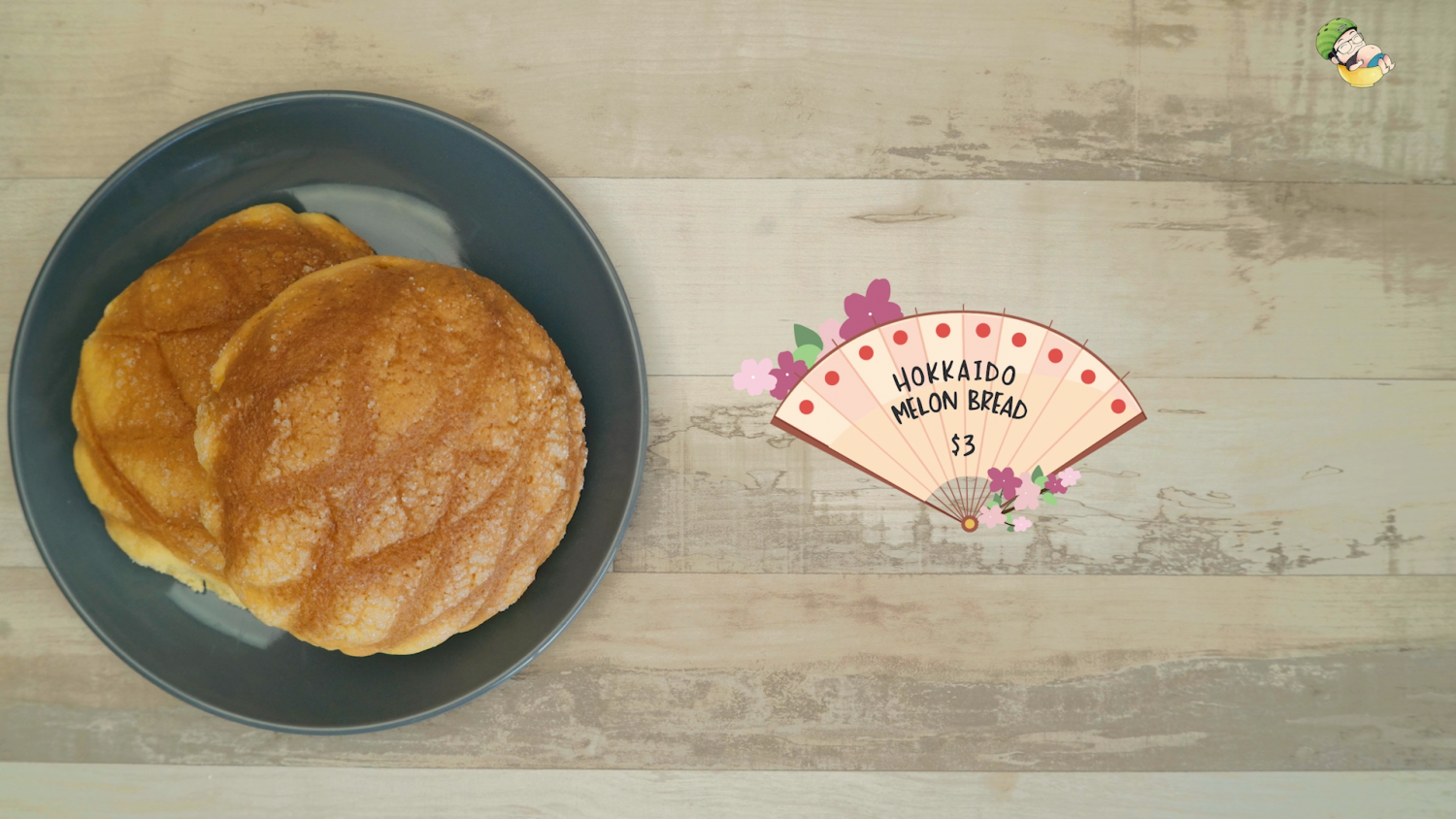 Well, judging from our reactions, you already know it's gonna be good!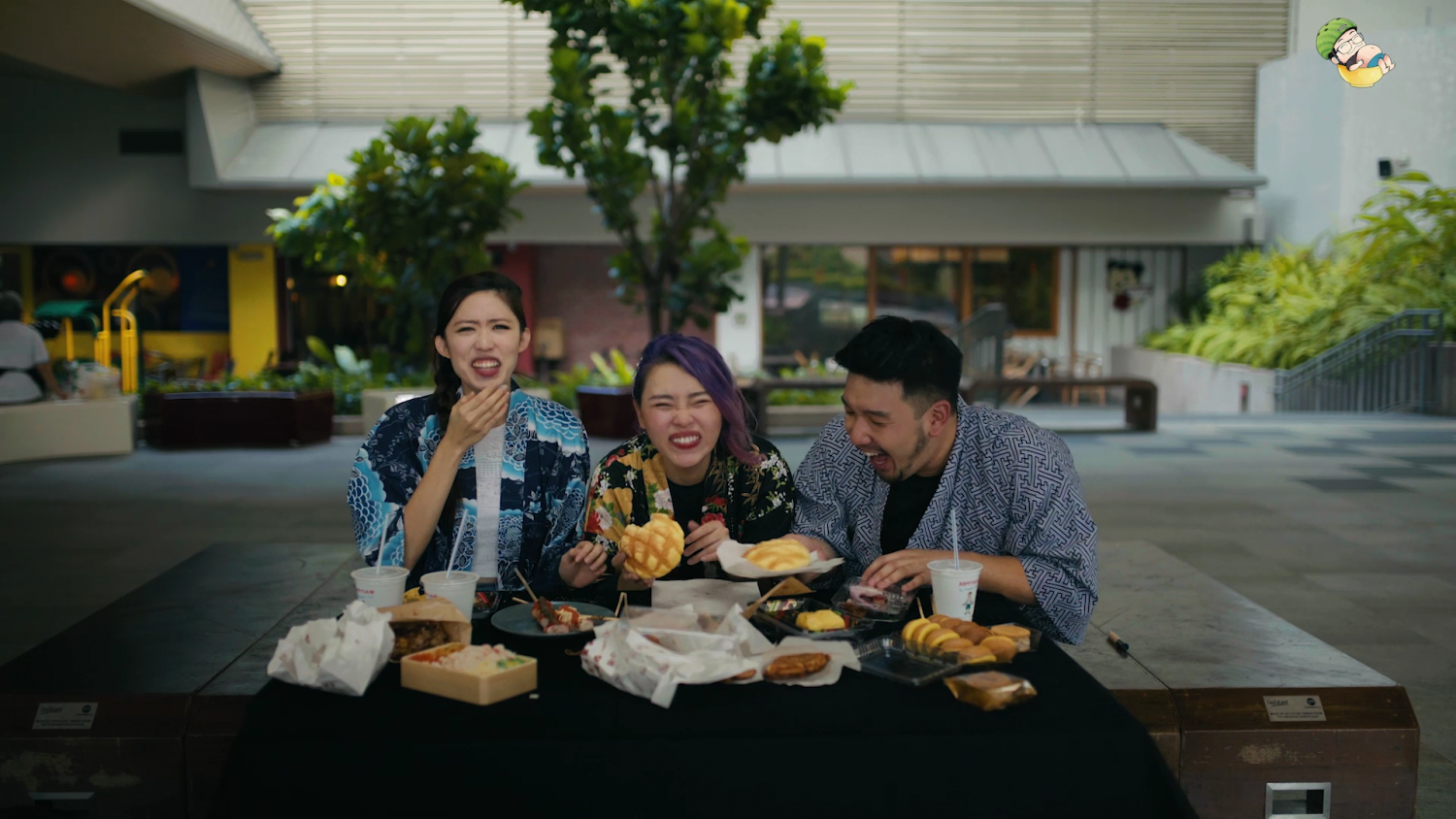 We really love how crispy and sugary the outer layer of the bun is. What's amazing is that the inside is still incredibly soft and fluffy. The texture and flavor complement each other so well we simply cannot stop eating. Oishii!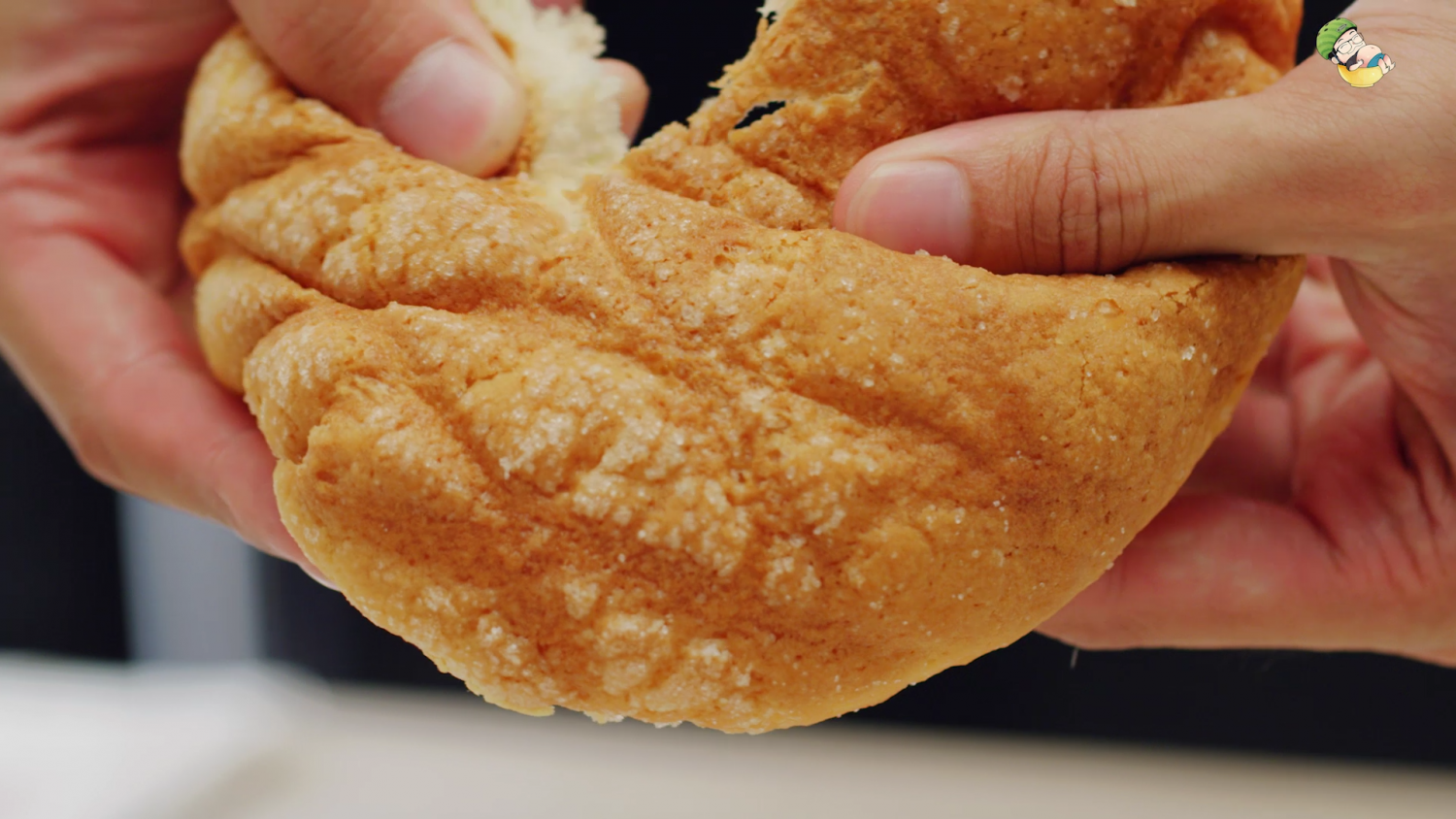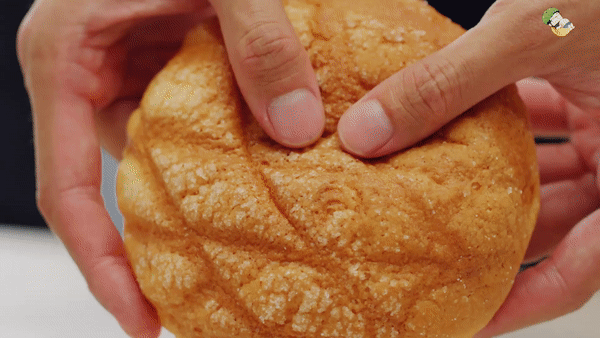 And with that, Melon Bun has a total of 3 stars, and it is Food-King Good!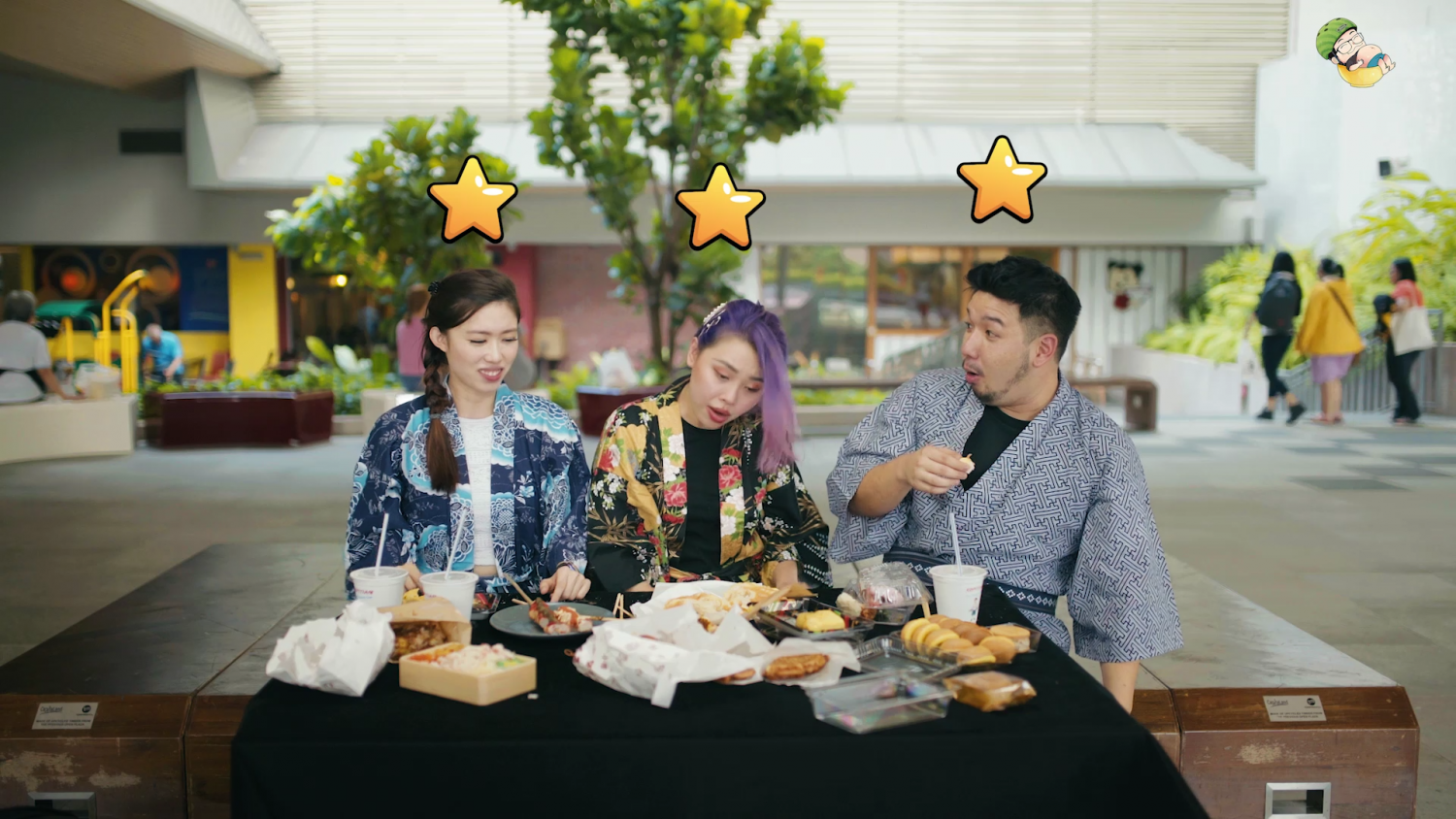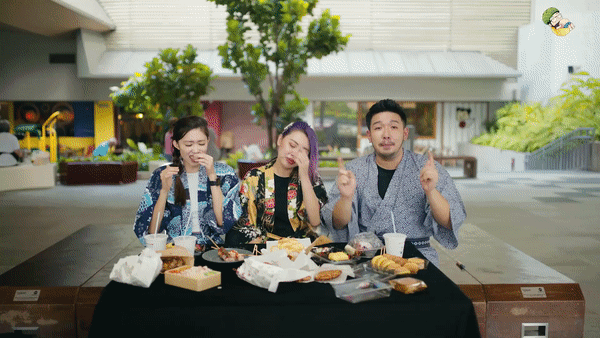 Ratings: 3 Stars, Food-King Good!!
MELON BREAD (Himawariya)
Our second-last stop of the day brings us to C'est Bon Hokodate where we will be trying their signature Croissant Taiyaki. These pastries are cute fish-shaped filled pancakes, a very popular street food in Japan.
Pancake batter is cooked in cast iron fish shaped molds and usually filled with bean paste, though sometimes you'll find other fillings such as chocolate and custard.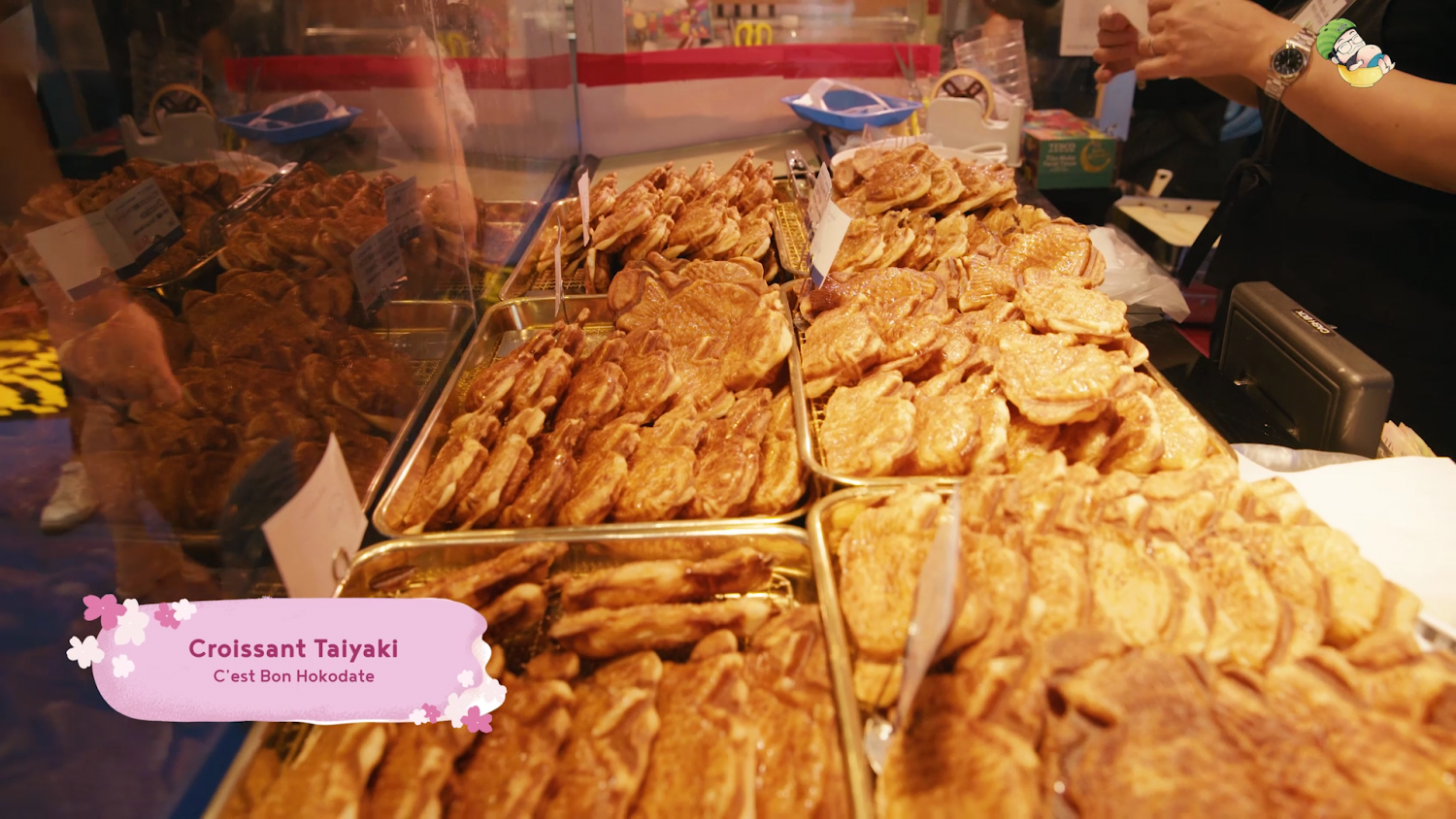 And today we shall be trying the cream cheese and red been Taiyaki. Although this fish croissant looks pretty gimmicky and ordinary, taste and texture-wise it is a cut above the rest. We might have just found another gem right under our noses!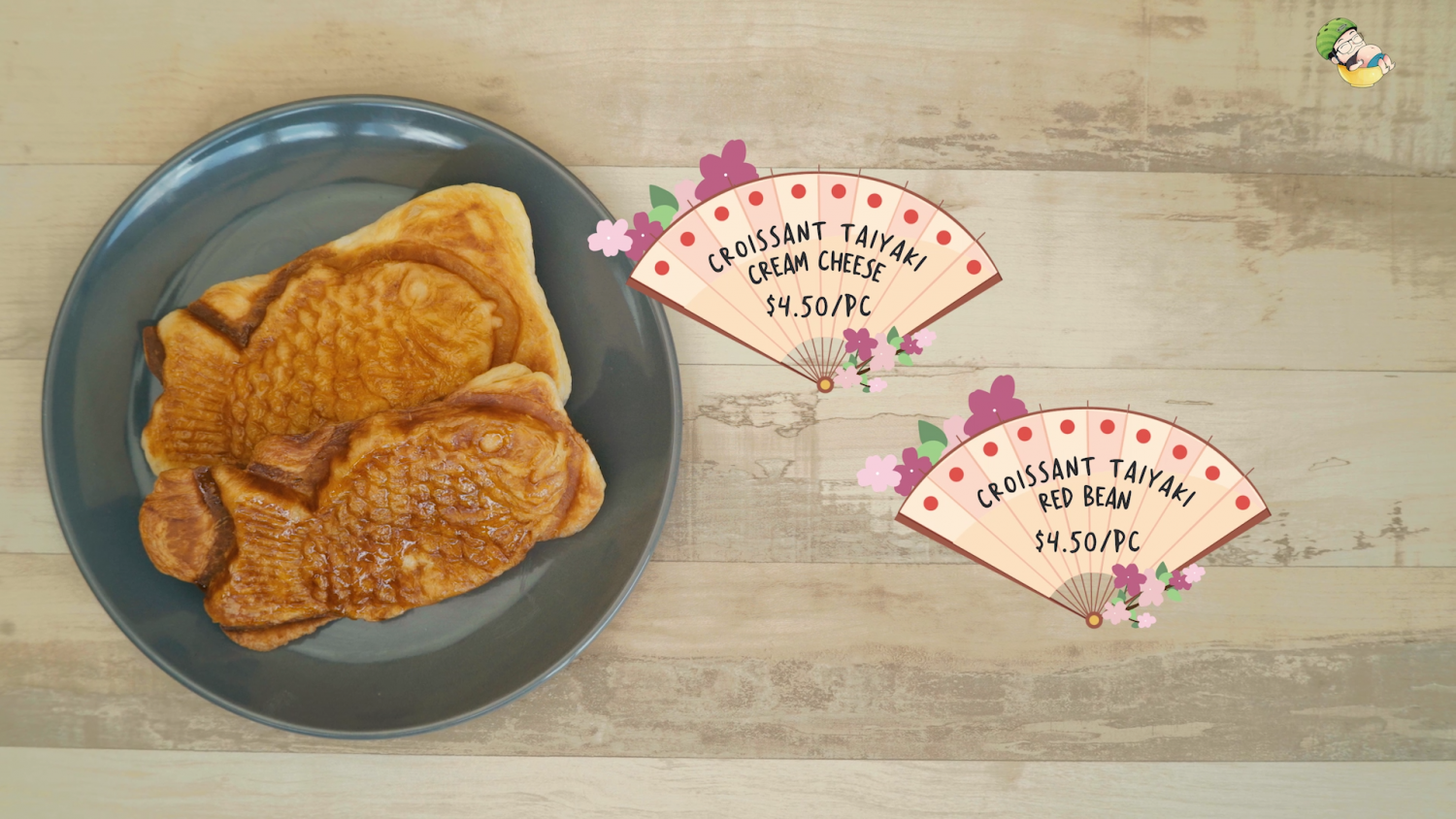 Our first thoughts was that we are just eating bread with fillings inside. We couldn't be any more wrong – The outer layer of the croissant is extremely thin and crispy. It feels like we are eating croissant prata! And you can taste the freshness of it too. We are pretty impressed.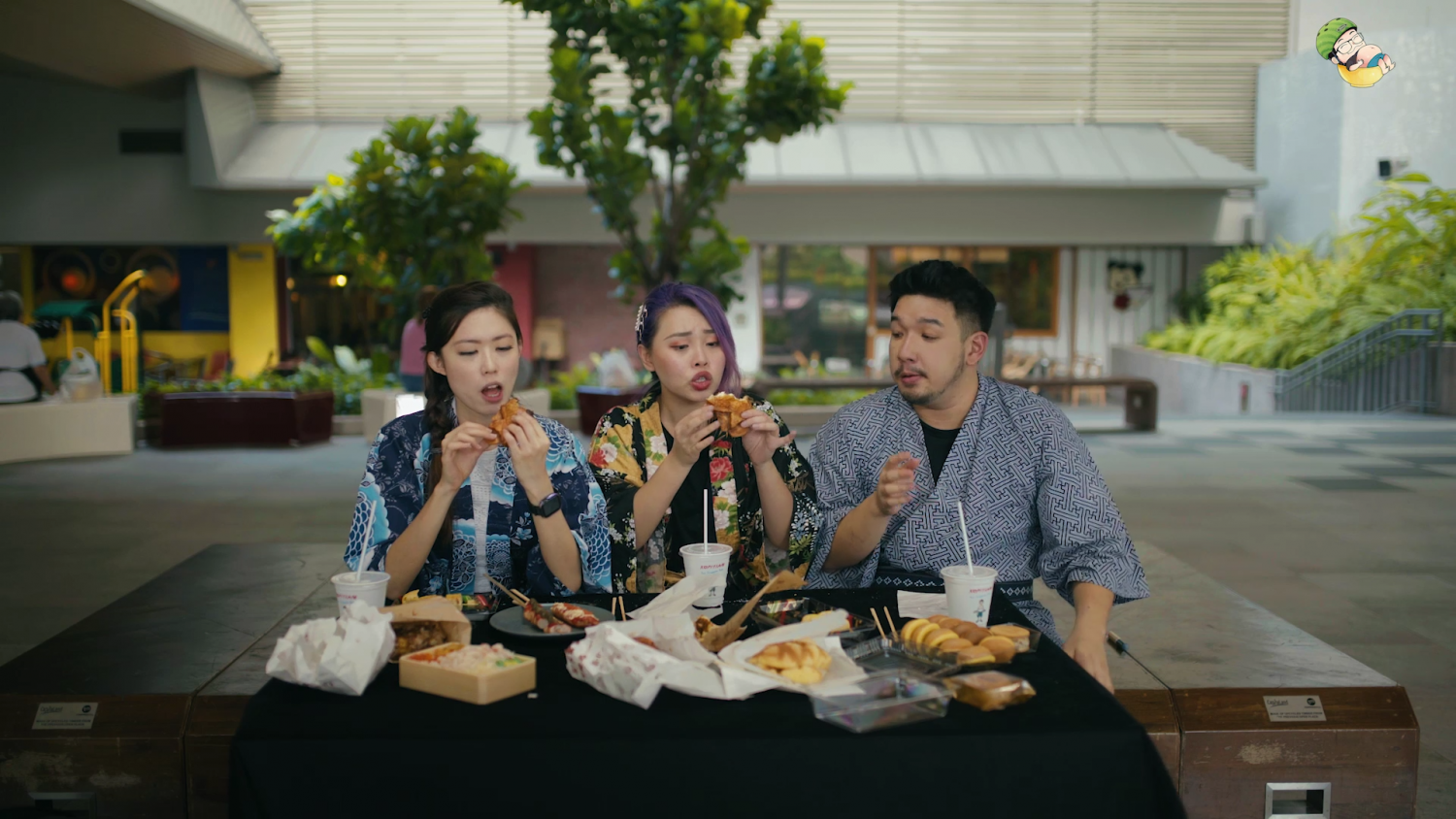 Oh my, the fillings are really generous and of high quality – the cream cheese inside is so thick! They are not kidding man. Super legit cheese right there. Incredibly cheesy and flavorful too. We love it!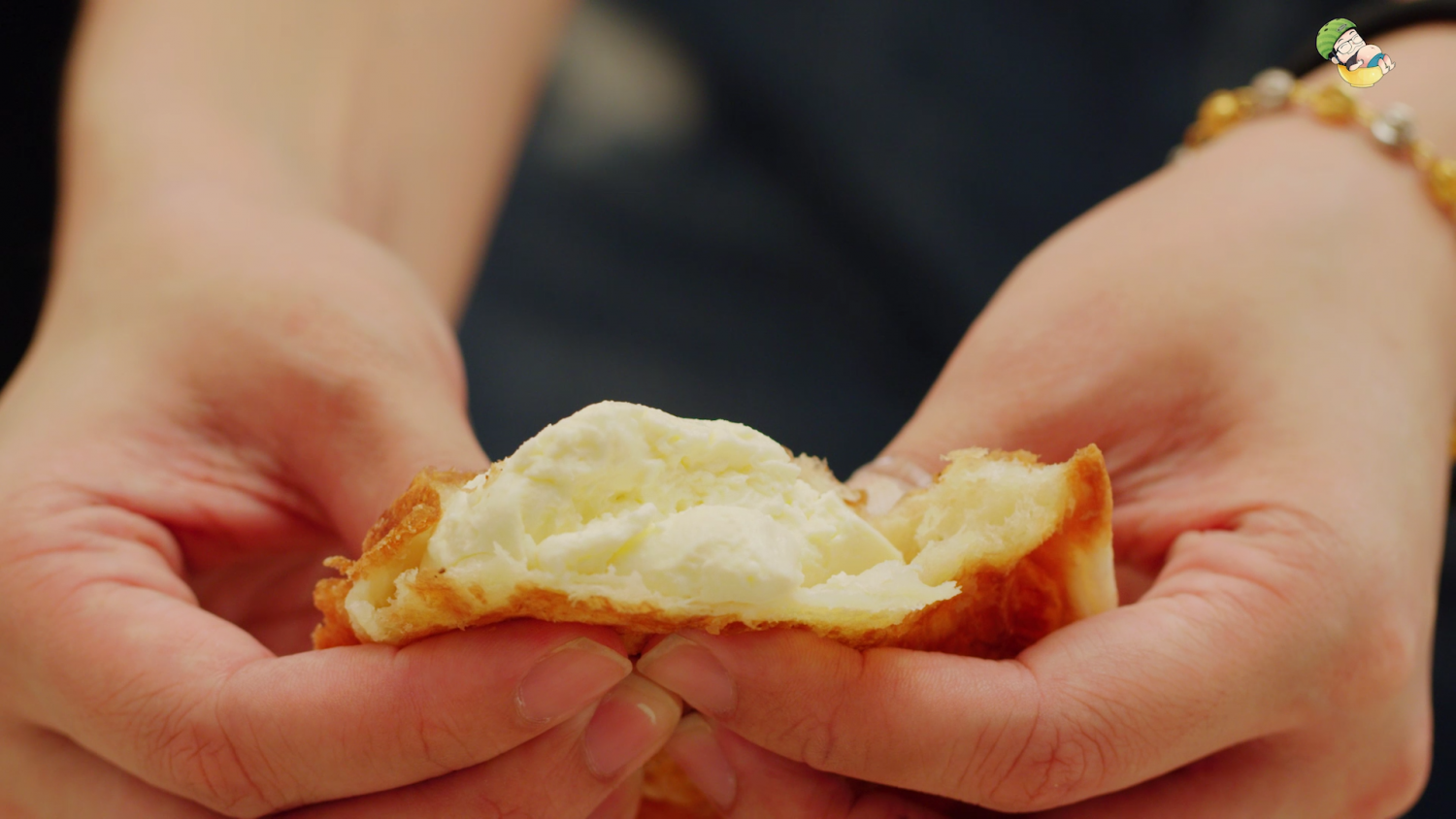 We especially love the red bean version too. We would say this is definitely value for money in terms of the quality of ingredients. How can something so simple be this good?!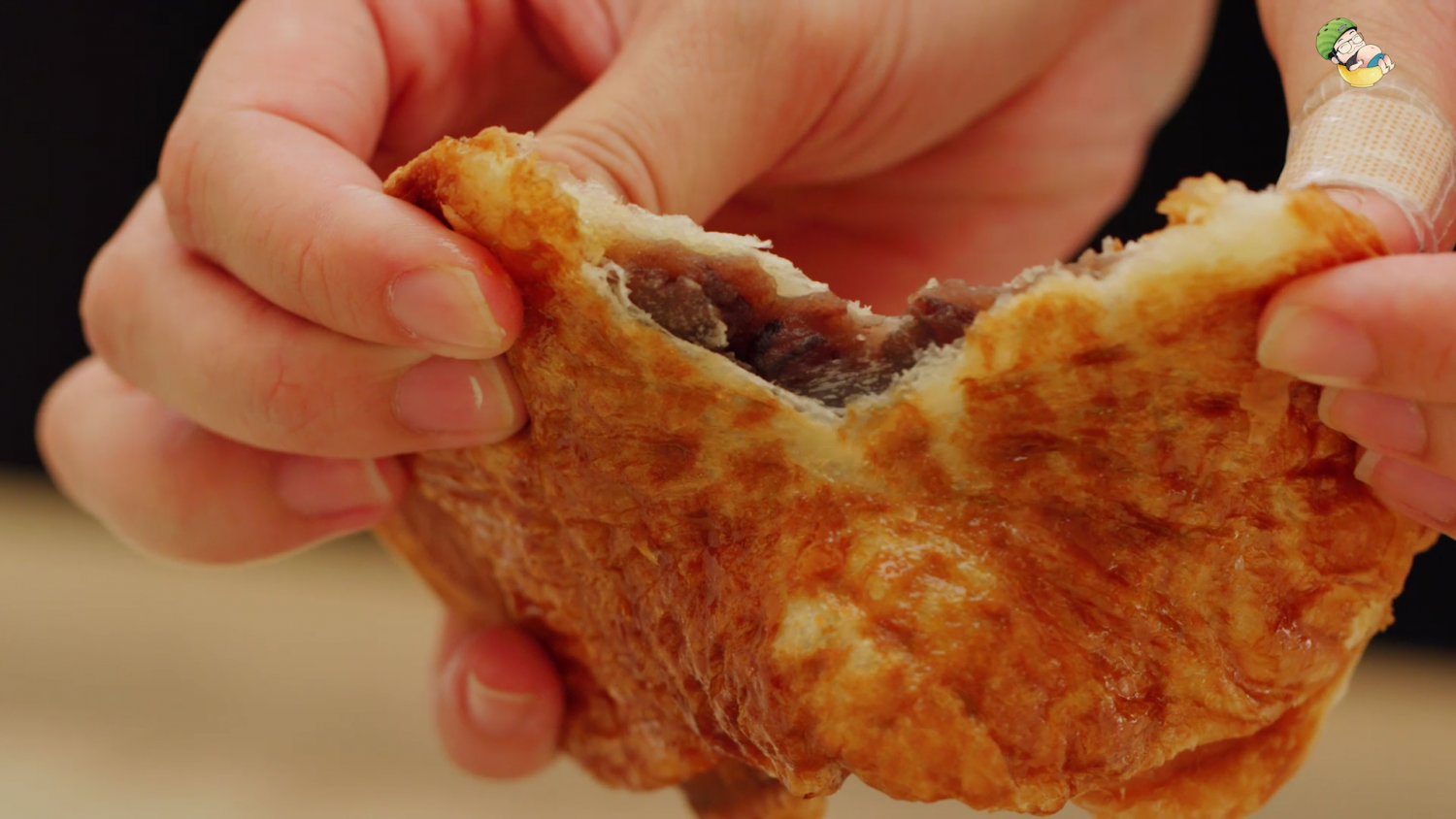 And with that, Taiyaki has a total of 3 stars and it is… Food-King Good! So come down and try it for yourselves.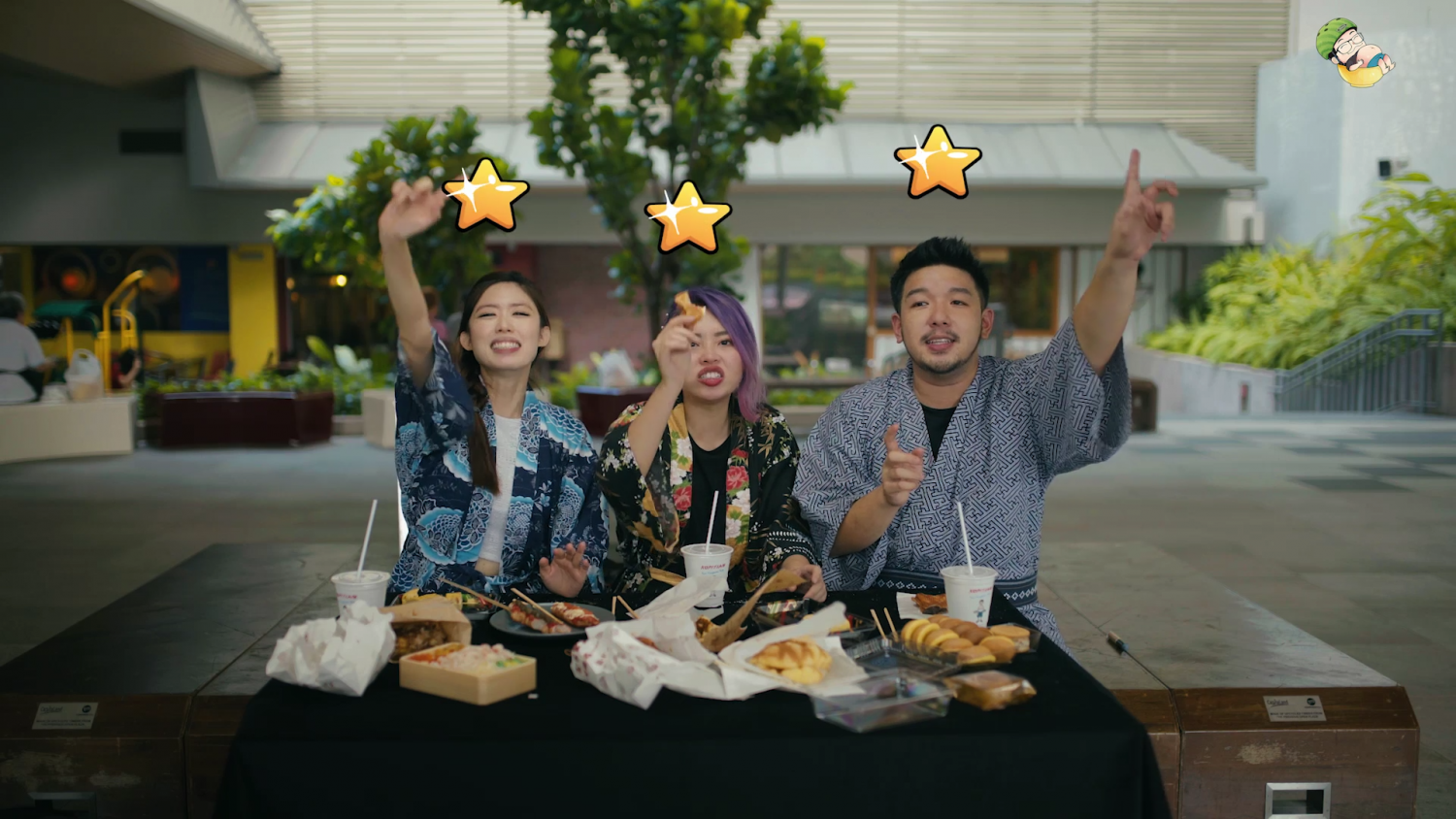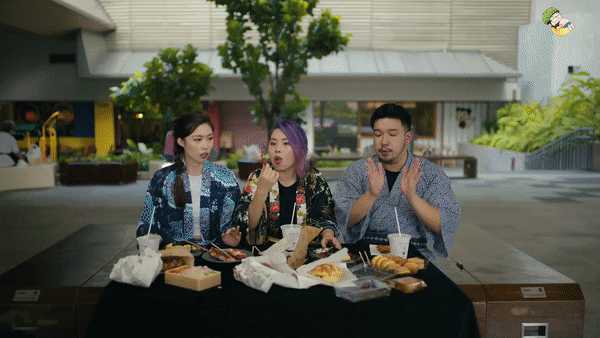 Ratings: 3 Stars, Food-King Good!!
CROISSANT TAIYAKI (C'est Bon Hokodate)
Finally last but not least, coming all the way from Hokkaido, we have the Sweet Potato Cake from Repaco.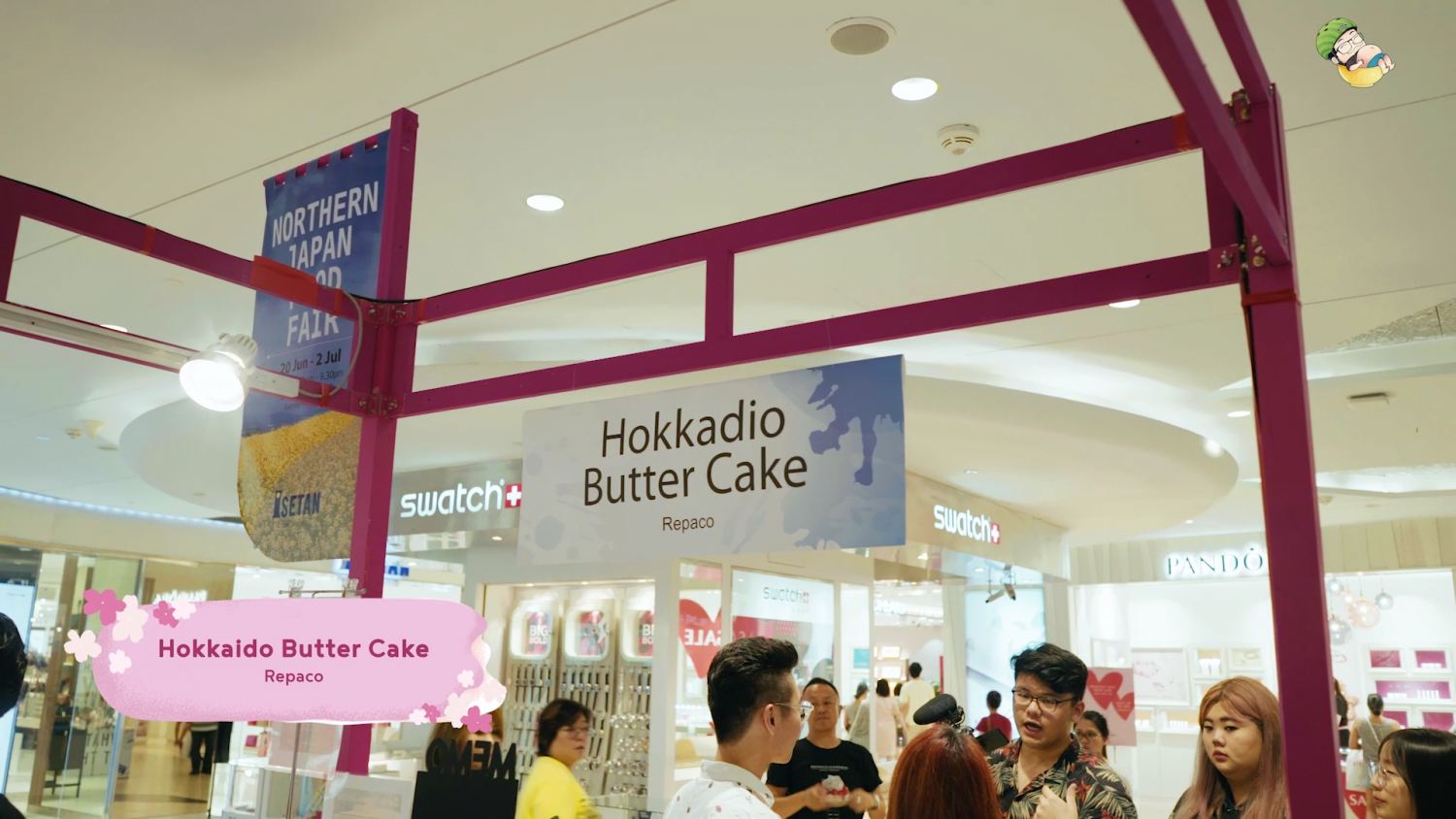 These looks a lot like ice-cream sandwiches, with real sweet potato fillings sandwiched between two slabs of cookies.
Wah, this is sugar overload! The cookies are a tad too sweet for our liking. However we are sure most people might like this simply because this taste kinda like the traditional Chinese pineapple tarts you get during CNY.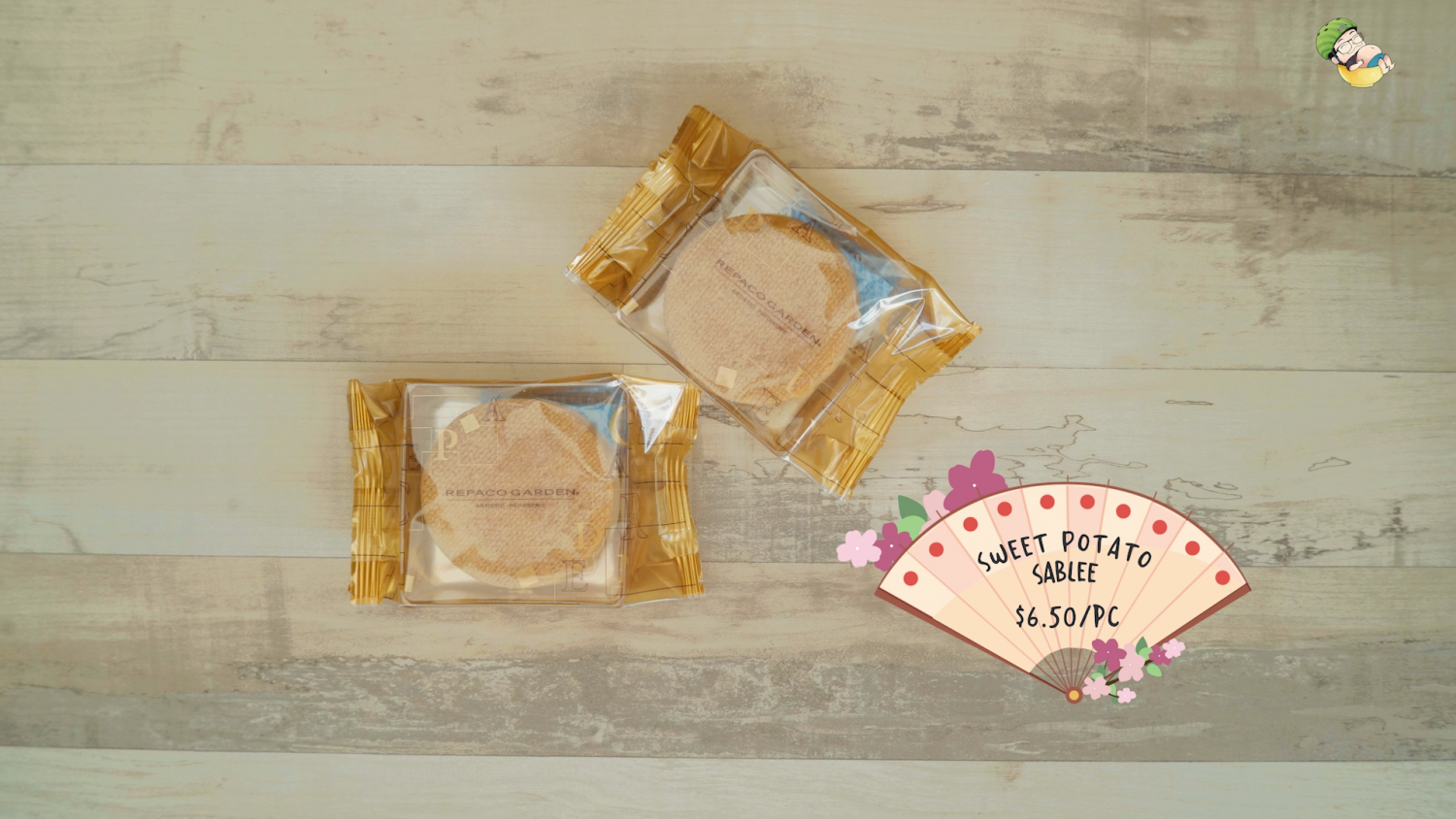 The star of the show is undoubtedly the sweet potato. It tastes very much like pineapple paste, but without the acidity of the pineapple. So if you love pineapple tarts, you might want to come and try this.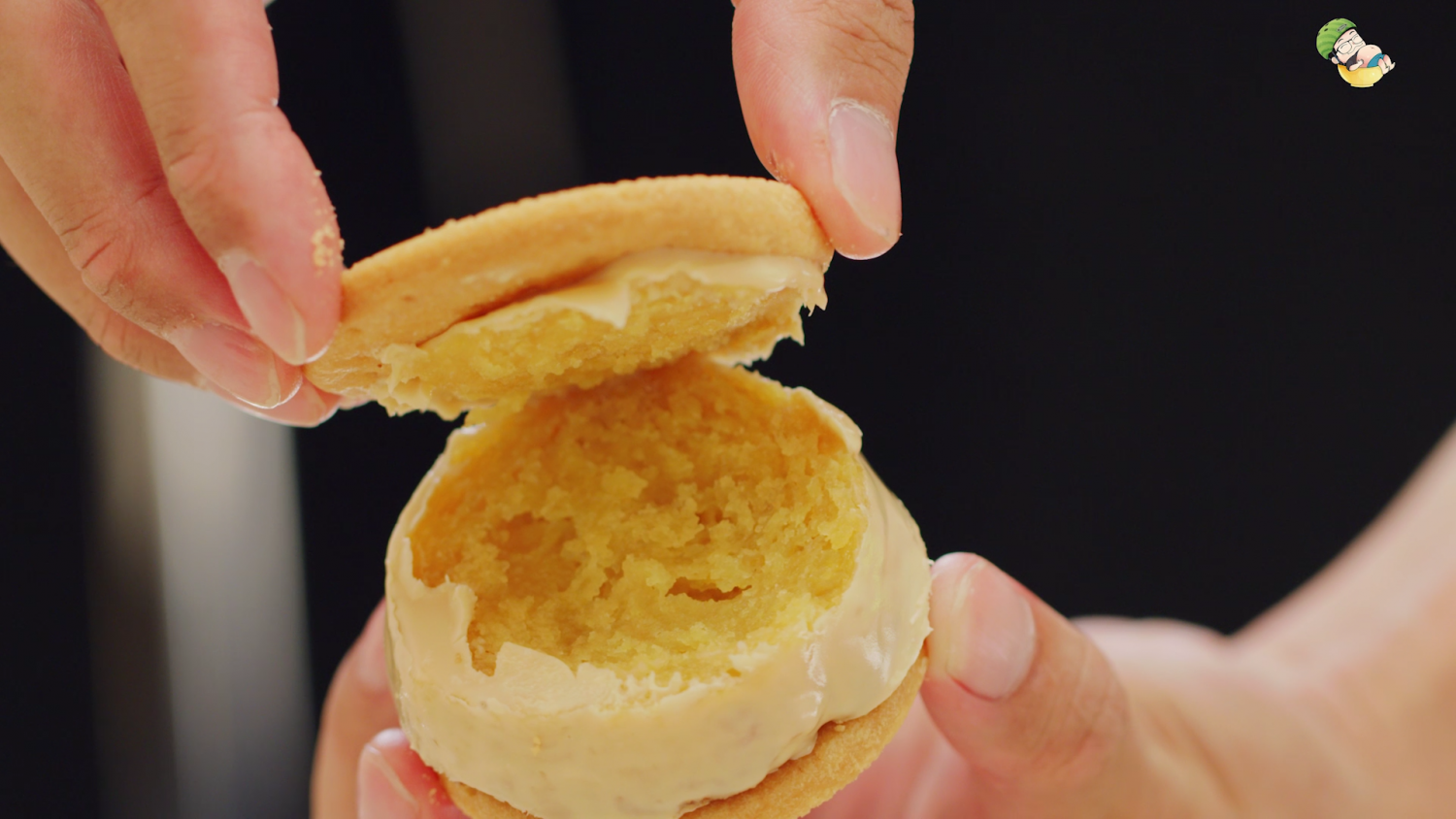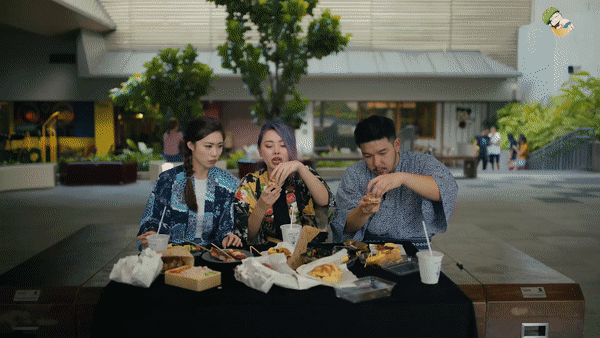 Ratings: 3 Stars, Food-King Good!!
HOKKADIO BUTTER CAKE (Repaco)

And here's our Top 3 Picks of the Day!
Sylvia's pick – Tamago, Melon Pan and Taiyaki
Nina's pick –  Tamago and Melon Pan
Aiken's pick – Tamago and Taiyaki
We are done with the Northern Japanese Food Fair at Isetan@Tampines Mall. And our stomachs are about to burst from all the Japanese rice and desserts! Oh wait, do you guys want to know how we handled all the food in our belly? Well actually, the food just CAME IN LIKE A WRECKING BALL!!!! Remember to comment and click on the link below to watch more antics from us! Till next time, Sayonara!