Welcome again to this week's episode of Food King! Our beloved Mooncake Festival is finally descending upon us this month! And we are really excited to bring you the best mooncakes we can find in Singapore. For today, we are going to try mooncakes from 3 very special categories – one for the mass market, the other is the hipster gourmet and the last one is for the affluent market with price tags that will blow your mind. So yellow scarfs off, get set and ready to rumble with our bougee durian puree vibes!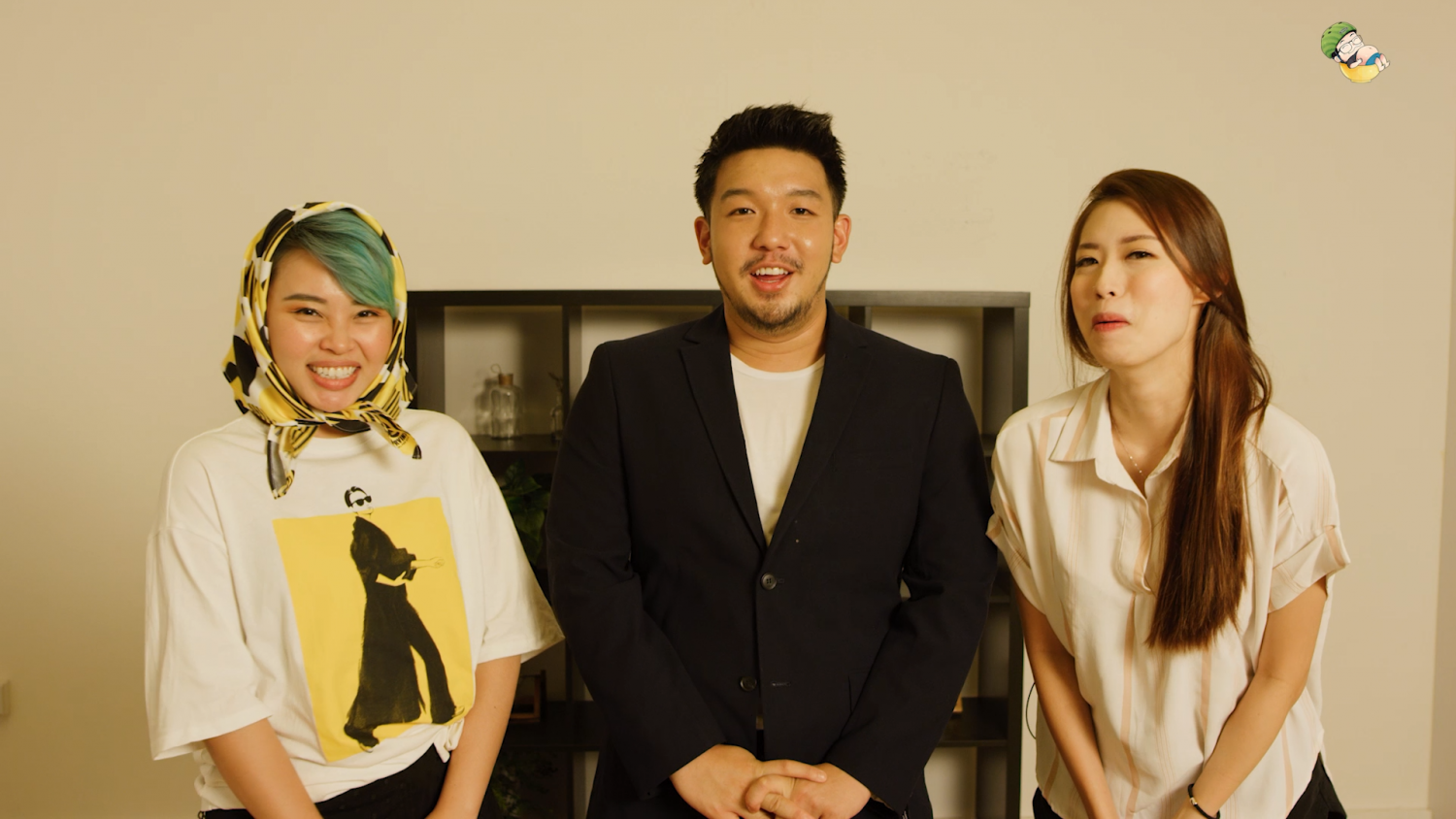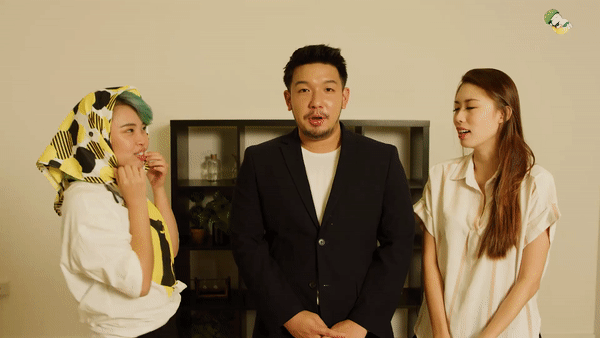 Ladies and gentlemen, it's time for… Golden Moments! Yes if you can recall, this is last year's forerunner for durian mooncakes in Singapore. They are well-known for their premium durian products that's unbelievably delicious and their version of durian mooncakes are no exception.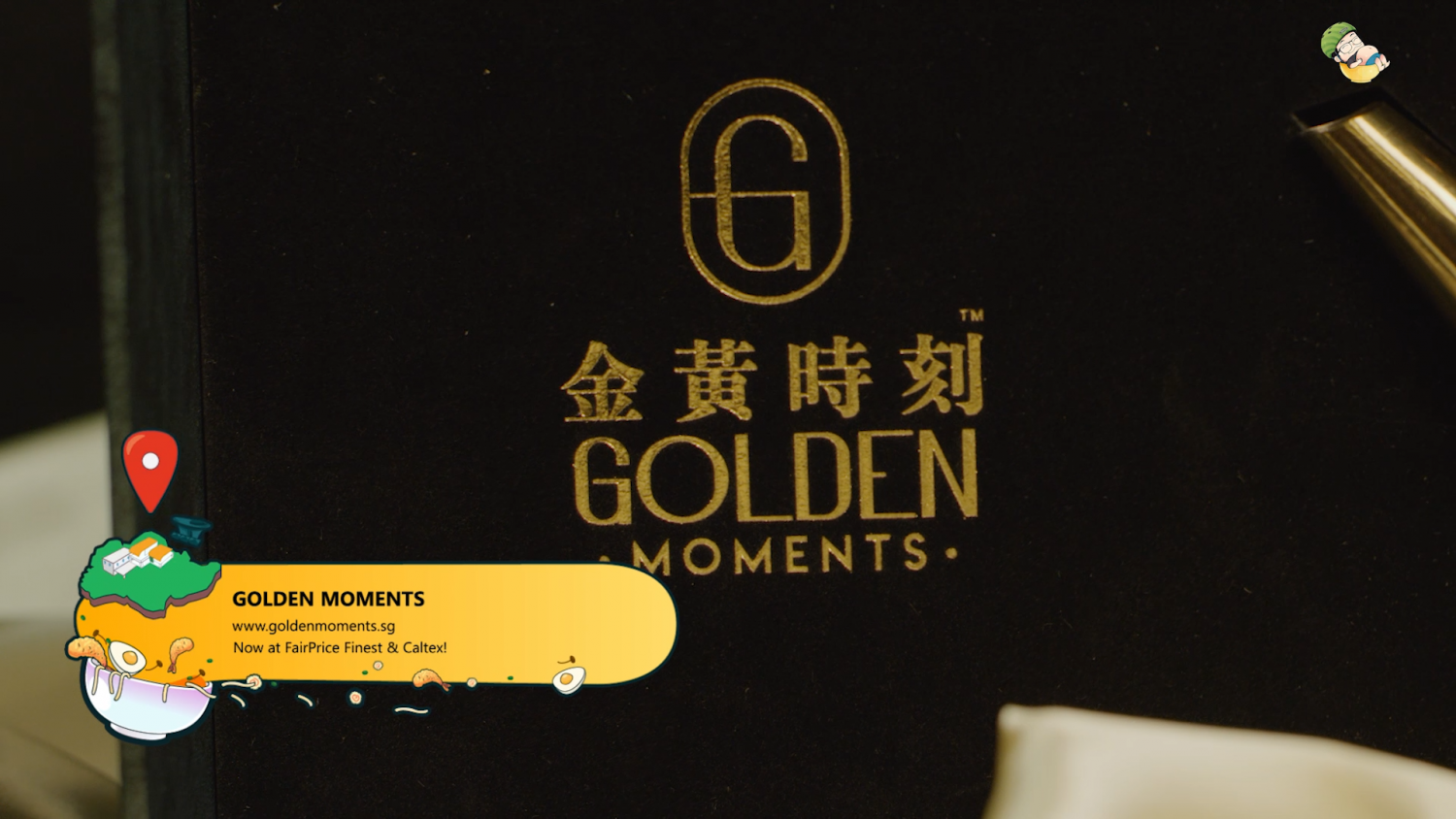 We absolutely love what have been doing to our beloved mooncakes thus far. So let's hope this year's edition is equally good.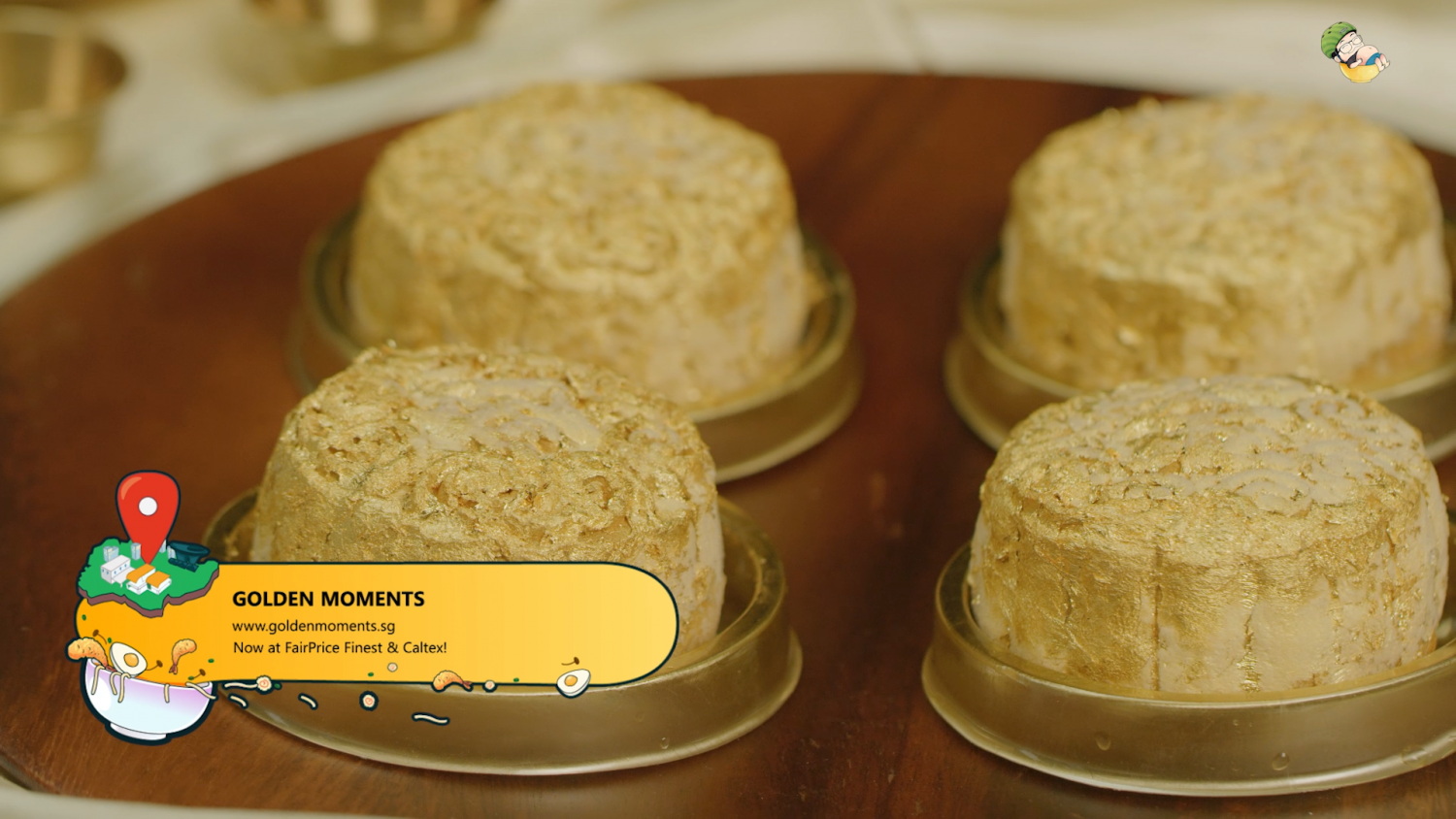 Our first mooncake of the day will be their signature all-black Mao Shan Wang Durian Mooncake. This version is actually a new and improved recipe from last year's edition. The mooncake still retains its the unique black snow skin exterior with actual gold dust sprinkled on top.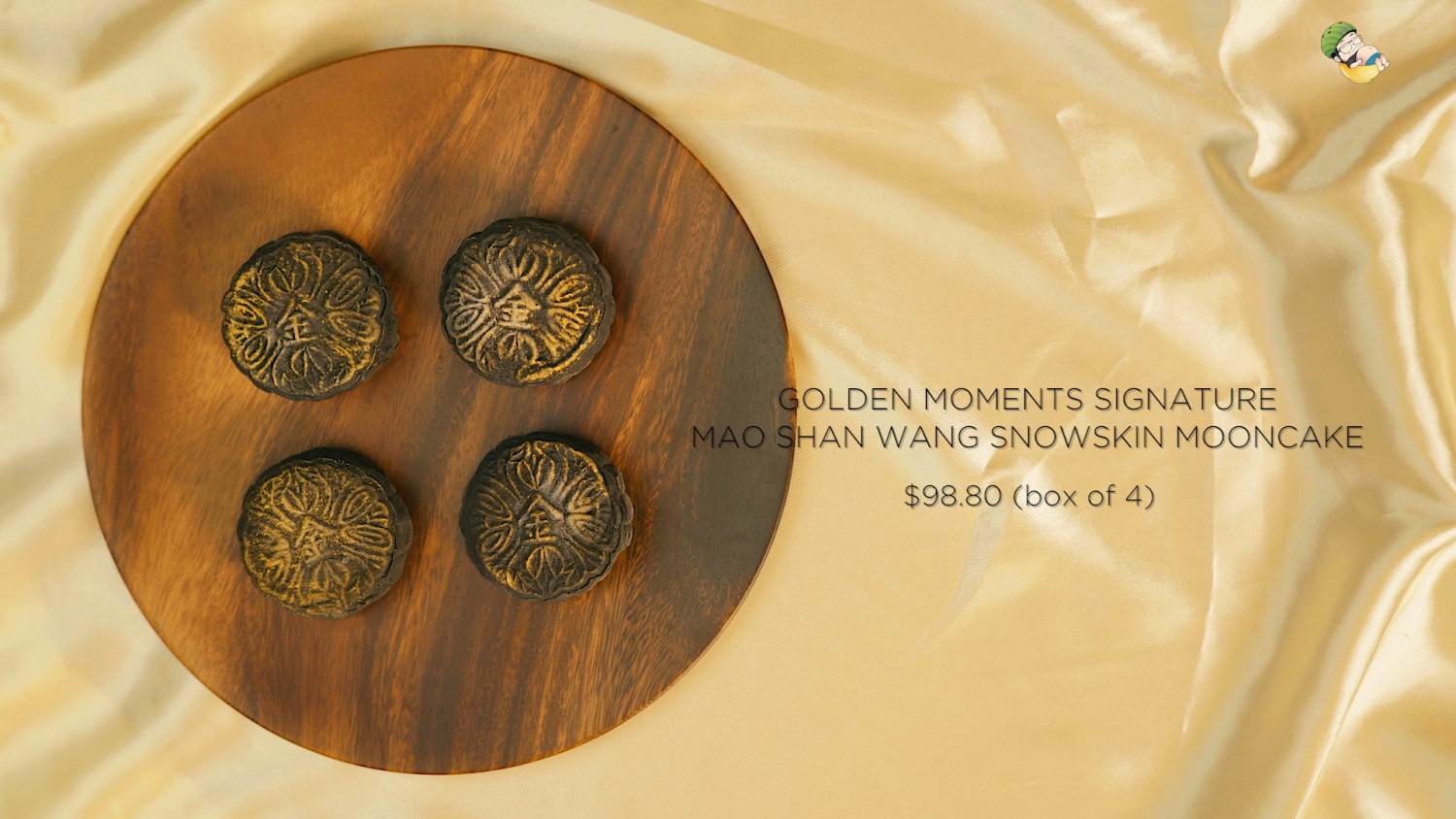 The snow skin is made of bamboo charcoal and the inside is filled with premium Mao Shan Wang durian. The bite is really delicate and the taste of the durian is surprisingly not overpowering at all. It feels as though we are eating a really creamy durian ice-cream.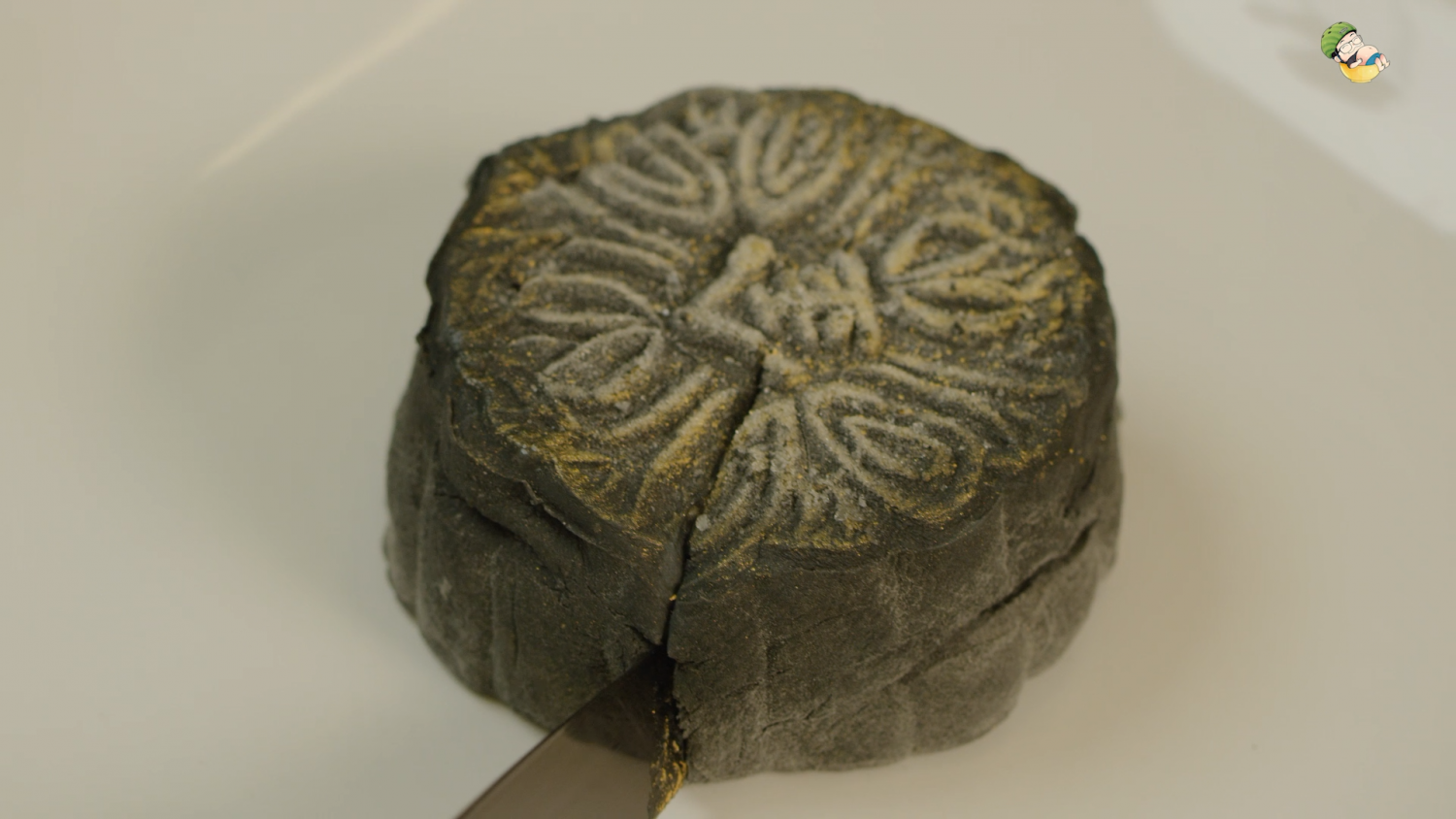 If you crave for durian but have yet to experience durian ecstasy (yeah this sounds kinda erotic but we don't care!), then you've got to try this one out. You will absolutely love it!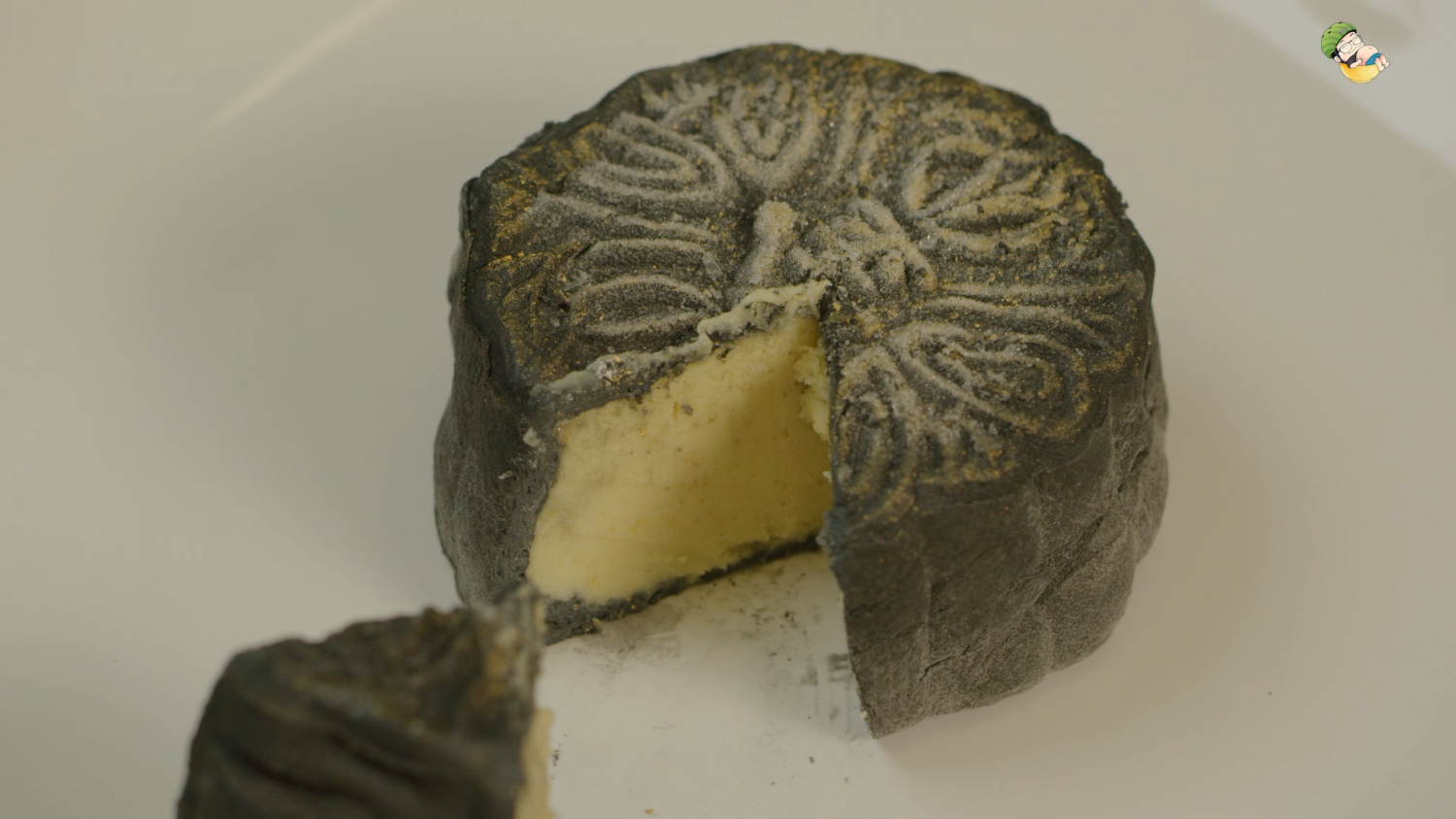 So good, we are in durian heaven! More please!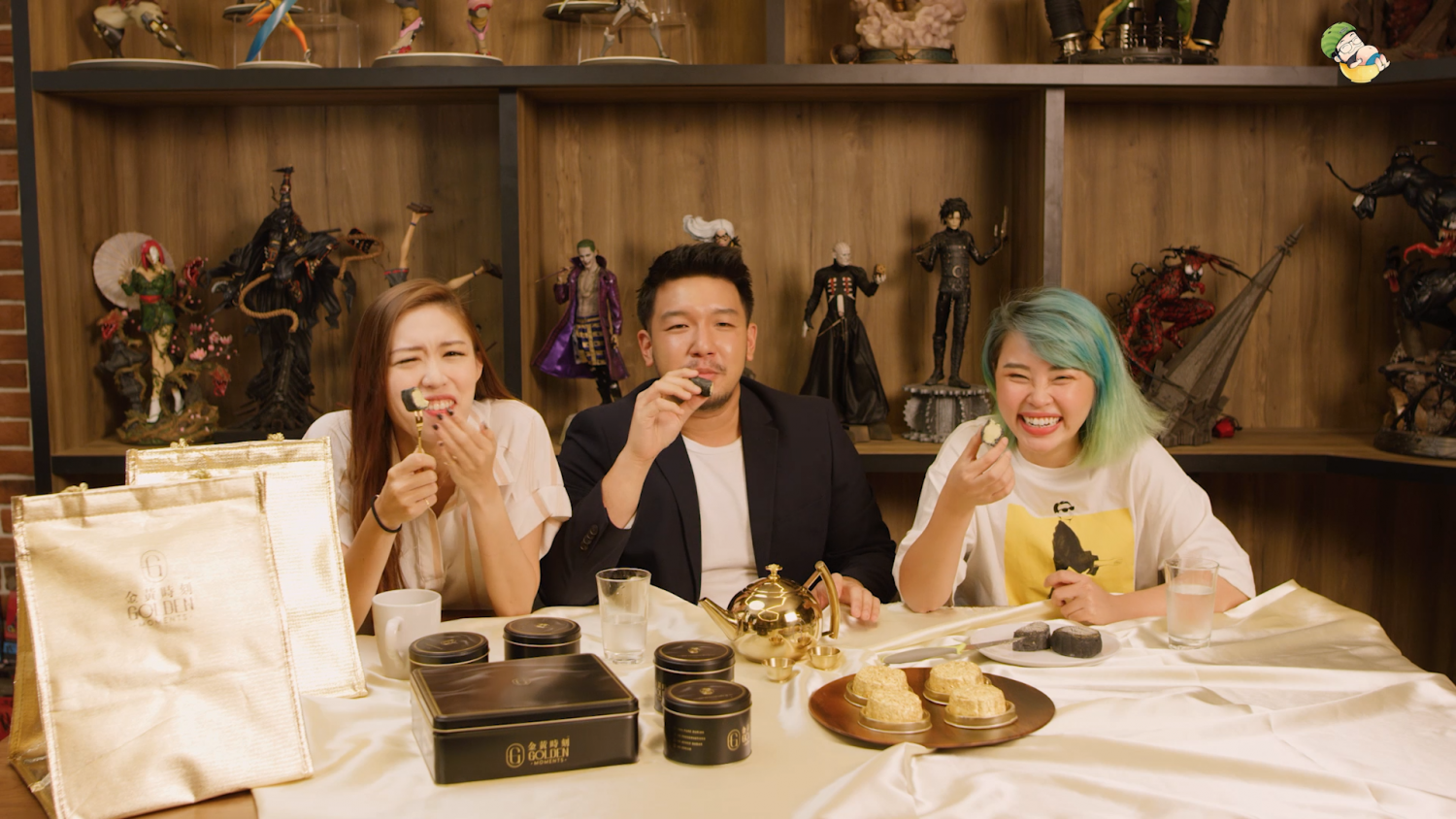 And now it's time for us to be blown away by another mooncake masterpiece from Golden Moments. Shining gloriously in this royal-like golden box are four limited edition premium Truffle Durian Mooncakes!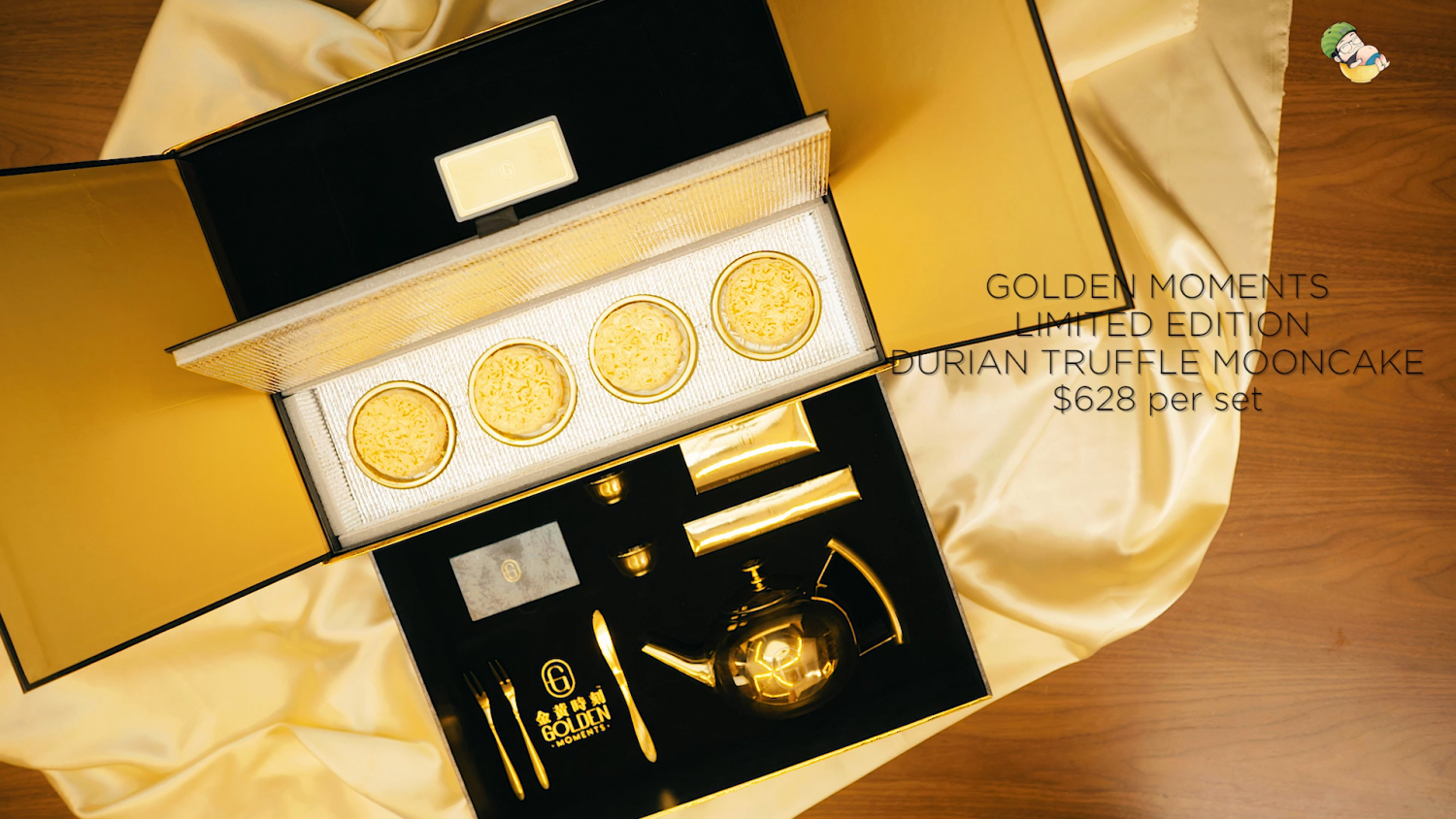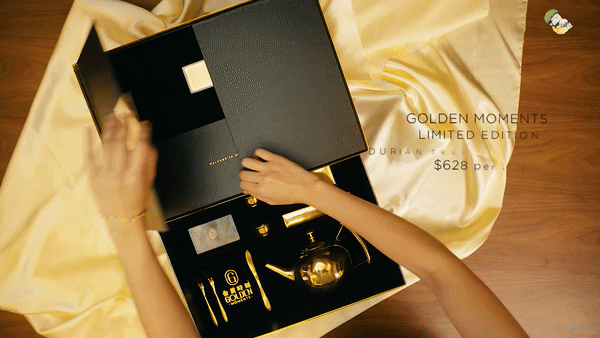 We are damn sure this is for people who are on the high end side of life. Why? Because it comes with a golden teapot set and a gold bar!
Yes you heard us right. A freaking solid gold bar! This is going into our pockets now. Shhh don't tell anyone!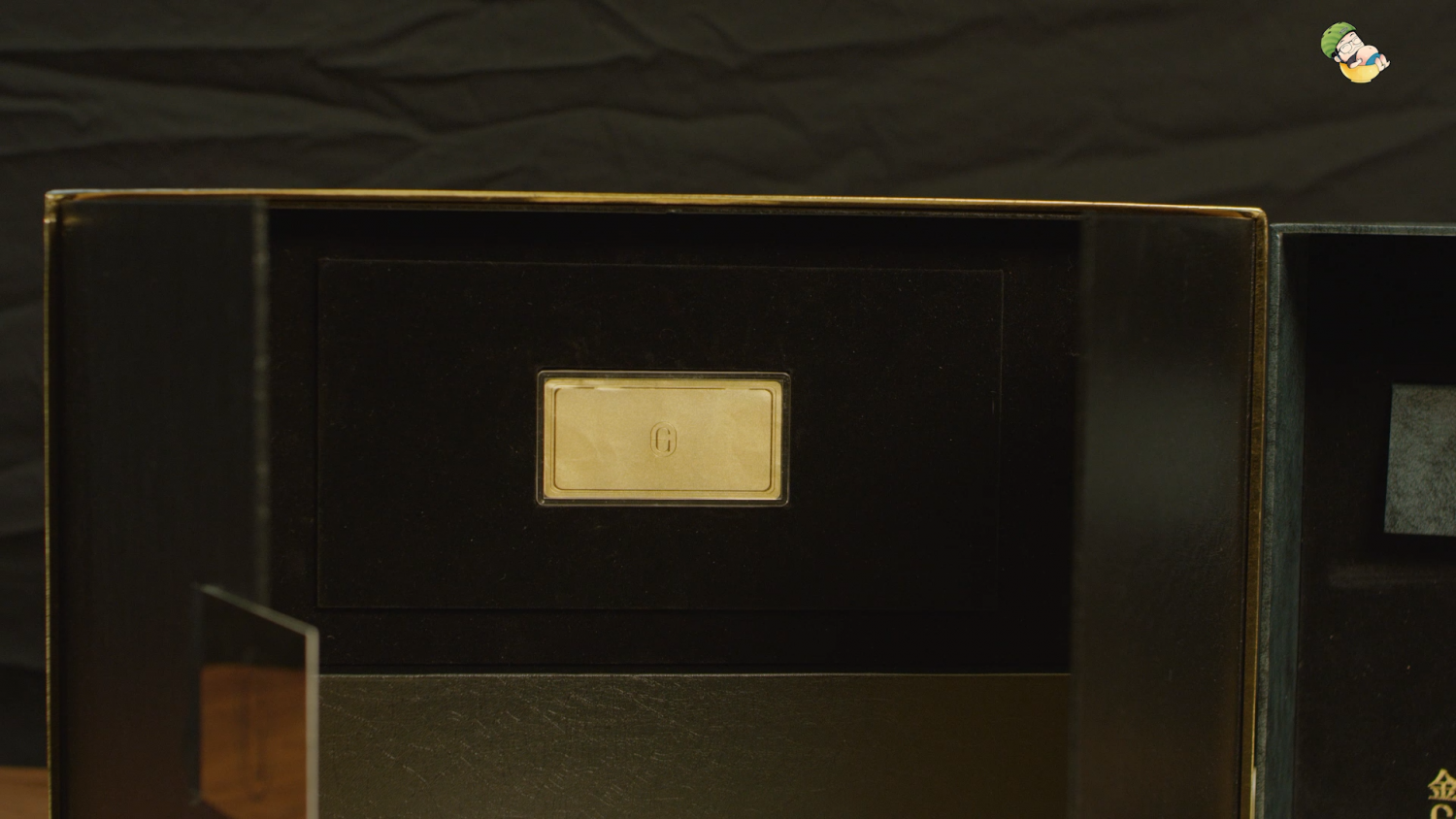 Jokes aside, what's really special about this set is of course the mooncakes. They are made with premium Mao Shan Wang durian but with truffle inside. And they are all literally covered in gold. What a beauty!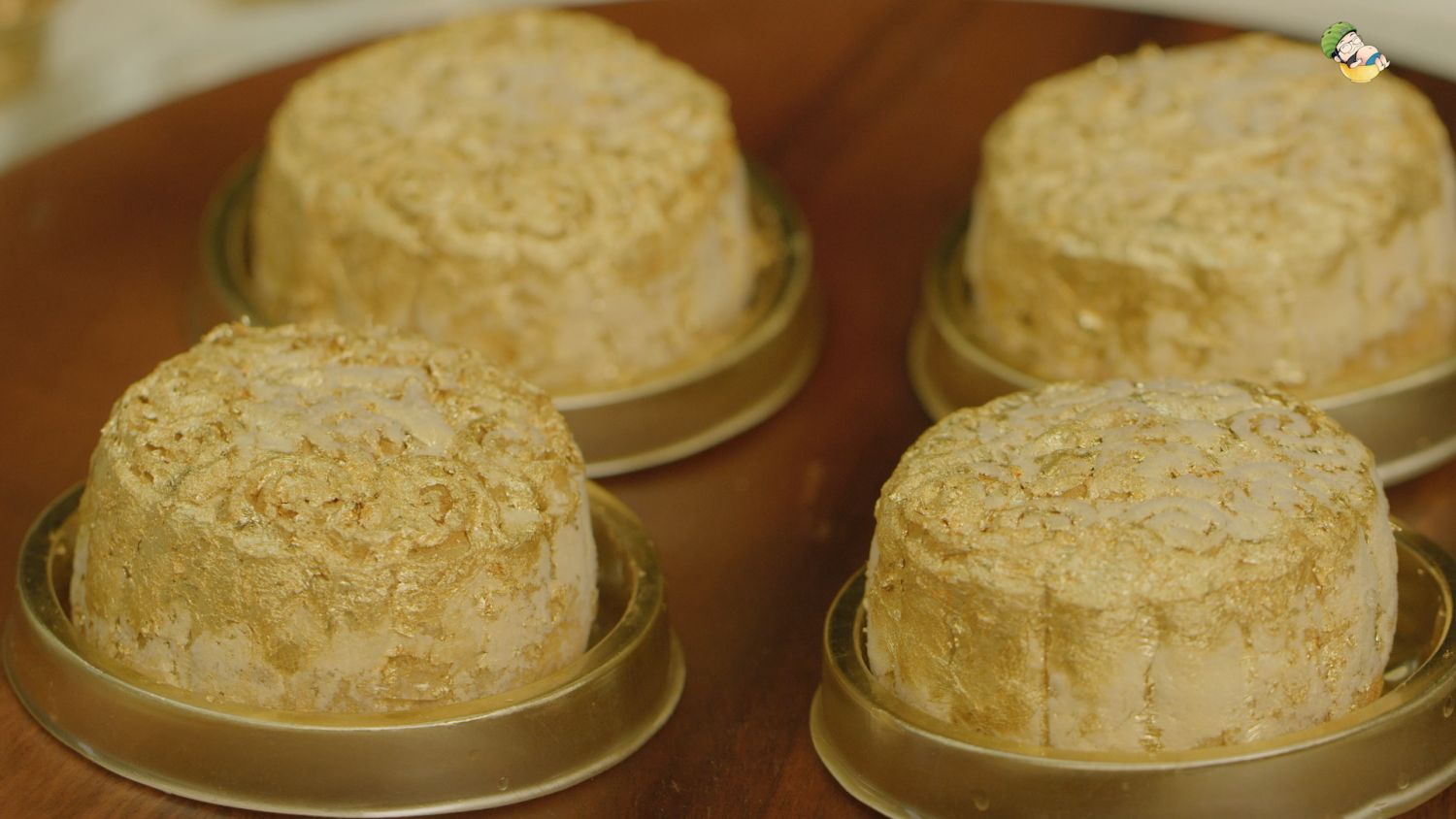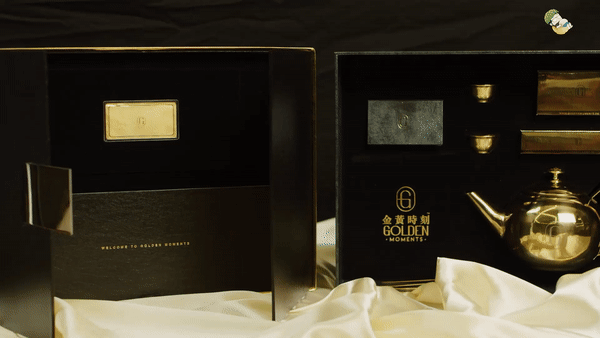 The pairing of the truffle ball together with the durian mooncake is so palatable and sophisticated at the same time – it is unlike anything we have tasted before. A lot of people tried to pair durians with different things but they all failed spectacularly. This one however is the epitome of everything done right.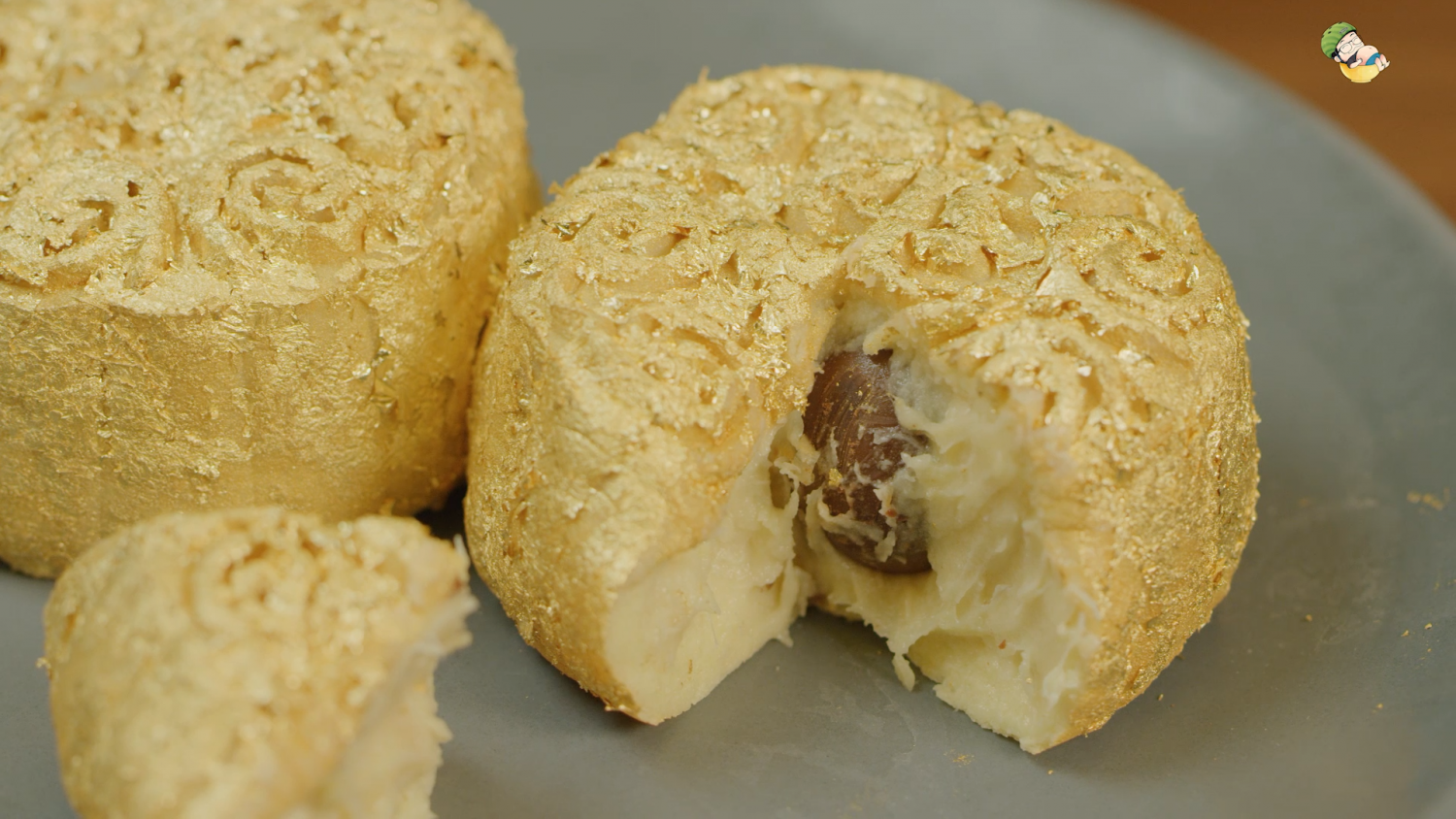 We love how they made the skin thicker and more Q, which really allows it to hold in all the wonderful aroma and flavours until it burst out in your mouth. Such a masterpiece!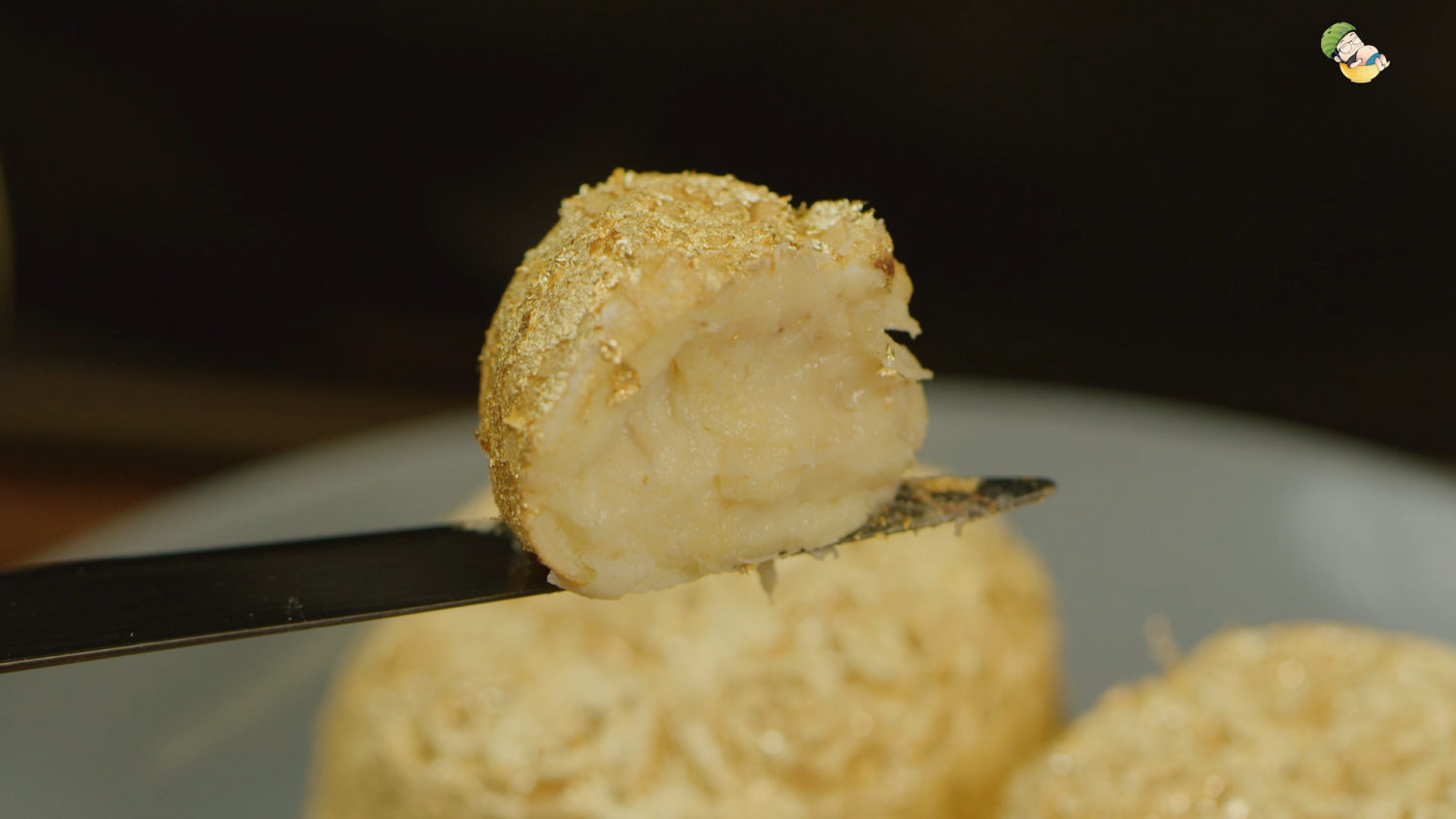 Oh my, did you see your reflection Sylvia? This ain't a mirror u know!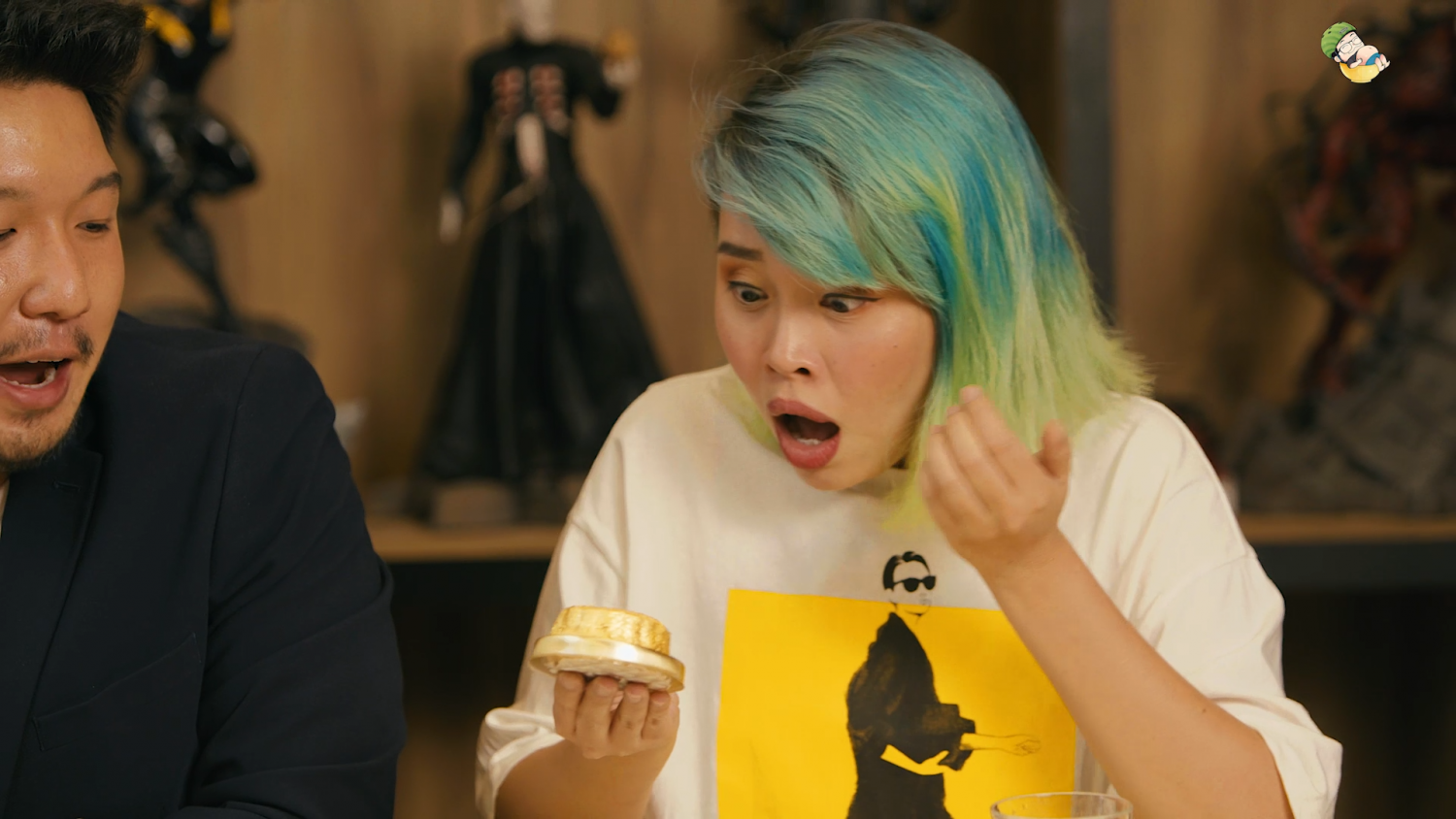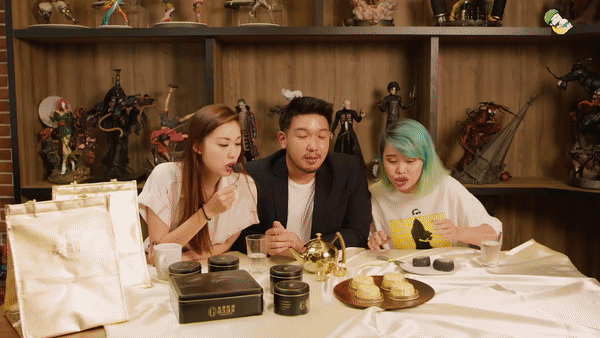 Okay, she just ate the entire thing without waiting for us… How could you!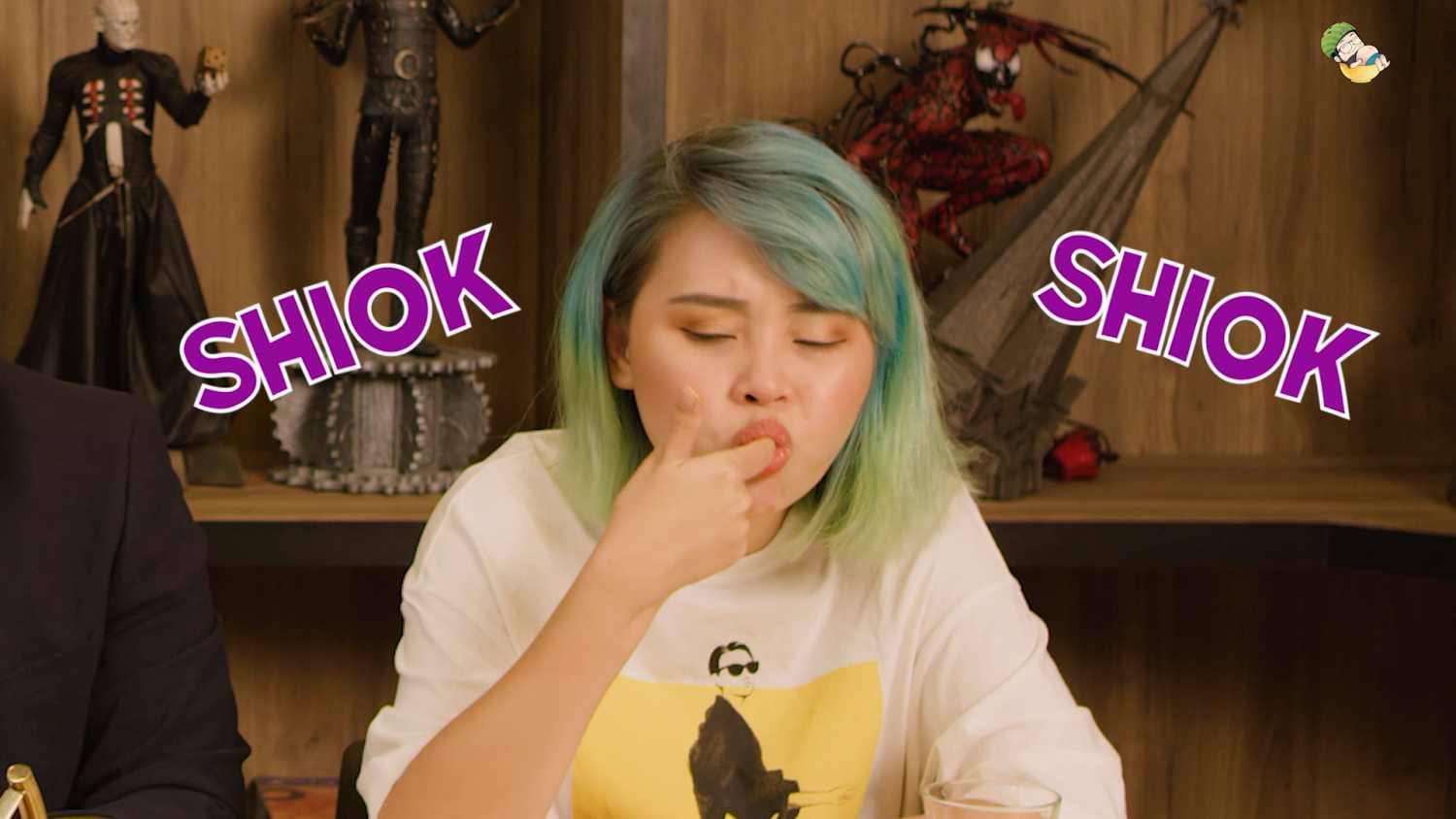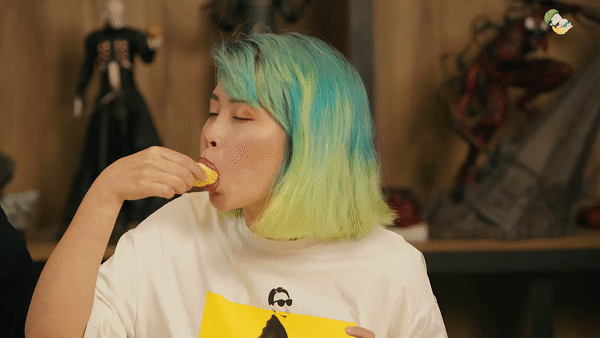 Convinced already? Well, if you're wondering where to get this limited edition mooncake set, you can check out the website below or simply visit any Fairprice Finest outlets in Singapore.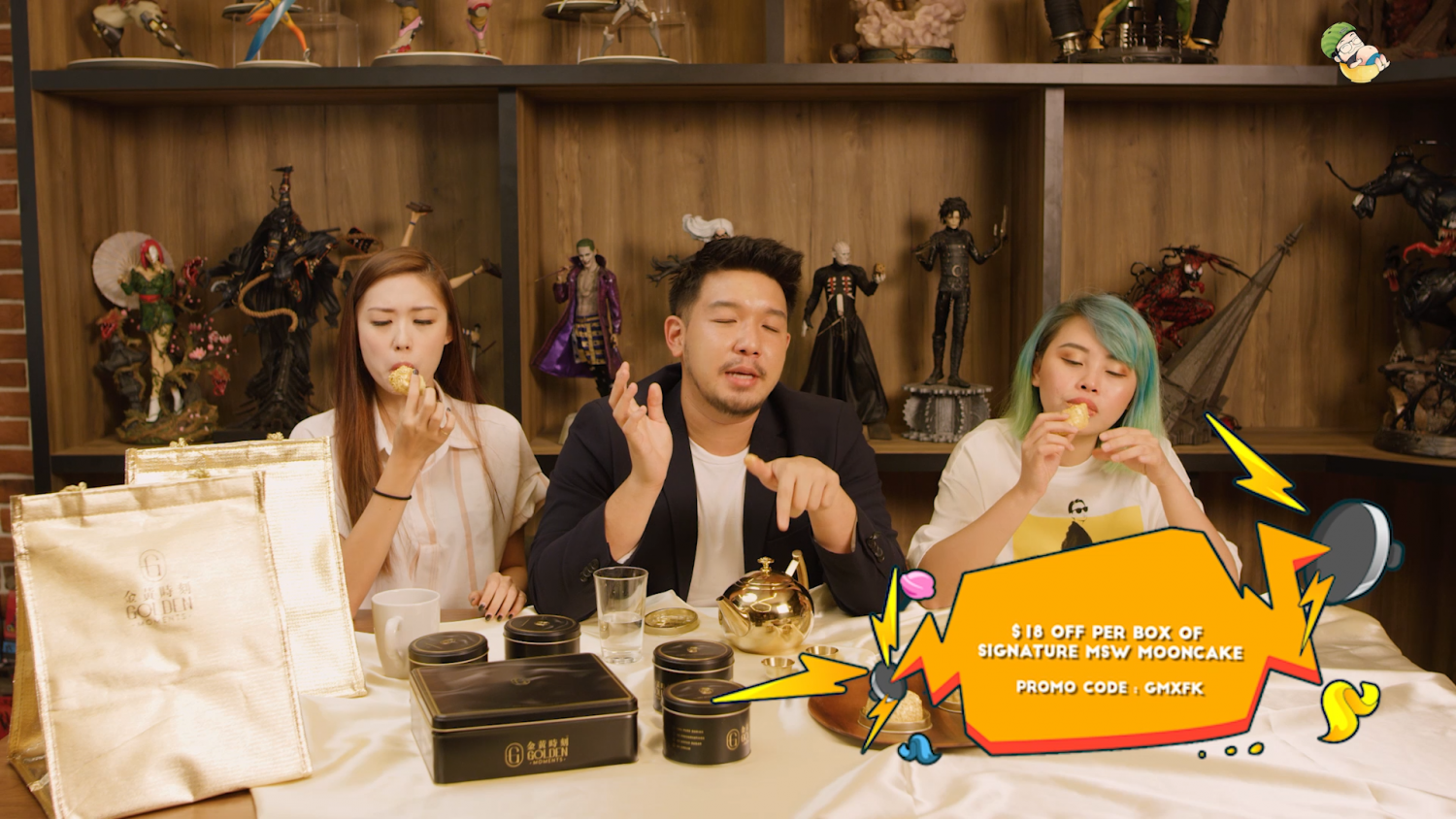 And once again Golden Moments is… Food-King Good!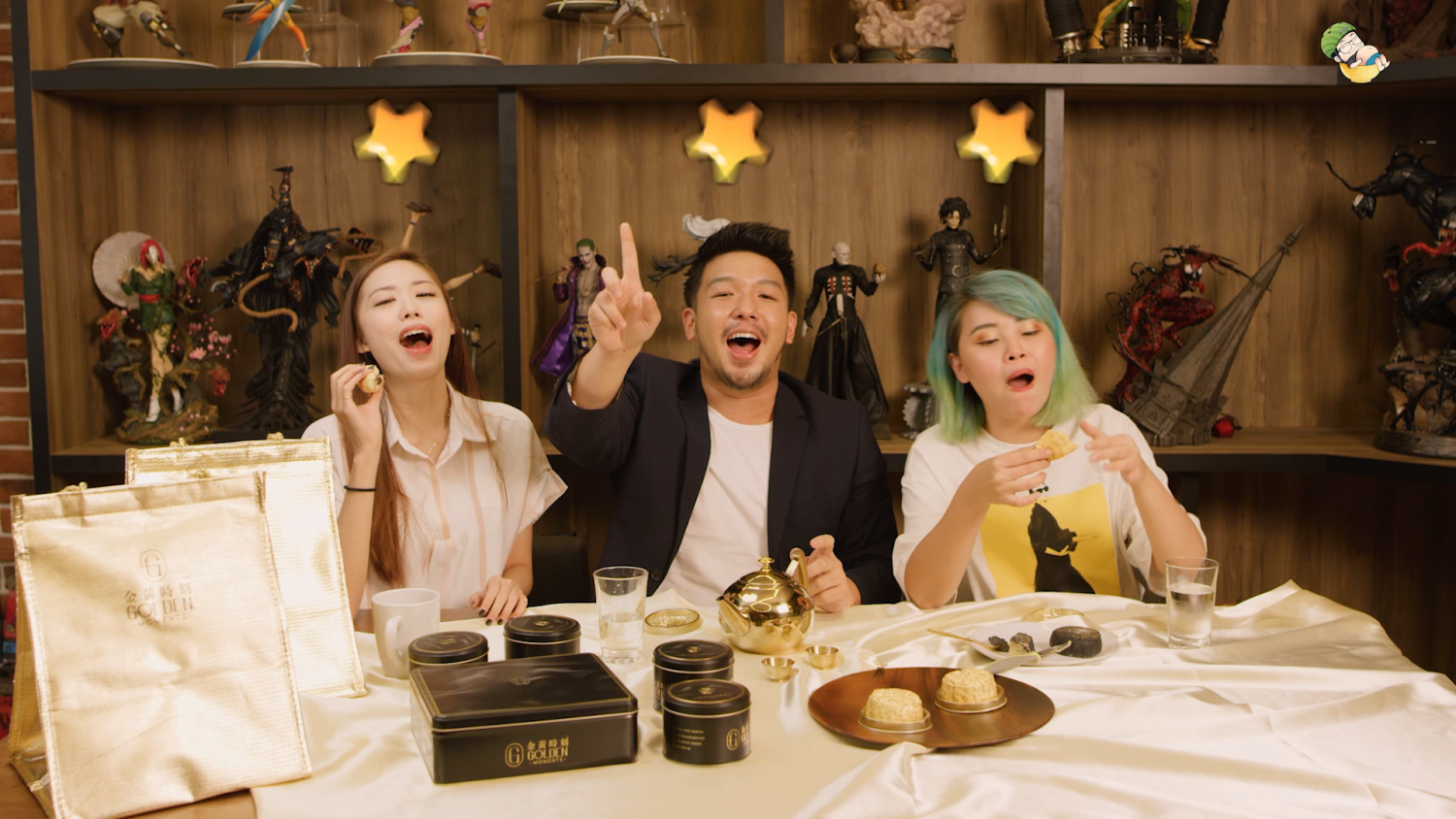 Ratings: 3 Stars, Food-King Good!
Golden Moments

Now at FairPrice Finest & Caltex!
Next on our durian mooncake will be Aroma Truffle & Co, the brains behind those delicious truffle potato chips featured on one of our Food King episodes. This time round, they are releasing some very interesting mooncakes for our eager tongues!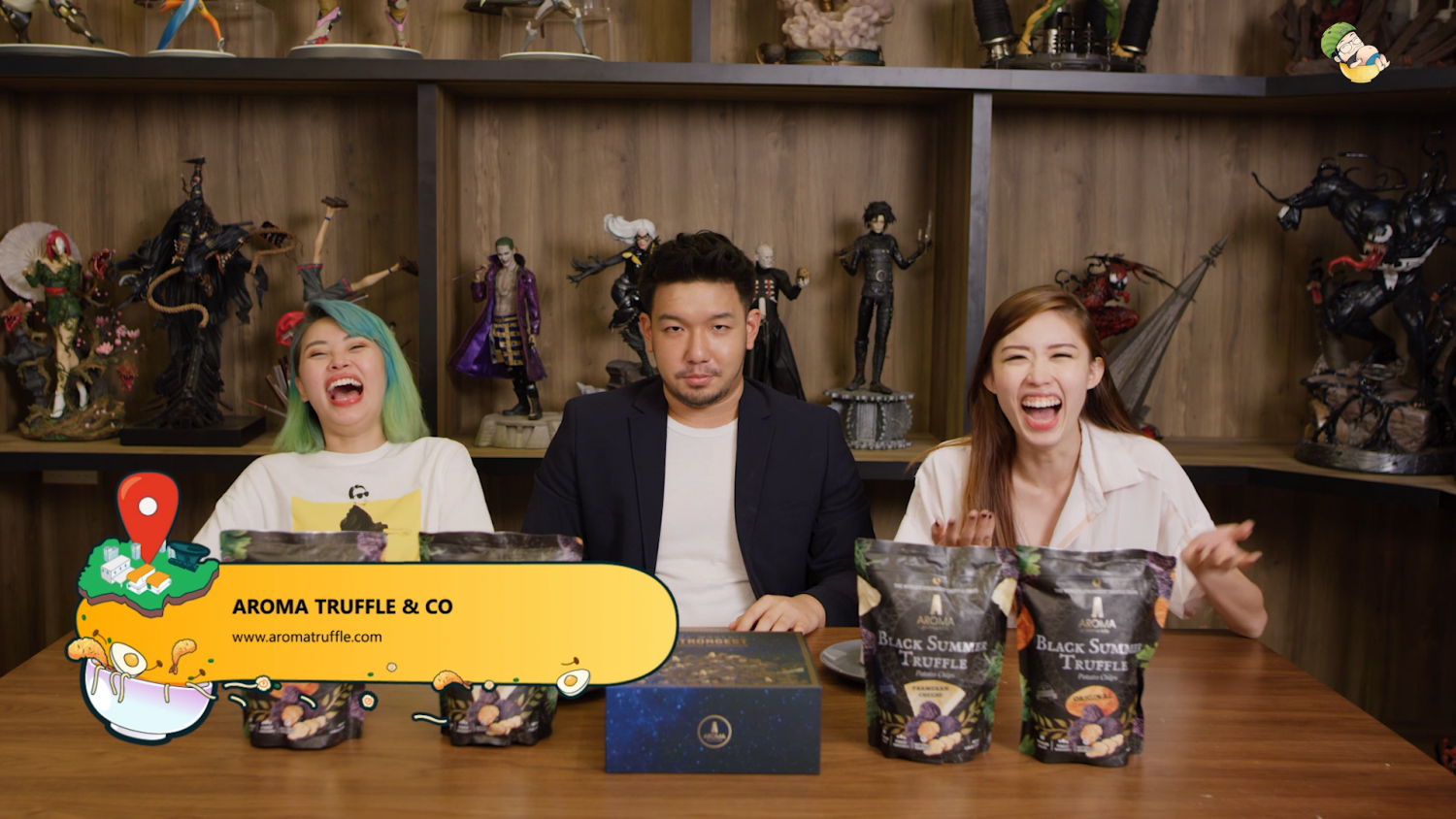 What's really special about Aroma & Co are their signature Italian Truffles. And they literally made the world's strongest truffle mooncake for god's sake! Let's put this claim to the test.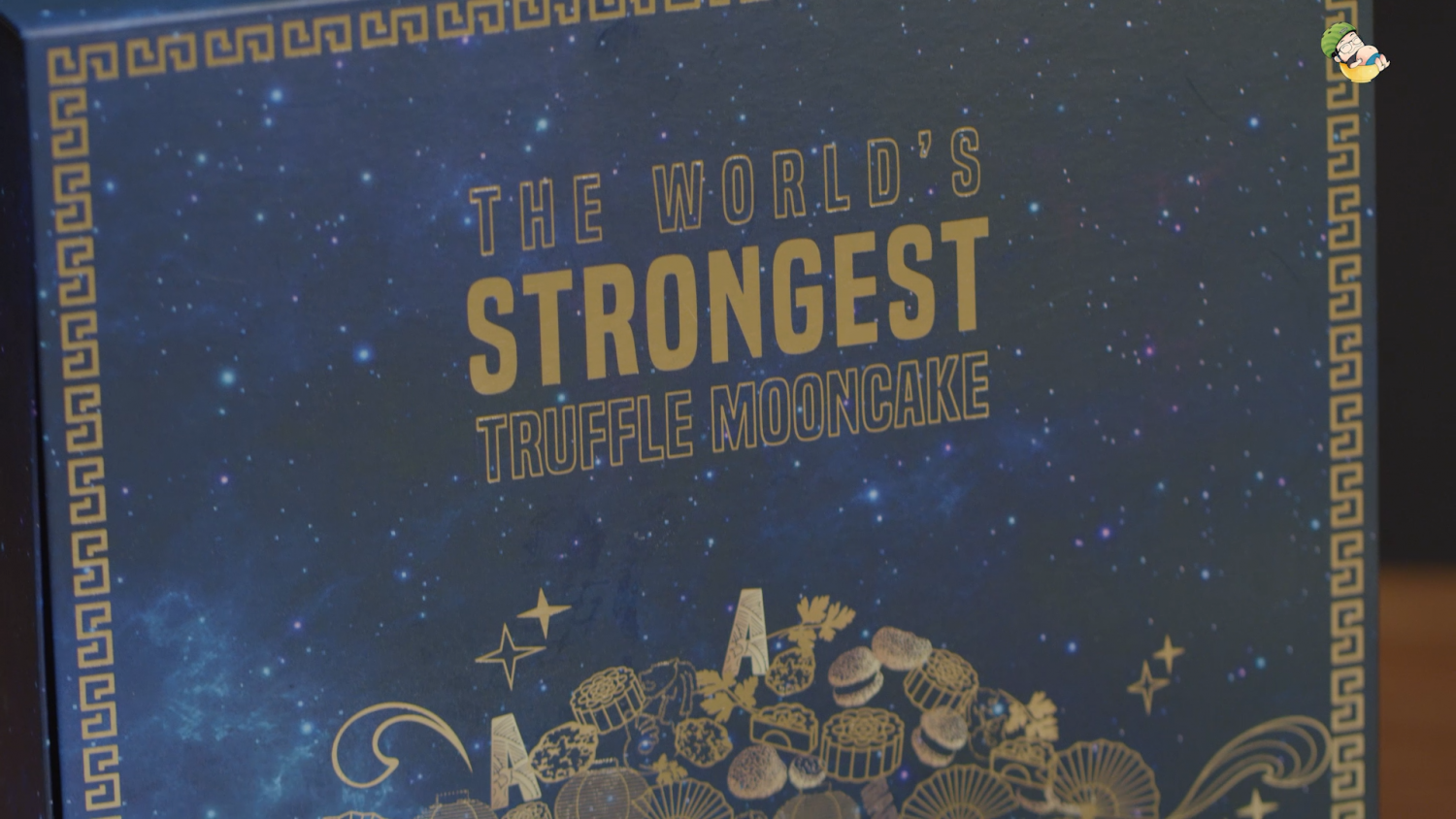 Yes, starting with their Chocolate Molten Mooncake.
Wow, you can literally smell chocolate from this mooncake and the truffle is really strong! You know it's the expensive kind immediately. The chocolate is not too sweet and really balances out that very strong flavour of the truffle. In fact, we love the aftertaste of the truffle.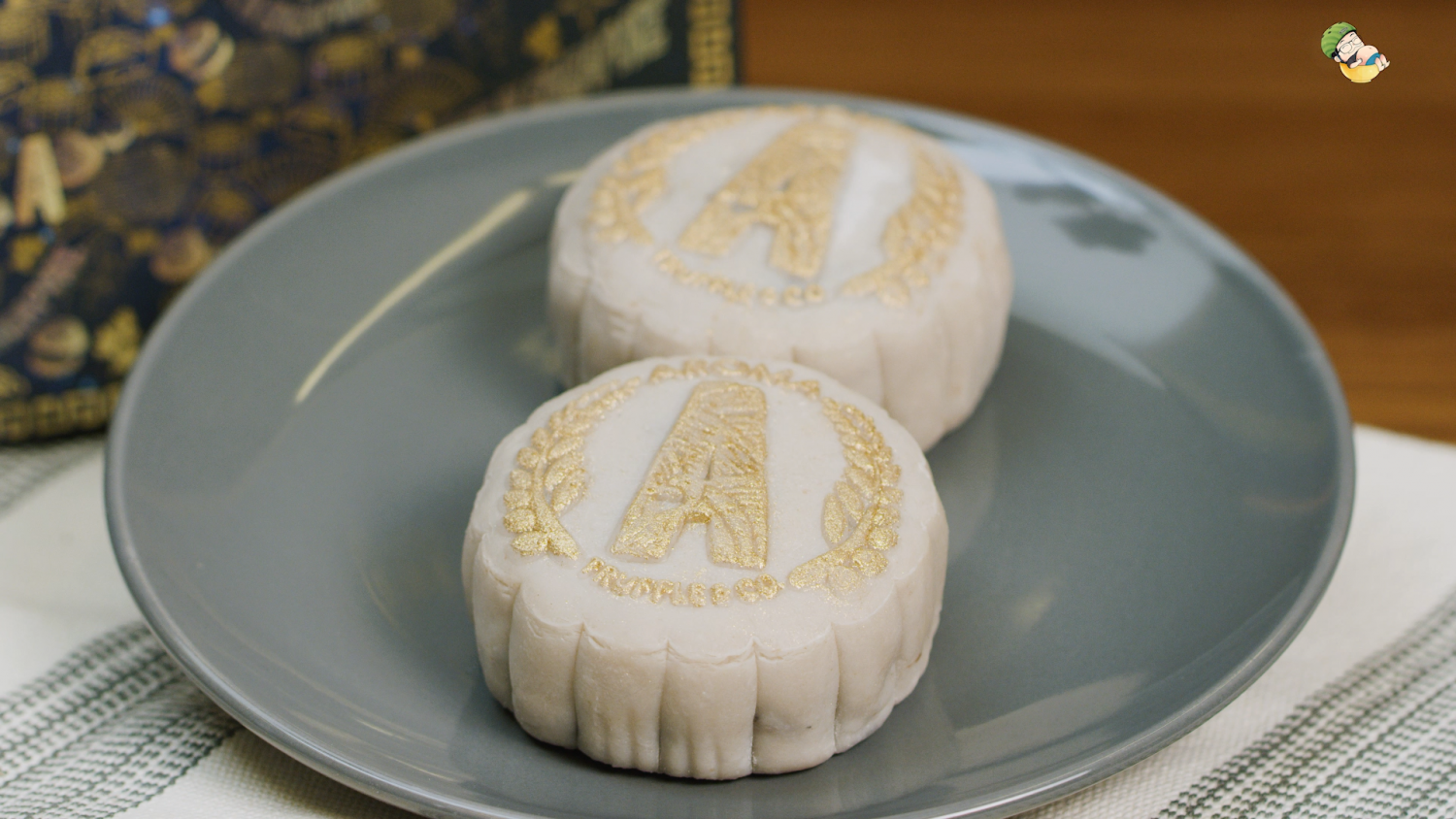 This is like eating truffle linguine! The truffle ball and brownie fuse together at the same time. This really bring a different perspective to eating mooncakes.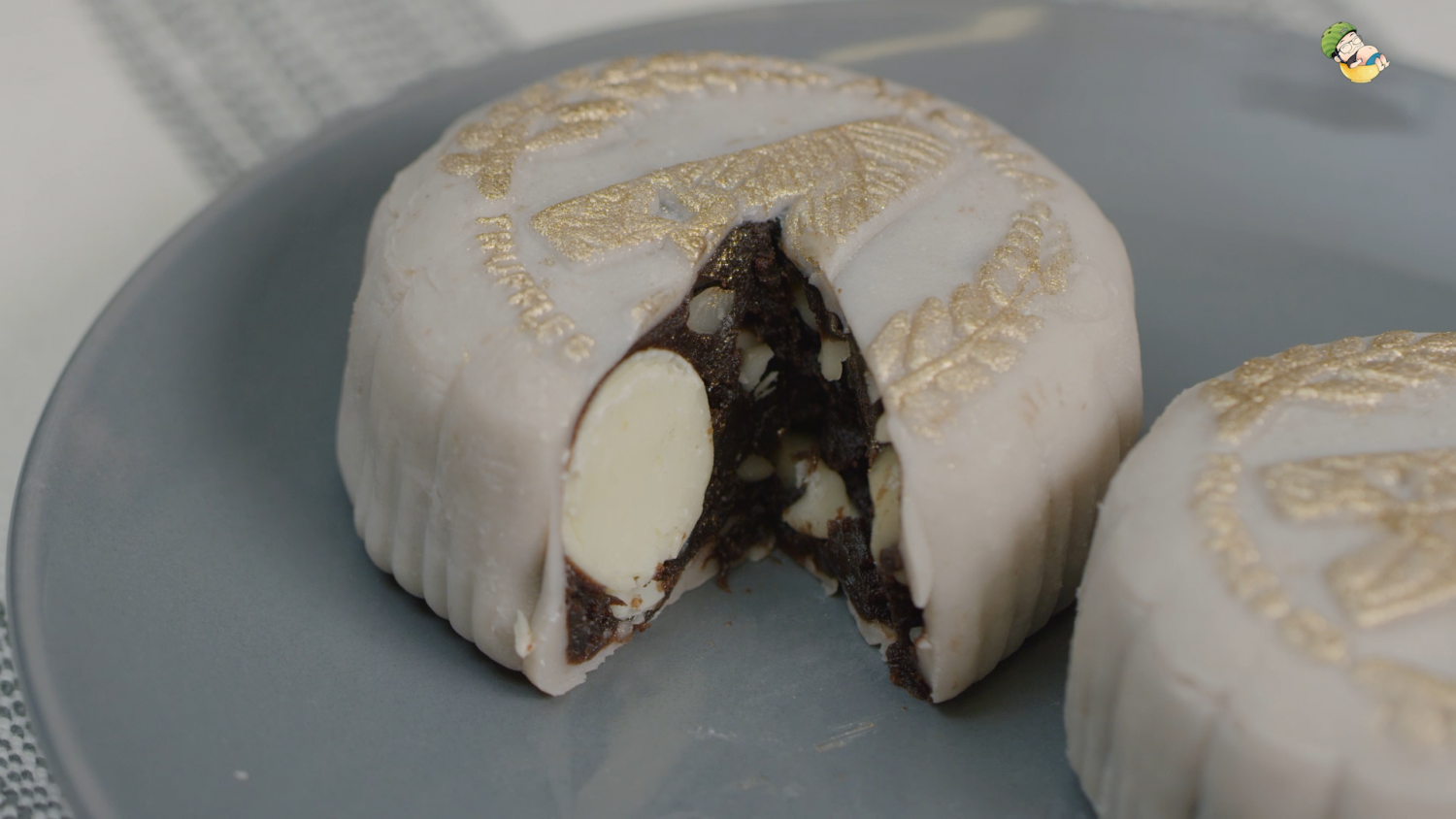 You've never tried something that will blow your mind until you have tried this!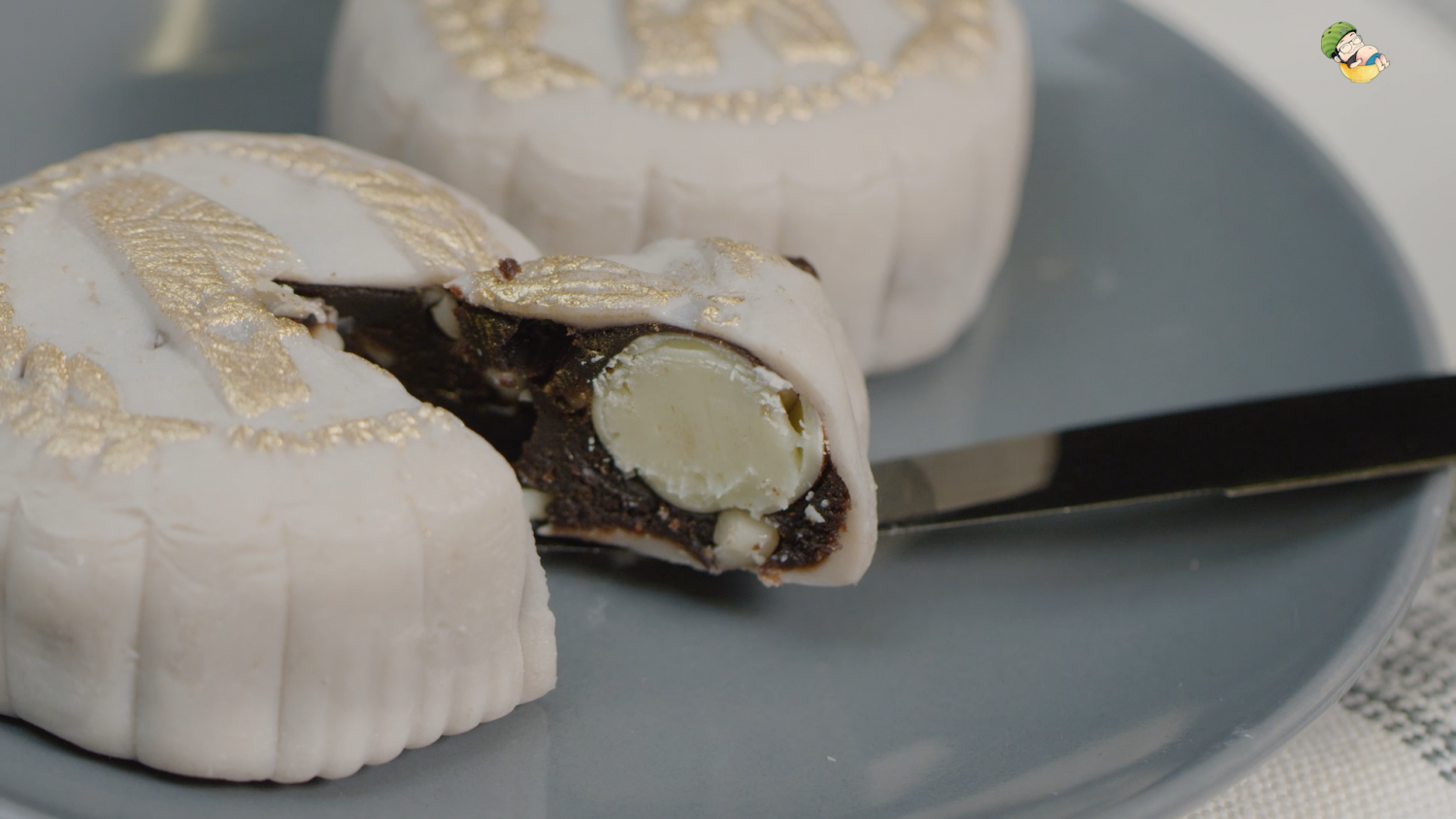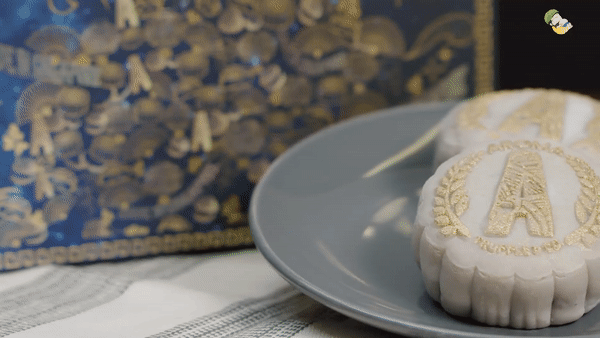 Here we present to you the Chicken Ham and Nut Mooncake. This is unlike anything we have tried before. Who puts ham in a mooncake, really? There is a lot of unique texture and taste to this mooncake; there's the texture of the mixed nuts coupled with the sweet and saltiness of the ham. An unexpected taste from a mooncake we never expect.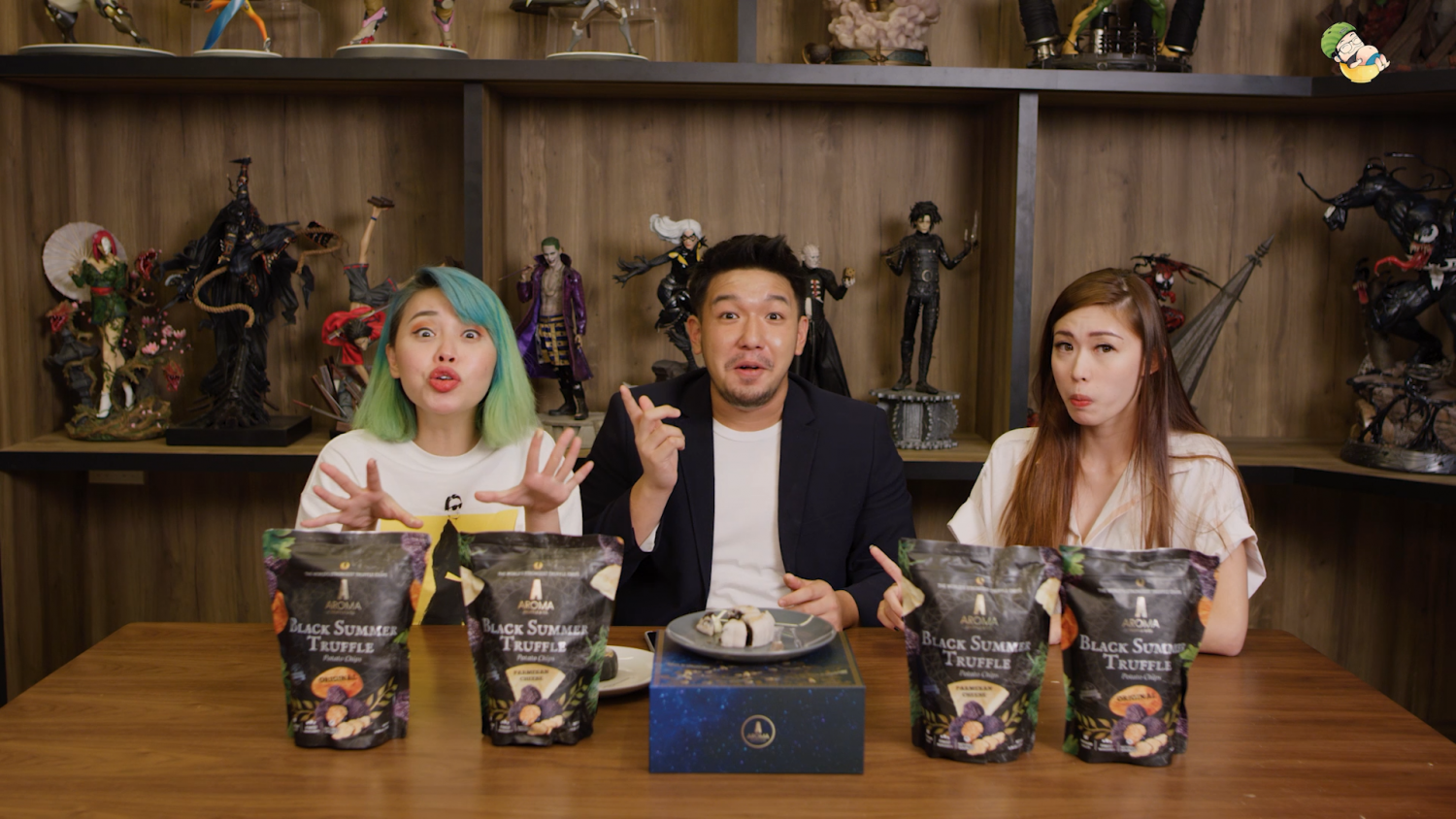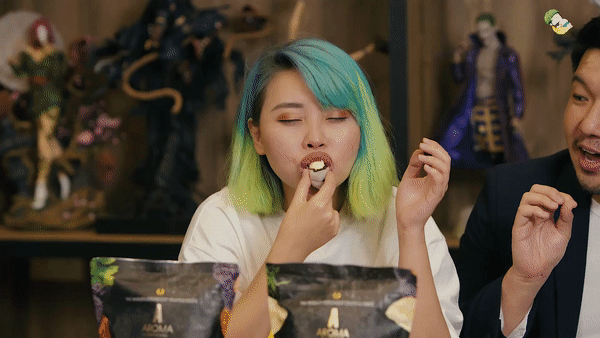 This is the Mao Shan Wang Truffle Durian Mooncake and we are actually very distracted by the smell of this already.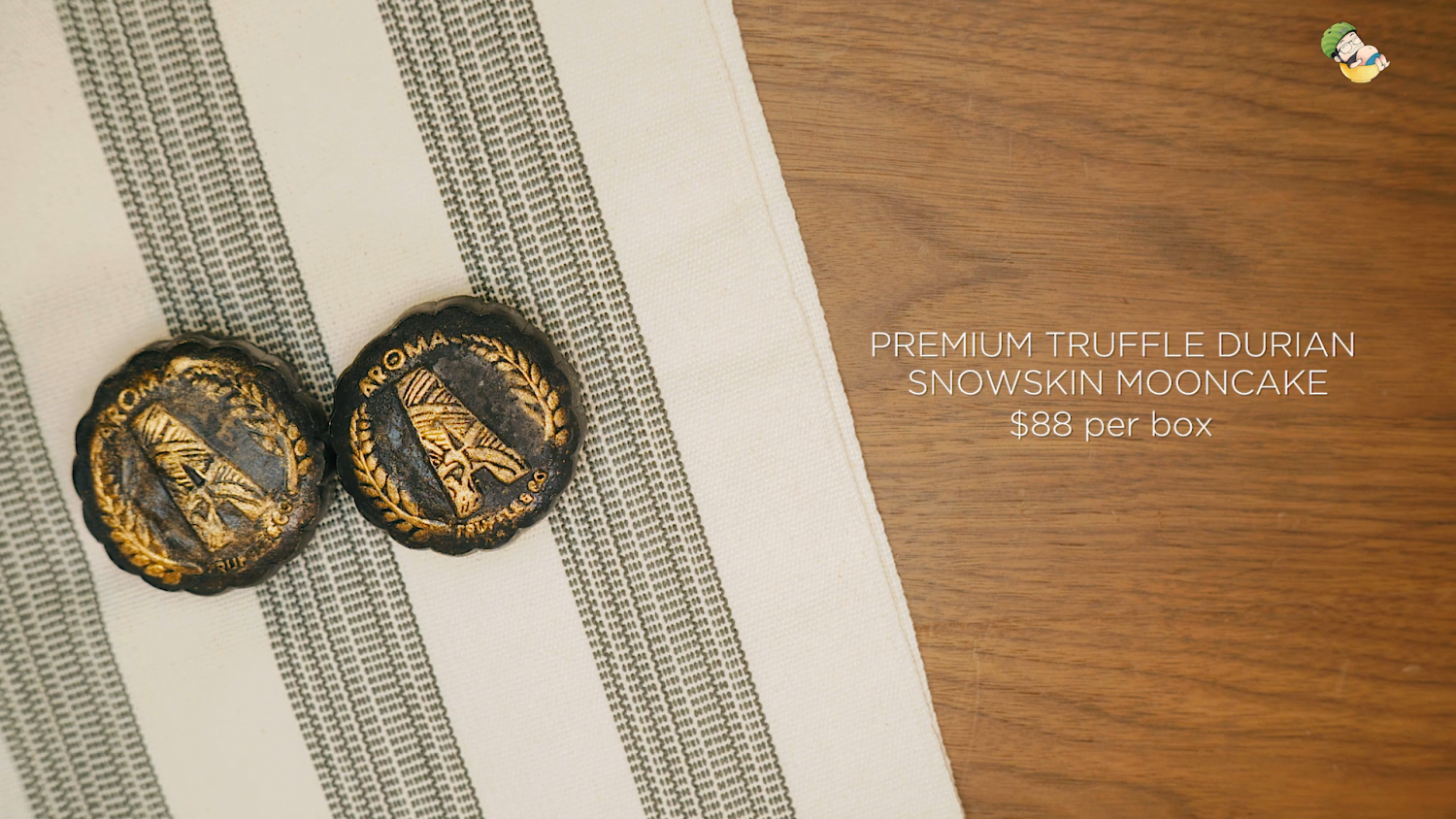 This mooncake really smells amazing! It's like there's aura enveloping the entire mooncake. Apart from the wonderful truffle, you get a nice chunk of durian that is not the puree kind.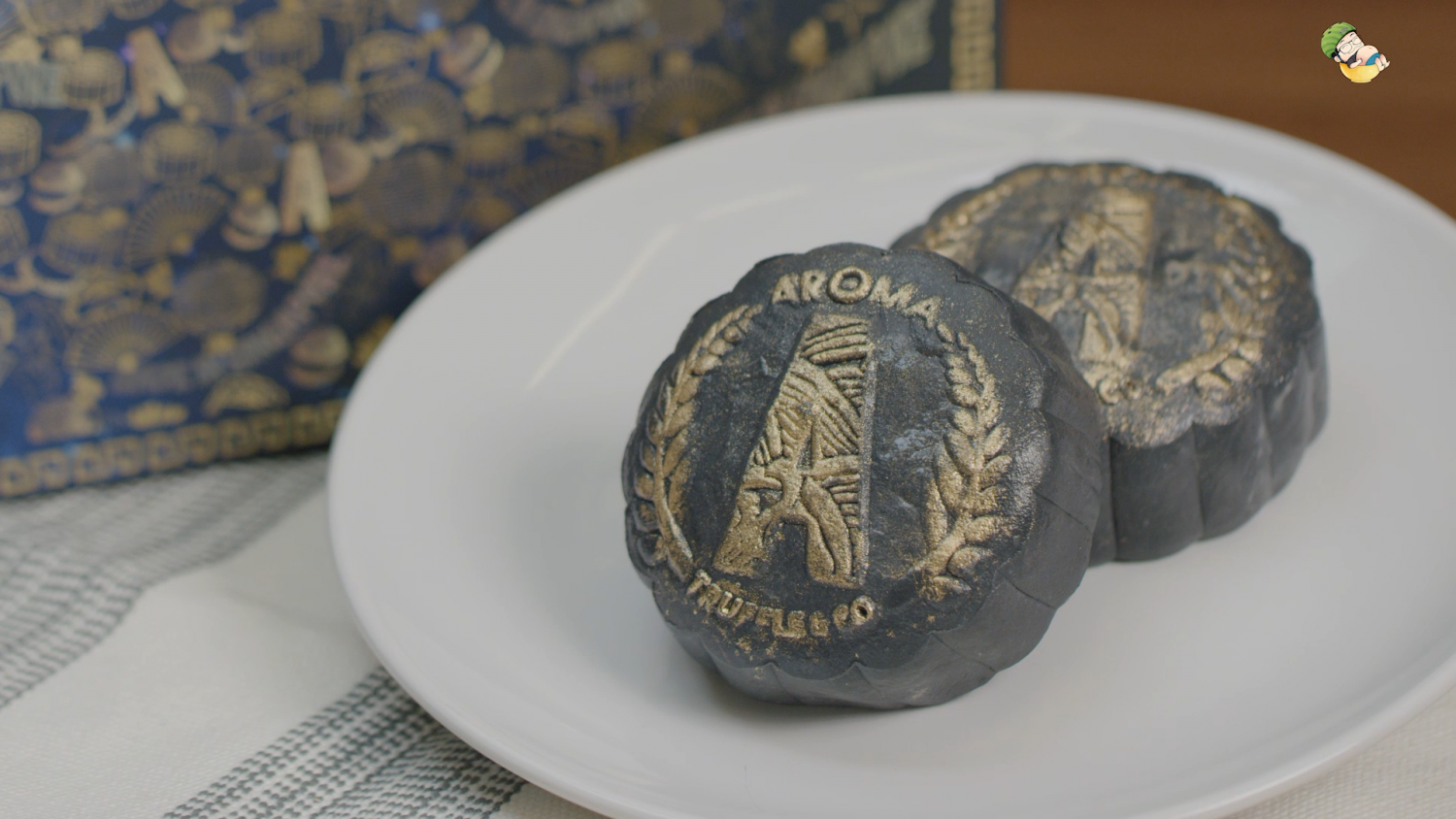 Taste-wise, this is like an out of the world experience. The taste of it all is incredible! We simply can't truly describe what's happening inside our mouth! Any description that comes out of my mouth will be too unsophisticated and uncouth for the beauty that is this mooncake.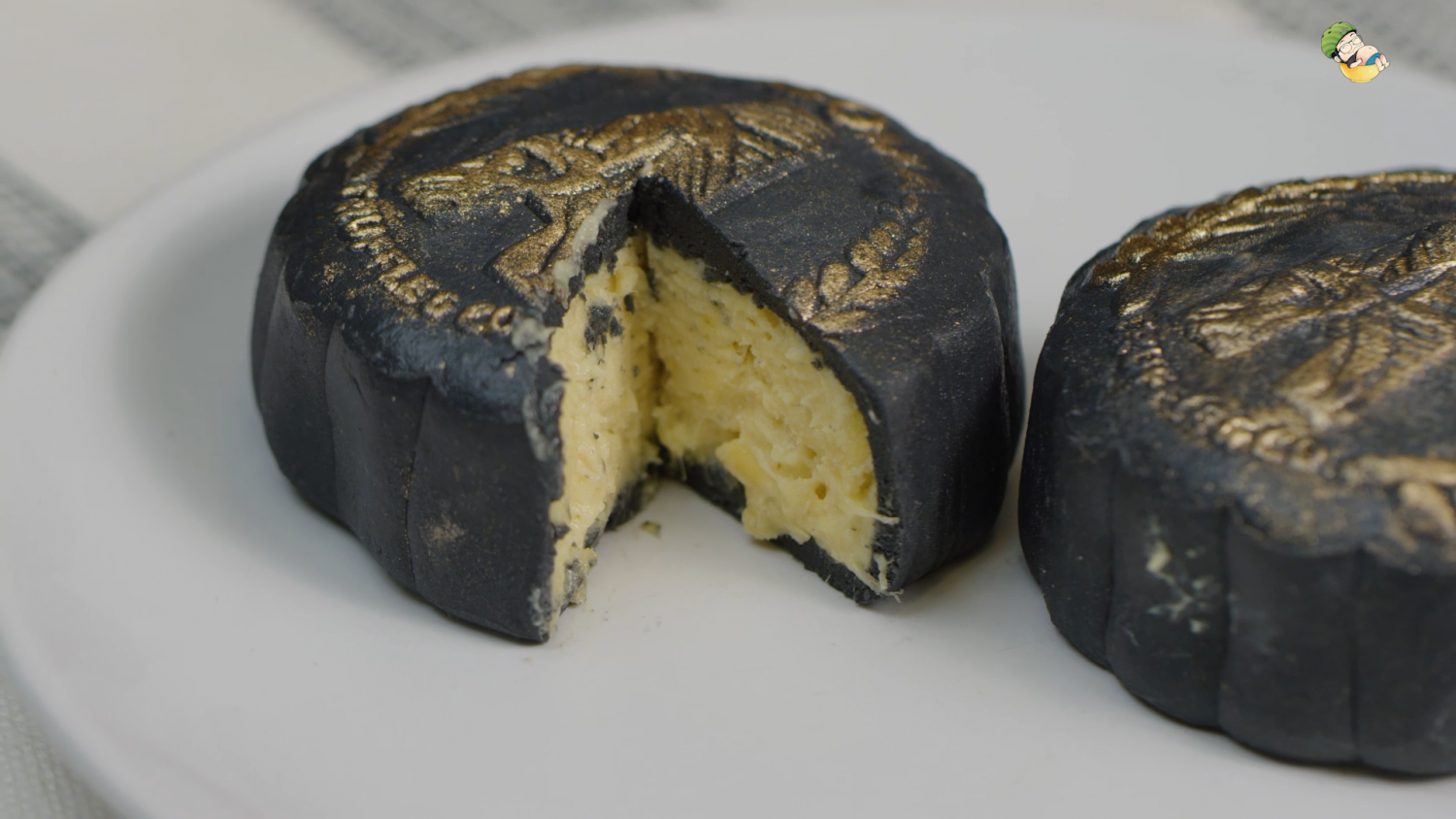 Wow, this really unlocks a whole new experience for all of us. We kid you not! Like why would anyone make mooncakes this way?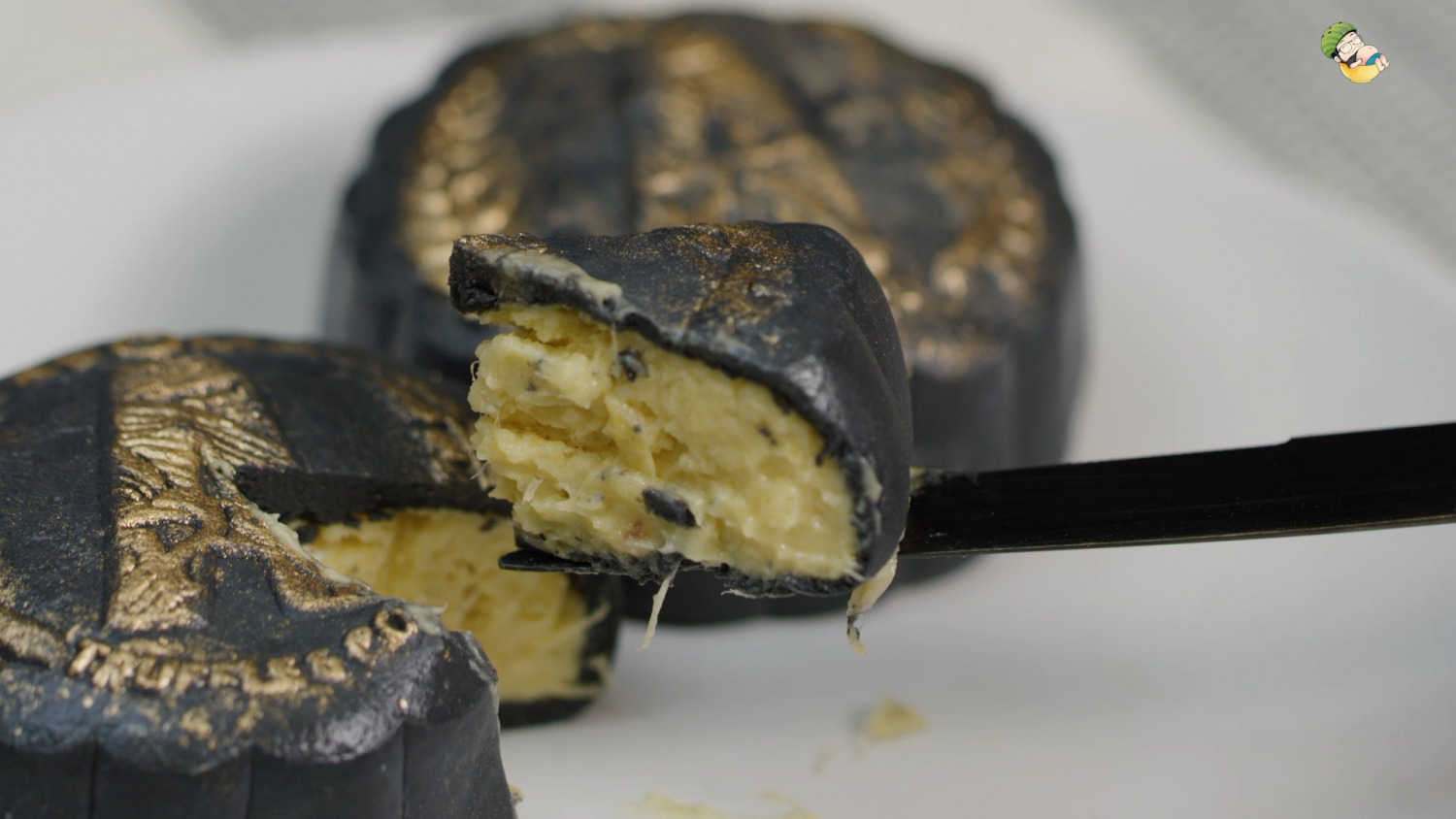 It's like watching those really weird anime shows, when you just can't explain why you enjoyed the tentacles part… Sheesh!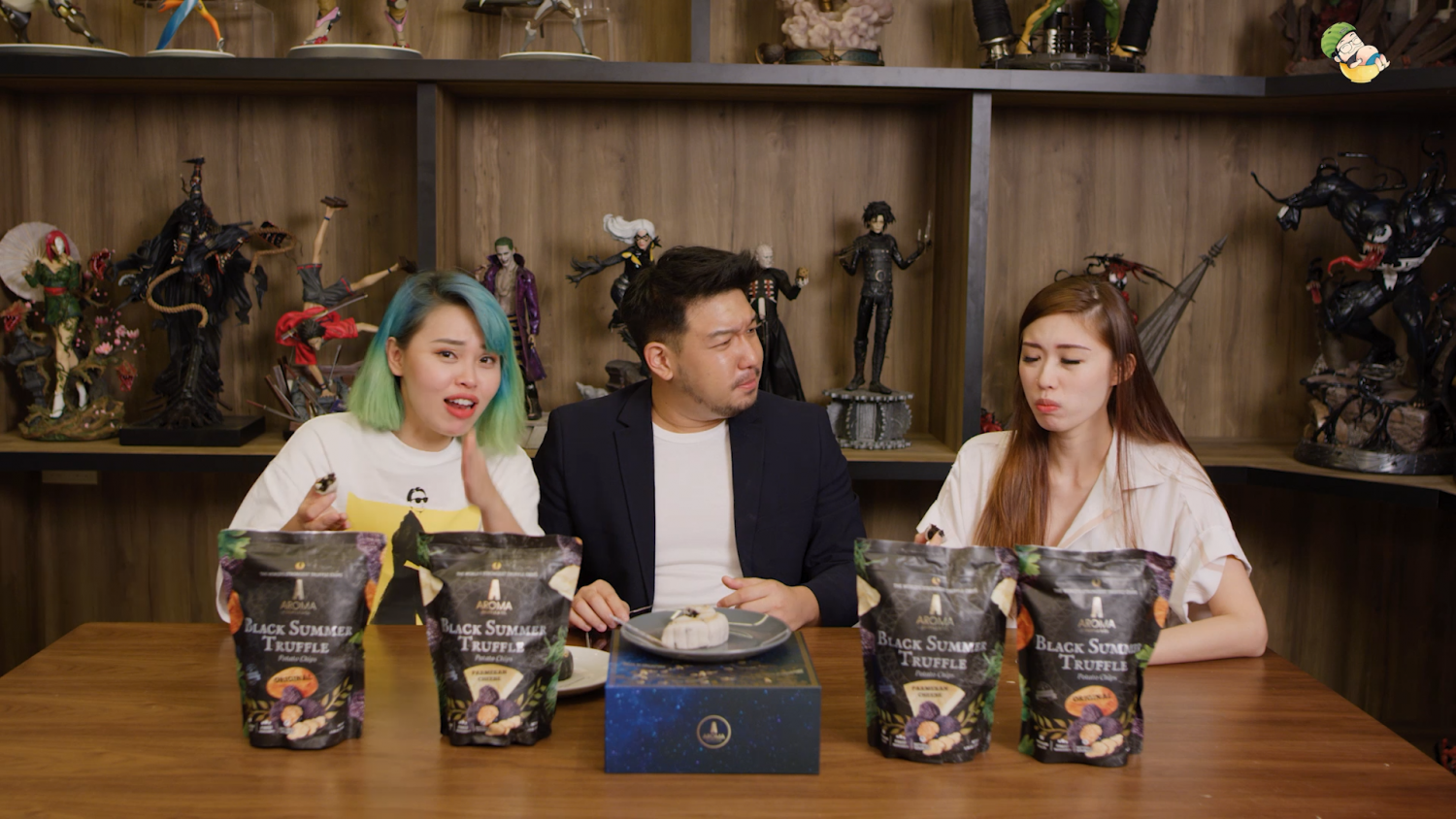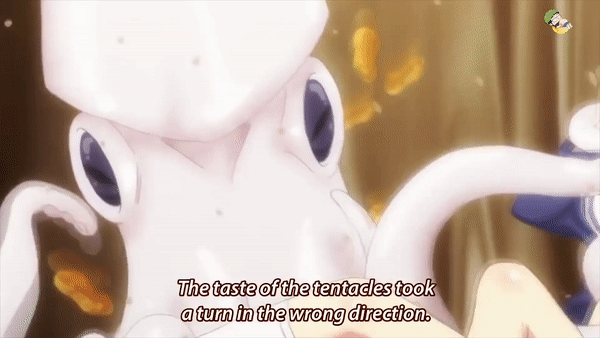 Ratings: 2.5 Stars
AROMA TRUFFLE & CO

www.aromatruffle.com
Our final destination brings us all the way to Four Seasons Durian at Changi Jewel.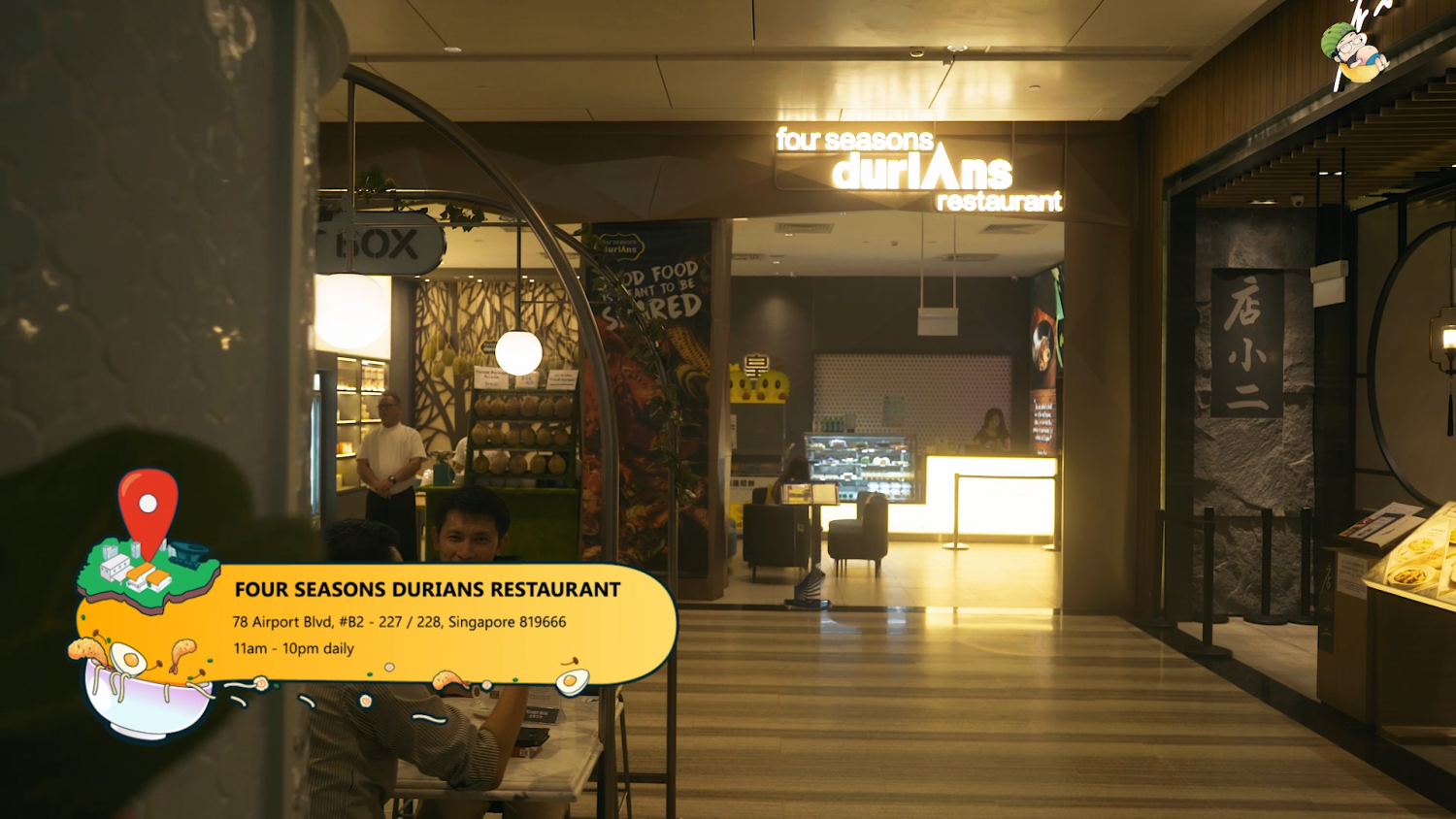 Do you know that this is first durian restaurant in Singapore and their specialty is Durian Hotpot? No freaking way! But that's something for another day.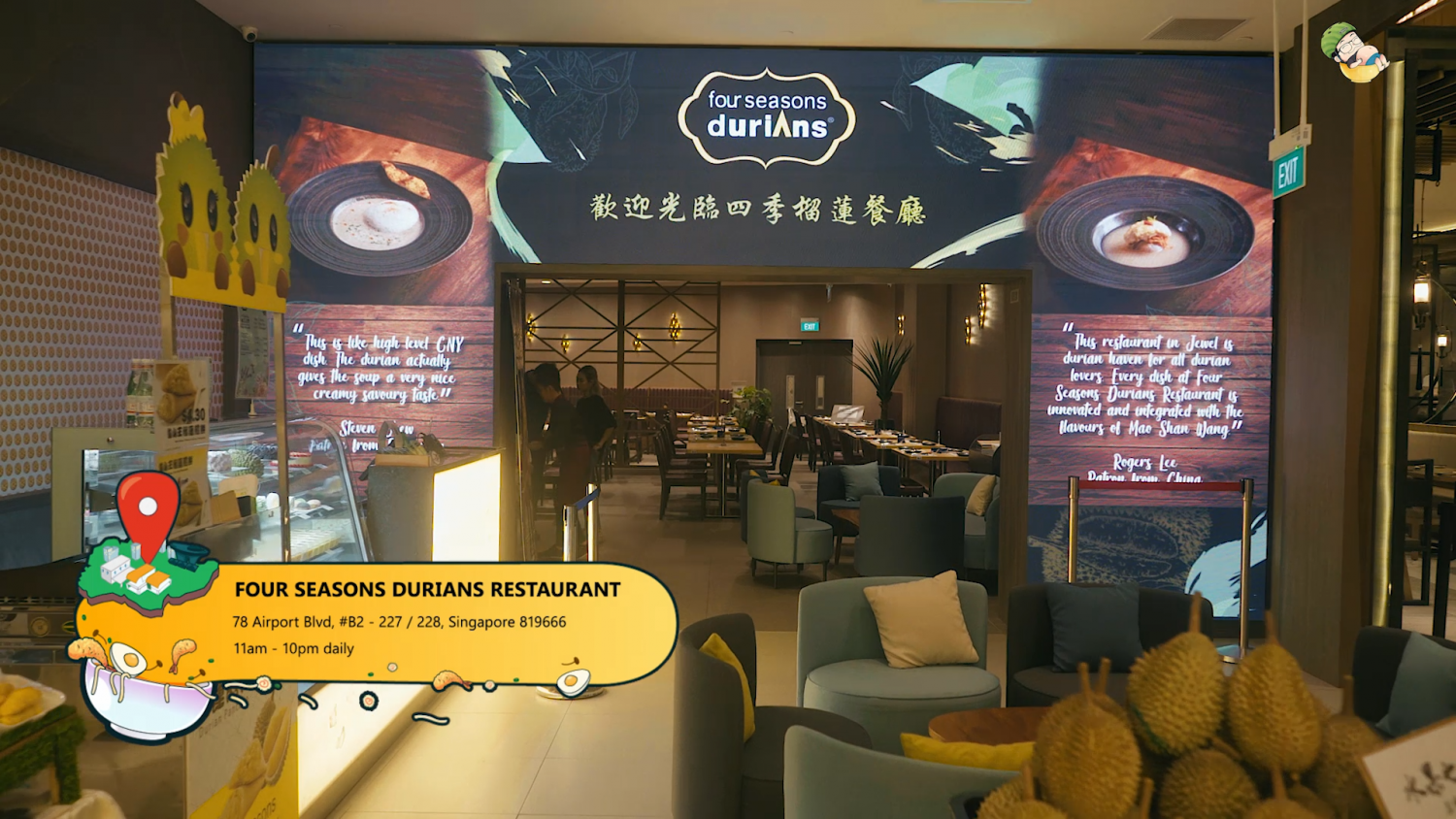 Today we are here for two of their signature creations – the yellow D24 as well as the white Mao Shan Wang premium mooncakes.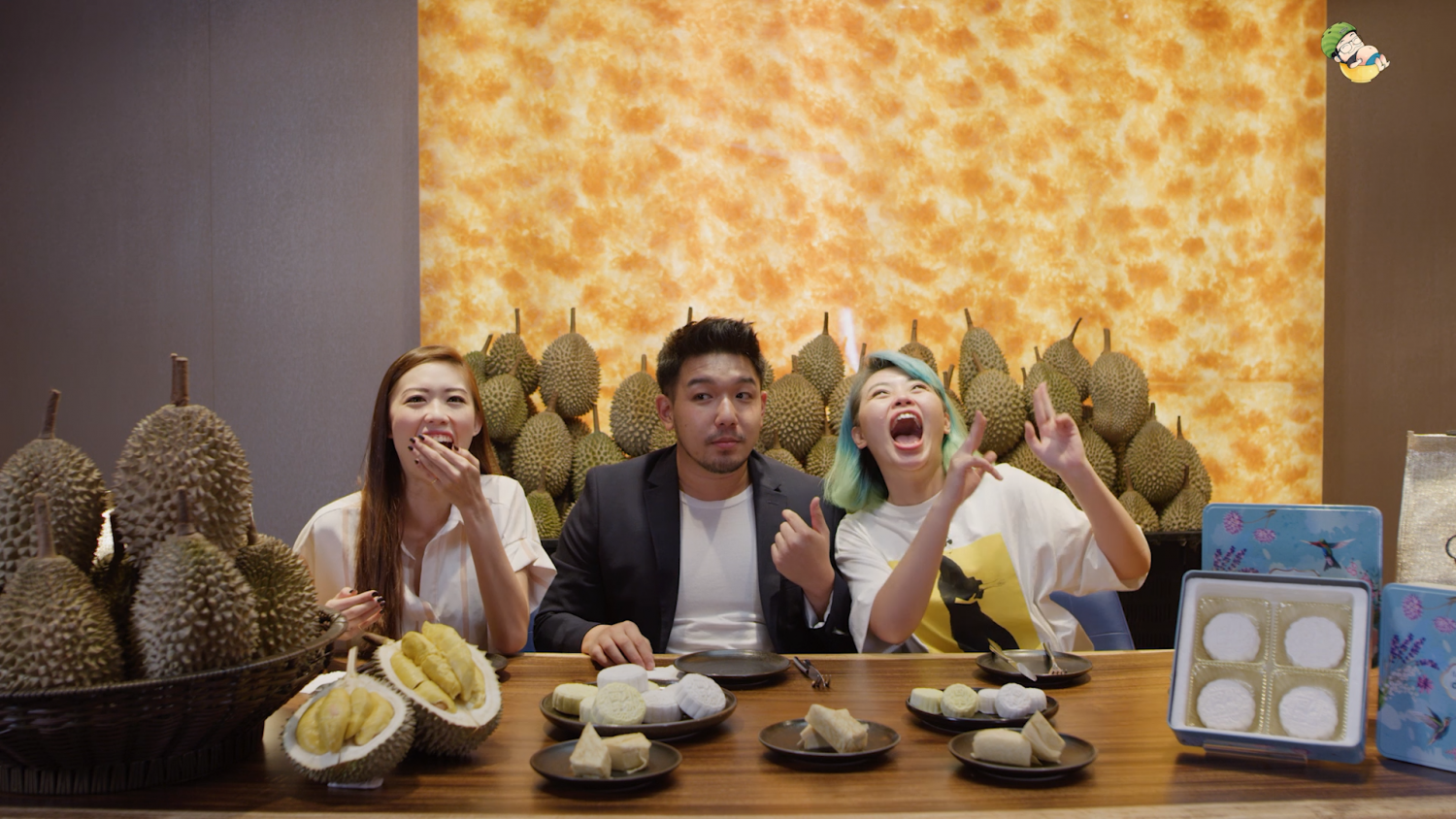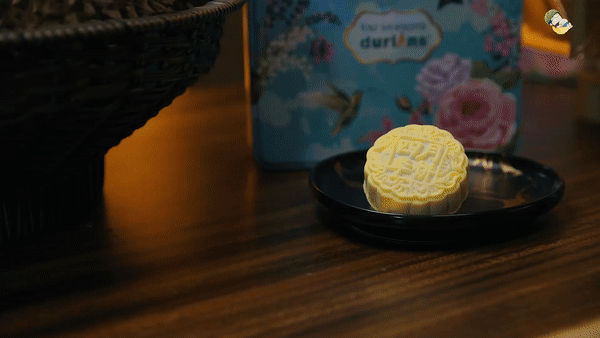 But before we try both of them, do you know how to differentiate a D24 from the Mao Shan Wang? Well, let us enlighten you. D24 durians generally cost cheaper and have a spikier exterior compared to the more illustrious and expensive MSW durians. The latter also spots a star-shaped symbol on its husk and taste richer and creamier than D24.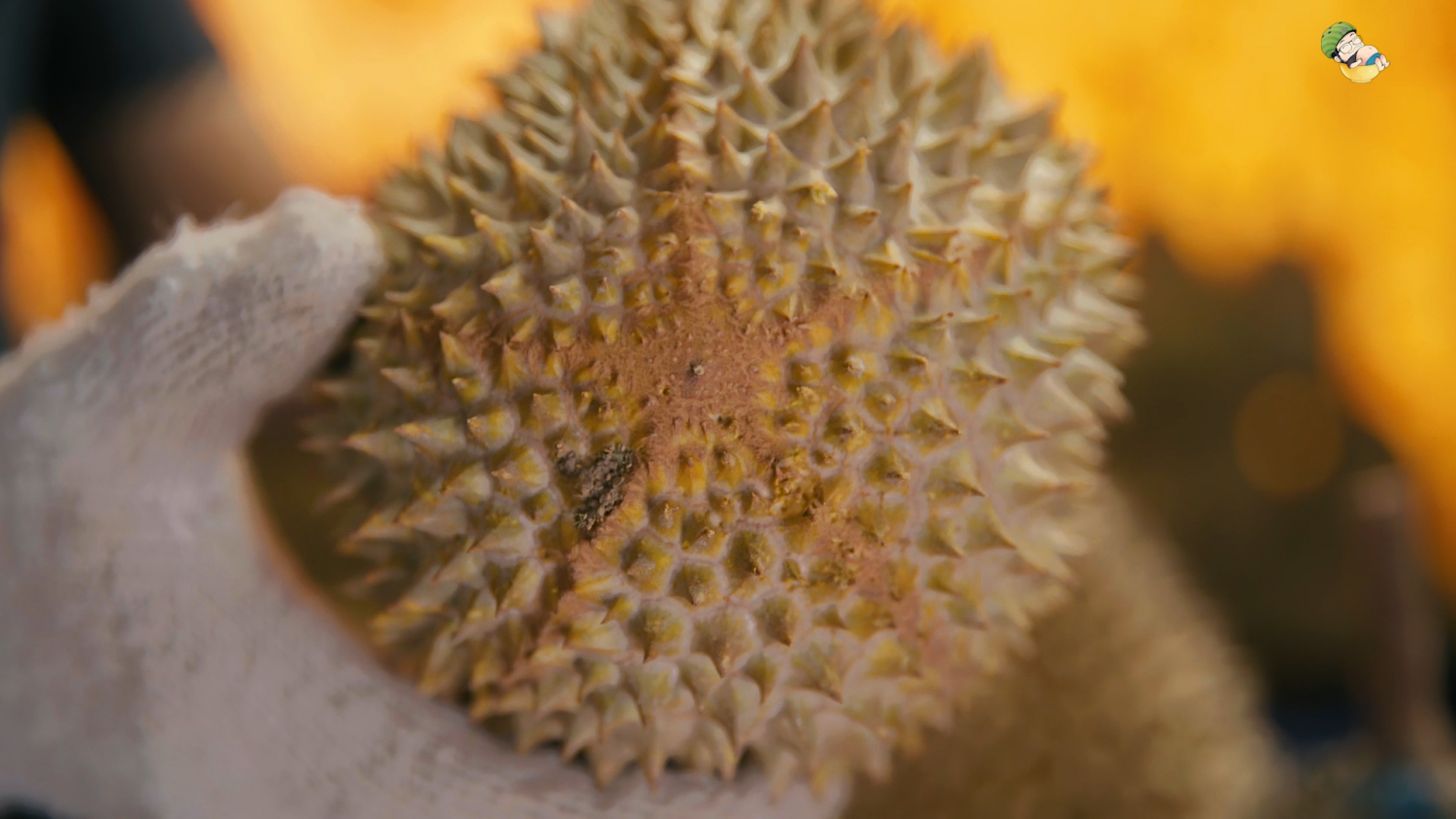 Now let's sink our teeth into this D24 Durian. We can't wait!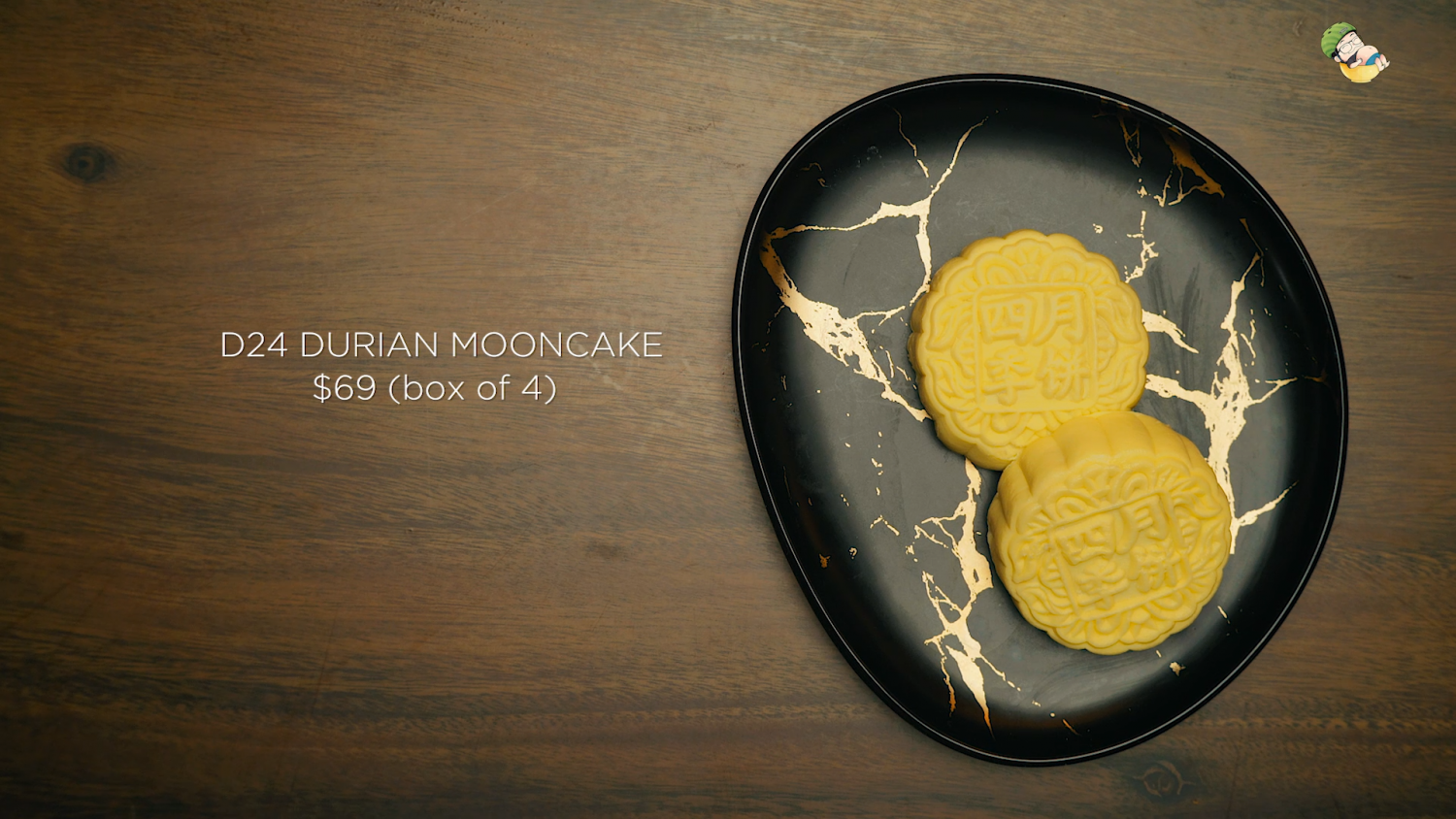 Do you know that for durian mooncakes, when it comes to the skin and the texture, the creamy part will usually separate from the skin. However, the skin of this D24 Durian Mooncake is fused together and doesn't separate from the skin.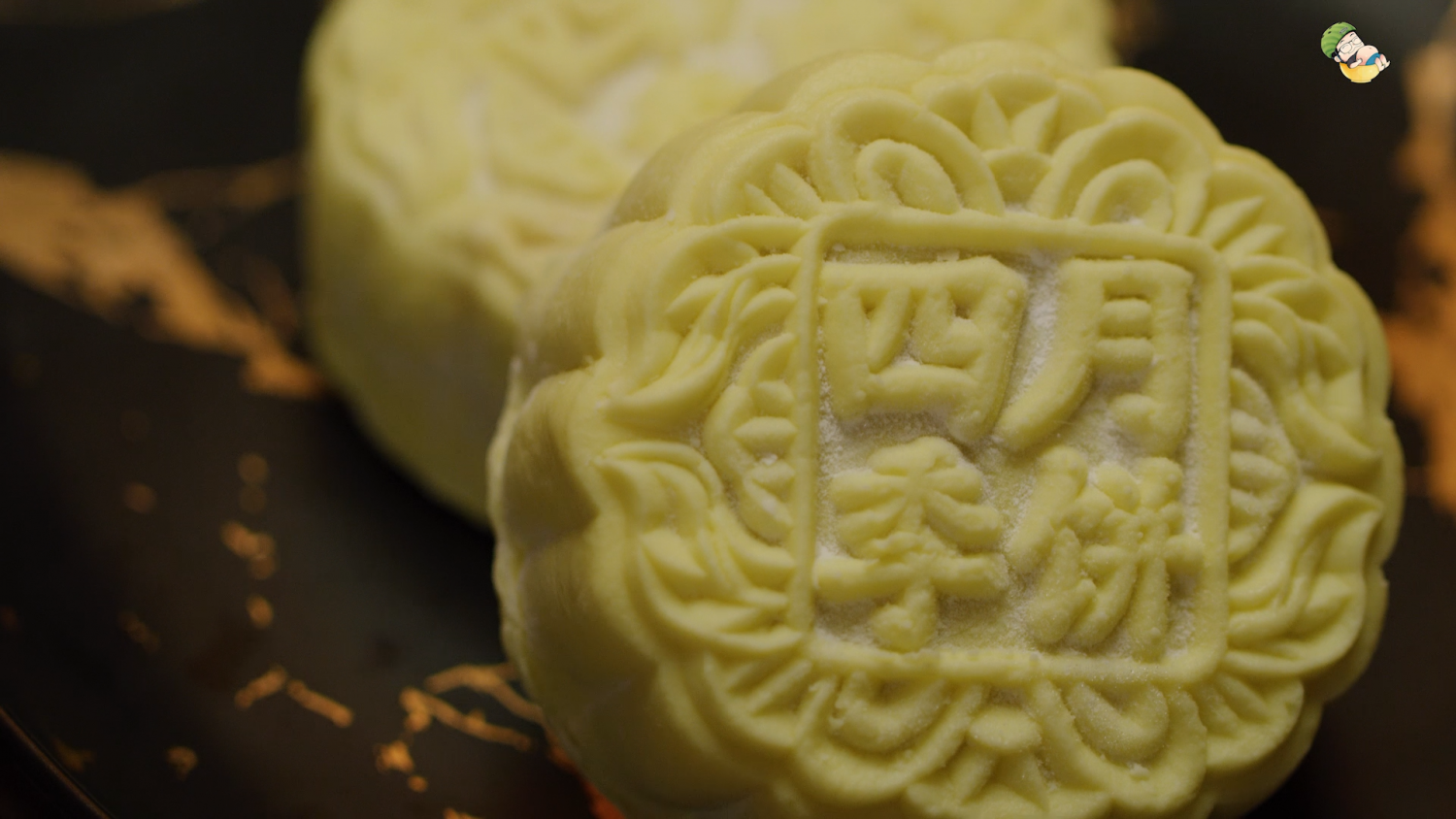 And once you try it, you know it's good. The taste is surprisingly not overpoweringly sweet. We like it!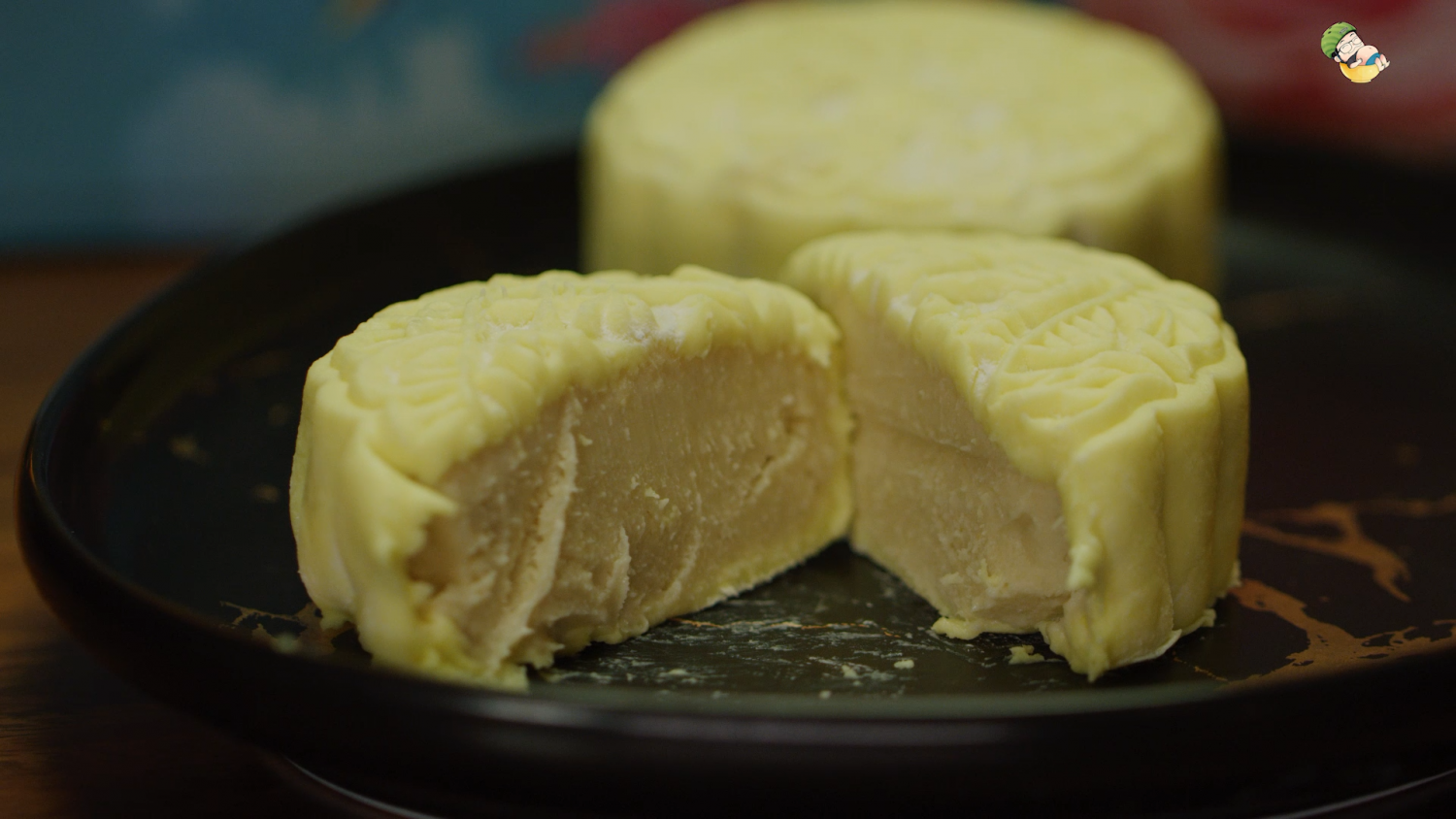 The skin is very chewy and has a nice bite to it. It doesn't just dissolve into nothingness.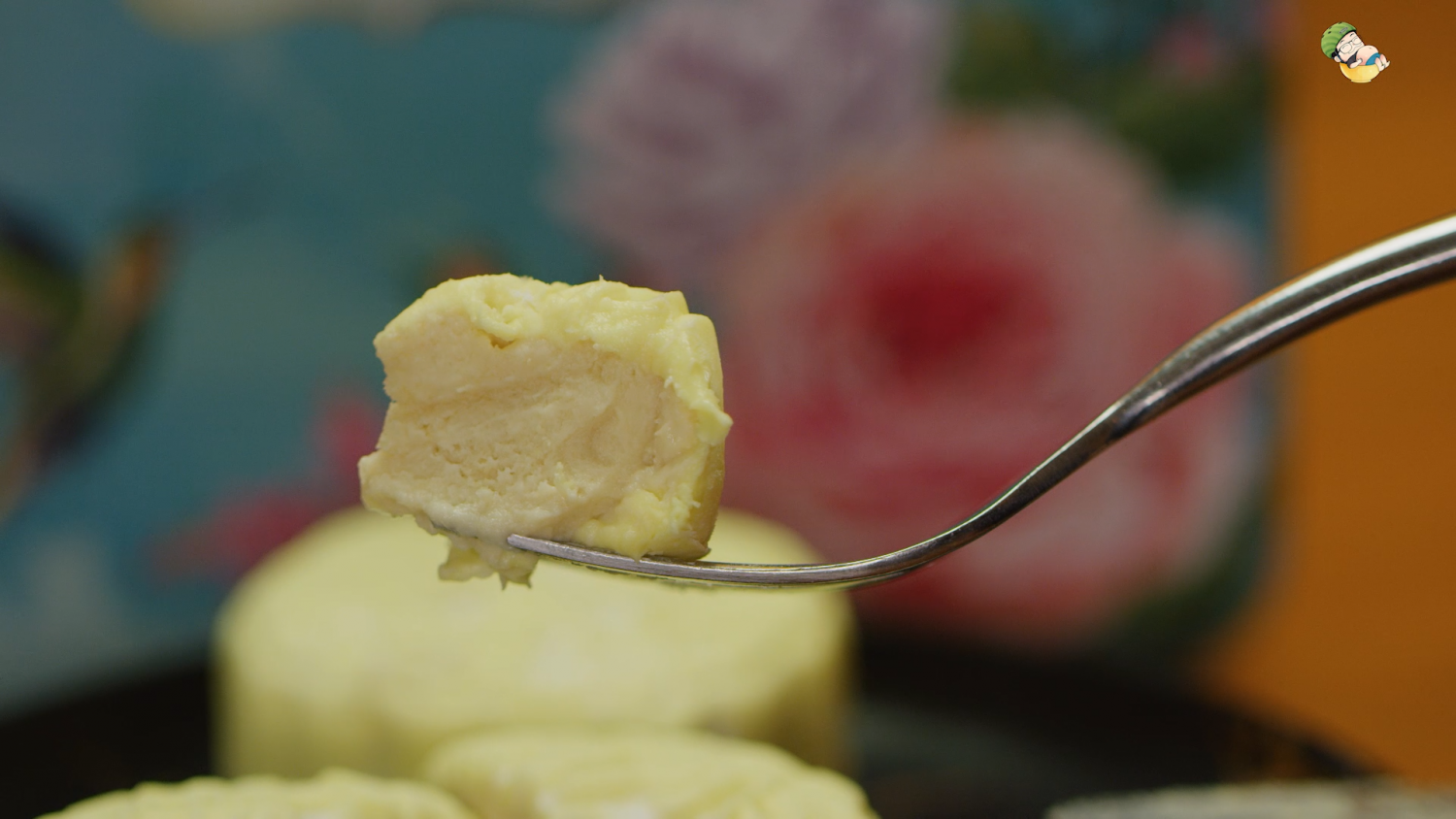 Omg! This is so delicious and addictive! ! We didn't expect that we could eat so much of it.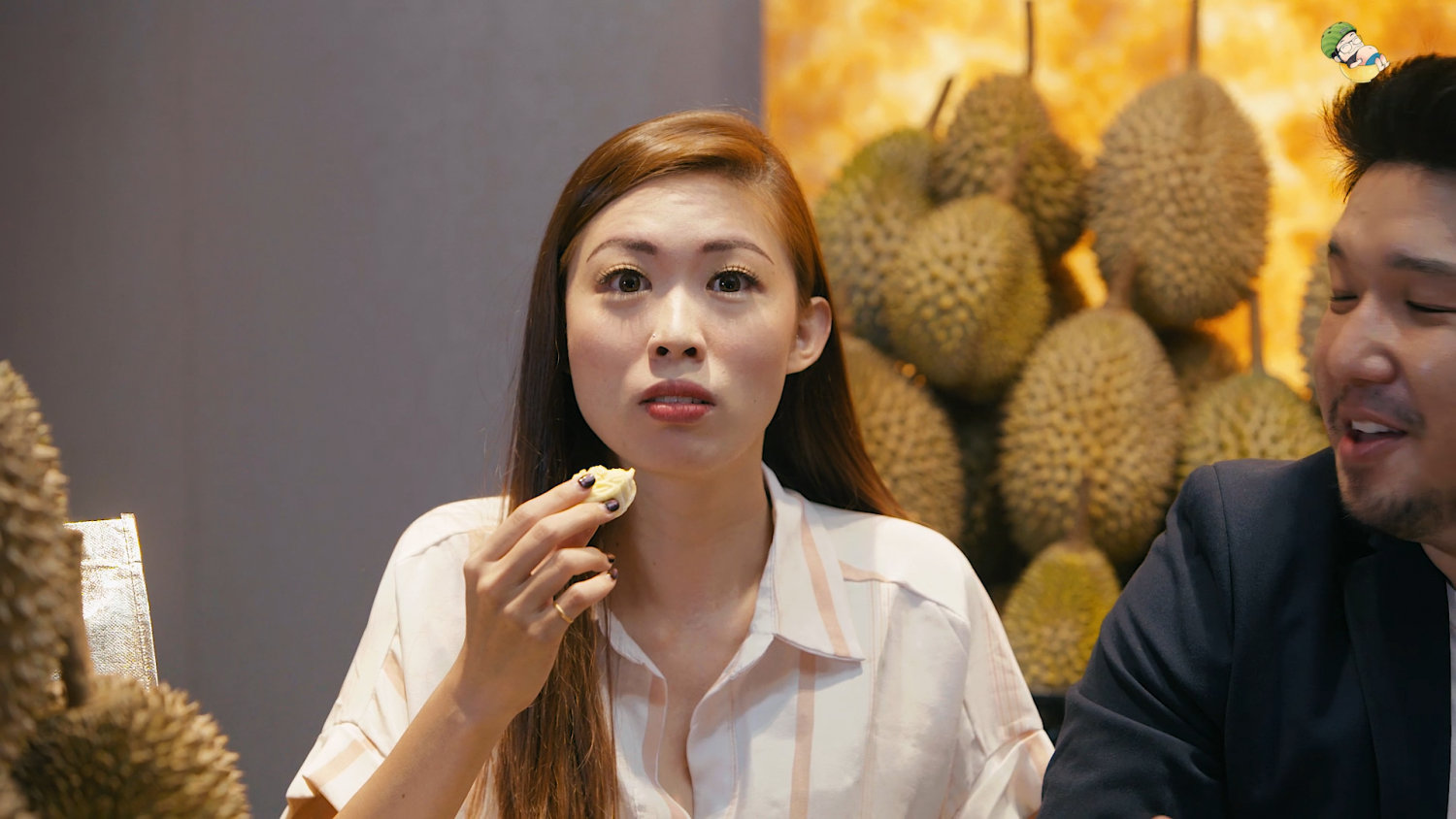 Oh my, this one really hits the spot. Just ask Nina!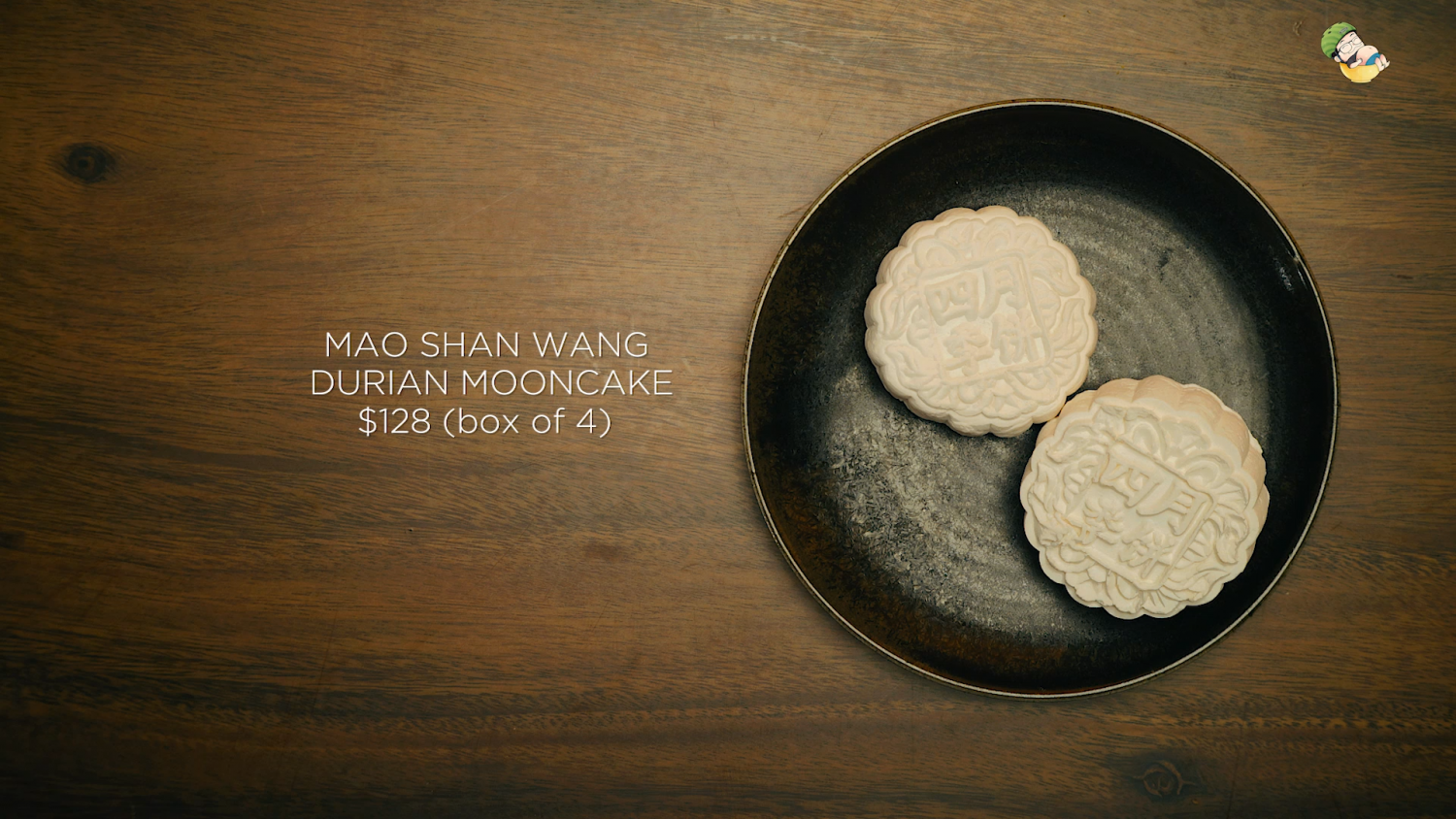 This Mao Shan Wang Durian Mooncake definitely have a more well-rounded flavour with a slight hint of bitterness. It is also much creamier and richer than the rest of the mooncakes here.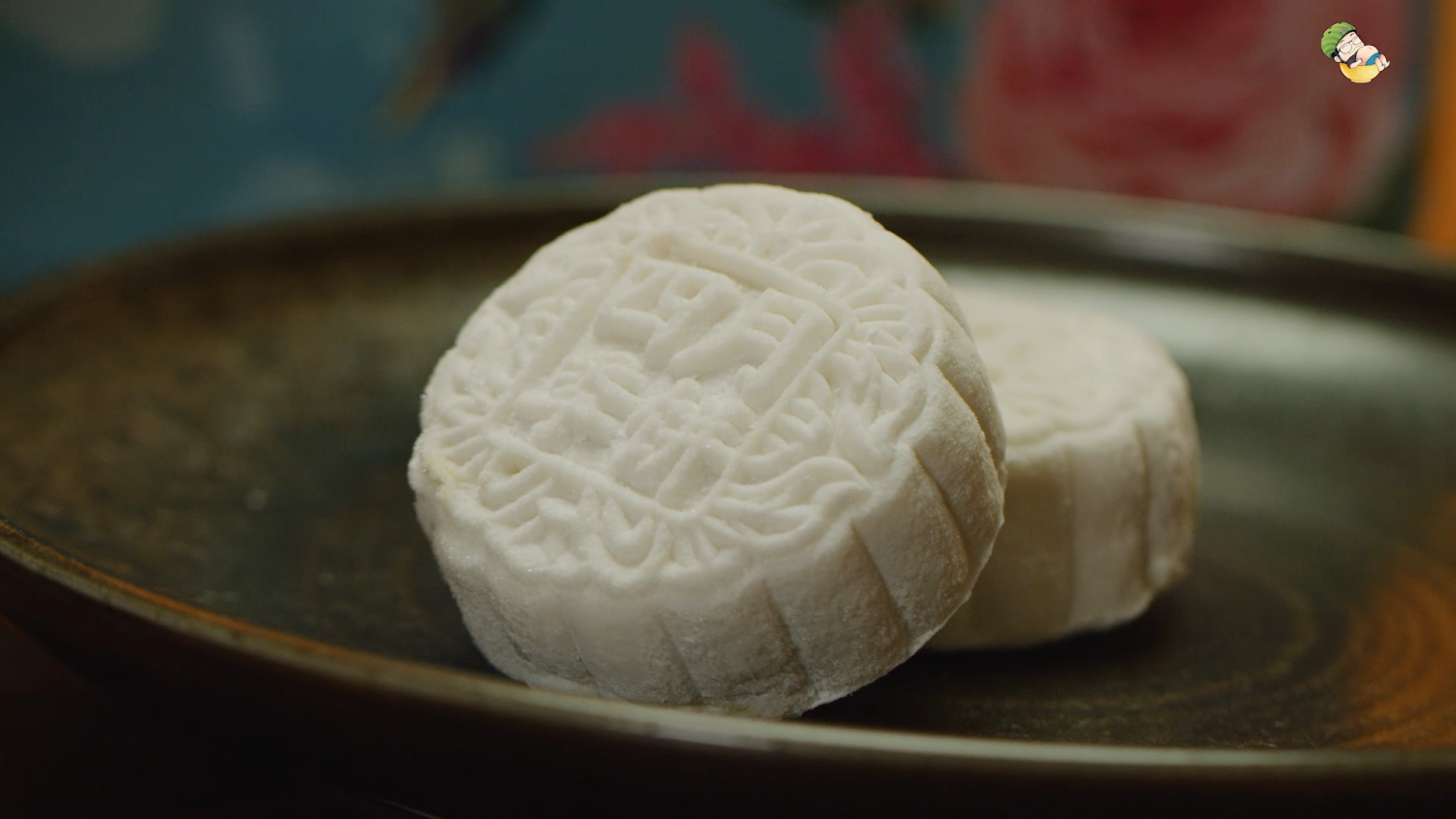 Oh wow! We love how thick the snowskin is. In fact, the snowskin is actually an in-house recipe. Lots of thought has been put into the texture of the skin. Now we know why people are willing to pay a lot more for this mooncake!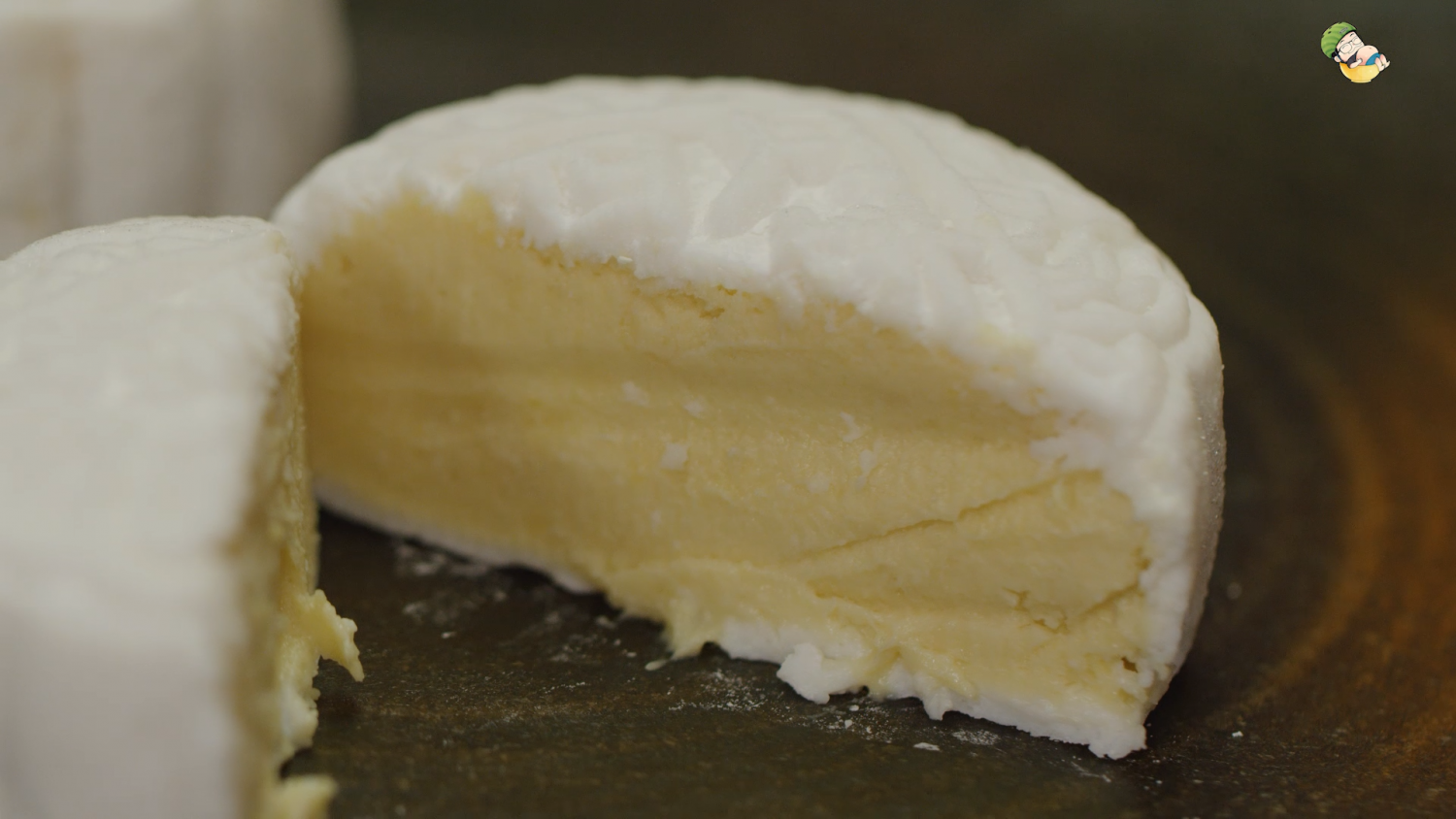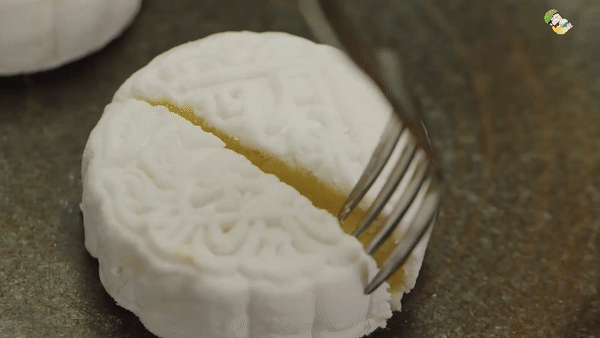 We are pretty sure if you buy this as a present during this festive season, everybody will be impressed with it.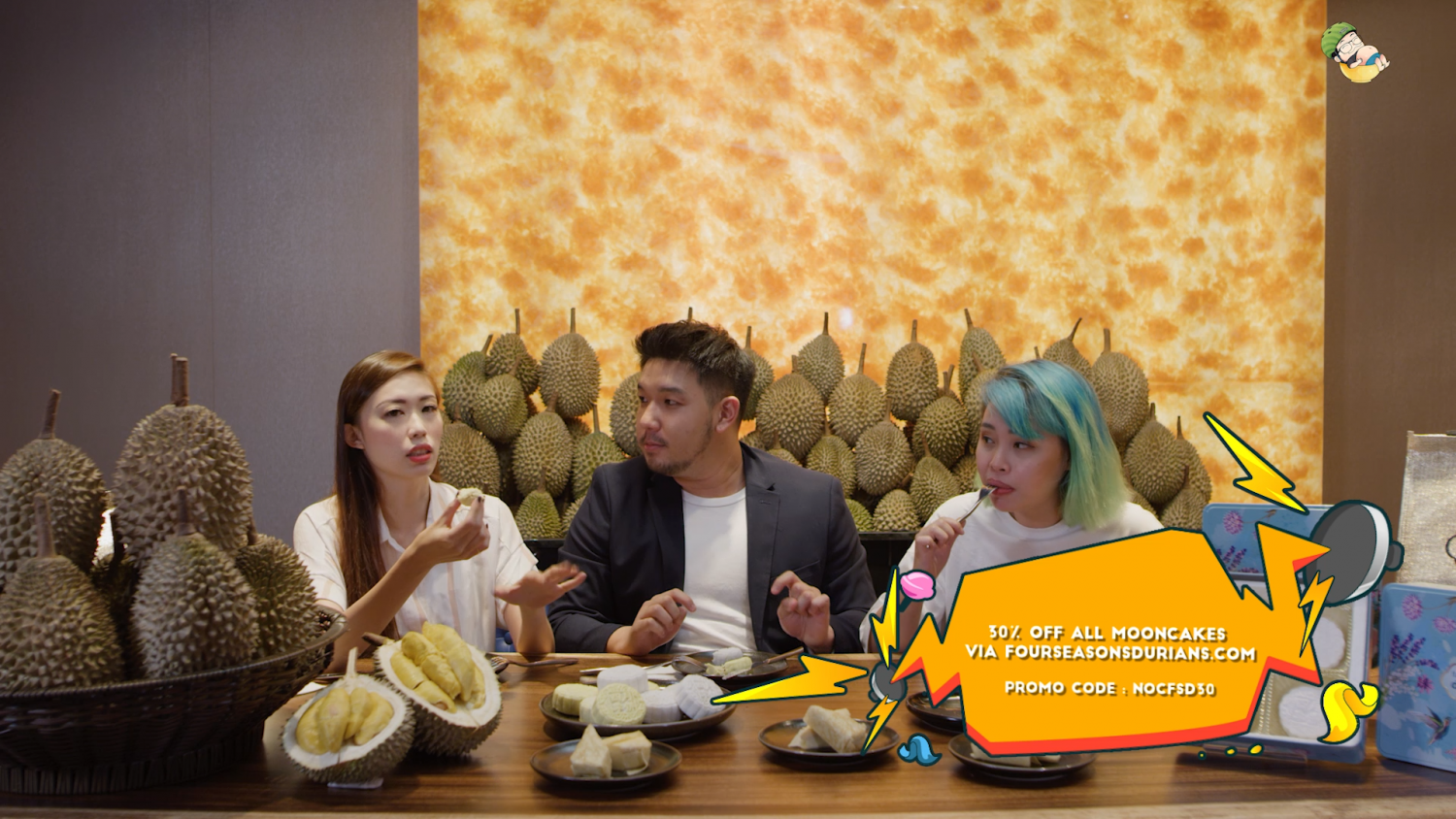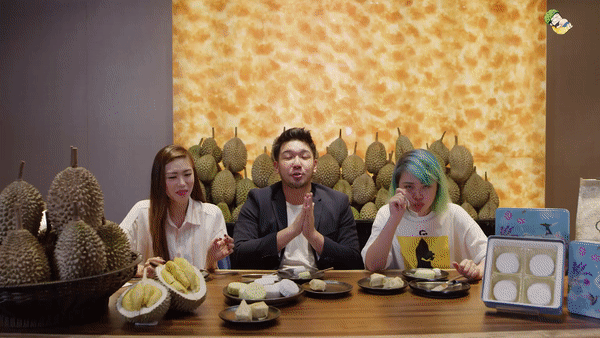 Ratings: 3 Stars, Food-King Good!
FOUR SEASONS DURIANS RESTAURANT

78 Airport Blvd, #B2-227/228, Singapore 819666
Daily 11AM to 10PM
And here's our Top 3 Picks of the Day!
Sylvia's pick – Golden Moments Signature MSW Snowskin Mooncake
Aiken's pick – Aroma Truffle Mooncakes
Nina's pick – Four Seasons D24 Durian Mooncake
We have come to the end of this week's episode and we hope you had fun watching us go on a durian spree with all these wonderful variations of mooncakes. So let us know which mooncakes you're going to buy this mooncake season. And don't forget click on the video below and to follow us on all our social media platforms. Till next week, adios!