Hello everybody! What time is it? Yesss it's time for another episode of Food King! Today we have 2 lovely ladies with us to try a plethora of delicious goodies from this year's colorful and hippy Ramadan Bazaar at Geylang Serai. Sylvia is back too and along with her is the comedic Munah Bagharib! You are in for a treat! Oh wait, it seems like Aiken is having a golly good time already. Wut!!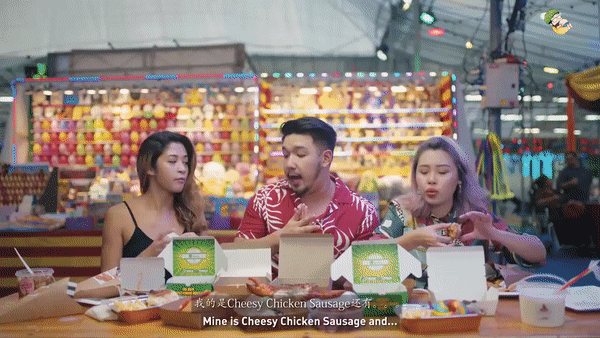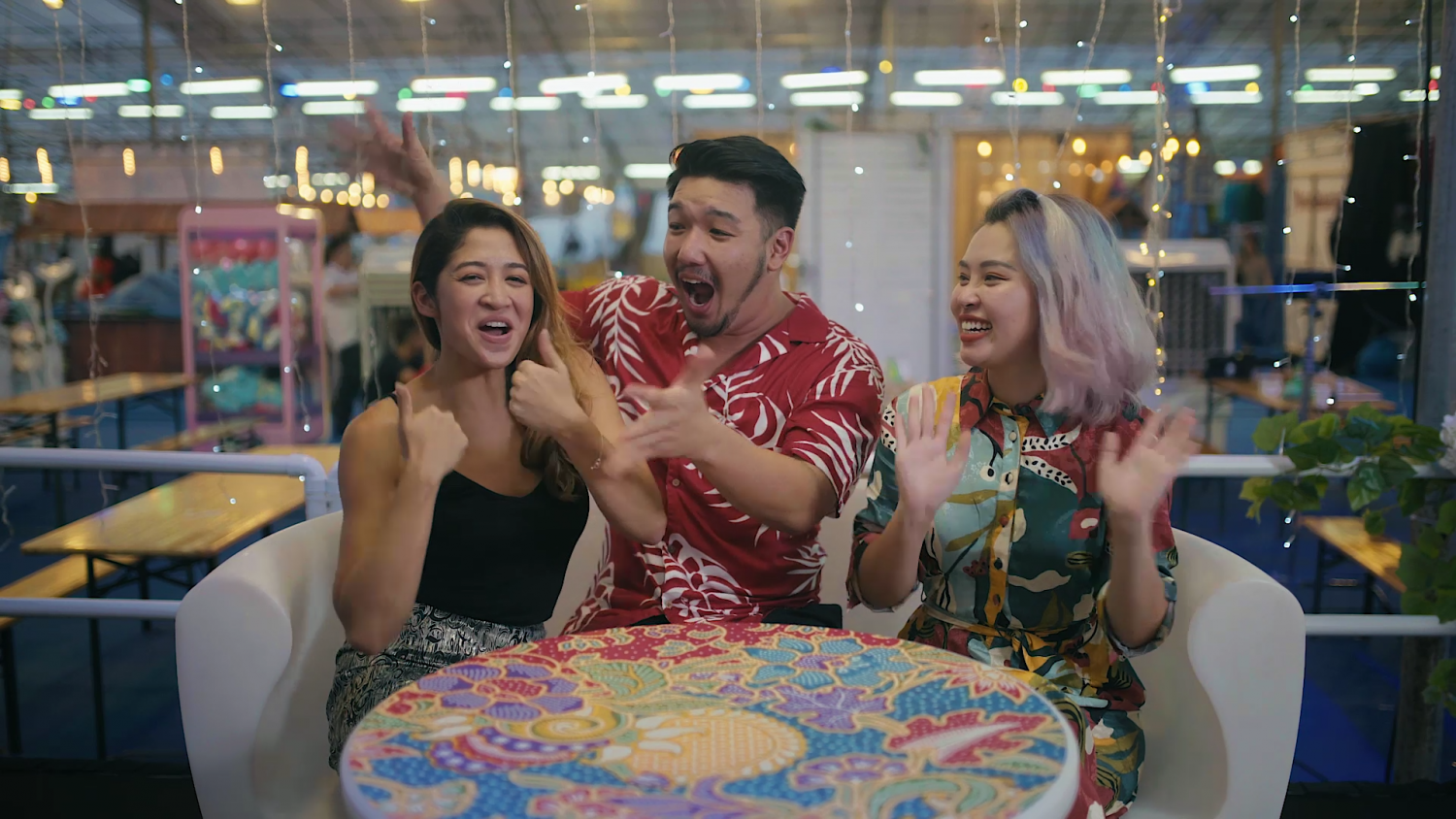 This year's bazaar is has been given a much needed revamp in terms of logistics and design. Just look at how wide the walkway is. Yay to less squeezing and more food!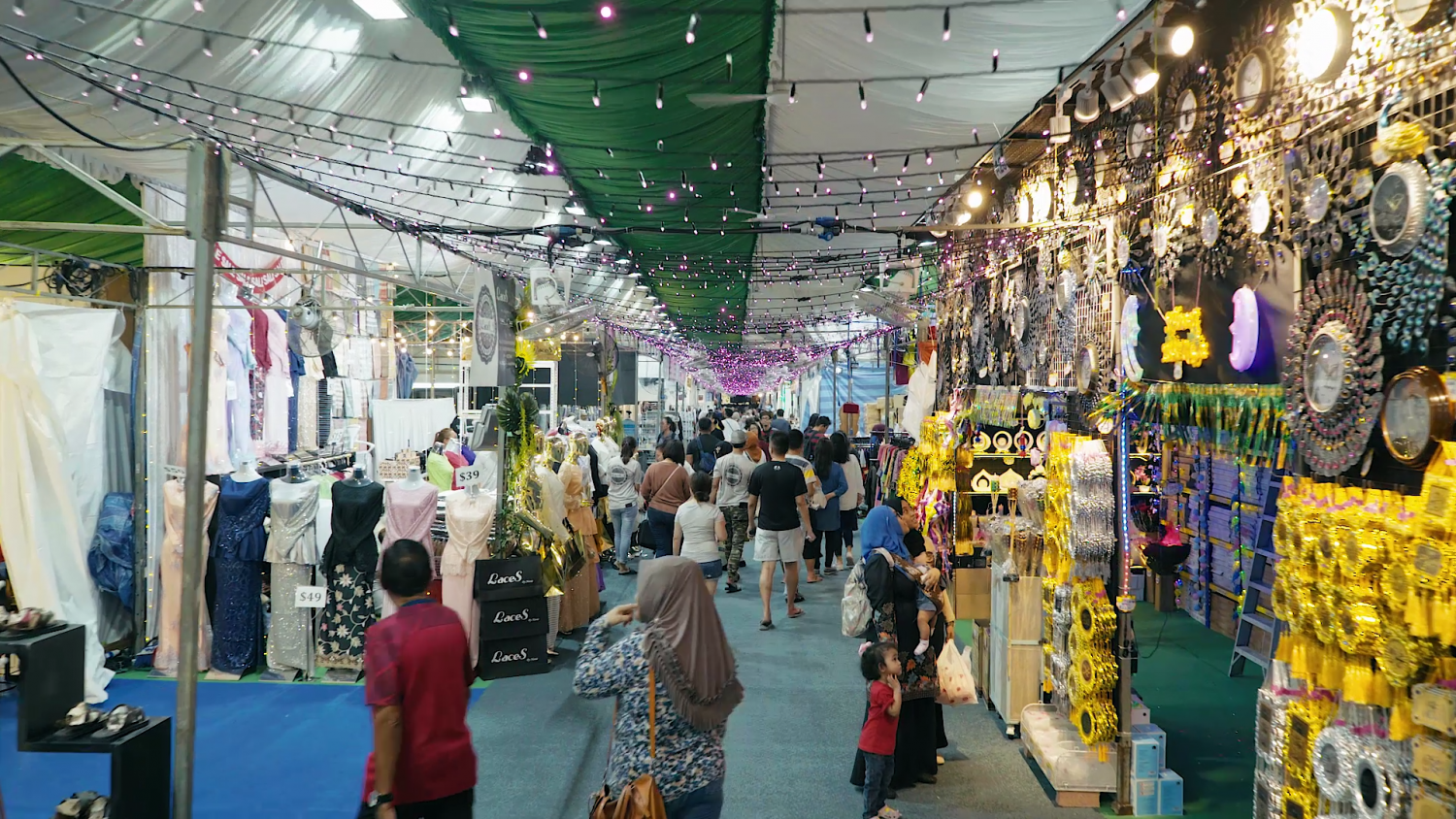 Out of the estimated 500 plus stalls at the Geylang Serai Ramadan Bazaar, about 60 percent of the food stalls sell traditional Malay food, while the other 40 percent are contemporary options.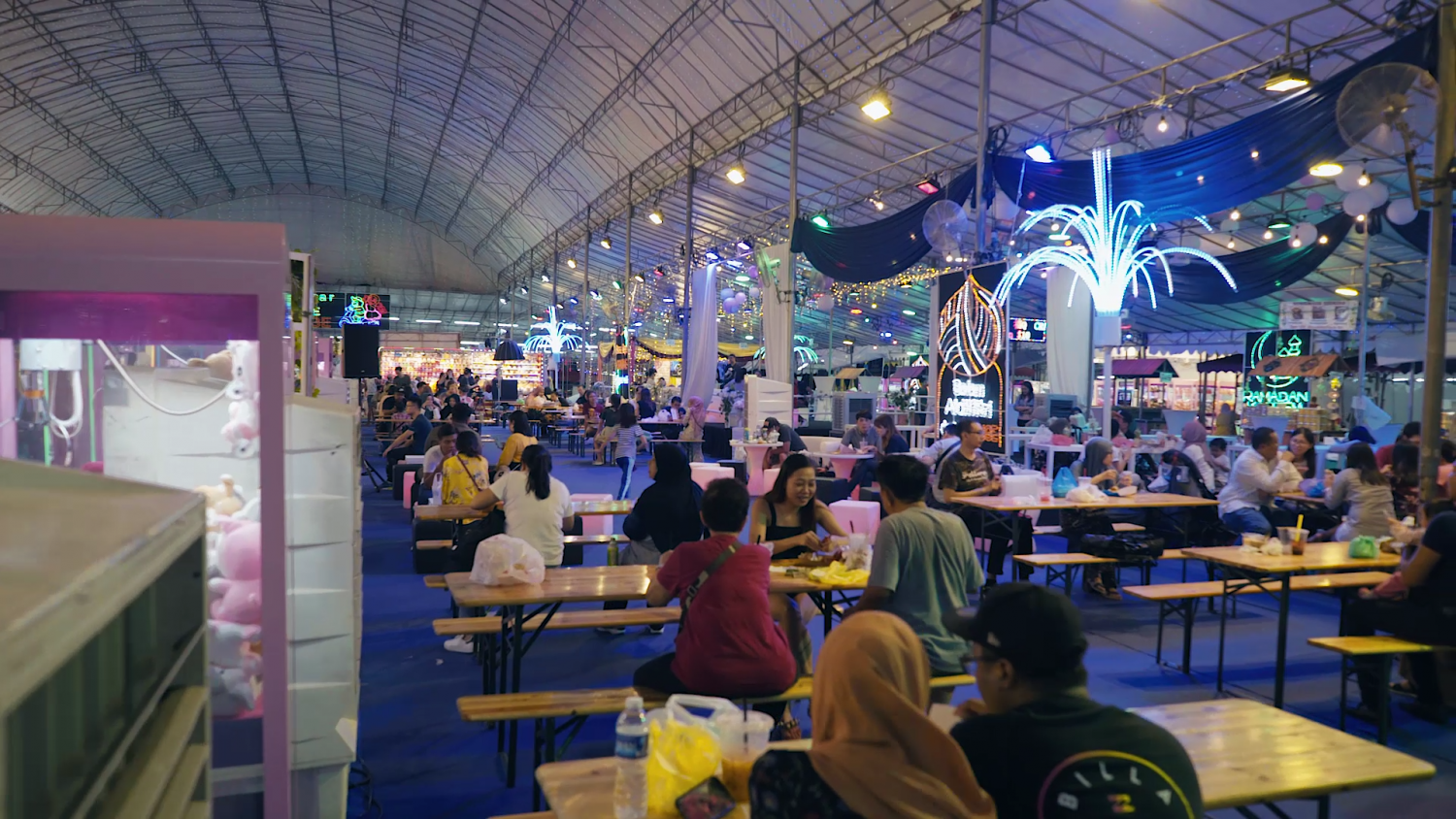 If you think the bazaar is just a street food crawl, think again. There's an abundance of retail stalls, amusement rides and plenty of carnival games to keep you busy while you work up an appetite in between each round of chowing down.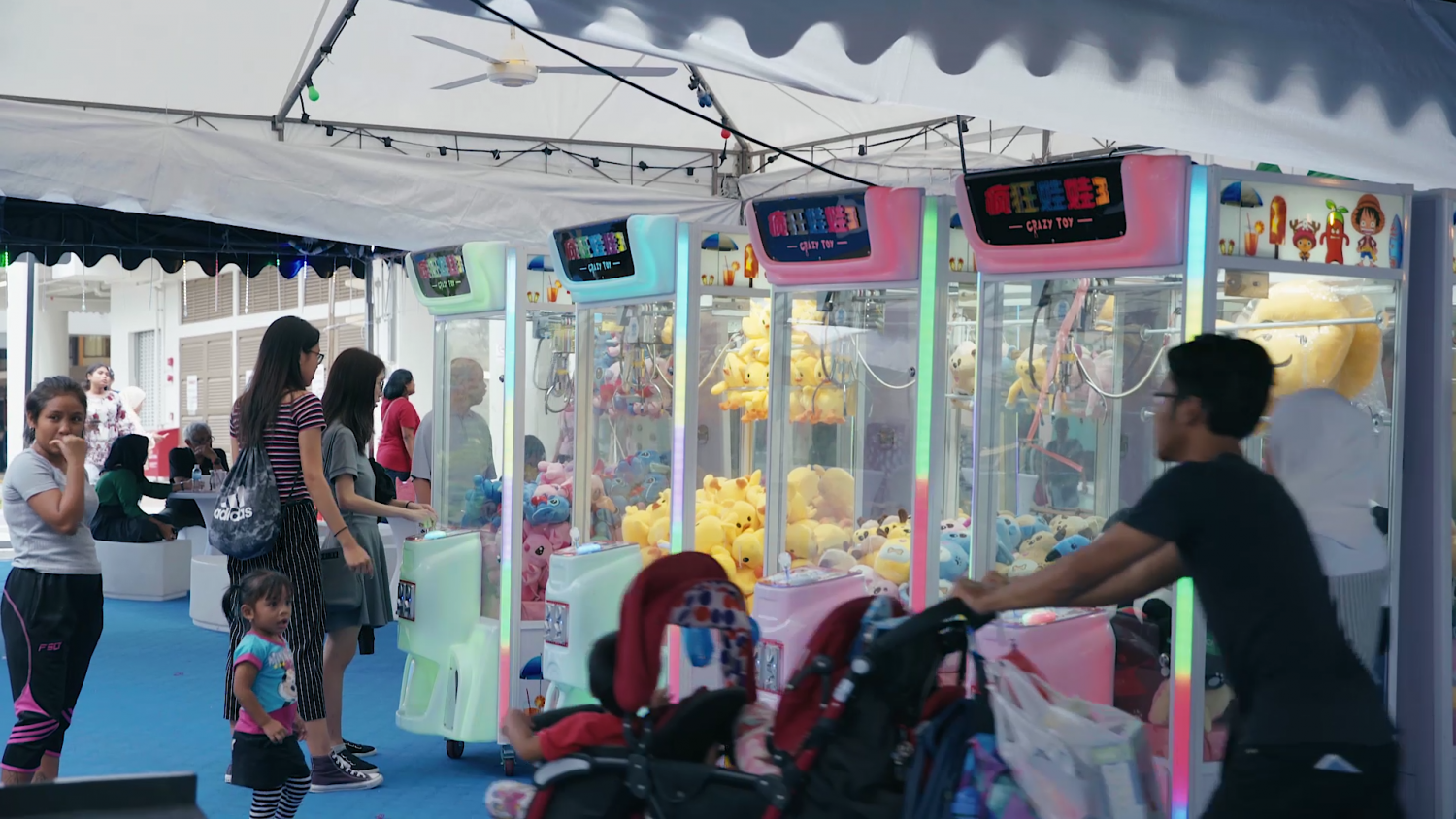 Look at all the food we have here. Sylvia's so hungry she's already started eating. We can't wait!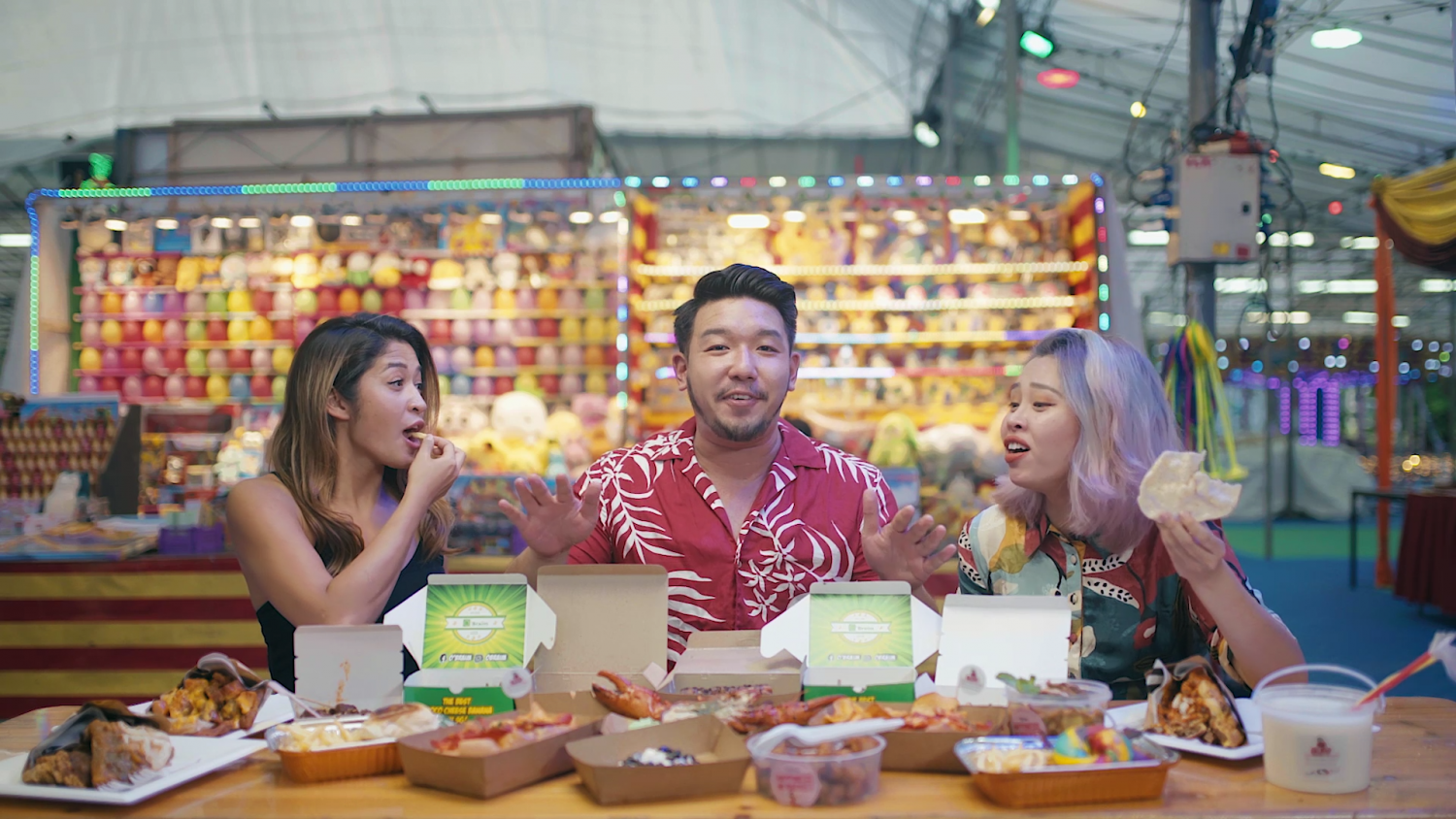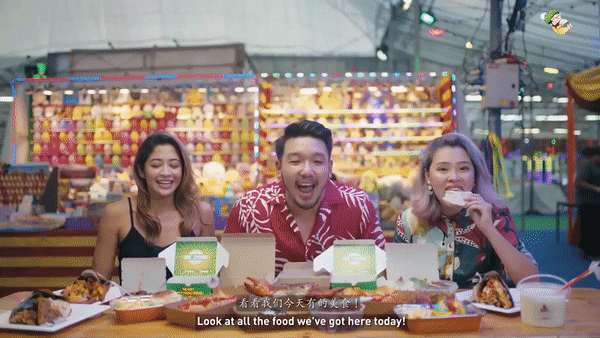 First and foremost, we are going to try this interesting Laksa dish from Sofnade. These are the guys who made the Meatballs in a Bucket which we covered in our earlier episodes.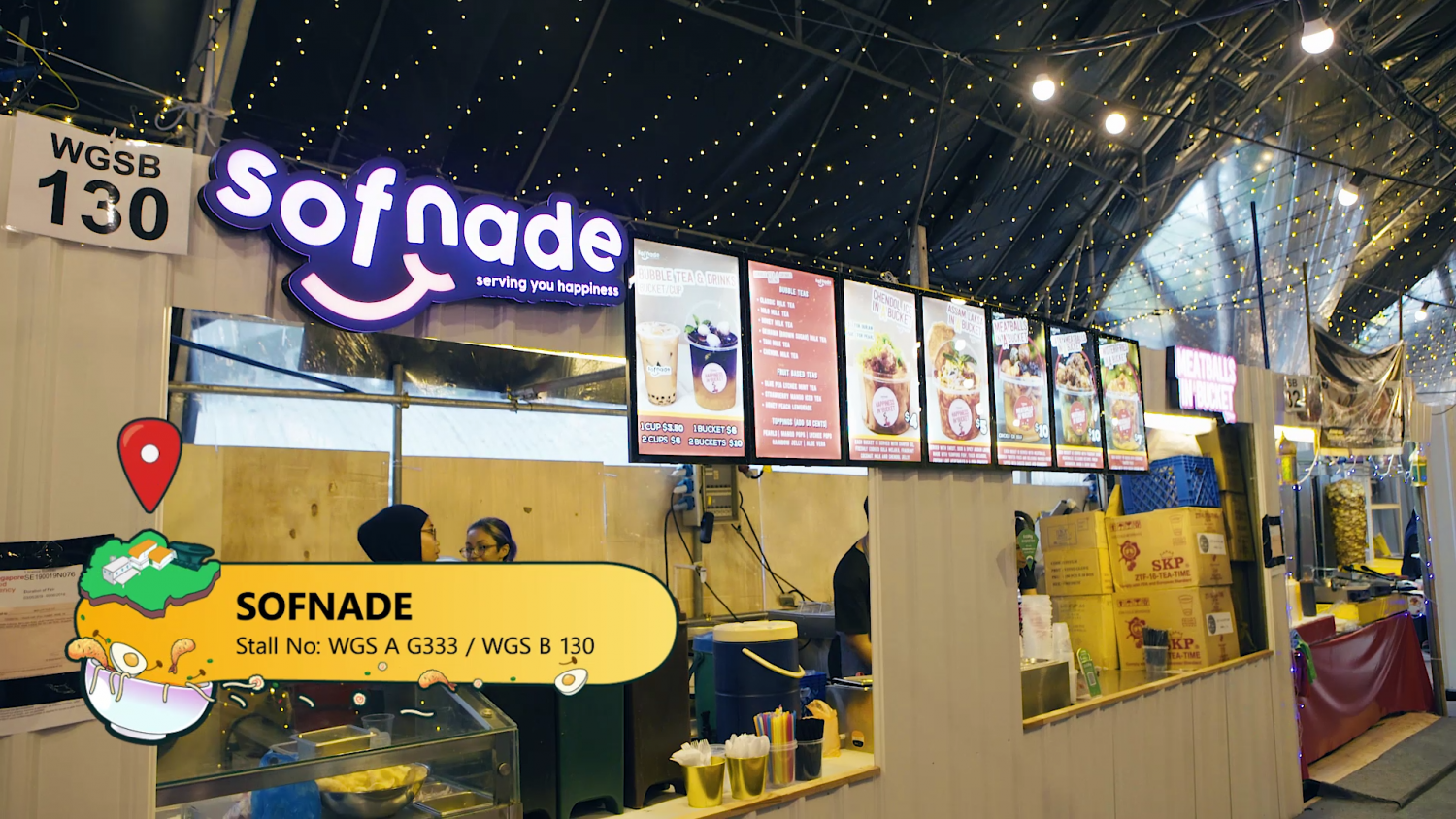 Their Assam Laksa in a Bucket is pretty unique and nicely presented. The company did well to stick to the traditional taste of the Laksa too.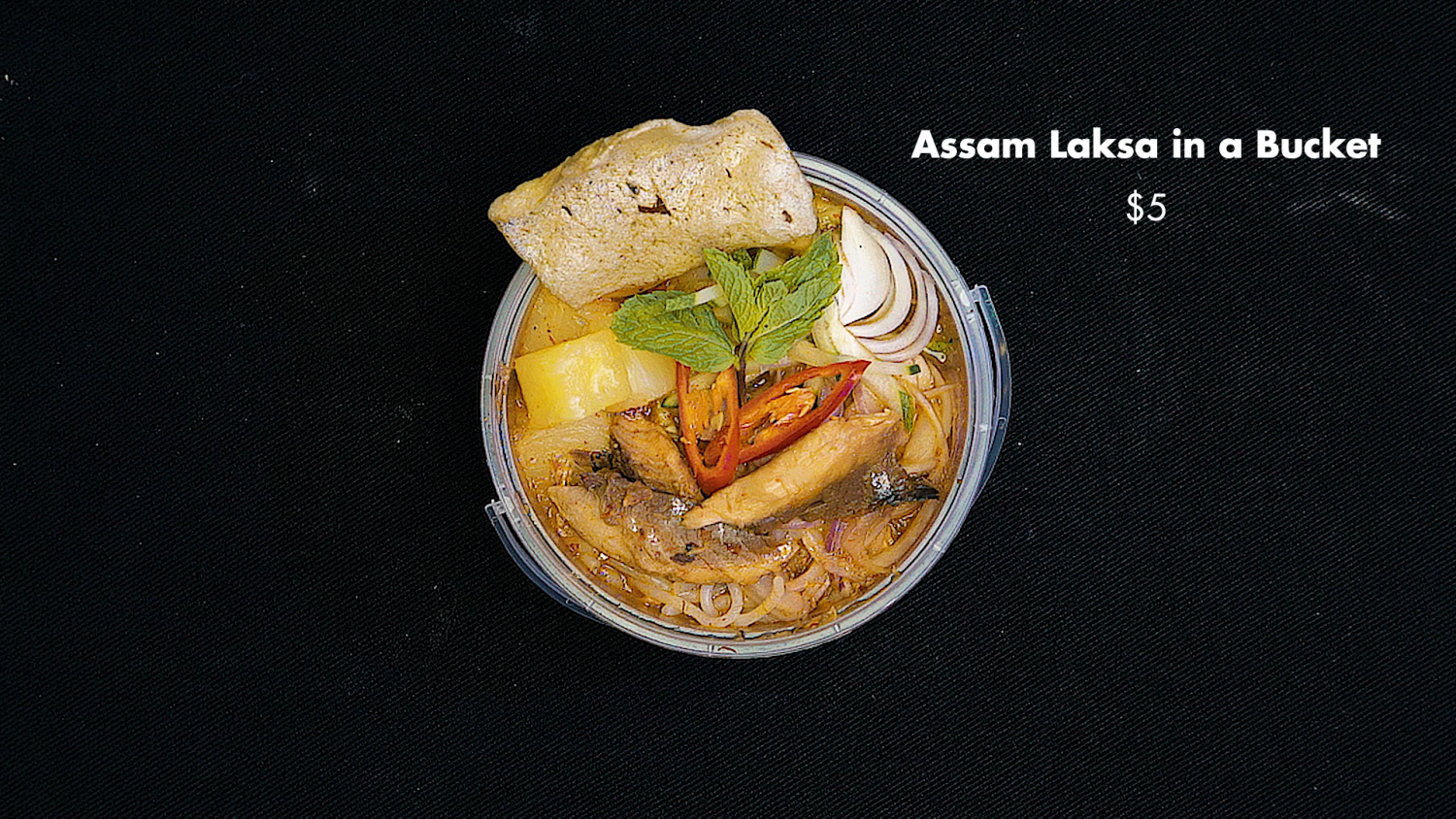 The ingredients are generous and add much color and flavor to the dish.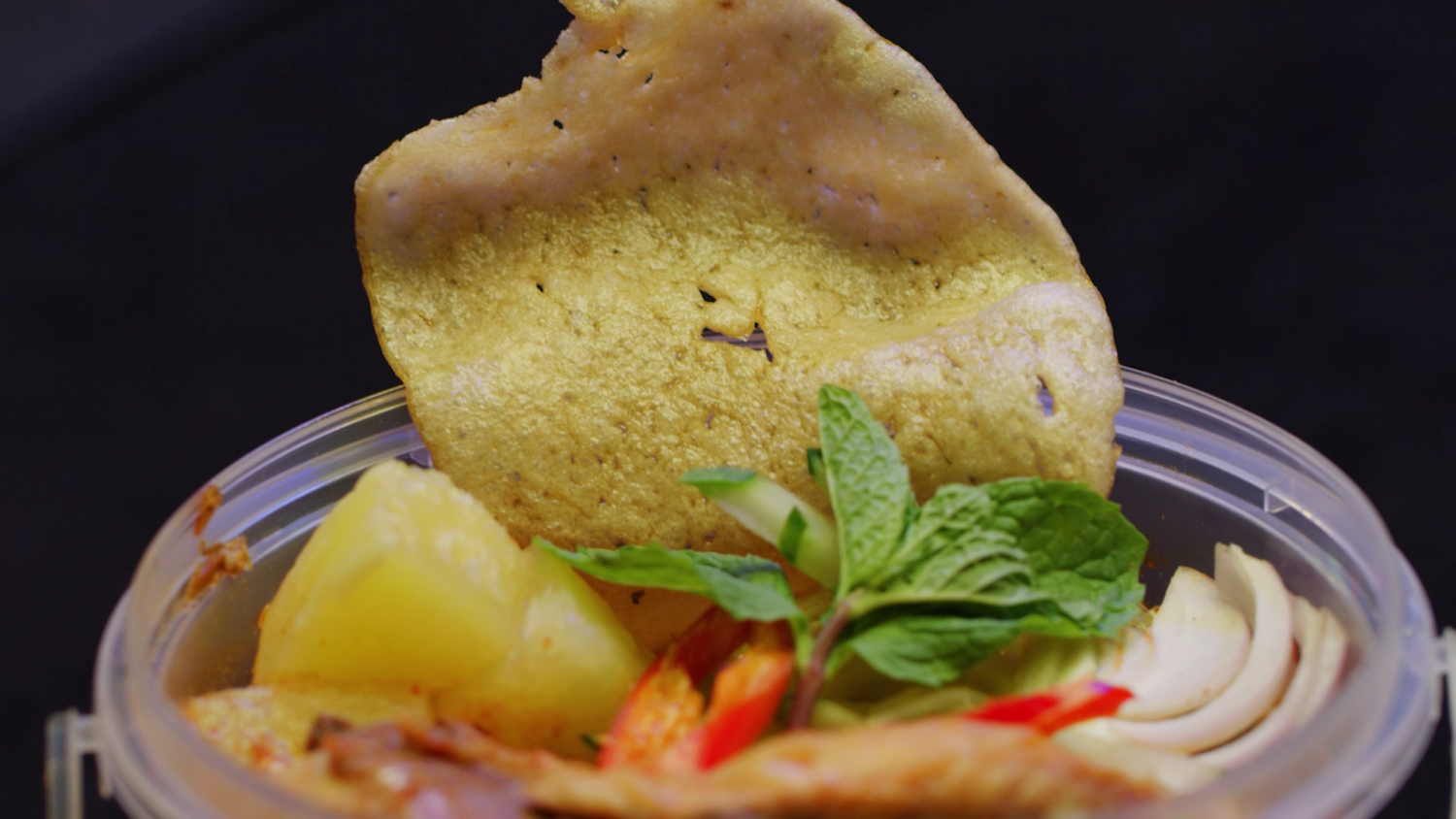 Here's the star of the show – Their gravy! Super thick and Assamy. Legit good!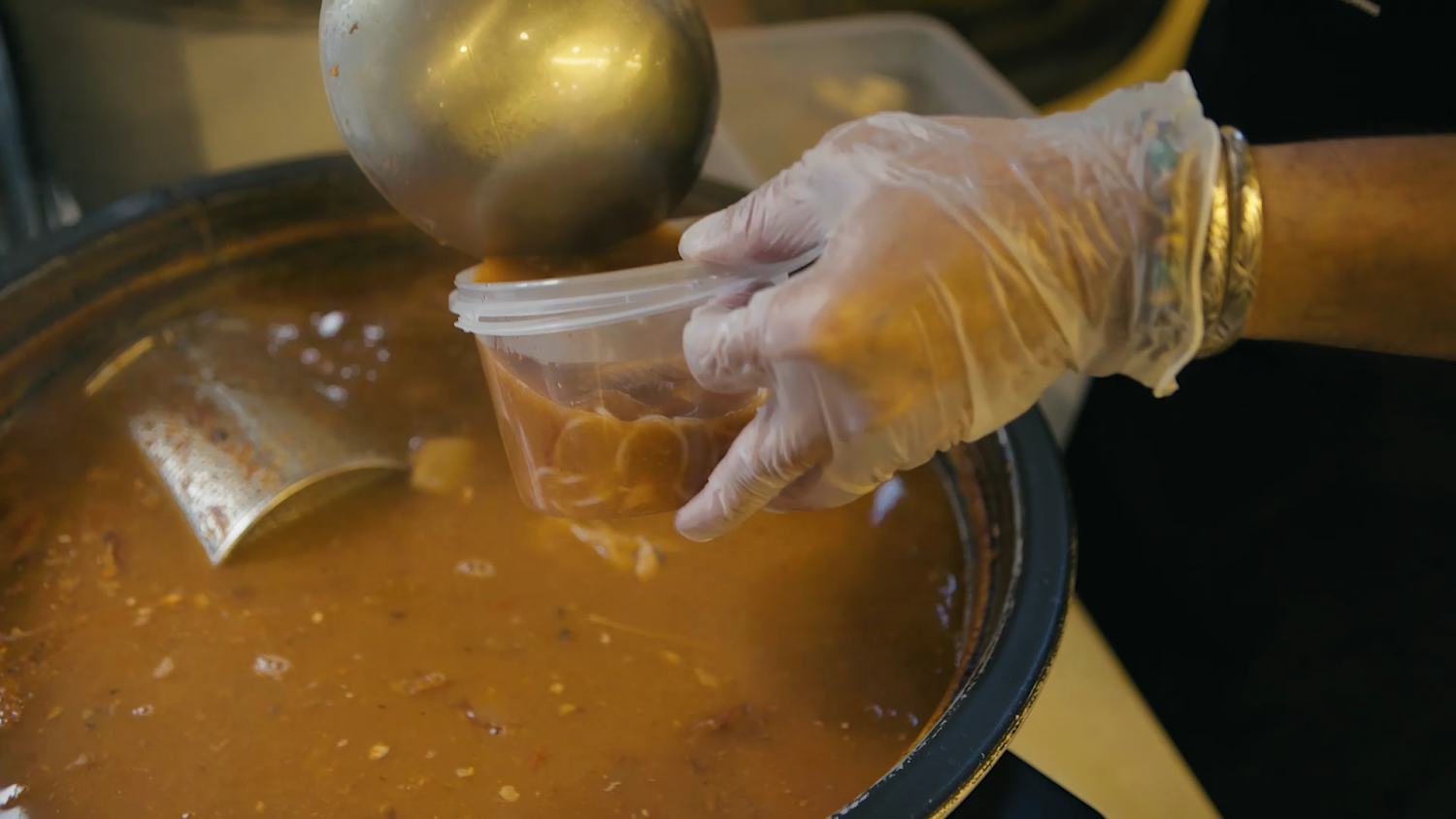 And the mackerel! The portion is huge and the fish simply melts in your mouth! Goodness.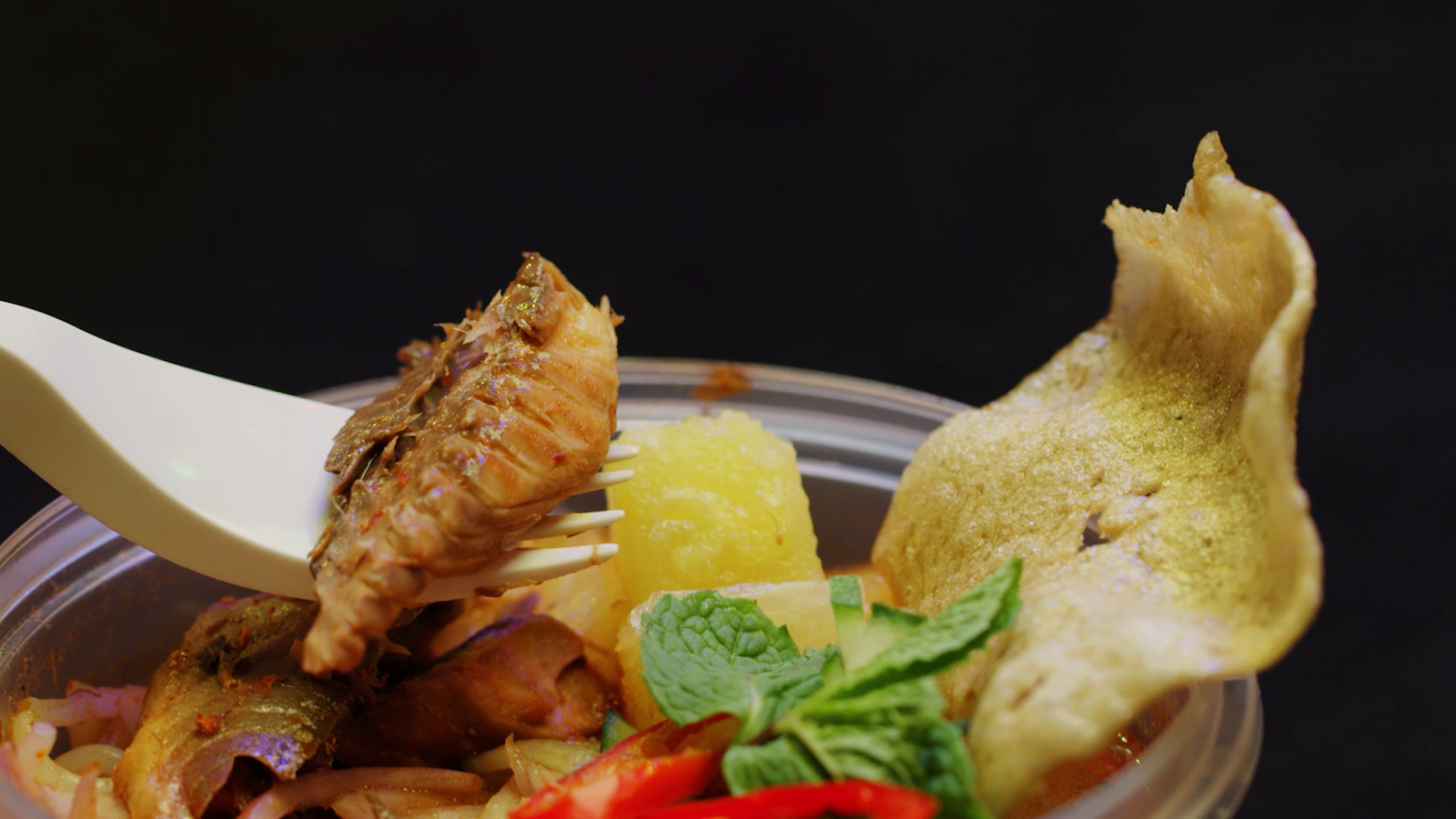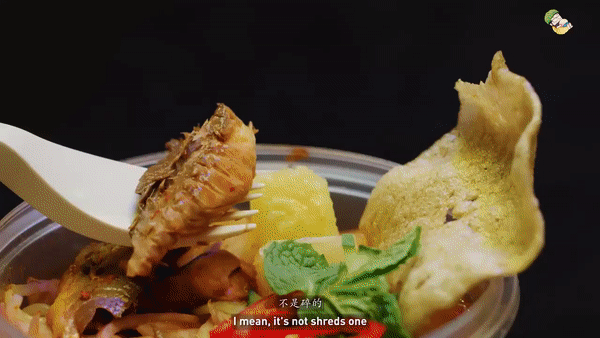 We can't stop eating. So good.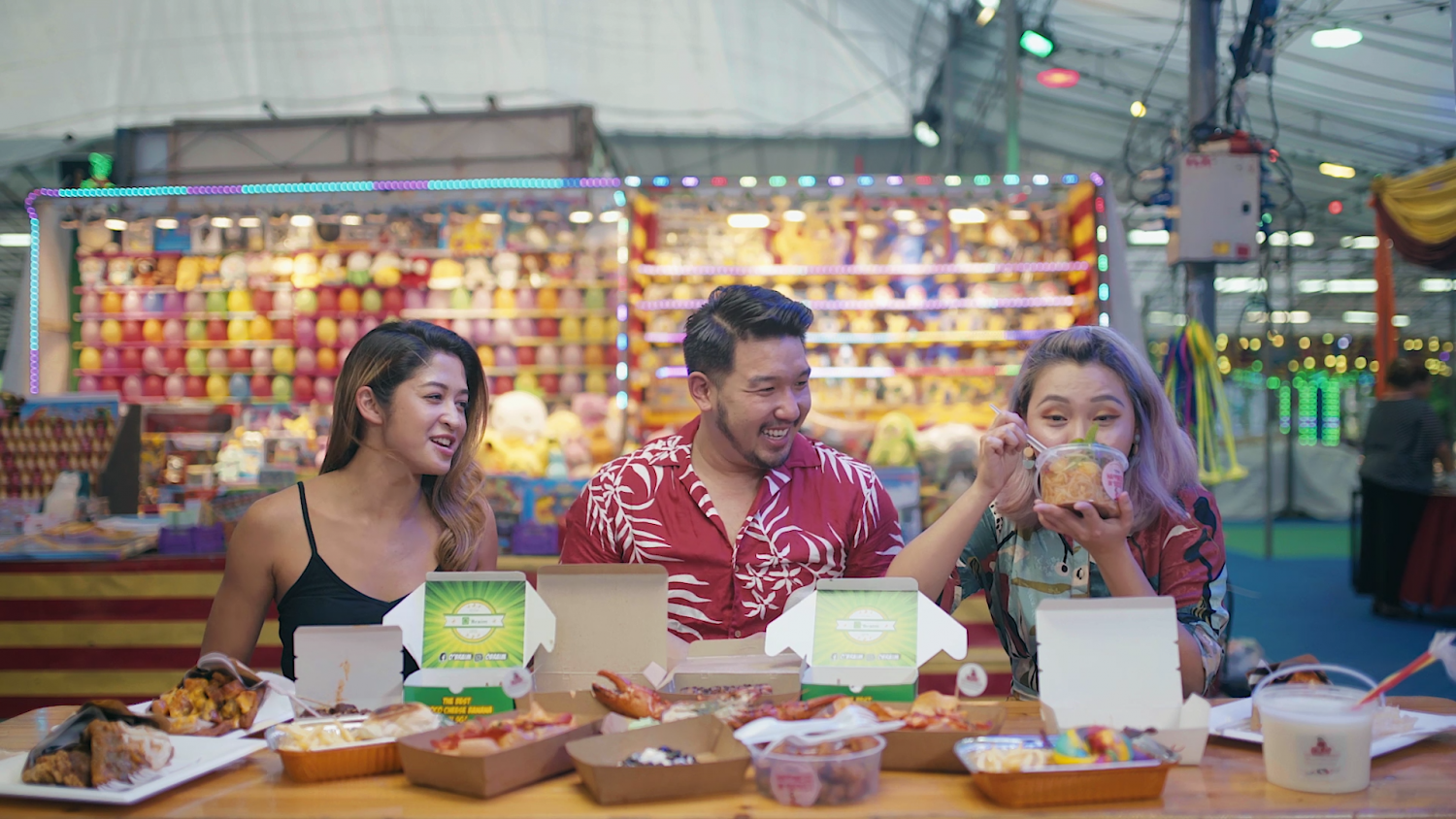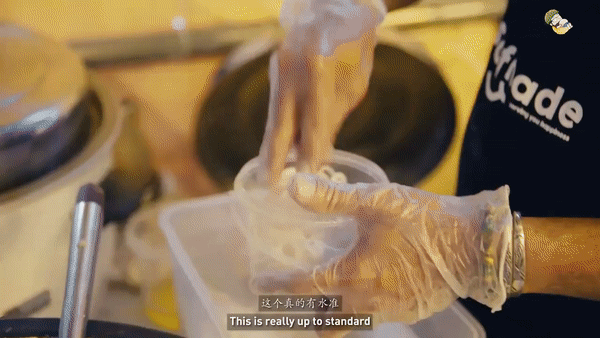 Munah approves. Sedap!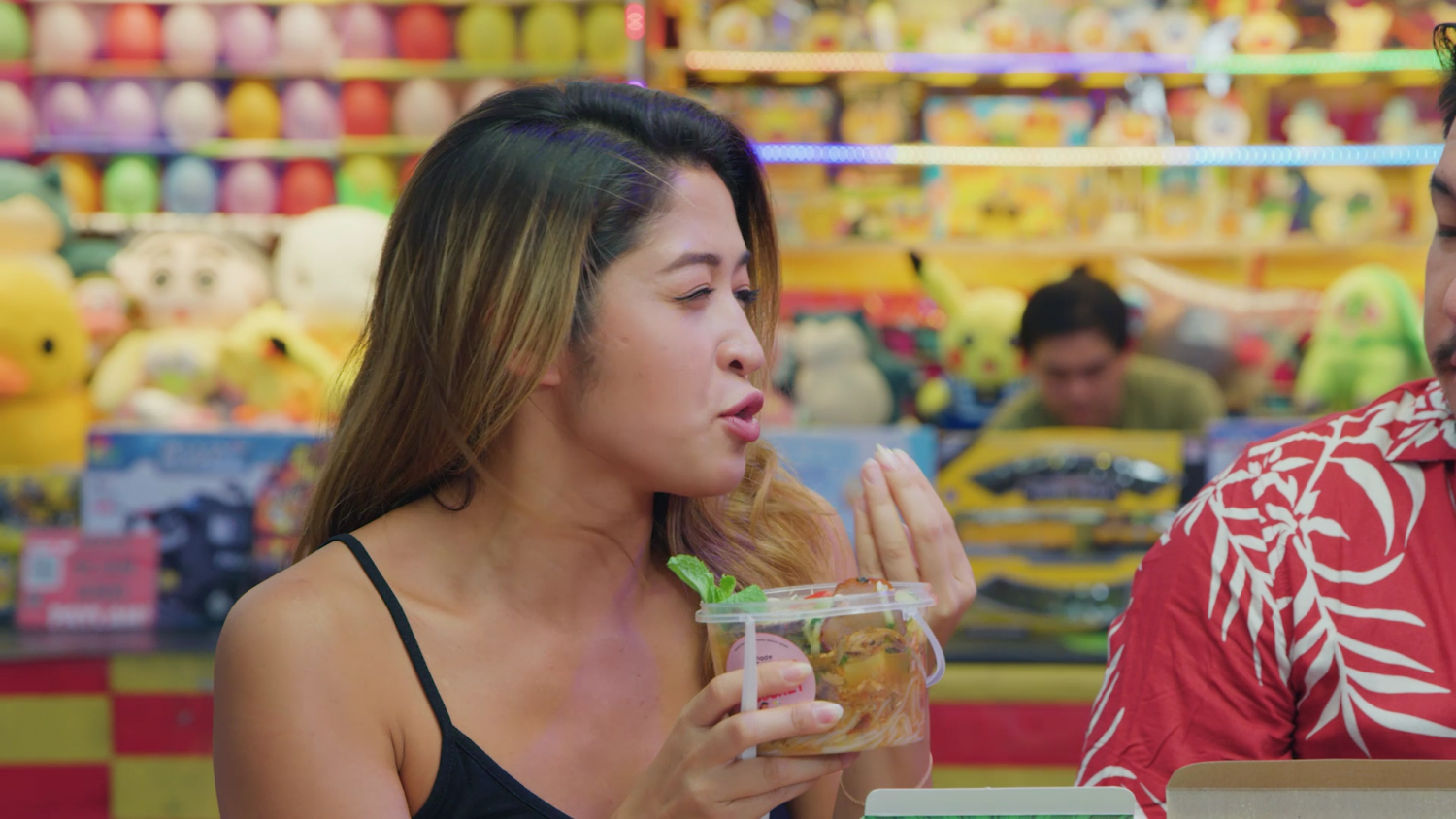 Yes! Sofnade have a total of 3 stars and it is Food King Good!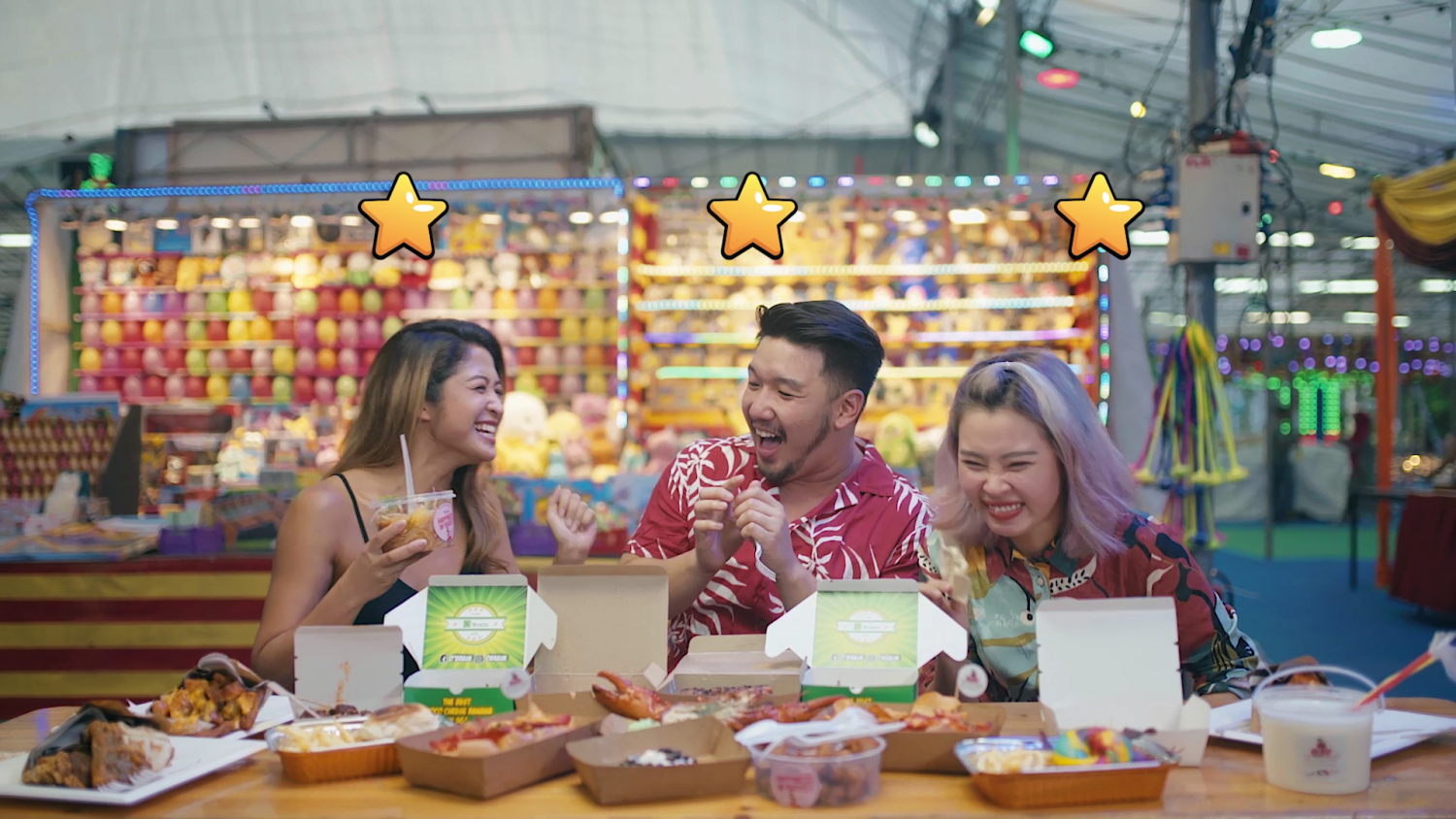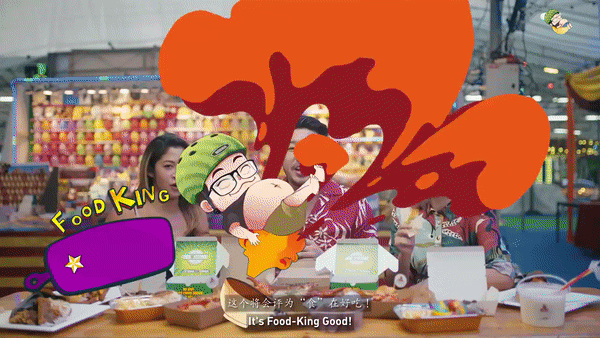 Ratings: 3 Stars, Food-King Good!
SOFNADE

Stall No: WGS A G333 / WGS B 130
Next up, we will be trying something interesting from BURP. Yes you guess it. Lobster Rolls!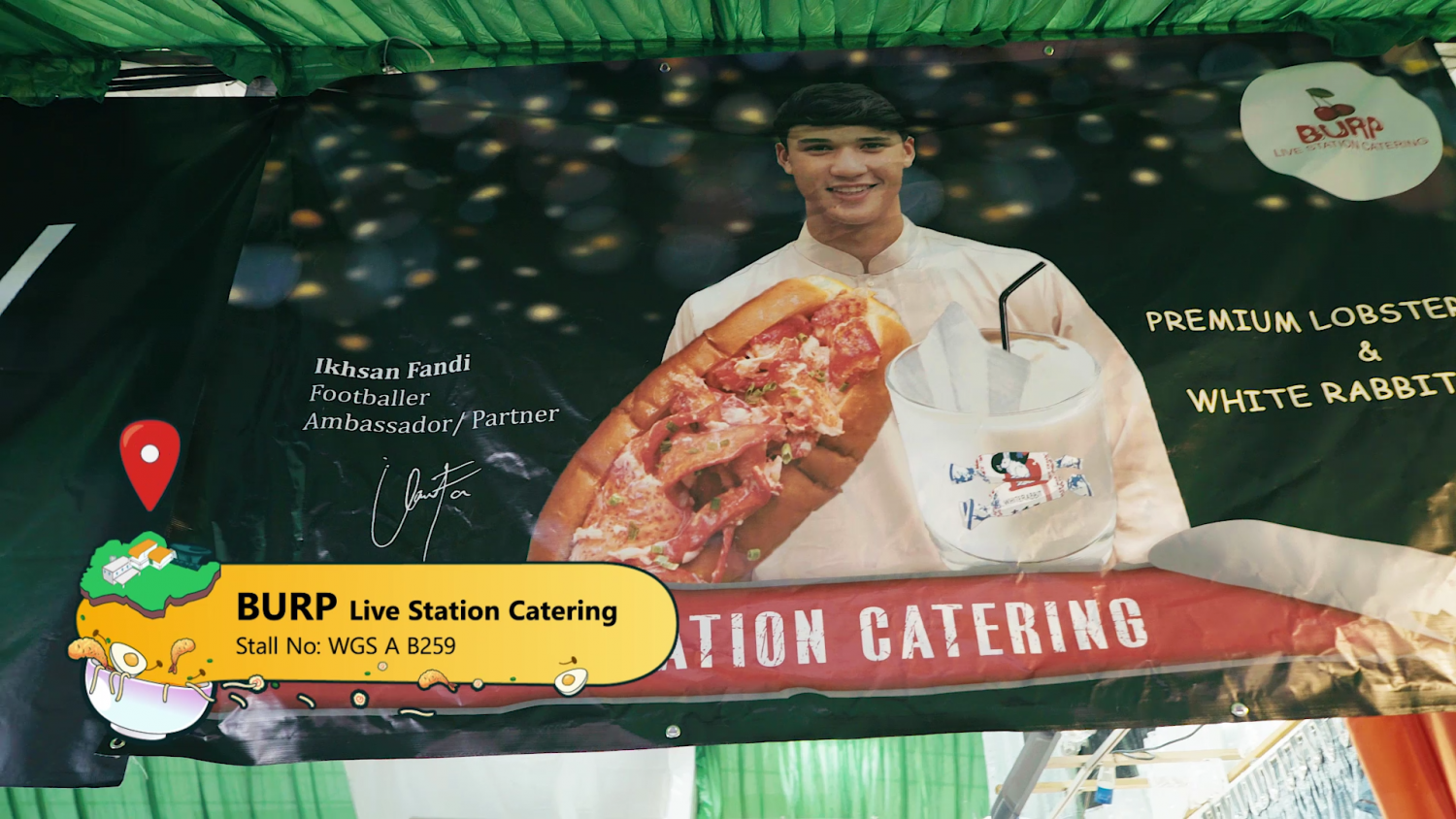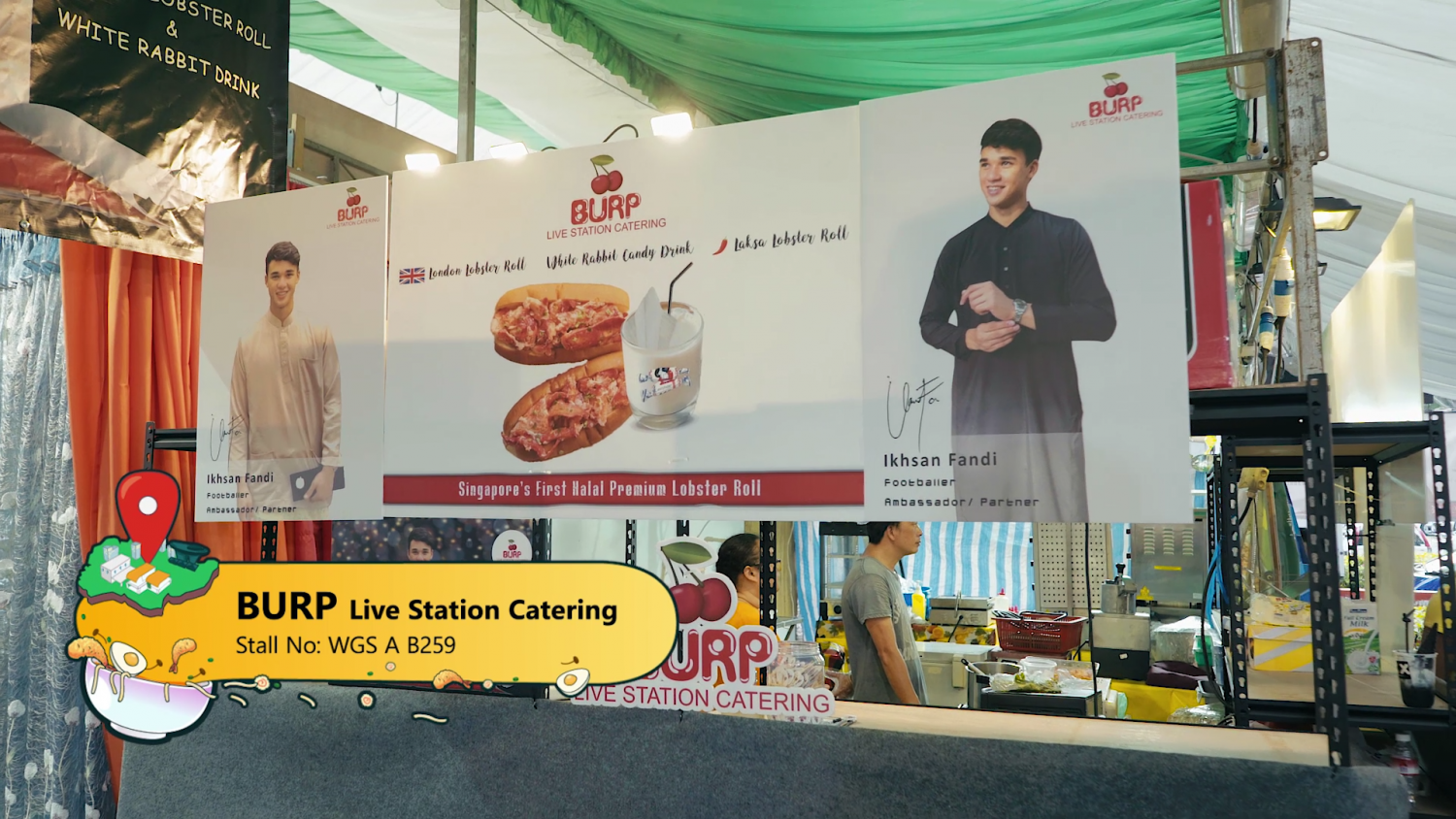 The Lobster Rolls come in 2 different flavours – Laksa Lobster Roll with a local Singapore twist and the London Lobster Roll with coating of melted lemon butter.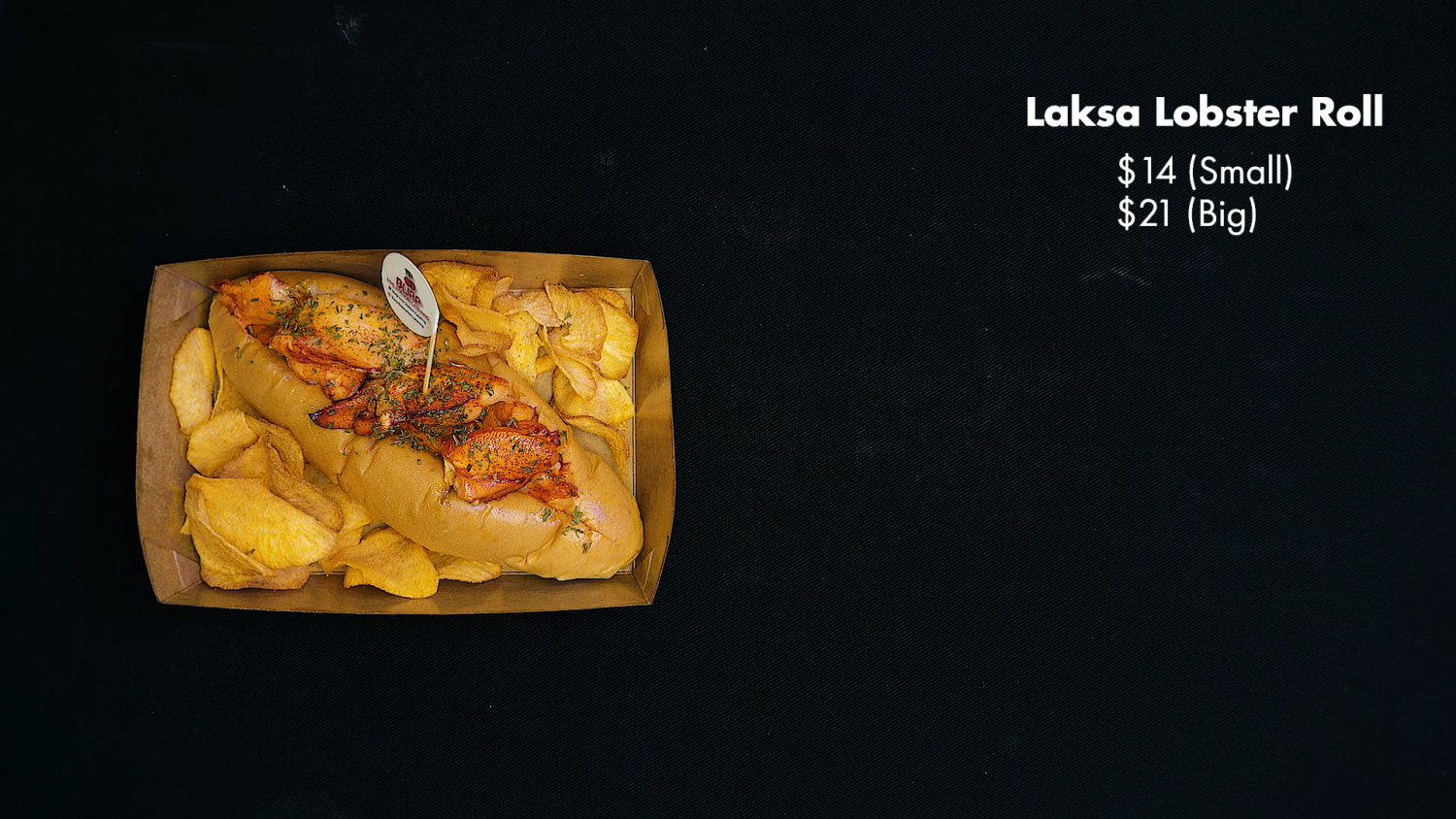 What's really special about Burp's London Lobster Roll is that you can get it for as little as $12, which is a total steal.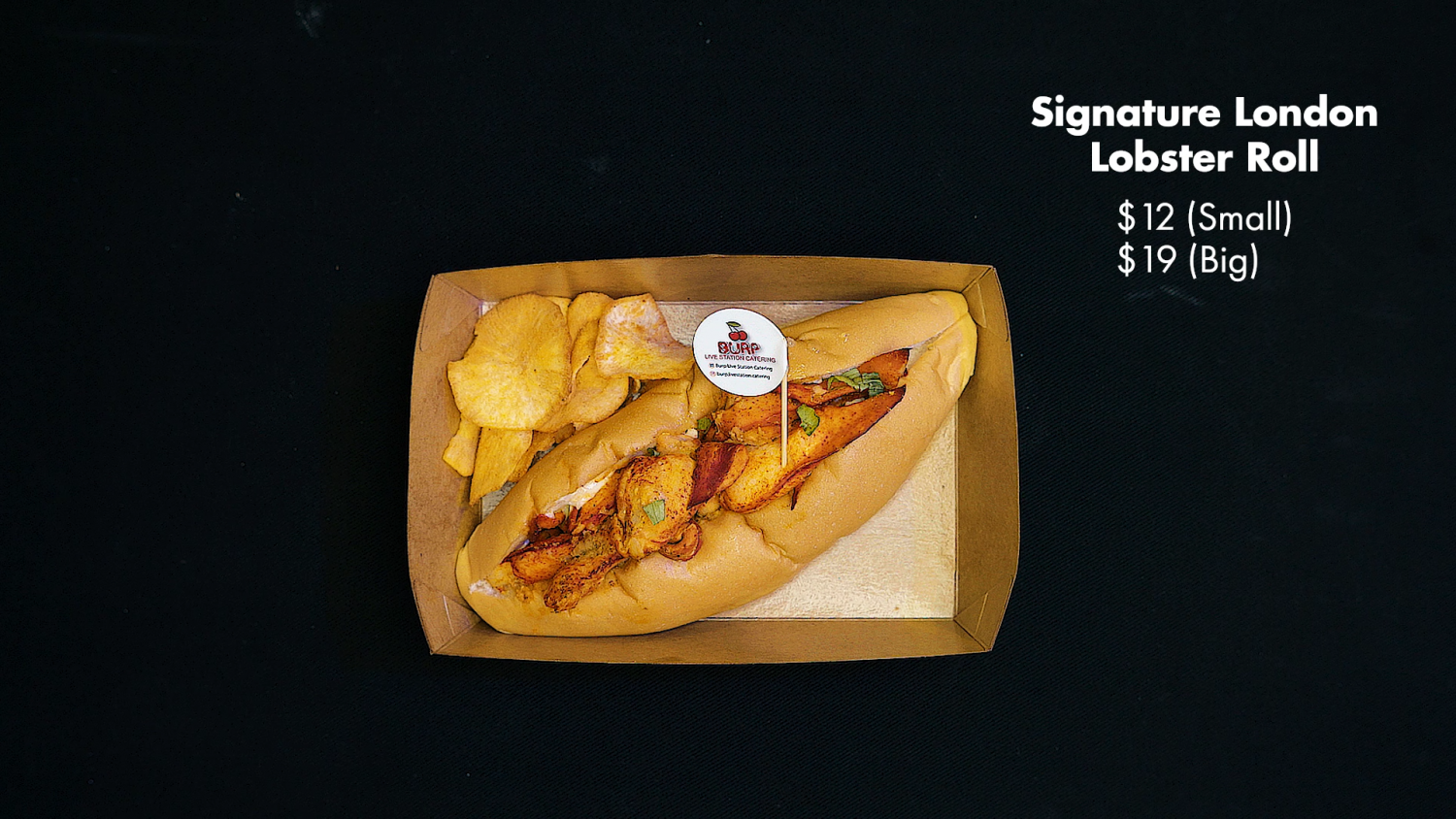 Packed to the brim with plump and vibrant morsels of premium Boston lobster, these rolls are quite a sight to behold.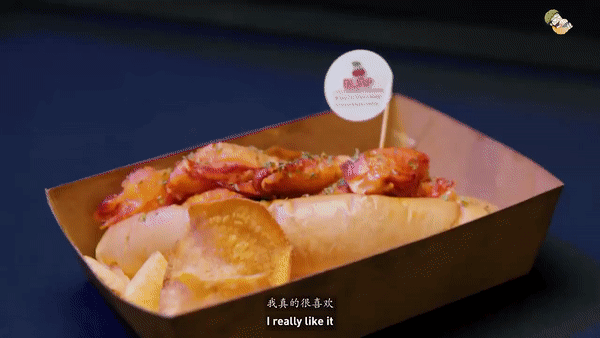 The rolls are served with a side of Cassava Chips too. Yummy!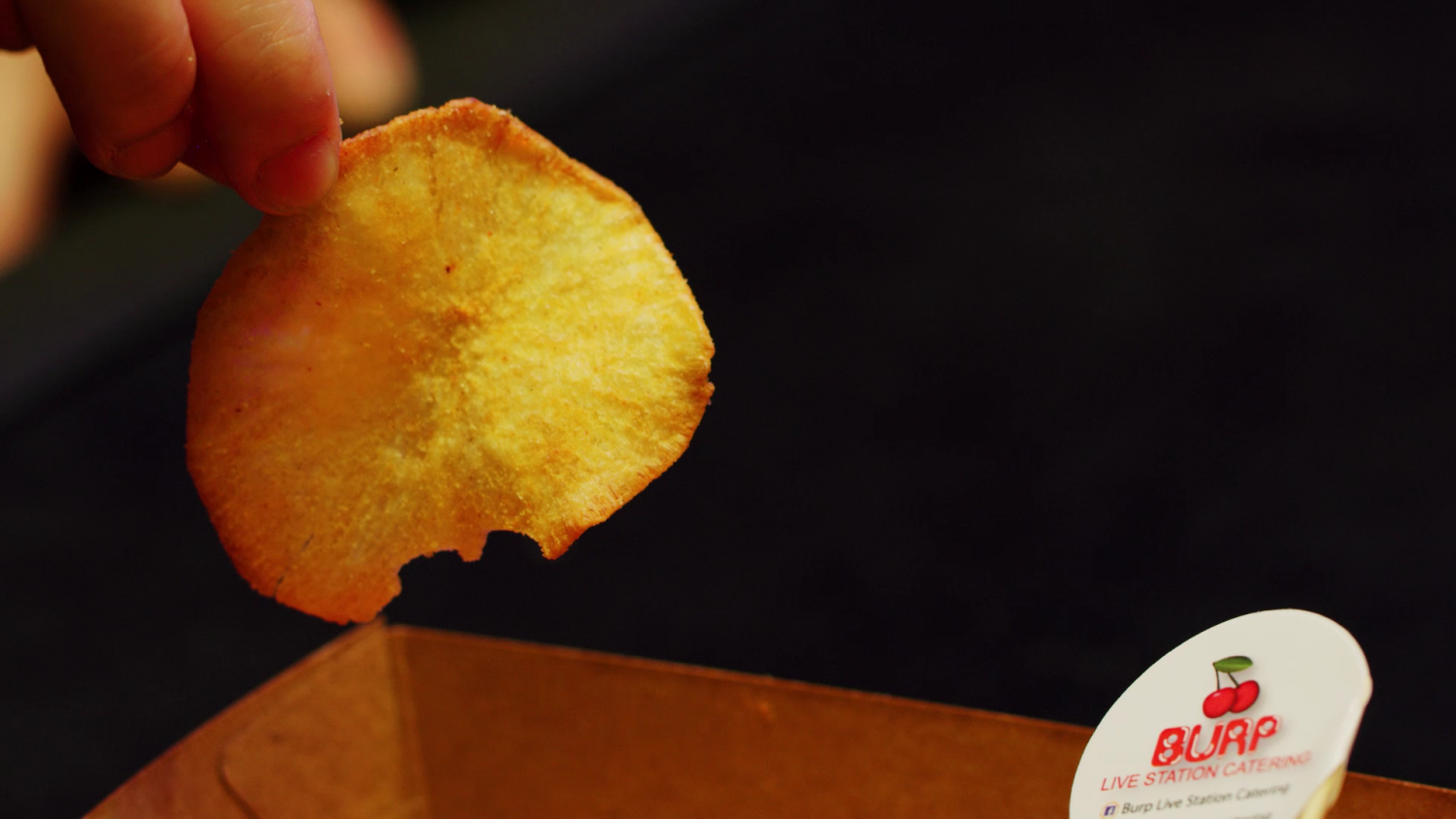 We wish the lobster meat is a bit more tender and less chewy. The taste is really good though.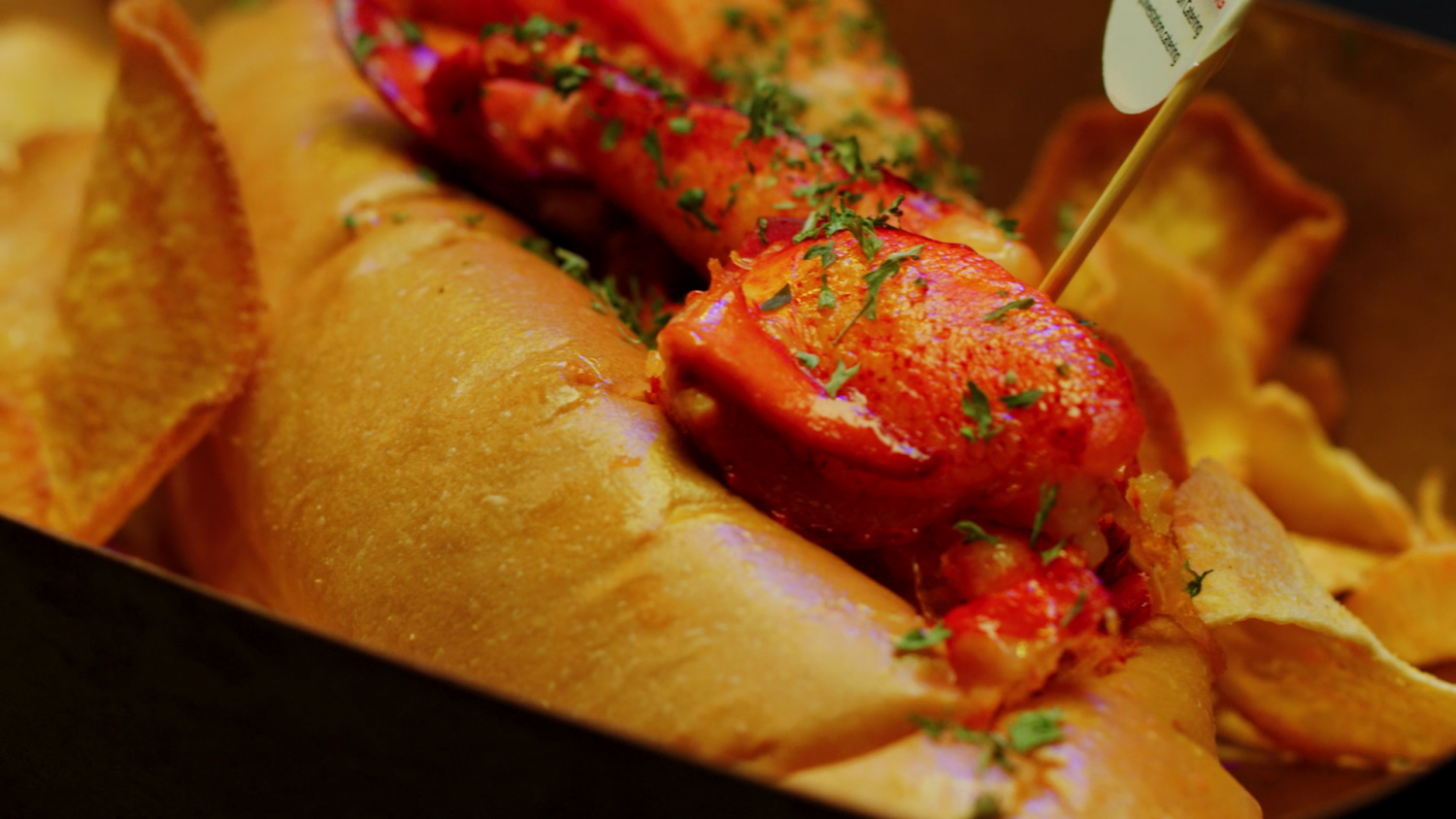 We like the laksa version more simply because we can taste the spices mixed into the laksa sauce.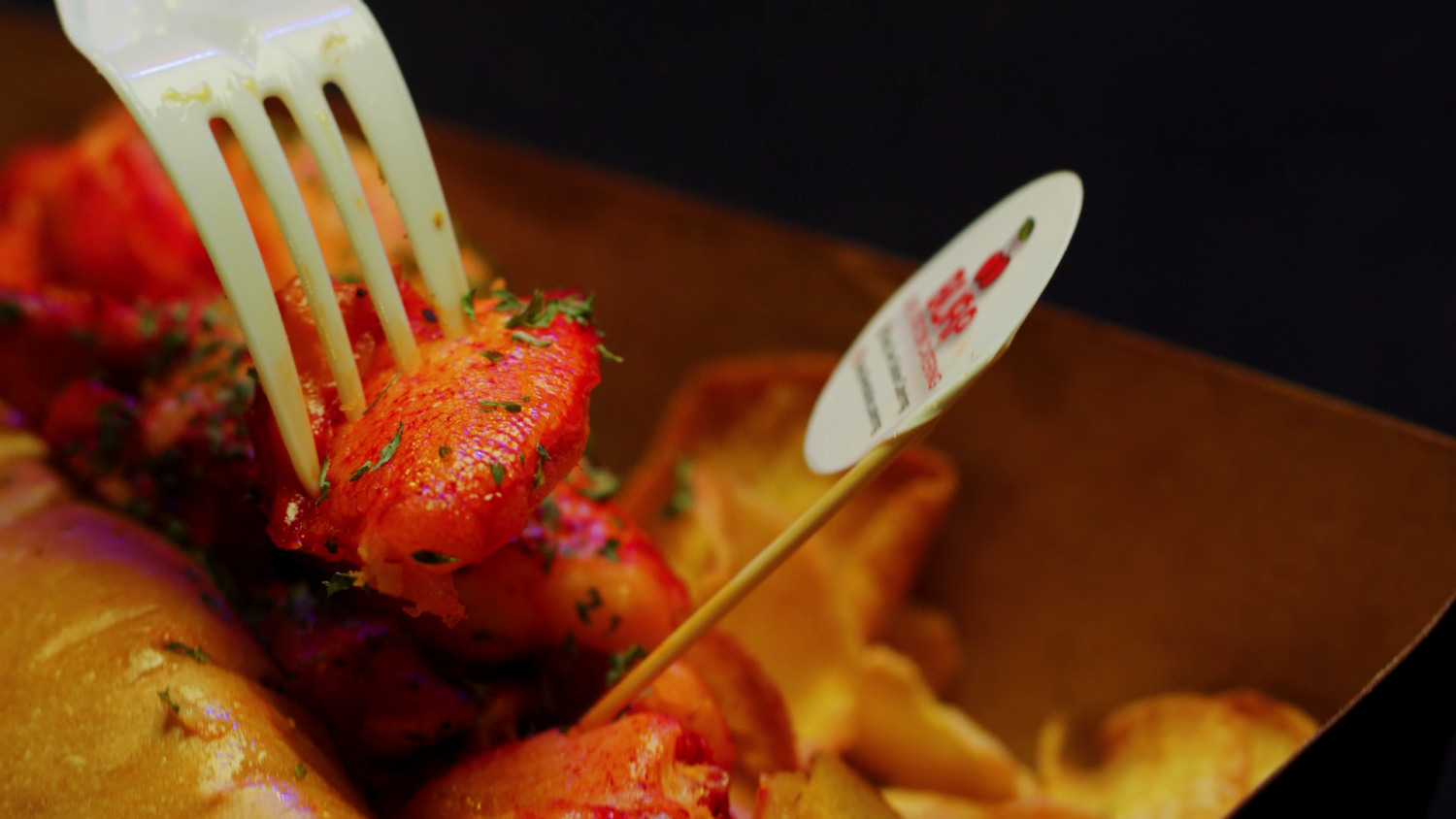 We also like the fact that they didn't just throw on a sauce over the bun. They really put in the time and effort to mix the meat with the laksa sauce. Kudos to that.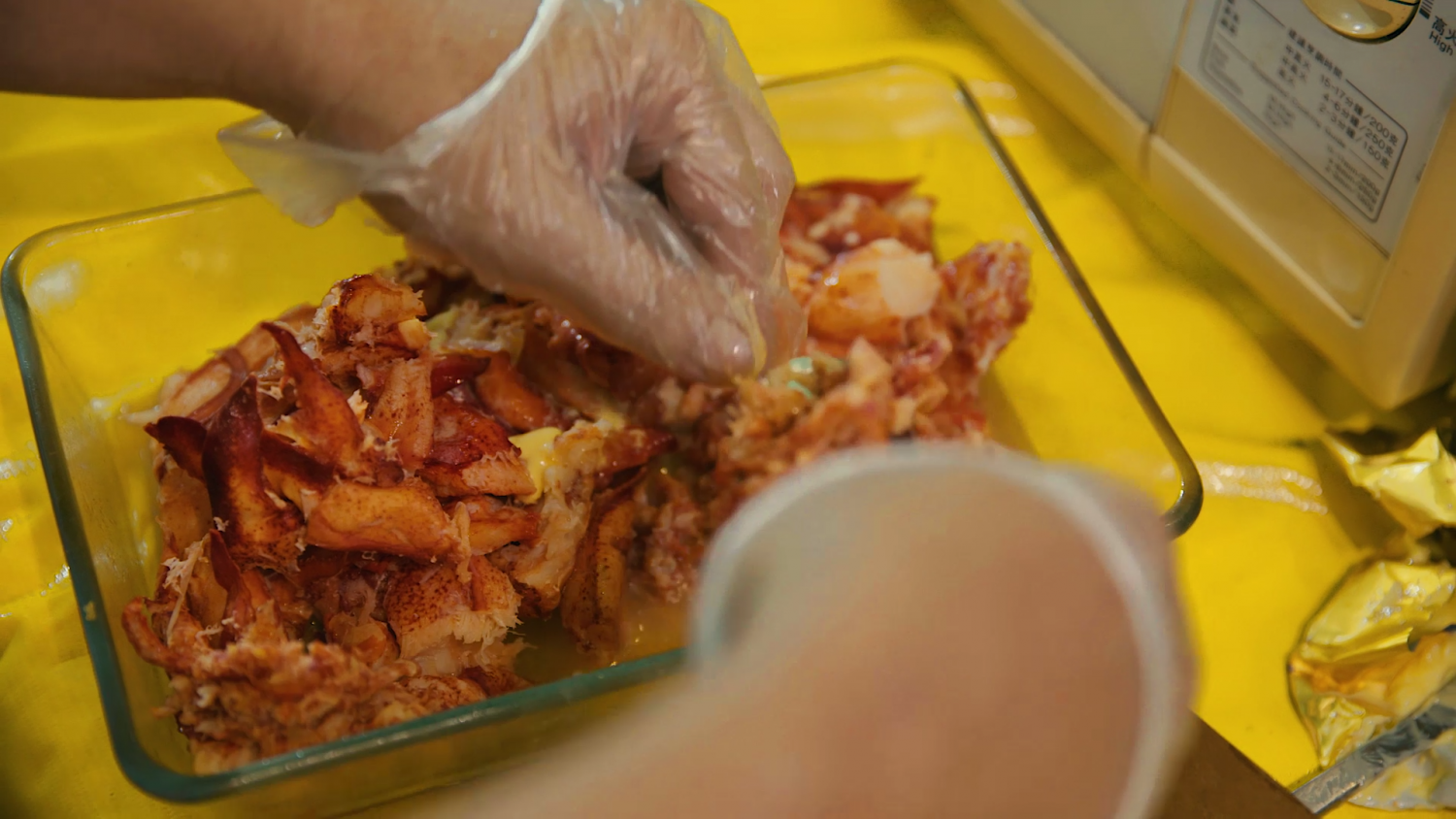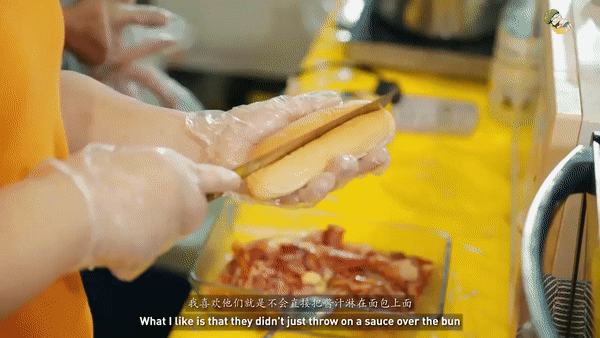 You will walk away as stuffed as the roll itself 'cause it makes for quite a filling meal. We love it! Go try it.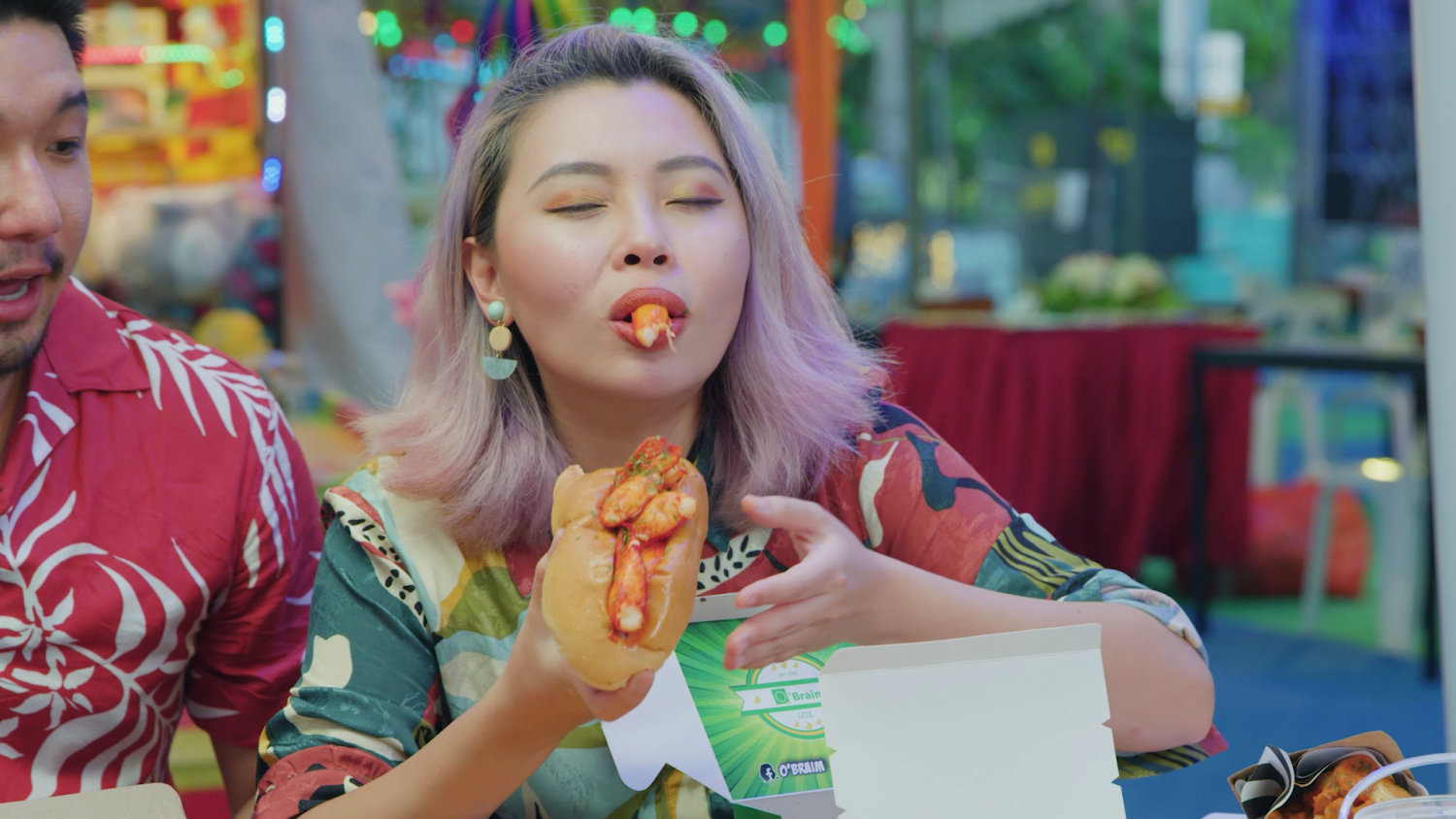 So close to 3 stars!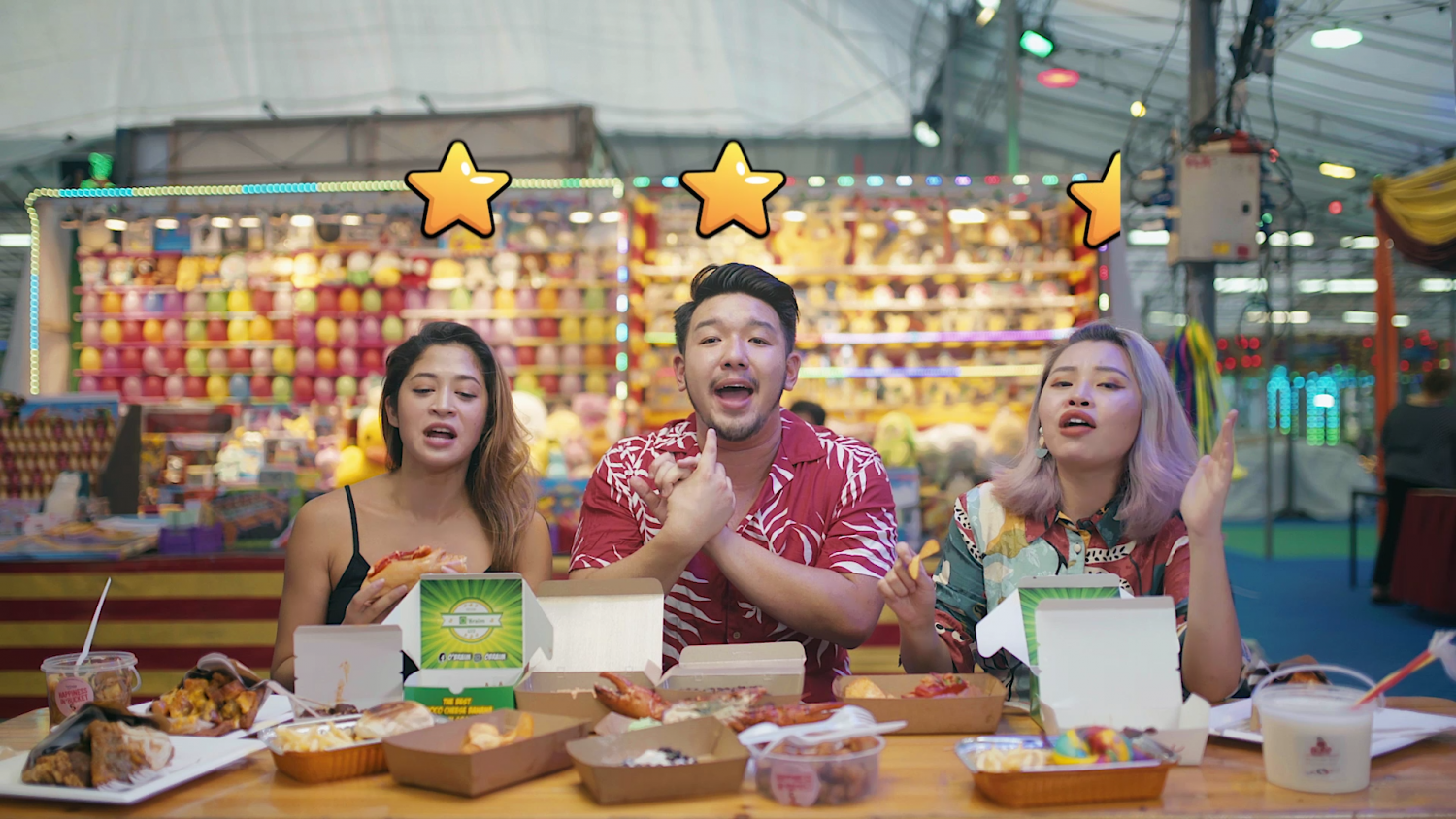 Ratings: 2.5 Stars
BURP

Stall No: WGS A G333 / WGS B 130
We are now at Fortitude where we are going to try something super interesting and never been seen before. Say hello to the Praffle, a waffle-like treat with a crispy prata texture. This "rojak" item is truly a reflection of Singaporeans' penchant for food innovation.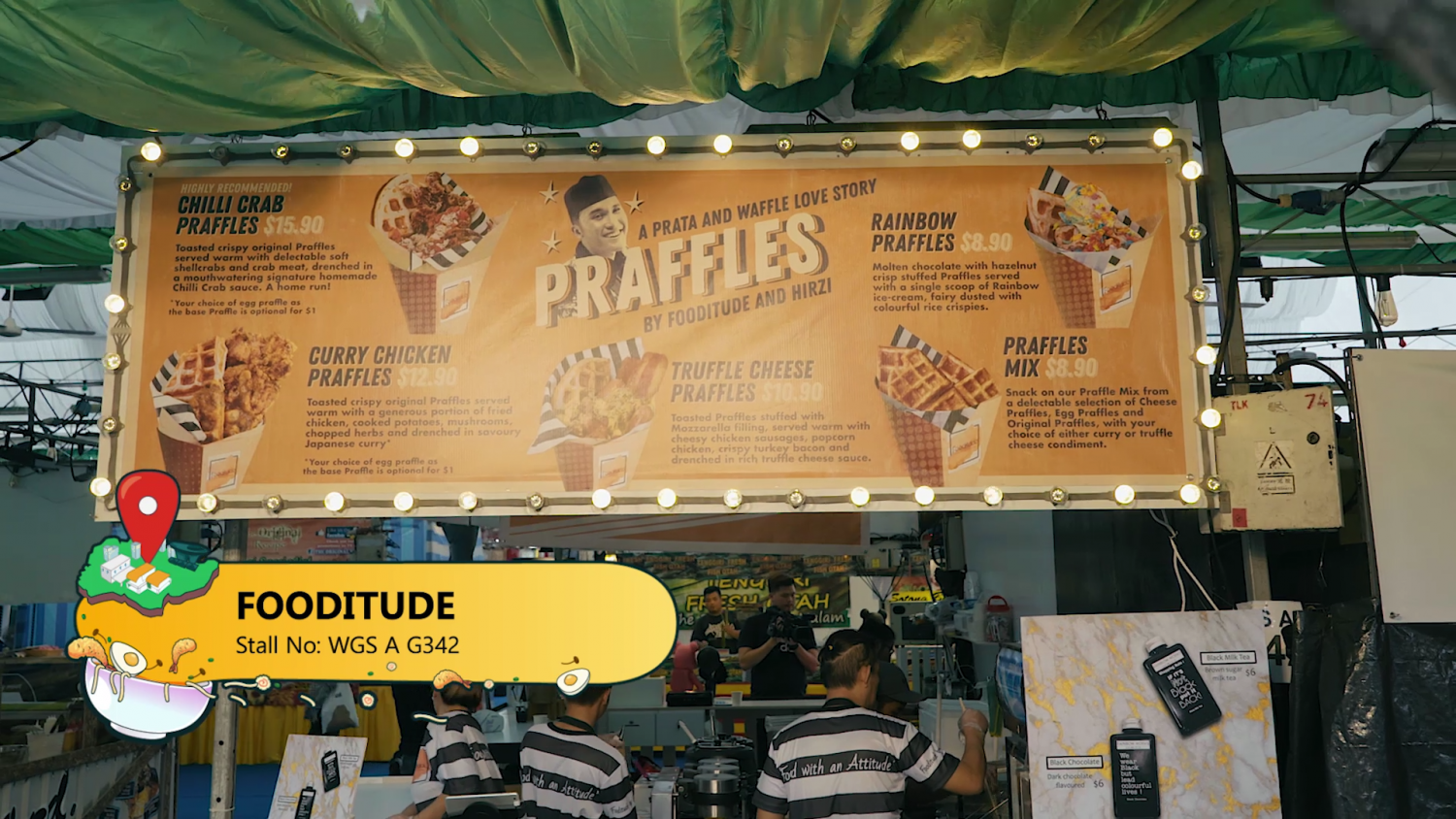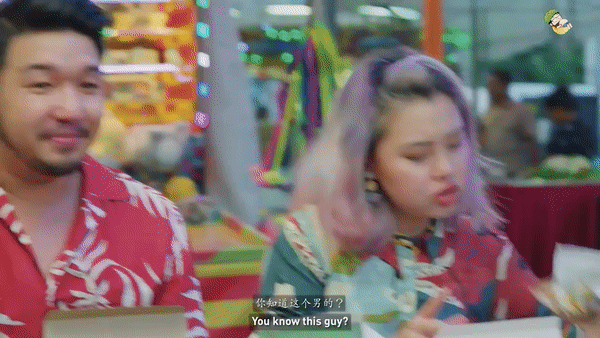 Local cuisine is amazing, but none of us have ever experienced chilli crab and prata together like this before.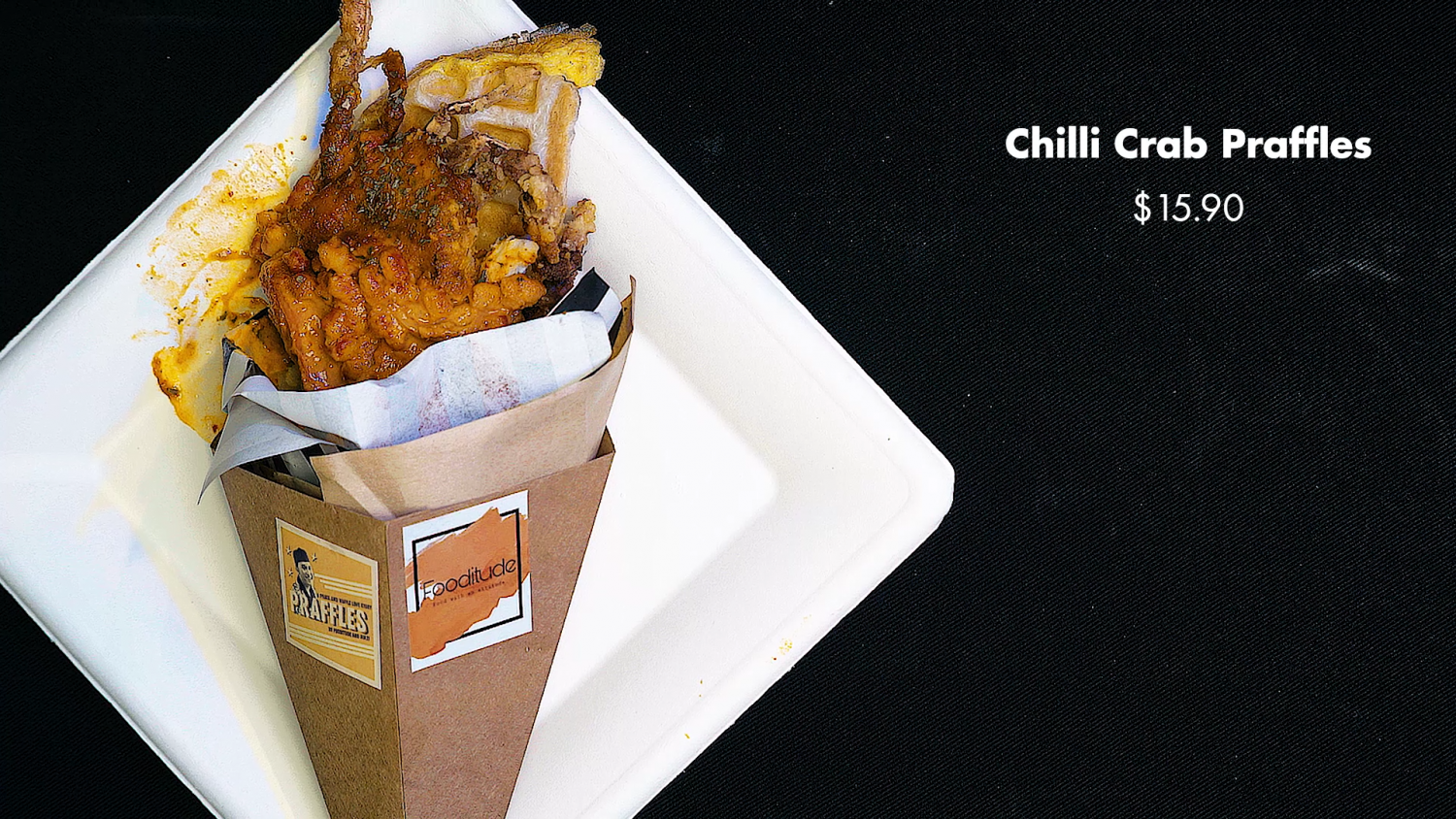 Visually, the impact is there. The soft-shell crab is huge and you can smell the waffles lingering in the air.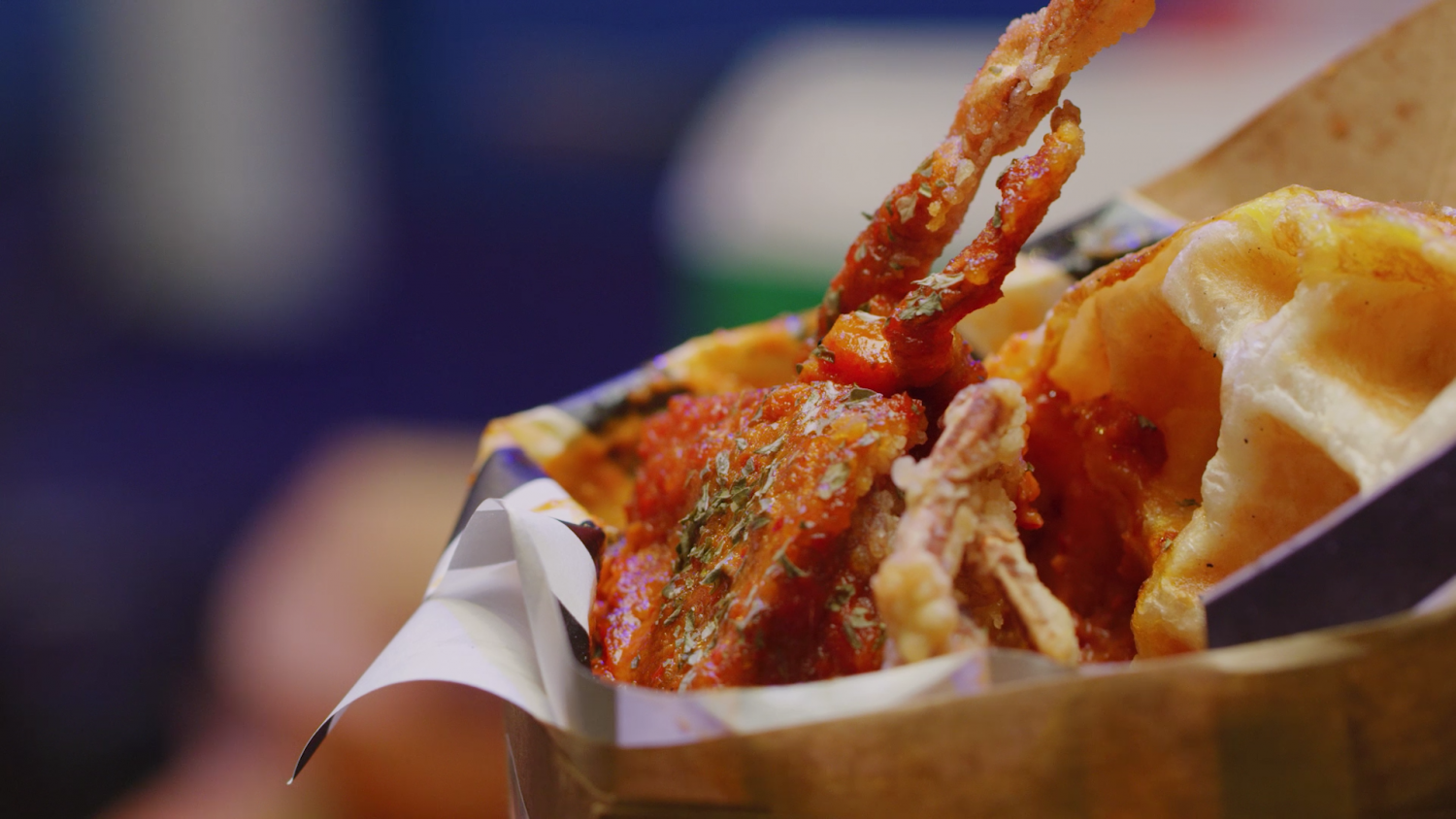 Not only is the crab is tasty and fresh, it also goes really well with the spicy house-made sauce too. We simply love it.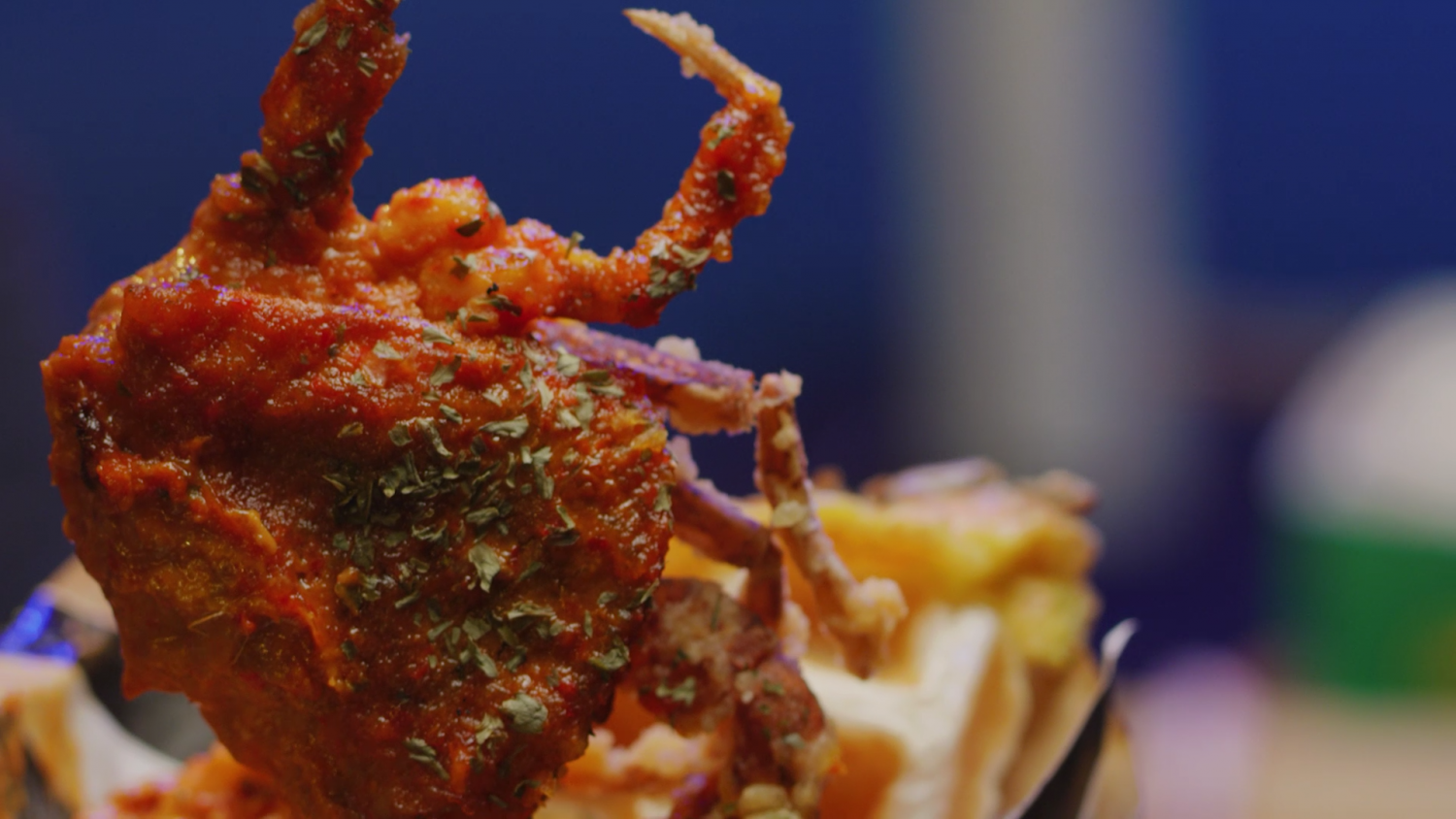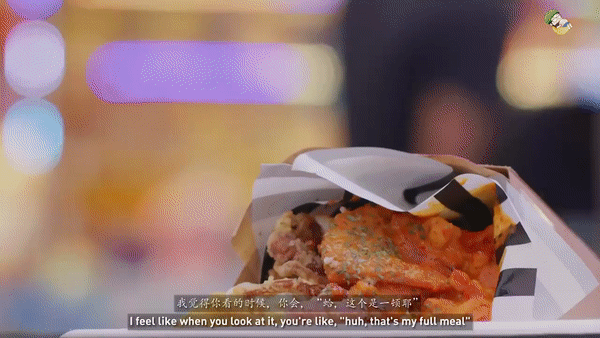 We love prata, and we sure do love waffles. Combining them into a genius union gives you this pillowy and addictive texture that's irresistible.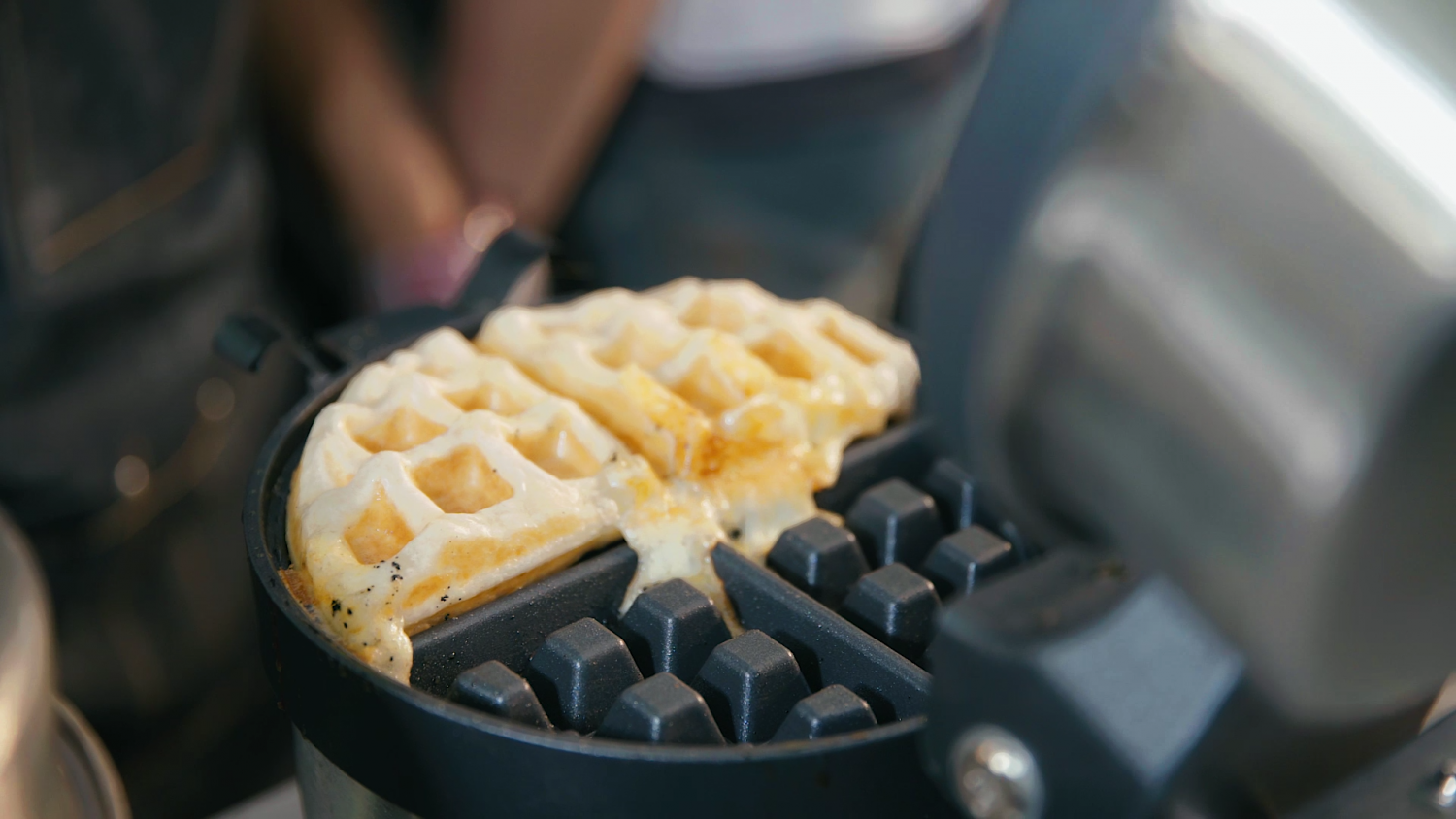 The texture of the waffles is very filling and fluffy. Impressive for something so simple.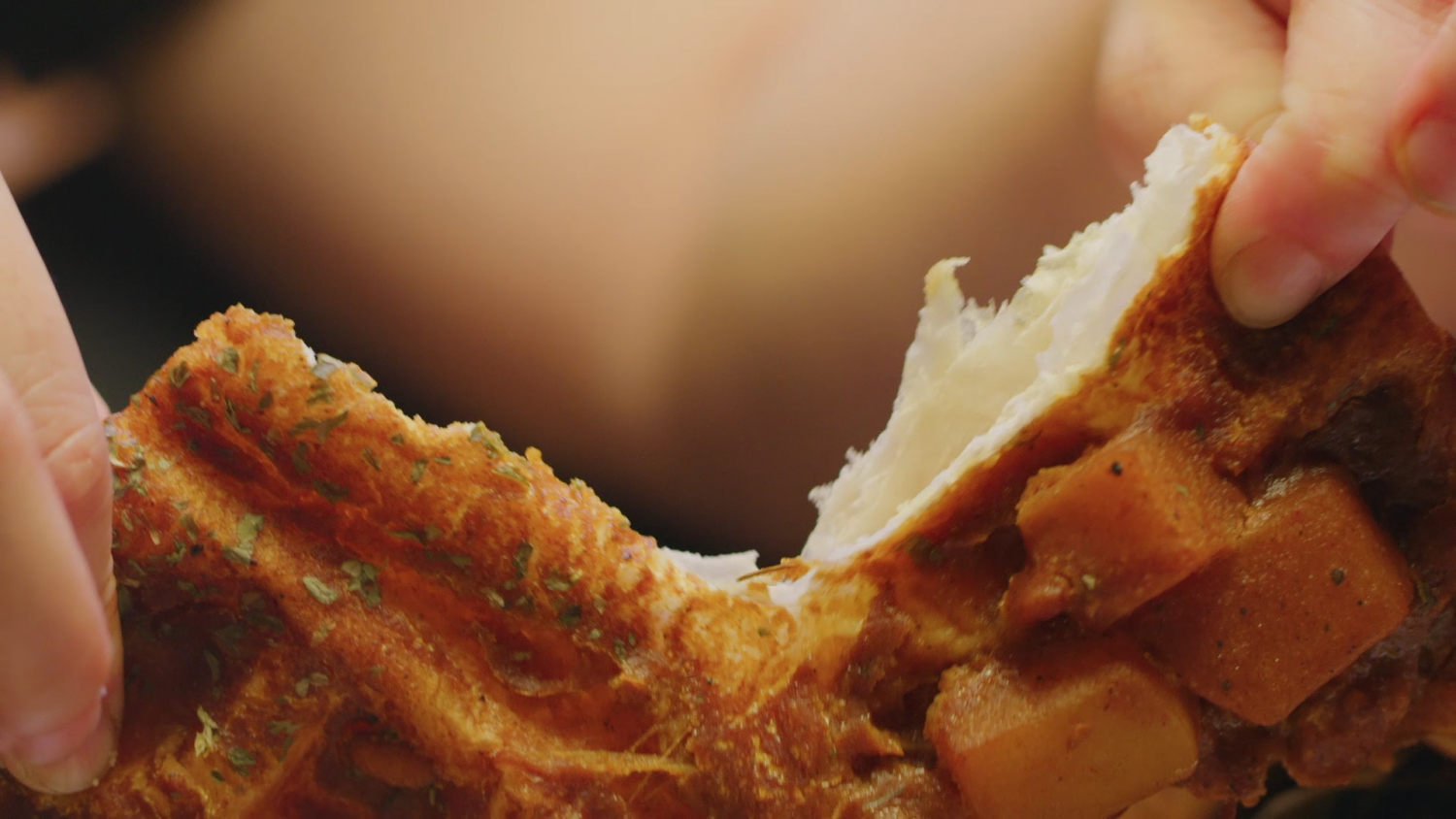 Another version of their Praffles is the Truffle Cheese. This version is more westernized compared to the chilli crab one.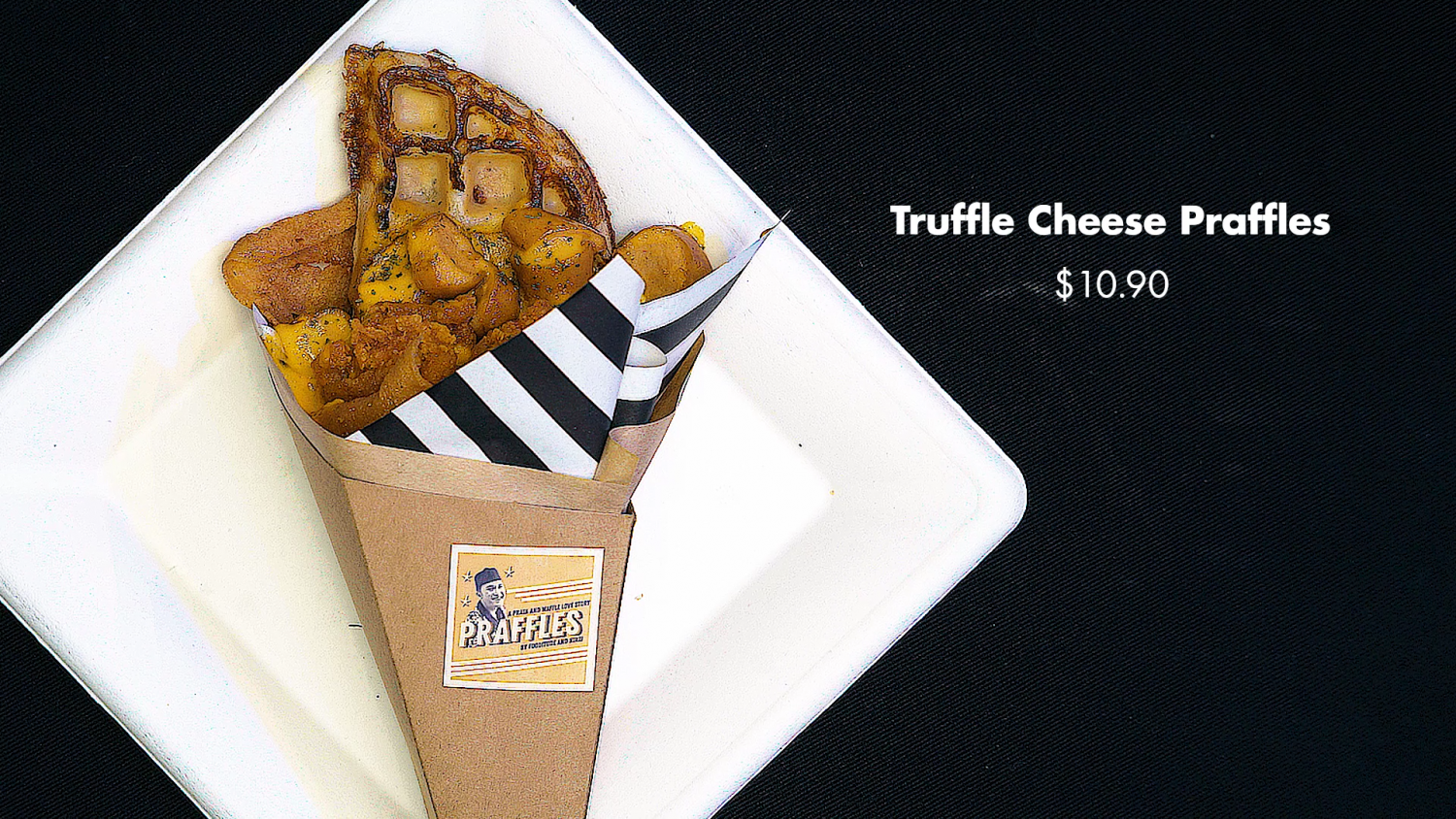 Fried chicken, turkey bacon and cheesy sauce. That's Truffle Cheese Praffles alright.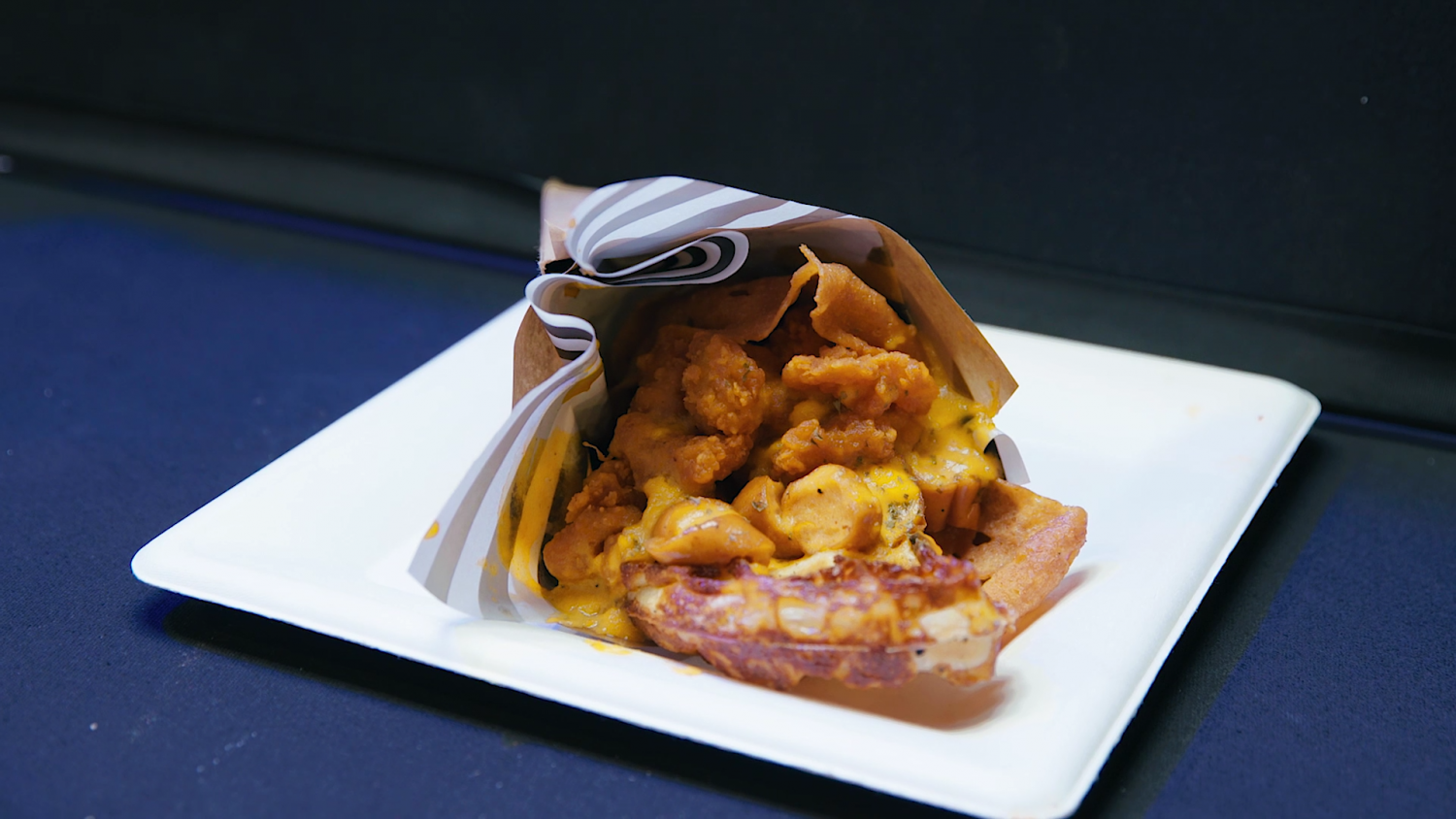 We are surprised how rich the cheese sauce is. It's too savory for our liking though.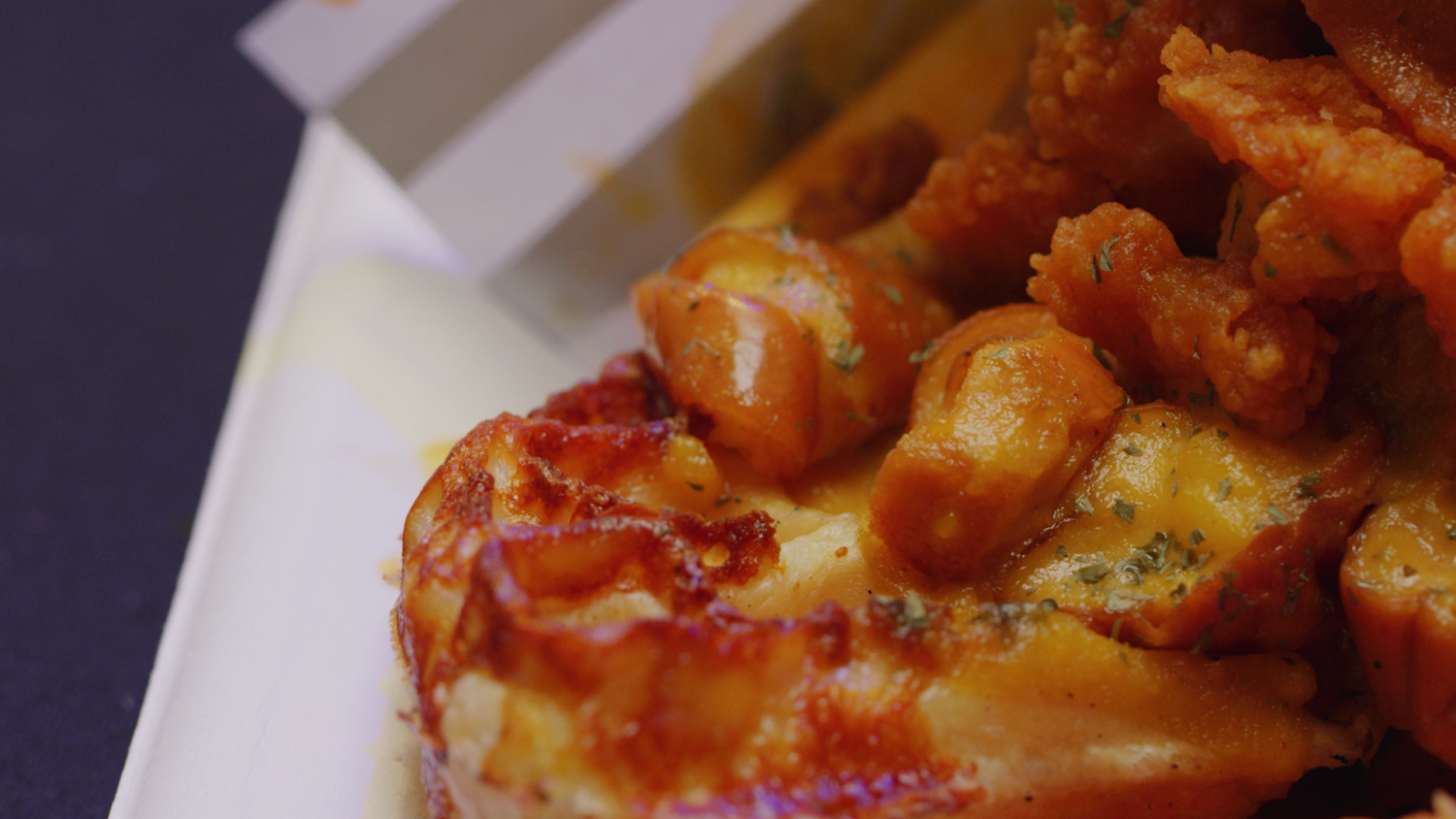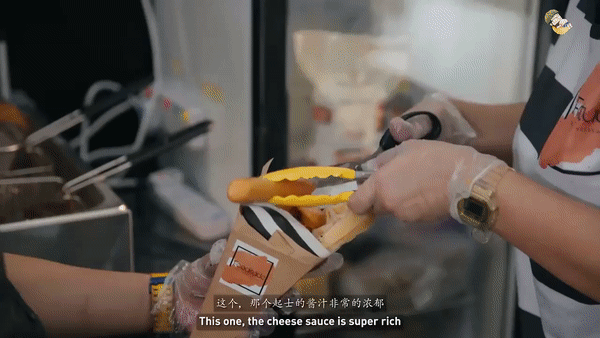 Last but not least, we have the Curry Chicken Praffles. We've got to say the fried chicken in this one is simply amazing. It's so crispy and flavorful and combines really well with the curry sauce. This is definitely our favorite.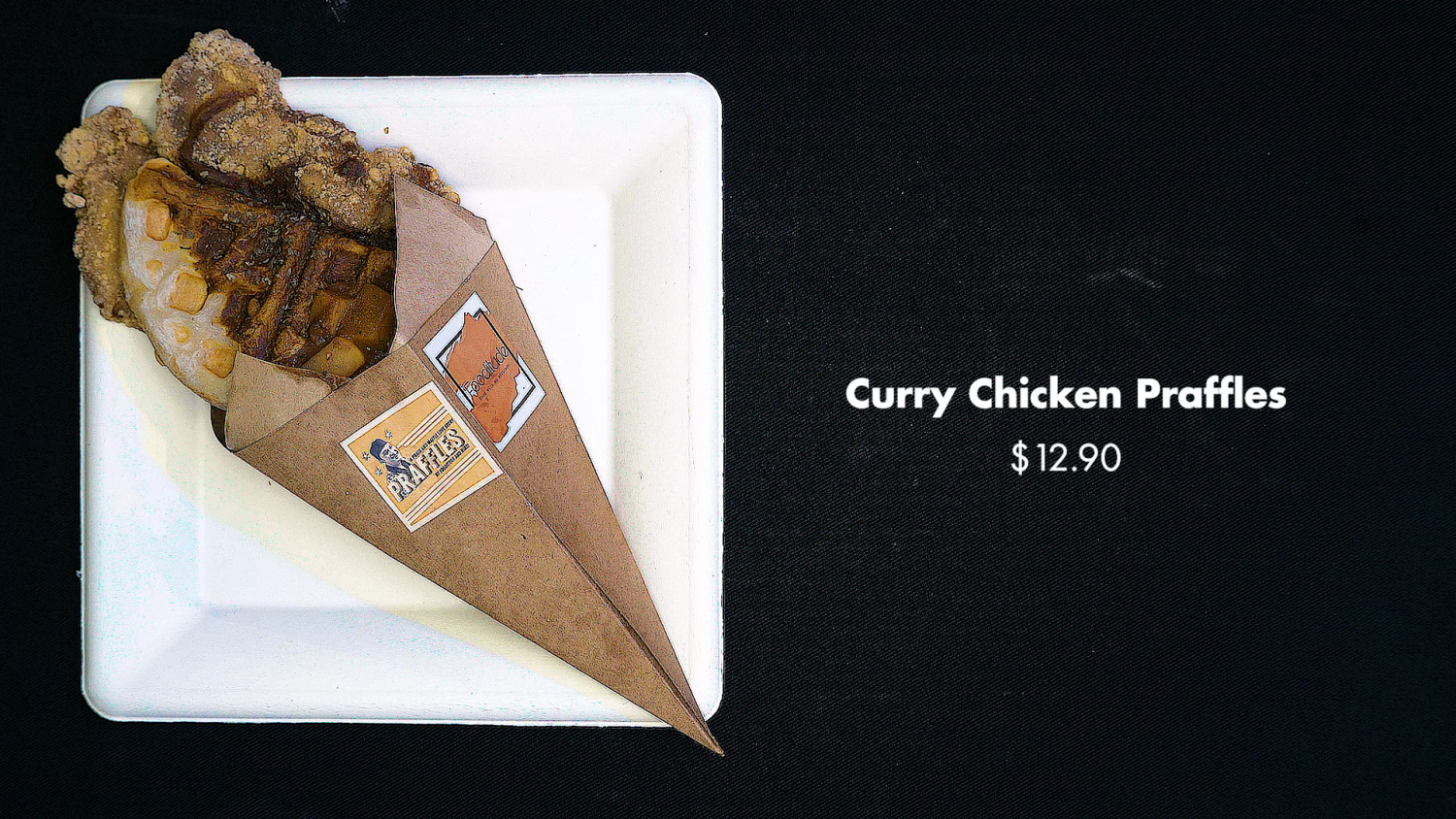 There's no denying Praffles getting their 3 stars and it is Food King Good! Got try it!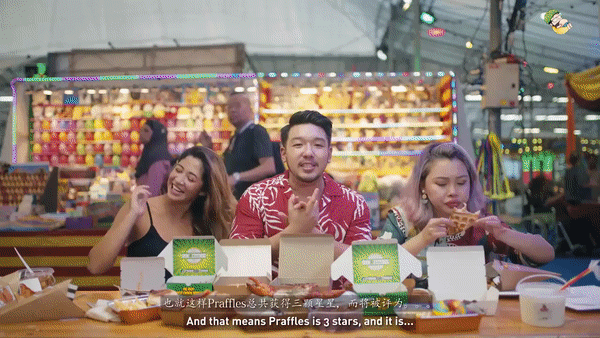 Ratings: 3 Stars, Food-King Good!
FOODITUDE

Stall No: WGS A G342
Another lobster stall and this time it's Lobster Bro. You will be surprised what they have here. Can you guess already?
Ever heard of Lobster Nasi Lemak? Well, here's one for the record. Wonder what it taste like…
The first thing that caught our attention is the chilli. It is seriously good.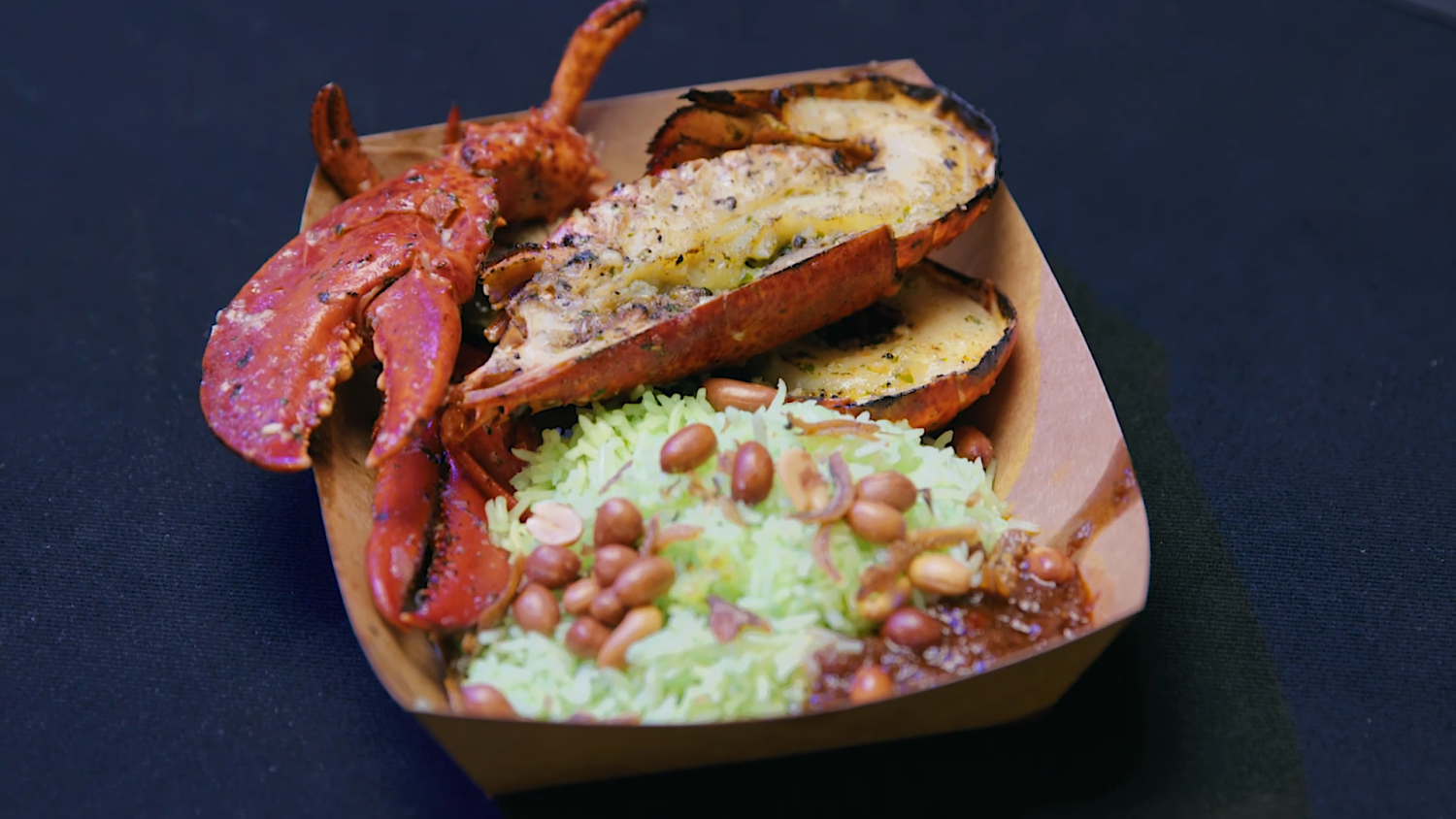 The chilli has just about right amount of sweetness and spiciness. That's one of the most important thing to have in all good Nasi Lemaks.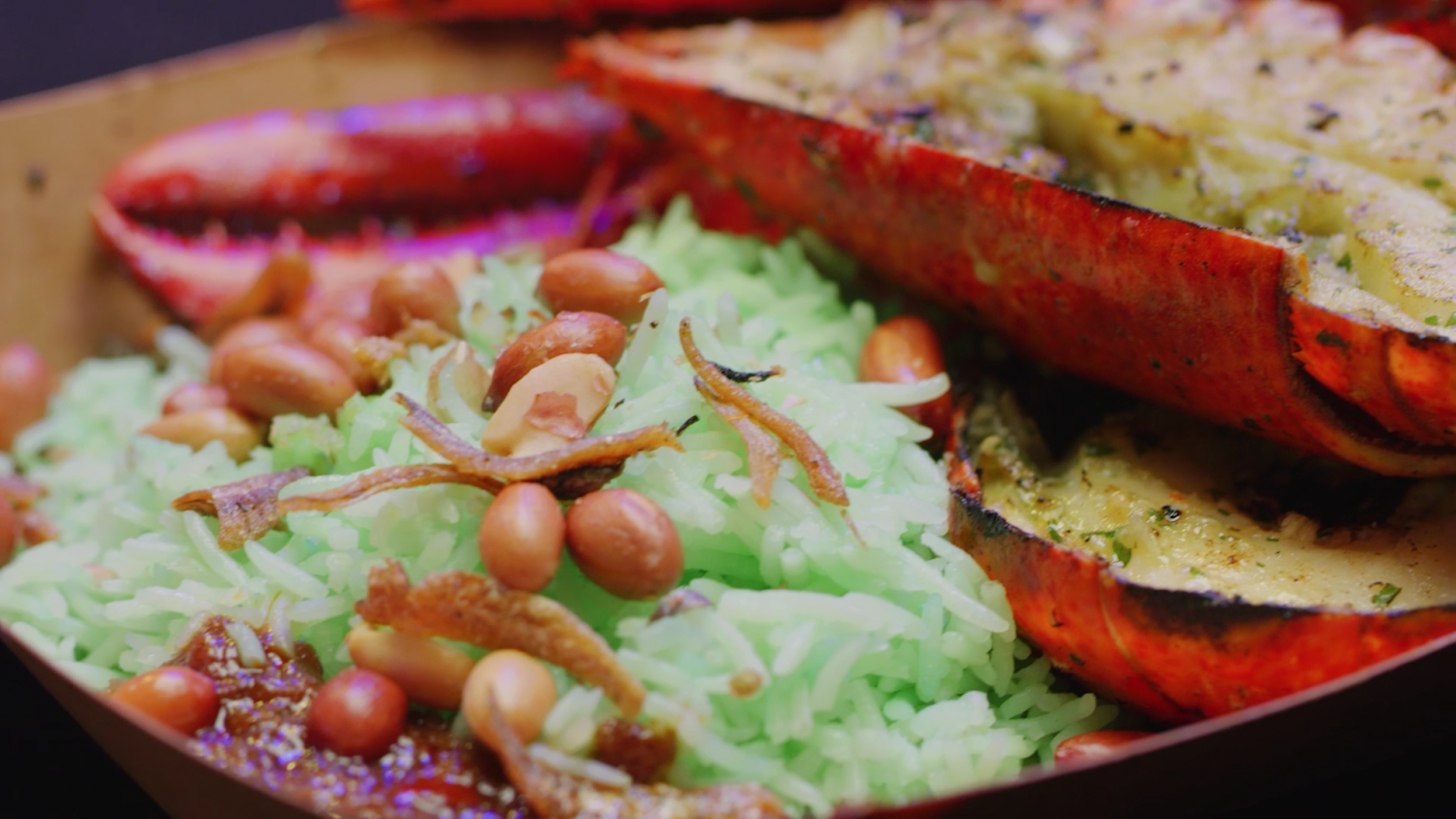 The rice however, is a kind of disappointing. It is too dry for our liking.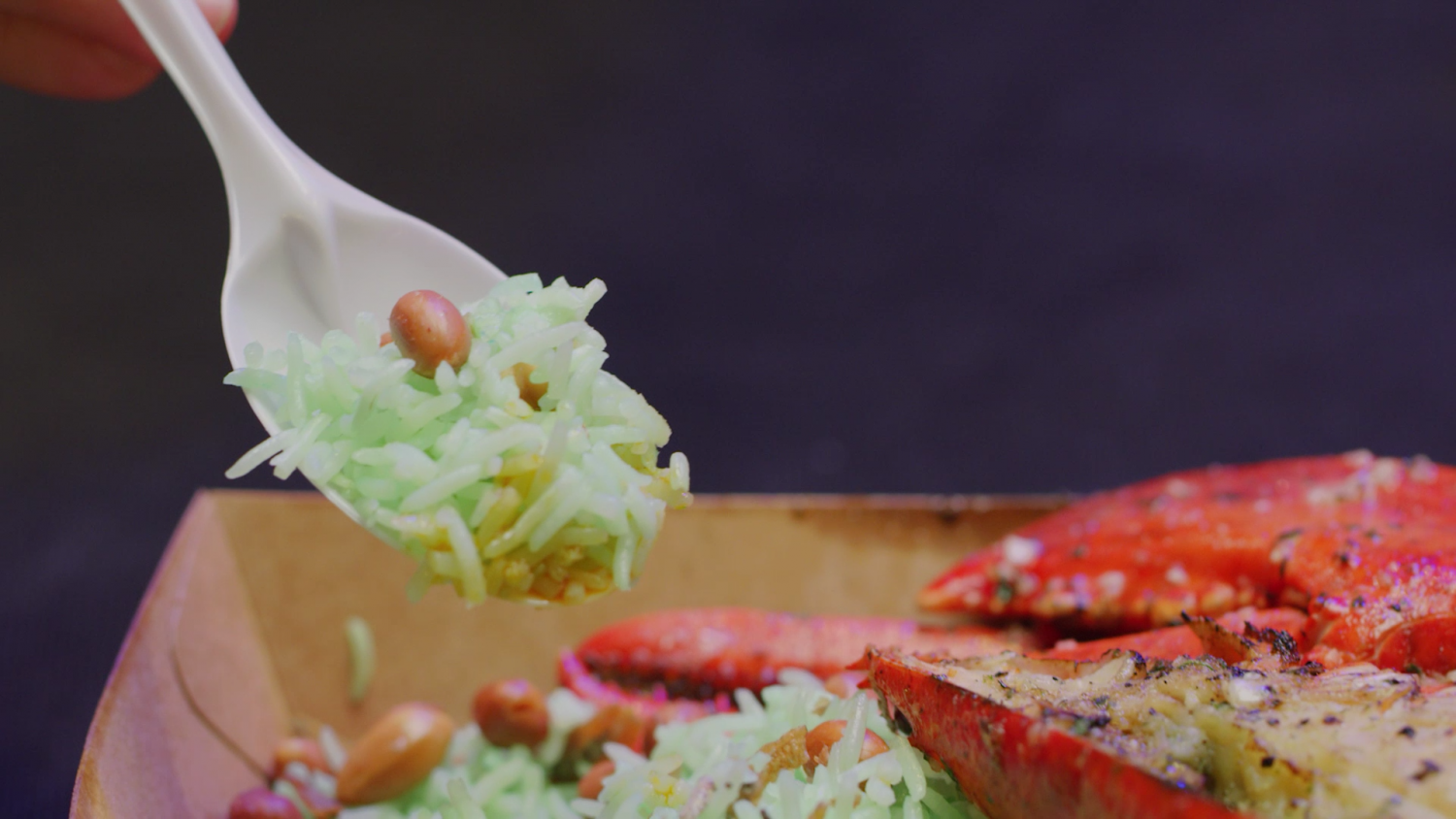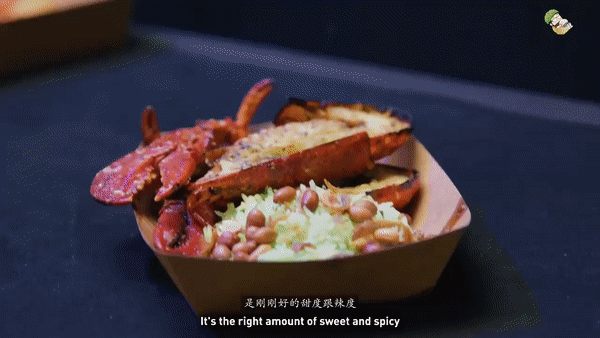 We feel that the lobster meat is a bit overcooked. The Lobster Rolls we had earlier is on a different level compared to this.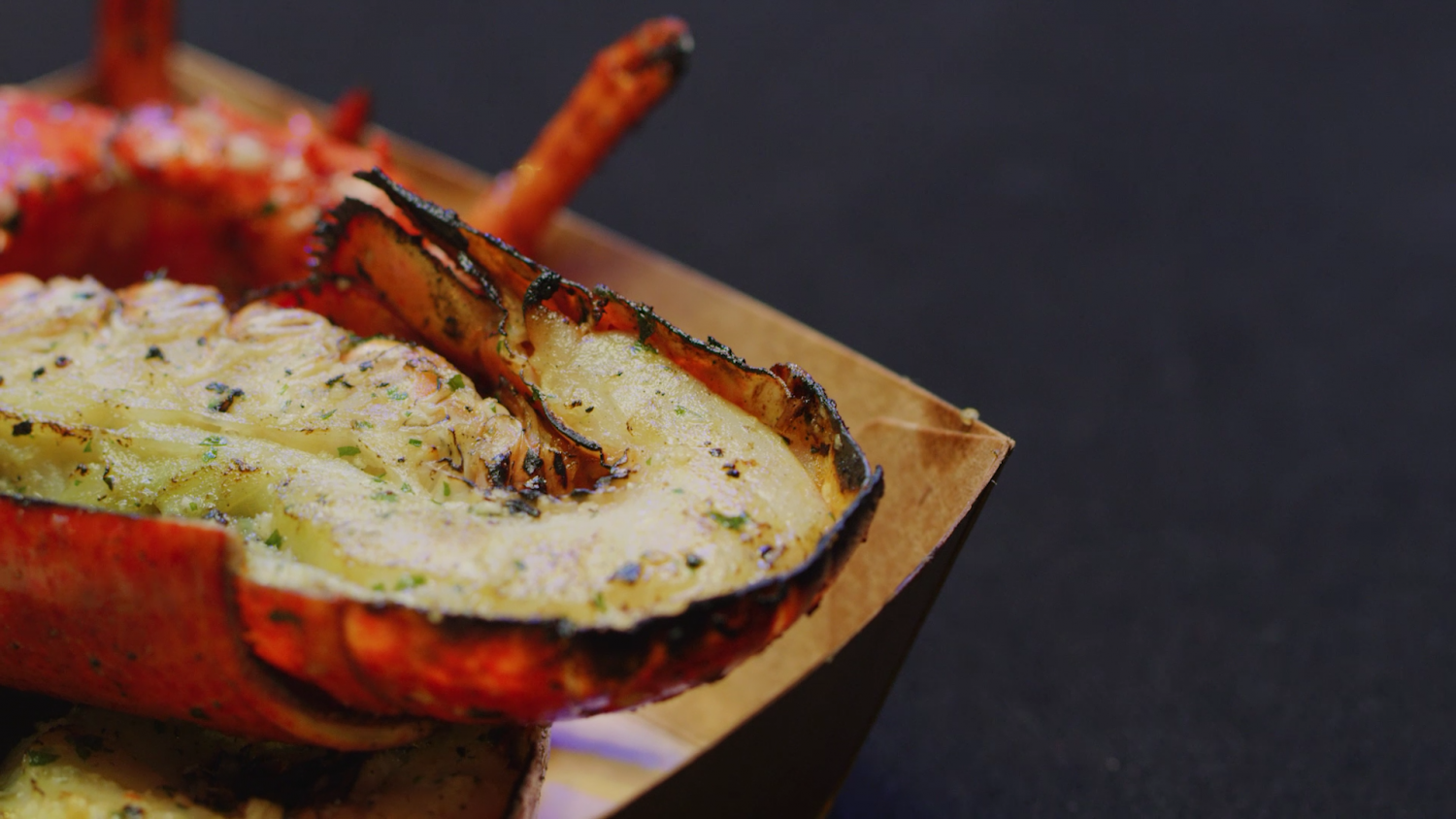 The lobster meat is really salty with a strong taste of  barbecue flavor to it. We wouldn't recommend this for such a steep price.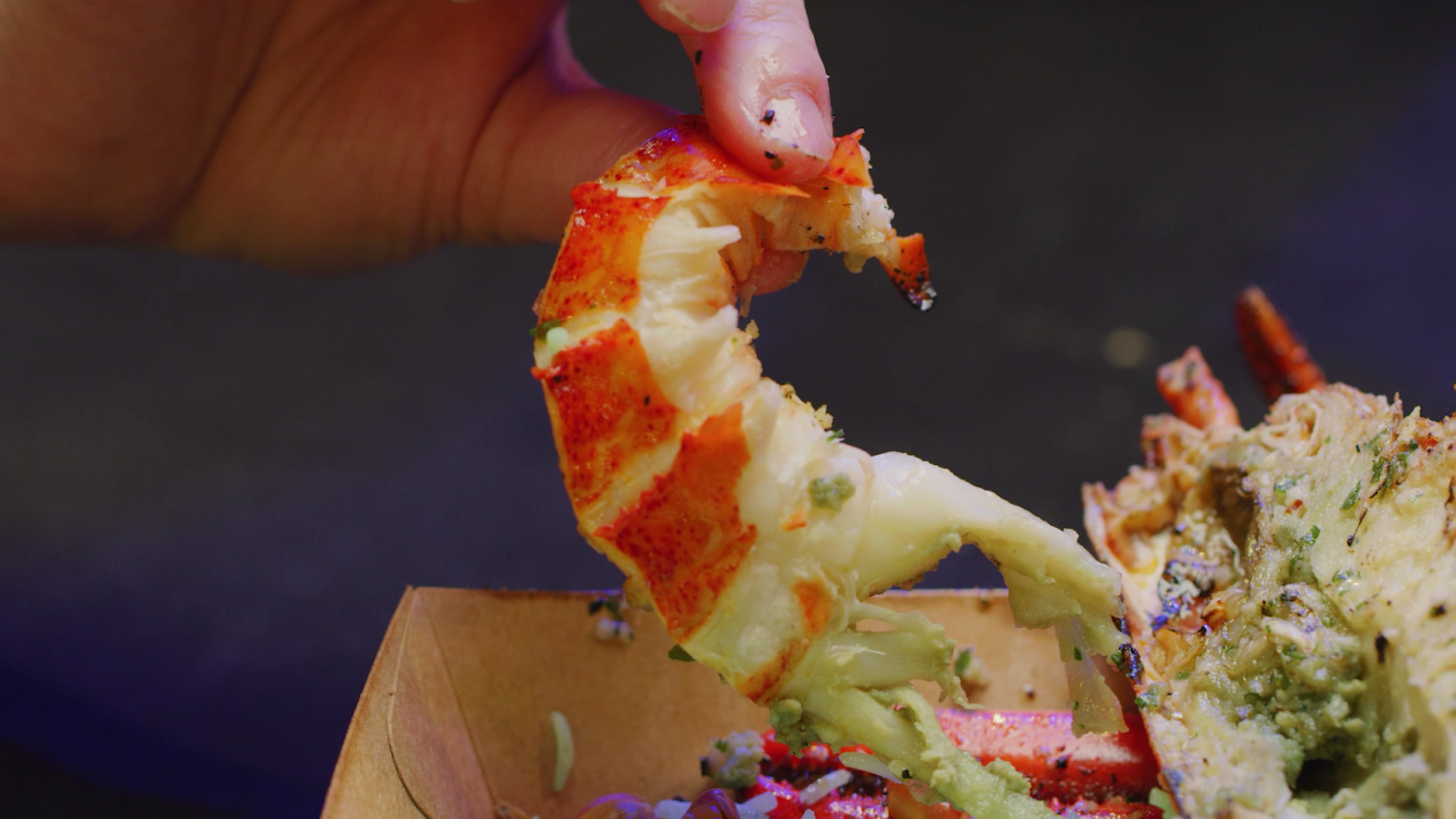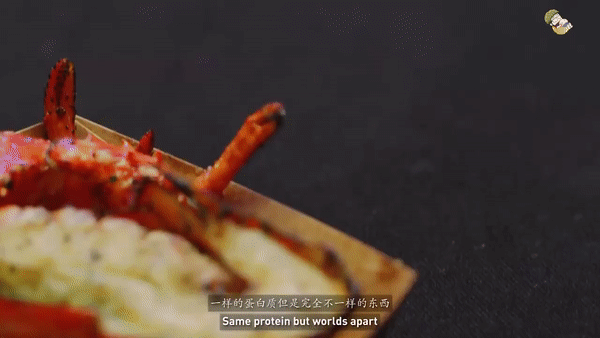 Ratings: Half a Star.
LOBSTER BRO

Stall No: WGS A G306
We are very excited for the next dish we are trying. And this involves having a traditional Chinese dish upgraded and zhnged up into a savory dessert.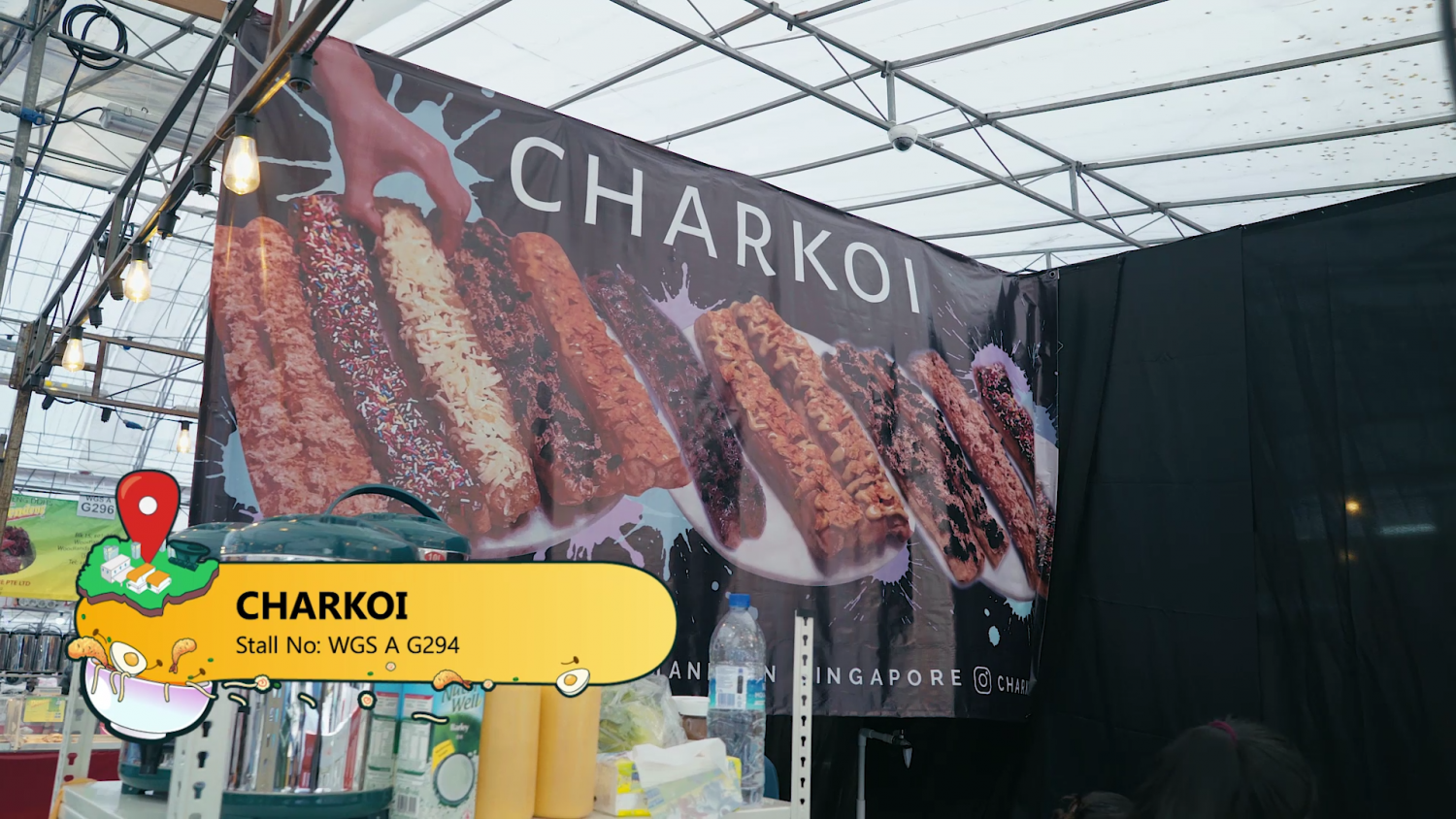 We are talking about these delicious-looking fried dough fritters or You Tiao from Charkoi. Let's see how they fare.
So here we have the Cheese with Chicken Floss You Tiao. The nacho cheese sauce is really strong. So strong that we feel it's a little too overpowering.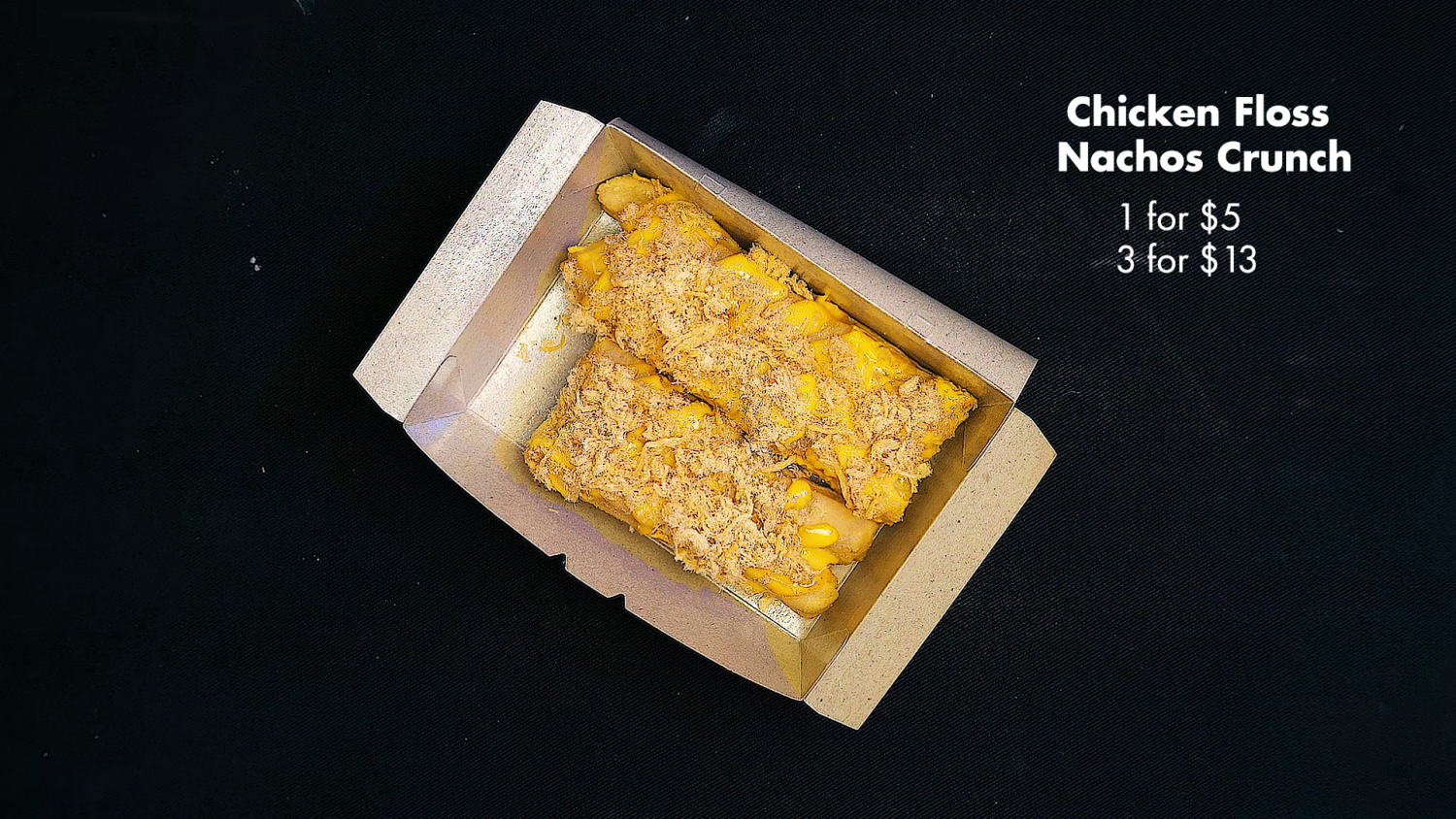 We can hardly taste the floss too. Eating this with all the oiliness, crispiness and cheesiness in one bite makes a pretty weird experience. We can't put a finger on this one.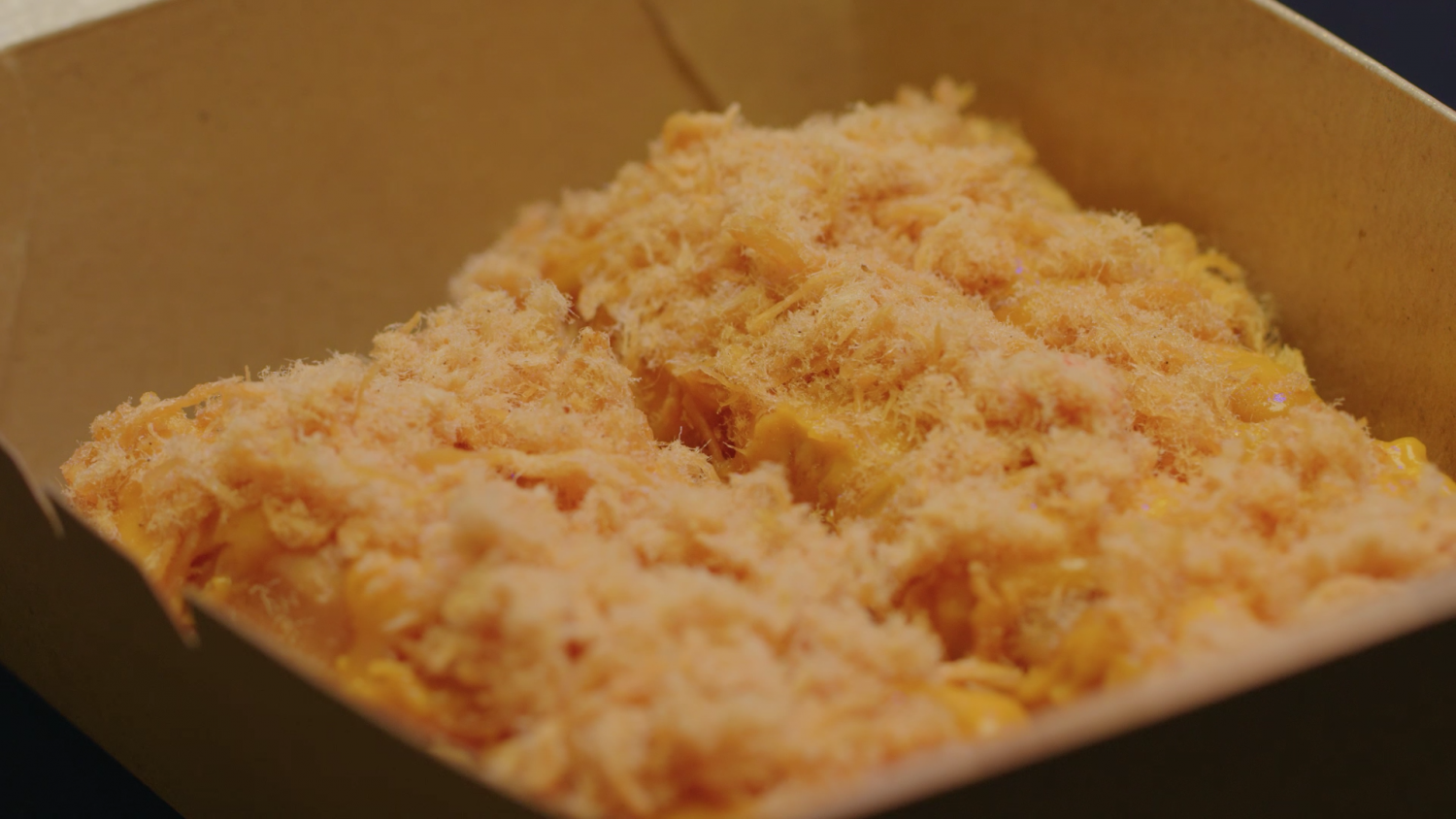 Woah! Chocolate Oreo Nutella You Tiao? This does seem to bring back memories of Nutella with bread back we were little, doesn't it?
And we are pleasantly surprised by how addictive this can be! Try this if you want that oily, substantial kick after a day's workout.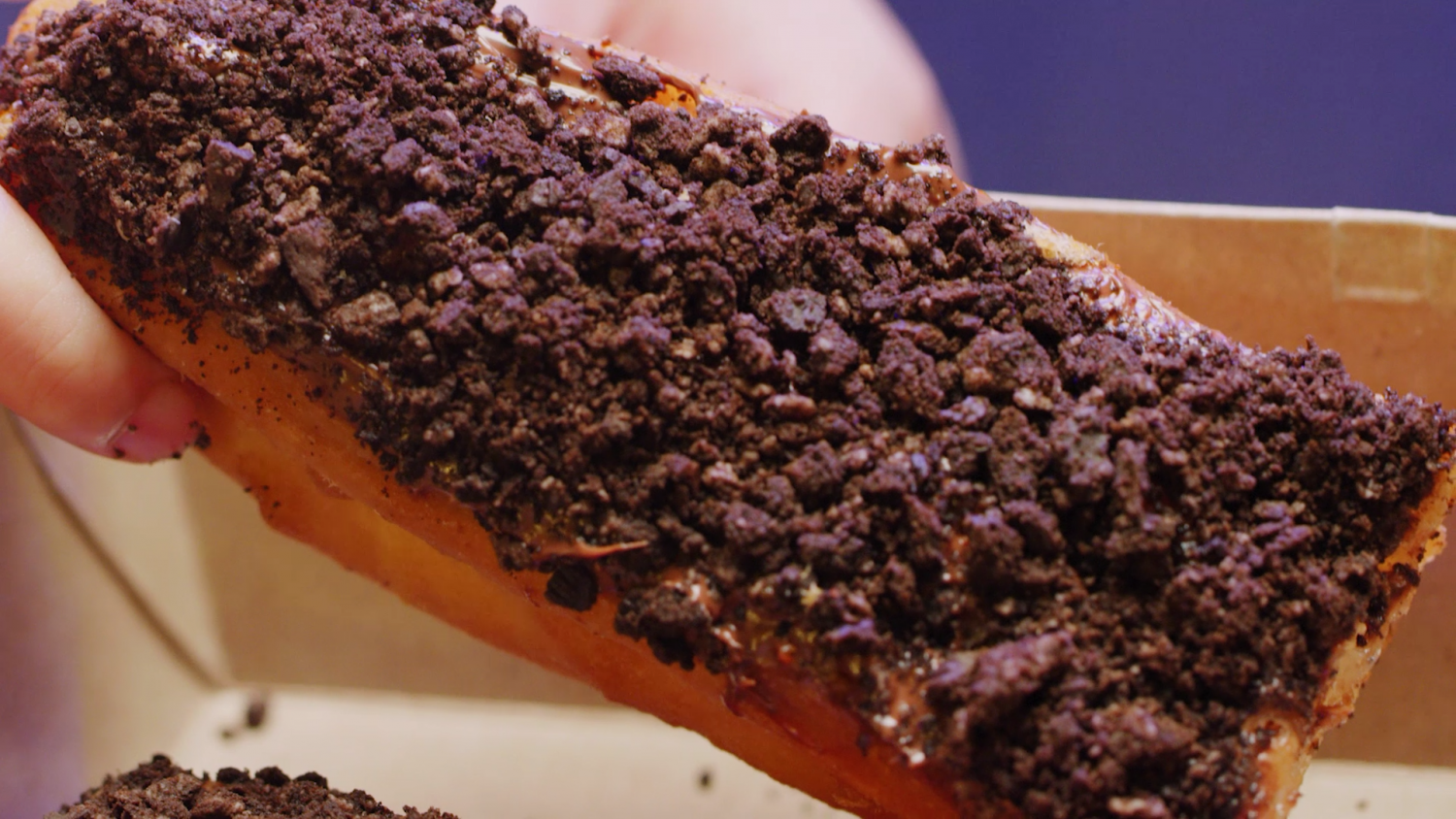 Sweetness overload! And we kinda like it.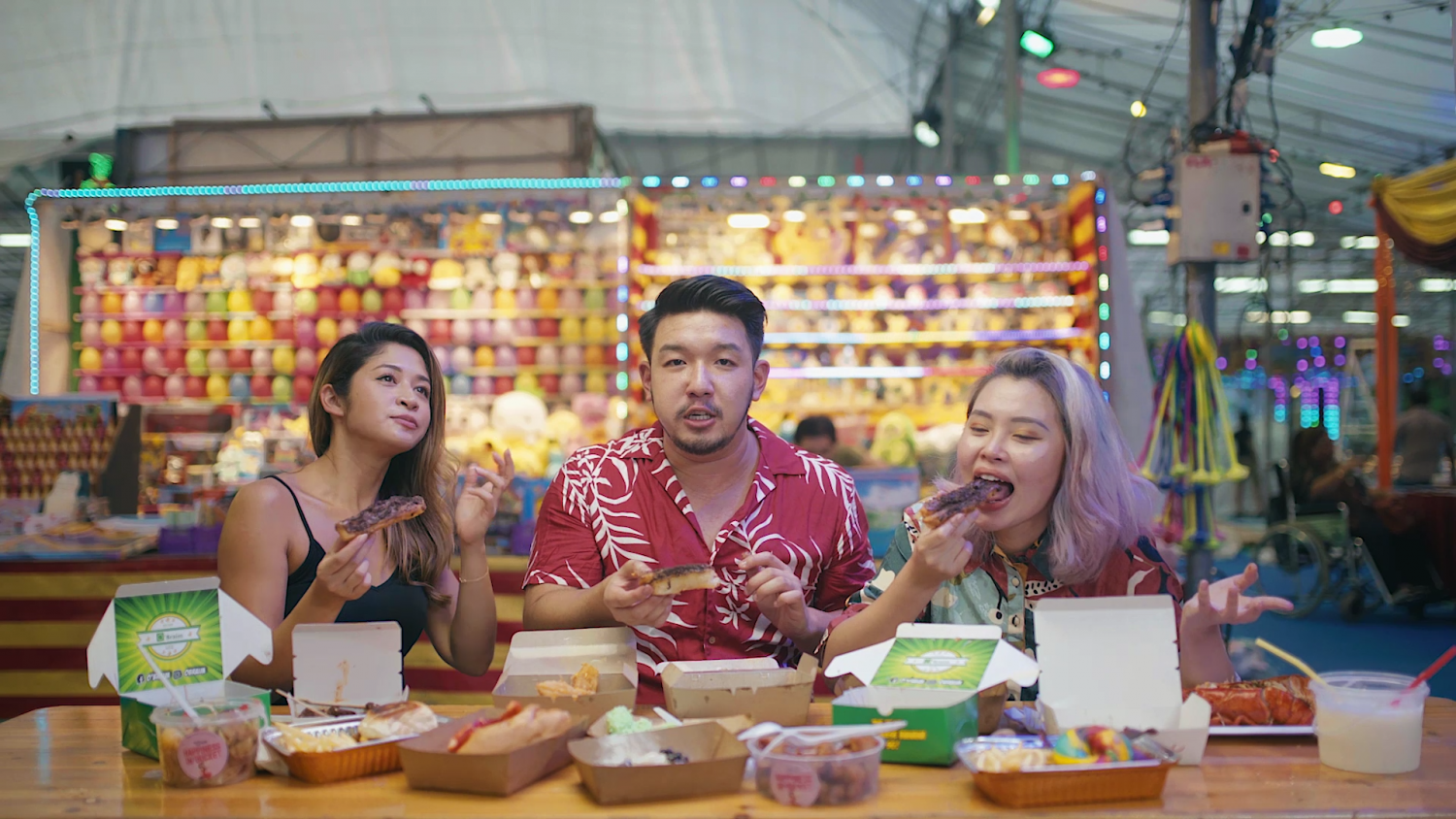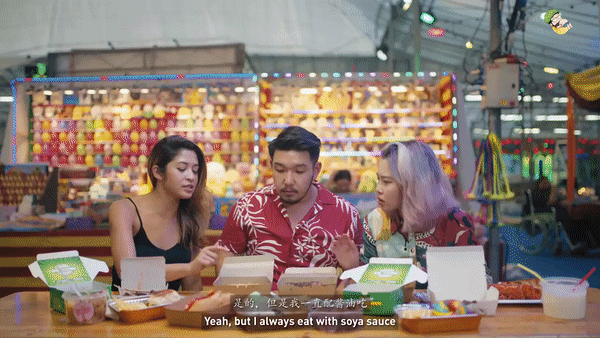 Ratings: 1 Stars
CHARKOI
Stall No: WGS A G294
Have you ever tried the Handsome Burger before? No? Well you are in luck! Today we are introducing this truly epic burger Word. Let's get on to it.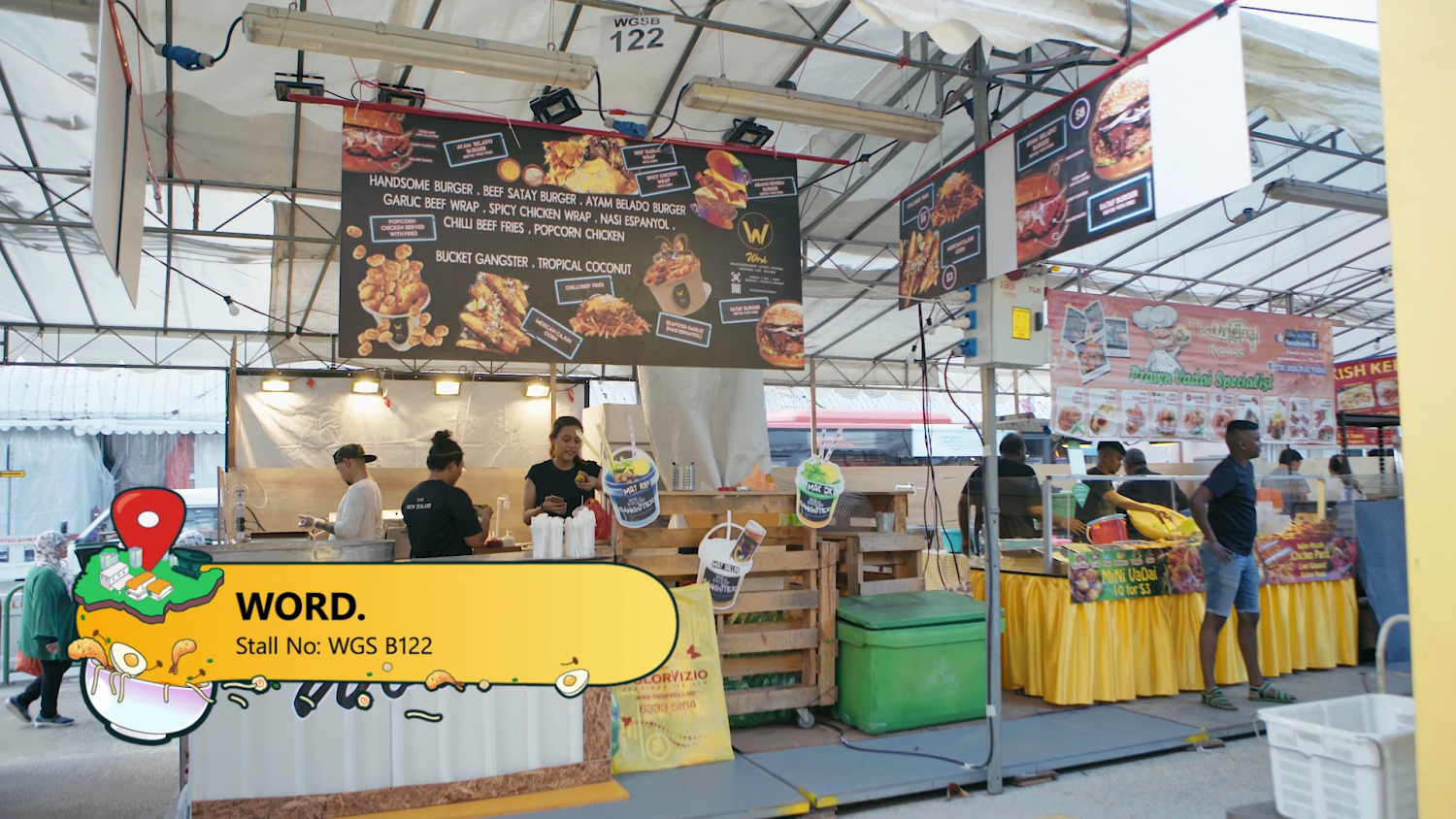 Rainbow Burgers is the Word.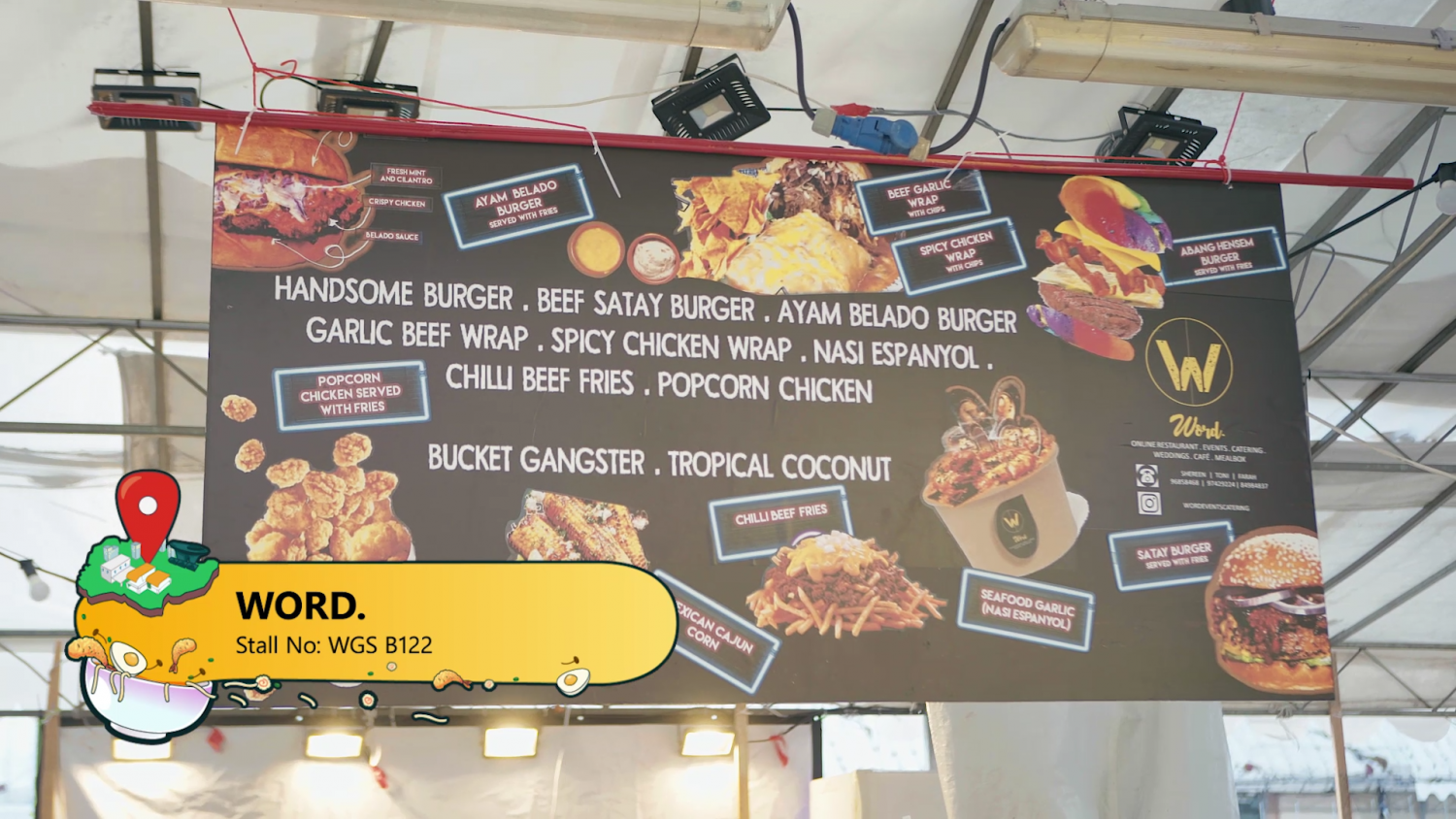 This instagram-worthy Abang Hensem Burger is definitely worth the queue. It is basically rainbow buns with meat patty in it. Looks good, taste even better.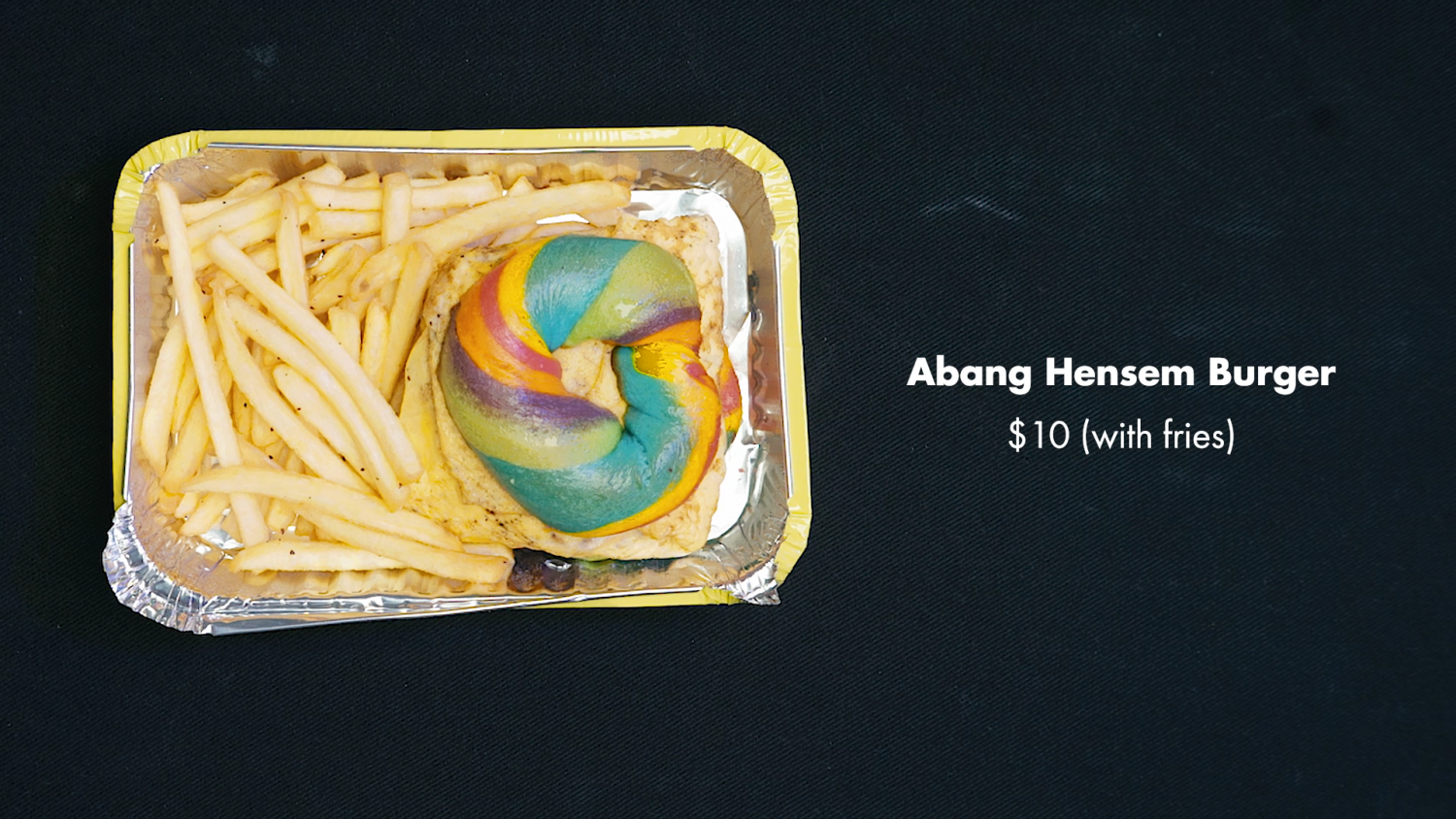 The turkey bacon patty is incredibly moist and tasty. And then there's egg and cheese in it too, which complements the bun and patty really well. It's just like an explosion of moisture and flavors in your mouth. Amazing.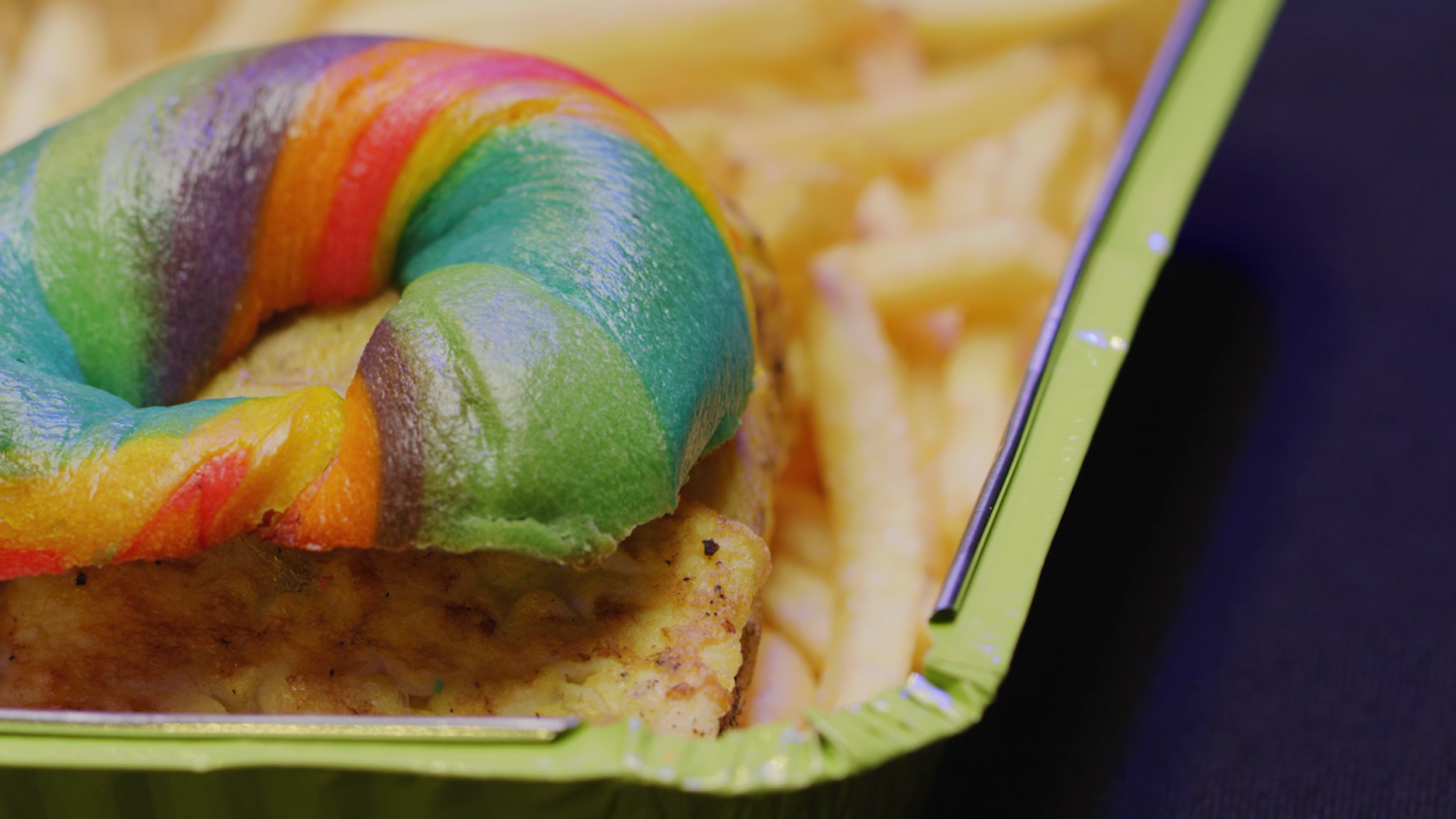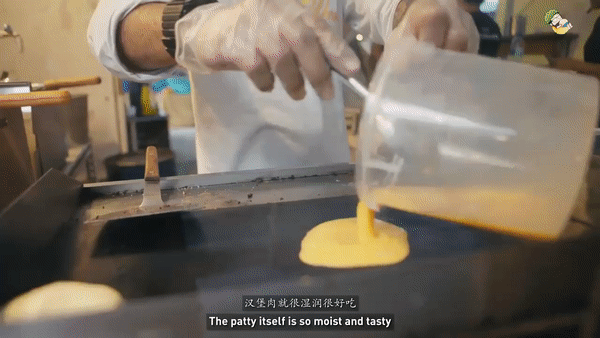 Needless to say, this is all you ever need for a burger. We highly recommend you to try this if you haven't done so.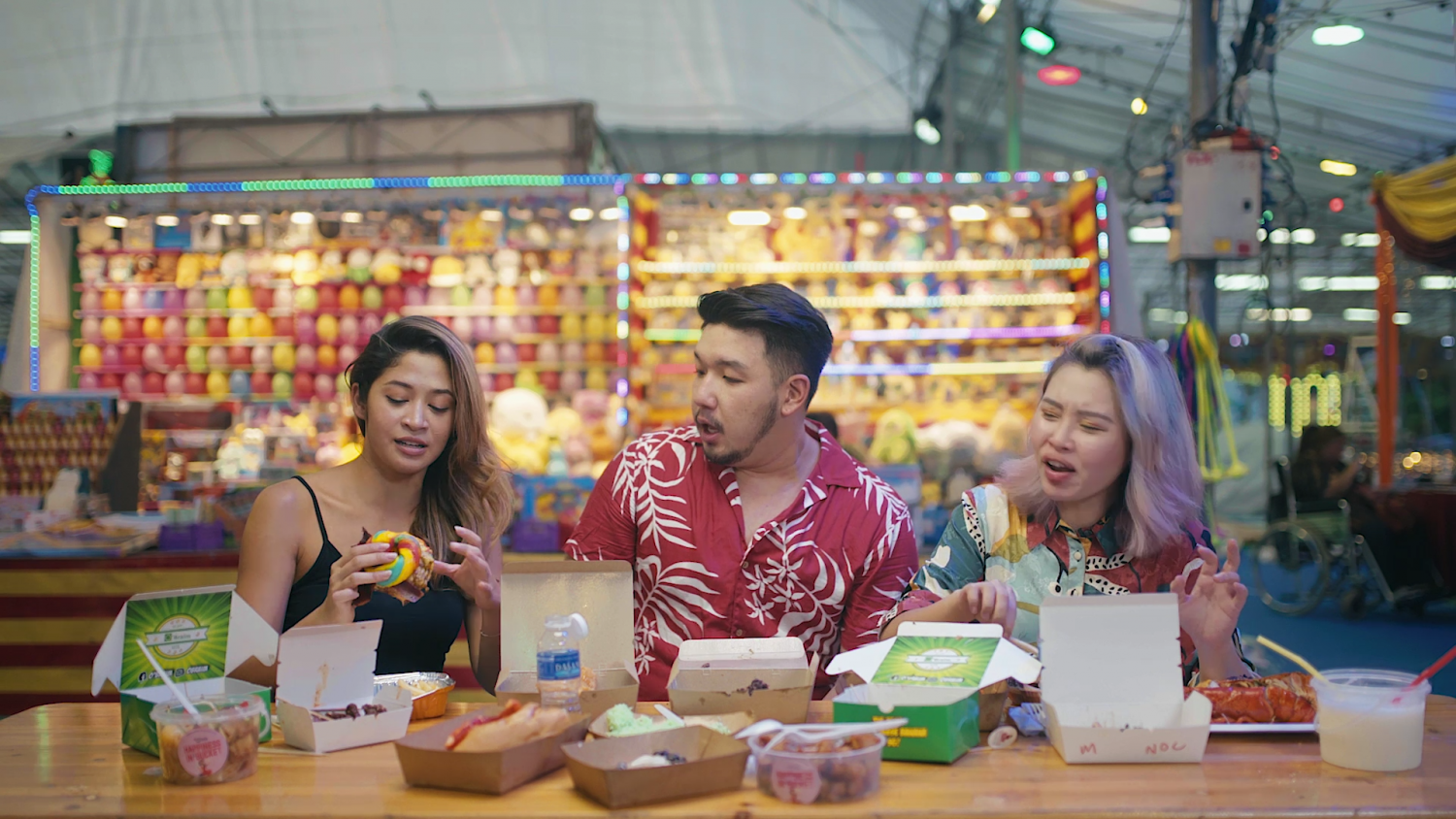 Ratings: 3 Stars, Food-King Good!
WORD.
Stall No: WGS B122
Alright, now we are here at Beef Bro to try their famous flame-grilled beef cubes. And this time they have a new special entry for their menu – Ma La Beef Cubes!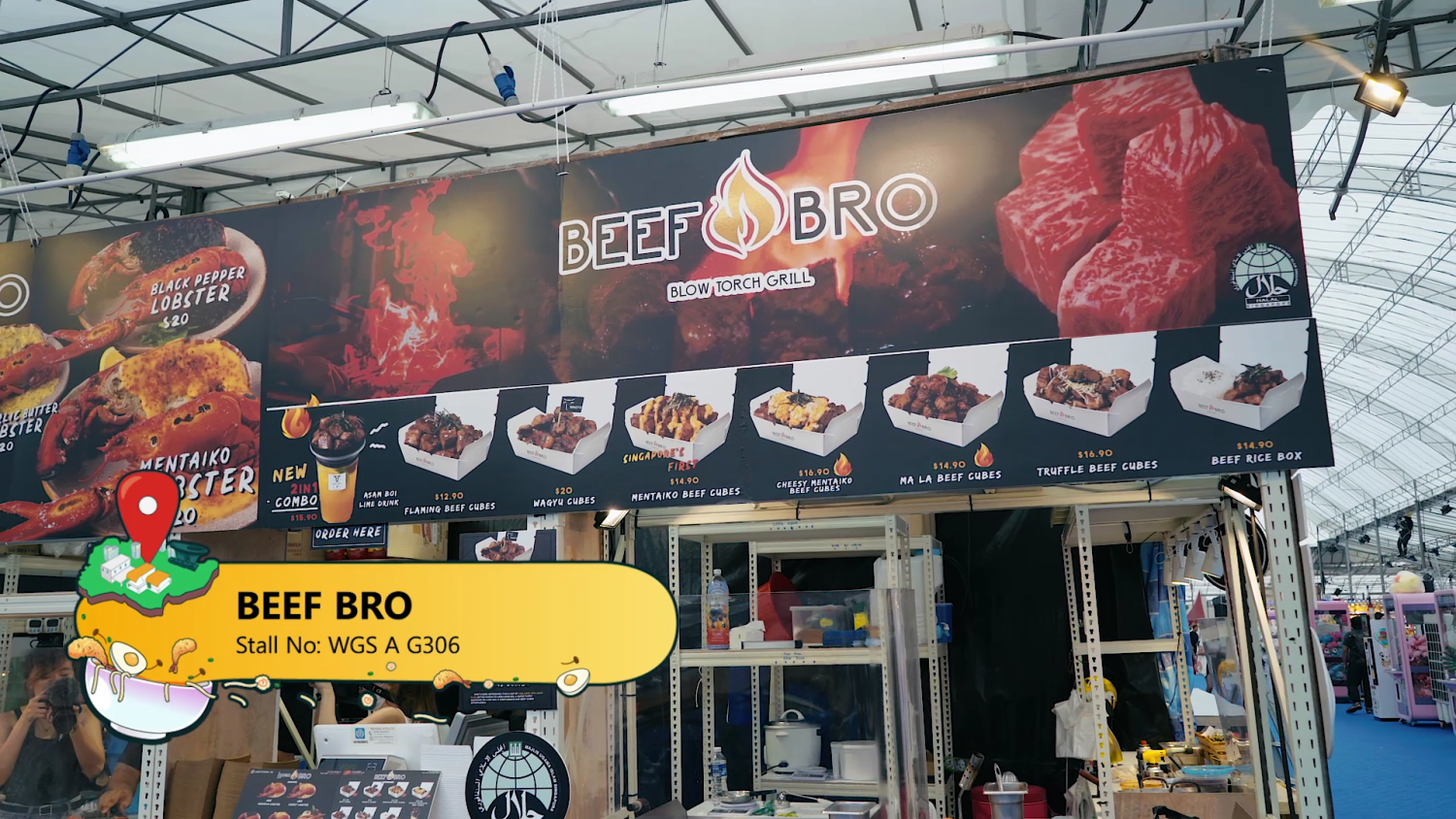 Inspired by the Taiwanese classic, Beef Bro offers an assortment of flame-grilled meats ranging from Truffle-flavored to Cheesy Mentaiko Beef Cubes.
Watching the succulent beef cubes getting torched by amber flames is spellbinding enough, but a single taste of this is enough to set our tongues ablaze.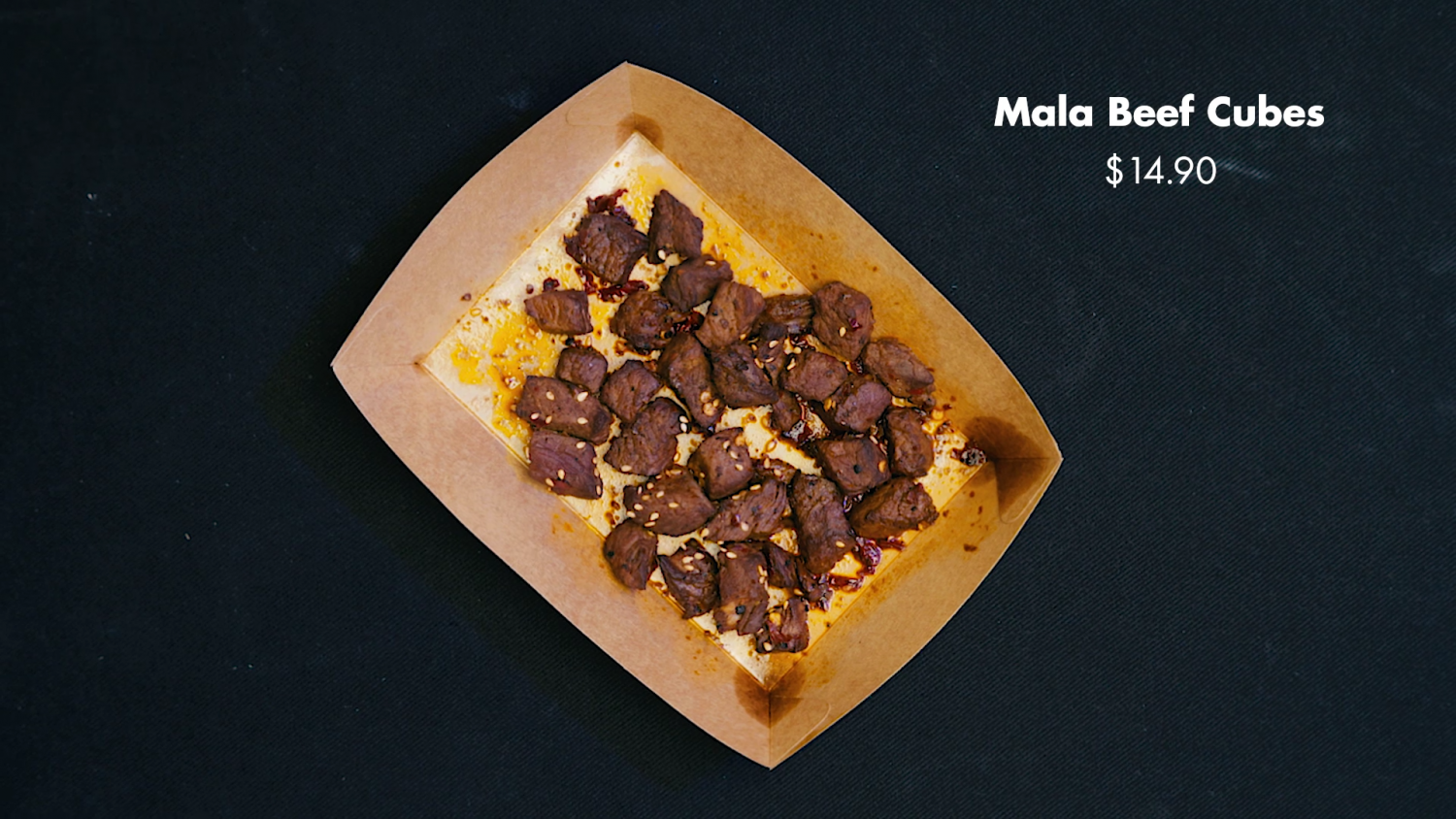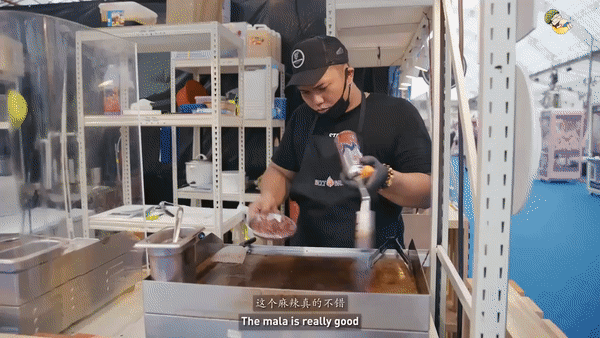 This sizzling dish is not for the faint of hearts – Unless you're a certified spice fiend, we recommend opting for something else instead. However if you love mala, you will fall in love with this.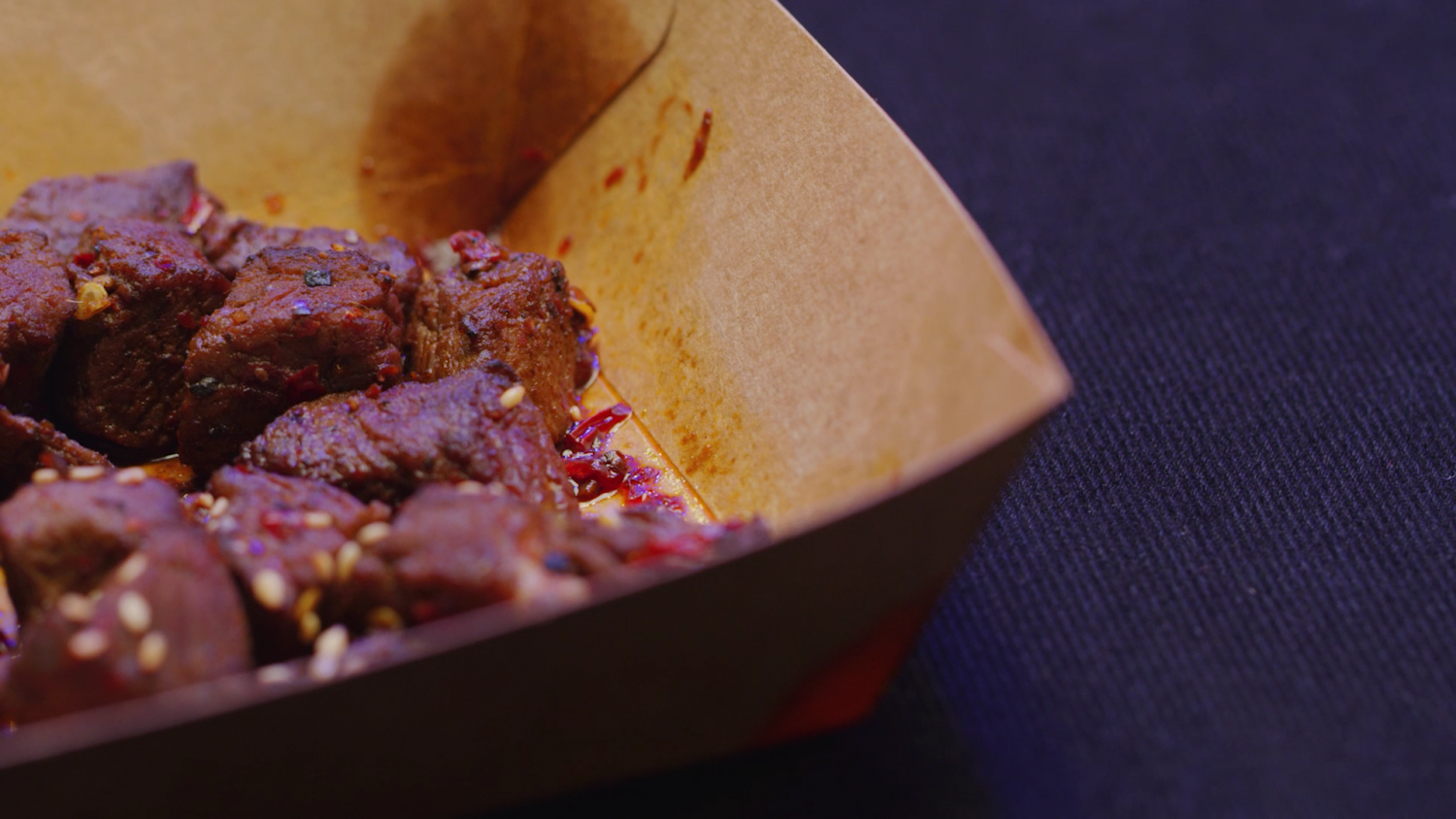 The beef cubes are really tender and torched to perfection. They also absorb the mala sauce very well. Wonderfully done and worthy of our 3 stars!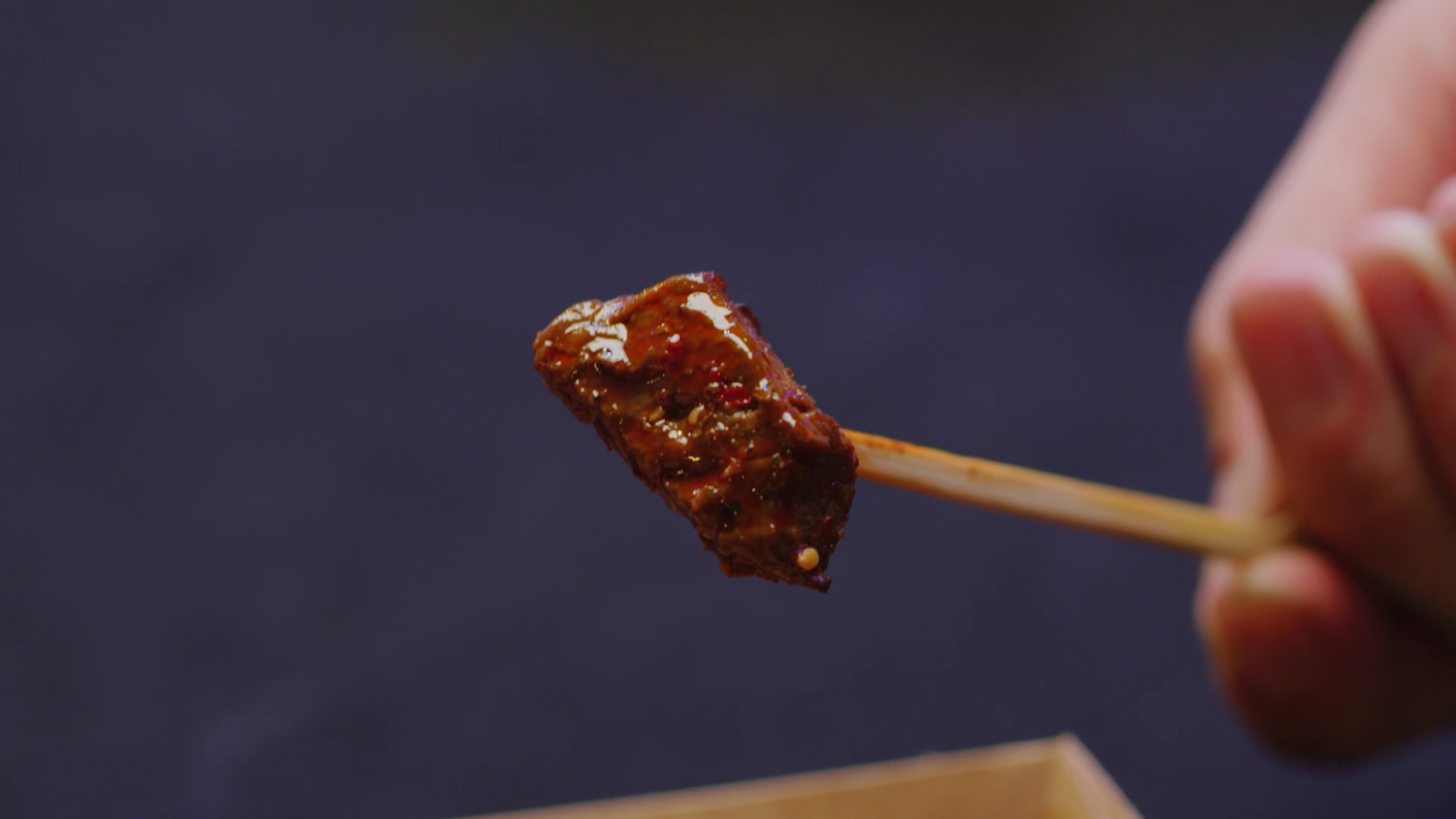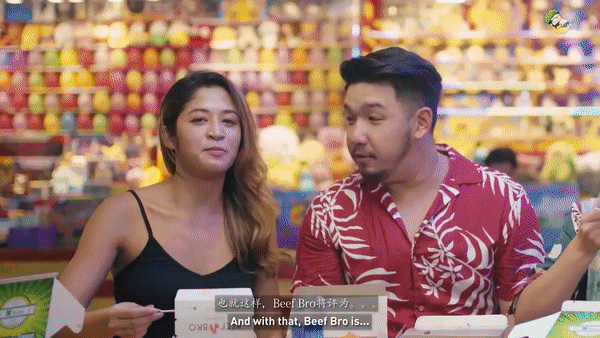 Ratings: 3 Stars, Food-King Good!
BEEF BRO

Stall No: WGS A G306
Last but not least, our final stop of the day takes us to Alley where we will be trying their unique Boba Pancake Stack.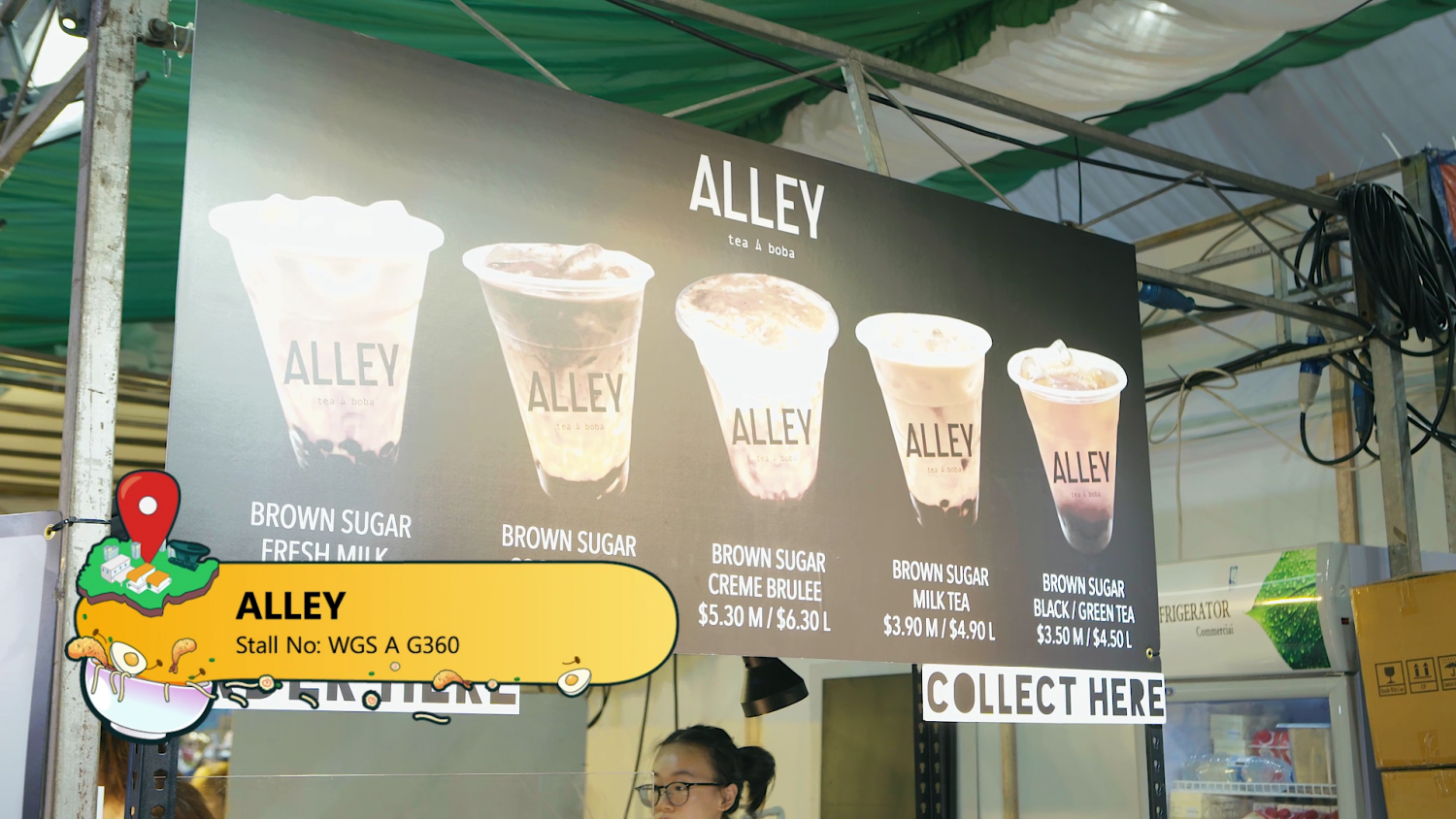 The boba stack pancake tastes like hot bubble milk tea served on pancakes, which is pretty peculiar yet interesting at the same time.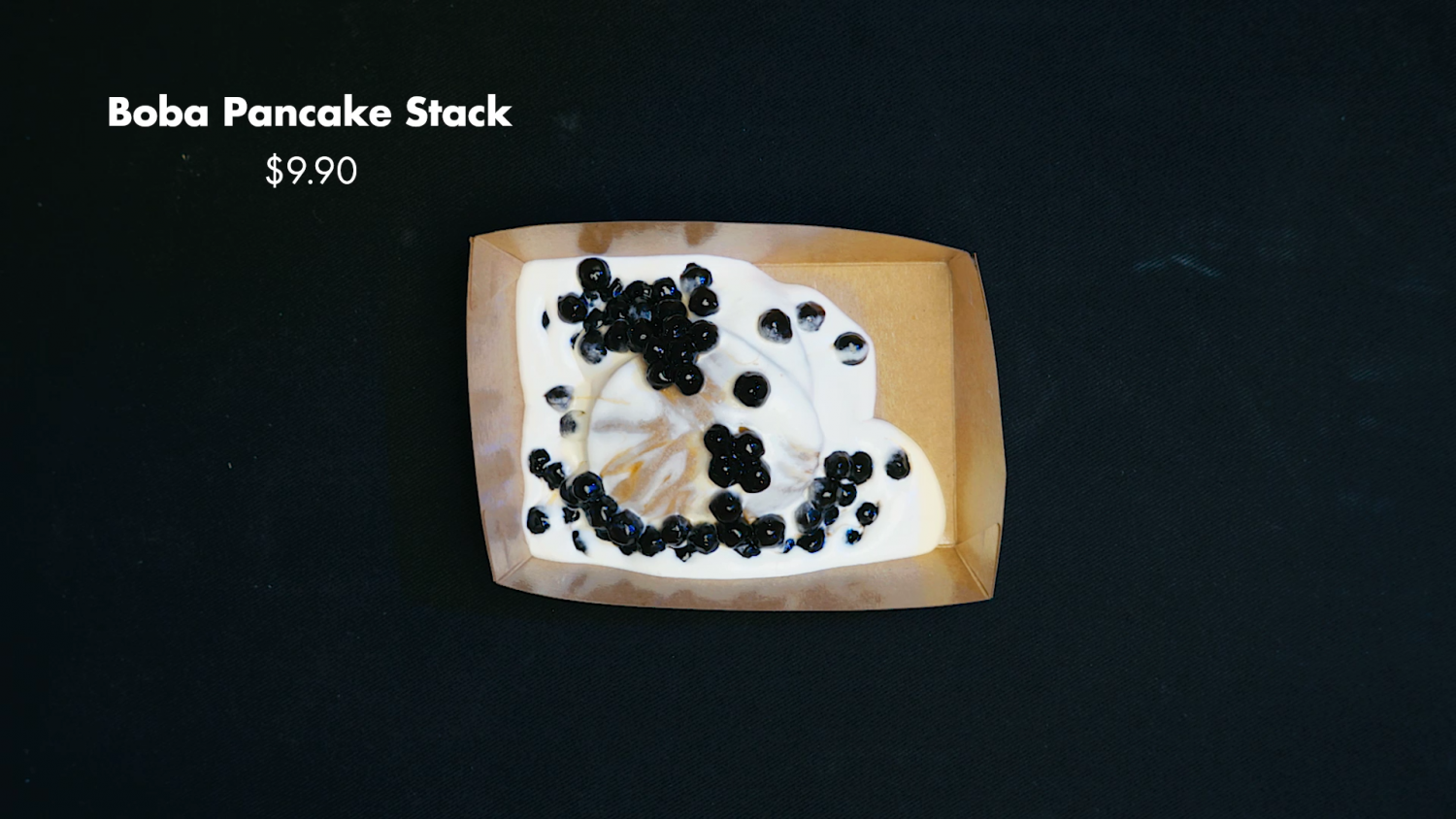 It comes with 3 pancakes and a generous serving of tapioca pearls. The two textures are very conflicting, especially when you bite into the chewy Q pearls with the soft pancakes.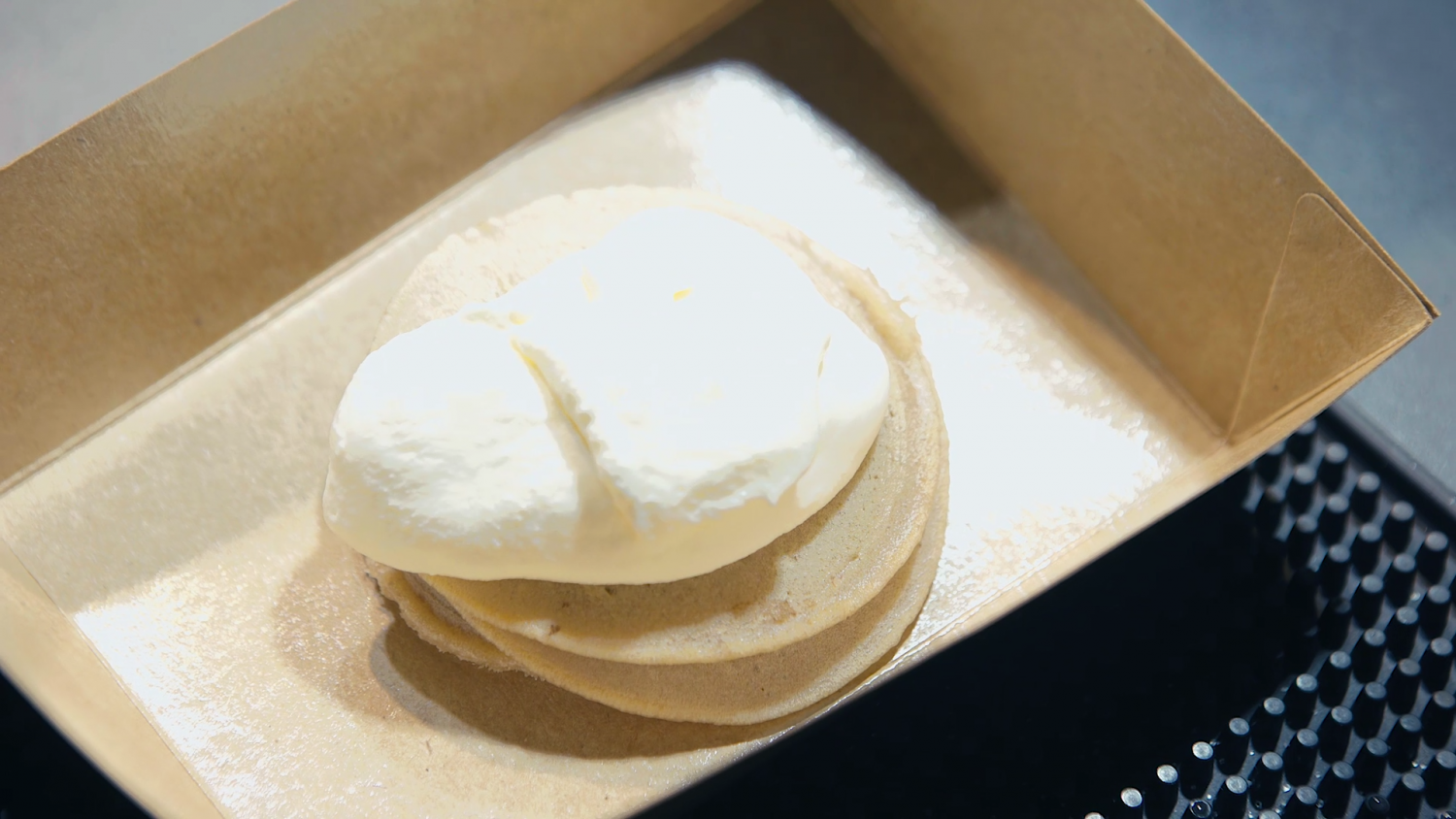 However flavor-wise, it is surprising yummy. If you love pearls and pancakes, this one is made for you.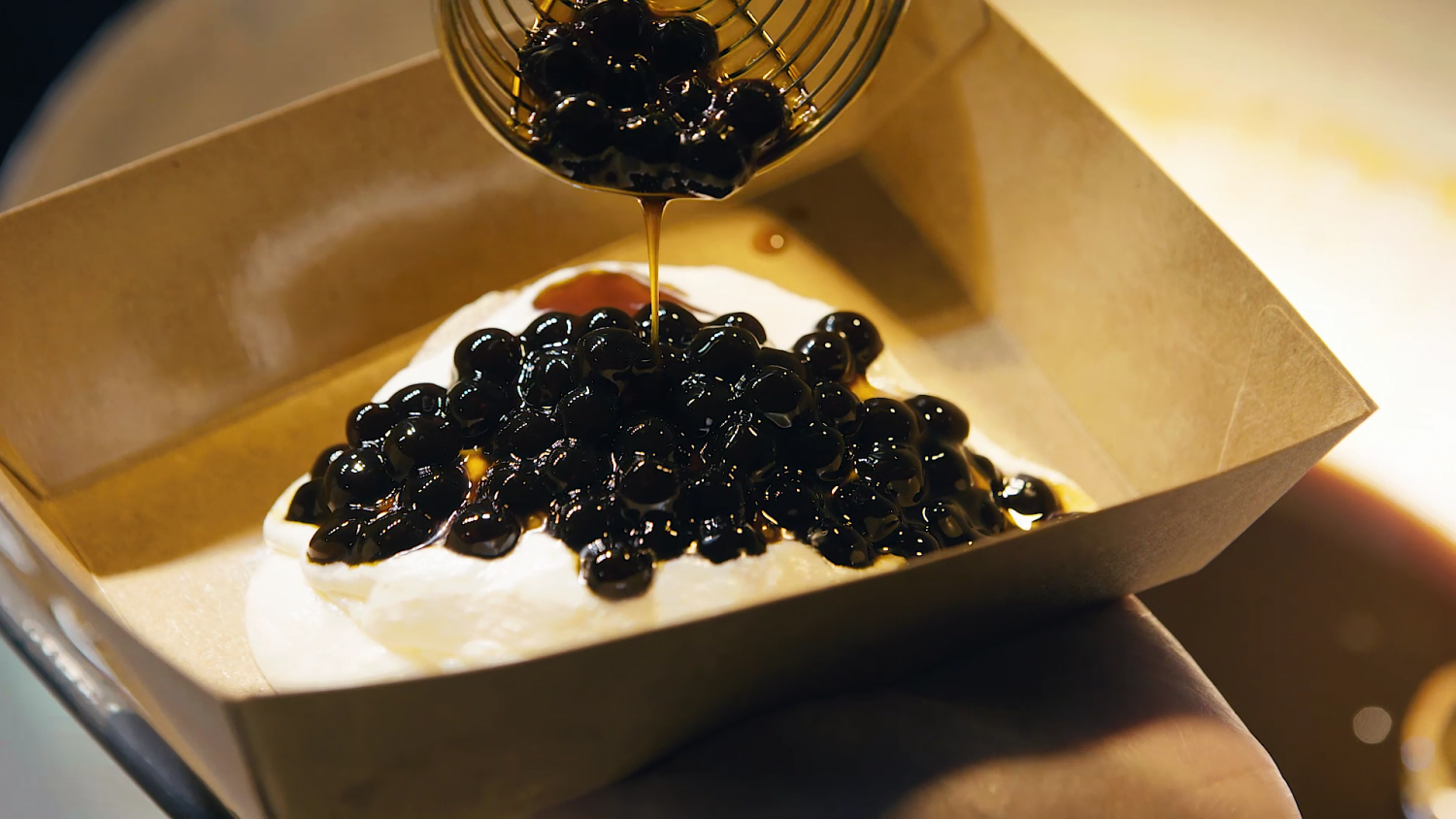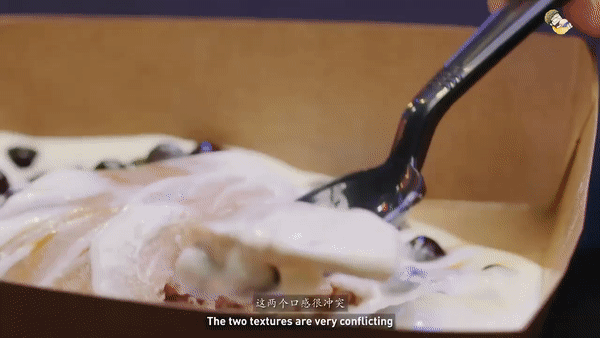 Ratings: 2 Stars
ALLEY
Stall No: WGS A G360
Alright everyone, there you have it! We hope you guys like our episode today. Before you head down to the bazzaar and fill your bellies, can spot another comedian in our video? No prizes for finding him!