If you're not new to the concept of Player's Unknown Battlegrounds (PUBG) or Fortnite, then you will definitely feel right at home when it comes to the latest strategic battle royale game – Apex Legends! Published by the gaming giant, EA Games, it is their first venture into the multiplayer battle royale genre, and judging from the reception from the first month, it's proving to be a hit.
What puts the game aside from the other known battle royale games are notably the special abilities that a player is able to utilise during the course of his gameplay. This is akin to Blizzard's Overwatch, where you try to form teams of different characters that have their abilities complement each other in other to maximise your strategic advantage over the other team. In Apex Legends, you will form teams of 3 and be able to choose from the current roster of 8 characters, or Legends, as the game calls it.
The rest of the gameplay will be similar to PUBG where you will choose a spot to land on, and immediately procure your weapons and equipment. But what makes Apex Legends shine is how well they implemented the Legends' abilities into the gameplay without making the gameplay overly-reliant on abilities. From deploying a healing drone that heals gradually over time to impenetrable shield to tracking enemies, the abilities are not too far out of the world, and is fairly balanced enough that you can still kill an enemy using his ability without using your own.
And mainly for those new to the game, Julian has come up with his ratings of each individual Legend, so that you can have a basic idea of what to look out for when you play Apex Legends for the first time! We will be starting from the 8th, so read till the end to find out who's the best Legend in the game!
(By the way, Apex Legends is completely free to play, so what are you waiting for?)
---
#8: Caustic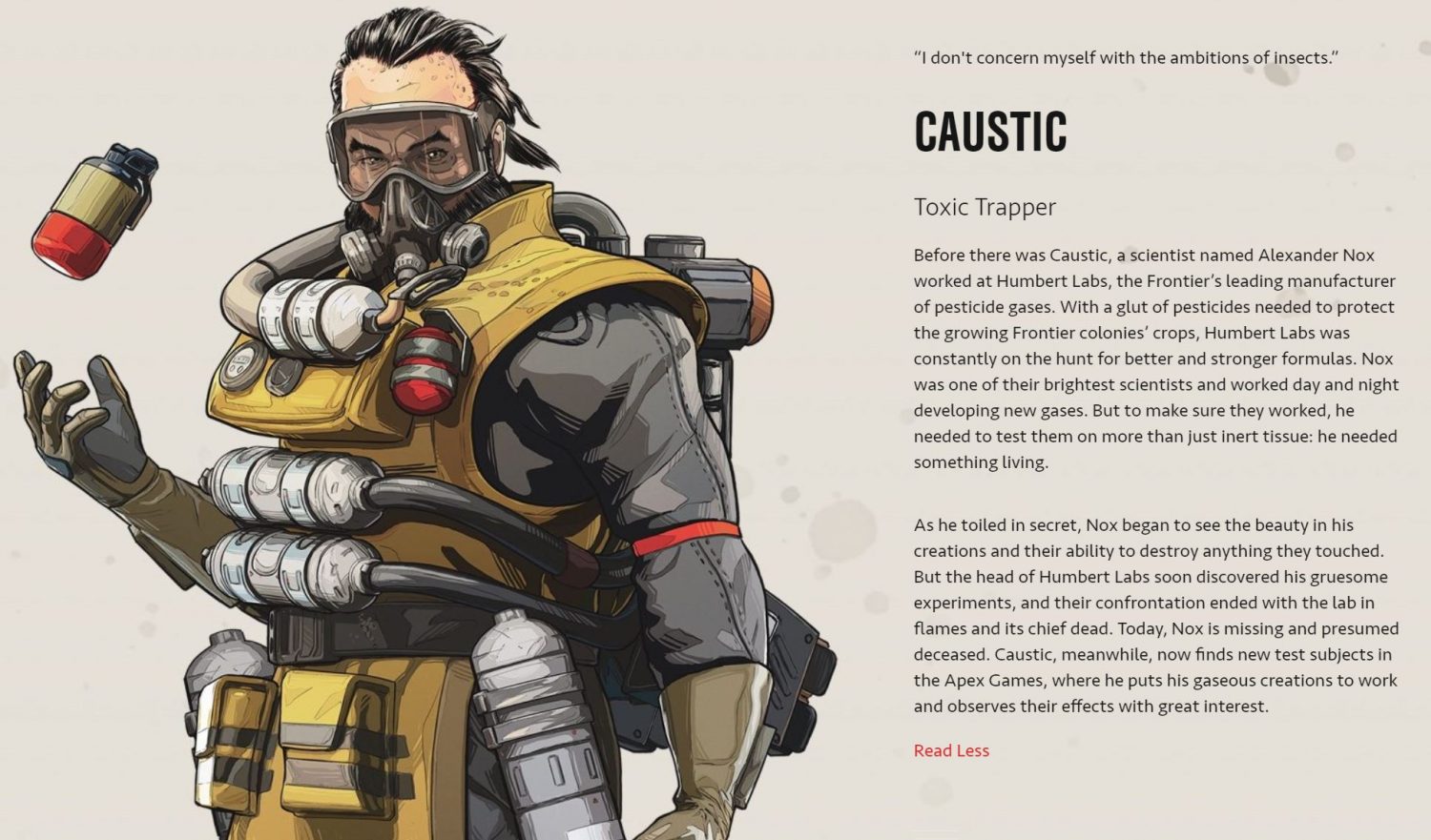 Caustic is one of the initially locked characters that you can unlock even by spending cash or with the points that you gain after playing for some time. His abilities are more defensive-oriented, utilising gas traps that will not only obscure opponents' vision but also slow and cause gradual damage to them for every second they stay inside the gas. But the problem with his Nox Gas is that while his teammates will not receive damage or get slowed, their vision will be similarly obscured as well, so his abilities aren't particularly beneficial to team play, especially when it comes to offensive strategies.
Individual Abilities: 2/4
Teamwork: 0/4
Fun: 1/2
Total: 3/10
---
#7: Mirage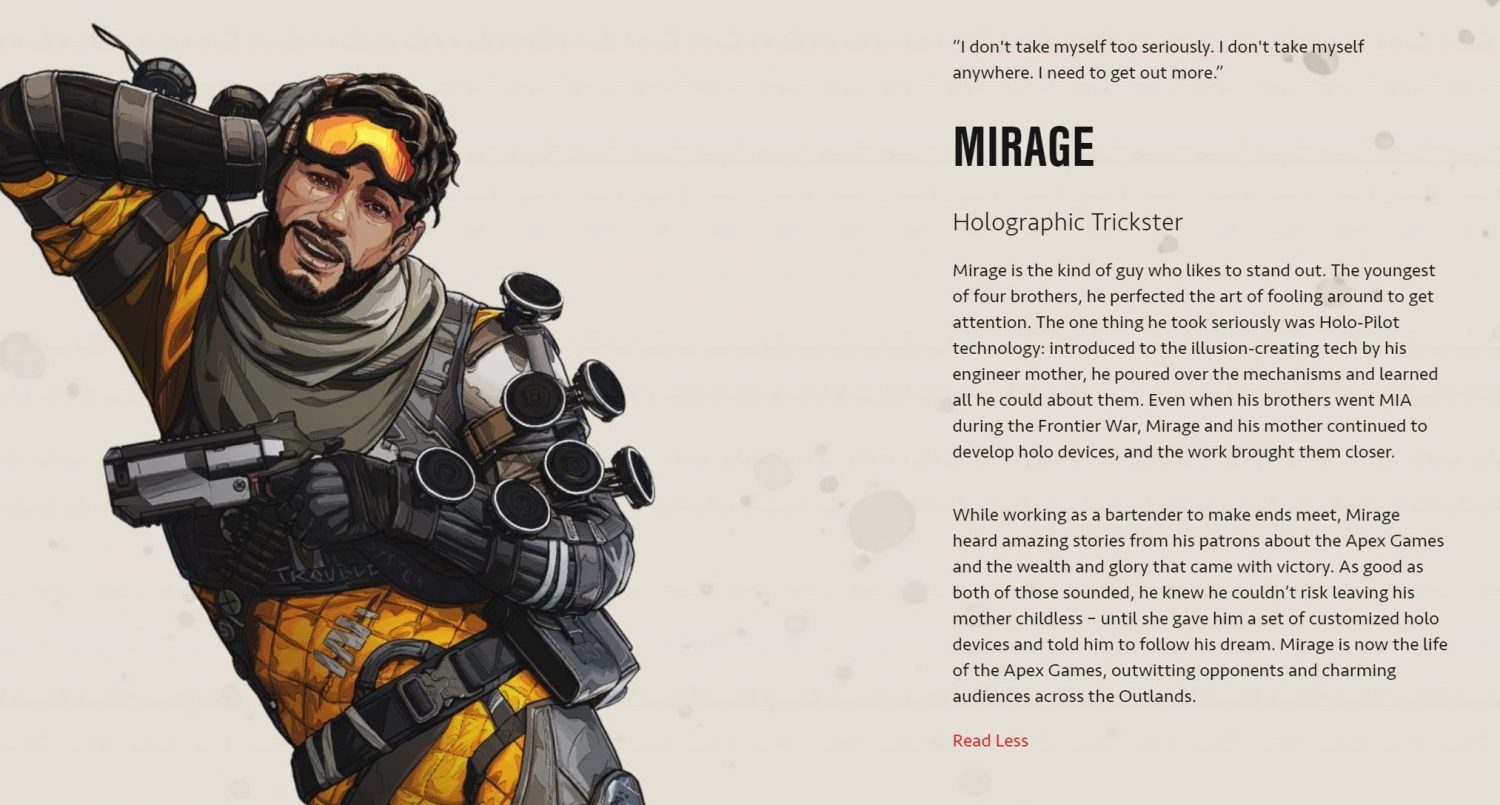 Mirage, similar to Caustic, is another unlockable character that you can get after gaining enough points. Just as his name implies, Mirage specialises in distracting the opponents. But his abilities gradually lose in effectiveness against experienced players as they would be able to distinguish the real from the decoys. Perhaps Mirage's abilities can be improved in future patches by making his decoys move less linearly. But currently, Mirage requires the aid of characters that can provide cover to take enemies by surprise such as Bangalore or Caustic in order to be effective in gameplay.
Individual Abilities: 2/4
Teamwork: 1/4
Fun: 2/2
Total: 5/10
---
#6: Pathfinder

Pathfinder, a truly underrated Legend. In battle royale games, you will often need to travel from one place to another because the play area will start reducing itself after every few minutes to force more confrontations to happen. Pathfinder's role is to provide mobility for its teammates. Pathfinder is more suited for long-distance confrontations, and sniper players will definitely find him very useful to use. Do you agree, Widowmaker mains?
Individual Abilities: 3/4
Teamwork: 2/4
Fun: 1/2
Total: 5/10
---
#5: Gibraltar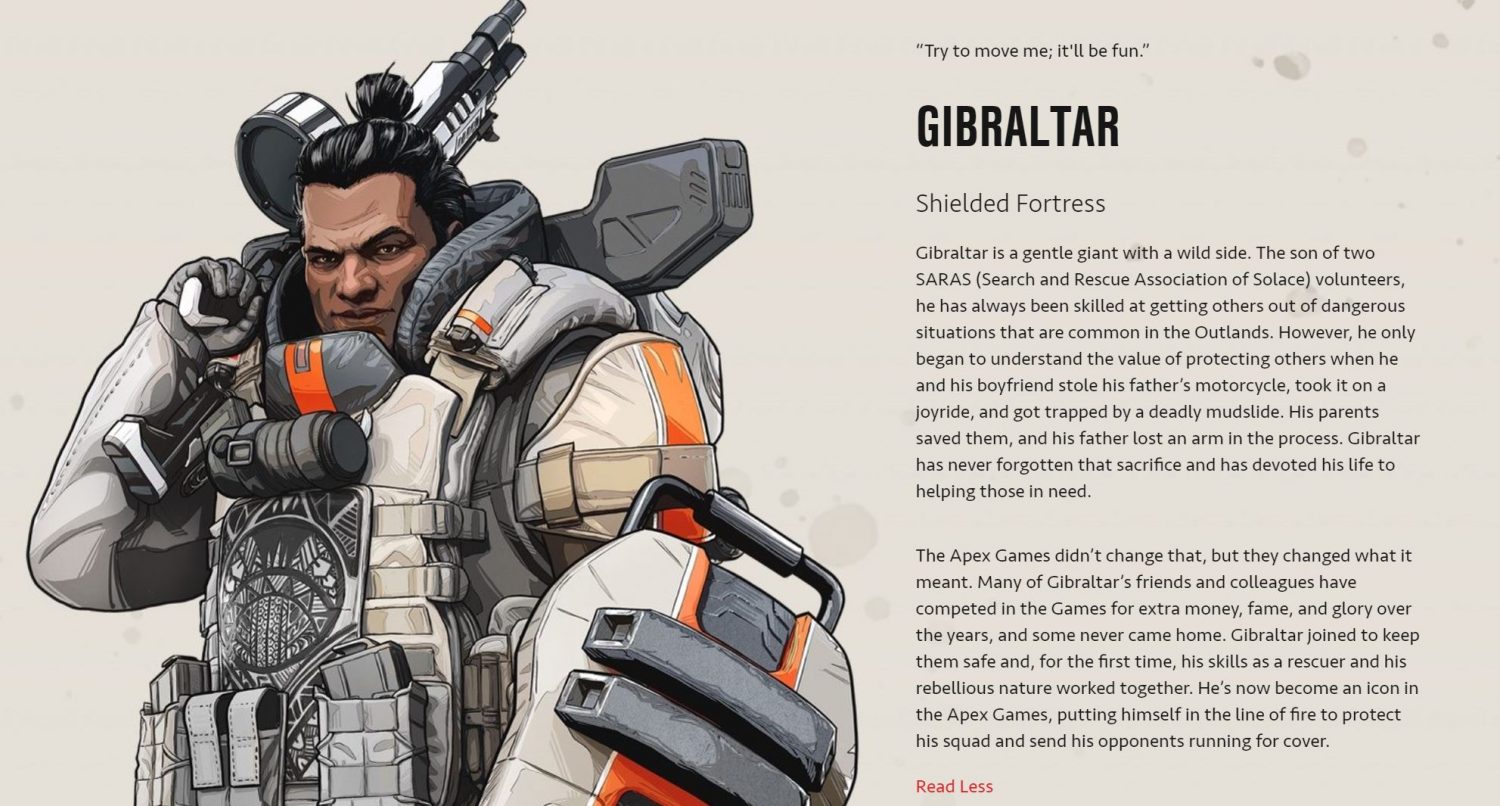 If there is a tank role in this game, then Gibraltar will undisputedly be that tank in Apex Legends. On the surface, his role may seem to be defensive, but when utilised right, he can be a fearsome offensive Legend. His Dome of Protection is similar to Winston's (Overwatch) shield with the difference that the shield cannot be broken and it blocks attacks from both ways. So you are unable to shoot out from within the dome. It's a pity, but it keeps the game balanced. His Ultimate skill is also one of the flashiest in the game, by calling down a Defensive Bombardment on a fixed area, forcing opponents to get out of their cover. He's definitely a very versatile character be it defensively or offensively. One major disadvantage to him though is the fact that he is big in size, as such his larger hitbox will result in him being an easier target to hit than others.
Individual Abilities: 3/4
Teamwork: 3/4
Fun: 1/2
Total: 6/10 (-1 because of large hitbox)
---
#4: Bangalore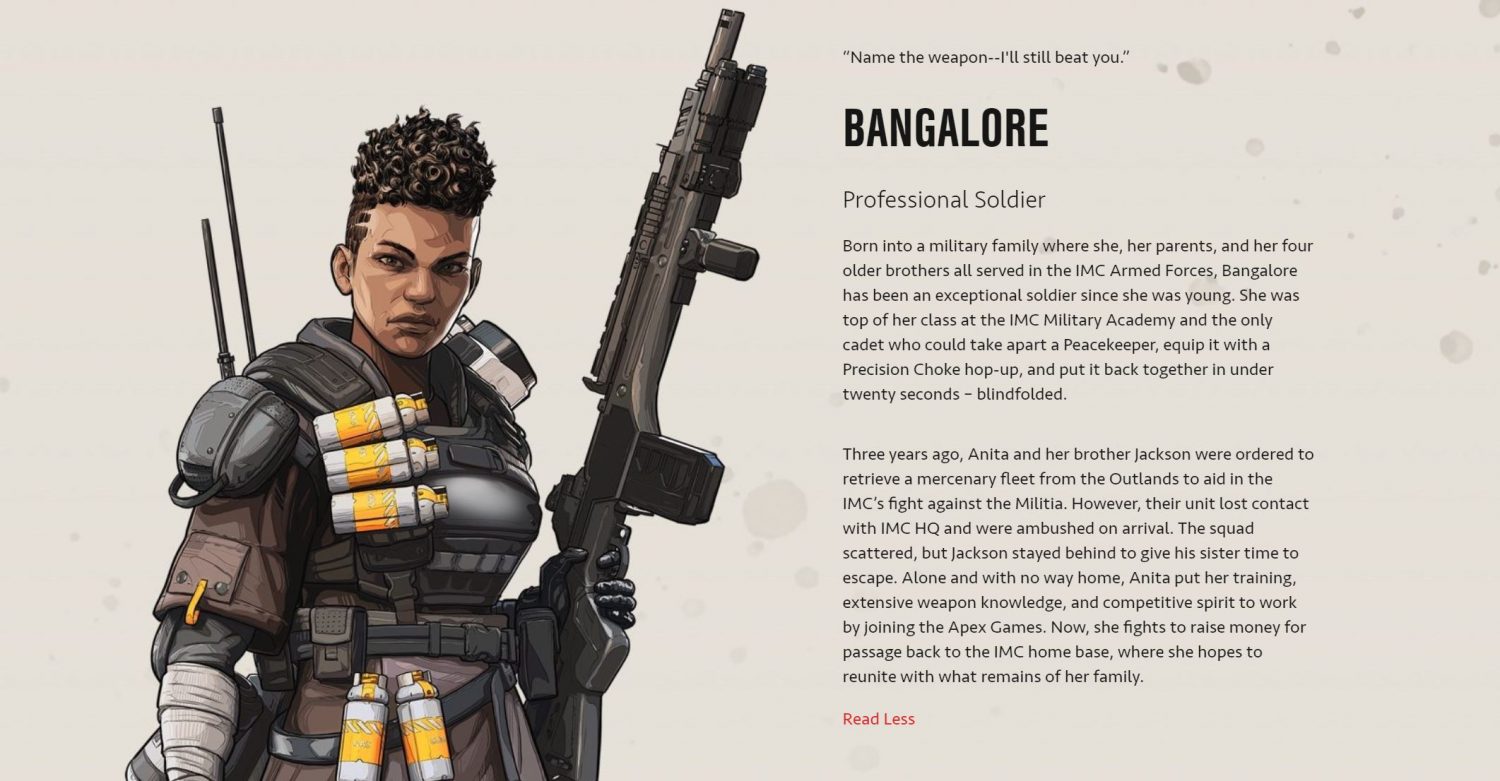 Bangalore is one of the most heavily utilised Legends in the game. Her abilities are basic but effective. In other words, she is probably the closest you get to a staple character you'd expect to play in most FPS games. Her Passive ability allows her to sprint faster when under fire, allowing her to reach for cover or her enemies faster, depending on whether you choose to play her defensively or offensively. Her smoke launcher is also a very versatile ability that allows her to choose to misdirect the opponents, obscure opponents' vision or to provide cover while she retreats. An efficient Legend with no frills, it's definitely one of the easiest Legends to pick up in the game.
Individual Abilities: 3/4
Teamwork: 2.5/4
Fun: 1.5/2
Total: 7/10
---
#3: Wraith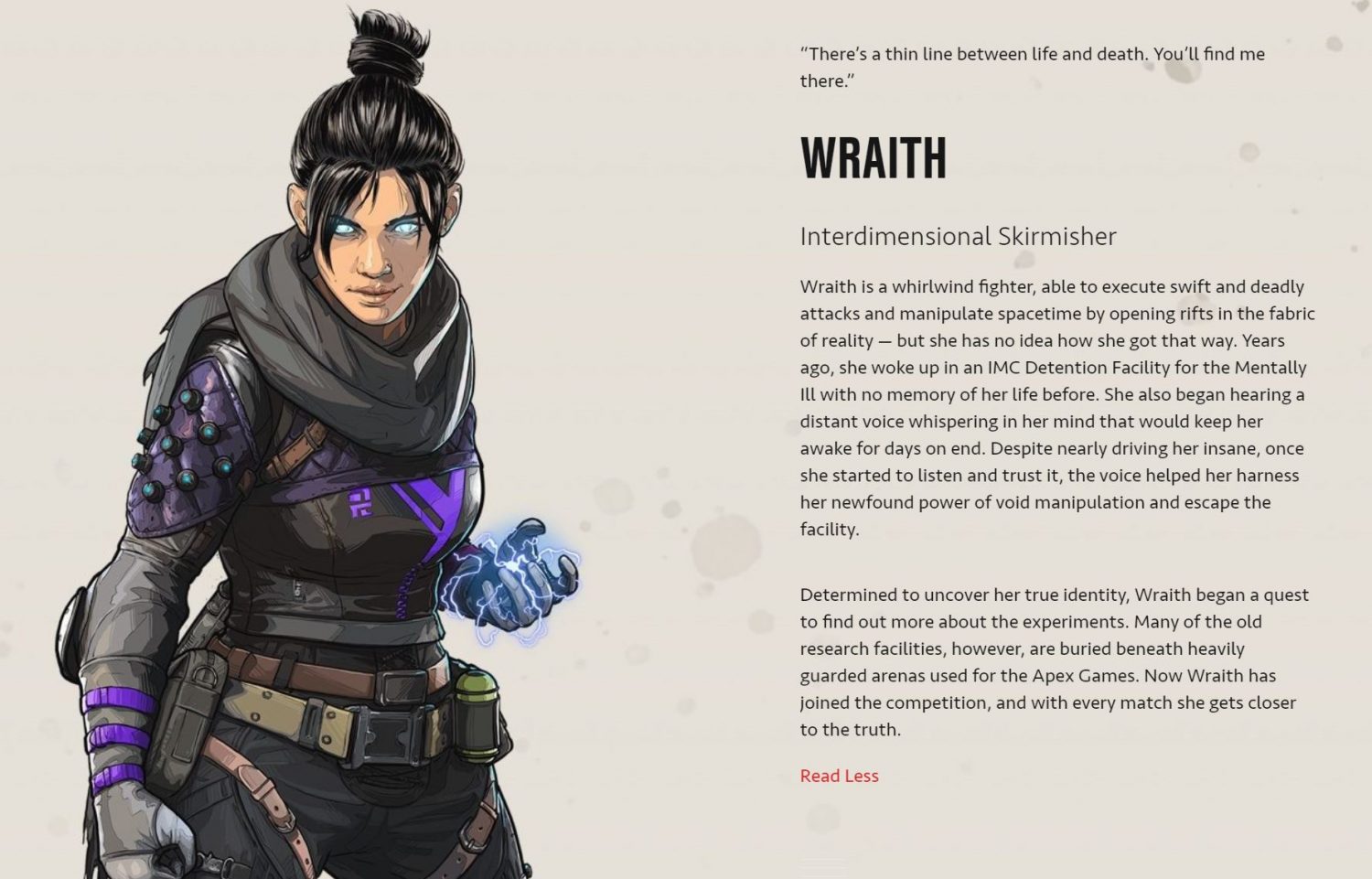 Another popular character, but definitely not very well-utilised in the game. Drawing comparisons to Overwatch once again, she's similar to Tracer.  While she definitely can't move as fast as Tracer (game balance, remember?), Wraith's role in the game is to scout and to flank enemies. By using her Tactical ability, she is able to move faster for a short duration while avoiding all damage. Her Passive ability will also give her warning in advance whenever there are enemies nearby. Her Ultimate ability is also definitely able to take enemy teams by surprise by immediately repositioning her teammates in a matter of seconds. Best utilised as a scout, and communication is a must when using her.
Individual Abilities: 3/4
Teamwork: 2.5/4
Fun: 1.5/2
Total: 7/10
---
#2: Bloodhound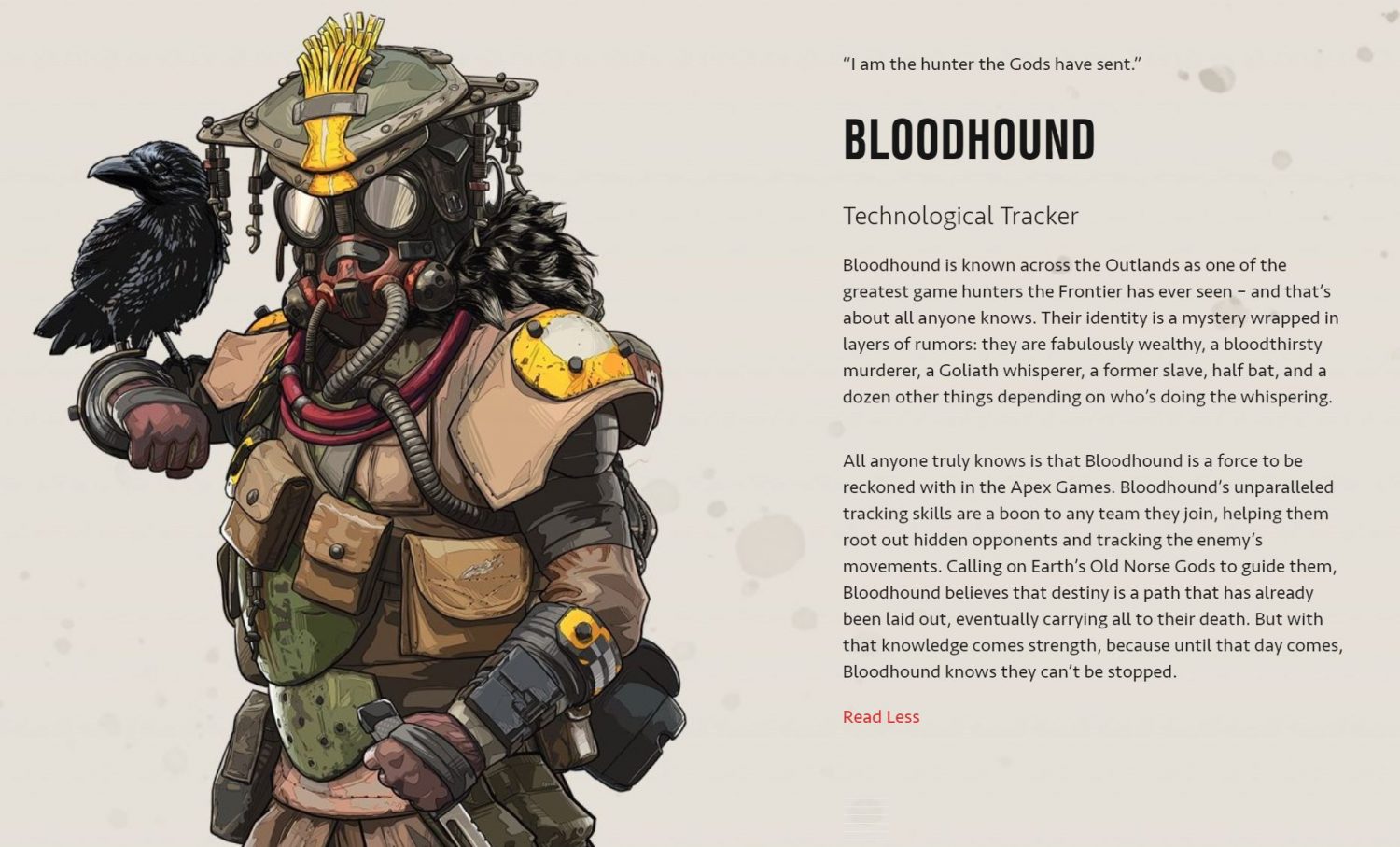 The similarities to Overwatch is uncanny, and it's obvious that Bloodhound looks a lot like Junkrat. But thankfully, his abilities are way different. To tack on a role to Bloodhound, he's more like an Assassin. His Tactical ability is able to reveal hidden enemies and traps over a certain distance (think Hanzo's sonar arrows), and these enemies and traps once detected, will remain visible through the walls for a short period of time. This allows Bloodhound to strategise to either make a retreat or to devise a route to take the enemies by surprise. His Ultimate, Beast of the Hunt turns the whole screen to greyscale and highlights your enemies in red. This ability is particularly useful because this works even if there is smoke. Bloodhound is very offensively-oriented and is best paired with a shotgun to deal huge amount of damage to enemies up close.
Individual Abilities: 4/4
Teamwork: 2/4
Fun: 2/2
Total: 8/10
---
#1: Lifeline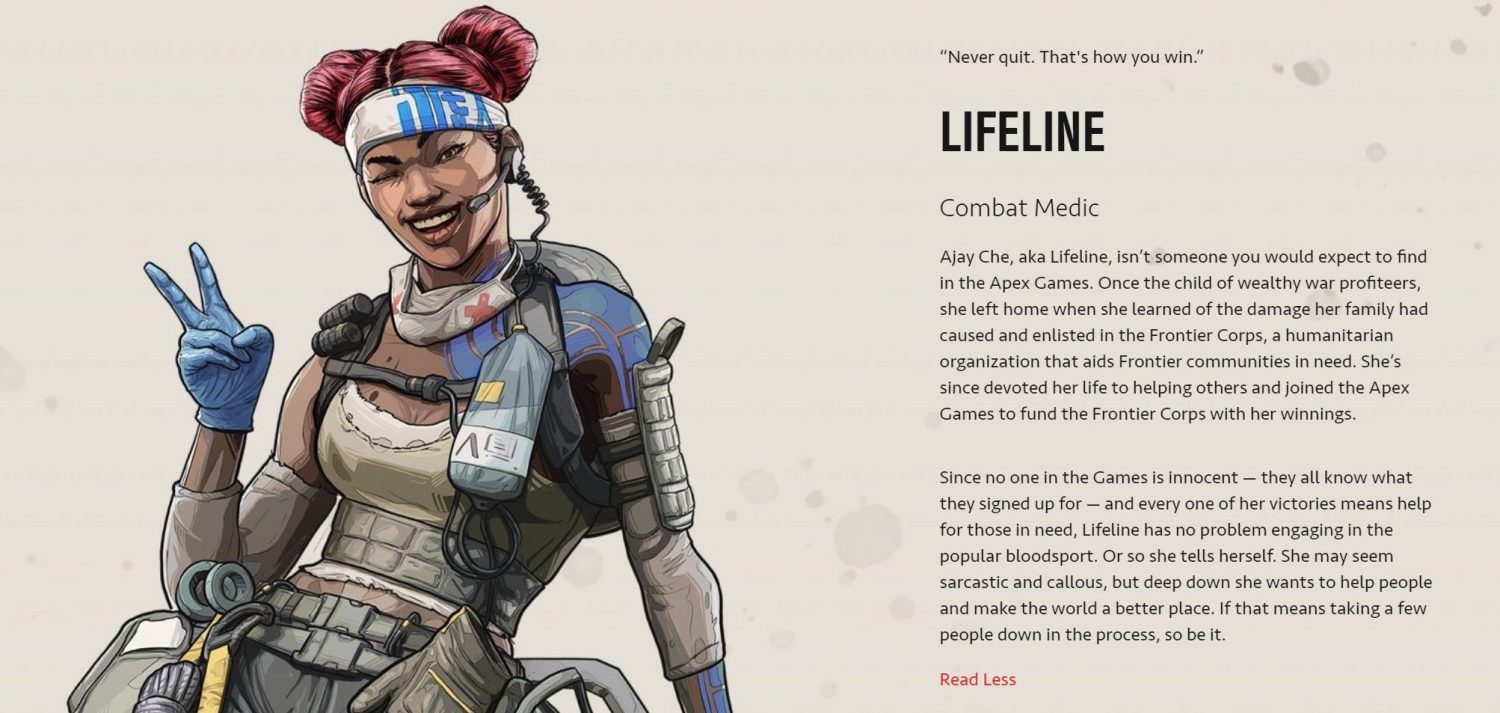 A surprise top pick from Julian, but the main reason for Lifeline being the best Legend to use in Apex Legends is that Lifeline is newbie-friendly. You can directly contribute to the team by healing and reviving fallen teammates without firing a single shot. Her Ultimate is also a boon to the team by calling a supply drop of high-quality defensive gear. Lifeline is best played defensively, lingering at the back line and provide healing to her other two teammates. You can choose to play her offensively if you want to, but losing her will be a huge setback to the team.
Individual Abilities: 4/4
Teamwork: 4/4
Fun: 1/2
Total: 9/10
---
Well, this article is just a concise introduction to each of the Legends' pros and cons, but it all ultimately depend on your preferred play style and how you complement each Legend with another. Apex Legends is a team game, and it all comes down to how you utilise your abilities to gain an advantage over the other teams.
Watch the video below for Julian's comprehensive opinions about each of the Legends if you feel that you need more! 😀 Or best yet, download, install and play Apex Legends to find out firsthand!
As always, stay tuned to our website updates by liking and following our Facebook page: https://www.facebook.com/Nightowlcinematics/
For any fan art / recommendations / queries for advice that you would like to submit: https://noc.com.sg/submit-content/
And for any business enquiries, send it here: https://noc.com.sg/contact-us/ and we will respond to you as soon as possible!
Also, if you have any events that you wish for us to write an editorial about, feel free to contact myself at cayden@noc.com.sg!
*image credits to EA website