Over the last weekend of 13 – 14 October 2018, we've had the chance to be invited to Singapore's largest gaming event – GameStart 2018. Since its debut in 2014, it has gradually gained reputation as a premier gaming convention in Southeast Asia and it continuously seeks to bring everything gaming-related to audiences in Asia. Concurrently, it has also been host to SEA Major, Southeast Asia's largest fighting game tournament since 2016. GameStart is a keen supporter of local gaming and pop culture communities, providing cosplayers, indie developers and artists a platform for them to reach new audiences and potential community members. Ever since its debut, GameStart has garnered more and more support from the esports and gaming communities, and this year's rendition has it partnering up with notable names such as All That Matters, Beast of the East, Busan Indie Connect Festival, Doujin Market, Neo Tokyo Project, SEA Major, Secretlab, Sony Music Entertainment Japan, C3 AFA among many others.
Being a first-timer, I was excited to get to witness how it's like to actually watch an international esports tournament up close. Being able to see the likes of a Japan's legend, Diago Umehara, reigning Street Fighter V SEA Major Champion, Tokido, top Tekken 7 female player, Tanukana, local esports hero, Ho Kun Xian and America's renowned competitive fighting game player and champion, Justin Wong among many other skilled players pitting it out against each other.
To get the full experience of my first GameStart experience, I opted to give the one-hour head start that the media pass is entitled to a miss. I chose to visit GameStart right after lunch time on Saturday when I believe it would be the most crowded. Upon entering Suntec Convention Centre Hall 401, I was greeted by the tension that's teeming in the air and the crowd seemed to be heavily-centred on the left side of the hall. Curious to see what is it all about, I made use of all the dexterity I could summon to make my way to where the action was.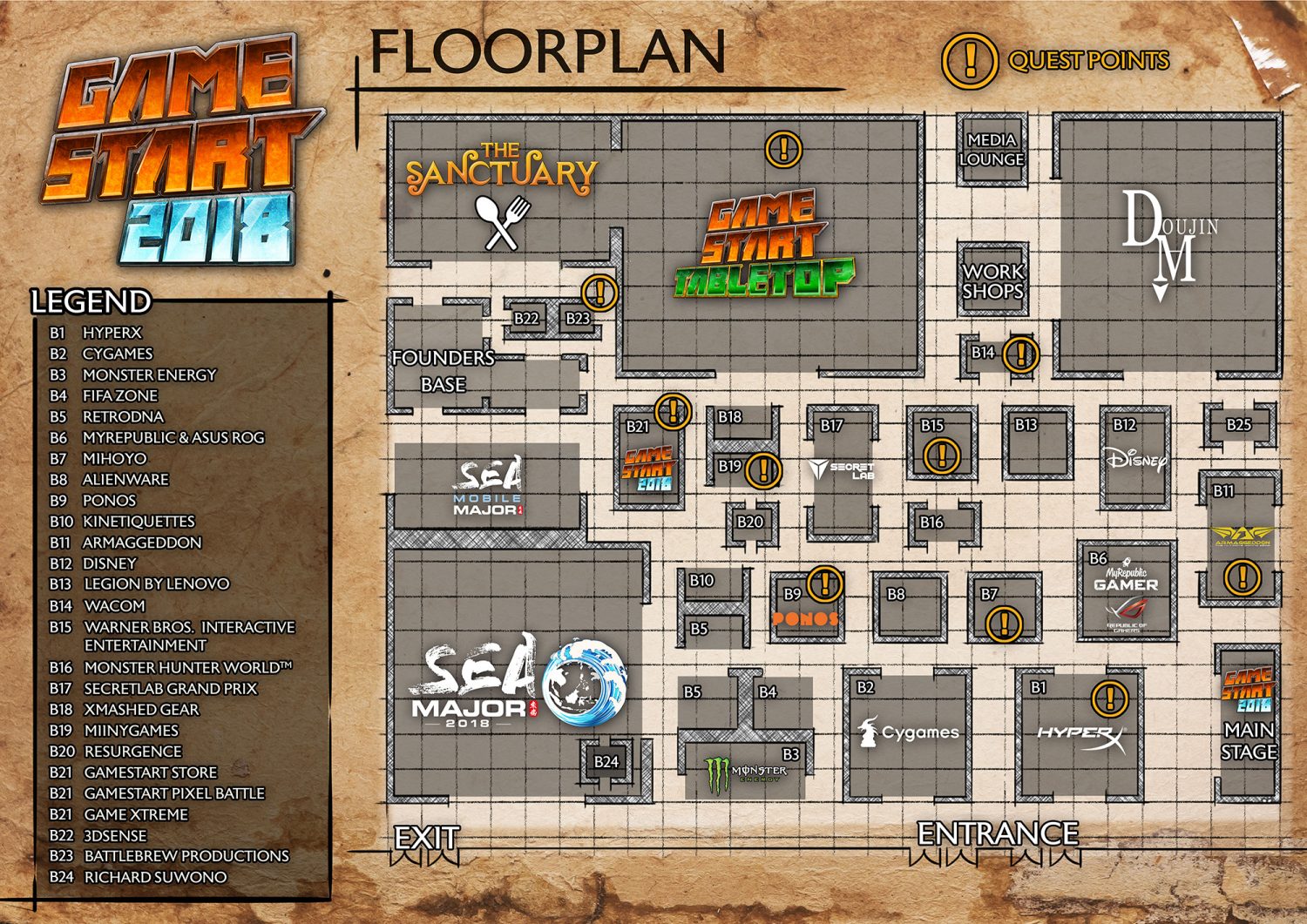 To be thoroughly honest, I was inadequately prepared for the crowd. I've been to events such as SITEX, Comex and the likes, but I had not anticipated the sheer amount of people interested in esports, and as such, I was left stranded at the back of the crowd watching the Dragon Ball FighterZ SAGA tournament going on.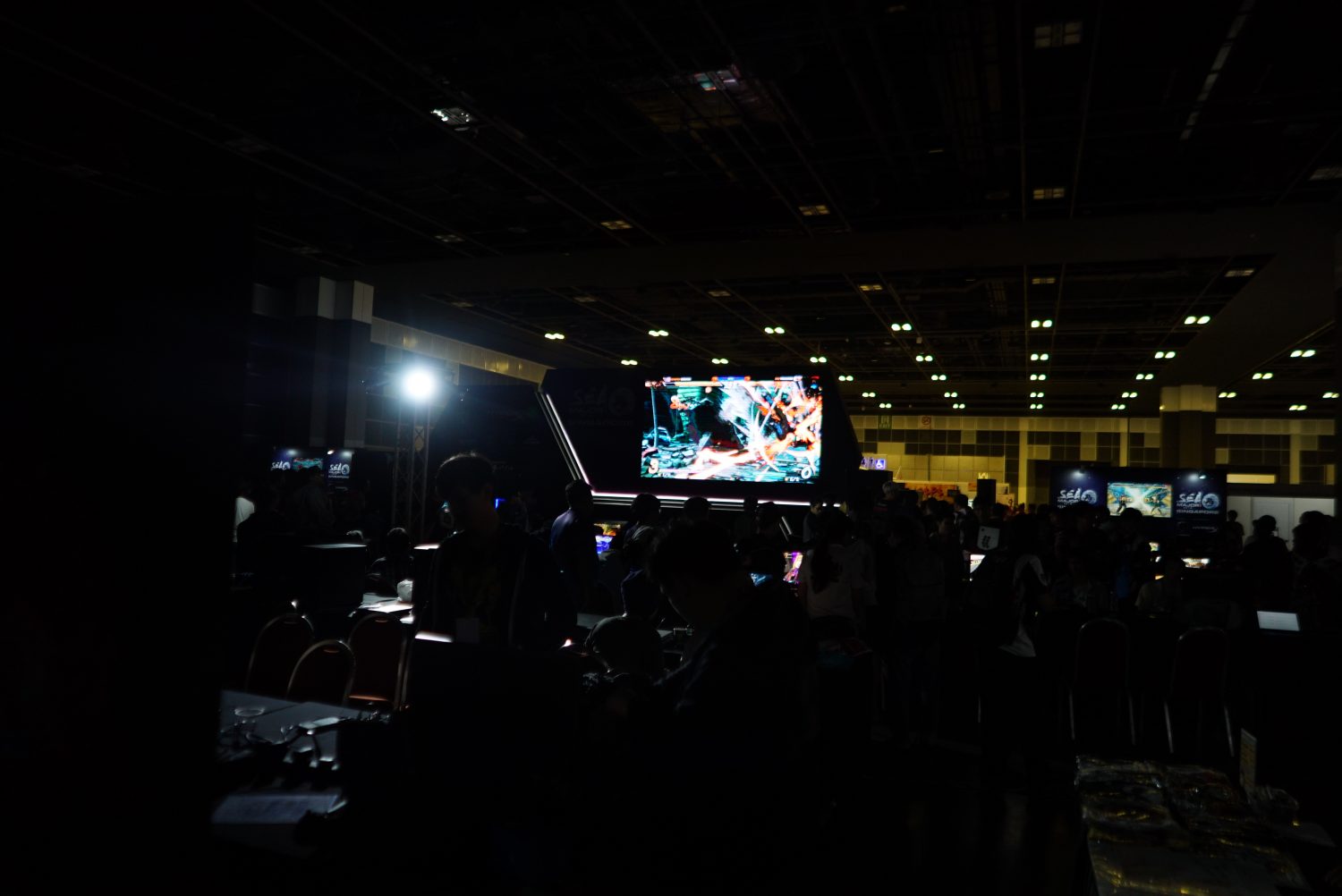 Having been a fan of the Dragon Ball series since I was young, I was intrigued by the gameplay and the sheer skills and combos that were executed by the esports athletes competing at the Top 16 level. You can watch the recording and commentary of the actual competitive gameplay here: https://www.youtube.com/watch?v=0AE0CvFXJXc. Other notable tournaments such as Capcom Pro Tour Asia, Shadowverse Contenders Cup, TEKKEN World Tour & ArcRevo World Tour would also take place live on this stage.
After being awestruck for close to 30 minutes, I got reminded of my mission to cover the whole event and managed to fight my way out of the crowd once more. Right beside the SEA Major booth, was the Monster Energy booth where they are demonstrating a car racing simulator which I found out was Project Cars 2, an initiative by Legion of Racers (LOR), Singapore's first simulation racing league.
This is a collaboration between Legion of Racers, Monster Energy Drink, Project Cars 2, CloudMoolah, X30 South East Asia and LMD² that aims to find Southeast Asia's fastest gamers and train them with real motorsport skills, hopefully to produce the ultimate combination of a gamer and a racer. And sadly, I can't drive a manual car for nuts so I chose not to try the simulator out, in fear of embarrassing myself in front of the throes of avid fans that were queuing patiently for their turn at the simulator.
Moving on, I've encountered many other booths such as Cygames, the studio behind Rage of Bahamut and Granblue Fantasy, Warner Bros. Games who is displaying their upcoming release Lego DC Super-Villains (launching on 17 Oct), as well as a gigantic MyRepublic booth along side Lenovo, both offering exclusive promotions for their latest products and services.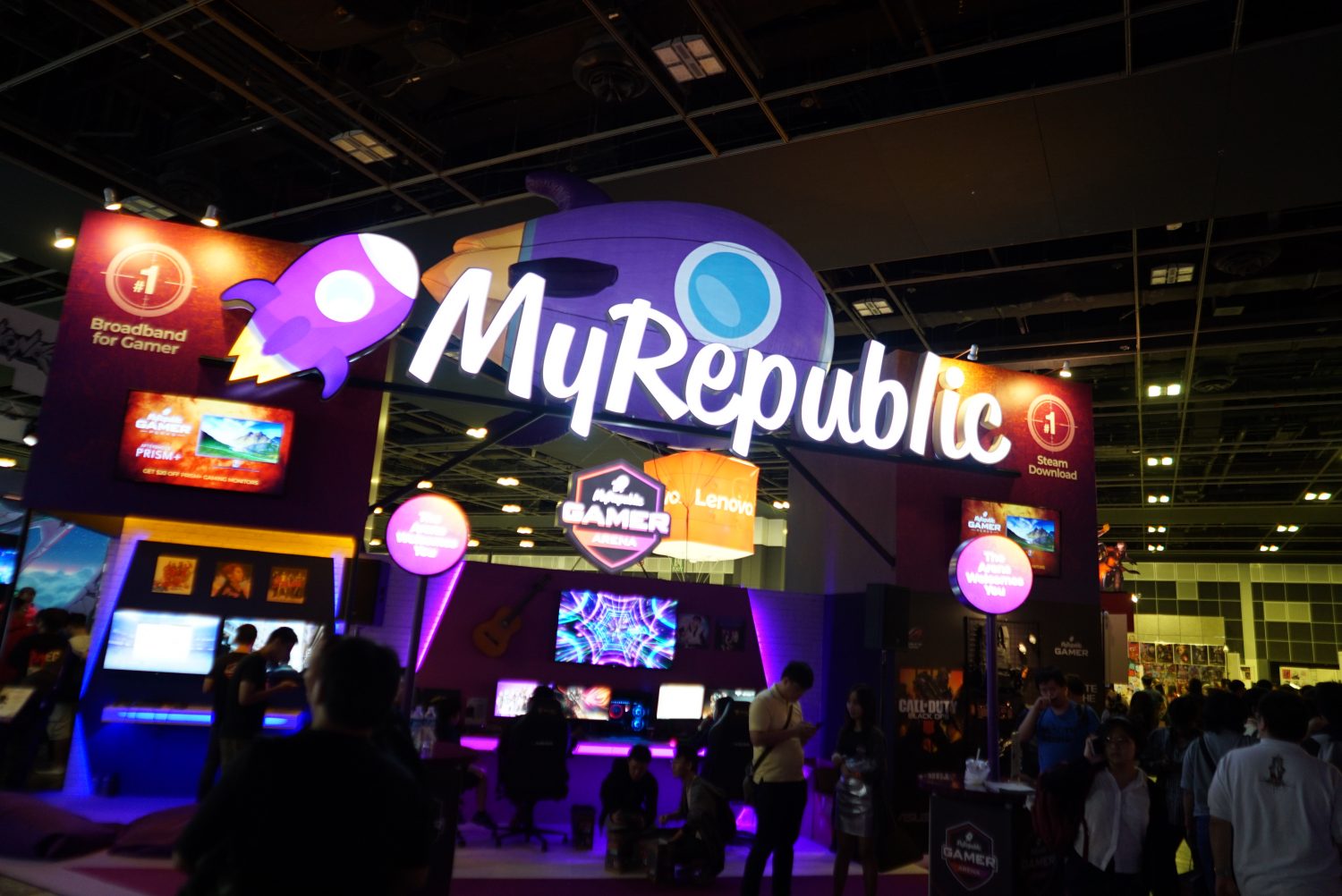 Also worth a mention, was that there was a booth designated for Monster Hunter: World where people can try their hand at playing. It is not hard to find out why the game has caught the world in a fever after playing it. Had not a staff offered me a Monster Hunter: World poster in return, I probably wouldn't have let go of the controller to let someone else have his turn.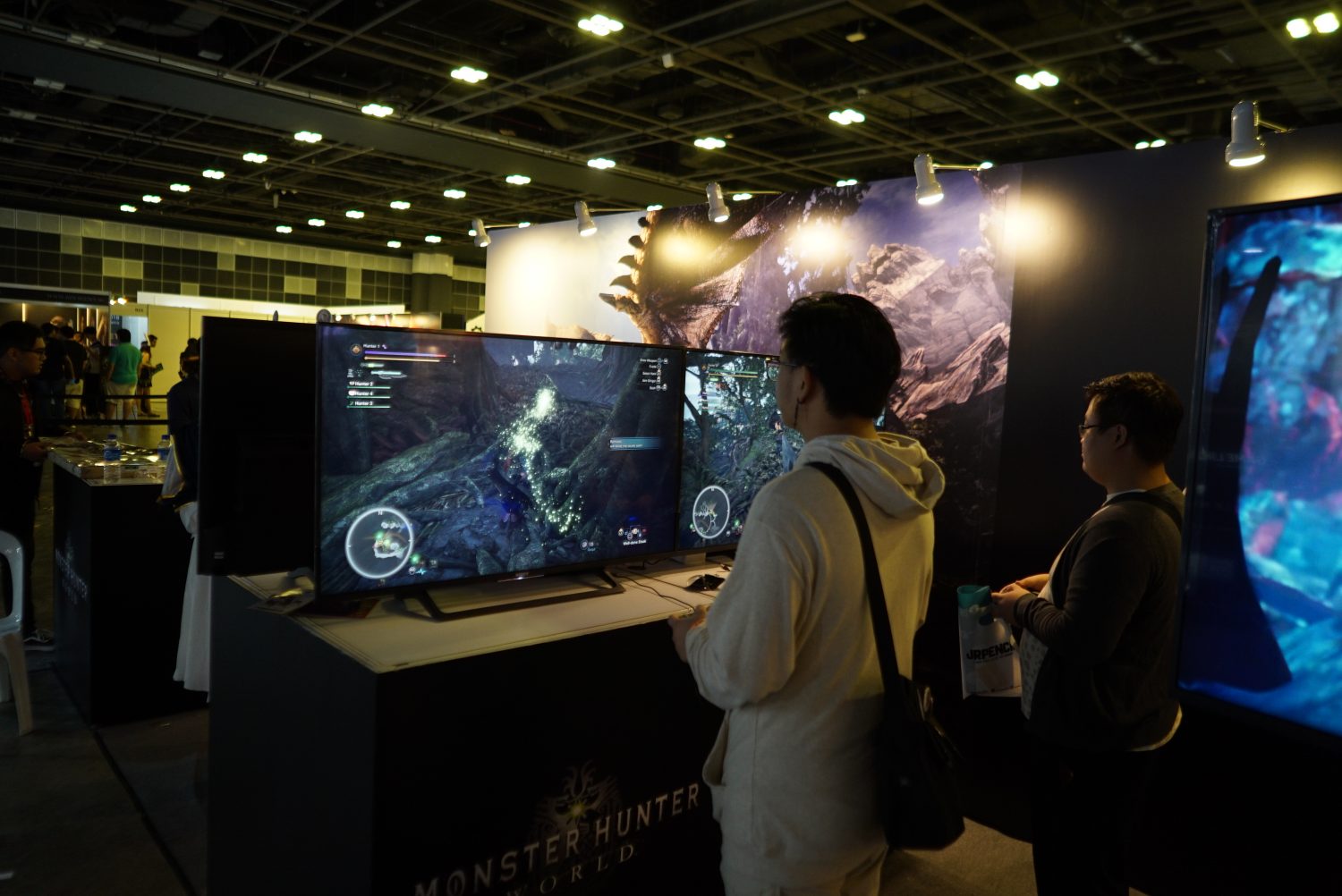 Being too engrossed with the many game demos available, I lost track of the time and actually missed the live panels. Throughout the 2 days of the weekend, there were notable guest appearances from Elise Zhang, the voice behind Mei from Overwatch, Kenny Omega, NJPW IWGP Heavyweight Champion, Yuya Tokuda and Kaname Fujioka, the Director and Art Director behind Monster Hunter: World and Motohiro Okubo, the producer of Soulcalibur VI. Also, there was a Game Developers Panel where guests to the event are able to learn how is it like to actually work in a game industry.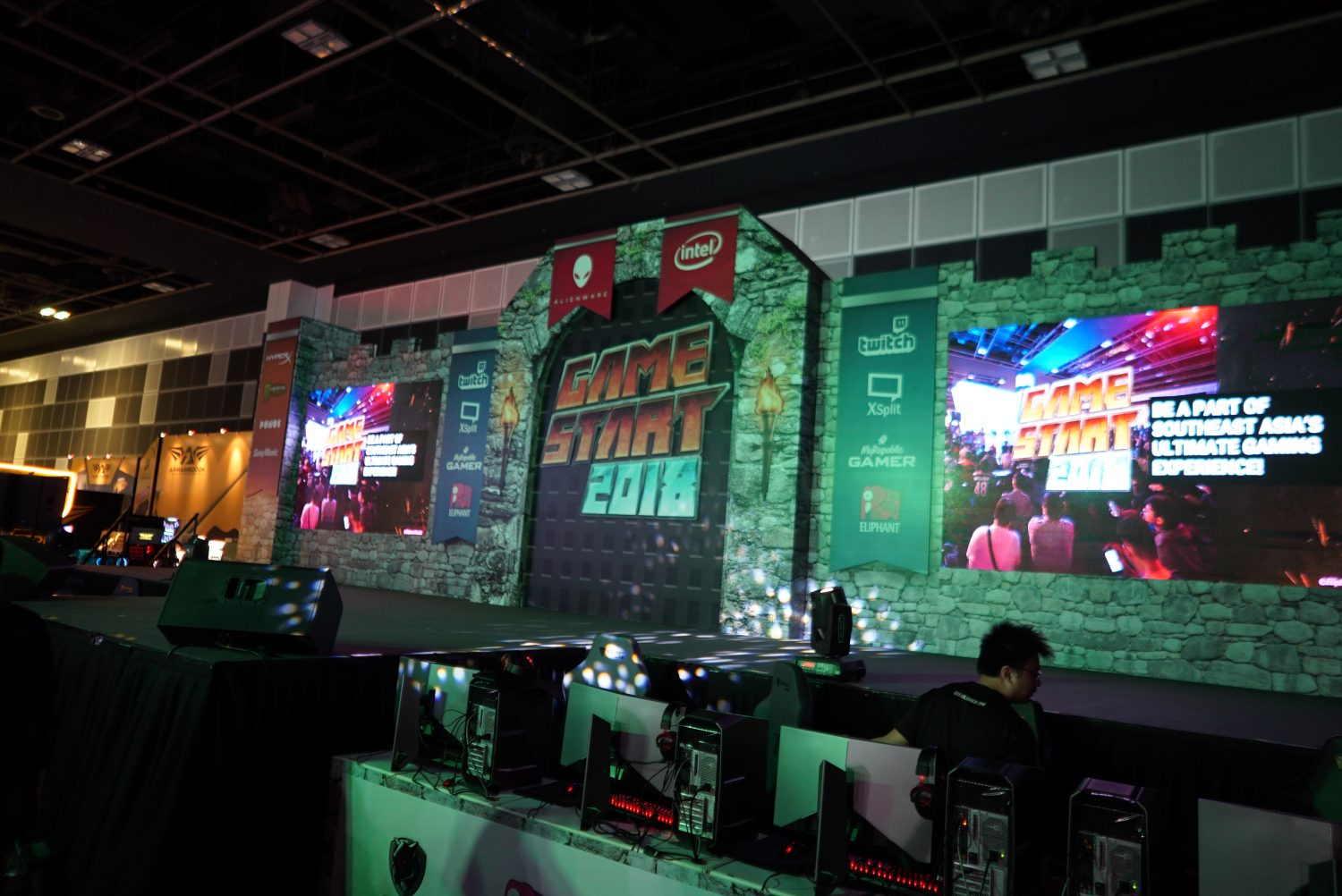 Heading on deeper into the hall, there were GameStart exclusive merchandise for sale…
THE BATTLE CATS PLUSHIESSS!!!!!!!1111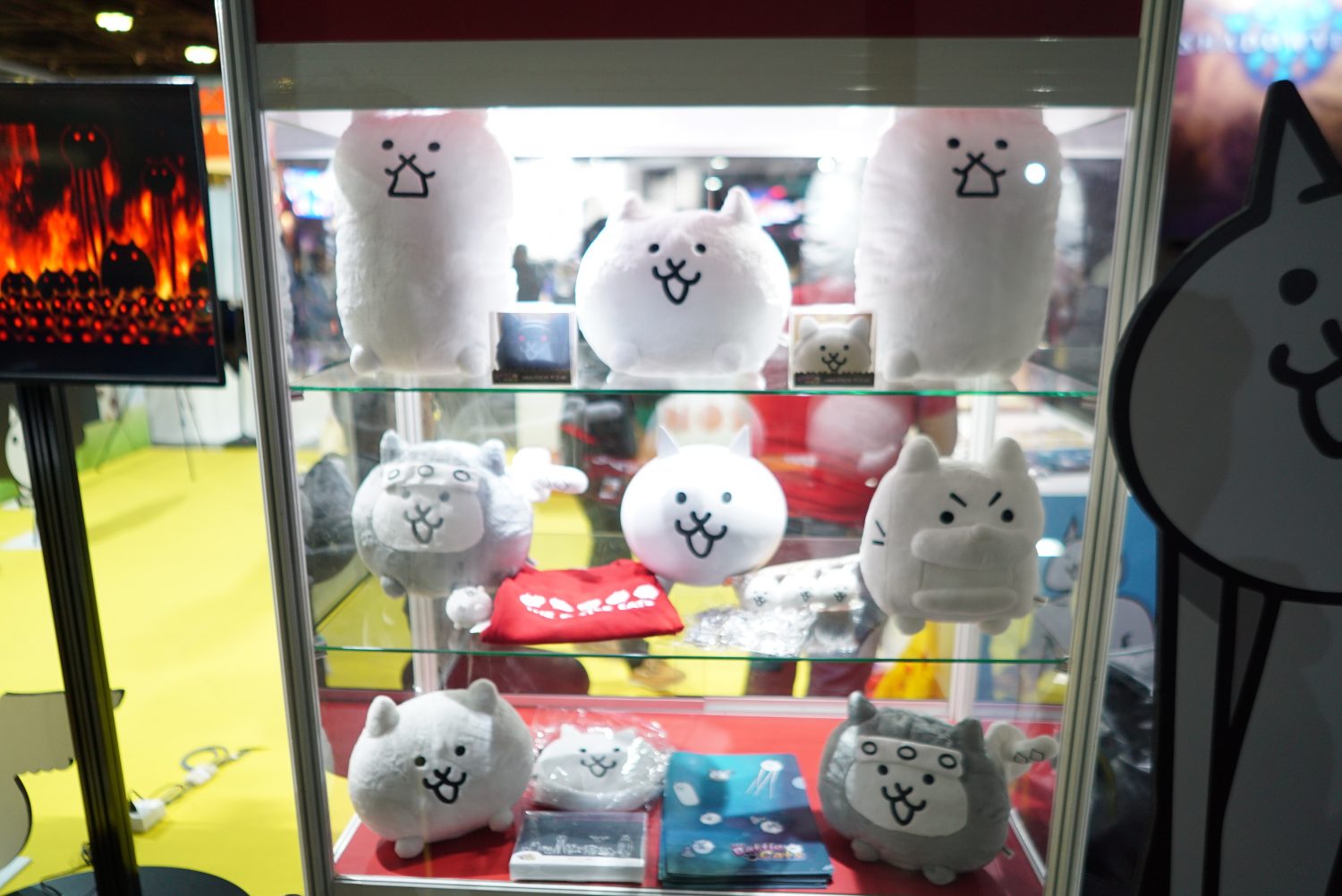 Game figurines from Street Fight, King of Fighters, etc…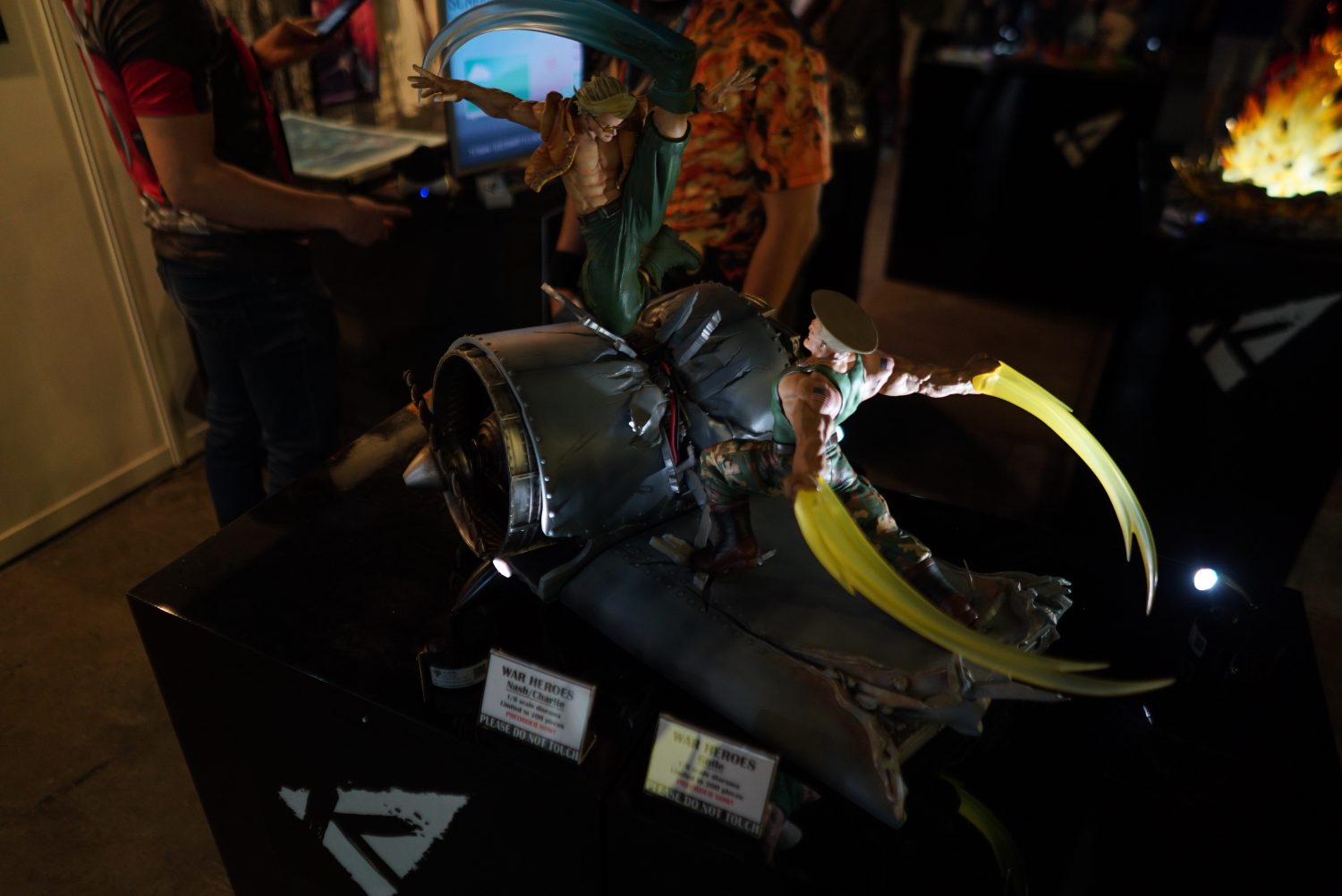 And even game consoles!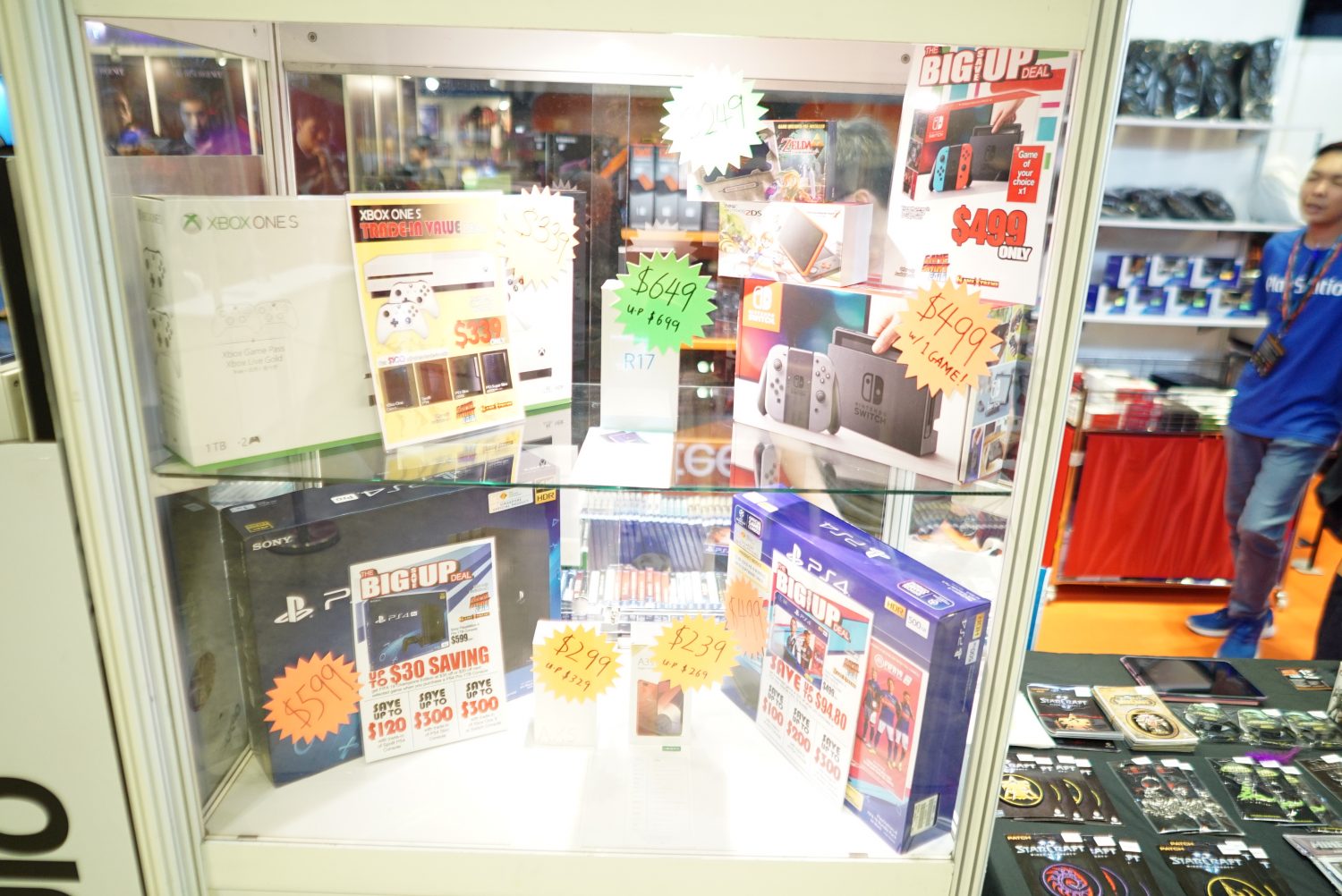 Next up, we explore the weebo (Google it if you don't know) side of things, the notorious den of the Doujin Market. Serving as a large contrast to the dimly lit anterior of the hall where the action was taking place, the Doujin Market is brightly lit and deceitfully welcoming. Grabbing tightly onto my camera and wallet, I traversed into the depths of the Doujin Market.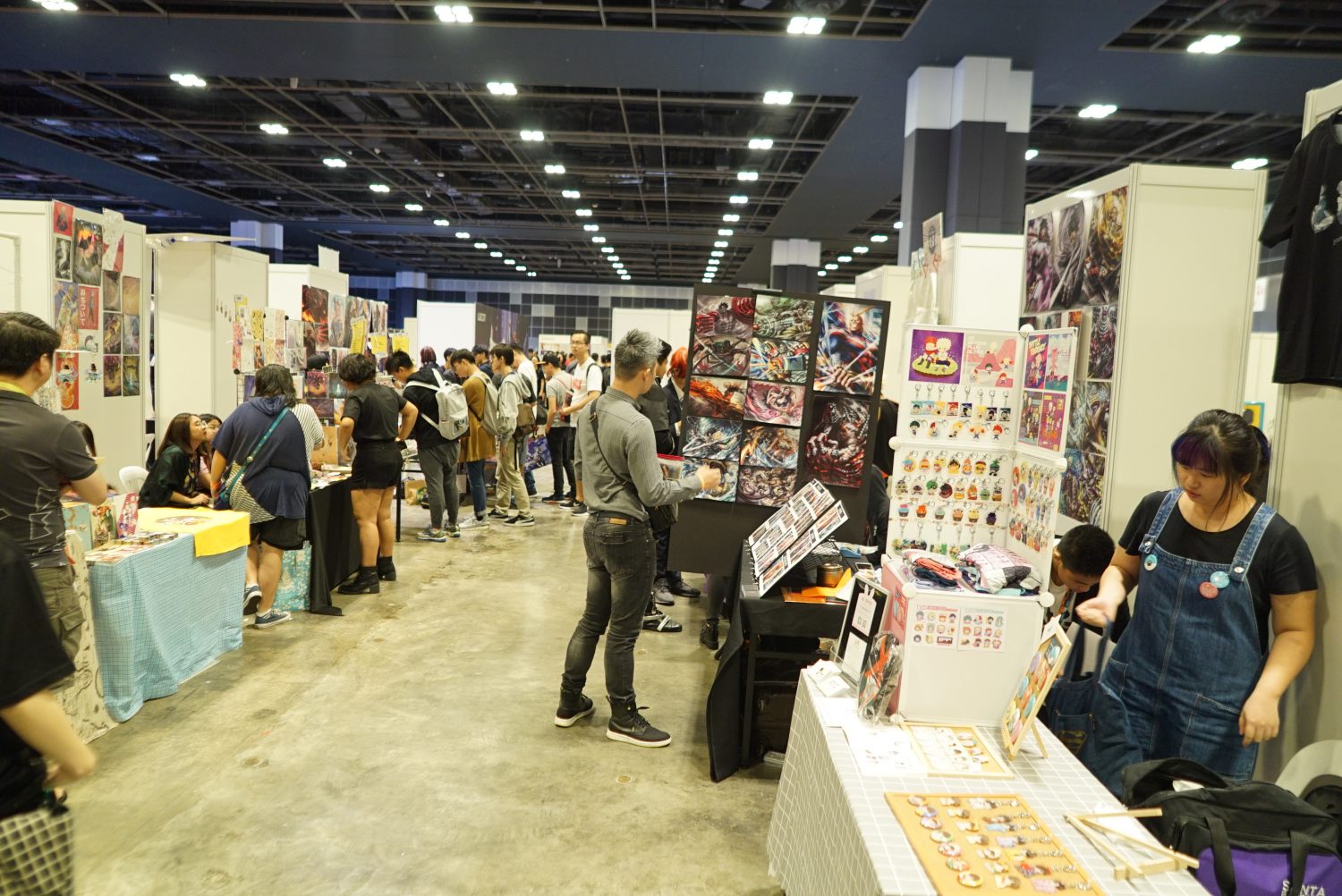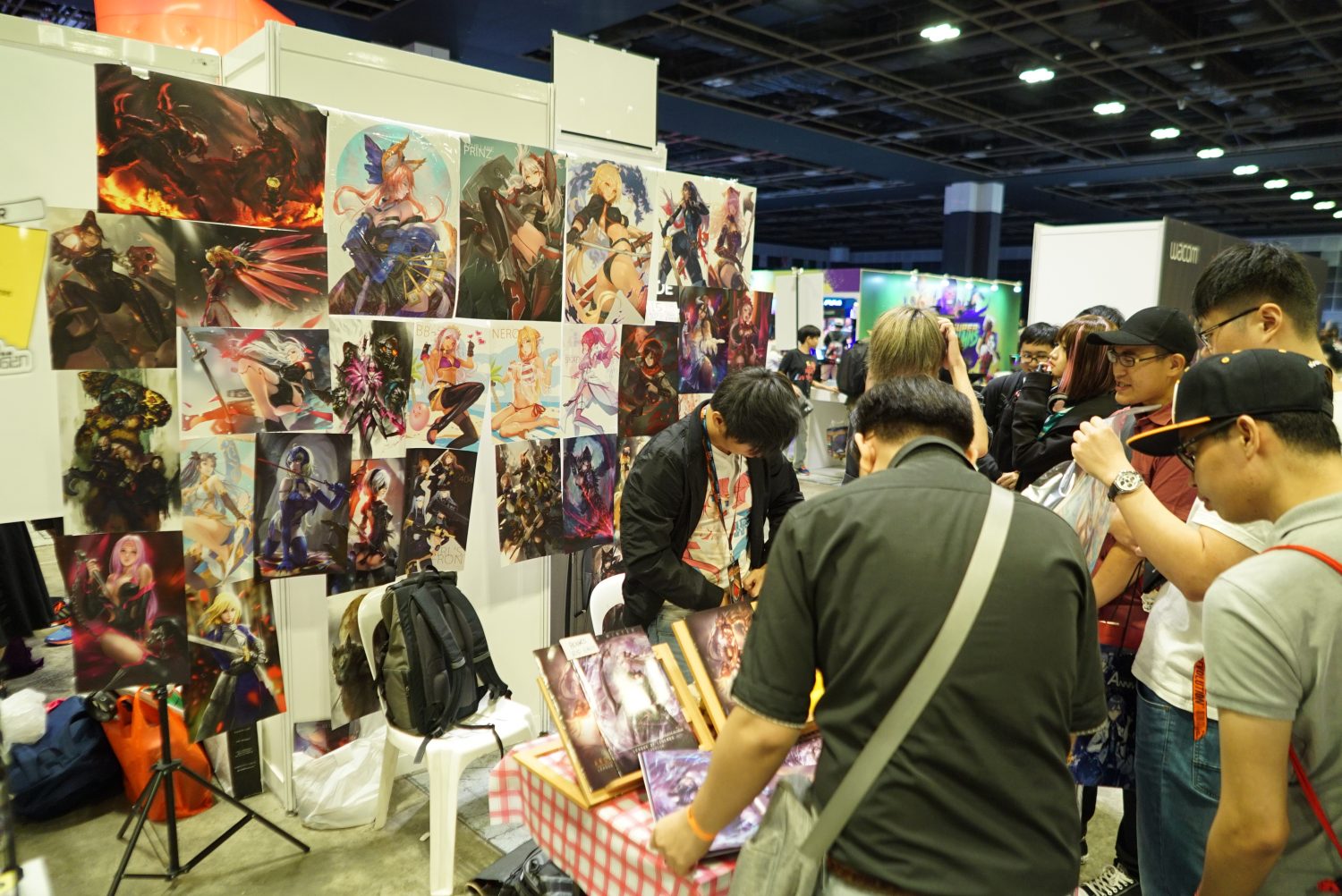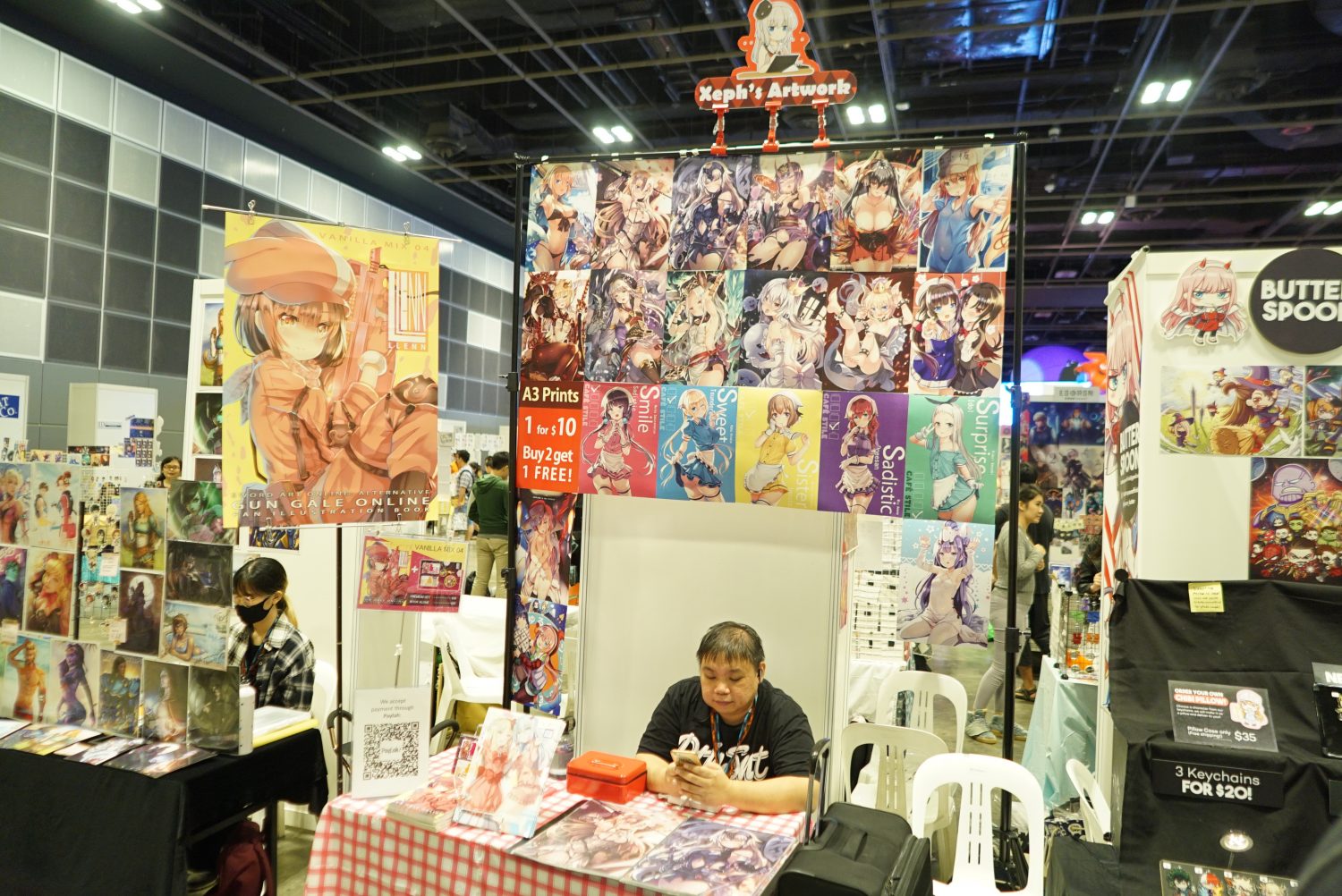 As you can see, the illustrations and artworks produced by the amazingly talented artists and illustrators are definitely at the professional level, and it's definitely amazing that you can purchase them at such a cheap rate. Being a fan of manga and anime, you probably can imagine the amount of self-discipline I had to muster to hold on tight on my wallet while making my way around this hazardous maze filled with temptations (Blood Platelet-chan~). After completing the arduous journey, I found myself in the Tabletop zone.
As the name states, it's a zone catered to all the board games enthusiasts. Sad to say, the only board games I'm familiar with are Monopoly, Risk, Cluedo, etc, I wasn't able to identify the games that are being played. I believe it may be WarHammer? Comment below if you know what is it! But the details of all the structures and figurines blew me away.
From the medieval fantasy setting…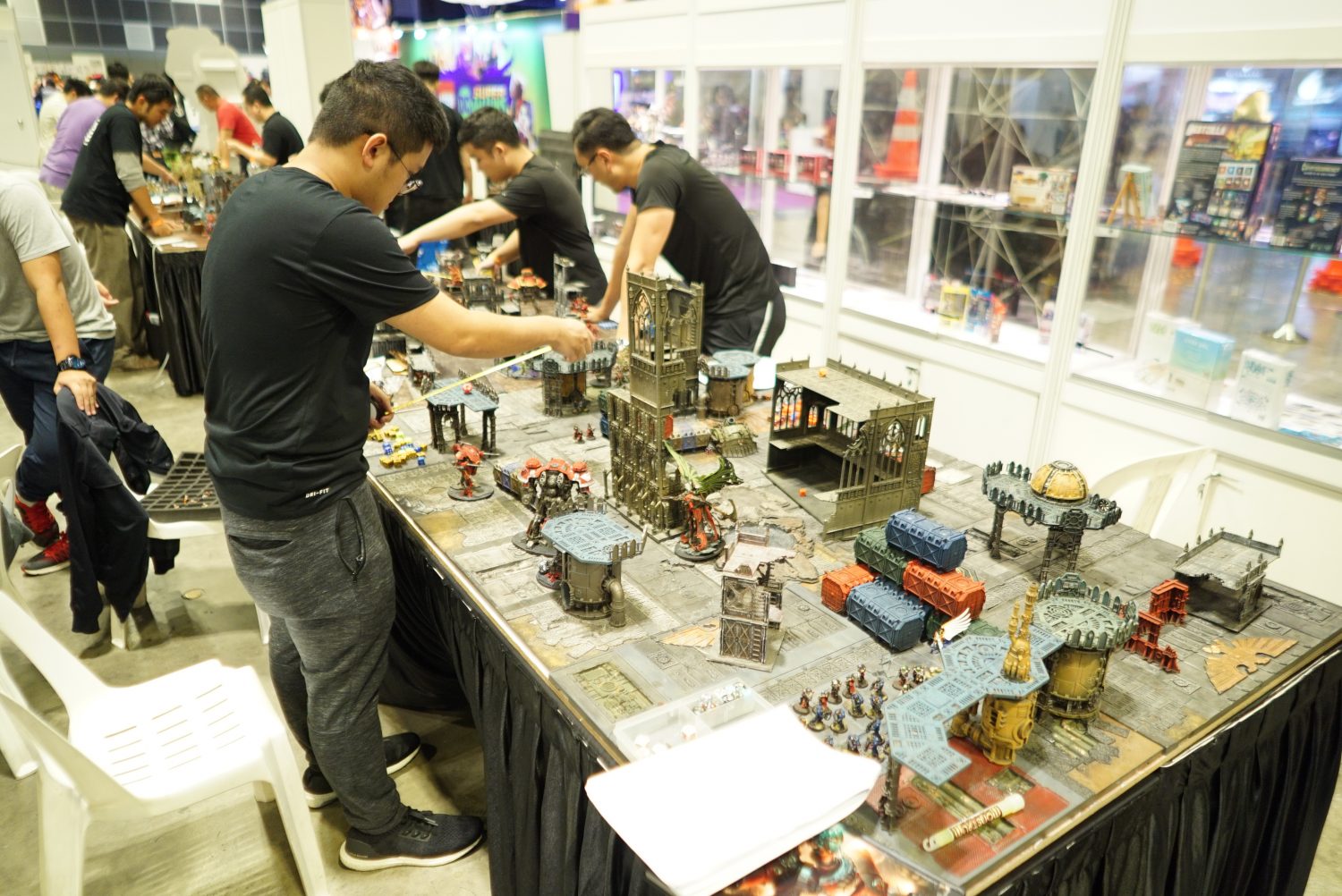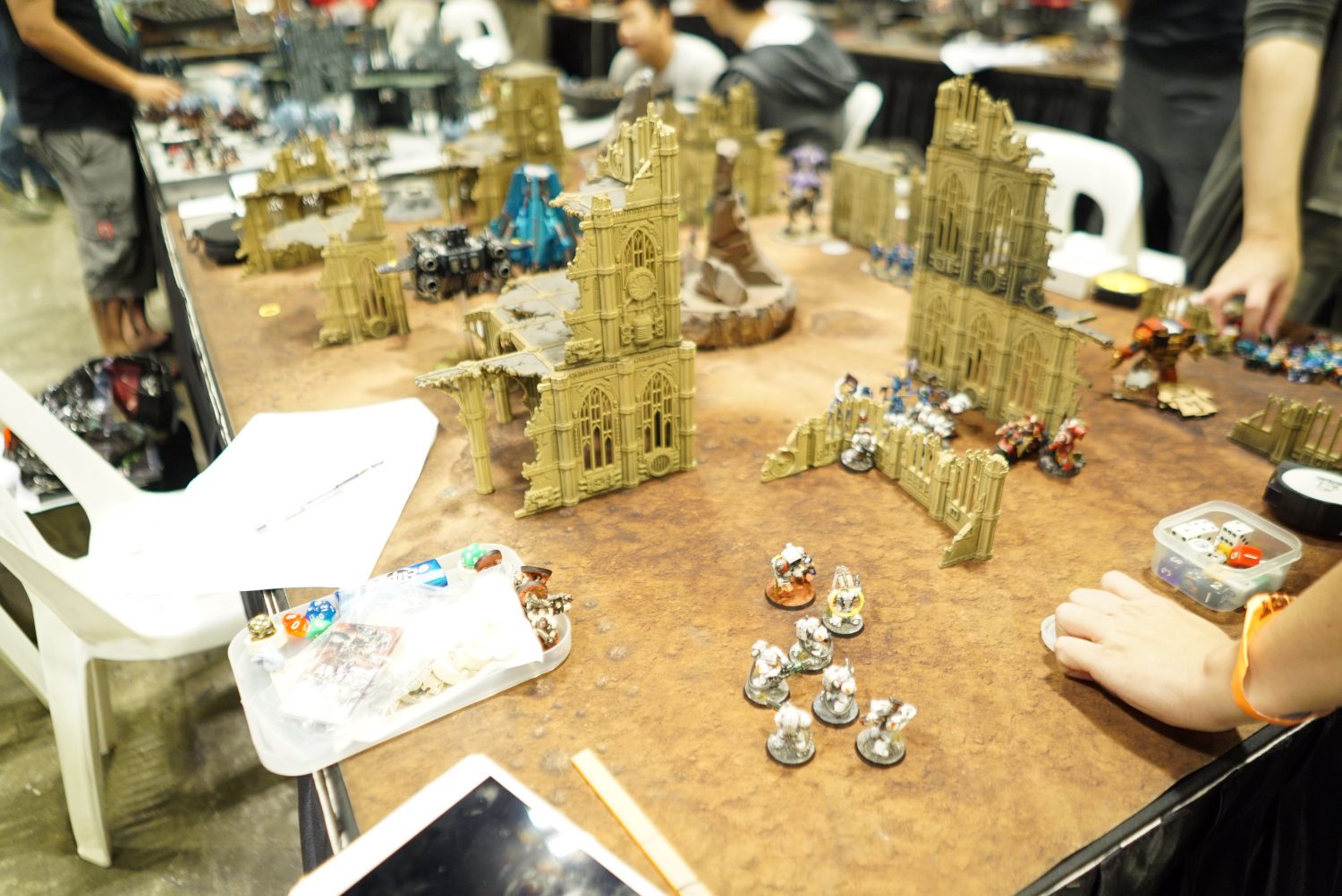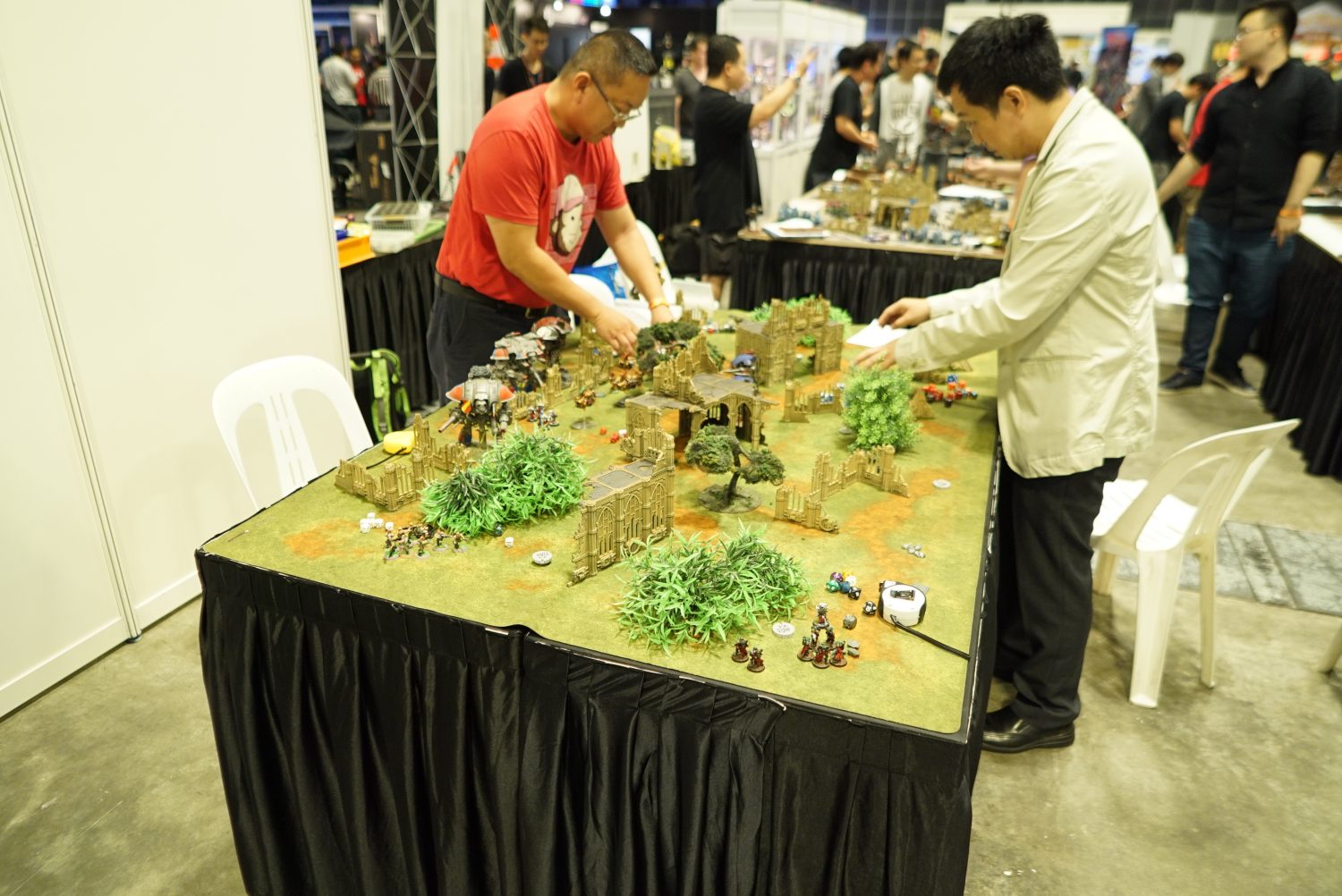 To a Japanese Edo style setting…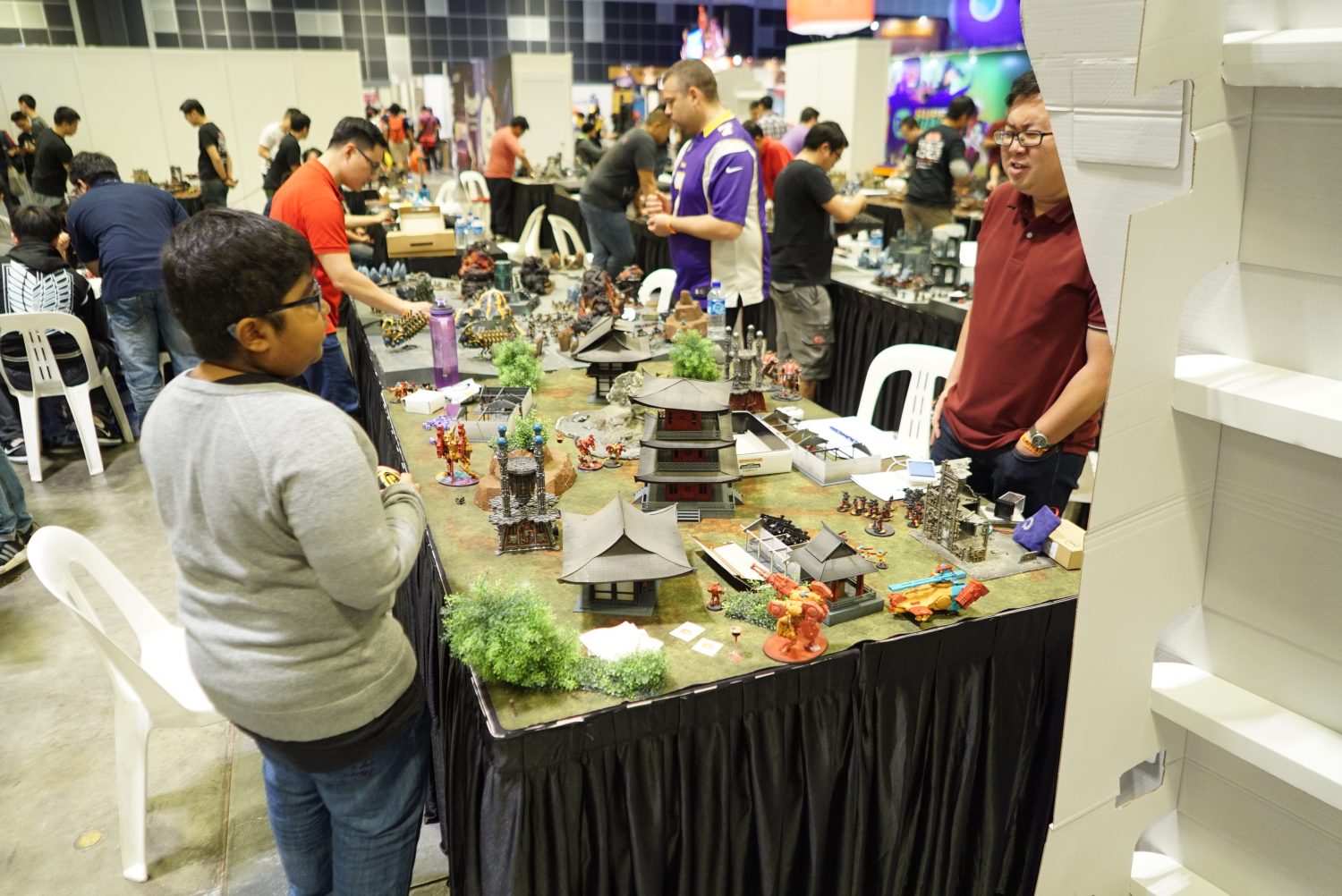 It's incredibly surreal to see mechas or robots in such a setting.
Also, it appears that the appearance of the figurines in the game can be freely customised to one's own personal preference! There is even a table set up for anyone interested to try their hand at customising their own figurines.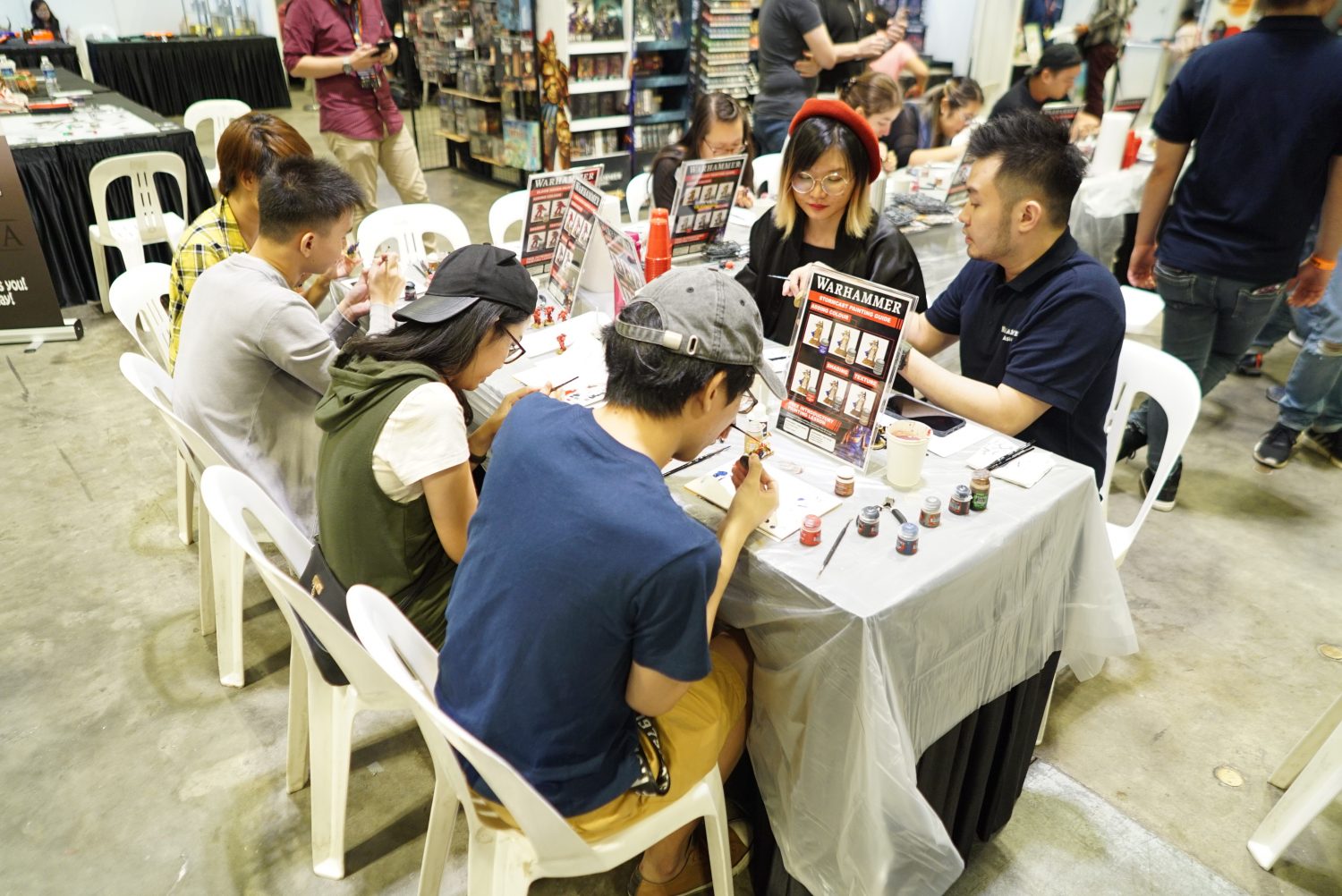 Well, that concludes my first visit to a gaming convention ever. It was really a breathtaking experience, from the throes of fans and enthusiasts, to the intense environment of the international esports tournaments, the interactions between professionals from the gaming industry and the fans, the sheer skill and talents from hobbyists, artists and illustrators, and more. I highly recommend that everyone should pay a visit to next year's rendition of GameStart even if you aren't that into games. Simply because it's an eyeopener, and the passion of fans, enthusiasts and professionals alike are incredibly infectious.
Do leave a comment below if you will like to see more articles like this. And feel free to give me a heads up for any interesting events that are happening in Singapore at cayden@noc.com.sg or contact us through any of the links below!
As always, stay tuned to our website updates by liking and following our Facebook page: https://www.facebook.com/Nightowlcinematics/
For any fan art / recommendations / queries for advice that you would like to submit: https://noc.com.sg/submit-content/
And for any business enquiries, send it here: https://noc.com.sg/contact-us/ and we will respond to you as soon as possible!